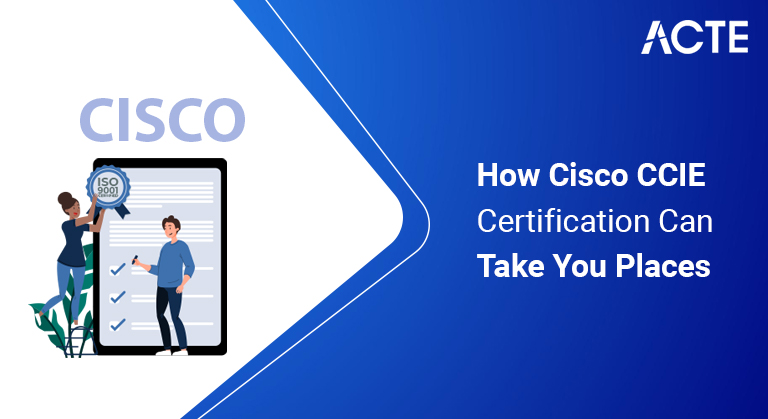 How Cisco CCIE Certification Can Take You Places | Everything You Need to Know
Last updated on 31st Dec 2021, Blog, General
According to a 2017 survey, the total number of CCIEs required across the industry would be somewhere around 300,000 globally. While the number of CCIE engineers available worldwide as of today in 2021.
How CCIE Certification Can Take You Places
Objectives of CCIE Certification Training
CCIE Certification
CCIE Requirements
Overview of the CCIE Lab exam
There are seven tracks of Expert Level certifications
CCIE Emeritus
The Continuing Education
Relevance to real-world situations
Conclusion
How CCIE Certification Can Take You Places:

The first Cisco Certified Internetwork Expert Learning Program was released by Cisco in 1993. CCIE is a course for mid-level and senior experts who specialise in networking technology. This course enables learning to design, implement, build and troubleshoot structures related to enterprise networking. CCIE is a popular learning program nowadays. There are many training institutes that provide professional CCIE training in Mumbai and Pune. CCIE training in Mumbai certifies the desired advanced level of competency for network specialists and engineers to plan, supervise, run, build and troubleshoot convergent and complex network infrastructure. Some of the reputed institutes offer CCIE training along with Routing and Switching certification in Pune.
CCIE training is categorised into 6 levels namely Collaboration, Data Centre, Routing, Switching, Security, Service Provider and Wireless. The program was first designed and pioneered by Cisco in 1993 and undergoes regular upgrades to meet the changing pace of technology. CISCO has four levels of certification namely CCENT, CCNA, CCNP and CCIE. There is a formal prerequisite for CCIE training in Mumbai and CCIE training in Pune. To pursue CCIE, one must successfully complete and be successful in the Cisco Certified Network Professional exams.
The CCIE certification curriculum is for video managers, voice managers and integrated communications specialists and architects responsible for the design, development, troubleshooting and management of multilevel communications. CCIE certification has many professional implications. This is one of Cisco's highly regarded specialist level certification courses. It has great employment opportunities and those placed after CCIE certification should attain extraordinary financial growth. The first level of CCIE is CCIE Collaboration. CCIE Collaboration is for architects and engineers with a focus in voice, video and various other forms of communication. Individuals must pass a two-hour written test on Cisco Enterprise Collaboration, followed by eight hours of thorough laboratory testing based on troubleshooting, integration, and configuration.
The next level is the CCIE data centre. It is designed for experts and people tasked with planning, designing and implementing data infrastructure. There is also a mandatory written test that evaluates complex data centre topologies, assists in troubleshooting and diagnostics. For routing and switching, networking concepts engage in a written assessment, and a lab test about configuring switching equipment and routing. The CCIE security certification prepares engineers to brainstorm, design, and troubleshoot Cisco security technologies. Conceived for network engineers working in service providers, individuals must pass laboratory tests over a long period of time. For the purpose of evaluating information on the academic basis of wireless local area networks and wireless networks, applicants who wish to complete this certification must qualify an eight-hour laboratory study that is about building wireless networks.
The CCIE certification is globally acknowledged as the most respected networking certification in the domain. CCIE enhances the skills required for expert-level networking and convergence of operations and network-related infrastructure. After successful completion and achievement of CCIE certification, one can apply for the post of Network Service Manager, Network Engineer. Professionals who have earned the CCIE certification have proven immense skill and expertise in network engineering and specialising in products and solutions.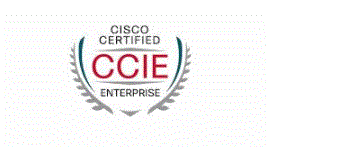 Objectives of CCIE Certification Training:

CCIE certification allows network professionals to:

Manage the implementation of customer network projects from both technical and communication aspects.
Review network design and other risks during projects.
Provide technical consultation, network implementation and device configuration for Cisco products and services at customer locations, and perform advanced-level troubleshooting.
Act as a liaison for vendors and/or third-party providers as assigned.
Provide on-site and remote technical support to other resources and customers.
Provide advice to other operations resources, and act in a key technical capacity as directed

Salary Drawn by CCIE in India:

The salary of a network engineer in India starts from Rs 2-3 lakh for a non-certified beginner and can go up to Rs 4-6 lakh per year for CCIE certified professionals, which varies from company to company. Is. Experienced CCIE certified professionals earn up to INR 12-25 Lakhs per annum depending on skills and job roles.

Audience for CCIE:

The CCIE certification is best suited for Voice Managers, Video Managers, and Unified Communications Architects, who are responsible for developing, managing and troubleshooting versatile unified communications.
CCIE Certification:

Cisco Certified Internetwork Expert, or CCIE, is a technical certification offered by Cisco Systems. The Cisco Certified Internetworking Expert (CCIE) and Cisco Certified Design Expert (CCDE) certifications were established to help industry differentiate the top echelon of Internetworking experts worldwide and assess expert-level infrastructure network design skills around the world. These certifications are generally accepted worldwide as the most prestigious networking certifications in the industry.

CCIE and the CCDE community have established a reputation for leading the networking industry in in-depth technical networking knowledge and are positioned in the most technically challenging network assignments. The specialist-level certification program continually updates and revises its testing equipment and methodology to ensure and maintain program quality, relevance and value. Through a rigorous written exam and a performance-based laboratory exam, these specialist-level certification programs set the standard for Internetworking expertise.

The program is currently divided into six distinct areas of specialisation or "track". Cisco may choose to pursue several CCIE tracks in several different categories of technology: routing and switching, service providers, security, collaboration, data centre and wireless.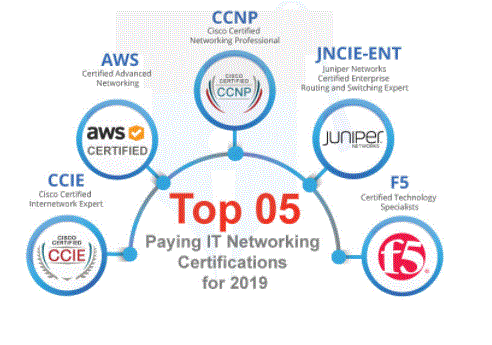 CCIE Requirements:

CCIE candidates have to first qualify a written test and then the relevant practical test. Although there are no formal requirements for taking the CCIE certification exam, a thorough understanding of the topics covered in the exam and three to five years of on-the-job experience is expected before attempting certification.

There are two test sets to require certification:

Written Test: Duration 120 Minutes, 90 – 110 Questions with Multiple Choice and Simulation.

Lab Exam: 8-hour Lab Exam (one day), Previously, CCIE Lab Exam was a two full day exam.

Description: The CCIE Routing and Switching Lab exam consists of a troubleshooting section of 2 hours, a diagnostics section of 30 minutes and a configuration section of 5 hours and 30 minutes. The format varies per track.

The eight-hour lab test tests your ability to configure real equipment and troubleshoot networks in a timely manner. You must make a preliminary attempt at the CCIE Laboratory Exam within 18 months of passing the CCIE written test. Candidates who do not qualify must re-attempt the laboratory test within 12 months of their final score in order to keep their written test valid. If you do not pass the laboratory test within three years of passing the written test, you will be required to take the written test before you are allowed to attempt the laboratory test again.
Overview of the CCIE Lab exam:

The CCIE laboratory exam was first introduced in 1993 with a two-day test. Since there was a huge demand for CCIE certification, the waiting time to take the laboratory exam was at least six months. In October 2001, Cisco updated the two-day lab test to one day, removing some of the test measures such as diagramming, IP addressing, and troubleshooting.

When the CCIE lab test was two days old:

Day 1: Building the network by patching, IP addressing, Configuration for terminal servers: This is a verification method of your performance regarding the entire Layer 2 and 3 configuration. Around 5:15 pm, before the end of the day, the proctor will mark your potential, and decide whether you are able to pass the first day's 80% and appear for the second day's lab test.

Day 2: You will receive another paper in which more configuration tasks were covered during the morning session. In order to correctly configure the equipment, you need to be aware of the main technologies. As well as demonstrating basic networking knowledge and practical experience, you must understand the various threats. The proctor will oversee your process and let you know if you can attend an afternoon test session for the troubleshooting area before the end of the day.

The current CCIE exam consists of eight hours within a day.

There are three sections for the lab test.
Troubleshooting module, Diagnostic module and Configuration module.
The process of laboratory examination ensures assessment of the abilities of the candidates for understanding of abstract networking knowledge.
You will receive the result of the lab test within 48 hours. The Failed Score Report contains the details of your marks on the primary subject categories. If you pass your lab test, you will get a result without details.

Many laboratory centres across the US (such as California) have been closed, leaving only Richardson, Texas, open. As of 2020, these are the only available cities worldwide in which you can take the lab test: Bangalore, Beijing, Brussels, Dubai, Feltham, Hong Kong, Johannesburg, Krakow, Mexico City, Moscow, Richardson, Riyadh, So Paulo, Shanghai, Singapore, Sydney, Tokyo and Toronto.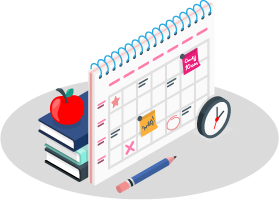 Develop Your Skills with Advanced CCIE Collaboration Certification Training
Weekday / Weekend Batches
See Batch Details
There are seven tracks of Expert Level certifications:

It was designed for the needs of the industry. It has been updated over time and the latest track should be verified on the official website of CCIE.

CCDE: Expert level network design engineer who is able to translate business needs, budget and operational constraints into the design of a convergent solution.

CCIE Routing and Switching: The most popular CCIE tracks. Expert-level network engineers who can plan, operate and troubleshoot complex, convergent network infrastructure. [9]

CCIE Collaboration: Specialist level suitable for Collaboration Architects, Unified Communications Architects, or Voice and Video Network Managers.

CCIE Data Centres: Experts in the planning, design, implementation and management of complex, modern IT data centre infrastructure.

CCIE Security: With respect to modern security risks, threats, vulnerabilities, security experts who have the knowledge and skills to architect, engineer, implement, troubleshoot, and develop solutions for Cisco security technologies and solutions using the latest industry best practises for security Full suite support. system and environment.

CCIE Service Providers: Expert level ISP (Internet Service Provider) network engineers who bring knowledge and skills to build an extensible service provider infrastructure to deliver richly managed services.

CCIE Wireless: An expert who is able to demonstrate a broad theoretical knowledge of wireless networking and a solid understanding of wireless local area networking (WLAN) technologies from Cisco.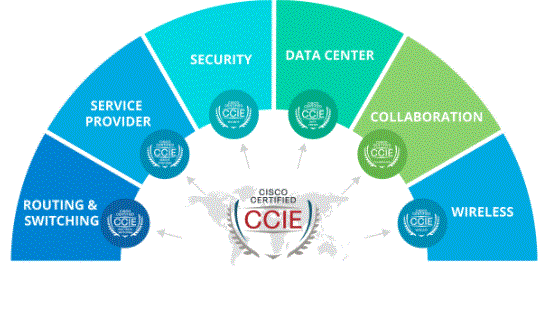 CCIE Emeritus:

Active CCIE holders are able to apply for CCIE Emeritus status when they reach their tenth anniversary of CCIE certification. The lifetime emeritus tenure is applicable to candidates who maintain their CCIE active or emeritus status for 20 consecutive years. [15] The application for CCIE Emeritus is required to be submitted within 60 days of the due date of expiry of the licence.
CCIE Emeritus status generally applies to those who have been out of "day-to-day" network and technical work but wish to remain involved in the CCIE program serving as ambassadors for current and future CCIE programs Huh.

A CCIE Emeritus status holder is a non-active CCIE holder, but candidates are recognized for technical proficiency and long-term position within the CCIE program. CCIE Emeritus holders have the opportunity to re-enter an active CCIE position by taking any current CCIE-level written test.
The Continuing Education:

The program is an alternative method of recertification for the CCIE licence rather than passing a written exam. This program is managed according to three main principles: Flexibility, Diversity and Integrity.

Flexibility: Allowing individuals a wider range of options for re-certification.

Variety: Multiple training options: online courses, instructor-led training, and content authoring.

Integrity: Credits submitted by an individual are validated by obtaining Cisco Authorised Content Providers with recertification requirements.
Relevance to real-world situations:

With regard to a new approach to networking with software-defined networking, there are some critics regarding the CCIE certification that challenges the corner-case scenarios of written and laboratory examinations. Although the principle of networking is still the same, whether the router or switch is a physical device or just a piece of software, the fundamental networking operations in real-world internetworking remain the same. CCIE holders still relevant to the software-defined networking era: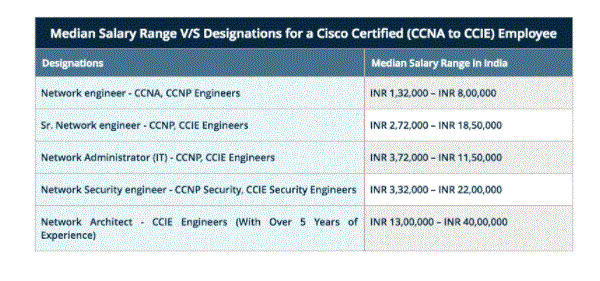 Cisco UCS Administration Sample Resumes! Download & Edit, Get Noticed by Top Employers!
Download
Conclusion:

The Cisco Certified Entry Networking Technician represents the lowest level of certification that includes basic networking knowledge. Until its introduction, the CCNA represented the first level of the certification program. It has a suitable use for an entry-level network support situation. CCENT certified personnel can set up, manage, and troubleshoot a small enterprise network, including basic network security.[2] The first step toward CCENT certification should begin with a CCENT.
In 2017, Cisco introduced the new ICND1 and ICND2 tests (required for the new CCNA routing and switching). ICND1: 100-105 (Interconnecting Cisco Networking Devices Part 1 v3.0) became the new test required for CCENT. [3] With this change, CCENT became a substantial prerequisite for CCNA Security, CCNA Voice, and CCNA Wireless.
Cisco-Certified Design Associate (CCDA) certified engineers can design switched or routed networks for LAN, WAN and broadband services. The CCDA exam (200-310 DESGN) requires at least a CCENT, although either CCNA or CCIE will serve as a prerequisite, as well as switch-level knowledge of Cisco-based LANs.

The Cisco Certified Collaboration Associate certification is for Cisco engineers who specialise in Cisco's Unified Communications (UC) products. Collaboration engineers focus on deploying and supporting voice, video and live text communications solutions over IP networks. The Cisco Certified Network Associate Industrial (CCNA Industrial) certification is for plant administrators, control systems engineers and traditional network engineers in the manufacturing, process control and oil and gas industries, who will be involved in the convergence of IT and industrial networks.

CCNA validates knowledge of security infrastructure, threats and vulnerabilities and threat mitigation for security networks. Required skills include setting up, troubleshooting and monitoring network equipment to maintain the integrity, confidentiality and availability of data and equipment. To earn this certification one must pass the IINS 210-260 (Implementing Cisco IOS Network Security) exam, as well as obtain a current CCNA certification. CCNA-Safety is a prerequisite for CCNP Security certification. [19] It represents the test required to obtain certification and continue the safety certification path to CCNP.
Note: CCNA Security courseware complies with the NSA and CNSS training standard of CNSS 4011. The CCNA Security Program provides essential training for network security professionals who assist private sector entities and federal agencies in the United States, protect their information, and assist in protecting United States IT infrastructure. Candidates who have passed CCNA Security will receive a letter of accreditation acknowledging that they have completed the CNSS 4011 training requirements.