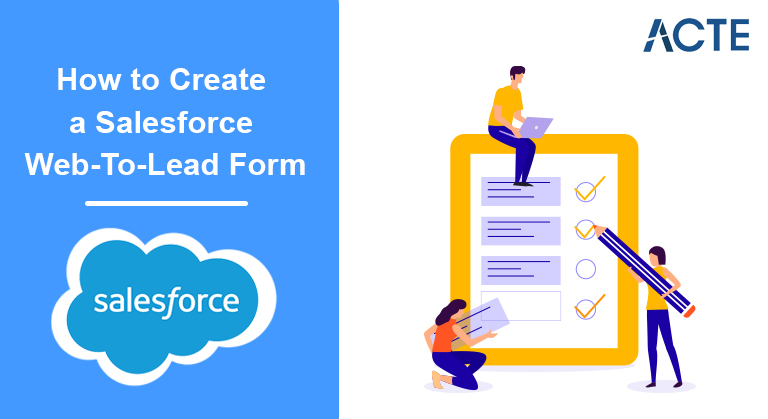 A Definitive Guide to Create a Salesforce Web-To-Lead Form | Expert's Top Picks
Last updated on 29th Dec 2021, Blog, General
Salesforce lets you easily create web-to-lead forms that capture information about visitors to your website. The information is automatically stored in new lead.
Web-to-Lead in Salesforce
Web-to-Lead Training in Trailhead
Salesforce Documentation on Web-to-Lead
What is Salesforce Web to Lead and How to Setup
Enable Web to lead
How to Create a Salesforce Web-to-Lead Form
What is Salesforce Customer portal – SFDC Customer Portal
Import Leads from setup Menu
Salesforce Web-to-Lead
Conclusion
Web-to-Lead in Salesforce:

Attracting visitors to your website is an important part of digital marketing. Once they're on your site, don't just let them come and go once. You can get the most out of your web traffic by turning visitors into new leads for your marketing and sales teams to work on. This is where forms come into play.
Directing visitors to a form on your website where they enter information about themselves and their interest in your offerings is an easy and powerful way to convert them into leads. A well-designed form can yield important information about visitors, including specific information about demographics and their interest in your products and services. This marketing and sales technique is called web-to-lead.

web-to-lead: The process of using website forms to capture visitor information and store that information as a new lead in Salesforce.Salesforce lets you easily create web-to-lead forms that capture information about visitors to your website. The information is automatically stored in new lead records in your Salesforce install, and then leads can be scored, qualified, and sent to sales reps. From there, you can redirect visitors to other pages on your site, send automated email follow-ups, and start them on the customer journey.

We've gathered some great resources so you can learn more about web-to-lead in Salesforce. Some of these resources also touch on important related topics, including data management and handling email from within Salesforce.
Web-to-Lead Training in Trailhead:

Trailhead: Guide your reps to the best leadLearn how to automatically route quality leads to your sales reps by setting up lead scoring to work with Web-to-Lead. Salesforce's automated lead scoring can take leads coming from web-to-lead and score them based on factors including demographics (company size or industry) or actions taken by the individual (visited your website, an email, etc.) Download a book, or fill out a form) Build an automated pipeline of quality leads for your sales teams.
Trailhead: Convert and Assign LeadsThis step-by-step guide to setting up criteria-based lead assignment rules in Salesforce is great for assigning new leads captured using Web-to-Leads. Leads created through Web-to-Lead are, by default, owned by the administrator who set up the Seven Form. Leverage the power of automation by setting up Salesforce to assign leads to the right owners based on criteria, such as where the leads are located, what industry they are in, or the type of products they are interested in.

Trailhead: Send Email Through SalesforceLet your users send email from Gmail and Office 365 via Salesforce for easy communication with contacts captured via Web-to-Lead. Leveraging email through Salesforce can reduce context switching, which helps reps focus on their leads and deals without having to toggle on a separate application.
Trailhead: Automated Onboarding with Sales Cloud PRMEasily create a custom page that highlights your partner program with a click, not code. Learn how to embed a web-to-lead form that receives information from interested partners. Get acquainted with Sales Cloud PRM, a turnkey PRM app that makes it fast and easy for companies to provide partners with everything they need to sell %E2%80%93 all in one place.
Salesforce Documentation on Web-to-Lead:

Official Documentation: Guidelines for setting up web-to-lead.
Prepare Salesforce to collect information from your company's website and automatically generate 500 new leads a day. Follow these easy steps to prepare your Salesforce instance to handle specific lead information, automatic email follow-up with new leads, automatic assignment of new leads, and more.
Official Documentation: Generate leads for your sales teams from your website.
When you set up web-to-lead, Salesforce captures prospects who provide contact information. You can also redirect prospects to other web pages that are critical to the success of the campaign. Follow these step-by-step instructions to create a web-to-lead form with spam filtering in Sales Cloud.
Official Documentation: Integrate Pardot Form Handlers with Web-to-Lead Forms.
Step-by-step instructions show you how to use Pardot form handlers with Salesforce web-to-lead forms for campaign and source tracking with Pardot's micro-level web analytics. Built on Salesforce CRM, Pardot helps users increase sales revenue and marketing effectiveness through marketing automation.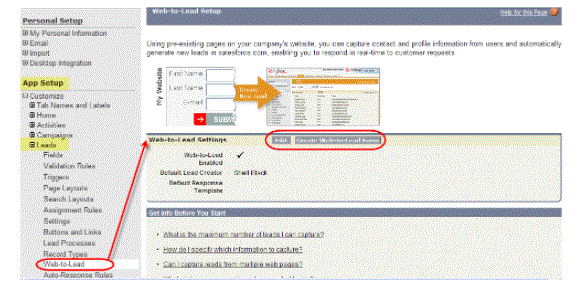 What is Salesforce Web to Lead and How to Setup:

Salesforce Web to Lead is used to capture leads from your website and save them to Salesforce. It's built in functionality into Salesforce. Web-to-lead forms are an essential component of marketing and sales automation. Its purpose is to capture data submitted by website visitors, such as contact information and product interest, and store it as a "lead" record in Salesforce.

How to Setup a Web to Lead Salesforce?

Salesforce Classic: Go to Setup -> Customise -> Leads -> Web-to-Lead
Salesforce Lightning: Go to Setup -> Feature Settings -> Marketing -> Web-to-LeadWeb to Lead Salesforce Setup
Click on Create Web-to-Lead Form
Select the desired field on the form, give the redirect URL
Uncheck the checkbox Include reCAPTCHA in HTML. Or if you want to enter recaptcha, enter API key pair information. For more information please refer to Salesforce Web Lead Form with Recaptcha
click generate

The following html code is generated

Copy and paste the above HTML code into your website. In the generated code, you can edit the CSS as per the requirement so that it looks according to the theme of the website.
Users will submit details from your website. Will set a lead record in Salesforce.
Enable Web to lead:

We have a 'Generate Web to Lead' button along with an 'Edit button'. We can use this to enable the web to lead. Here are some settings in this page

Web-to-lead enabled: Enable web to lead forms in your organization.

Requires recaptcha verification: In order to reduce spam, customer requests require recaptcha verification. When enabled, requests without verification do not generate leads. After enabling, confirm that your HTML includes the reCAPTCHA information.

Default Record Creator : The user who will be listed as the creator when an online lead is created. In most cases this will be the owner of the lead record, but if configured, lead auto-assignment rules can change ownership. Plus it will be the user who sends the default email response template (see below) unless auto-response rules are configured – keep reading!

Default response template: Use lead auto-response rules to select different email response templates based on the characteristics of leads submitted online.
How to Create a Salesforce Web-to-Lead Form:

Part 1: Create your form
1. Open the template in Form Builder, or create your own
To simplify this tutorial, you can use this Salesforce web-to-lead template. If you want to customise the template or create your own form from scratch, do so now.
2. Save and set additional options
If you need to change/set up display options (save and resume, preview response, or recaptcha) or notification options (thank you page redirect, auto-responder, and email notification), go ahead and Do it now on the Processing and Notifications page. You can also do this later if you find that your form needs to be changed.
3. Navigate to the Connector page
Navigate to the Connector page by selecting the Connector option on the left sidebar or selecting "Connectors" under the "Configure" dropdown in the form list.
Part 2: Salesforce Connector Setup
1. Add and Configure the Salesforce Connector
After customising your web-to-lead form, add the Salesforce connector in the Form Submitted step, then click Configure. If you use the Salesforce web-to-lead template above, one will already be set up for you and you will just need to review and authenticate it.
2. Set up Salesforce Authentication for this connector
You can use Single Sign On to authenticate your Salesforce Connector or you can also manually enter your Salesforce credentials. To do this, enter your Salesforce username. In the Password input, enter your password and your security token. You can obtain a new security token within Salesforce by selecting "Setup", then selecting "Reset your security token". After entering this information, click "Check". Next, select the "Enable" radio button option.
3. Select an Object
Start by clicking "Select your first item," and then choose to create a lead using the options from the dropdown menu.
4. Map Area
Next, you'll map your fields to specify how you want Salesforce to send data to the lead record we've chosen to set up. Click "Map to another field" to add additional fields.
5. Save Your Connector
Click the Save button and you've set up your Salesforce connector for this form.
6. Start Using Your Form
After you've set up the connector, you're ready to test your form and deliver it to your customers. To do this, go to the "Publish" page, and click the link to go to your form. Fill the form and click submit. Within seconds, you should see new data in your Salesforce account.

You can also review the Salesforce Connector log to see how it maps your data to Salesforce. Once you confirm that the form is properly linked to your Salesforce account, your form is ready to use. Additional confirmations for your submission can be reviewed within FormAssembly by navigating to the Salesforce Connector log or by reviewing the response itself.

Web-to-lead is one of the most common uses of FormAssembly's Salesforce integration, but you can also use FormAssembly to create other Salesforce forms that update or create almost any type of record in Salesforce.
What is Salesforce Customer portal – SFDC Customer Portal:

The Salesforce Customer Portal is primarily designed for customers. This service cloud customer portal in Salesforce provides the best user interface and online support channel for customers.

It takes some time to contact the customer care every time. Without contacting customer service our recommended best method for resolving inquiries and problems is therefore using Service Cloud Customer Portal. Salesforce Customer Portal is a type of application and is hosted by Salesforce.com.

Salesforce Customer Portal Features:

The Service Cloud Customer Portal provides some of the best features to the customers. some of them are:

User interface.
Salesforce CRM Content.
Custom objects and tabs.
Multiple user profiles and record types.
Account role hierarchy and sharing.
Branding and styling configuration.

Develop Your Skills with Advanced Salesforce Certification Training

Weekday / Weekend Batches

See Batch Details

We have amazing user interface features in the customer portal like search, quickly identify and create etc.

Salesforce CRM Content.– Through this Salesforce CRM Content feature we can access any product document, relevant content with customers. It also has features like sharing, subscription and commenting.

Custom objects and tabs.– We can create custom objects and Tabs. These can be shared with the customers using the customer portal.

Multiple user profiles and record types.– It has a slew of user profiles and record types that give us some personalised experience.

Account role hierarchy and sharing.– A three tier role hierarchy and sharing with customers can be used.

Branding and styling configuration.– Customization in home page, header, footer, changing different colours and fonts enables us to brand our company with customers.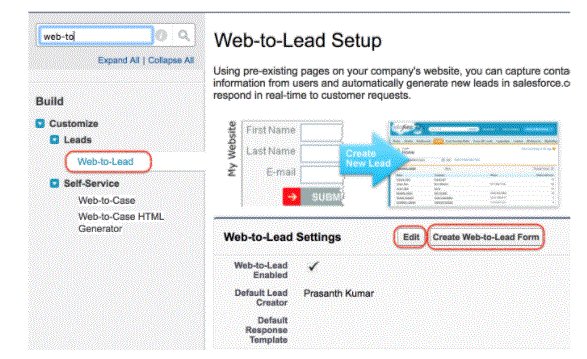 Import Leads from setup Menu:

In this Salesforce tutorial, we will learn how to import leads from the setup menu. It's very easy to use, you can load records directly from the set up menu. You can import up to 50,000 lead records using the Import Leads option. Using this wizard you can avoid loading duplicate records.

Step by step process to load leads:
Go to Setup -> Administration -> Data Management -> Import Leads and click on Start Import Wizard
See screen below for reference.
After clicking on Start Import Wizard, a new window will open containing the following information.
Launch the application and view the lead list.
Select the Save As or Export menu option, usually from the File menu.
Follow the instructions to save the file with comma-separated values ​​or in CSV format.
You can optionally read the CSV file into Excel to filter the leads for editing or importing the data.
Now choose the file to import into salesforce.com (Note: Your file may take a few minutes to upload depending on the file size and your connection speed).
Assign all new leads to this lead source.
Assign all leads using this assignment rule.
Use the assignment rule setting to send notification emails to record owners.
The selection below is set to the default value. Override this default value only if your import file has a different character encoding.
match type
Fill the requirements in the above steps eg. Choose your file that you want to load, you can select here if you want to assign a lead source when loading, you can send email notifications to record owners if you want to have assignable assignment rules Huh.
And you can also choose the match type to avoid duplicates.
See screen below for reference.
After filling the above information click on NEXT and map the Excel column with the Salesforce field. See screen below for reference.
And to import your selected file click on Import Now option and click on Finish. You will receive an email notification when your import is complete.
Salesforce Web-to-Lead:

What is the web to lead in salesforce? Salesforce Web to Lead is for capturing leads directly from your website and loading them into Salesforce. It's built in functionality into Salesforce. You don't need to download or install anything.

How can I set up the web to lead in Salesforce?

1. Login to salesforce.

To log in to your Salesforce account, simply go to https://login.salesforce.com/.

2. Go to "Set Up" -> Customise -> Leads -> Click on Web-to-Lead

Here we can see that the Web to Lead Set Enabled checkbox is checked. By default web to lead is enabled in salesforce.
And the default lead creator is the owner of the lead creator in Salesforce. By default it will display to the system administrator who has created the Salesforce organisation.
You can edit the owner of the default web to lead creator as well as you can select the default response template by clicking the "Edit" button.

3. Click the "Create Web-to-Lead Form" button, then you will navigate to the following screen.

Here you can see a familiar list of fields for leading leads on the web, including custom fields from the Lead object. You can add or remove fields using the "Add" and "Remove" buttons. And you can rearrange the fields using the "Up" and "Down" buttons.
And in the above screen there are return url and language mandatory fields which you need to mention.
Basically the "Return URL" happens after the lead form is submitted, this is the URL the user will go to directly. It's a good idea to set up thank you pages and best offers provided by your company to customers.

4. Next click on the Generate button then you will navigate to the following screen.

Salesforce creates HTML code that you can insert directly into your website.
Take that code and customise that code as per your needs. You can add your company logo and you can do additional customization in that HTML code.
Once you have optimised this code you can place this code in your website.
You can view the list lead to leads from Salesforce Web by clicking on the Leads tab in Salesforce.
Salesforce.com was founded by Marc Benioff to provide Customer Relationship Management (CRM) software entirely over the Internet (cloud computing).
Customers will no longer need to buy infrastructure servers and install software. All they will need is an internet connection and a web browser.
Salesforce was established in 1999. Salesforce started out as a CRM company and has grown enormously over time.

1. Email Integration: We can integrate Salesforce with email like Outlook very easily.
2. Chatter:
Chatterjee is a kind of Facebook, Twitter.
– Here we can post our comments. Like comments posted by other people in the organisation.
– Here we can create a group and invite people to the group.
3. Reports and Dashboards
– We can create reports very easily, within seconds we can create reports.
Dashboard is a set of graphical representations of reports. We can add 20 reports for a single dashboard.
–
We can refresh or schedule reports/dashboards within seconds to send emails to users.
4. Social: We can integrate Salesforce with Facebook, Chatter, gmail and youtube.
5. Mobile: We can reach salesforce through mobile
Salesforce Developer Sample Resumes! Download & Edit, Get Noticed by Top Employers!
Download
Conclusion:

Salesforce allows you to easily create web-to-lead forms that receive information about visitors to your website, which can be done in these simple steps. In Salesforce, the data is immediately saved as a new lead record. The Salesforce Web-to-Lead feature provides an easy way to get leads from websites (without any integration) and then save them to the Salesforce system. Sales teams and marketing teams can make the most of this feature to contact interested website visitors, plan targeted marketing campaigns and convert these visitors into business partners.
Want to discover the best Salesforce products and change the way your business interacts and engages? Join a cloud analytics team of experts and get help with Salesforce consulting services to add more value to your business and increase revenue.
The format of the Date and Currency fields captured online is taken from your organisation's default settings – Default Locale and Currency Locale. The daily limit for web-to-lead requests is 500. If your organisation exceeds its daily web-to-lead limit, the default lead producer (specified in the web-to-lead setup page) receives an email with additional lead information. See how many leads we can get from our website? For additional information about web-to-lead limits. If errors in your web-to-lead setup fail to generate a new lead, customer support is notified so we can help you fix it.
Before creating records that are submitted via Web-to-Lead, Salesforce runs field validation rules. If a field value is invalid, no lead record is created. All universally required fields must have a value before a record can be created via web-to-lead.
Salesforce does not support Rich Text Area (RTA) fields on Web-to-Lead forms. If you use RTA fields on your forms, any information entered in them is saved as plain text when you create a lead. Web-to-lead forms do not validate email address fields. To validate email addresses of web-generated leads, create a validation rule for the email field on the lead.