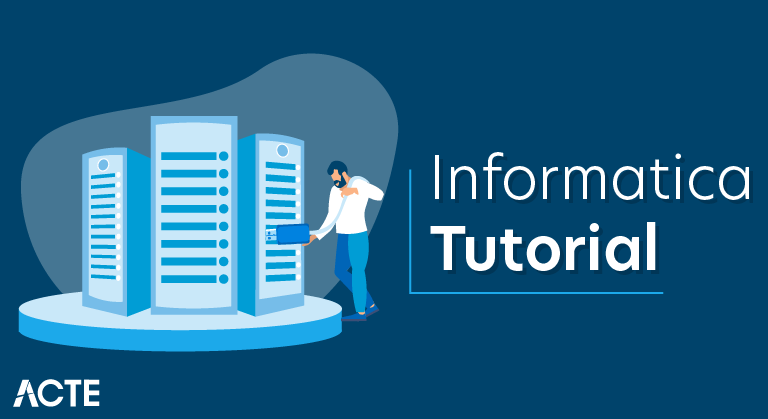 Informatica Tutorial: The Ultimate Guide [STEP-IN]
Last updated on 09th Jul 2020, Blog, Tutorials
INFORMATICA is a Software development company, which offers data integration products. It offers products for ETL, data masking, data Quality, data replica, data virtualization, master data management, etc. Informatica Powercenter ETL/Data Integration tool is the most widely used tool and in the common term when we say Informatica, it refers to the Informatica PowerCenter tool for ETL.
Informatica Powercenter is used for Data integration. It offers the capability to connect & fetch data from different heterogeneous source and processing of data.
For example, you can connect to an SQL Server Database and Oracle Database both and can integrate the data into a third system.
The latest version of Informatica PowerCenter available is 9.6.0. The different editions for the PowerCenter are
Standard edition
Advanced edition
Premium edition
The popular clients using Informatica Powercenter as a data integration tool are U.S Air Force, Allianz, Fannie Mae, ING, Samsung, etc. The popular tools available in the market in competition to Informatica are IBM Datastage, Oracle OWB, Microsoft SSIS and Ab Initio.
Typical use cases for Informatica can be
An organization migrating from existing legacy system like mainframe to a new database system. So the migration of its existing data into a system can be performed.
Enterprises setting up their Data Warehouse would require an ETL tool to move data from the Production system to Warehouse.
Integration of data from various heterogeneous systems like multiple databases and file-based systems can be done using Informatica.
Informatica can be used as a data cleansing tool.
Informatica is better than its competitors as it offers a wide range of product editions. So the user can opt for a specific edition based upon the requirement. Informatica is constantly featured as Data Integration product leader in the Gartner Magic Quadrant listing.
Informatica is available for all the popular platforms. It offers cloud-based services so that with minimal setup an industry can use this tool. Informatica offers real-time data integration, Web services integration, Business to business data integration (B2B), Big data edition, Master Data Management and connectors for social media and Salesforce. Forbes has quoted Informatica as the next Microsoft, this itself reflects the market share Informatica is having over its competitors.
Why do we need Informatica?
Informatica comes to the picture wherever we have a data system available and at the backend we want to perform certain operations on the data. It can be like cleaning up of data, modifying the data, etc. based on certain set of rules or simply loading of bulk data from one system to another.
Informatica offers a rich set of features like operations at row level on data, integration of data from multiple structured, semi-structured or unstructured systems, scheduling of data operation. It also has the feature of metadata, so the information about the process and data operations are also preserved.
Informatica Installation
Step 1 – Click on the link https://edelivery.oracle.com/ and download Informatica Power Center 8.6.1
Step 2 – Now Unzip the file in Stage directory. In this case is D:\INFRA
Step 3 – After unzipping the files you will go to Server\windows\Disk1\InstData\VM
Step 4 – Double click on install.exe. It will open a dialog box.
Step 5 – Click on run to install Informatica power server center.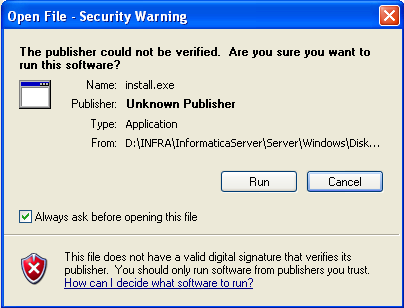 Step 6 – Install Informatica power center server, InstallAnywhere.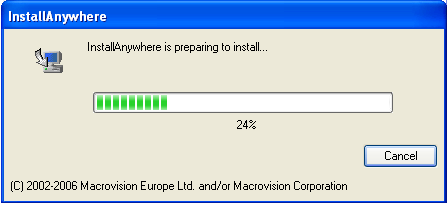 Step 7 – Select the language to install then Click on "OK".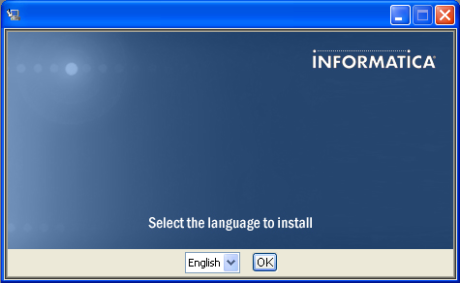 Step 8 – Click on "NEXT"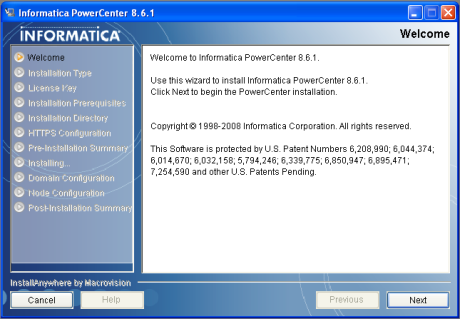 Step 9 – Select Informatica Installation type "Install power Center 8.6.1" then click on "NEXT".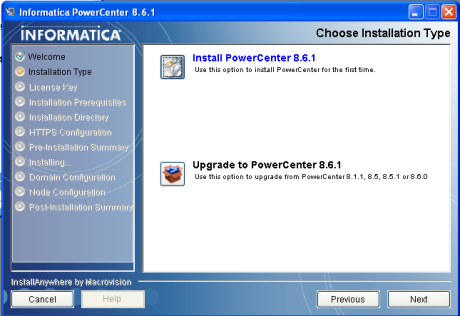 Step 10 – Then browse the license key file and then click on "NEXT".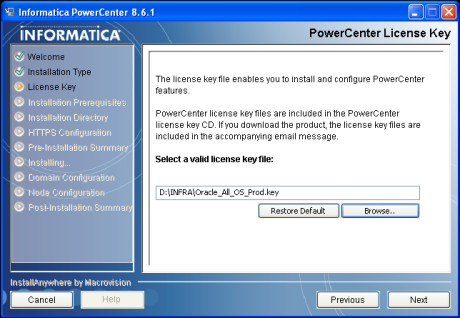 Step 11 – Browse Installation Prerequisites and then click on "NEXT".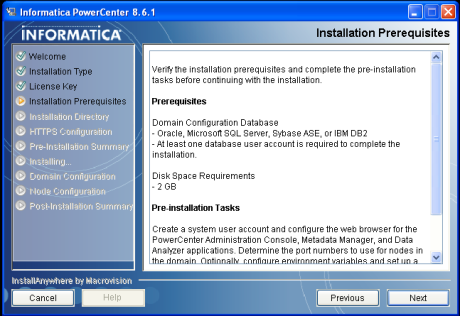 Step 12 – Browse Installation Directory and select the Installation Directory and click "NEXT".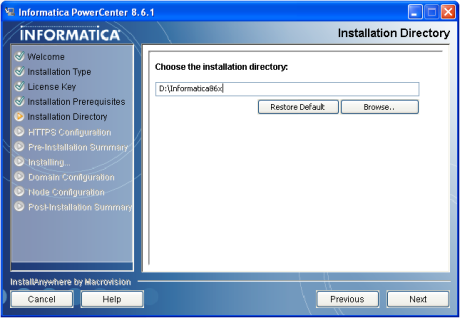 Step 13 – Browse HTTPS Configuration and select the defaults and click on "NEXT".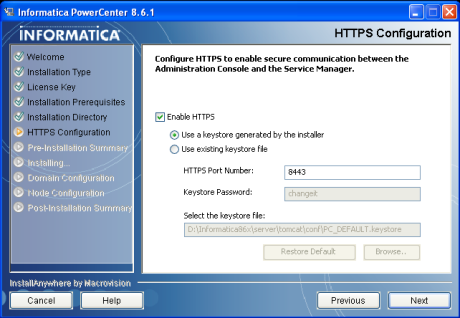 Step 14 – Browse Pre Installation Summary then click on Install Informatica button to start the Informatica installation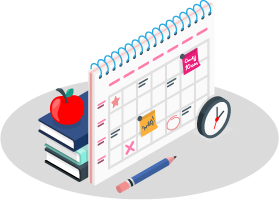 Get Informatica Certification Course to Enhance Your Career
Weekday / Weekend Batches
See Batch Details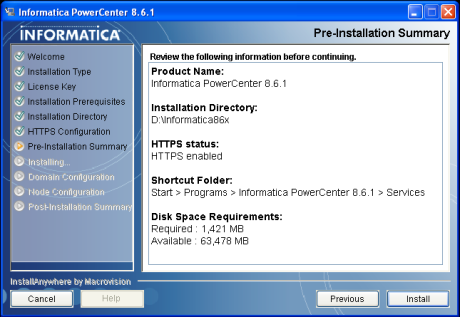 Step 15 – Install Power Center 8.6.1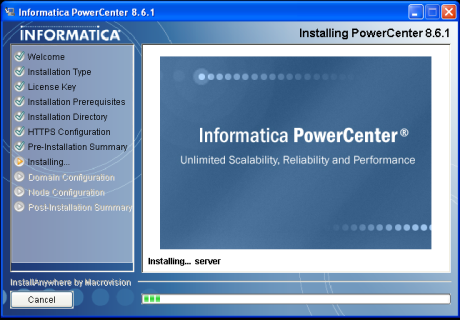 Step 16 – Select Create New Domain and then click on Next.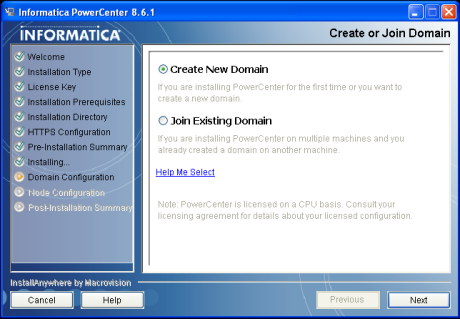 Step 17 – Browse Configure Domain Database Informatica to check the connection click on "Test Connection" to proceed with the next step of Informatica installation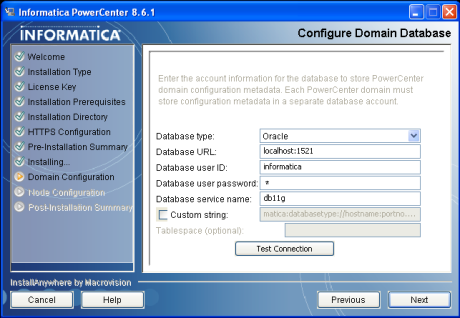 Step 18 – Test Connection passed. On the preceding screen click on NEXT, if the Test Connection passes.

Step 19 – Browse the Domain Configuration and click on NEXT.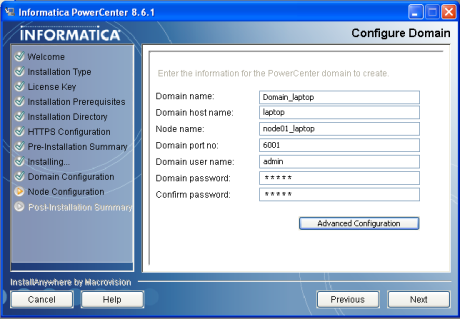 Step 20 – Install Informatica power center server: Please Wait.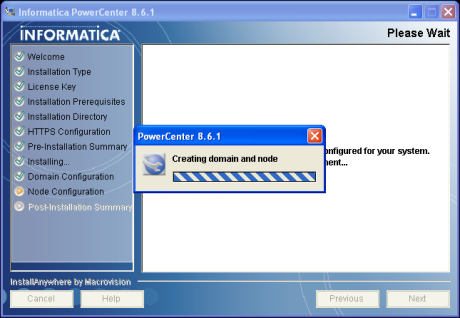 Step 21 – Configure Informatica services Unchecked "Run Informatica services under a different user account" and then click on NEXT.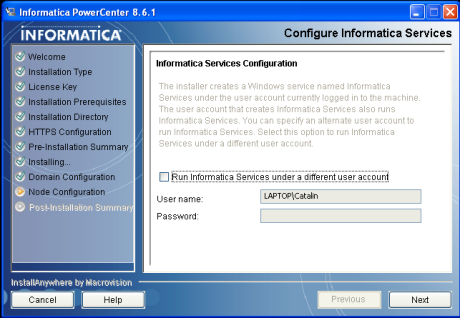 Step 22 – Select Post-Installation Summary.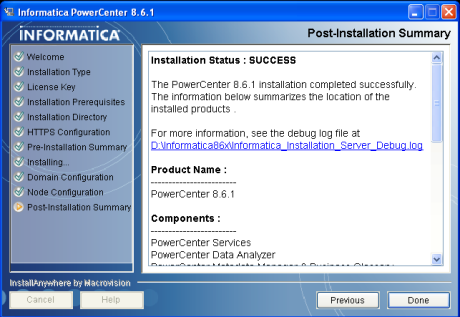 The different features of what is Informatica are as below:
It allows the safe exchange of data in Business to Business and complete end to end visibility.
It extracts data from different kinds of databases with different types of data such as Structured, Unstructured and Semi-Structured data and transforms it into required form and stores into the target databases for the customer requirements.
It has the feature of parallel processing which is defined as the process of computing the execution of multiple processes simultaneously.
It provides the reusability of data, re-running the data and recovery of data.
It gives accurate deliverables and provides automation of deployments.
It provides high security to the data stored.
It provides recovery in the case of data disaster moments and customized access permissions.
It has a centralized cloud server that provides high security with easy accessibility and tracking data facility.
It provides high visibility in case of presentations for the visual data.
It provides easy data maintenance and data monitoring.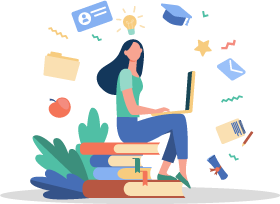 Learn Experts Curated Informatica Training to Build Your Skills & Ability
Instructor-led Sessions
Real-life Case Studies
Assignments
Explore Curriculum
Why it is used?
The conventional application for Informatica is:
The company uses it to transfer from the current legacy system such as mainframe to the latest system of database. Consequently, the transfer of its existent data into the system could be carried out.
Companies establishing their warehouses of data will need a tool of ETL to transfer the data to the warehouse from the Production system.
The assimilation of information from several different systems such as numerous databases and system based on files could be completed utilizing Informatica.
It could be utilized as a tool for cleansing data.
It is beneficial more than it provides a broad collection of product versions. Hence, consumers could choose a particular edition based on requisite. Informatica is consistently emphasized as a product of the integration of data product leader in the listing of Gartner Magic Quadrant.
Advantages and Disadvantages of Informatica
Below are the advantages and disadvantages of Informatica are mentioned below:
Advantages
Below are the advantages:
Effective interfaces of GUI for Session monitoring, Job Scheduling, ETL Design, Debugging, Administration, etc.
Queued Message
Third-party application data
Mainframe and file-based data
XML and unstructured data
Accessibility to a broad variety of data sources of the company
Relational data
Could simply acclimate and merge with provided data handling utility through the vendor.
Load stabilization and parallel processing
The web-based sole point of authority for an application broad enterprise assuring a great quality of protection with diminished administration expense
Grid choice gives an affordable answer to suffice the high demand processing with linear scalability and high accessibility.
Informatica Sample Resumes! Download & Edit, Get Noticed by Top Employers!
Download
Disadvantages
When you are browsing several webpages to locate the drawbacks of Informatics you might not be able to find any as there are very few drawbacks. This section comprises information that is never more shown on any other article. Below you might a few disadvantages:
Workflow Monitor lack of sorting
In the workflow monitor, there is no choice to separate out folders that are required or needed
In the repository manager, it not possible to move an object from one folder to another
Further, you cannot import XML export files
Also, it includes Mappings and workflows development is also not possible