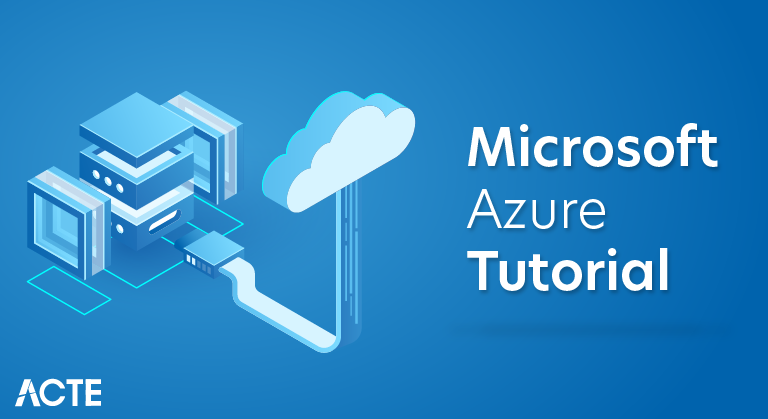 Azure Tutorial | Cloud Computing With Microsoft Azure
Last updated on 29th May 2020, Blog, Tutorials
What is Cloud Computing?
Cloud computing is a term referred to storing and accessing data over the internet. It doesn't store any data on the hard disk of your personal computer. In cloud computing, you access data from a remote server.
What is Microsoft Azure?
Azure is a cloud computing platform which was launched by Microsoft in February 2010. It is an open and flexible cloud platform which helps in development, data storage, service hosting, and service management. The Azure tool hosts web applications over the internet with the help of Microsoft data centers.
Types of Azure Clouds
There are mainly three types of clouds in Microsoft Azure are:
PAAS
SAAS
IASS

Azure as IaaS
IaaS(Infrastructure as a Service) is the foundational cloud platform layer. This Azure service is used by IT administrators for processing, storage, networks or any other fundamental computer operations. It allows users to run arbitrary software.
Advantages:
It offers efficient design time portability
It is advisable for the application which needs complete control
IaaS offers quick transition of services to clouds
The apparent benefit of laaS is that it frees you from the concerns of setting up many physical or virtual machines.
Helps you to access, monitor and manage data centers
Disadvantages of Iaas:
Plenty of security risks from unpatched servers
Some companies have defined processes for testing and updating on-premise servers vulnerabilities. This cannot be done with Azure.
Azure as PaaS
PaaS is a computing platform which includes an operating system, programming language execution environment, database or web services. This Azure service is used by developers and application providers.As its name suggests, this platform is provided to the client to develop and deploy software. It allows the client to focus on application development instead of worrying about hardware and infrastructure.
Advantages: The total cost is low as the resources are allocated on demand and servers are automatically added or subtracted.
Azure is less vulnerable because servers are automatically checked for all known security issues.
The entire process is not visible to the developer, so it does not have a risk of a data breach.
Disadvantages:
Portability issues can occur when you use PaaS services.
There may be different environments at Azure, so the application needs to adapt accordingly.
Azure As SaaS
SaaS (Software as a Service) is software which is centrally hosted and managed. It is a single version of the application that is used for all customers. You can scale out to multiple instances. This helps you to ensure the best performance in all locations. The software is licensed through a monthly or annual subscription. MS Exchange, Office, Dynamics are offered as a SaaS
Azure Domains (Components)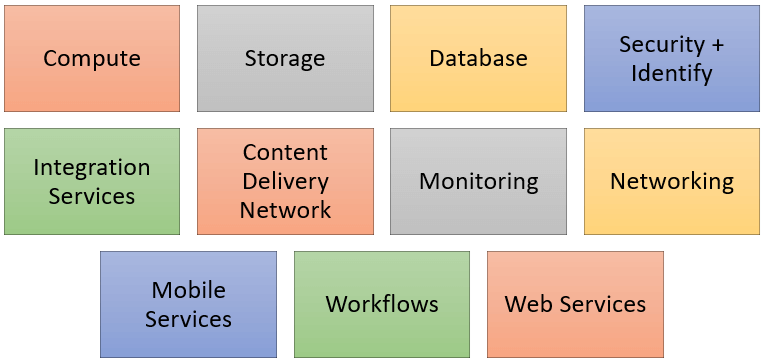 Key Azure Components
Compute
It offers computing operations like app hosting, development, and deployment in Azure Platform. It has the following components:
Virtual Machine: Allows you to deploy any language, workload in any operating system.
Virtual Machine Scale Sets: Allows you to create thousands of similar virtual machines in minutes.
Azure Container Service: Create a container hosting solution which is optimized for Azure. You scale and arrange applications using Kube, DC/OS, Swarm or Docker
Azure Container Registry: This service store and manage container images across all types of Azure deployments
Functions: Let's you write code regardless of infrastructure and provisioning of servers. In the situation when your functions call rate scales up.
Batch: Batch processing helps you scale to tens, hundreds or thousands of virtual machines and execute computer pipelines.
Service Fabric: Simplify microservice-based application development and lifecycle management. It supports Java, PHP, Node.js, Python, and Ruby.
Storage
Azure store is a cloud storage solution for modern applications. It is designed to meet the needs of their customer's demand for scalability. It allows you to store and process hundreds of terabytes of data. It has the following components:
Blob Storage: Azure Blob storage is a service which stores unstructured data in the cloud as objects/blobs. You can store any type of text or binary data, such as a document, media file, or application installer.
Queue Storage: It provides cloud messaging between application components. It delivers asynchronous messaging to establish communication between application components.
File Storage: Using Azure File storage, you can migrate legacy applications. It relies on file shares to Azure quickly and without costly rewrites.
Table Storage: Azure Table storage stores semi-structured NoSQL data in the cloud. It provides a key/attribute store with a schema-less design
Database : This category includes Database as a Service (DBaaS) which offers SQL and NoSQL tools. It also includes databases like Azure Cosmos DB and Azure Database for PostgreSQL. It has the following components:
SQL Database: It is a relational database service in the Microsoft cloud based on the market-leading Microsoft SQL Server engine.
DocumentDB: It is a fully managed NoSQL database service which is built for fast and predictable performance and ease of development.
Redis Cache: It is a secure and highly advanced key-value store. It stores data structures like strings, hashes, lists, etc.
Content Delivery Network
Content Delivery Network (CDN) caches static web content at strategically placed locations. This helps you to offer speed for delivering content to users. It has the following components:
VPN Gateway: VPN Gateway sends encrypted traffic across a public connection.
Traffic Manager: It helps you to control and allows you to do the distribution of user traffic for services like WebApps, VM, Azure, and cloud services in different Datacenters
Express Route: Helps you to extend your on-premises networks into the Microsoft cloud over a dedicated private connection to Microsoft Azure, Office 365, and CRM Online.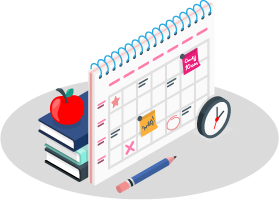 Learn Advanced Microsoft Azure Training & Certification Course
Weekday / Weekend Batches
See Batch Details
Security + Identify services
It provides capabilities to identify and respond to cloud security threats. It also helps you to manage encryption keys and other sensitive assets. It has the following components:
Key Vault: Azure Key Vault allows you to safeguard cryptographic keys and helps you to create secrets used by cloud applications and services.
Azure Active Directory: Azure Active Directory and identity management service. This includes multi-factor authentication, device registration, etc.
Azure AD B2C: Azure AD B2C is a cloud identity management solution for your consumer-facing web and mobile applications. It allows you to scale hundreds of millions of consumer identities.
Enterprise Integration Services:
Service Bus: Service Bus is an information delivery service which works on the third-party communication system.
SQL Server Stretch Database: This service helps you migrates any cold data securely and transparently to the Microsoft Azure cloud
Azure AD Domain Services: It offers managed domain services like domain join, group policy, LDAP, etc. This authentication is compatible with Windows Server Active Directory.
Multi-Factor Authentication: Azure Multi-Factor Authentication (MFA) is two-step verification. It helps you to access data and applications to offer a simple sign-in process.
Monitoring + Management Services
These services allow easy management of Azure deployment.
Azure Resource Manager: It makes it easy for you to manage and visualize resources in your app. You can even control who your organization can act on the resources.
Automation: Microsoft Azure Automation is a way to automate the manual, long-running, error-free, and constantly repeated tasks. These tasks are commonly performed in a cloud and enterprise environment.
Azure Networking
Virtual Network: Perform Network isolation and segmentation. It offers filter and Route network traffic.
Load Balancer: Offers high availability and network performance of any application. Load balance information Internet traffic to Virtual machines.
Application Gateway: It is a dedicated virtual appliance that offers an Application Delivery Controller (ADC) as a service.
Azure DNS: Azure DNS hosting service offers name resolution using Microsoft Azure infrastructure.
Web and Mobile Services:
Web Apps: Web Apps allows you to build and host websites in the programming language of your choice without the need to manage its infrastructure.
Mobile Apps: Mobile Apps Service offers a highly scalable, globally available mobile app development platform for users.
API Apps: API apps make it easier to develop, host and consume APIs in the cloud and on-premises.
Logic Apps: Logic Apps helps you to simplify and implement scalable integrations
Workflows in the cloud
It provides a visual designer to create and automate your process as a series of steps known as a workflow
Notification Hubs: Azure Notification Hubs offers an easy-to-use, multi-platform, scaled-out push engine
Event Hubs: Azure Event Hubs is a data streaming platform which can manage millions of events per second. Data sent to an event hub can be transformed and stored using any real-time analytics offered by batching/storage adapters.
Azure Search: It is a cloud search-as-a-service solution which offers server and infrastructure management. It offers ready-to-use service that you can populate with your data. This can be used to add search to your web or mobile application.
Migration
Migration tools help an organization estimate workload migration costs. It also helps to perform the migration of workloads from your local data centers to the Azure cloud.
Applications of Azure
Microsoft Azure is used in a broad spectrum of applications like:
Infrastructure Services
Mobile Apps
Web Applications
Cloud Services
Storage, Backup, and Recovery
Data Management
Advantages of Azure
Here, are advantages of using Azure:
Azure infrastructure will cost-effectively enhance your business continuity strategy
It allows you to access the application without buying a license for the individual machine
Windows Azure offers the best solution for your data needs, from SQL database to blobs to tables
Offers scalability, flexibility, and cost-effectiveness
Helps you to maintain consistency across clouds with familiar tools and resources
Allows you to extend the data center with a consistent management toolset and familiar development and identity solutions.
You can deploy premium virtual machines in minutes which also include Linux and Windows servers
Helps you to scale your IT resources up and down based on your needs
You are not required to run the high-powered and high-priced computer to run cloud computing's web-based applications.
You will not require processing power or hard disk space if you are using Azure
Cloud computing offers virtually limitless storage
If your personal computer or laptop crashes, all your data is still out there in the cloud, and it is still accessible
Sharing documents leads directly to better collaboration
If you change your device your computers, applications and documents follow you through the cloud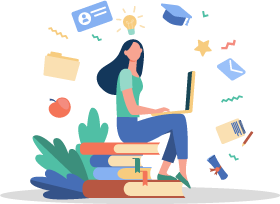 Get JOB Oriented Microsoft Azure Training for Beginners By MNC Experts
Instructor-led Sessions
Real-life Case Studies
Assignments
Explore Curriculum
Disadvantages of Azure
Cloud computing is not possible if you can't connect to the Internet
Azure is a web-based application which requires a lot of bandwidth to download, as do large documents
Web-based applications can sometimes be slower compared to accessing a similar software program on your desktop PC
Cloud computing is a term referred to storing and accessing of data over the internet
Azure is a cloud computing platform which was launched by Microsoft in February 2010
There are mainly three types of clouds in Microsoft Azure: 1)PAAS 2) SAAS 3) IASS
IaaS(Infrastructure as a Service) is the foundational cloud platform layer.
PaaS is a computing platform which includes an operating system, programming language execution environment, database or web services
SaaS (Software as a Service) is software which is centrally hosted and managed.
Data Centres and regions, Azure portal, Resources, Resource groups, Resource Manager templates, Azure PowerShell, Azure command-line interface(CLI) are some of the key terms used in Azure
Important components of Microsoft Azure are Compute, Storage, Database, Monitoring & management services, Content Delivery Network, Azure Networking, Web & Mobile services, etc.
Traditional model used purpose-built hardware while Azure cloud model uses Industry-standard hardware
Important applications of Microsoft Azure are: Infrastructure Services, Mobile Apps, Web Applications, Cloud Services, Storage, Backup, and Recovery, Data Management, and Media Services
The biggest advantage of Microsoft Azure infrastructure is that it will cost-effectively enhance your business continuity strategy
Web-based applications like Azure can sometimes be slower compared to accessing a similar software program on your desktop PC
Why is Microsoft Azure so widely used?
Azure is growing at a very fast rate and is trying to close the gap between itself and the market leader AWS in the cloud domain. There are some distinct features of Azure that are making it grow so fast in the cloud domain. In this Azure tutorial, we have listed some of the top reasons why Azure is being so widely used even though it is such a late entrant in the cloud domain:
Azure offers a very good Platform as a Service (PaaS) with excellent tools and building blocks.
It offers compatibility with .NET programming languages which is a great advantage.
The security and data protection feature of Azure is second to none in the cloud domain.
Azure offers excellent hybrid cloud features and easy migration from on-premise to cloud.
It gives an integrated environment for app development, testing, and deployment in the cloud.
You can learn Azure without any hassles and successfully set up an Azure cloud infrastructure.
Azure has enterprise agreements with Windows users making it easy for them to migrate to Azure.
Top Azure Services
Here, we will list some of the top Azure services available: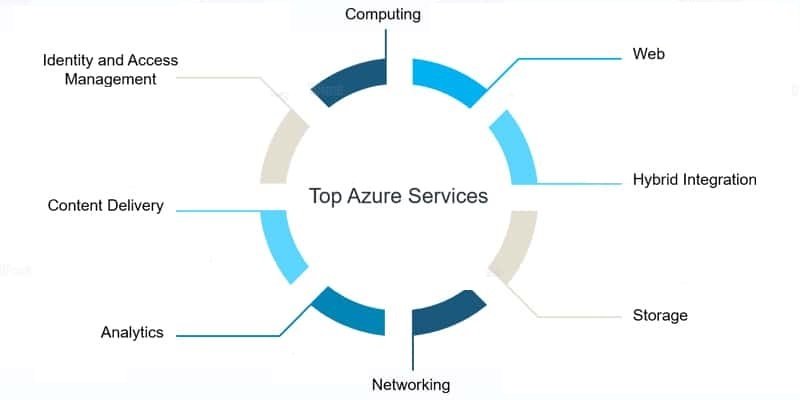 Computing: The computing services offered by Azure are for managing virtual machines and supporting remote applications, containerization, and batch processing.
Web: The web services offered by Azure include those used for the development and deployment of web applications, along with the services for search, API management, and content delivery, among others.
Storage: Azure offers a whole range of services for scalable cloud storage for both structured and unstructured data. This support is available for persistent and archival storage of big data.
Networking: Azure virtual network services are offered for establishing dedicated connections and gateways and also for load balancing, traffic management, DNS hosting, and network security.
Analytics: The range of analytical services offered by Azure include Big Data Analytics, real-time analytics, Machine Learning, IoT, and data warehousing, among others.
Content Delivery: Azure offers services for globally distributed networks for content caching, on-demand streaming services, media playback, encoding, and so on.
Identity and Access Management (IAM): The Azure IAM services ensure authorized access to Azure network, encryption, protecting sensitive information, Azure Active Directory, and so on.
Hybrid Integration: Azure offers services in on-premise infrastructure in connection with Azure data centers, server backup, and recovery.
Why should you learn Azure?
Azure is growing rapidly and is the fastest-growing cloud platform in the world. Since it is a new offering from Microsoft, we can expect the company to grow at an accelerated pace well into the future. All this means, there will be a huge number of job opportunities for professionals who are trained and certified in Microsoft Azure. This means, if you go through this Azure tutorial and master it, then you will have a basic understanding of this powerful cloud platform which will naturally help you fast-track.
This Microsoft Azure tutorial further covers the introduction to Microsoft Azure, definition of Cloud Computing, advantages and disadvantages of Cloud Computing, constructing Azure Virtual Machines, hosting web applications on the Azure platform, storing SQL and tabular data in Azure, storage blobs, designing a communication strategy by using queues and the service bus, and Azure Resource Manager.
Microsoft Azure Sample Resumes! Download & Edit, Get Noticed by Top Employers!
Download
Features of Microsoft Azure
Here, we list some of the top features of Azure that are forcing enterprises of all sizes to move to the Azure cloud infrastructure:
Azure search can be used to embed search functionality into any custom application.
Azure ExpressRoute offers a direct connection between Azure data center and your on-premise environment.
Secure, dedicated access to Redis cache is possible with Azure Redis Cache.
Azure Batch lets you effortlessly run and execute your applications like an assembly line.
Azure Data Factory lets you seamlessly work on the on-premise or cloud infrastructure.
Coding for Azure:
Coding in Azure comes to the picture only when it comes to Azure Developer roles. There is no specific language as such in which Azure coding is to be done, however, having prior knowledge of any programming language may prove to be extremely beneficial for learners.Hope you have found all the details that you were looking for, in this article.