Upcoming Batches
25- Sep- 2023
08:00 AM & 10:00 AM Batches
(Class 1Hr - 1:30Hrs) / Per Session
27- Sep- 2023
08:00 AM & 10:00 AM Batches
(Class 1Hr - 1:30Hrs) / Per Session
30- Sep- 2023
(10:00 AM - 01:30 PM)
(Class 3hr - 3:30Hrs) / Per Session
30- Sep- 2023
Sat,Sun
Weekend Fasttrack
(09:00 AM - 02:00 PM)
(Class 4:30Hr - 5:00Hrs) / Per Session
Most Job Oriented Topics Covered in UiPath Course
Acquire Our Resourceful Ui Path Automation Course:
Practical use cases and real-world examples are provided to apply your UiPath skills effectively.
Acquire proficiency in automating repetitive tasks, improving efficiency, and reducing manual effort.
Gain knowledge of UiPath Orchestrator for centralized management and monitoring of automation processes.
Comprehensive UiPath training program covering all aspects of automation, including design and implementation.
Learn advanced features of UiPath, such as data manipulation and exception handling, for more deeper automation.
Expert-led training with certified Ui Path Automation trainers, ensuring quality guidance and industry-relevant knowledge.
Classroom Batch Training
One To One Training
Online Training
Customized Training
This is How ACTE Students Prepare for Better Jobs

What skills will I gain after completing UiPath training?
Effective deployment
Workflow design and automation
Data manipulation, and integration
Robotic Process Automation (RPA)
Management of software robots
Proficiency in UiPath automation tools
Why should I pursue UiPath training?
UiPath training offers extensive career opportunities in the field of automation and RPA, enhances process automation skills, and provides expertise in one of the leading automation platforms.
Are there any prerequisites for enrolling in UiPath training?
No specific prerequisites are required for enrolling in UiPath training. However, having a basic understanding of programming concepts and some familiarity with business processes would be beneficial.
Which topics are covered in UiPath training?
UiPath Studio
Error handling
UiPath Orchestrator
Workflow automation
Exception management
Data scraping and manipulation
Robotic Process Automation (RPA)
What are the benefits of UiPath training for students?
UiPath training equips students with in-demand automation skills, enhances their employability in various industries, Boosts job market competitiveness.
Is UiPath training a good career choice?
Yes, UiPath training offers promising career prospects in the field of automation and RPA, with high demand for professionals skilled in UiPath implementation and management.
What are the advantages of learning UiPath?
Reduces manual errors
Enhances productivity
Increases operational efficiency
Enables the automation of repetitive tasks
Enables organizations to achieve digital transformation.
Are there practical assignments in UiPath training?
Yes, UiPath training often includes practical assignments that involve hands-on experience with building and deploying automation workflows, integrating with various systems, and managing software robots.
Which tools are used in UiPath training?
UiPath Studio
UiPath Robots
Data scraping
Integration tools
UiPath Orchestrator
How will UiPath training be relevant in the future?
UiPath training is relevant for the future due to increasing demand for RPA, technological advancements, digital transformation needs, and expanding job opportunities.
What career paths are available for those who complete UiPath training?
RPA developers
Process analysts
Automation architects
Automation consultants
Automation project managers
Gain an overview of Uipath course:
The UiPath course is a comprehensive training program that helps individuals learn and master Robotic Process Automation (RPA) using the UiPath platform. It covers various topics such as RPA fundamentals, UiPath Studio, Orchestrator, and advanced automation techniques. Through hands-on practice and real-world examples, participants gain the skills to automate repetitive tasks, improve productivity, and optimize business processes. The course also prepares individuals for certification, which enhances their qualifications and career prospects in the growing field of Robotic process automation (RPA). Overall, the UiPath course provides learners with valuable skills to excel in the world of automation.
Additional Information
Reasons to Choose UiPath Training
Growing Demand: UiPath is one of the leading RPA platforms, and there is a high demand for skilled UiPath professionals in the job market.
Career Opportunities: Learning UiPath opens up various career opportunities in the field of Robotic Process Automation, including roles such as RPA Developer, Automation Analyst, and Process Consultant.
Industry-Standard Tool: UiPath is widely recognized and used by organizations across industries, making it a valuable skill to have in today's digital workforce.
Automation Efficiency: UiPath enables the automation of repetitive and mundane tasks, leading to increased efficiency and productivity in business processes.
Cost Savings: By automating manual processes, organizations can reduce costs associated with human errors, time-consuming tasks, and resource allocation.
Time-Saving: UiPath allows for the automation of complex workflows, saving time and enabling employees to focus on higher-value tasks.
Continuous Learning: UiPath offers a range of advanced features and capabilities, providing opportunities for continuous learning and professional growth.
UiPath Community: The UiPath community is vibrant and supportive, providing access to resources, forums, and networking opportunities to enhance learning and collaboration.
Benefits to Choose the Uipath Course
High Demand: UiPath is a widely adopted RPA platform, and there is a growing demand for skilled UiPath professionals in the job market.
Career Opportunities: Learning UiPath can open doors to various career opportunities in the field of Robotic Process Automation, with roles such as RPA Developer, Automation Analyst, and Process Consultant.
Industry Recognition: UiPath is a recognized and respected tool in the RPA industry, and having UiPath skills can enhance your credibility and market value.
Increased Efficiency: With UiPath, you can automate repetitive and manual tasks, leading to improved operational efficiency and reduced errors.
Time and Cost Savings: Automating tasks with UiPath saves time and reduces costs by streamlining processes and eliminating the need for manual intervention.
Enhanced Productivity: By offloading repetitive tasks to UiPath robots, employees can focus on more strategic and value-added activities, increasing overall productivity.
Continuous Learning: UiPath offers a range of training resources, documentation, and a vibrant community to support continuous learning and skill development.
Competitive Advantage: Acquiring UiPath skills gives you a competitive edge in the job market, as organizations increasingly embrace automation technologies.
Duration of this course
The duration of a UiPath course can vary depending on the specific program or training provider. Generally, UiPath courses range from a few days to several weeks, with intensive boot camp-style programs and comprehensive certification courses available. The duration may also depend on the level of expertise you aim to achieve, such as beginner, intermediate, or advanced. It is advisable to check with the training provider or review the course curriculum for more specific information on the duration of a particular UiPath course.
Roles and Responsibilities
Analyzing business processes and identifying automation opportunities.
Developing and implementing UiPath workflows and automation solutions.
Troubleshooting and debugging automation issues to ensure smooth operation.
Monitoring and maintaining UiPath robots and automation infrastructure.
Conducting user training and providing support for UiPath tools and applications.
Documenting and updating process automation workflows and procedures.
Continuously improving and optimizing existing automation processes for efficiency.
The Value of Professional Uipath Certification in Expanding Career Opportunities
Enhanced credibility and recognition in the field of robotic process automation (RPA).
Increased job prospects and higher earning potential as a certified UiPath professional.
Validation of expertise in UiPath tools and methodologies, demonstrating proficiency to employers.
Access to a global community of UiPath professionals for networking and knowledge sharing.
Opportunities for career advancement and leadership roles in RPA implementation and management.
Ability to contribute to digital transformation initiatives and automation projects in various industries.
Improved marketability and competitiveness in the job market, distinguishing oneself from non-certified professionals.
Continuous professional development through access to updated resources, training, and certifications offered by UiPath.
The Future Scope of Uipath in the Automation Industry
Increasing demand for automation solutions: As businesses across industries strive for digital transformation and process optimization, the need for automation tools like UiPath is expected to grow.
Expanding job opportunities: With the rising adoption of robotic process automation (RPA), there will be a surge in demand for skilled UiPath professionals who can develop, implement, and maintain automation solutions.
Industry-wide application: UiPath finds applications in various sectors, including finance, healthcare, retail, logistics, and more. This broad applicability ensures that UiPath professionals can explore opportunities across multiple industries.
Innovation and technological advancements: UiPath continually evolves its platform, introducing new features and capabilities to meet the changing needs of businesses. This opens up avenues for UiPath professionals to stay updated and leverage advanced automation technologies.
Potential for business ownership: As businesses focus more and more on automation, UiPath specialists have the chance to find their own automation consulting company or work as independent consultants, providing their knowledge to businesses in need of automation solutions.
Integration with new technologies: Innovative technologies include artificial intelligence (AI), machine learning (ML), and natural language processing (NLP), allowing the creation of advanced automation systems that are capable of handling challenging jobs.
Adoption and standardization on a worldwide scale: Organizations all around the world have adopted UiPath as a standard automation solution. The future of UiPath experts is secure thanks to this widespread use Continuous learning and development are possible because of UiPath's wide range of learning materials, certifications, and community support.
Job Opportunities After UiPath Course
RPA Developer: As a UiPath-trained professional, you can pursue a career as an RPA developer, responsible for designing, developing, and implementing automation solutions using UiPath.
Automation Analyst: Automation analysts analyze business processes, identify automation opportunities, and collaborate with development teams to implement UiPath-based automation solutions.
RPA Consultant: With expertise in UiPath, you can work as an RPA consultant, advising organizations on automation strategies, assessing process suitability for automation, and guiding implementation projects.
Process Automation Manager: Process automation managers oversee the implementation and management of automation initiatives within an organization, leveraging UiPath to streamline workflows and improve operational efficiency.
Solution Architect: As a UiPath-certified solution architect, you can design end-to-end automation solutions, evaluate system requirements, and provide technical guidance to development teams.
Automation Project Manager: Automation project managers lead and manage automation projects, ensuring the successful delivery of UiPath-based automation solutions within time and budget constraints.
Business Analyst: With knowledge of UiPath, you can work as a business analyst specializing in process automation, gathering requirements, conducting feasibility studies, and defining automation workflows.
Automation Trainer: Experienced UiPath and blue prism professionals can pursue a career as automation trainers, delivering training programs and workshops to individuals and organizations seeking to enhance their automation capabilities.
ACTE Bangalore offers UiPath Training in more than 27+ branches with expert trainers. Here are the key features,
40 Hours Course Duration
100% Job Oriented Training
Industry Expert Faculties
Free Demo Class Available
Completed 500+ Batches
Certification Guidance
ACTE TRAINING INSTITUTE PVT LTD is the unique Authorised Oracle Partner, Authorised Microsoft Partner, Authorised Pearson Vue Exam Center, Authorised PSI Exam Center, Authorised Partner Of AWS and National Institute of Education (nie) Singapore.
Syllabus of UiPath Training in Bangalore
Module 1: Introduction to RPA
About RPA
RPA Tools
RPA Tools Installation
Differences between Automation Tools
Hardware and Software Requirements
Module 2: Workflow Designer Panels
Ribbon
Universal Search Box
Activities Panel
Design Panel
Library Panel
Project Panel
Properties Panel
Outline Panel
Control Panel
Module 3: Types of Workflows
Sequences
Flowcharts
State Machines
Module 4: Managing Variables and Arguments
Managing Variables
Types of Variables
Managing Arguments
Module 5: Data Scraping
Examples of Using Data Scraping
Module 6: Recording
About Recording
Recording Types
Automatic Recording
Example of Automatic Recording with Basic and Desktop
Example of Automatic Recording with Web
Manual Recording
Module 7: Advanced UI Interaction
Input Methods
Output or Screen Scraping
Module 8: Recording
About Selectors
Selectors with Wildcards
Full versus Partial Selectors
UiPath Explorer
Module 9: Image and Text Automation
About Image and Test Automation
Mouse and Keyboard Activities
Text Activities
OCR Activities
Image Activities
Examples for all activities
Module 10: Citrix Automation
Introduction to Citrix Automation
Example of Citrix Automation
Module 11: Excel & Data Tables
Excel Activities
Data Tables Activities
Examples
Module 12: PDF

Data Extraction from PDF
PDF Activities
Module 13: Email Automation

Email Automation
Email Activities
Module 14: Debugging and Exception Handling

Debug Workflow
Error Handlings
Module 15: GCP Architect Cheat Sheet and Case Studies

Cheat sheets for various GCP services
Real world implementations of GCP in various Case Studies
Need customized curriculum?
Hands-on Real Time UiPath Projects
Project 1
Transferring Data from one system to another
This Project is the process of transferring data from one system to another database or application.
Project 2
Focal Point
It hybridizes UiPath and python web-scraping to collect all of this information, store it.
Project 3
Customer Support Emails
This project helps you reach out and build a bond with a customer.
Project 4
Intelligo
To identify and target the most potential customer base.
Get Hired by Best Uipath Company With Our Placement
Access to cutting-edge tools, software, and datasets is available through our partnerships, enabling hands-on learning in UiPath.
Internship and job placement opportunities with our partner companies are offered to our UiPath students, boosting their career prospects.
Our partnerships empower clients to drive innovation and growth within their organizations by connecting them with talented UiPath professionals.
We have strong connections with major MNCs worldwide, such as Google, CTS, TCS, IBM, and others, ensuring excellent placement opportunities for our UiPath students.
Our recruitment agency collaborates with top placement agencies specializing in UiPath and automation, ensuring the sourcing of highly skilled professionals in the field.
Positive feedback from clients highlights the quality of candidates sourced through our partnerships, validating the effectiveness of our placement initiatives.
Our Uipath Company partnerships provide guest lectures, workshops, and real-world case studies, giving practical insights to students and enhancing their learning experience.
Gain a Career Opportunity With Uipath Certification
Our UiPath certification program offers a comprehensive and highly regarded certification that validates your expertise in UiPath RPA technology. By obtaining our UiPath certification, you gain industry recognition and show case your proficiency in designing, developing, and implementing automation solutions using UiPath. Our certification is highly valued by employers, opening up exciting career opportunities in the rapidly growing field of Robotic Process Automation (RPA). You may strengthen your professional reputation by completing our demanding training and certification procedure, increase your earning potential, and become a well-known UiPath authority in the field.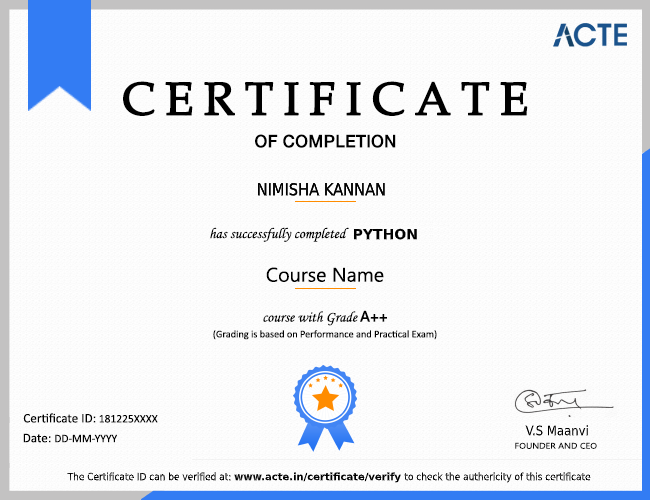 Why is a UiPath certification important?
Validate your skills
Expertise in UiPath automation
Professional credibility
Opening doors to job opportunities
How many levels of UiPath certifications are there?
Expert
Catering
Associate
Specialist
What are some popular UiPath certification tracks?
RPA Developer
Business Analyst
Solution Architect
Implementation Manager
How can I prepare for a UiPath certification exam?
You can prepare for a UiPath certification exam by utilizing official training materials, practice exams, hands-on experience with UiPath tools, and participating in training programs provided by UiPath and its certified training partners.
How can a UiPath certification benefit my career in robotic process automation (RPA)?
Validates skills
Boosts career prospects
Demonstrates expertise in UiPath RPA technology
Complete Your Course
a downloadable Certificate in PDF format, immediately available to you when you complete your Course
Get Certified
a physical version of your officially branded and security-marked Certificate.
Get Trained With Our Uipath Academy Trainer
Simplifies complex concepts for effective learning, providing practical insights and real-world examples.
Proven track record of delivering high-quality training, empowering individuals with practical UiPath skills.
Engaging and motivating communication style enhances the learning experience and student engagement.
Passionate about sharing knowledge and best practices, inspiring learners, and fostering a passion for UiPath.
Highly experienced and certified UiPath professional with in-depth knowledge of RPA and the Uipath Academy.
UiPath Training in Bangalore Expertise in designing and implementing complex automation solutions, demonstrating the ability to handle real-world automation challenges.
Our ACTE Bangalore Reviews are listed here. Reviews of our students who completed their training with us and left their reviews in public portals and our primary website of ACTE & Video Reviews.

Gayathri Sekar
Studying
i have completed UiPath course at "ACTE" in Bangalore. Mrs. sumathi (trainer) teach more about UiPath & how to use tools that was really helpful to my career on UiPath.

Thulasi Raman
I had completed my UI Path course at Bangalore. ACTE is the best place to improve your skills and to move forward in your career. The trainers and faculty here were very friendly and comfortable. My trainer had explained the concept as well as the subject in clear way. Topics are not skipped and trainer ensures that you understand the topic. Thanks to my trainer and ACTE for this wonderful opportunity!

Navaneethan Shankar
I have undergone UiPath course in ACTE @ Pune , training was very good and it was very heplful for me. Trainer is experienced person,so he helped me to get good knowledge exposure.

Kaviya Sree
Studying
"First of all I would like thank Mr.Venkat and well trainer selvam ACTE @ Porur for given wonderful training on UiPath , Before I was joining ACTE I was nothing known about UiPath,but now I understand UiPath. this institute only give gud opportunity

Ramya Raghupathy
I have been completed UiPath classes in ACTE @ Bangalore .All topics are covered step by step and all classes are conduct practical based. So I can learn easily. Especially trainer is very good & friendly manner any doubts we can ask at the time he explained with example for all our queries. Definitely, .I specially Thanks my Trainer Mr.Ram.
Looking for better Discount Price?
Call now: +91 93833 99991 and know the exciting offers available for you!
Does ACTE provide placement?
ACTE is the Legend in offering placement to the students. Please visit our Placed Students List on our website
We have strong relationship with over 700+ Top MNCs like SAP, Oracle, Amazon, HCL, Wipro, Dell, Accenture, Google, CTS, TCS, IBM etc.
More than 3500+ students placed in last year in India & Globally
ACTE conducts development sessions including mock interviews, presentation skills to prepare students to face a challenging interview situation with ease.
85% percent placement record
Our Placement Cell support you till you get placed in better MNC
Please Visit Your Student Portal | Here FREE Lifetime Online Student Portal help you to access the Job Openings, Study Materials, Videos, Recorded Section & Top MNC interview Questions
Is ACTE certification good?
ACTE
Certificate
Certification is Accredited by all major Global Companies
ACTE is the unique Authorized Oracle Partner, Authorized Microsoft Partner, Authorized Pearson Vue Exam Center, Authorized PSI Exam Center, Authorized Partner Of AWS and National Institute of Education (NIE) Singapore
Work On Live Projects?
The entire UiPath training has been built around Real Time Implementation
You Get Hands-on Experience with Industry Projects, Hackathons & lab sessions which will help you to Build your Project Portfolio
GitHub repository and Showcase to Recruiters in Interviews & Get Placed
Who are the Trainers?
All the instructors at ACTE are practitioners from the Industry with minimum 9-12 yrs of relevant IT experience. They are subject matter experts and are trained by ACTE for providing an awesome learning experience.
What if I miss one (or) more class?
No worries. ACTE assure that no one misses single lectures topics. We will reschedule the classes as per your convenience within the stipulated course duration with all such possibilities. If required you can even attend that topic with any other batches.
What are the modes of training offered for this UiPath Course?
We offer this course in "Class Room, One to One Training, Fast Track, Customized Training & Online Training" mode. Through this way you won't mess anything in your real-life schedule.
Why Should I Learn UiPath Course At ACTE?
UiPath Course in ACTE is designed & conducted by UiPath experts with 10+ years of experience in the UiPath domain
Only institution in India with the right blend of theory & practical sessions
In-depth Course coverage for 60+ Hours
More than 50,000+ students trust ACTE
Affordable fees keeping students and IT working professionals in mind
Course timings designed to suit working professionals and students
Interview tips and training
Resume building support
Real-time projects and case studies
Can I Access the Course Material in Online?
Yes We Provide Lifetime Access for Student's Portal Study Materials, Videos & Top MNC Interview Question.
What certification will I receive after course completion?
You will receive ACTE globally recognized course completion certification Along with National Institute of Education (NIE), Singapore.
How Old Is ACTE?
We have been in the training field for close to a decade now. We set up our operations in the year 2009 by a group of IT veterans to offer world class IT training & we have trained over 50,000+ aspirants to well-employed IT professionals in various IT companies.
What Will Be The Size Of A UiPath Batch At ACTE?
We at ACTE believe in giving individual attention to students so that they will be in a position to clarify all the doubts that arise in complex and difficult topics. Therefore, we restrict the size of each UiPath batch to 5 or 6 members
Will I Be Given Sufficient Practical Training In UiPath?
Our courseware is designed to give a hands-on approach to the students in UiPath. The course is made up of theoretical classes that teach the basics of each module followed by high-intensity practical sessions reflecting the current challenges and needs of the industry that will demand the students' time and commitment.
How Do I Enroll For The UiPath Course At ACTE?
Corporate Training

If you want to give the Trending technology experience to your esteemed employees, we are here to help you!

Group Discount

If you have Three or more people in your training we will be delighted to offer you a group discount.