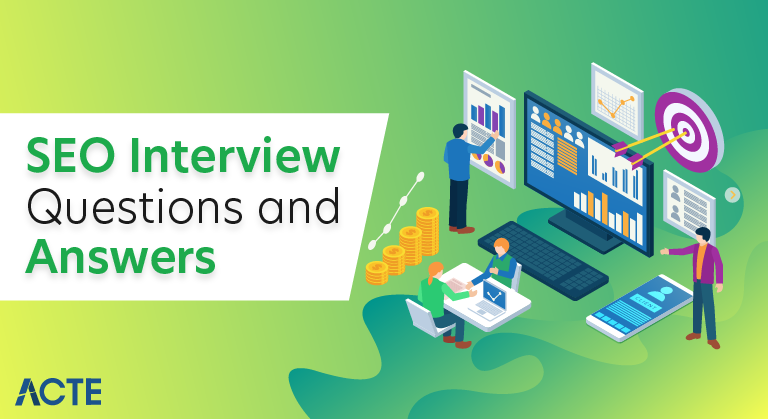 Top Best Responses SEO Interview Questions & Answers
Last updated on 04th Jul 2020, Blog, Interview Questions
These SEO Interview Questions have been designed specially to get you acquainted with the nature of questions you may encounter during your interview for the subject of SEO .As per my experience good interviewers hardly plan to ask any particular question during your interview, normally questions start with some basic concept of the subject and later they continue based on further discussion and what you answer.we are going to cover top 100 SEO Interview questions along with their detailed answers. We will be covering SEO scenario based interview questions, SEO interview questions for freshers as well as SEO interview questions and answers for experienced.
Q1. What are the different types of SEO?
Ans:
There are three different types of SEO –
On-page SEO : On-page or on-site SEO includes practice strategies to optimize an individual page on a website and improve the rankings of a website, and earn organic traffic.
Off-page SEO : This process also refers to techniques for improving a website's position in the search engine results page (SERPs).
Technical SEO : Technical SEO is the process of optimizing a website for crawling and indexing, and helps search engines access, crawl, interpret and index the website in a hassle-free manner.
Q2. What is a backlink?
Ans:
Any incoming links to a website or web page are known as backlinks. High-quality backlinks help the web pages to rank up and have better visibility on the search engines.
Q3. What is an outbound link?
Ans:
Any link on a website that links to another web page or website is known as an outbound link. Outbound links help to extend the relevancy signal of the webpage and boost SEO rankings if they come from authority sites.
Q4. Differentiate between on-page and off-page optimization.
Ans:
On-page optimization is used to regulate the site to be optimized through page coding, whereas off-page optimization is not regulated by page coding.
Q5. What is Page Rank?
Ans:
PageRank is one of the algorithms used by Google, where it gives a page rank to determine a web page's relevance or importance.
Q6. What is a keyword?
Ans:
SEO keywords are words and phrases in the web content that make it possible for people to find a site via search engines.
Q7. Name some of the tools that you have used in SEO.
Ans:
Name all the tools that you have used related to SEO. Common ones are Google Search Console, Neil Patel SEO Analyzer, Google Keyword Planner, SEMrush, Longtail PRO, Screaming Frog, DeepCrawl, Woorank, Ahrefs, Open Site Explorer, etc.
Q8. What is keyword density?
Ans:
It is the percentage density of a particular phrase or keyword available on a website compared to the total number of words on a particular page.
Q9. What are Meta Tags?
Ans:
HTML Meta Tags are officially page data tags that lie between the open and closing head tags in the HTML code of a document.
Q10. Name the four important Meta tags in SEO and mention their character limits.
Ans:
Description Meta tag — 150 characters limits
Keyword Meta tag — 200 characters limits
Title Meta tag — 60 characters limits
Meta Robot tag – N/A
Q11. How do you measure SEO success?
Ans:
You might want to answer this question based on the type of company you're interviewing for, as goals might differ. In addition, there are a variety of ways to measure key performance indicators (KPIs) and, therefore, success. During an SEO interview, possible answers might include increasing traffic to a website or particular landing page, increasing conversions such as newsletter signups or sales, growing the number of inbound links, driving traffic for a particular keyword phrase, or increasing referral traffic. It's critical that an SEO professional measures result to know if the tactics and strategy need to change to succeed.
Q12. How did you learn SEO?
Ans:
Obviously, this answer will depend on your individual situation, but it matters because a potential employer wants to ensure that you are well-versed in SEO best practices. If you learned SEO by the seat of your pants at your last job because someone had to do it, an employer might doubt the quality of the skillset you offer. And, if that's the case, you can always get certified before applying for that job to ensure you are well trained!
Q13. Which SEO tools do you regularly use?
Ans:
You will likely have tools you're familiar with, and you'll want to talk about those. If you don't yet have much of a toolbox because you're new to SEO, check out the multiple webmaster tools Google offers, as well as the tools offered by Moz.
Q14. How do you approach keyword research?
Ans:
As with the question above, your answer might vary. You'll want to explain which keyword tools you use for research, as well as how you go about it. For example, if you use Google Keyword Planner to do your keyword research, then that's your answer for the tool used. But you must also explain how you go about it. You must demonstrate you do more than simply guess at a keyword and type that into the tool before checking the results. For example, perhaps you use personas to consider potential problems a prospect faces, and you look for keywords around that. You should also explain that you consider longer keyword phrases, search volume, and the competitiveness of a keyword. Demonstrate that you know how to find the sweet spot in keyword research, where the keyword is narrower so it's targeted and has good search volume, but is not highly competitive.
Q15. What is link building and why does it matter?
Ans:
Google exists to serve the searcher. That means Google is constantly trying to determine which results are most relevant to any given searcher and any given time. In addition to relevance, Google considers credibility too. So the search engine looks to see if other websites have linked to yours. If so, that means your content is worth linking to and is, therefore, more credible when compared to a website not linked to externally. In a nutshell, link building is what SEO professionals do to try and get links to their websites in order to improve search results.
Q16. What are backlinks?
Ans:
A backlink is what we call the links into a website from an external source, as mentioned in link building.
Q17. What is page speed and why does it matter?
Ans:
Page speed refers to how fast your site loads for a user, something Google takes into account while ranking websites since a faster loading page directly translate to a better user experience. If the interviewer asks what you would do to increase page speed, describe how you've achieved this in the past with examples such as reducing image sizes, enabling compression, reducing redirects, removing render-blocking JavaScript, leveraging browser caching, improve server response time, using a content distribution network to compress files, optimizing the code, etc.
Q18. What method do you use to redirect a page?
Ans:
In general, a 301 redirect is the best way to redirect a page so you don't lose any SEO value that has been accumulated.
Q19. How can you do SEO for a video?
Ans:
Videos are growing increasingly popular on the web, which can improve SEO if the videos produced get attention and therefore share and backlinks. But to get the video seen can require SEO to get it found, and Google can't watch a video. It needs the same types of information required for text-based pages to rank a video. Including the transcript as a text is an easy way to do SEO for a video because search engines can crawl the text. In addition, the same attention should be paid to keywords, page titles, and descriptions.
Q20. Which meta tags matter?
Ans:
Meta tags have changed since SEO became a common practice, but two remain critical: the page title and the meta description. Stick to these when answering your interview question. The page title (sometimes called SEO title) plays an important role in ranking but it is also important because it is the title that shows on the Search Results Page (SERP). It must use a keyword to rank well with Google but it must also be compelling so a user will want to click on it. The meta description does not affect ranking, but it also plays a role in the SERP because it also must make the user want to click on the search result. You should also mention that Google recently increased the character length limit of meta descriptions to around 280 to 320 (no one is sure of the actual limit yet).
Q21. What training do you have as an SEO analyst or specialist?
Ans:
This is a question only you can answer, but be prepared to answer it in a way that emphasizes your experience and any advanced SEO training you've done.
Q22. What kind of analytics do you perform and what do you look for?
Ans:
Because of the job you're applying for, you might be asked several of these types of SEO analyst interview questions. Be ready. Talk about the tools you use for analytics, what you look for, and how you use those metrics to measure results and plan to make changes.
Q23. Which SEO analytics don't get enough attention, in your opinion?
Ans:
As per the question above, you'll answer this based on your own experience. It might be that there are features of Google Analytics that many people don't know how to use, or that people get caught up in the details and forget to look at the big picture, or perhaps they neglect to align analytics to the SEO strategy. Answer the question as you see fit, but do be prepared to answer it.
Q24. What is keyword stemming and why does it matter?
Ans:
Keyword stemming is adding on to the stem of a word. For example, if the word interview was your stem, variations could be interviewing, interviewer, interviews. Using keyword stemming helps you to use more relevant keywords on a webpage without keyword stuffing or ending up with content that reads poorly.
Q25. What is the most important thing to look for when doing keyword research?
Ans:
This is a subjective question! People new to SEO tend to focus on popular keywords without considering the competitiveness of that keyword, so that's something you could mention. Search volume and relevancy are other factors you might discuss.
Q26. What is a canonical issue?
Ans:
A canonical issue happens when you seem to have duplicate content. (Google penalizes for duplicate content.) This might happen if you have different versions of a URL pointing to the same webpage, for example, http://exampleURL.com and http://www.exampleURL.com.
Q27. How have you dealt with link penalties?
Ans:
We hope you haven't had any link penalties slapped on you by Google due to your SEO efforts, and you might want to make that clear to your interviewer! Then address the steps you've taken to find bad links, and either fix them if you can or to disavow those you can't.
Q28. Which Webmaster tool do you use and why?
Ans:
Google offers so many valuable tools! Demonstrate your knowledge of them and your proficiency with them when answering this question.
Q29. What is Google's preferred method of configuring a mobile site?
Ans:
Google prefers that mobile websites are configured using responsive web design.
Q30. What are rich snippets?
Ans:
Rich snippets are the featured text that appears at the top of the organic search results, in a box, and sometimes with an image. Webmasters can use structured data to mark up content so that search engines can easily identify the type of content and deliver it as a rich snippet. Rich snippets are not part of SEO, but if used, they can deliver better results on the SERPs.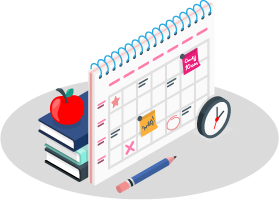 Learn From Industry Experts Curated SEO Certification Course
Weekday / Weekend Batches
See Batch Details
Q31. What are some common SEO mistakes you've seen in other organizations?
Ans:
If you're an experienced SEO executive or manager, this should be an easy question for you to answer! You can talk about the obvious mistakes such as using the wrong keywords (which is possible in so many ways), not keeping up with changes made by Google, not optimizing for mobile, ignoring analytics, and so on, but mention others that are particular to your experience too.
Q32. What is RankBrain and why does it matter?
Ans:
As with so many things Google, no one can say exactly what it is. RankBrain is part of Google's search algorithm. It's an Artificial Intelligence (AI) system used to process billions of web pages to help determine which results are the most relevant, in particular, queries that are new and not necessarily related to specific keywords (to really dumb down the explanation). There isn't a way to optimize websites for RankBrain other than to continue to focus on quality content because RankBrain is less about keywords.
Q33. What is PageRank and why does it matter?
Ans:
PageRank is about credibility and it is used to help rank your pages. Credibility is determined in part by the age of the page, the amount and quality of the content, and the number of inbound links.
Q34. How do you use content marketing for SEO?
Ans:
Content marketing is crucial to effective SEO because Google wants quality content, it gives you content to optimize for SEO, and it creates content other websites will link to (when done right). Content marketing is often done via a blog, but content can be created in many other forms as well, such as video, podcasts, infographics, ebooks, and so on.
Q35. How do you use social media marketing for SEO?
Ans:
The degree to which social media influences search rankings is not known, but social media still matters. For example, it can help you get backlinks when you share website content via social media platforms, and it builds your brand, which makes your website more likely to get the clicks on the search results page.
Q36. How do you see SEO and PPC working together to improve results?
Ans:
This is another SEO interview question you'll answer based on your experience, but some specifics you might mention include how PPC can be used to drive traffic while waiting for pages optimized for SEO to start ranking. Also, we no longer have keyword research tools just for SEO, so we have to use PPC tools. PPC can be used to try out a keyword before committing to using it for SEO.
Q37. What is your approach to developing an SEO strategy?
Ans:
Again, you'll answer this question based on your own experiences and knowledge. Factors you might mention include knowing the short- and long-term goals, knowing the competitive landscape, understanding the audience, etc. But how you as an SEO expert go about developing the strategy will probably be unique to your experience.
Q38. How do you evaluate web analytics to measure SEO performance?
Ans:
As part of your answer, you will want to talk about how you use Google's web analytics to look at direct navigation, referral traffic, numbers of visits, conversions, time on page, etc. and how you interpret all of that data to measure the effectiveness of your SEO strategy.
Q39. What's your greatest digital marketing success story?
Ans:
Obviously, this is an advanced SEO interview question we can't help you with, but you have to anticipate and be ready to answer the question, preferably with some hard data to add credibility to your story.
Q40. What is your experience with managing a marketing or SEO team?
Ans:
Again, this is an advanced SEO interview question we can't help you with, but you are interviewing for an SEO executive or manager job, so you will need to talk about your experience as a manager
Q41. What are the important types of SEO methods?
Ans:
Two Types of SEO are:
On Page Optimization
Off Page Optimization
Q42. What are the SEO tools do you use?
Ans:
The SEO tools that I use are Google analytic, Keyword Planner, Alexa, open site explorer, Google Webmaster.
Q43. What do you mean by Backlink?
Ans:
The incoming links to your website or webpage are referred to as Backlink. It is also called as an inbound link.
Q44. What are outbound Links?
Ans:
The outbound links are Links, from your website to another webpage or website.
Q45. Explain Googlebot?
Ans:
To index and update a webpage Google uses the Googlebot (Web Spider). Caching, Crawling and indexing of a webpage are done through Googlebot by collecting details from that webpage.
Q46. What is Cross-linking? What is the function of Crosslinking?
Ans:
Cross-linking is the process of linking one site to another site.
It provides users with reference sites that contain the content related to the search.
The 2 websites cross-linking do not belong to the same person.
In other words, cross-linking is a barter wherein I link to you, and you link to me.
It could be a 2-way link or 3-way link. In a 2-way link site A links to site B and site B links to site A. In a 3-way link, site A links to site B, site B links to site C and site C links to site A.
Q47. What is the main purpose of using keyword in SEO?
Ans:
A keyword is a single word, and while a combination of those keywords makes phrases. These keywords or phrases are used by the search engines to populate the subjects over the internet. Search engines store keywords in the database, and when a search is done, it will come up with the best possible match.
Q48. Explain body content relevance?
Ans:
Whenever there is a text that does not have images on the web page is referred to as body content relevance or non-image text. It helps in good optimization of the sites and also to improve your ranking in the search engine.
Q49. Explain Spiders, Robots, and Crawlers?
Ans:
Spiders, robots and crawlers, they are all the same and referred to by different names. It is a software program that follows or "Crawls" various links throughout the internet, and then grabs the content from the sites and adds to the search engine indexes.
Q50. What does it mean if nothing appears while searching for the domain?
Ans:
On searching for your domain and if nothing appears, then there are three possibilities.
Maybe the site is banned by search engines
Maybe no index by search engines
Some canonical issues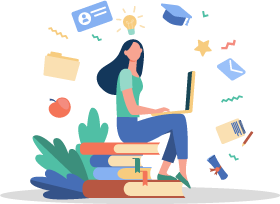 Best In-Depth Practical Oriented SEO Training By Experts Trainers
Instructor-led Sessions
Real-life Case Studies
Assignments
Explore Curriculum
Q51.What is keyword stemming?
Ans:
The process of finding out new keywords from the root keyword from the search query is referred to as keywords stemming. Adding a prefix, suffix, or pluralization can be used to create the new keyword.
Q52. Name some SEO blogs that help you to enhance your content marketing strategies?
Ans:
Google Webmaster Central
Search Engine Land
SEOSmarty
MOZ
Search Engine Journal
BacklinkO
Q53. Differentiate between a do-follow and a no-follow link?
Ans:
A do-follow link acts as a backlink that is counted by search engines and help in enhancing the ranking of a site, while a no-follow link, usually, does influence the ranking in search engine index.
Q54. What is an anchor text?
Ans:
It is the clickable text in a hyperlink. It should be relevant to the page linked to, rather than generic text.
Q55. What is 301 redirect?
Ans:
301 redirect is a method by which a user is redirected to a new URL from an old URL.
Q56. What are the common SEO mistakes?
Ans:
Some of the most common SEO mistakes are –
Not optimizing for right keywords
Not having unique title tags and meta descriptions
Using the same anchor text for every link
Focusing on link quantity over link quality
Using poorly-written content
Q57. What is Googlebot?
Ans:
Googlebot is the web crawler software used by Google as a search bot to index a web page.
Q58. What methods would you apply for decreasing the loading time of a website?
Ans:
Methods that can be applied to decrease the loading time of a website are
Optimize images without losing quality
Enable browser caching
Optimize CSS delivery to reduce HTTP request
Avoid self-hosted videos
Q59. What is robots.txt?
Ans:
robots.txt, is a standard used by websites to communicate with web crawlers and other web robots.
Q60. Which is better — Meta Robot tags or robots.txt?
Ans:
Meta Robot tags are better as they help in forcing the search engine crawlers not to index and display hidden pages. It also ensures that the link equity is not being lost, with the use of the 'follow' command.
Q61. How does Google AdWords work?
Ans:
Google AdWords works on an auction system, which occurs every time a user carries out a keyword search. To get the most out of Google AdWords, your Quality Score and bid amount should be optimized. The better the Quality Score and bid amount, the better would be your ad positioning.
Q62. Name some Google AdWords ad extensions.
Ans:
The most popular Google AdWords ad extensions are –
Affiliate location extension
Call extensions
Promote extension
Structured snippet extension
App extension
Site link extension
Callout Extension
Q63. How can you improve conversion rates?
Ans:
Conversion rates can be improved by testing different elements on site, especially on the landing page. One can also experiment with functionality, layout, and style on landing pages.
Q64. What is Google My Business?
Ans:
It is a service offered by Google, where a business can be listed on the Google search engine to have improved visibility. It requires –
Adding and updating business information
Adding photos of the business
Interacting with consumers
Responding to Google reviews, on time
Managing business information
Q65. Explain Google Trends?
Ans:
It is another very useful service by Google, which monitors the popularity of a keyword in a particular region for a particular period. Google Trends makes use of real-time search data to understand user behavior.
Q66. Which type of website is good for SEO purposes?
Ans:
Every website is good for SEO purposes; given it has the following features –
Meta tags
txt
No canonical issues
Sitemap
Optimized URL
Redirected URL
It is always a good idea to build a website in HTML for better SEO prospective.
Q67. What is cloaking?
Ans:
Cloaking is a black hat SEO technique, where the user receives different content or information as compared to that presented to search engine crawlers. The aim of cloaking is better indexing. Cloaking is against Google guidelines, as it provides users with different information than they expected.
Q68. Is HTML case-sensitive?
Ans:
No, HTML is not a case-sensitive language and the users can write their codes in any case. However, HTML coding is usually written in lower case.
Q69. If a web page serves as a "sitemap," linking to other pages on a particular domain in an organized, list format, is important because?
Ans:
Because it might help search engine crawlers to access multiple pages on that site, easily.
Q70. Which of the following is the least important area in which to include your keyword(s)?
Meta Keywords
Internal Anchor Text
Title
Meta Description
Body Text
Digital Marketing Sample Resumes! Download & Edit, Get Noticed by Top Employers!
Download
Ans:
Meta Keywords
Q71. What is the difference between a do-follow and no-follow and how are they used?
Ans:
No follow links exist because we don't want every single web page or link to be something a search engine crawls and ranks. Therefore, no-follow link attributes tell search engine bots not to follow a certain link. The link is still clickable for a user, but not followed by a bot. On the other hand, all other links could be considered do-follow links, even though they don't have to have special attributes to tell the search engine bots to follow them—the bots will by default.
Q72. Which SEO factors are not in your control?
Ans:
The biggest SEO factor not in your control is Google! How exactly Google ranks websites is unknown. The company does not make public the search algorithms it uses, although SEO professionals have determined the best practices we adhere to in order to achieve results. However, Google doesn't like young domains that aren't yet tried-and-true, and you can't control that if you're launching a new site. Nor can you force people to link to your site, share your content, spend more time on your site, or come back to your site for another visit. Google looks favorably on all of these factors and ideally a marketing department is working hard to create content and user experiences that will make these happen, but these factors are beyond the control of the SEO person.
Q73. What is on-page vs off-page SEO?
Ans:
This gets back to the question about the factors that are outside of your control. On-page SEO includes the factors you can control, such as keywords, content, page structure, internal linking, load time, etc. Off-page SEO includes those factors you can't control, such as backlinks.
Q74. What are some black hat SEO practices to avoid?
Ans:
Ideally, you won't interview with an organization that condones any black hat SEO practices, but it might be a trick question to make sure you wouldn't use them either. Cloaking, keyword stuffing, copying content from another site, exchanging or trading links, buying links, hiding text, and using a link farm are all underhanded techniques frowned upon—and penalized—by Google.
Q75. What is the relationship between SEO and SEM?
Ans:
SEO stands for Search Engine Optimization and SEM stands for Search Engine Marketing. The biggest difference between the two is that SEO is free and SEM is paid. SEM includes pay-per-click advertising and display ads that are purchased. Despite the major difference between the two, they work best in unison.
Q76. What qualities are required in order to be effective in an SEO role, in your opinion?
Ans:
This is a question requiring a subjective answer, but you might want to think through all of the different skill sets required to be good at this kind of job. An SEO professional must have good research skills, for one thing, as well as strong analytical skills. An ability to spot trends and adapt to change is also important.
Q77. Why do you need to know about backlinks to competitors' websites?
Ans:
Doing an analysis of competitors' websites is a useful way to execute a competitive analysis to basically see if you should be emulating anything that they are doing.
Q78. What is a link audit and why should you do one?
Ans:
A link audit is basically an audit of the links that point to your website, the backlinks. SEO experts to link audits prior to doing a link building campaign, but also to make sure external links are of the quality you want to help with SEO.
Q79. Which are the major Google updates that have impacted SEO?
Ans:
Panda and Penguin were the two most significant Google updates, although the search giant is constantly making changes to its search algorithm. Panda was introduced in 2011 and targeted poor quality content. The Penguin update was released in 2012 and targeted spammy link building techniques. Both are regularly updated by Google.
Q80. How has Hummingbird changed the landscape of search?
Ans:
Released in 2013, Hummingbird has helped to make search contextual, moving us away from the strict adherence to keywords toward understanding a searcher's intent.
Q81. What are accelerated mobile pages (AMP)?
Ans:
MP is a Google-back project to push for pages that load quickly on mobile devices.
Q82. How do you stay up-to-date on the near-constant search algorithm changes?
Ans:
You'll want to answer this question based on the sources that you rely on for up-to-date SEO and Google news.
Q83. How will you measure success as an SEO analyst or specialist at our organization?
Ans:
As with the answer above, this will be subjective, but be prepared to answer it by showing you understand SEO's role in the bigger picture. Talk about aligning with business objectives, achieving goals, and driving results, not just "winning more searches."
Q84. Explain Google's projected plan for indexes in 2018?
Ans:
Google is going to have two indexes, starting at some point in 2018: one for desktop searchers and one for mobile searches.
Q85. What is Hummingbird?
Ans:
Hummingbird was an overhaul of Google's search algorithm, released in 2013. It strives to move beyond just keywords and understand a searcher's intent.
Q86. Why do internal links matter?
Ans:
Internal links are links within your website linking to another page within your website. Internal links help all of the content on your website to get crawled and ranked.
Q87. What is Domain Authority?
Ans:
Domain Authority is a search engine ranking score developed by Moz. It predicts how well a website will rank in search results.
Q88. How do you stay current with Google's changes as well as industry changes?
Ans:
To answer this question, you'll want to talk about those blogs or newsletters you follow, probably including the well-known SEO websites such as Moz and SearchEngineLand, but also including any others, you find beneficial.
Q89. How do you see SEO changing in the near future?
Ans:
This answer is more subjective and no one will fault you if it turns out your predictions were wrong, but giving a well thought out answer shows you pay attention to the industry. You can talk about the two indexes Google will start using in 2018 and how that will affect mobile SEO and the continued importance of providing a good user experience (and what that might look like). Local search is still a hot topic, as is voice search. Take a look at what the pundits are saying prior to answering your SEO interview questions and you'll come across as someone in the know.
Q90. What do you mean by Cloaking?
Ans:
Cloaking is a deceptive way of optimizing your website for search. In this technique, different content will be shown to the search engine crawler than what is presented to the end users.
Q91. How many characters are limited in & Meta Description tag?
Ans:
We can add 70 characters in a title tag and 222 characters in the Meta Description tag. Though Google now places a pixel limit.
Q92. What is Google Sandbox?
Ans:
Google sandbox is an imaginary area where new websites and their search rating are put on hold until they prove worthy for ranking. In other words, it checks the standard of the website.
Q93. What is Black Hat SEO?
Ans:
In order to get a high ranking in the SEO search engine result page, websites go for various methods and techniques which are characterized by two categories. One method that is acceptable by search engine guidelines is known as White Hat SEO, while the other method which is not acceptable by search engine guidelines is known as
Q94. What is the difference between PR (page rank) and SERP (Search engine result page)?
Ans:
Page rank is calculated on the basis of quality inbound links from other website or web pages to our webpage or a website.
SERP (Search Engine Result page) is the placement of the website or web-pages which is returned by the search engine after a search query or attribute.
Q95. Why is Title Tag on Websites Valuable?
Ans:
Title tags are essential in SEO, as it tells about the contents on that web page. Through title tags only the search engine will notify the user, what is there in the page.
Q96. What is considered as more significant, creating content or building backlinks?
Ans:
Both are necessary for creating quality content and are equally important to building backlinks. Although link building is useful in building authority to a site and for ranking as well, quality content is the first element that is considered to be more responsible for ranking.
Q97. What are the differences between SEO and SEM?
Ans:
SEM (Search Engine Marketing), it is used for the promotion of websites through paid advertising by increasing their visibility in Search Engine Result Page (SERP) in the Ads section. While SEO is optimizing the site to increase the organic ranking of a site.
Q98. Explain the term LSI?
Ans:
LSI stands for Latent Semantic Indexing. This technique is established to obtain the data by relating the word to its closest counterparts or its similar context. For example, if you are searching for something with the keyword "CAR" it will show all the related things like classic cars, car auctions, Bentley car, car race, etc.
Q99. How will you cross-check whether your SEO campaign is working or not?
Ans:
In order to check whether your SEO campaign is working or not, the first approach is to check the website's statistics, which tells you about the origin of the traffic. The other way of checking is to make a search based on the relevant keywords and key phrases and look for the search result. The number of search results will tell you whether your SEO campaign is working or not.
Q100. What is the meaning of competitive analysis?
Ans:
Competitive analysis does the comparison, between the website I am optimizing, and the website that is ranked highly in search results.