Upcoming Batches
27- Mar - 2023
08:00 AM & 10:00 AM Batches
(Class 1Hr - 1:30Hrs) / Per Session
29- Mar - 2023
08:00 AM & 10:00 AM Batches
(Class 1Hr - 1:30Hrs) / Per Session
25- Mar - 2023
(10:00 AM - 01:30 PM)
(Class 3hr - 3:30Hrs) / Per Session
25- Mar - 2023
Sat,Sun
Weekend Fasttrack
(09:00 AM - 02:00 PM)
(Class 4:30Hr - 5:00Hrs) / Per Session
Learn From Experts, Practice On Projects & Get Placed in IT Company
We train students for interviews and Offer Placements in corporate companies.
Ideal for graduates with 0 – 3 years of experience & degrees in B. Tech, B.E and B.Sc. IT Or Any Computer Relevent
You will not only gain knowledge of Adobe Illustrator and Advance tools, but also gain exposure to Industry best practices, Aptitude & SoftSkills
Experienced Trainers and Lab Facility
Adobe Illustrator Professional Certification Guidance Support with Exam Dumps
For Corporate, we act as one stop recruiting partner. We provide right skilled candidates who are productive right from day one
Resume & Interviews Preparation Support
Concepts: GETTING TO KNOW THE WORK AREA, ARTWORK, Exploring object arrangement, SHAPES AND PATHS, DRAWING TOOLS, Glyphs, Cloud Libraries.
START YOUR CAREER WITH ADOBE ILLUSTRATOR COURSE THAT GETS YOU A JOB OF UPTO 5 LACS IN JUST 60 DAYS!
Classroom Batch Training
One To One Training
Online Training
Customized Training
This is How ACTE Students Prepare for Better Jobs

About Adobe Illustrator Training in Pune
At ACTE Learn Adobe Illustrator, the industry-standard vector graphics application that lets you create logos, icons, drawings, typography, and complex illustrations for any medium. Adobe Illustrator is the industry standard design app that lets you capture your creative vision with shapes, color, effects, and typography. Start Learning with us ACTE Adobe Illustrator Classroom and Online Training Course.
Selecting and Aligning

Creating and Editing Shapes

Transforming objects

Drawing, Coloring & Painting

Type, Layers, Brushes

Using Effects

Appearance Attributes

Graphic Styles

Working with Symbols
Is good to opting a career in Adobe Illustrator?
Yes. It is a career based training, aimed to teach different methods of graphic designing and it will help you to create great artworks and professional presentations.This course helps graphic designers create scalable web media and slick presentation visuals for multiple academic and professional applications and boost their career in the fields such as fashion design, cartography, cartooning or architectural drafting. If you take up this Corel draw training course you will not only learn the software but also obtain command over the various methods and processes of designing, which in turn will automatically open many career opportunities.
What is the scope of Adobe Illustrator?
Adobe Illustrator industry leading software is the backbone of DTP industry.You could be placed as a graphic designer in the reputable companies in all industrial sectors across the globe. With the rising demand for art and entertainment, you would get chances to select from the huge array of options.You could be placed as a graphic designer in the reputable companies in all industrial sectors across the globe. With the rising demand for art and entertainment, you would get chances to select from the huge array of options.
As per the industry stats, most hiring is happening for the below roles:
Graphic Tutors
Compositing Editor
Layout Artist
Illustration artist
Visualization master
Logo artist
Graphic Designer
Industrial Designer
Web Designer
Fashion Designer
Is Adobe Illustrator will enough to create a job?
YES, There are more career opportunities for Adobe Illustrator technology. Get Job as a Graphic Designer or start your career as a freelancer just after completing your graphic design course. Graphic designers are very much in demand all over India. Also can earn from home as a freelance graphic designer.It has huge demand in the market.They will hire the best across the globe.It is the booming server platform and it is moving rapidly towards the great offerings.
Will ACTE Help Me With Placements After My Adobe Illustrator course Completion?
We are happy and proud to say that we have strong relationship with over 700+ small, mid-sized and MNCs. Many of these companies have openings for Blockchain.Moreover, we have a very active placement cell that provides 100% placement assistance to our students. The cell also contributes by training students in mock interviews and discussions even after the course completion.
What you learn in this Adobe IllustratorTraining?
Learn to Draw vector graphics using Corel Draw
Create Logos, business cards and professional banners using Corel Draw
Become a graphic designer by learning Corel Draw
Prerequisites to Learn Adobe Illustrator Training?
There are no specific prerequisites to learn Adobe Illustrator
Can a person without prior experience in programming learn Adobe Illustrator?
yes,It doesn't require prior programming experience.
Will I Be Given Sufficient Practical Training In Adobe Illustrator?
Our courseware is designed to give a hands-on approach to the students in Adobe Illustrator. The course is made up of theoretical classes that teach the basics of each module followed by high-intensity practical sessions reflecting the current challenges and needs of the industry that will demand the student's time and commitment.
Is it benefit learning Adobe Illustrator course?
These are the benefits of doing perl certification in ACTE.WE will provide you the100% technical knowledge that helps you throughout your career.
Corel Draw training is a career aimed at training that particularly aims at enhancing the skills and providing the learner to grasp many various strategies of learning Graphic Designing through this course.
In this Corel Draw course, we all will learn skills that will not only provide a raise to our careers but also will help us to design our future. This training provides techniques and methods that describe everything with great ease and simplicity. The choice of career and the ability to use their capability & skills are in the hands of the learner.
This Corel Draw training opens many possibilities for the students and professionals to choose from various career options. From Beginners to intermediate to experienced participants, anyone can take up this Corel draw course who is interested in learning advanced illustration, photo editing, logo designing, vector graphics, page layout designing, typography, pre-press layout designing and many more features in one pack using Corel Draw. Learners can go for jobs like a Motion Graphic Designer, and Graphic & Web Designer, 3D Artist, 3D Animator, Illustrator, Freelance Graphic designer, Photoshop Designer, Computer Operator, Visualizer and many more.
How long does it take to skilled in Adobe Illustrator?
Adobe Illustrator is a vital area of many IT job roles and gaining the applicable expertise and passing Adobe Illustratorexams in this area will greatly enhance your employability.
Its better to select ACTE which comprises these below factors.
Appropriate training with well Equipped facilities.
Technical Adobe Illustrator certifications
Complete knowledge in the Adobe Illustrator
Technical theory
Mock Interviews
Top reasons to consider a career in Adobe Illustrator?
With the scope of Adobe Illustrator for students, there will be more learning that would be simple and fast as well. It offers better community acceptance, strong impact and even the quality result because of which, students will not feel disappointed at any point in time. It is certainly a path-breaking yet an everlasting solution one can opt for. But here are few things that you need to know if you are planning to make your career with the help of Adobe Illustrator.
Here are a few reasons for you to pursue a career in Adobe Illustrator:
Hands-on engagement with the best-Engineering/Diploma/Arts and science platform in human history.
A sense of mission and higher purpose
The emergence of agile Adobe Illustrator Professionals
Enterprise applications are multiplatform/Designing & Animation.
community support and training.
Build a lucrative career.
Working with Adobe Illustrator
This software provides you a perfect friendly user interface. If you are working in a team then it makes your job easier if you want to train a new employee. Once you become an expert you will realize the ease of working and the way of getting work done.
Where is Illustrator used the most?
Actually, just about every industry uses Illustrator, from two-dimensional CAD designs in engineering fields to the greeting cards made by Hallmark. People designing watches use Illustrator, and people designing shoes use it too. It's the standard tool for apparel design, including T-shirts, and almost all packaging design work is done in Illustrator—such as, say, the label for a wine bottle, or the packaging of your favorite orange juice. Look at the icons for apps on your mobile phone or tablet: they're almost all done in Illustrator. Surface designers create patterns in Illustrator, which can then be put on carpets, tiles, or textiles. I have to mention the Japanese, too. They were early adopters and really love Illustrator, creating calligraphy and other beautiful print work with it.
Some of the other products in the Illustrator family
We currently have Illustrator Line and Illustrator Draw. These two iPad applications are part of the Illustrator family, and the vision behind these apps is to allow people to work on mobile devices and then bring their work to the desktop and carry on with it there. Illustrator Line is for perspective drawing and especially good for drafting or architecture, since it lets you visualize a building or any design in perspective. And Illustrator Draw is simply an excellent tool for drawing, coloring, and illustration. They're both used by artists to create all kinds of beautiful work. I'm always surprised and amazed by what people are able to do with our tools, and I think the constraints of certain applications seem to force them to be even more creative.
Designers choose to use Illustrator over other Adobe design programs like Photoshop
Using vector graphics gives you much more flexibility than using raster images in your design process, since it's easy to go back and change any individual curve or line or color without having to start from scratch. So if that appeals to you as a designer, Illustrator's the tool for you. More often than not, though, Illustrator and Photoshop are used together because each product is best at what it does, and they complement each other well. Illustrator is the best vector-editing software, and Photoshop the best image-editing software, on the market.
Working with this software makes you more comfortable as it has ample of advantages.
It has some readymade tools which give you a variety of shapes.
You can make a banner of any size start from small dot till large flex.
Importing, editing and modifying of images can be done within one platform.
It is comfortable if it is used simultaneously with the other product of Adobe.
Skills Required for Adobe Illustrator
To be an expert you don't need to have any special skills as experience will teach you within less span of time. Still some photographic skills will be an added advantage if you have. Also, if you are good at painting and drawing sketches then you will become professional within no time.
Why should we Use Adobe Illustrator?
Adobe Illustrator is a software which is running from more than 30 years and has covered 100% all commands. Adobe is expertise in this field and this software is used by almost all professionals that make our learning easier from them. This can save your money if buy a license of Illustrator and other Adobe products.
Why do we Need Adobe Illustrator?
This is the one software which consists of all commands as it saves your time in using multiple software simultaneously. You can convert your images in any format as almost all formats are included in the latest version. Adobe Illustrator helps you to get jobs faster as it is widely used everywhere and for the company, they get expert candidates everywhere.
Who is the right audience for learning Adobe Illustrator Technologies?
People who make big flex logos and banners, graphic images for websites and sometimes in photographic activities. Those candidates who deal with all these activities are the best for learning.
How this Technology will help you in Career Growth?
You need to have good experience in handling this software then you may get a good salaried job. Basically, this is a skilled work so you have to show your talent. Also, how fast you develop your skills and how attractive graphics you make depends upon what you decide your path of success.
ACTE Pune offers Adobe Illustrator Training in more than 27+ branches with expert trainers. Here are the key features,
40 Hours Course Duration
100% Job Oriented Training
Industry Expert Faculties
Free Demo Class Available
Completed 500+ Batches
Certification Guidance
ACTE TRAINING INSTITUTE PVT LTD is the unique Authorised Oracle Partner, Authorised Microsoft Partner, Authorised Pearson Vue Exam Center, Authorised PSI Exam Center, Authorised Partner Of AWS and National Institute of Education (nie) Singapore.
Syllabus of Adobe Illustrator Course in Pune
Module 1: GETTING TO KNOW THE WORK AREA
Introducing Adobe Illustrator
Starting Illustrator and opening a file
Exploring the workspace
Getting to know the Tools panel
Working with the Control panel
Working with panels
Working with panel groups
Resetting and saving your workspace
Using panel
Changing the view of artwork
Using view commands
Using the Zoom tool
Scrolling through a document
Viewing artwork
Navigating artboards
Using the Artboards panel
Module 2: TECHNIQUES FOR SELECTING ARTWORK
Starting the lesson
Selecting objects
Using the Selection tool
Using the Direct Selection tool
Creating selections with a marquee
Hiding and locking objects
Selecting similar objects
Selecting in Outline mode
Aligning objects
Aligning objects to each other
Aligning to a key object
Aligning anchor points
Distributing objects
Aligning to the artboard
Working with
Grouping items
Editing a group in Isolation mode
Creating a nested group
Exploring object arrangement
Arranging objects
Selecting objects behind
Module 3: USING SHAPES TO CREATE ARTWORK FOR A POSTCARD
Starting the lesson
Creating a new document
Working with basic shapes
Creating and editing rectangles
Rounding corners
Working with the Rounded Rectangle tool
Creating and editing an ellipse
Creating and editing a circle
Creating a polygon
Editing a polygon
Changing stroke width and alignment
Drawing lines
Creating a star
Working with the Shaper tool
Drawing shapes with the Shaper tool
Editing shapes with the Shaper tool
Punching shapes with the Shaper tool
Combining shapes with the Shaper tool
Working with drawing modes
Working with Draw Behind mode
Using the Draw Inside mode
Using Image Trace
Module 4: EDITING AND COMBINING SHAPES AND PATHS
Starting the lesson
Editing paths and shapes
Cutting with the Scissors tool
Joining paths
Cutting with the Knife tool
Using the Eraser tool
Combining shapes
Working with the Shape Builder tool
Working with the Pathfinder panel
Creating a compound path
Using the Width tool
Outlining strokes
Finishing up the illustration
Starting the lesson
Working with artboards
Adding artboards to the document
Editing artboards
Renaming artboards
Reordering artboards
Working with rulers and guides
Creating guides
Editing the ruler origin
Transforming content
Positioning artwork using the Transform panel
Positioning artwork using Smart Guides
Scaling objects
Reflecting objects
Rotating objects
Distorting objects with effects
Sharing objects
Transforming with the Free Transform tool
Creating a PDF
Module 5: TRANSFORMING ARTWORK Module 6: CREATING AN ILLUSTRATION WITH THE DRAWING TOOLS
Starting the lesson
An intro to drawing with the Pen tool
Selecting paths
Drawing straight lines with the Pen tool
Introducing curved paths
Drawing a curve with the Pen tool
Drawing a series of curves with the Pen tool
Converting smooth points to corner points
Combining curves and straight lines
Creating artwork with the Pen tool
Drawing a coffee cup
Drawing with the Curvature tool
Editing curves
Reflecting the spoon shape
Rounding corner points
Editing paths and points
Deleting and adding anchor points
Converting between smooth points and corner points
Working with the Anchor Point tool
Creating a dashed line
Adding arrowheads to a path
Working with the Pencil tool
Drawing freeform paths with the Pencil tool
Drawing straight segments with the Pencil tool
Joining with the Join tool
Module 7: USING COLOR TO ENHANCE SIGNAGE
Starting the lesson
Exploring color
Working with color
Applying an existing color
Creating a custom color using the Color panel
Saving a color as a swatch
Creating a copy of a swatch
Editing a swatch
Creating and editing a global
Using the Color Picker to create color
Using Illustrator swatch libraries
Adding a spot color
Creating and saving a tint of a color
Converting colors
Copying appearance attributes
Creating a color group
Creative inspiration with the Color Guide panel
Editing a color group in the Edit Colors dialog box
Editing colors in artwork
Assigning colors to your artwork
Working with Live Paint
Creating a Live Paint group
Painting with the Live Paint Bucket tool
Modifying a Live Paint group
Module 8: ADDING TYPE TO A POSTER
Starting the lesson
Adding type to the poster
Adding text at a point
Adding area type
Working with Auto Sizing
Converting between area and point type
Importing a plain-text file
Threading text
Formatting type
Changing font family and font style
Fixing missing fonts
Changing font size
Changing font color
Changing additional character formatting
Working with Glyphs
Changing paragraph formatting
Modifying text with the Touch Type tool
Resizing and reshaping type objects
Creating columns of text
Creating and applying text styles
Creating and applying a paragraph style
Editing a paragraph style
Creating and applying a character style
Editing a character style
Sampling text formatting
Wrapping text
Reshaping text with a preset envelope warp
Editing the envelope warp
Working with type on a path
Creating type on a path
Creating type on a closed path
Creating text outlines
Module 9: ORGANIZING YOUR ARTWORK WITH LAYERS
Starting the lesson
Understanding layers
Creating layers and sublayers
Creating new layers
Creating sublayers
Editing layers and objects
Locating layers
Moving content between layers
Viewing layers
Reordering layers
Collecting into a new layer
Duplicating layer content
Pasting layers
Changing layer order
Applying appearance attributes to layers
Creating a clipping mask
Module 10: GRADIENTS, BLENDS, AND PATTERNS
Starting the lesson
Working with gradients
Applying a linear gradient to a fill
Editing/Saving a gradient
Adjusting a linear gradient fill
Applying a linear gradient to a stroke
Editing a gradient on a stroke
Applying a radial gradient to artwork
Editing the colors in the radial gradient
Adjusting the radial gradient
Applying gradients to multiple objects
Adding transparency to gradients
Working with blended objects
Creating a blend with specified steps
Modifying a blend
Creating and editing a smooth color blend
Painting with patterns
Applying an existing pattern
Creating your own pattern
Applying your pattern
Editing your pattern
Module 11: USING BRUSHES TO CREATE A POSTER
Starting the lesson
Working with brushes
Using Calligraphic brushes
Applying a Calligraphic brush to artwork
Drawing with the Paintbrush tool
Editing paths with the Paintbrush tool
Editing a brush
Removing a brush stroke
Using Art brushes
Applying an existing Art brush
Creating an Art brush using a raster image
Editing an Art brush
Using Bristle brushes
Changing Bristle brush options
Painting with a Bristle brush
Using Pattern brushes .
Creating a Pattern brush
Applying a Pattern brush
Editing the Pattern brush
Working with the Blob Brush tool
Drawing with the Blob Brush tool
Merging paths with the Blob Brush tool
Editing with the Eraser tool
Module 12: EXPLORING CREATIVE USES OF EFFECTS AND GRAPHIC STYLES
Starting the lesson
Using the Appearance panel
Editing appearance attributes
Adding another stroke and fill to artwork
Adding another stroke and fill to text
Reordering appearance attributes
Using live effects
Applying an effect
Editing an effect
Styling text with a Warp effect
Editing text with a Warp effect
Applying the Offset Path effect
Applying a Photoshop Effect
Working with 3D effects
Using graphic styles
Applying an existing graphic style
Creating and applying a graphic style
Updating a graphic style
Applying a graphic style to a layer
Scaling strokes and effects
Module 13: CREATING ARTWORK FOR A T-SHIRT
Starting the lesson
Working with symbols
Using existing Illustrator symbol libraries
Editing a symbol
Working with dynamic symbols
Creating a symbol
Duplicating symbols
Replacing symbols
Breaking a link to a symbol
Working with Creative Cloud Libraries
Adding assets to CC Libraries
Using Library assets
Updating a Library asset
Working with the perspective grid
Using a preset grid
Adjusting the perspective grid
Drawing artwork in perspective
Selecting and transforming objects in perspective
Moving planes and objects together
Drawing artwork with no active grid
Adding and editing text in perspective
Moving objects in a perpendicular direction
Moving a plane to match an object
Bringing content into perspective
Editing symbols in perspective
Releasing objects with perspective
Finishing up
Module 14: USING ILLUSTRATOR CC WITH OTHER ADOBE APPLICATIONS
Starting the lesson
Combining artwork
Placing image files
Placing an image
Scaling a placed image
Placing a Photoshop image with Show Import Options
Placing multiple images
Applying color edits to an image
Masking images
Applying a simple mask to an image
Editing a clipping path (mask)
Masking an object with text
Creating an opacity mask
Editing an opacity mask
Sampling colors in placed images
Working with image links
Finding link information
Embedding and unembedding images
Replacing a linked image
Packaging a file
Module 15: EXPORTING ASSETS
Starting the lesson
Creating Pixel-Perfect Drawings
Aligning new artwork to the pixel grid
Aligning existing artwork to the pixel grid
Exporting artboards and assets
Exporting artboards
Exporting individual assets
Creating CSS from your design
Setting up your design for generating CSS
Working with character styles and CSS code
Working with graphic styles and CSS code
Copying CSS
Exporting CSS
Need customized curriculum?
Hands-on Real Time Adobe Illustrator Projects
Project 1
Use Adobe Illustrator for visual communications project
This project use to communicate with office printers, known as PostScript.
Project 2
To Create Digital Graphics and Illustrations
This project is use to create digital graphics and illustrations using Adobe Illustrator.
Our Top Hiring Partner for Placements
ACTE Pune offers placement opportunities as add-on to every student / professional who completed our classroom or online training. Some of our students are working in these companies listed below.
We are associated with top organizations like HCL, Wipro, Dell, Accenture, Google, CTS, TCS, IBM etc. It make us capable to place our students in top MNCs across the globe
We have separate student's portals for placement, here you will get all the interview schedules and we notify you through Emails.
After completion of 70% Adobe Illustrator training course content, we will arrange the interview calls to students & prepare them to F2F interaction
Adobe Illustrator Trainers assist students in developing their resume matching the current industry needs
We have a dedicated Placement support team wing that assist students in securing placement according to their requirements
We will schedule Mock Exams and Mock Interviews to find out the GAP in Candidate Knowledge
Get Certified By Adobe Illustrator & Industry Recognized ACTE Certificate
Acte Certification is Accredited by all major Global Companies around the world. We provide after completion of the theoretical and practical sessions to fresher's as well as corporate trainees.
Our certification at Acte is accredited worldwide. It increases the value of your resume and you can attain leading job posts with the help of this certification in leading MNC's of the world. The certification is only provided after successful completion of our training and practical based projects.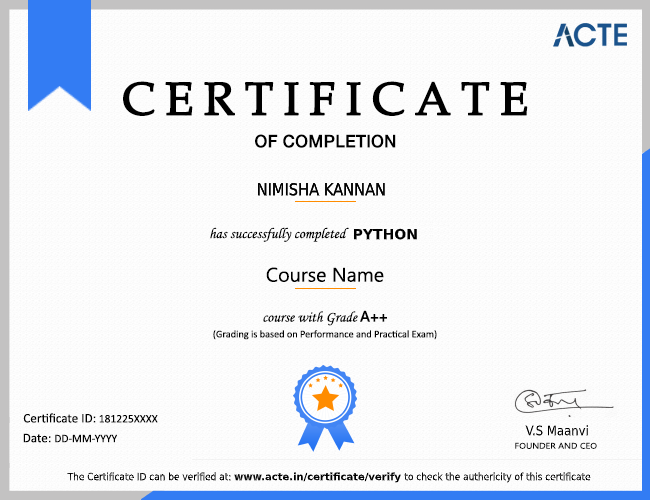 Complete Your Course
a downloadable Certificate in PDF format, immediately available to you when you complete your Course
Get Certified
a physical version of your officially branded and security-marked Certificate.
About Experienced Adobe Illustrator Trainer
Our Adobe Illustrator Training in Pune. Trainers are certified professionals with 7+ years of experience in their respective domain as well as they are currently working with Top MNCs.
As all Trainers are Adobe Illustrator domain working professionals so they are having many live projects, trainers will use these projects during training sessions.
All our Trainers are working with companies such as Cognizant, Dell, Infosys, IBM, L&T InfoTech, TCS, HCL Technologies, etc.
Trainers are also help candidates to get placed in their respective company by Employee Referral / Internal Hiring process.
Our trainers are industry-experts and subject specialists who have mastered on running applications providing Best Adobe Illustrator training to the students.
We have received various prestigious awards for Adobe Illustrator Training in Pune from recognized IT organizations.
Adobe Illustrator Course Reviews
Our ACTE Pune Reviews are listed here. Reviews of our students who completed their training with us and left their reviews in public portals and our primary website of ACTE & Video Reviews.

Praveena
Adobe Illustrator
I had completed my Adobe Illustrator with an advance in by ACTE, Porur. The best place to excel your next phase of career. The trainers and faculty here were very friendly and comfortable. My trainer had explained each and every topic clearly and he won't move to another topic until I was clear in it. Thanks to my trainer and ACTE for this wonderful opportunity!!

Hema Latha
Adobe Illustrator
I had attended Adobe Illustrator training at ACTE in Pune. Based one of my friend suggested that if you want to learn from scratch to advance level with clear concept then go for this institute. So I joined here at the time of training assignments and interview questions are helpful for regular practice and helpful to crack interviews.

Satish kumar
Adobe Illustrator
I am Satish Kumar. I have a learnt Adobe Illustrator in ACTE, Chennai institute from scratch level being a well-approached trainer. He teaches very patiently each and every topic with theory and practical. He is of outstanding knowledge.

Lissy juliana
Studying
Good institute for #Adobe Illustrator training course in ACTE, Pune. All the topics are explained in a very understandable language and relatable example. Teaching and practical are very easy to understand. Thank u Balaji sir for good teaching...

Kaviya
Adobe Illustrator
I underwent Adobe Illustrator training in ACTE. The training session was good. My tutor Mr.Balaji have been outstanding. I liked the sessions taught by him who is an experienced faculty. Each and every topic is explained very clearly. Materials provided by him were useful. He is really good with his training and has the best content with him for the training which is really useful for a fresher like me to learn.
Adobe Illustrator Course FAQs
f
Looking for better Discount Price?
Call now: +91 93833 99991 and know the exciting offers available for you!
Does ACTE provide placement?
ACTE is the Legend in offering placement to the students. Please visit our Placed Students List on our website
We have strong relationship with over 700+ Top MNCs like SAP, Oracle, Amazon, HCL, Wipro, Dell, Accenture, Google, CTS, TCS, IBM etc.
More than 3500+ students placed in last year in India & Globally
ACTE conducts development sessions including mock interviews, presentation skills to prepare students to face a challenging interview situation with ease.
85% percent placement record
Our Placement Cell support you till you get placed in better MNC
Please Visit Your Student Portal | Here FREE Lifetime Online Student Portal help you to access the Job Openings, Study Materials, Videos, Recorded Section & Top MNC interview Questions
Is ACTE certification good?
ACTE Gives Certificate For Completing A Course

Certification is Accredited by all major Global Companies
ACTE is the unique Authorized Oracle Partner, Authorized Microsoft Partner, Authorized Pearson Vue Exam Center, Authorized PSI Exam Center, Authorized Partner Of AWS and National Institute of Education (NIE) Singapore
Work On Live Projects?
The entire Adobe Illustrator training has been built around Real Time Implementation
You Get Hands-on Experience with Industry Projects, Hackathons & lab sessions which will help you to Build your Project Portfolio
GitHub repository and Showcase to Recruiters in Interviews & Get Placed
Who are the Trainers?
All the instructors at ACTE are practitioners from the Industry with minimum 9-12 yrs of relevant IT experience. They are subject matter experts and are trained by ACTE for providing an awesome learning experience.
What if I miss one (or) more class?
No worries. ACTE assure that no one misses single lectures topics. We will reschedule the classes as per your convenience within the stipulated course duration with all such possibilities. If required you can even attend that topic with any other batches.
What are the modes of training offered for this Adobe Illustrator Course?
We offer this course in "Class Room, One to One Training, Fast Track, Customized Training & Online Training" mode. Through this way you won't mess anything in your real-life schedule.
Why Should I Learn Adobe Illustrator Course At ACTE?
Adobe Illustrator Course in ACTE is designed & conducted by Adobe Illustrator experts with 10+ years of experience in the Adobe Illustrator domain
Only institution in India with the right blend of theory & practical sessions
In-depth Course coverage for 60+ Hours
More than 50,000+ students trust ACTE
Affordable fees keeping students and IT working professionals in mind
Course timings designed to suit working professionals and students
Interview tips and training
Resume building support
Real-time projects and case studies
Can I Access the Course Material in Online?
Yes We Provide
Lifetime Access for Student's Portal Study Materials, Videos & Top MNC Interview Question.
What certification will I receive after course completion?
You will receive ACTE globally recognized course completion certification Along with National Institute of Education (NIE), Singapore.
How Old Is ACTE?
We have been in the training field for close to a decade now. We set up our operations in the year 2009 by a group of IT veterans to offer world class IT training & we have trained over 50,000+ aspirants to well-employed IT professionals in various IT companies.
What Will Be The Size Of A Adobe Illustrator Batch At ACTE?
We at ACTE believe in giving individual attention to students so that they will be in a position to clarify all the doubts that arise in complex and difficult topics. Therefore, we restrict the size of each Adobe Illustrator batch to 5 or 6 members
Will I Be Given Sufficient Practical Training In Adobe Illustrator?
Our courseware is designed to give a hands-on approach to the students in Adobe Illustrator. The course is made up of theoretical classes that teach the basics of each module followed by high-intensity practical sessions reflecting the current challenges and needs of the industry that will demand the students' time and commitment.
How Do I Enroll For The Adobe Illustrator Course At ACTE?
Corporate Training

If you want to give the Trending technology experience to your esteemed employees, we are here to help you!

Group Discount

If you have Three or more people in your training we will be delighted to offer you a group discount.
Recent Interview Questions & Answers