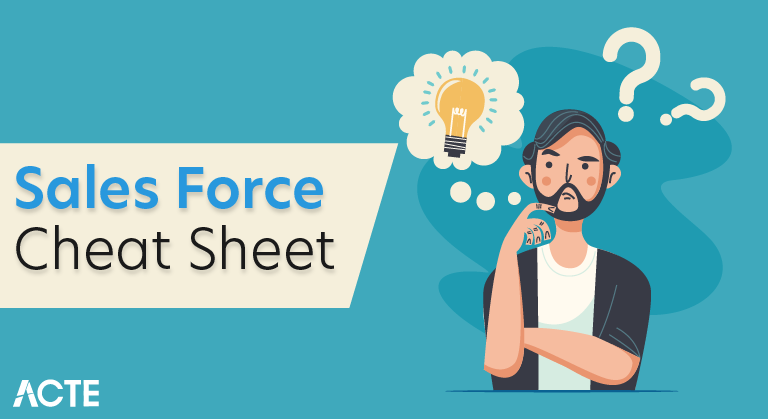 SalesForce Cheat Sheet Tutorial Learning Path – Complete Guide [ Step-In]
Last updated on 19th Jul 2020, Blog, Tutorials
The Power of Salesforce
So let's start off by explaining what Salesforce is and how it works.
Salesforce is a customer relationship management (CRM) solution that brings customers and companies together. It's one integrated CRM platform that gives all your departments — including marketing, sales, commerce and service — a single shared view of every customer.
Unlike traditional software, Salesforce is Software-as-a-Service (SaaS) meaning that there's no installation or hardwired setup required. All you need to do is sign up for the service and log in through a browser, and the software is immediately available, ready for use. With Salesforce, you have a full suite of services at your fingertips, stored on the cloud so you can sleep easily knowing your data is safe and secure, automatically backing up on its own.
Salesforce works for businesses of any size or industry, and gives all departments the ability to share a 360° view of your customers with one integrated CRM platform. It also allows companies to streamline their business processes and manage customer relationships by focusing on sales, service, marketing, and commerce. It keeps your data organized and secure while also presenting reports with effective analytics. Its automation features include tracking leads, managing emails, assigning tasks, notifications, approvals, etc, and so much more. It also handles all customer interactions of an organization through different forms of communication including phone calls, site email enquiries, communities, and social media.
Salesforce helps companies accelerate efficiency and productivity, and ultimately increase revenue and growth by organizing data and automating business processes. With visibility and easy access to data, it's easier to collaborate and increase productivity. Everyone in your company can see how customers have been communicated with, what they've bought, when they last purchased, what they paid, and so much more.
10 Reasons Why Companies Choose Salesforce
Get more leads, close more deals
Better data management, improved visibility and more access to key insights for better decision making.
Efficiencies through automation
Ability to strategically up-sell and cross-sell
More effective marketing
Accessibility from any location on any device
Faster deployment and automatic software updates
Cost-effectiveness and scalability
Better customer experience
Improved team collaboration and time management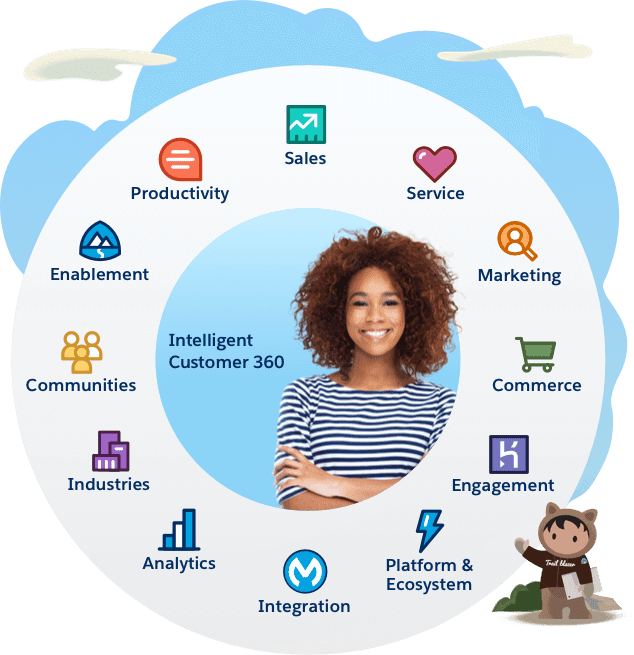 Salesforce Solutions
Now that you have an idea of what Salesforce is and how it works, let's talk about its best-selling solutions, which include the likes of Sales Cloud, Service Cloud, Marketing Cloud, Community Cloud & Einstein Analytics.
Sales Cloud
Sales Cloud is a performance management software created for salespeople that optimizes business processes and increases conversions through personalized customer journeys. It is designed as a start-to-end setup for the entire sales process, empowering sales reps to work faster and smarter. It stores and organizes data including leads, accounts, contacts, contracts, opportunities, products, price books, quotes, campaigns, and more. Some of its key features include lead management, sales forecasting, workflows, and email integration.
Service Cloud
Service Cloud is a platform designed for customer service and support, enabling users to automate service processes, streamline workflows and find key articles, topics and experts to support the agent. It can listen and respond to customers across a variety of social platforms and route cases to the appropriate agent. It also gives agents a 360-degree view of each individual customer by providing AI-powered insights and predictions.
Marketing Cloud
Marketing Cloud is a digital marketing software that enables you to connect interactions from any channel or device, and combine customer data and behaviors to create real-time engagement. It includes integrated solutions for customer journey management, email, mobile, social media, advertising, landing pages, content creation, and data analytics. It also allows you to create campaigns and target specific customer behaviors, needs, and demographics.
Commerce Cloud
Commerce Cloud is a B2B and B2C commerce platform that empowers brands to create intelligent, unified buying experiences across all channels including mobile, social, web, and store. It provides a rich set of capabilities, including marketing, merchandising, content, promotions, customer service, fulfillment, and artificial intelligence.
Community Cloud
Community Cloud is a social platform designed to connect and facilitate communication among an organization's employees, partners and customers. It allows users to share information in real time throughout an ongoing conversation, and is beneficial for troubleshooting, human resources management, and collaboration.
Heroku
Heroku is a cloud platform that allows companies to build, deliver, monitor and scale apps. It supports several programming languages so developers can build apps in the language of their choice including Java, Ruby, Node.js, Scala, Clojure, Python, PHP, and Go.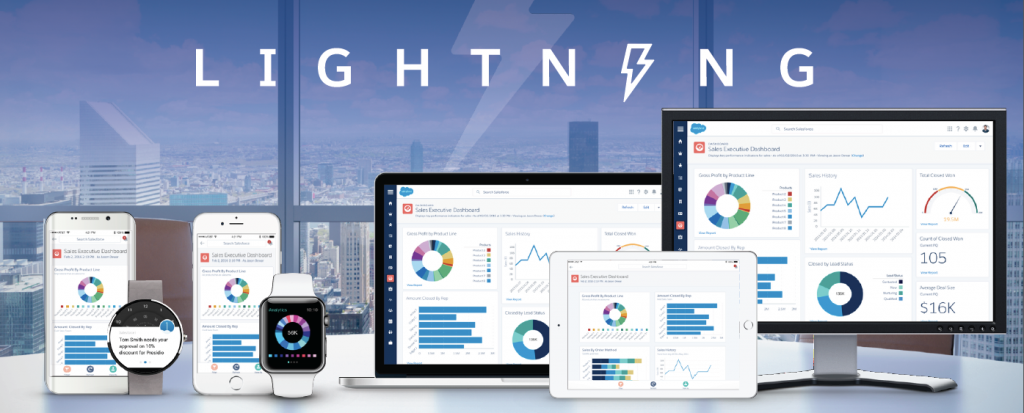 Lightning Platform
Salesforce has two versions: Classic and Lightning. The Lightning Platform offers more advanced features including customization's and app integrations so you can work faster and smarter. In essence, Lightning Platform is an app development platform that is designed to simplify processes for business users by accelerating development and app performance. It offers low-code to no-code building and automation's so you can customize apps for any business need.
Einstein Analytics
Einstein Analytics provides advanced analytics powered by artificial intelligence that automatically analyzes billions of data combinations to surface predictive insights and prescriptive recommendations. With these analytics, you can create Analytics charts to better visualize and understand your data. Einstein Analytics also allows you to build your own custom, intelligent apps, utilize APIs and SDKs to enhance your app, and connect to third party data sources to view all your data in one place.
Quip for Salesforce
Quip is a collaborative productivity software that allows teams to create and edit documents and spreadsheets together as a team. You can embed real-time document collaboration inside Salesforce and communicate via its built-in chat to boost sales productivity and resolve complex service cases faster.
myTrailhead
With myTrailhead, you can empower your team to learn how to use Salesforce in a gamified learning platform customized with your brand and content. You can tailor content to match the roles and needs of your company and increase Salesforce adoption.
Pardot
Pardot is a powerful B2B marketing automation to help marketing and sales teams find and nurture the best leads, close more deals, and maximize ROI. It uses data to personalize the customer experience, display targeted offers, and seamlessly develop nurturing and email paths as you uncover new information.
Mulesoft
Mulesoft is an integration software for connecting apps, data, and devices in the cloud or on-premises. It allows you to bring data into Salesforce from any third-party system such as SAP or Oracle.
All of these Salesforce products are available in different editions, so you can choose the edition that's best suited to your current business size and needs. Bundled by functionalities and different pricing models, these editions put customers in the driver's seat and give them the ability to start with the basics and upgrade to more advanced editions as their businesses grow over time.
Salesforce also offers products tailored to specific industries including— Health Cloud, Financial Services Cloud, Government Cloud, and Philanthropy Cloud.
Due to its breadth of offerings, Salesforce can be fully customizable to fit any business in any industry. Need an app? Check out the AppExchange, an online marketplace filled with hundreds of pre-built mobile and desktop apps, components and services ready for use. Want to customize your Salesforce solution? Check out Salesforce's standard features. Looking for something more tailored to your business? Find a Salesforce certified consultant, like us, that can work with you to tailor the whole platform to meet your specific business needs and goals. Whether you're a global conglomerate or a small business, Salesforce has solutions to help everyone regardless of size or industry.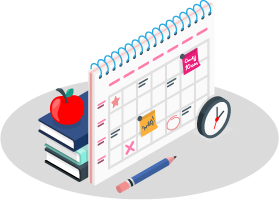 Learn Salesforce Certification Course to Advance Your Career
Weekday / Weekend Batches
See Batch Details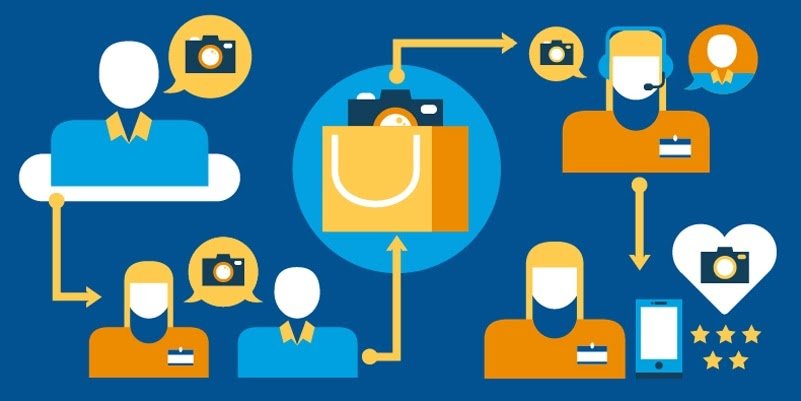 Available Salesforce Editions
Essentials (for Small Business)
Designed for companies who need 10 users or less, this edition includes intuitive walk-through and a setup assistant to get you up and running as quickly as possible. Plus it comes with an easy-to-use user interface (UI) and administration tools that let you customize your deployment as you grow.
Professional (for Mid-Size Businesses)
Professional is the go-to for businesses who need full-featured CRM functionality. This edition offers a straightforward and easy-to-use customization, integration, and administration tools to facilitate any small to midsize deployment.
Enterprise (Most Popular for Large Businesses)
Enterprise is deeply customizable and allows for a substantial number of users, meeting the needs of large and complex businesses. It includes advanced customization and administration tools so you can support large-scale deployments as well as access to Salesforce APIs so you can easily integrate with back-office systems.
Unlimited
As the name suggests, this edition grants you unlimited CRM power and support across the entire enterprise through the Lightning Platform so you can maximize your success. It grants you new levels of platform flexibility for managing and sharing all your information on demand as well as Premier Support, full mobile access, unlimited custom apps, increased storage limits, and other advanced features.
Developer (for Developers)
Developer edition was designed specifically for developers, giving them the freedom to extend Salesforce, integrate with other applications, and develop new tools and applications. It includes access to the Lightning Platform and APIs as well as to many of the features available in Enterprise Edition.
You did it, you're finally here! The process was hard — you conceptualized, coded, built an app, became a Salesforce partner, got approval from Salesforce and finally published it on the AppExchange. Quite a journey, but this isn't the end, it's just the beginning. However, there is still one key ingredient missing — marketing.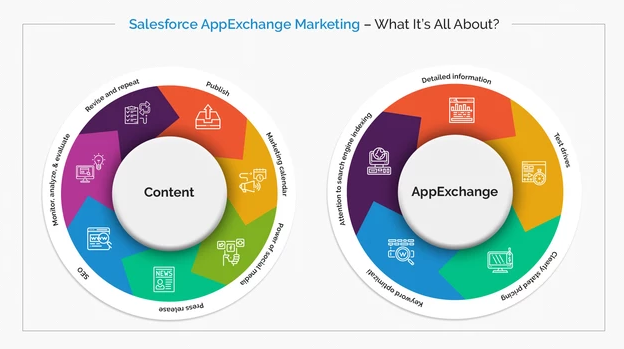 Content is King
The first step is to create content. It's quite simple — understand your consumer's problems and provide solutions. In a nutshell, create trending content that captures attention. Once the content is in place, take the following steps to spread the word:
Publish it across all channels.
Create an action plan, and develop a marketing calendar to keep track of activities and events.
Use social media to unleash your creativity, and engage with your audience on a personal level.
Cultivate great PR — public relations — to establish yourself as a brand.
Provide thought leadership through white papers, so you can convince your customers to buy vs. build their own.
An old but gold method is word of mouth, use your second and third-degree connections to generate buzz.
Network, by attending events to connect with customers, prospects, close deals, generate brand awareness and develop leads.
Go digital by driving demand with SEO, re-targeting and email campaigns.
Monitor the client's progress and performance.
Analyse it to evaluate reach and impact.
Revise and repeat.
Working the AppExchange
Okay, now we have an approved application, with content and an action plan in place. Your next step? –understand the inner workings of the AppExchange.
Popularity is based on customer activity, and everything users do is measured. The AppExchange recalculates popularity on a daily basis, then summarizes and evaluates results over 30 days. Listings are sorted by their relative popularity over the last 30 days. Hence, a popular app is a productive one. Improve your rankings with the following steps:
Information — add a detailed description with multiple screenshots.
Test drives — allow consumers to test drive an app, the number of test drives can influence popularity and allow you to collect more leads.
Pricing — list your price clearly, ambiguity or secrecy can drive customers away.
Keywords — they drive traffic, so ensure content is SEO optimized.
Indexing — search engines index listing pages and return them in search results. So, it is necessary to cross-reference the listing URL on the website, blog, and social media pages.
Of course, you can always leverage relationships — appeal to Salesforce employees. If you share a strong relationship with Salesforce, then speak to internal employees about your app. As a result, they will discuss it with clients and generate returns. Salesforce also provides an AppExchange Marketing Program, where they offer different methods of co-marketing with partners.
There are multiple routes you can take to market your app on the AppExchange, however always keep in mind — content and consumer are key. Implement all the steps to start climbing the ranking ladder!
Salesforce For Dummies Cheat Sheet
Unlike traditional software, Salesforce is software-as-a-service (SaaS). You sign up for a subscription and log in through a browser, and the software is immediately available. You may need to make some adjustments to make all aspects apply to the details of your business. There's no purchase, installation, or hardware setup required! With Salesforce, you have a full suite of services to manage the customer life cycle.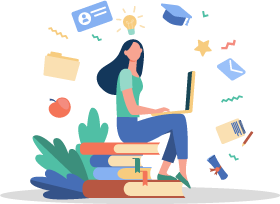 UPGRADE Your Career with Salesforce Training By Highly Experienced Faculty
Instructor-led Sessions
Real-life Case Studies
Assignments
Explore Curriculum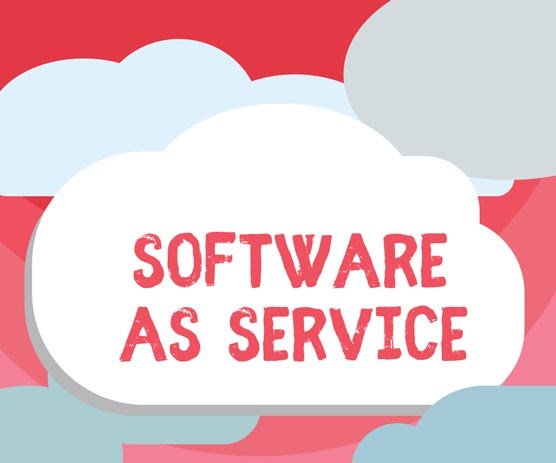 Navigating the Salesforce Home Page
When you log in to Salesforce, you begin at the Home page, which looks similar to other users' Home pages. However, the tasks and events are specific to you and your company:
Tabs: Click the tabs at the top of the page to navigate Salesforce. When you click a tab, the tab's list view page appears. If you click the downward-pointing arrow to the right of each tab, you see additional options, including creating a new record, or accessing a recent record.
App Launcher: Use the Lightning Experience App Launcher (which looks like a square composed of nine smaller squares at the very left of the navigation bar) to switch between sets of tabs most used by different types of Salesforce users.
Today's Events: This section tracks calendar appointments and helps you keep track of your schedule in Salesforce. You can choose to sync relevant meetings from your Microsoft Outlook or Google Calendar into Salesforce.
Today's Tasks: Use this section to stay up to speed on your to-do items.
Search: Find information fast in Salesforce by entering keywords and then clicking Search in the search bar above the navigation tabs. You can also filter by object to narrow down your results. A search results page appears with lists of records that match your search.
Recent Records: Use Recent Records to open records that you recently visited.
News: This section surfaces relevant business news related to industries or companies that you frequently view.
Settings: Click the Settings link under the logo of your user, at the top right of any page. From there, you can modify your personal settings. If you're an administrator, use Setup to customize, configure, and administer Salesforce.
Salesforce Help: If you need help, click the question mark icon in the upper-right corner.
Getting Salesforce Help Fast Page
You have so many ways to navigate Salesforce that you probably don't need much help getting around the application. If you get stumped, though, get help fast with these techniques:
Salesforce Sample Resumes! Download & Edit, Get Noticed by Top Employers!
Download
Contact your system administrator.
Click the Salesforce Help question mark icon on most Salesforce pages to access a variety of documentation specifically geared to the page you're on.
To seek opinions from others in the community, search or post a question in the Salesforce Trailblazer Community.
Another medium for feedback from the tech community at large is Twitter. If you're already a Twitter user, use the #askforce hashtag in your tweet to shout out your question.
Using Everyday Salesforce Operations
Salesforce was built by salespeople for salespeople. Here's how to use the day-to-day Salesforce operations in the most efficient way possible so that you can devote your time to selling:
Track a prospect. Select the "+ New Lead" option from the Lead tab, fill in the record, and then click Save.
Track a company. Select the "+ New Account" item from the Accounts tab, complete the record, and then click Save.
Track a person. As a best practice, go to an Account record related to where the person is employed. From the Related section, find the Contacts section and select the New button to create a new Contact associated with the Account. Fill in the record and then click Save.
Add a deal. As a similar best practice, go to an Account record for the related customer. From the Related section, find the Opportunities section and select the New button there to open a new Opportunity record. Complete the fields — including the Stage and Close Date fields — and then click Save.
Set up a Task. Go to a related record detail page (such as a Contact or Account) and locate the Activity section. From there, you can choose to add a new Task, log a call, or log and send an email.
Initiate a customer service inquiry. Go to a related record (such as an Account or Contact) and then from the Related section, find Cases and select the New button to create a new Case.
Create a report. Click the Reports tab and click the New Report button. Follow the steps through the wizard and then click the Run Report button when ready.
Export a report. Go to a report. Click the downward-facing arrow to the right of the Edit button and select the Export option. Follow the steps to export the report.
Transfer a record. Assuming that you have transfer rights, go to a record detail page and click the Change icon next to the Owner field. Complete the fields and then click Save.