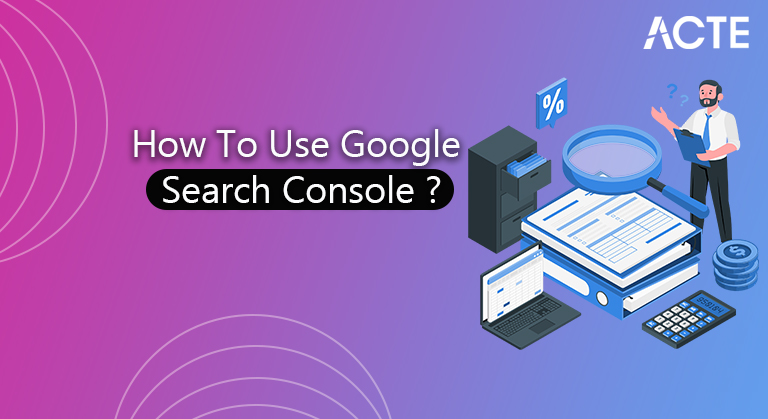 How to use Google Search Console | A Tutorial for Beginner's Guide
Last updated on 02nd Feb 2022, Blog, Tutorials
Introduction to Google Search Console
First, do the following
The contents of this guide are as follows
Google search console features
URL Inspection
Bread crumbs
Highlights of Google Search Console
Examination and conversation
Conclusion
Introduction to Google Search Console

A search console is a tool of Google, and anyone who has a website can do anything to improve the performance of Google search, the appearance of the search, and drive relevant traffic to the site. Helps you understand. The Search Console provides information on how Google can crawl, index, and serve websites. This helps site owners monitor and optimize search performance. You don't have to log in to the tool every day.
When Google discovers a new issue on your site, you'll receive a notification email from the search console. However, we recommend that you check your account about once a month or when you make changes to your site content to ensure that your data is stable. Find out more about managing your website using the search console.

First, do the following:

Confirm ownership of the site. You can access all the information provided by the Search Console. Find out more about verifying ownership of your website. Make sure Google can find and read your page.
The Index Coverage Report provides an overview of all pages that Google has indexed or attempted to index on your site. Check the available list and try to fix any errors and warnings on the page. Check for mobile usability errors that Google finds on your website. Mobile usability reports show issues that can affect the user experience when browsing websites on mobile devices.
Consider submitting a sitemap to the search console. Pages on your website can be found by Google without this step. However, submitting a sitemap from the search console will improve the discoverability of your site. If you use the tool to send, you can monitor the information associated with it.
Find out more about the Sitemap XML Report. Monitor website performance. The search performance report shows the amount of traffic from Google Search, including queries, pages, and country breakdowns. For each of these breakdowns, you can see trends in impressions, clicks, and other metrics.
Google Search Console (formerly Google Webmaster Tools) is an independent platform for all of us with websites that show how Google displays websites online and optimizes their natural presence. is. It consists of reference domains, website online performance, top search results, and top-visited searches and page views.
I always have GSC open in 2 to 10 tabs. If you want to see how many impressions HubSpot is getting each month, or what happened if posts on high-traffic websites dropped unexpectedly, both at the macro and micro levels. Useful. I remember the first time I opened GSC. There were lots of incomprehensible labels (index coverage?!?), Hidden filters, and confusing graphics. Of course, the more you use it, the less confusion you get.
But if you need to pass the knowledge of curves (and why not), here's the real news: I'm going to share everything I've found about using the Google Search Console like a pro.

The contents of this guide are as follows:

Adding a website to the Google search console
Set owner, user and permissions
Send site map
Understand dimensions and metrics
Add a filter
Use of GSC (24 use cases). The first important thing. If you haven't signed up for GSC yet, it's time to sign up.

How to Add Your Website to Google Search Console

Sign in to your Google account. Make positive you`re the use of your commercial enterprise (now no longer personal) account if it`s a commercial enterprise internet site. Go to Google Webmaster Tools. Click "Add a property."
Choose "Website" from the dropdown menu and input the URL of your web website online. Make positive you`re the use of the precise URL that looks withinside the browser bar. Click Continue.
Choose how to verify your website's identity (HTML data upload, local call provider, HTML tag, GA watch code, or GTM field snippet). If your website supports both http: // and https: // online, upload both as separate sites. Each section must be uploaded individually.
The Google Search Console was created to easily track the performance of your website. Gain valuable insights from your Google Search Console account. This means that you can see what part of your website needs to be overhauled in.
This could be a technical part of a website such as: B. The number of crawl errors to fix is ​​increasing. Also, due to the low ranking and number of impressions, more attention may be paid to certain keywords.
In addition to displaying this type of data, you will receive an email notification when a new error occurs in the Google Search Console. These notifications quickly alert you to issues that need to be fixed. Therefore, anyone who has a website needs to learn how to use it.

Account Settings

To use the Google Search Console, you need to create an account. Within the new Google Search Console, you can click Add New Property on the top bar. You can paste the website you want to add by clicking the Add Property button. If you choose the new domain option, all you have to do is add the domain name-no www or subdomain.
This option keeps track of everything connected to this domain. The "old" URL prefix option requires you to add the correct URL to. That is, if you have an https website, use "https" to specify whether to use "www". It is important to add the appropriate version to collect the appropriate data.

Google search console features

After setting up an account, what's the next step? Now it's time to look at some of your data! Examine some of the reports and information available in the rest of this article.

Performance tab

On the Performance tab, you can see the pages and keywords that your website is ranked by Google. Older versions of GSC could display data for up to 90 days, while the current version can display data for up to 16 months. Remember that the data is available from the moment you set up your account.
You can quickly check which keywords or pages need more attention and optimization by checking the Performance tab regularly. So where should we start? The Performance tab displays a list of requests, pages, countries, or devices. You can use the look of your search to see how rich results work in your search. Each of these sections can be sorted by the number of clicks, impressions, average clickthrough rate, and average position.

First click

Clicks are the number of times a user clicks on a website in Google search results. This number tells us something about the performance of the page title and meta description. If only a few people click on the results, the results may not appear in the search results. It may be helpful to look at the other results displayed around you to see what you can optimize for your snippet.
The position of the search results also affects the number of clicks, of course. If your page is in the top 3 of the first page of Google results, you will automatically get more clicks than the page ranked in the second page of search results.

Develop Your Skills with Google Cloud Certification Training

Weekday / Weekend Batches

See Batch Details

Second impression

Impressions indicate how often your website appears in general, or how often a particular page appears in search results. For example, in a GSC account on our website, Yoast SEO is one of the keywords our website ranks. The number of impressions you see for this keyword indicates how often our website appears in Google search results for this keyword. We still don't know which pages are ranked by that keyword.
Click the keyword row to see which pages may be ranked by a particular keyword. If you do this for the Yoast SEO keyword, the keyword will be added as a filter:
You can then go to the Pages tab to see exactly which pages are ranked by that keyword. Are these the pages you want to rank for that keyword? If not, you need to optimize the pages you want to rank. Don`t forget to write better content with the keywords on this page, add internal links from related pages or posts to the page, speed up the page load, and more.

Average CT

CTR (click-through rate) shows what percentage of people who see your website in search results actually click through your website. You know that the higher the ranking, the higher the CTR.
However, there are some things you can do to increase your CTR. For example, you can rewrite the meta description and page title to make it more attractive.
If your site title and description stand out more than other results, more people are more likely to click on your results and your CTR will increase. Note that this has little effect if you haven't placed it on the first page yet. You may need to try other things first to improve your ranking.

Average Position

At the bottom of this list is the "Average Position". It shows the average ranking of a particular keyword or page for the selected time period. Of course, this position is not always reliable. Obviously, more and more people are getting different search results. Google seems to have a better understanding of which results best match which visitor. However, this indicator indicates whether you can explain clicks, impressions, and CTR.

Index Cover

A more technical but very valuable tab in the Google Search Console is the Index Coverage tab. This section contains the number of pages that have been indexed by Google since the last update, the number of pages that have not been indexed, and the errors and warnings that caused problems when Google correctly indexed the pages. Is displayed. gain.
We recommend checking this tab regularly to see what errors and warnings appear on your website. However, you also get notifications when Google has found new errors. When you get such a notification you can check the error in more detail here.
You may find that errors are caused when, e.g., a redirect doesn`t seem to work correctly, or Google is finding broken code or error pages in your theme. Clicking on the link, you can analyze the error more in depth to see what specific URLs are affected. Once you've fixed the error, you can mark it as fixed and have Google test the URL again. There are some things to consider when reviewing the coverage report.
As new content is created, the indexed pages should grow steadily. This tells you two things: Google can index your page, and you keep your page "alive" by adding content. Beware of sudden falls! This can prevent Google from accessing (all) websites. Something may be blocking Google. Be careful, whether it's a robots.txt change or a server failure.
Sudden (and unexpected) spikes in the chart can indicate content duplication (both www and non-www, wrong canonical, etc.), auto-generated pages, or hacking issues. Too many errors can send poor quality (poorly maintained) signals to Google, so it's a good idea to carefully monitor these types of situation and fix them quickly.

URL Inspection

The URL Inspection Tool helps you analyze specific URLs. Get the page from Google's index and compare it to the page currently on your site to see if there are any differences. There is also other technical information on this page for . B. When and how Google crawls, what it looks like when it crawls. From time to time you will also notice many mistakes. This may be due to Google's inability to crawl the page properly. This URL also contains information about structured data.

Improvement tab.

Under Index Coverage, there is an Improvement tab. Here you can find everything you need to improve the performance of your website. Insights on site speed, mobile usability, AMP usage, and improved structured data can lead to rich results with SERPs.

I speed

The new speed report is still experimental, but it's already a valuable addition. This report provides a good idea of ​​how fast a website loads on mobile and desktop. In addition, it indicates which page has the problem and cannot be loaded immediately. The data is based on Chrome UX reports, that is, real data from real users. Website speed is a difficult problem with many moving parts, so it's good to learn how to think about website speed. The answer is here: how to check the speed of your website.

IRich result optimization tab.

If your website has structured data, for example provided by Yoast SEO, it's a good idea to check the improvement report in the search console. The Improvements tab collects all the insights and improvements that can lead to significant results. The list of supporting findings continues to grow. At the time of this writing, this list includes:

Bread crumbs

Event
Frequently Asked Questions
Procedure
Jobs
Logo
Product
Review
Site link search box

video

All of these tabs show the number of enabled extensions, or the number of errors and warnings. Get more information about the nature of the errors and warnings, and the URLs where you can find them. There is also a trend line that shows whether the number of problems is increasing or decreasing. And that's just the beginning.
Improvement reports can help you find and fix issues that are impacting your search performance. You can increase your chances of getting rich results when searching by reviewing the issue, reading the support documentation, and validating the fix. There is a detailed guide to the Structured Data Expansion Report in the Google Search Console.

Get JOB Oriented Google Cloud Training for Beginners By MNC Experts

Instructor-led Sessions
Real-life Case Studies
Assignments

Explore Curriculum

Site map

An XML sitemap is like a roadmap to all the important pages and posts on your site. We believe that any website will benefit from it. Is the Yoast SEO plugin running on your website? Then the XML sitemap is created automatically. If not, we recommend that you create it so that Google can easily find the most important pages and posts.
The XML Sitemap tab in the Google Search Console allows you to tell Google where your XML sitemap is on your website. We recommend that you enter the XML sitemap URL in GSC so that Google can easily find it.
In addition, you can quickly see, for example, if there are any errors in your sitemap, or if some pages are not indexed. By checking this regularly, you can be sure that Google can correctly find and read the XML sitemap. It's a good idea to check the XML sitemap section of the plugin regularly to manage the types and classifications of posts you include in your sitemap.

Shortcut

In the "Links to Your Website" section, you can see the number of links pointing to your website from other websites. You can also see which websites are linked, how many of these websites are linked to the website, and finally which anchor text is most often used to link to the website. increase. This can be valuable information, as links are still very important to SEO.
In the Internal Links section, you can see which pages of your site are most frequently linked from elsewhere on your site. It's worth analyzing this list on a regular basis as we want the most important pages and posts to get the most internal links. In this way, Google ensures that you understand what your foundation is.

Your website has been hacked

A message indicating that your website has probably been hacked by a third party. Google may flag your site for violations or lower your ranking. A "cloaking" hiding something from Google (that is, deliberately showing content from non-users and tricking one of them) or a "sneaky" redirect (for example, hiding affiliate URLs) Using is a violation of Google's webmaster guidelines . Simple Spam Auto-generated content, scratched content, and offensive cloaking can all result in Google blacklisting your site.

Spammer structured markup

Using rich snippets when there are too many irrelevant elements on a page, or marking up content hidden from visitors, can be considered spam. Mark what you need. Not everything is needed.
Security issues Last but not least, the Security Issues tab provides notifications if your website seems to have a security issue.

Highlights of Google Search Console

The assistance solidifies contraptions that let site executives.

Submit and check a sitemap.
Check the slither rate, and view assessments concerning when Googlebot gets to a specific site.
Structure and check a robots.txt report to assist with noticing pages that are upset in robots.txt accidentally.
List internal and outer pages that point of interaction with the site.
Get a synopsis of affiliations which Googlebot experienced issues in creeping, including the blunder that Googlebot got while getting to the URLs being insinuated.
See what watchword look on Google induced the site being recorded in the SERPs, and the complete snaps, full scale impressions, and the normal investigate velocities of such postings. (Actually named 'Search Queries'; rebranded May 20, 2015 to 'Result Analytics' with extended channel open entryways for contraptions, search types and date periods)
Set an inclined toward area (for example slant toward example.com over www.example.com or the converse way around), which finishes up how the site URL is shown in SERPs.
Component to Google Search portions of composed information which are utilized to overhaul search hit regions (conveyed in December 2012 as Google Data Highlighter). View site speed reports from the Chrome User Experience Report.
Get reprobations from Google for manual penalties.
Allow to an API to add, change and destroy postings and outline slither errors.
Rich Cards another part added, for better advantageous client experience.
Check the security issues tolerating there are any with the site. (Hacked Site or Malware Attacks)
Add or crash the land owners and accessories of the web property.
Google Search console brought an improvement highlighted breadcrumbs and AMP to give absurd assistance to the users.
As of July 2020, you can examine nearby planned information plan in the Google search control center's dashboard or utilize one of Google's devices: Rich Results Test or Schema Markup Validator.
Search Console gives data on how Google creeps, records, and serves districts. This can help with siting proprietors to screen and update Search performance.
Google Search Console also has a section called the URL Inspection Tool

Examination and conversation

This piece needs extra references for insistence. If nobody truly minds regardless, assist with working on this article by adding references to solid sources. Unsourced material might be attempted and killed. (January 2020) (Learn how and when to kill this plan message) The outline of inbound relationship in Search Console is for the most part fundamentally more prominent than the quick overview of inbound affiliations that can be found utilizing the link:example.com search question on Google itself.

The outline in Search Console Tools wires nofollow joins that don't give site improvement expert to the related site. Then again, the synopsis of affiliations conveyed with a link:example.com type demand is considered by Google to be "colossal" takes part in a sketchy way.

Google Cloud Sample Resumes! Download & Edit, Get Noticed by Top Employers! Download

Conclusion

After the Google Search Console rebrand, data has been conveyed showing that Google Search Console makes server farms that don't oblige with Google Analytics or arranging information, especially inside the nearby solicitation market.