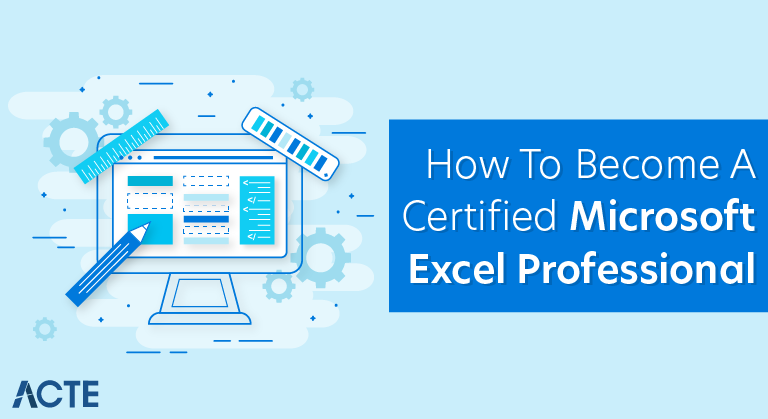 How to Become a Certified [MS] Excel Professional [ In-Demand ]
Last updated on 11th Jul 2020, Blog, General
Step 1: Obtain Basic Computer Skills
Before becoming a certified Microsoft Office Specialist (MOS), individuals must obtain basic computer skills. MOS certification specifically requires training in Microsoft programs and operating systems. Students may enroll in a basic computer program if they have little or no computer skills, or they can enroll in a program that allows them to learn a specific skill, such as how to use the Internet.
Step 2: Enroll in Microsoft Office Courses
The next step is to enroll in Microsoft Office courses. Although individuals can teach themselves how to use Microsoft Office programs, college-level courses and workshops offer professional training that can teach a student about the proper way to use all the features of a program, which is information that is usually covered on certification tests. Colleges and universities typically offer courses under different skill levels: basic, intermediate and advanced. Each class usually covers only one Microsoft Office software program, such as Word, Excel, Access, Outlook or PowerPoint.
Step 3: Choose a Certification Program
To achieve MOS certification, the next step is to choose a software program to become certified in. Individuals can obtain certification for all Microsoft Office programs, but certification for each software program requires passing a different exam.
Workers who create and update documents, such as newsletters, invitations, press releases or manuals, would benefit most by obtaining MOS Word certification. Those workers in charge of managing and creating databases might consider earning a MOS Access certification. For professionals who frequently give presentations, MOS PowerPoint certification would be a good choice. MOS Outlook certification may be useful for a professional who works in a company that uses Microsoft Outlook as a closed and secure e-mail system.
Step 4: Take Certification Exams
The final step is to take the certification exam or exams. MOS certification exams are only administered through testing centers authorized by Microsoft. Each certification exam takes about 90 minutes to complete. Exam questions ask applicants to complete a task using the appropriate tools within the software program. For example, the MOS PowerPoint certification exam might ask exam takers to make a slideshow with embedded video links.
Test takers are able to immediately view their results after completing the exam. Those who pass the exam are recognized as officially certified and will receive an MOS certification certificate through the mail. Those who do not pass the exam have the opportunity to challenge answers marked incorrect or retake the exam.
Jobs seldom require this certification, but it can certainly boost an applicant's employment potential. Examples of jobs for which this certification can be helpful include paralegal and secretary, or administrative assistant. Paralegals and legal assistants earned a mean annual salary of $54,500, according to May 2018 salary data from the U.S. Bureau of Labor Statistics. Secretaries and administrative assistants earned an average of $38,030 as of the same year, also per the bureau.
Essential Information
| Degree Level | None to take the exam; position requirements may vary |
| --- | --- |
| Training | Windows training and Microsoft Office training for the product of your choice |
| Experience | None required for certification |
| Key Skills | Basic computer skills; proficiency in Microsoft Office products |
| Testing Details | Tests take approximately 90 minutes and results are available immediately; must be taken at an authorized Microsoft Test site |
| Average Annual Salary (2018) | $38,030 (for secretaries and administrative assistants)*$54,500 (for paralegals and legal assistants)* |
Microsoft Office certifications are generally optional credentials that can demonstrate specialized competence in one or more Microsoft Office programs. Workers can prove their skills and proficiency with Microsoft computer programs by earning the Microsoft Office Specialist (MOS) certification. Individuals can elect to earn certification in one or more Microsoft programs, such as Word, Excel or PowerPoint. Before taking the exam, individuals have the option of self-guided training or participating in formal computer courses and workshops. There are no degree requirements to take the MOS certification exams. Let's take a look at the steps to becoming a MOS.
7 Best Excel Certifications [2020]
1. Microsoft Office Certifications (Microsoft)
There is no better place to start your Excel learning journey than the creator itself. Microsoft offers a variety of certification programs for MS Office applications, such as Outlook, Word, PowerPoint, Excel, etc. Whether you want to be an expert in MS Excel 2019 or any earlier version of it, Microsoft provides a certification program for every version. You can easily choose a program that best defines your knowledge and requirements. Moreover, you will also get access to quizzes and practice exams before giving the final exam. After finishing every course, you will have to clear the certification exam in order to obtain your certificate of completion from Microsoft.
Key USPs
Learn the fundamental concepts of MS Office applications, and then move on to gain the advanced and core skills of using them
Get a combination of both cloud and web technologies to extend the way you create and consume information
Get introduced to a new cloud app model that allows you to build secure and flexible apps with a similar MS Office interface
Test your ability to use MS Office applications like Excel, Word, or PowerPoint in a way that is more aligned with the way you use it every day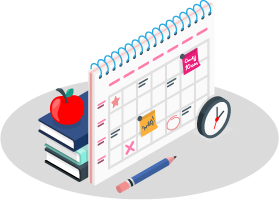 Best Hands-on Advanced Microsoft Excel Course By Industry Experts
Weekday / Weekend Batches
See Batch Details
2. Excel Skills for Business (Coursera)
This is a specialization program designed for those who want to develop fundamental knowledge of MS Excel. Taking this program will help you add a highly valuable asset to your employability portfolio. This specialization program consists of four different courses, each of which is designed to help you learn advanced Excel skills for business. It is created by an expert faculty of Macquarie University, who will help you during the program to resolve your queries and provide additional assistance. After finishing each course in the specialization, you will get a certificate of completion signed by the University.
Key USPs
An advanced specialization program designed to help you gain knowledge of Excel Spreadsheet basics and advanced concepts
Learn how to create sophisticated spreadsheets, including professional dashboards, and perform complicated calculations with advanced Excel features and techniques
Gain advanced skills that will help you manage large datasets efficiently, extract meaningful information from datasets, and present that data effectively
Master the excel techniques that can help you authenticate data and avoid errors in spreadsheets, apply advanced formulas, create automation, and conditional logic to help make better decisions
Included with multiple video lectures, graded assignments, quizzes, practice exercises, and hands-on projects to help you better understand the concept
3. Introduction to Data Analysis using Excel (Coursera)
It is another business specialization program designed to help you get equipped with a basic understanding of business Excel data analysis tools and techniques. Enrolling in this program will help you master essential spreadsheet functions, build descriptive business data measures, and develop your aptitude for data modeling. Meanwhile, you will also get the opportunity to explore basic probability concepts, including measuring and modeling uncertainty and use various data distributions with a Linear regression model. This program consists of five different courses that are included with video lectures, quizzes, hands-on exercises, and practical exams to help you get the maximum output of the course content.
Key USPs
An advanced specialization program in Data analysis with Excel specially designed for business experts who deals with a large amount of data every day
Created and reviewed by expert faculty of Rice University, who will assist you after every session to provide additional help related to course queries
Learn how to analyze and inform business decisions by working with Linear regression models and using various data distributions
Included with a capstone project that is designed to apply your skills and knowledge that you have gained so far with the program
– Flexibility to study from your home without any deadlines
4. Excel Essentials: The Complete Excel Series (Udemy)
Individuals who want to learn Excel from the ground up can take help from this course. Whether you are a beginner or an intermediate who has little expertise in Excel, you can learn a lot from this course, such as how to program your own applications using Excel VBA. Moreover, you will learn how to build your own spreadsheets from scratch and understand how they actually work, create a fully functioning relational database using Excel, and much more. What makes this course different than other Excel courses is that it provides additional videos, quizzes, book referrals, and many other things that a user needs to master MS Excel.
Key USPs
An extensive course designed to master all the basics of Excel, even if you have seen an Excel spreadsheet
Be able to build your own simple, AND complex formulas while using some of the Excel's built-in functions and techniques
Learn how to create a simple data entry screen to auto-populate complex templates, and how to program in VBA from scratch
Included with custom made tutorials, 50 bite-sized lectures, multiple quizzes, pdf cheat sheets, and access to Q&A forums to help get the maximum knowledge of MS Excel
5. Excel from Beginner to Advanced (Udemy)
This is amongst one of the best Excel courses available online. It consists of four different courses, each of which is focused on different concepts of MS Excel. The first course will introduce you to the basics of MS Excel, and the later courses are designed to help you get equipped with the advanced skillset of Excel. The course is designed by Kyle Pew, who has more than 15 years of experience in providing Excel training. He will guide you with a step-by-step process through the beginner to advanced level and beyond. After finishing the course, you will get a certificate of completion that can be shared with your LinkedIn profile and resume.
Key USPs
Master the most popular Excel tools and come out with confidence to complete any Excel tasks with efficiency and grace
Learn a variety of topics during the course, such as how to create practical spreadsheets, manage large sets of data, create dynamic reports with Excel Pivot Tables, and much more
Master the use of some of the most popular and sought after Excel functions like SUM, VLOOKUP, IF, AVERAGE, MATCH, etc.
Harness the full potential of Microsoft Excel by automating your day to day tasks via Macros and VBA
6. Microsoft Excel Certification (GoSkills)
GoSkills provides excellent Excel certification courses that are specially designed to help you learn and cover the most essential concepts of MS Excel. Taking these courses will set you apart from your peers and give you a competitive advantage during job interviews. The list includes multiple Excel courses, but the highest-rated courses are MS Excel Basic and Advanced, MS Excel Pivot Tables, MS Excel Dashboards, and Microsoft Excel for Mac – Basic and Advanced. After completing these courses, you will be very well-equipped with the latest tools and techniques of Excel, as well as you will be able to create your own program in Excel from scratch by using VBA.
Key USPs
A useful list of multiple Excel courses for all platforms like Cloud, Mac, and Windows so that you don't face any problems while using the application
Learn how to manage large datasets, create visualizing spreadsheets, and perform data analysis effectively
Learn to build impressive spreadsheets from scratch and understand how they actually work, as well as how to create a fully functioning relational database
Recognize your hard work with an accredited certificate of achievement or certificate of training for your resume or CV
7. Excel Certification Courses (E-LearnExcel)
E-LearnExcel provides a list of seven different Excel courses that focuses on various fields of MS Excel. Each of these courses is created by expert instructors who have years of experience in providing excel training. Whether you are a complete beginner or an intermediate with little knowledge of Excel functions, you can choose a course from the list as per your requirements. Some of the courses in the catalog include – Excel Apprentice Certification, Excel Professional Certification, Excel Architect Certification, etc. After completing all of these courses, you can choose to work on an additional Excel project provided by the platform to help you analyze your skills and knowledge.
MS Excel Sample Resumes! Download & Edit, Get Noticed by Top Employers!
Download
Key USPs
Each of these courses is designed for specific purpose and users, such as Apprentice for an intern, associate for beginner level, and master for expert individuals
Each session is linked to another one, which means you will have to complete the earlier course in order to move to the next course
Included with quizzes, practice exams, and hands-on exercises that you will receive after finishing a course
Receive a professional certificate after completing every course, which means you will have to earn seven certificates to get the master Excel certificate