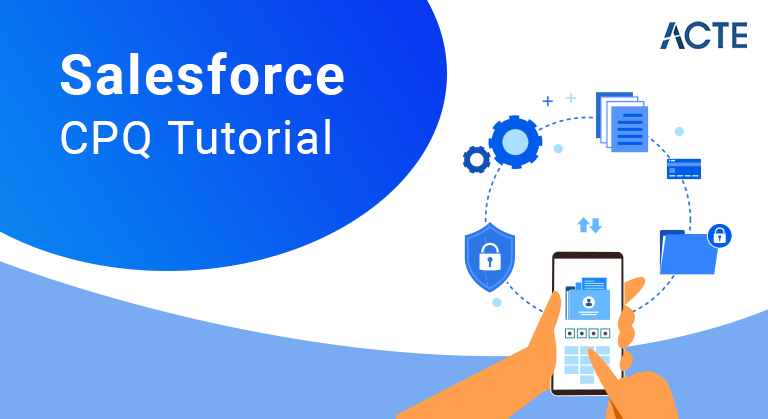 What Is CPQ In Salesforce | A Free Salesforce Tutorial
Last updated on 18th Jan 2022, Blog, Tutorials
What's a Salesforce CPQ?
A Brief Summary Of Salesforce CPQ Key Features
What is Salesforce CPQ Process Flow?
Advantages of CPQ
Why do organizations use Salesforce CPQ?
How to Integrate Salesforce CPQ into your Developer Org?
Salesforce CPQ working process
How do I learn Salesforce CPQ?
Why do I want Salesforce CPQ?
Features of Salesforce CPQ
Benefits of Salesforce CPQ
Conclusion
What's a Salesforce CPQ?

Salesforce CPQ may be a software introduced by Force.com as a sales tool for companies in providing accurate pricing for any product configuration scenarios. It also allows sales representatives to quote the costs of the products quickly and accurately. It allows customizations, discounts, quantities & several optional features for the merchandise during the sales procedures. it's easy to use on any device and can be available 24/7 because it may be a cloud service platform hosted at Sales Cloud Platform providing you direct access to your CRM & decision-making for impactful deals.

A Brief Summary Of Salesforce CPQ Key Features:

Product Configuration Features:

CPQ permits making product loads with components and options. Components are defined because of the classes for the bundle, and therefore the options are defined because of the components.
Options are made as integral a part of the bundle, and accessories or the related products also support up-sell and cross-sell scenarios. Supports for exclusion and inclusion practices which are alternative conditions.
CPQ also supports for hiding of the components or dynamic addition of components for the bundle which is being configured.

The Pricing Features:

CPQ provides multiple pricing scenarios, a few of them are:

Contract Pricing – within the process of discounting/pricing, margin calculation is additionally shown for the top user.
Cost + Markup pricing – It supports product costs additionally for price.
Block Pricing – Eg: If the worth of 1-25 products is 50USD and 25-50 products might be 100USD, there'll be an option for tier-based discounting. (1-25 products at 5% discount and 25-50 products with 10% discount)
Real-time price processing for targeting a price to the answer bundles.

The Quoting Features:

Generation of integrated quote document.
Process for integration of E-Signature tools.
Customization of quote templates for various sections that are to be configured i.e, header, quote line, footer & quote terms also.

What is Salesforce CPQ Process Flow?

As mentioned earlier, Salesforce CPQ helps within the complexity of Quoting and functional proposal process by the team and have an analysis of the year-to-year rate of growth of the revenue. Few other added features are:

Product Configuration.
Pricing features.
Quoting features.
Productivity features.
Coming to the technical part of integrating and installation of the software, there are several developers available within the market who have hands-on experience with the method. And, there's a support portal from the Salesforce domain itself for the Salesforce CPQ product pricing and related query clarification.

Advantages of CPQ:

CPQ provides the subsequent key advantages to businesses, especially the sales team.

Time: Sales representatives are stuck, counting on excel sheets and emails with regards to the last phases of their sales cycle. instead of proceeding to their next bargain, they'll waste tons of their time getting contract approvals or quoting the costs of products. CPQ changes this by giving sales representatives access to the info they have to accelerate the quotes.

Customer Satisfaction: CPQ helps the sales teams to realize their CRM goals. CPQ gives alerts whenever a product upgrade or contract renewal is required. This advancement information can support teams to cross-sell or up-sell. CPQ would then be willing to support the deals teams in presenting the simplest items and benefits to the customer. This speed and accuracy help block-based attain a big level of customer satisfaction.

Manage: It provides full power and visibility to sales teams. Multiple sales teams work in a disorderly way. repeatedly teams accidentally give unapproved pricing or promise products that are not any longer available. It becomes difficult for teams to trace, analyze, or forecast accurately. CPQ organizes data and provides sales representatives a transparent picture of what they will offer customers in an orderly and accurate manner.

Why do organizations use Salesforce CPQ?

To comprehend how Salesforce CPQ allows communities, let's review the utilization case design of Cloudera. Cloudera is an enterprise data management company, mainly that specializes in big data solutions. it's a one-stop solution for giant data solutions like data warehousing, data analytics, and machine learning. It provides enterprise software for data-related solutions which will run on the cloud or on-premise.

Cloudera's products are employed by IT, banking, healthcare, education, financial, and various other industries for efficient data analytics solutions. In 2022, Cloudera developed over USD 894 million in earnings. It persists to grow as enterprises still rely more and more on data solutions during this digital era.

To acquire more customers and retain the present, the work structure of inside sales was becoming more complex. The sales representatives were performing their key tasks like quote generation manually. So first let's see what were the problems Cloudera's sales teams faced before they started using Salesforce CPQ:

Manual tasks: Sales representatives had to get quotes and write emails manually for deals with their customers.

Errors: thanks to large amounts of manual quote generation and emails, often errors occurred within the deals.

Time: the massive complex structure took longer and representatives were spending longer on arbitrary administrative tasks.

Lars Nilsson demonstrated that he had yet executed CPQ answers for various retailers. For Cloudera, he decided to integrate Salesforce CPQ across the organization to unravel the above errors. Let's see how Salesforce CPQ cracked the above-discussed points for Cloudera:

Minimal errors: Salesforce CPQ quote years quality provides maximum accuracy, however of the length.

Automation: It automatically causes sections for sales agents for various clients with the lowest errors. It allows sales agents to provide quotes to clients in real-time.

Simple structure: As mentioned by Lars Nilsson it's easy to deploy and sales representatives can easily start utilizing it with no hassles. "Previously, I had executed CPQ answers from several vendors," said Nilsson. "While some retailers offer a thousand issues of functionality, I was required to specialize in the elements that affect Cloudera. It had been also obvious to me that the performance of Salesforce CPQ is vastly easier, faster, and less pricey than other CPQ software."

How to Integrate Salesforce CPQ into your Developer Org?

After creating the Salesforce Developer Account, you would like to click on the below link to put in the Salesforce CPQ package for installation and procedures. we'd like to make a decision on which platform it should be Installed either in Production or SandBox. Let all the users have permission during the installation, and it'll take a minimum of 20 to a half-hour for the installation of the package. supported the customization the Salesforce CPQ gets installed, at the present, the Salesforce provides 3 – Months test period for free of charge Installation setup.

Configuration settings for Salesforce CPQ to the Developer login?

We have periodic things and fields that are bankrupt and ideal for CPQ layout to operate. By utilizing these everyday objects and fields we will create the configuration, pricing & quoting of the products. The downlink describes all the Objects & Fields that are common & bankrupt to be used.

Learn Advanced Salesforce Certification Training Course to Build Your Skills

Weekday / Weekend Batches

See Batch Details

How To configure "CPQ Page Layout" To Shape for Accessing?

To give you an in-depth explanation about the Assigning of "CPQ Page Layout" to a selected profile, allow us to consider with an example profile to tend access(System Admin)Profile.

The supervisor is going to be providing access to the opposite profiles unless he has that. The below steps are detailed to offer a summary of the way to provide access for the precise login for example. Actions to configure Account Object For Page Layout:

Login to the Salesforce → attend "Setup" → within the Quick Find look for "Profiles" → Select the "System Administrator" Profile → Edit → Page Layouts → Account → Click on (View Assignment) → Edit Assignment → Select "CPQ Account Layout" → Save.

How to assign a "CPQ Product Layout" To Profile for Accessing?

Steps to configure Product Object For Page Layout:

Login to the Salesforce → attend "Setup" → within the Quick Find look for "Profiles" → Select the "System Administrator" Profile → Edit → Page Layouts → Product → Click on (View Assignment) → Edit Assignment → Select "CPQ Product Layout" → Save.

How to assign a "CPQ Contract Layout" To Profile for Accessing?

Steps to configure Contract Object For Page Layout:

Login to the Salesforce → attend "Setup" → within the Quick Find look for "Profiles" → Select the "System Administrator" Profile → Edit → Page Layouts → Contract → Click on (View Assignment) → Edit Assignment → Select "CPQ Contract Layout" → Save.

How to assign a "CPQ Opportunity Layout" To Profile for Accessing?

Steps to configure Opportunity Object For Page Layout:

Login to the Salesforce → attend "Setup" → within the Quick Find look for "Profiles" → Select the "System Administrator" Profile → Edit → Page Layouts → Opportunity → Click on (View Assignment) → Edit Assignment → Select "CPQ Opportunity Layout" → Save.

How To Add Users to the Salesforce CPQ Package Installed?

Steps to feature Users to Salesforce CPQ:

Login to the Salesforce → attends "Setup" → within the Quick Find look for "Installed Packages" → Click on "Manage Licenses" → Click on "Add Users" → Select the specified Users From "Available Users" Section → Add.

Salesforce CPQ working process:

How how does Salesforce CPQ work? CPQ uses the 3 ways within the whole process. Before proceeding further, let's take an example of Lenovo company which manufactures laptops for its or its customers.

There are two teams: the surface sales team and therefore the inside sales team. Both have different tasks. the surface team collects information and other essential requirements from customers. Once they manage conditions, they reposition them to the interiors team deals. The other is insides team sales, which receives information from the surface sales team, coordinates with the company's software & design developer, and therefore the manufacturer team to configure the custom product and make an accurate quote within a given time. Let's see how the whole process of Salesforce CPQ works.

Configure

This is the primary step that starts the whole process. during this section, customers contact the surface sales team to invite a selected model. they supply their information and requirements to the surface sales team, entering this information in Salesforce CPQ.
On the opposite hand, the within team receives the knowledge then coordinates with the software developer team, design team, and makers team to supply the specified model. After then, they will change the parts like SDD, HDD, graphic card, storage, etc.
For example, if the customer asks to exchange an existing Lenovo laptop with advanced features, the representative can update the configuration within the software.

Get JOB Oriented Salesforce Training for Beginners By MNC Experts

Instructor-led Sessions
Real-life Case Studies
Assignments

Explore Curriculum

Revenue Process

With Salesforce CPQ, you'll use multilayered discounting logic. this is often something that helps you to cost the model that the customer selects accurately. CPQ permits sales representatives with numerous discount options, including volume and distributor discounts.
You can put and correct the discount expiration date on Salesforce CPQ. Moreover, CPQ permits you to update security information. Eventually, after doing all the necessary steps, click the control and send it to the approval team to support values.

Streamlining the Quote-to-cash process

Once the discount is approved, the customer will review the quote before you create the ultimate quote. After the ultimate quote, it'll be sent to the customer for electronically signing the order. After this, it's immediately intimated to the subsequent teams via portals; Internal sales representative.

QA team

Fulfillment team
Sales management team
This entire process results in quicker-decision making with zero errors.

How do I learn Salesforce CPQ?

There are many Salesforce training courses available on YouTube that provide an entire overview of CPQ concepts, features, and use cases to form you enable to grow within the CPQ space. Some training providers offer gifts and prizes at the top of your Salesforce certification course.

Why do I want Salesforce CPQ?

Let's proceed to the second most often asked question why you would like it. Here are three reasons.

Helps sales Reps close deals fast

Many sales teams are stuck, counting on spreadsheets and email when it involves the ultimate stages of their sales cycle, which suggests rather than moving on to their next deal, they waste tons of your time trying to work out the way to price a product or chasing a contract approval. But CPQ changes all of that. Your sales representatives get their deal-making canvas to hurry up even the foremost complex quote.

Gives companies to regulate and visibility

CPQ gives companies to regulate and visibility over what's being offered and what's being sold. Without Salesforce, many sales teams work under chaotic scenarios sending out pricing that's not approved and promising products that do not exist. It evolves almost inconceivable to accurately track, study or prediction when data is siloed in spreadsheets. CPQ puts guardrails in situ moves sales teams far away from all of that.

Enables companies to launch new revenue models

Today's customers demand more flexibility in how they buy, and corporations across all industries respond by introducing new revenue models. But to try to do so, they have to implement technology platforms that support them and spoiler alerts. CPQ does all that.

Features of Salesforce CPQ:

Let's take a fast overview of CPQ features.

Product configurator
Price and quote
Audit trail of quotes
Automatically generate renewal quotes
Cross-sell and up-sell recommendations
Customizable quote templates
Revenue recognition
Electronic signature integrations
Order and renewals
Manage contracts
Guided selling
Salesforce Product Catalog sync
Unlimited tier volume discount schedules
Manage nuisance tax and VAT
Subscription billing
Automate customer life cycle
Provide insights

Benefits of Salesforce CPQ:

CPQ can benefit your sales team and even the whole organization in some ways. Let's discuss a number of the foremost popular benefits;

Improve accuracy and boost sales performance
Create proposals and quotes in a quick and automatic manner
Increase up-sell and cross-sell to urge more clients
Eliminate errors in pricing and contracts to hurry up the method.
Track your customers
Enable the sales team to deliver services with advanced order management.

Salesforce Developer Sample Resumes! Download & Edit, Get Noticed by Top Employers! Download

Conclusion:

Salesforce CPQ may be a key part of the quote-to-cash apps from Salesforce. It helps companies to simply manage the whole process, from quote generation, configuring orders to collecting profits. Salesforce CPQ and Billing lets companies capture full ROI in weeks rather than months, substantially decreasing the time. Therefore, increasing revenue faster than ever before.