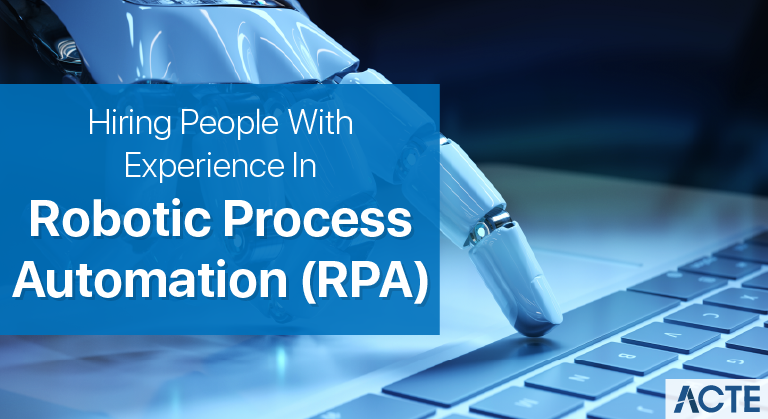 RPA Developer | Now Hiring in Accenture – Apply Now!
Last updated on 22nd Oct 2020, Blog, Jobs in Bangalore
JOB DESCRIPTION :
Design, develop, and configure Robotic Process Automation (RPA Software Systems to meet end-to-end requirement).
Develop and implement standard engineering practices, as well as provide detailed documentation upon project completion.
Candidate should have hands on experience in UiPath Blue Prism Automation Anywhere (RPA).
To develop robotics solution using multiple technology tools available.
Designing Rapid Automation process solutions in accordance with standard design principles and conventions.
Understand solution design document and accordingly create process automation solution.
Developing, configuring programs, scripts and objects that are efficient, well structured, maintainable & easy to understand.
ELIGIBILITY :
Should be from a programming background on any coding language (preferably .Net), with minimum of 2 years experience in any RPA platform and have overall min 4+ years of experience in the development
Must be a certified RPA resource in UI path
Coding knowledge in python, ML, AI programming is preferable
Work closely with the Technical Lead for understanding the functional and technical design
Develops and configures automation processes as per the technical design document (TDD) to meet the defined requirements.
Develops new processes/tasks/objects using core workflow principles that are efficient, well structured, maintainable and easy to understand.
Complies with and helps to enforce design and coding standards, policies and procedures.
Ensures documentation is well maintained.
Ensures quality of coded components by performing thorough unit testing.
Works collaboratively with test teams during the Product test and UAT phases to fix assigned bugs with quality.
Reports status, issues and risks to tech leads on a regular basis
Good analytical skills to improvise configuration/scripting to match new situations
Self-motivated, team player, action and results oriented
Well organized, good communication and reporting skills
INDUSTRY TYPE : IT-Software, Software Services

ROLE : Software Developer
FUNCTIONAL AREA : IT Software – Application Programming, Maintenance

EMLOPYMENT TYPE : Full Time, Permanent

ROLE CATEGORY : Programming & Design

EDUCATION :
UG : Any Graduate in Any Specialization
PG : Post Graduation Not Required