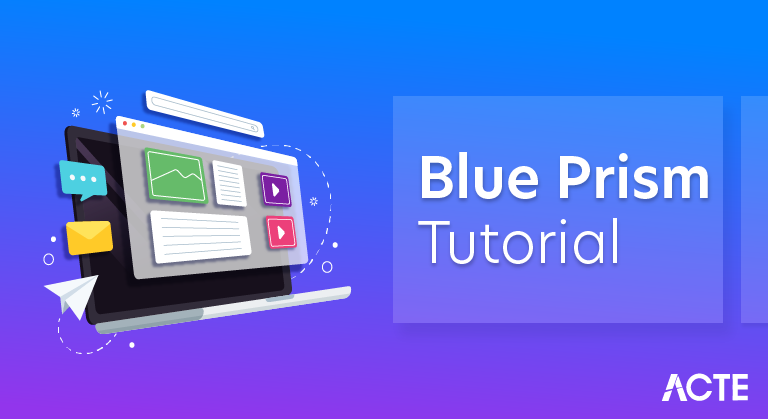 What is Prism Tutorial? Tutorial for Beginners
Last updated on 29th May 2020, Blog, Tutorials
What is Blue Prism?
BLUE PRISM is a UK-based software development company in the field of Robotic Process Automation. The group supplies software robots which helps to automate clerical back office processes that work exactly like a human. The Robotic Process Automation which is shortly known as (RPA) was invented by Blue Prism. This fact itself shows that the company is pioneers in RPA software development.
Blue Prism software enables business operations to be agile and cost effective by automating, manual, rule-based, repetitive back-office processes and improving accuracy by developing a "Digital Workforce.". The Blue prism tool offers a flow chart like designer with drag and drop feature to automate each step of the business processes.
Blue Prism Group is the Organization that has come with the enterprise Robotic Process Automation software named Blue Prism, which helps in eliminating high risk and low return manual data entry work. Blue Prism is a Robotic Process Automation software product that allows businesses with an agile digital workforce.
Blue Prism software enables business operations to be agile and cost-effective by automating, rule-based, manual, repetitive back-office processes to improve accuracy and develop a "Digital Workforce."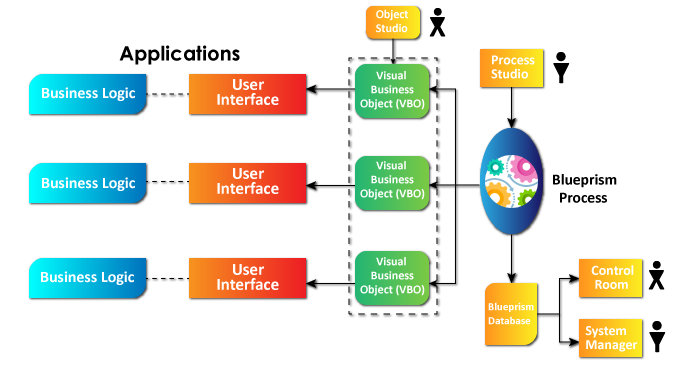 Blue prism Feature
With access to a self-learning digital workforce, evolving continuously improves users with the capability to automate billions of transactions- increase in productivity and returning hundreds of millions of work hours back into the business. Now, let us go through some of the features that Blue Prism offers to their end customers as well: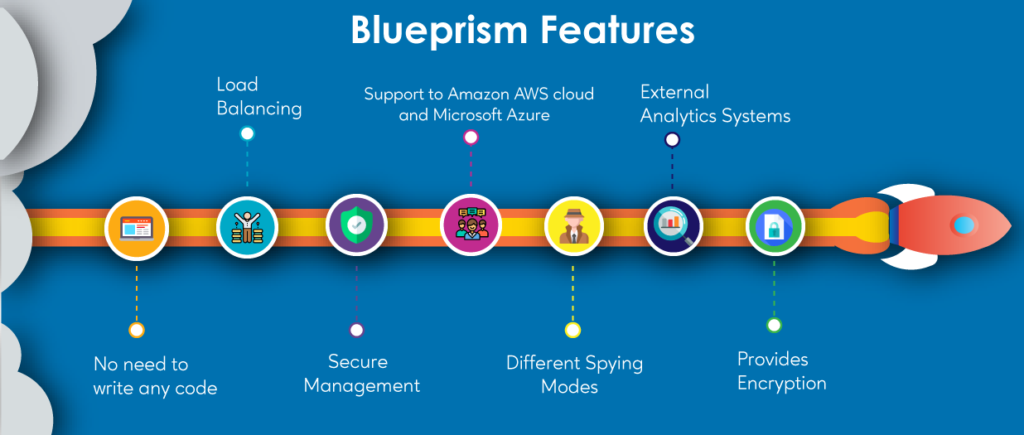 Secure, scalable, and central management of a virtual workforce of software robots
Complete automation solution that results in work distribution and queue management
Blue prism has many robust features like load balancing, encryption, and audit. It also offers robots that are defined and managed centrally
Blue Prism comes with various types of spying modes for different application types
It has many improved features to configure Dashboards so that session information can be directed to external Analytics and monitoring systems
The latest version 6 of Blue prism provide support for Microsoft Azure and Amazon AWS cloud deployment patterns
Exception stages can be set to save a screen capture. When it is used in the production environment, this feature can resolve resource processing issues in a secure manner
You can automate Excel, XML, csv, pdf, image, etc.
There is no need to write any code while working with the Blue prism tool
It can automate software developed in Java, Mainframe, Web-based, Windows Applications
Components of Blue Prism
Blue Prism is a set of libraries, tools, and runtime environments for RPA.
Every software robot has two main parts:
Process Studio
Object Studio
What is Object Studio
Object studio is where we can create the Visual Business Object. It is abbreviated as VBO. VBO are created to interact with other applications.
We will see that Object Studio looks very like Process Studio. There are key differences, which are:
Object Studio offers some "stage" which are not available in the Process Studio
Object Studio does not have a Main Page, but it does have two default pages
Pages are organized as a flat group instead of hierarchy like in the Process Studio
Benefits of Developing VBO:
Consistency and scalability
Lesser Bot creation time for subsequent processes
System changes only needed to be updated in one location instead of for each process. Bot maintenance becomes easy
What is a Process studio?
Process studio looks similar to a traditional flowchart. It is an area where an actual process is created. Apart from features offered by Object studio, it allows business logic, control loops, variables, and object calls to be sequenced, and tested in a visible business flow. Each Page in Process has its tab, and generally, the process defined in the Process Studio is pretty similar to a flowchart.
A process acts like a human user. It implements a software robot's logic. It is almost similar to personal interaction with several applications to carry out a series of steps which can invoke actions to carry out the same steps.
Process diagram:
Process diagrams are various stages connected together using links to form logical structures.
Stages are selected from the toolbar and placed on the diagram using the mouse.
They can be selected, moved, resized, formatted, cut, copied, pasted, and deleted, much as you might expect.
Stages also have various properties that can be accessed by double -clicking.
Links are created using the link tool by dragging the mouse from the center of one stage to the center of another.
Dragging without the link tool can be used to select more than one stage at a time.
How to Create a New Process
From the main Blue Prism window, select "Studio" from the tabbed menu at the top of the screen.

Or select the Studio icon from the left-hand navigation menu.

Right- click the Processes heading under studio and then select "Create a Process" from the context menu.
Name the new Process "First Process".
Enter a brief description of the Process.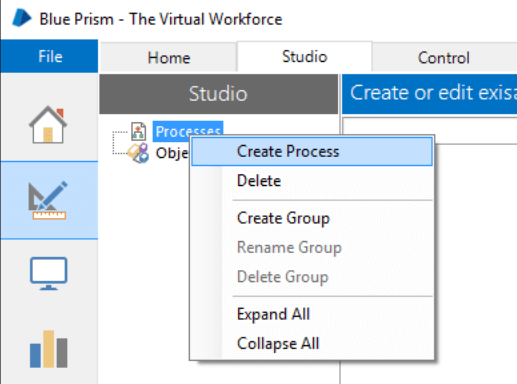 The new process will appear beneath the Processes heading. Now double-click it to open it.
Along the left-hand side of the screen is the Stages toolbar. To put a stage on the page click and drag it into position. Try this by dragging a few different stages onto the page.
You will notice that one of the stages in the stages toolbar has a blue rectangle highlighting it. Whichever stage is highlighted will be the one added if you click directly on the page. Click on the calculation stage on the toolbar to highlight it.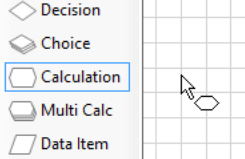 Here, you can notice how the cursor changes and has the calculation stage icon next to it. Now click on the process page to add a calculation stage. This saves you having to return to the toolbar if you have several stages of the same type to add.
Even with the calculation stage cursor you can still drag and place other stage types.
When stages are on the page you can:
Double click on various stages to view their properties
Press the Save button but keep the diagram open.
Space in Process Studio is effectively infinite, and pan and zoom tools can be used to maneuver around the diagram. The grid lines and "snap" settings are on by default, but these can be switched off (via the View menu) if necessary.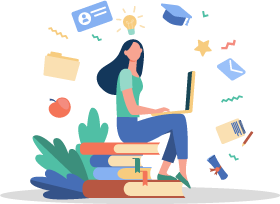 Learn From Experts Blue Prism Training to Build Your Skills & Knowledge
Instructor-led Sessions
Real-life Case Studies
Assignments
Explore Curriculum
Advantages of Process Studio
A process is very much similar to a business object.
Every process is defined by using one or more pages
Each page contains various stages and data
Always begins at its Main page
Each page in a process has an individual tab, which allows you to divide the processes into various logical groupings.
A process acts like a human user who thinks and types very fast.
Need to publish the process then only it is visible to the Control Room.
The biggest advantage of the process studio allows you to design the logic by assembling the design surface graphically.
What is Business Objects
To implement an RPA system in any organization, a real process would be needed to do some useful tasks and to do so; it would need to work with external applications.
The interface to an application is never contained in the process diagram, but in a separate diagram which is called Business Object.
A Business Object is never configured in Process Studio but in a distinct environment which is called Object Studio.
The main aim of Business Object is to provide an interface to a single application.
A Business Object is not exposed to the Control Room and is never used on its own. Instead, it is always used by a Process.
Benefits of using Blue Prism
It doesn't need IT skills to implement
It can be easily implemented in the short time span of 4 to 6 weeks
Provides the highest return of your ROI, tremendous payback with self-funding returns
Automates the application's controls and fields, irrespective of their onscreen position to increase bot's speed
Custom Digital Front- ends integrate front office agents and back-office automation to improve human-robot interactivity and productivity.
Robust and feature a rich analytics suite.
Double-byte character set support allows you to expand RPA to systems and processes that need double-byte such as Asian languages
Multi-tiered Encryption Algorithms provides secure connectivity, data storage, and access
Enterprise-wide Password Vaults with certified CyberArk Credential Management for consistent enterprise-wide credentials
Custom Permissions feature allows user-specific access to robot groups, robots, processes for secure robotic automation process
Improved Control Room to offer real-time feedback on robot status and allows you to get the complete insight into the digital workforce.
Build highly efficient and automated end-to-end business processes
Blue-prism International Case Studies
Following are 2 prominent case studies of Blue Prism implementation.
Case 1: National Retail Bank
Allows them to perform the Inter-bank transfer in just 20 sec using Blue Prism vs. 10 min manual process
130 processes automated
100 robots deployed
200 + FTE saved audit conducted in 1 min with automation versus the entire working day process of almost 8 hours.
Case 2: Global Telco :The Telco launched RPA software in 2013. They wanted to optimize their back-office operations.
Blue prism RPA capabilities covered:
15 core processes covered
1.000-1.200 FTE replaced
400-500k cases per month
160 robots decoyed: run by a team of 3
12 months payback period
3 years ROI of 650-800%
What is the Blue Prism process?
A Business Process is created using Blue Prism Process Studio, and as we discussed – as Blue Prism Processes are similar to VBOs, Process Studio is also identical to Object Studio. This is depicted in the following figure in some more detail:
Just the way we have seen in Object Studio, a process has its own page where the analyst can group on a logical basis. Process Studio just like Object Studio, allows its users to create some logic graphically.
Process Studio also provides debugger tools to enable users to step through processes and to understand the logic better. The biggest challenge that someone might face is the business processes being set with the proper values. Hence the feature from Process Studio to keep track of the history of changes that were made and made by which individual, to recover the last working state without any hassles.
There is also another issue that analysts face while working with business processes – track of what happens when these are executed. Blue Prism process can be tested to see how much percentage of chances the process is covering based on the real-time data, which helps them tweak the process a little bit – should there be a need to do it. Immediate feedback can be achieved and also very helpful in making the business process more effective and efficient.
As discussed above, a Blue Prism process can be understood as a depiction of a Human user as it accesses applications through their respective user interfaces as a regular user does. To be very precise, to some extent, a Blue Prism process can be understood similarly to that of a VBO.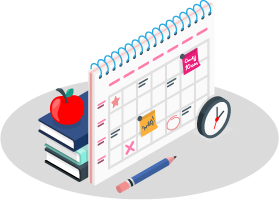 Get Advanced Blue Prism Course to Become An RPA Developer
Weekday / Weekend Batches
See Batch Details
The logic of a Visual Business Object (VBO) is implemented within one or more pages. The following figure shows how each page contains the required operations, which are nothing but a set of stages holding the data items used by that operation.

A page, when published, allows for it to be invoked by the Blue Prism process or by other software as well. A page can be kept private so that it can be used in other pages inside a VBO. Irrespective of the choices made, a page begins with a Start and ends with an End stage (as shown in the figure above). Let us now take a look at some of the essential steps within a VBO:
Read: Reads data from a UI element into a data item
Write: Puts data from an available data item onto a UI element
Navigate: Do necessary clicks to navigate to the respective area on an application screen
Wait: Conditional wait for a condition to be met
Link: Stages within a page's operations can be linked
Decision: Provides a conditional statement to decide (control flow)
Choice: Enacts as like a Switch statement allowing only one selection from the available list of options
Calculation: Expressions that perform data manipulation or calculation
Loop: Constructs to traverse through the available data
Page: To call another Page from within a VBO
Exception: Erroneous scenarios throwing back failure of an operation
Recovery: Handles code blocks to recover from erroneous situations
Resume: Ends a timed wait and gets back into the execution.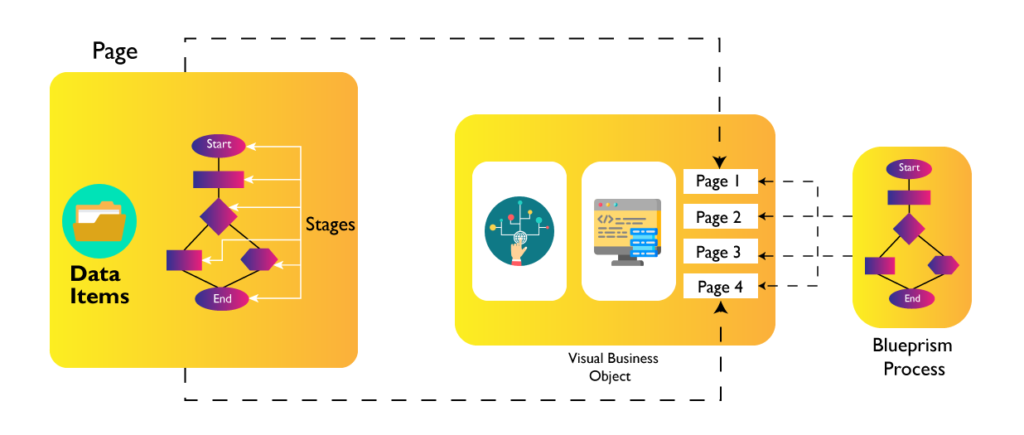 To implement an RPA system in any given organization, there is a need for us to have a real process which does the actual tasks and it also needs to work along with a set of external applications. Business Object is a diagram which is different from the actual process diagram that is nothing but an interface to the application.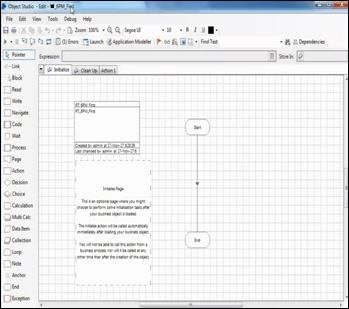 Business Object will never be configured in the Blue Prism Process Studio but will be set on an environment called the Blue Prism Object Studio. The main objective of a Business Object is to provide an interface to a business application. A Business Object will never be exposed to the Control Room module, and it will never be running on its own. It will always be used along with a Process.
Benefits of using Blue Prism
No IT skills are required to implement in Blue Prism
A solution can be applied in the shortest period
Allows you to automate application controls thereby increasing bot's velocity
Provides a rich feature set on the analytics suite
Allows building an effective and efficient end to end business process automation
More efficient and effective end to end business process automation can be achieved using Blue Prism
You can obtain real-time feedback from the Control Room module, which will help you get a detailed insight into your digital workforce.
Custom permissions module allows robot groups and robots to be given user-specific access for a safe and secure automation process
Data storage, access, and connectivity is ensured using the multi-tiered encryption algorithms
Customized digital front ends provide an easy way to integrate front office agents and the back office bots in improving humans and bots interaction.
What is RPA?
RPA stands for ROBOTIC PROCESS AUTOMATION. We basically create a bot that mimics the human behavior on pc at scale to automate business processes that are highly repetitive, rule-based and use structured data. In RPA, there are so many tools that are popular for automating the process such as Blue Prism, Automation Anywhere, UI Path, Win Automation, Pega Robotics. Out of these Blue Prism is most robust in nature and is highly in demand.
Introduction to Blue Prism
Blue Prism is one of the popular tools for Blue Prism which works on the Dot.Net framework. There is no coding knowledge required to learn Blue Prism. In Blue Prism we use drag and drop mechanisms to create BOTS for mimicking the process.
How to install Blue Prism
In order to install Blue Prism, We need Dot.Net Framework 4.6 and above and SQL Express 2012 above.
Benefits of Blue Prism
Reduce cost, as we automate transaction processing
Helps to provide higher productivity benefits
Higher efficiency in process and reduction of non-value-add activities
Reduces transactional errors
Drives higher accuracy
Mistake proof process
Enhances compliances and controls
Drives improvements in Business Outcome through improvement in time, quality and cost of the transaction
Accelerating business outcomes without increasing program complexity or headcount.
CONTROL ROOM:
Whatever we created processes in the process studio we can run from the control room by publishing that process. In the control room, we have three sessions,
Session management.
Queue management.
Scheduler.
It enables the business or IT services to schedule, runs and manages processes.
Blue Prism Sample Resumes! Download & Edit, Get Noticed by Top Employers!
Download
RELEASE MANAGER:
If you want to send your code to UAT testing then we will take the release file from the release manager with .bp release Extension.
SYSTEM:
In this component, we will create credentials, Environment variables for process and objects and work queue.Here we can see audit logs and we will do some system changes.
Conclusion:
In this article,The choice of functionalities offered, a closed ecosystem and a solid licensing policy are the cause of this. However, those who are looking for an unattended solution, with an uncompromising vision on safety and robustness, find the perfect partner in Blue Prism.Hope you have found all the details that you were looking for, in this article.