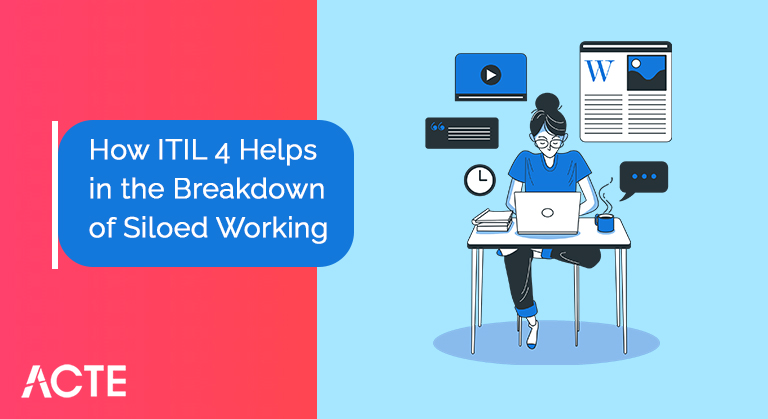 How ITIL 4 Helps in the Breakdown of Siloed Working | All you need to know [ OverView ]
Last updated on 31st Dec 2021, Blog, General
ITIL® 4 helps organizations frame new process architectures that revolve around the value-creation principle. Processes are formally documented to keep track of consistency and progress, and dependencies involved in each process are clearly laid out.
Introduction To ITIL 4
Two ways ITIL 4 eliminates a siloed approach to work
Nipping siloed approach at the bud
Siloed working has always been one of the most common issues in IT and IT service management (ITSM)
How does ITIL 4 help create a holistic IT approach?
Silos Hinder Flexibility
Agility and Flexibility Go
Motion Promotes Flexibility
What is the ITIL service value system?
Conclusion
Introduction To ITIL 4:

Silo mindset is the mindset adopted by some employees/teams/departments within the same organisation. Working in silos hinders efficiency, scope for improvement, cross-functional knowledge transfer as well as confidence-building in a workforce. The existence of a silo mentality significantly affects the health of the company culture in the long run.

However, silo working has been a management term that has been doing the rounds for some time now. A silent mindset can be eradicated with the right vision and training by the executive leaders of organisations and by making a cultural change. ITIL® is instrumental in creating this change and helping to prevent such destructive organisational practises.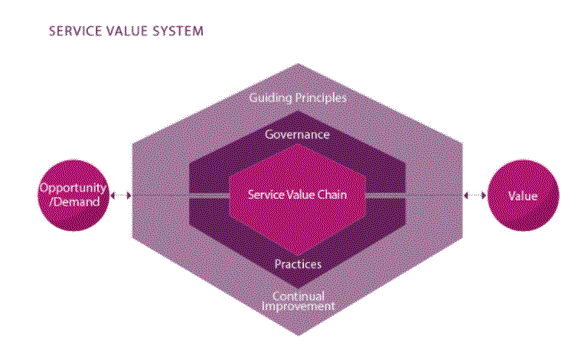 Two ways ITIL 4 eliminates a siloed approach to work:

ITIL 4 was introduced with the intention of streamlining the service value chain by eliminating the traditional way of carrying out activities. It enables teams to develop a holistic approach rather than a tacit approach. Below are 2 ways to use enterprise ITIL® 4 to avoid a tacit approach to work:

1. Fostering a Collaborative Work Environment from Above:

77% of organisations say that ITIL® has helped them implement effective organisational changes. In most of these organisations, ITIL® was adopted from senior management to early-stage employees. When professionals at the top levels of an organisation demonstrate teamwork with a growth mindset, it is inevitable that the rest of the workforce will adopt it.
This level of over-the-top collaboration reinforces the idea that employees/teams should work together to achieve business goals. ITIL® 4 helps organisations design a new process architecture that revolves around the value-creation principle. Processes are formally documented to keep track of continuity and progress, and the dependencies involved in each process are clearly determined. In this way, teams work holistically and a tacit approach to work is reduced.

2. Tell the employees about the holistic work approach:

A rigid work culture does not motivate the employee to cooperate. ITIL® 4 advocates the creation of a customer-centric culture. However, for happy customers to be born, employees must first be satisfied. Enterprises should consider the aspirations of their employees and why they prefer silent work over teamwork. If employees express concerns about company culture and the lack of adequate support forcing them to work in silos, that needs to be addressed.

Employees who feel that they lack the right skills to collaborate should also be supported to increase their productivity, through periodic performance reviews and rewards/recognition for their teamwork. Efforts can also be rewarded.
Nipping siloed approach at the bud:

In the past, ITSM has received much criticism for promoting silent work, however, the latest version of ITIL, ITIL® 4, corrected this drawback of ITSM. In the midst of this highly competitive market, it is imperative for organisations to generate value quickly. The silent approach hinders the enterprises from the point of view of value-generation. Industry experts believe that on-the-job training is the best way to improve the entire workforce at ITIL® 4. Adopting ITIL® 4 will go a long way in preventing a tacit approach to work and encouraging holistic and collaborative work practises.
Siloed working has always been one of the most common issues in IT and IT service management (ITSM):

Lack of contact in operations teams, lack of knowledge about what is going on in design and development, and low collaboration are very painful for IT support, leading to low visibility, low transparency and low information.

This rigid way of working can without question go through the following procedures and procedures, even if it doesn't make sense.
However, thanks to ITIL® 4, I am looking forward to seeing more collaboration and more shared goals across IT organisations. But, first, why is it important to break silent ways of working?

Destruction of silos:

The tacit IT mindset means that the task at hand fails to understand broader organisational requirements, strategic direction, and how to create value. Ultimately, this leads to a waste of time, resources and value, which is ineffective and uncompetitive.

Meeting technical IT requirements without a comprehensive view of the end goal is not enough and of course, this leads to conflict.
The problem of silent working is difficult to solve because the organisational culture and structure often supports it. This leads teams that want to maintain a closed environment to survive, preserve their power and avoid change altogether.

Today, this is unacceptable. With the level of competition demanded by the market, organisations need to create value quickly and this requires a different approach based on Lean and Agile concepts. This includes empowering people to be creative and collaborative; To get better results through different and more effective ways of working.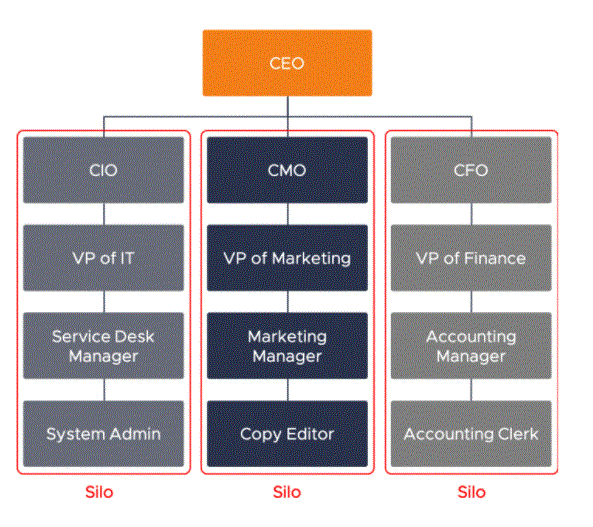 How does ITIL 4 help create a holistic IT approach?

1. Previously, I have seen ITIL processes as gospel and used in a prescriptive manner. This was never the spirit and intention of ITIL. Now, in ITIL 4, the service value chain gets rid of conservative processes and focuses on the element of value co-creation. Therefore, the goal is to achieve value rather than "implement" the framework as a goal in itself.

2. Therefore, the guidance is more flexible and adaptable to handle a specific situation to achieve the required value.

3. Also, guiding principles are important for building holistic IT: for example, instead of focusing on process or process, the point is to "focus on value". In turn, "Collaborate and Promote Visibility" is about sharing information, goals, and establishing trust. The "think and act holistically" silo addresses the problem directly and all this helps foster a different culture.

4. Encouraging continuous improvement at every level of the organisation means that change occurs and is then tested with feedback, leading to greater improvement and adaptation.

5. Developing a customer-oriented mindset, as demonstrated in ITIL 4, helps to leave the silo by focusing on customer value. This can only happen if the team is empowered to take responsibility and share goals.

ITIL 4 in the real world:

In my role, I am adopting service management practises (for example, incident management), receiving feedback and continuously improving. This approach avoids wastage and conflicts and instead focuses on what is needed to be successful.
Despite this, silos are difficult to break into and so I think – with the help of ITIL 4 – it will be a medium term challenge to convince people that a different approach is valuable and necessary.
Silos Hinder Flexibility:

For many years, we have talked about the challenge that organisational silos present to successfully optimise the customer experience. Silos are created when people focus only on the organisation they are responsible for. This means that most of the planning or actions are carried out on the basis of a singular view of an individual organisation. When a company is experiencing silo-thinking, it may seem like, "How can the HR team improve onboarding for new employees?" or "How can the support team respond more quickly to incidents?"

It replaces thinking with single processes on which your organisation can focus from looking at the entire experience through a value flow. The problem with these types of questions is that they look at the same organisation. For a company to improve the customer experience, it must have a holistic view of what is happening. Silent organisations lack the full picture, and therefore lack a solid understanding of the customer experience today and how to meet the demands of customers in the future.
The design of the ITIL 4 Service Value System is configured in a way that encourages organisations to break their silent thinking. It replaces thinking with single processes on which your organisation can focus from looking at the entire experience through a value flow. When customer demand is recognized, this end-to-end thinking is applied to all organisations, stakeholders and practises within building the service value chain to provide companies with a well-rounded picture of the customer experience and/or So to receive. Should be.
Having this holistic approach to service delivery makes it much quicker and easier for companies to see the potential benefits and risks of decisions as well as the potential impact and risks, allowing them to respond more quickly and flexibly to demands, trends, and changes. can react.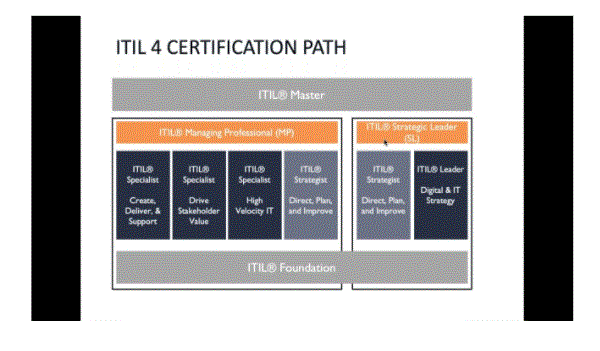 Agility and Flexibility Go:

Hand in hand

In an effort to meet customer demands more quickly, companies around the world are beginning to explore less structured and "faster" methods of development and IT management, such as Agile, DevOps and Lean. These offer great flexibility when used for their intended purposes, but like silos, they don't give companies the full picture – the holistic approach that is needed to deliver value rapidly over the long term.

When considering the method used to oversee a project, the ITIL 4 Service Value System again helps. Its structure leaves room for implementing any of these new approaches, but does so in a way that ensures that organisations keep an eye on the entire value stream. Using these methods in partnership with the ITIL framework, day-to-day work proceeds rapidly and flexibly, while the concepts critical to long-term success, such as co-creation value and continuous improvement, are not overlooked. Is. Like the definition of flexibility, companies gain the ability to bend without breaking. There was probably nothing wrong with the way things have always been, but it's also likely that there are more efficient ways of doing this.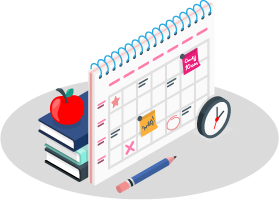 Develop Your Skills with Advanced ITIL Certification Training
Weekday / Weekend Batches
See Batch Details
Motion Promotes Flexibility:

You've heard the phrase "a body in motion stays in motion", right? Well, the same is true in business. It's like when someone says, "Well, we've always done things this way." There was probably nothing wrong with the way things have always been, but it's also likely that there are more efficient ways of doing this. Instead of ridiculing new ideas and seeing suggestions for change as obstacles, ITIL 4 embraces them.
The Continuous Improvement component of the ITIL 4 Service Value System encourages businesses to encourage people in all organisations to continually think of ways that services can be improved. The idea of ​​continuous improvement means that people are always evaluating products and services against the stated approach and then making measurable adjustments to try to get closer to the goal. Doing so keeps the company moving and flexible.
For today's businesses to enjoy long-term success, it is important for them to successfully leverage IT services. However, as information and technology is constantly evolving in new and faster ways, this means that all products and services that depend on them (practically everything) must remain flexible – and, in my view, new releases of ITIL 4 help to accomplish this.
What is the ITIL service value system?

ITIL SVS explains how all the components and activities of the organisation work together as a system to enable value creation. SVS is made up of specific inputs, elements and outputs relevant to service management. The major inputs for SVS are opportunity and demand. The output of SVS is the value delivered by the products and services.

Opportunity refers to the options or possibilities to add value to stakeholders or otherwise improve the organisation.
Demand refers to the need or desire for products and services between internal and external consumers.
Opportunity and demand trigger activities within ITIL SVS, and these activities lead to the creation of value. Opportunities and demands are always entering the system, but the organisation does not automatically accept all opportunities or meet all demands.

The 5 elements that support change in the valued outcomes of demand are defined as follows:

SVS element definition
Guiding principles Recommendations that can guide an organisation in all circumstances regardless of changes in its goals, strategies, type of work or management structure
Governance the means by which an organisation is directed and controlled
Service value chain is a set of interconnected activities that an organisation performs to deliver a valuable product or service to its consumers and to facilitate value realisation.
practice sets of organisational resources designed to perform a task or accomplish a purpose
Continuous improvement is a recurring organisational activity carried out at all levels to ensure that the performance of the organisation consistently meets the expectations of the stakeholders

ITIL Sample Resumes! Download & Edit, Get Noticed by Top Employers! Download

Conclusion:

ITIL 4's expanded guidance and emphasis on value creation are expected to significantly transform the way organisations manage IT services. The Service Value System and Four Dimension Model broaden the scope of the framework beyond IT processes to include every aspect of IT service delivery and value creation.

ITIL 4's impact on ITSM tools:

If your organisation relies on ITSM software to support its service management processes, you may be wondering how implementing the new ITIL 4 framework will affect your current ITSM tools.

The most popular ITSM software tools are designed to support and automate ITIL V3 processes, but marketing of these tools has shifted away from the emphasis on alignment with ITIL processes. With ITIL 4 gaining momentum, we are expecting a resurgence of marketing campaigns from ITSM tool vendors that emphasise ITIL 4 alignment.

It is also worth noting that at the time of this publication, only the ITIL Foundation book of ITIL 4 has been published. With more publications to follow, it remains to be seen whether ITSM equipment vendors will need to modify their existing tools or create new ones to support ITIL 4 requirements.