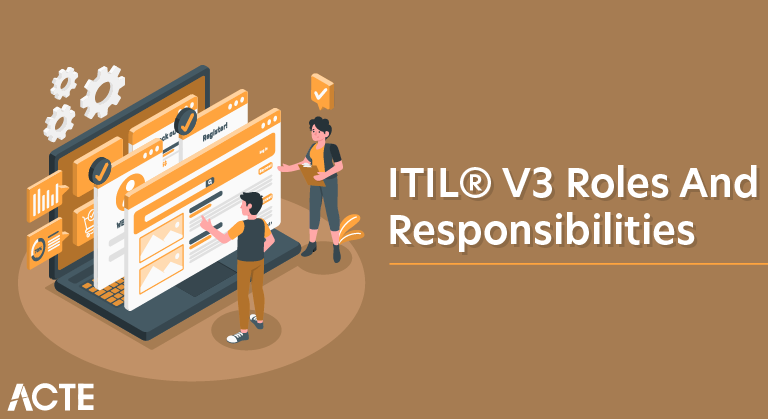 ITIL V3 Roles & Responsibilities – Comprehensive Guide
Last updated on 15th Jul 2020, Blog, General
What is IT service management?
IT service management (ITSM) is a concept that enables an organization to maximize business value from the use of information technology.ITSM positions IT services as the key means of delivering and obtaining value, where an internal or external IT service provider works with business customers, at the same time taking responsibility for the associated costs and risks. ITSM works across the whole lifecycle of a service, from the original strategy, through design, transition and into live operation.
To ensure sustainable quality of IT services, ITSM establishes a set of practices, or processes, constituting a service management system. There are industrial, national and international standards for IT service management, setting up requirements and good practices for the management system.
ITSM is based on a set of principles, such as focusing on value and continual improvement. It is not just a set of processes – it is a cultural mindset to ensure that the desired outcome for the business is achieved. It incorporates principles and practices from various management approaches, such as lean manufacturing, organizational change management, system analysis and risk management.
ITIL 4 introduces the idea of the four dimensions of service management. These are the four dimensions you must include if you want to describe everything that needs to be managed to enable an organization to deliver valuable products and services and to co-create value with its customers and users. They are:
Organizations and people
Information and technology
Partners and suppliers
Value streams and processes
The four dimensions can be thought of as perspectives, or lenses, through which you should look at all your work. One of the four dimensions includes processes, but they're only part of what you need to manage if you want to do a good job. You can read more about these four dimensions in my blog, Everything You Officially Need to Know About ITIL
Specific roles and responsibilities in IT Service Management
There are other roles with more specific responsibilities that are needed for IT service management:

| PEOPLE FACING ROLES | TECHNOLOGY FACING ROLES | OTHER ROLES |
| --- | --- | --- |
| Service Desk | Incident Manager | Strategy Analyst |
| Business Relationship Manager | Problem Manager | Finance Analyst |
| Supplier Relationship Manager | Change Manager | Demand Analyst |
| | Enterprise Architect | Service Portfolio and Catalogue Manager |
| | Project Manager | Service Delivery Manager |
| | System Developer | |
| | System Support | |
| | Configuration and Deployment Manager | |
| | Quality Assurance and Testing Manager | |
| | IT Security Manager | |
| | IT Service Continuity Manager | |
| | Network and Service Operations Centre Analyst | |
ITIL roles – Service Strategy
Business Relationship Manager
The Business Relationship Manager is responsible for maintaining a positive relationship with customers, identifying customer needs and ensuring that the service provider is able to meet these needs with an appropriate catalogue of services.
The Business Relationship Manager works closely with the Service Level Manager.
Demand Manager
The role Demand Manager has been introduced to perform the activities in the Demand Management process.
The Demand Manager is responsible for understanding, anticipating and influencing customer demand for services.
The Demand Manager works with capacity management to ensure that the service provider has sufficient capacity to meet the required demand.
Financial Manager
The Financial Manager is responsible for managing an IT service provider's budgeting, accounting and charging requirements.
IT Steering Group (ISG)
The IT Steering Group (ISG) sets the direction and strategy for IT Services. It includes members of senior management from business and IT.
The ISG reviews the business and IT strategies in order to make sure that they are aligned.
It also sets priorities of service development programs/ projects.
Service Portfolio Manager
The Service Portfolio Manager decides on a strategy to serve customers in cooperation with the IT Steering Group, and develops the service provider's offerings and capabilities.
Service Strategy Manager
The Service Strategy Manager supports the IT Steering Group in producing and maintaining the service provider's strategy.
This role is also responsible for communicating and implementing the service strategy.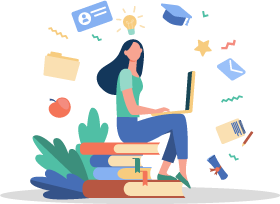 Get Experts Curated ITIL Certification Training with Industry Trends Concepts
Instructor-led Sessions
Real-life Case Studies
Assignments
Explore Curriculum
ITIL Service Design Roles:
This list contains all the important roles that are defined within the ITIL service design module.
Service Design Manager:
The Service Design Manager is responsible for developing quality, secure and resilient designs for new or improved services.
This Role is also responsible for producing and maintaining all design documentation.
Service Catalogue Manager:
The Service Catalogue Manager is responsible for maintaining and timely updating the Service Catalogue.
This role also ensures that all information within the Service Catalogue is accurate and up-to-date.
Service Level Manager:
The Primary responsibility of Service Level Manager is to negotiate Service Level Agreements (SLAs) and ensuring that they are met.
He makes sure that all IT Service Management processes, SLAs, Operational Level Agreements (OLAs) and Underpinning Contracts (UCs) are tailored to meet service level targets.
The Service Level Manager also monitors service levels and produces periodic reports on service level achievements.
He also ensuring that breaches of SLA targets are highlighted, investigated and appropriate actions are taken to prevent their recurrence.
Service Owner:
The Service Owner is a counterpart of Service Level Manager, and responsible for delivering a particular service within the agreed service level targets.
He also assists Service Level Manager in negotiating Operational Level Agreements (OLAs).
Usually, the Service Owner leads a team of technical specialists or an internal support unit.
Capacity Manager:
The Capacity Manager is responsible for ensuring that services and infrastructure have adequate capacity to deliver quality services and meet performance targets in a cost-effective and timely manner.
This role considers all resources required to deliver a service, and plans for achieving short-term, medium-term and long-term business objectives.
Availability Manager:
The Availability Manager is responsible for defining, analyzing, measuring, planning, and improving all aspects of the availability of IT services.
This role also ensures that all IT infrastructure, processes, tools, roles are appropriate for the achieving agreed service level targets for availability.
IT Service Continuity Manager:
The IT Service Continuity Manager is responsible for managing and reducing risks that could seriously impact IT services.
He ensures that the IT service provider can continue to provide service at minimum agreed service levels in cases of disaster, by reducing the risk to an acceptable level and planning for the recovery of IT services.
Information Security Manager:
The Information Security Manager is responsible for ensuring the confidentiality, integrity and security of an organization's information, data and IT services.
This role is usually involved in an organizational approach to Security Management which includes handling of paper, building access, phone calls etc. for the entire organization, and has a wider scope than the IT service provider.
Supplier Manager:
The Supplier Manager is responsible for making sure that value for money is obtained from all suppliers.
He also ensures that contracts made with suppliers are in line with the business requirement and that all suppliers meet their contractual commitments.
Risk Manager:
The Risk Manager is responsible for identifying, assessing, controlling, and mitigating risks.
The scope of this role includes analyzing the value of assets to the business, identifying threats to those assets, and evaluating how vulnerable each asset is to those threats.
Compliance Manager:
The Compliance Manager has the responsibility to ensure that all the industrial standards and guidelines are being followed.
This role also ensures that proper & consistent accounting and/or other practices are being employed.
This Role also makes sure that all external legal requirements are being fulfilled.
Enterprise Architect:
The Enterprise Architect has the responsibility of maintaining the Enterprise Architecture (EA), a description of the necessary components of a business, including their interrelationships.
Larger organizations may also employ specialist EA roles like Business Architect, Infrastructure Architect, Application Architect, or Information Architect.
Roles of Service Operation
1st Level Support
The responsibility of 1st Level Support is to register and classify incoming notifications. In case of incident messages he/she undertakes an immediate effort to restore a failed IT service as quickly as possible in case of foreseeable success. If no ad hoc solution can be achieved, 1st Level Support will transfer the incident to the appropriate technical support groups (2nd Level Support). 1st Level Support also processes service requests of users and keeps users informed about their notifications' status at agreed intervals or status changes.
2nd Level Support
2nd Level Support takes over incidents which cannot be solved immediately by the means of 1st Level Support. If necessary, he/she will request external support, e.g. from software or hardware manufacturers (3rd Level Support). The goal is to restore a failed IT service as quickly as possible, if necessary by implementation of a workaround). If no causal solution can be found, the 2nd Level Support passes on the incident to Problem Management for further processing.
3rd Level Support
3rd Level Support is typically located at external suppliers (hardware or software manufacturers). Its services are requested by 2nd Level Support if their technical expertise is not sufficient respective additional skills are required for solving an incident or problem. The goal is to restore a failed IT service as quickly as possible.
Access Manager
The Access Manager is responsible for approvals of permissions to use an IT service, data and other IT assets for authorized users based upon the specifications of the IT Security Management and cares for the prevention of access for unauthorized users at the same time.
Application Manager
The Application Manager is responsible for operation of, the user support resources in 2nd Level Support for and the support of further development of the applications in his area over their life cycle.
Incident Manager
The Incident Manager is primarily responsible for the fastest possible restoring of a failing IT system in case of incidents. He/she is the first stage of escalation for incidents in case they are not resolvable within the agreed service levels. Furthermore he/she is responsible for the intake and content conforming handover of customer messages of any kind (besides incident messages).
IT Facilities Manager
The IT Facilities Manager is responsible for the physisical infrastructure housing the IT infrastructure
computer rooms
power supply
access controls
cooling
monitoring the environment.
IT Operations Manager
The IT Operations Manager has the overall responsibility for all activities of IT operations:
definition of the guidelines for routine tasks of IT operation (standard operating procedures)
ensuring that all operational routine tasks are performed in time and properly.
IT Operator
IT Operators are the staff who performs the ongoing operational activities:
manual event monitoring
performing backups
ensuring that scheduled jobs are performed
installation of standard equipment
aso.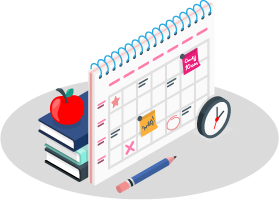 Get Practical Oriented ITIL Certification Training Course By Experts Trainers
Weekday / Weekend Batches
See Batch Details
Major Incident Team
The Major Incident Team is an event driven arranged team of IT executives and technical experts lead by the Incident Manager concentrating on the resolution of a major Incident (grave incident with influence on the company business).
Problem Manager
The Problem Manager is responsible that all problems are handeled over their whole lifecycle to
avoid the occurrence of incidents
minimize the negative impacts of not avoidable incidents
provide information about known errors
document possible and implemented workarounds
detect possible future problems proactively.
Service Request Fulfillment Group
The Service Request Fulfillment Group specializes on the fulfilment of certain types of service requests. Typically, 1st Level Support will process simpler requests that can be answered immediately, while all others more extensive or more complex from content perspective are forwarded to the specialized fulfillment group in charge.
Roles of Continual Service Improvement
Continual Service Improvement Manager
The Continual Service Improvement Manager is responsible for managing improvements to the IT services and the IT service management processes over their life cycle regarding the development of business requirements and the IT service strategy. He/she continually measures the performance of the IT Service Provider and designs improvements to IT services, IT infrastructure and IT processes in order to increase efficiency, effectiveness, and profitability of the IT Service Provider.
Process Manager
The Process Manager is responsible for planning and coordination of all operational process related tasks:
support for process execution
measurement of process performance indicators
error detection
performance reporting.
Process Owner
The Process Owner is responsible for the friction free, economical and goal oriented operation of his/her process(es) (business process, IT process). This includes
securing the necessary budgetary funding
goal oriented economic design
appropriate procedures of process controlling
change management for the respective process
continual process improvement.
External Roles (outside the IT Service Provider's organization)
IT Service Consumer
All (internal and external) persons or organizational units, who consume the services of the IT Service Provider.
Prospect
Itil Sample Resumes! Download & Edit, Get Noticed by Top Employers!
Download
Possible future IT Service Consumer with defined demand for IT services.
Supplier
External suppliers of IT services, IT service contributions and outsourcing services, where the scope of supply is defined in the underpinning contracts, external suppliers of infrastructure and operating supplies.
User
The user of an IT system within the business organization (internal and external). Users are the purely operative subgroup of the IT Service Consumers.