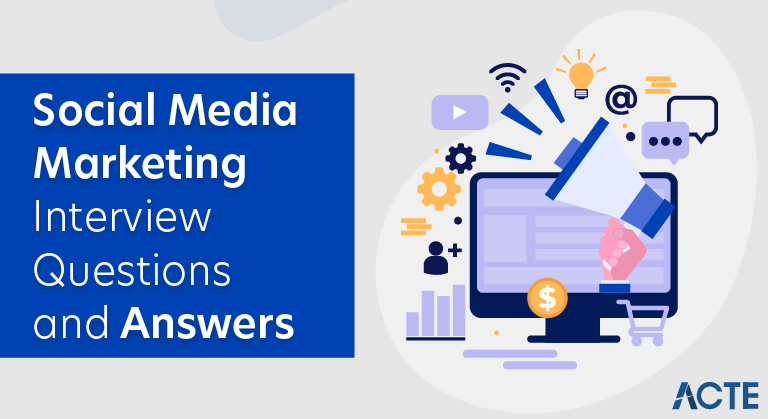 Top 35+ Social Media Interview Questions [ MARKETING TRICKS ]
Last updated on 04th Jul 2020, Blog, Interview Questions
These Social Media Marketing Interview Questions have been designed specially to get you acquainted with the nature of questions you may encounter during your interview for the subject ofSocial Media Marketing . As per my experience good interviewers hardly plan to ask any particular question during your interview, normally questions start with some basic concept of the subject and later they continue based on further discussion and what you answer.we are going to cover top 100 Social Media Marketing Interview questions along with their detailed answers. We will be covering Social Media Marketing scenario based interview questions, Social Media Marketing interview questions for freshers as well as Social Media Marketing interview questions and answers for experienced.

Q1. What is Social Media Marketing?
Ans:
Social media marketing is a process of attaining attention, build your brand, increase website traffic and sales through social media websites. Brands and individuals simply achieve this by publishing engaging content on their social media channels, engaging with their followers, and running social media campaigns.
There are thousands of social media websites are available as we speak. Most important social media channels based on user base are Facebook, Instagram, Twitter, LinkedIn, YouTube, and Pinterest.

Q2. What are all the social media platforms I should use for my business?
Ans:
The answer to this social media marketing interview question is totally dependent on the type of the company you are interviewing for. Whether if it's an eCommerce, Local, B2C or B2B company. So, before attending the interview, prepare yourself for the answer.

Q3. What is the impact of social media on marketing?
Ans:
First of all, the consumption of social media is so high and people use multiple social media platforms in a given day. So, it is important for brands to use social media marketing as one of their primary marketing strategy to reach their targeted customers, converting them into users, keep existing customers brand loyal, solve their problems with the product, answer their queries, and more.

Q4. Why social media is so popular?
Ans:
Social media is so popular because there are multiple reasons people around the world use social media. Primary reasons are:
It gives the possibility to stay connected with friends and family.
It gives the opportunity to find and connect with new people.
Social networking sites are free, and they implement various algorithms to find the type of content users might like and display similar type of content on their feed section.
People use social media sites like Twitter to stay updated & connect with the brands they like.
People use sites like LinkedIn for professional networking.
Q5. List down some of the popular social media tools?
Ans:
Following are the top social media tools to use:
Social Clout: Social clout is a social media analytics tool which helps advertisers to track engagement and ROI.
OptinMonster: OptinMonster lets the advertiser engage with visitors at the perfect moment.
Audiense: Audiense is a social tool let's you find new target audiences and categorize them.
Tweepi: Tweepi helps you find relevant users interested in the topic of yours. You can engage with the users, following them and eventually make them follow you.
Socedo: Socedo finds people who come under your buyer persona radius. After you find your audience, you can segregate them into multiple divisions, so you can promote content accordingly.
Socialbakers: Socialbakers is a set of tools to help you make decisions based on your followers. It lets you measure the performances against your social competitors.
ZeroFOX: ZeroFOX is a tool that helps companies to be safe against hackers.
Followerwonk: Followerwork helps you optimize your audience. It recommends you the people to follow.
CrowdBooster: This tool gets real-time data. You can then make reports with your KPI.
Q6. How can LinkedIn be used for marketing?
Ans:
LinkedIn is one top social media platform to promote oneself or business. It has 310 Monthly Active Users as of now. First of all, the business account needs to be optimized for search. Publishing engaging content on company page regularly can increase the followers. Rich content has proved themselves to be pretty useful and will be helpful in increasing the engagement rate.Periodically sponsoring your posts will give regular hikes which the page needs. We can use LinkedIn analytics to regularly monitor your performance and improve your strategy.LinkedIn is the #1 channel B2B marketers use to distribute content at 94%.

Q7. How will you boost Tweets or Twitter posts?
Ans:
To best practices to boost tweets are:
Find out the best time to post on Twitter
Reach out to influencers and connect with them. Try to engage in a cross-promotional activity.
We can use twitter paid ads to quickly reach out to our targeted audiences.
Use hashtags properly. Not too much but the right ones to get more reach.
Schedule your tweets and use calendar to organize everything.
Use images, links, GIFs to increase retweets.
Use twitter polls to let users engage with your content.
Creatively participate in twitter chats to increase your brand awareness.
Share good content from across the web to increase follower count.
Use video in the post to improve the reach and engagement rate.
Q8. How social media can benefit a business?
Ans:
Social media helps business by building awareness of the business and their products. Social media can be used for customer engagement as customers can communicate directly with brands. Social media organic posts don't cost anything so even smaller companies can afford them. And, social media paid campaigns are relatively cheaper than many other online campaigns. Social media reaches all demographics. According to MarketingSherpa, Online adults aged 18-34 are most likely follow a brand via social networking (95%)
Social media users are active and sharing among their friends and family can help you reach more audience. Regularly engaging with your brand, makes you loyal thus it increases brand loyalty and value. Social media humanizes your brand. Apart from all these, it also increases your website traffic, generate leads, boosting sales, helps you reach influencers and improve your visibility, helps you promoting your content, helps you tackle negative comments about your brand, a medium to understand more about the sentiment of your customers, and helps you keep an eye of your competitors.

Q9. How do you measure social media success?
Ans:
Social media success depends on the goal of the campaign.
If you would like to get conversion, it is the number of online leads, online purchase, content downloads, registrations for webinars, ebook downloads the campaign got.
If you would like to get engagement, it is about how many people comment, like, share the posts.
If you would like to get awareness, number of reach of the post is the primary metric.
If you would like to get traffic to your website, how many clicks you get to the website is the success factor.
Q10. What are best practices on Twitter?
Ans:
Following are some of the best practices on Twitter
Don't keep the tweets too lengthy that users won't even read. Tweets are supposed to be crisp and hitting.
Don't use too may hashtags. Stick to maximum 2.
With the help of Analytics, find what kind of tweets work and improve your strategy.
Twitter advanced search can help you manage your marketing activities.
With the help of twitter tools, schedule and plan your tweets.
Use multimedia to create more engagement.
Find the right time and day to post.
Engage with your audience.
Measure results and make decisions based on your experiments.
Search and add valuable followers.
Optimize your Twitter profile.
Use Twitter tools to schedule tweets.
Q11. How does social media benefit a business?
Ans:
Social media benefits businesses in a variety of ways, the most important of which is establishing a dialogue with customers. Social media enables customers or consumers to communicate directly with brands, forever changing the way organizations must operate.
Q12. Describe one strategy that will help you succeed as a social media marketer?
Ans:
Authenticity is key. No matter the type of company you're interviewing with, whether their audience is businesses or consumers, it's important to be genuine. By doing so, brands can establish their trustworthiness to their audiences.
Q13. On which social media platforms should my business establish a presence?
Ans:
The answer to this question can vary, depending on whether the organization is a B2B or B2C company. Prepare yourself to answer based on the type of company you're interviewing with.
Q14. Which marketing metrics are the most important to track?
Ans:
Unsurprisingly, this question can vary depending on the type of organization you're interviewing with. Research their business and social media presence, and answer this question with your recommendations based on what you've learned about their organization.
Q15. How do you get more retweets?
Ans:
Some of the most common ways to inspire people to retweet include learning the best times of day to tweet, connecting with more Twitter users, including images, and ensuring you leave enough characters for retweeters to respond (this should be much easier to do now that Twitter allows 280 characters).
Q16. Based on what you know about our company, how would you recommend we use LinkedIn for marketing?
Ans:
By using LinkedIn Groups, most companies can help establish themselves as thought leaders in their field.
Q17. How should a company measure social media marketing success?
Ans:
If the goal is conversion, track content downloads, online sales, webinar registrations, online lead generation form submissions, and so forth. These metrics help you understand how many people took action as a result of each.
If the goal is engagement, learn how many people participate in the conversation: how many comments, replies, reposts or retweets are the posts generating?
If the goal is awareness, look at reach, volume, and exposure to learn how widely your message is spreading.
If the goal is driving traffic to the website, track clicks, URL shares, and conversions, along with the path people are using to enter various pages on your website.
Q18. How did you grow traffic in your previous roles?
Ans:
Be prepared to share actual numbers. Let your interviewer know whether you are describing a scenario where you were able to grow traffic by yourself, or whether you were a contributor to a team.
Q19. Which channels were the most effective in your previous roles and why?
Ans:
This answer depends entirely on your previous experience. Be prepared to provide your interviewer with specific examples of what has worked well in the past. Start out with a summary of the type of company or brand you were working with so that your interviewer has the right context.
Q20. How to use Social Media to help website blog promotion?
Ans:
We can use the following strategies to utilize social media for blog promotion.
Sharing and promoting content across various platforms such as Pinterest, Tumblr, Facebook, Twitter, etc.
Create a short video about the blog post and share on video sharing platforms such as YouTube.
Conver them into infographics and share on sites such as Instagram
Use different titles and descriptions based on the social media platform.
Make different boards on Pinterest and promote on Pinterest.
Use sites such as Slideshare and give a backlink to your blog post.
Implementing social media sharing buttons on the blog.
If the blog post mentions a popular celebrity, mentioning him/her might let him/her share the blog post from his/her social account.
Q21. What online communities have you managed in the past?
Ans:
Creating profiles and pages and then posting content to them isn't the job – most users can do that. The ability to build and engage with the community is the qualifying test of whether someone is a social media manager or a social media user.
Q22. Which social media channels do you recommend for our business and why?
Ans:
This answers two questions at once. Has the candidate done the research on your company ahead of time, and how well versed they are in various social platforms. Pay attention if they mention demographics, style or frequency of messaging, and overall strategy.
Q23. What goals should we set for each of our social media accounts, and what does success look like?
Ans:
If their answer is to get as many likes and shares as possible, it may be time to politely end the interview. The path from likes to conversions is more like A to K than A to B, so they should be able to explain what that path looks like for different platforms. For most companies, conversions are always the goal.The candidate should also be able to help you define success on a strategic and tactical level in order to support your larger marketing and business goals.
Q24. What strategies would you use to generate leads?
Ans:
This question moves from the more general and abstract into the meat of the matter. They should be able to outline two or three specific strategies that will feed leads into your sales funnel via social engagement.

Q25. Tell me about SEO and its relationship with social media?
Ans:
There are several techniques for improving SEO with the help of social media. Make sure that they understand the latest Google algorithms, what is rewarded and punished. They should also be aware of the latest social algorithms and policies. Google Analytics should be part of this discussion.
Q26. Which social media tools do you use?
Ans:
Leave this question open-ended, just as it is phrased above. Your company may already have a social media management tool in place or you may be looking for a recommendation. If they're only familiar with free software that does nothing more than allow them to schedule posts to Facebook and Twitter, it's not a good sign. Ask them why they like or don't like different tools and which features they use most.

Q27. What are the relevant metrics for tracking ROI on social media?
Ans:
Engagement, brand reach, lead generation, and conversions. These are the essential measures of social media's return on investment (ROI). Social media managers are comfortable talking about specific terms in Google Analytics, the software they use and the data they can get from each platform.Don't make the mistake of thinking that engagement on its own is success – without conversions (e.g. site visits, reviews, downloads, leads), it means little and should be improved.
Q28. How do you deal with negative comments or a brand reputation crisis?
Ans:
The way they define 'crisis' can tell you a lot about how much experience they have. If they haven't had a real social media crisis in their own experience, they should at least be familiar with some famous brand reputation blunders. Dealing with negative comments or reviews properly is vital to this position, ask for examples.
Q29. Can you describe your biggest social media failure?
Ans:
Everyone has failures, some more than others. Of course, what you really want to know, is how they dealt with it. Gain insight into their coping skills and how they deal with negatives by listening to how the issue was resolved. Pay attention to what they did (or didn't do) to ensure that the failure wouldn't happen again.
Q30. How do you check and stay on top of the latest updates, innovations, and new platforms in social media?
Ans:
Social media is an ever-changing landscape that requires constant and ongoing learning and adaptation. Even the most experienced social media managers need to refine their skills. They update their strategies, learn and practice new techniques and stay on top of the latest changes to new and existing platforms.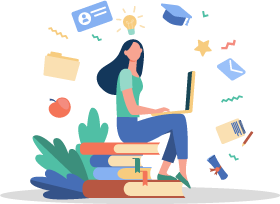 Take Your Career to the Next level with Social Media Marketing Training
Instructor-led Sessions
Real-life Case Studies
Assignments
Explore Curriculum
Q31. Imagine: Google has just devalued an SEO technique you have used successfully in the past. What do you do?
Ans:
This is a hypothetical question, but it's also something guaranteed to happen at some point as it has happened before. While you're not employing a blogger, it's good to see whether your candidate has a broader understanding of these kinds of changes and strategies.
Q32. How do you deal with negative comments or an online reputation crisis?
Ans:
There is a list of things I do follow in order to tackle negative comments or an online reputation crisis such as:
Acting quick – Before the issue becomes big and become viral, respond appropriately and provide or promise a solution to the user or users. Respond to the posts or comments in a polite way with a relevant and convincing answer.
Not deleting it – Deleting it makes it look like their claim is real and we are afraid of truth going out.
Informing the management – to let them know the situation and let them share any of their ideas
Responding to each complaint – to let the world knows you are not just a business to make money but care about their customers and trying best to give the best service possible.
Making one-page answer to all the questions they have – and promoting the page to rank on organically so when people search about it, they will be taken to the page instead of your social media channels. Even if users directly come to your social media page to ask about the issue, shift them from social media pages to take off the spotlight.
Q33. Why YouTube is important for marketing?
Ans:
As video consumption is increasing day by day, YouTube is the King of the jungle which is actually the second most popular search engine. It gets more than 3 billion video views per day. If you need to promote videos, YouTube is one of the top places you should be looking for. If your video gets wildly popular, it will be featured on YouTube homepage which will make further improving the reach.

Q34. Is Social Media Marketing Better For B2C Or B2B Businesses?
Ans:
Social media is important to all kinds of business. But the end goal and strategy should be different. B2B companies need to use some serious tone and share valuable content which helps users. B2C companies can share some lightweight content, hilarious social media posts to engage with their targeted audience.

Q35. How does customer service fit in social media strategy?
Ans:
Social media is generally to connect with friends and family. To find new people and engage with them. So, even when businesses enter into social media, it's primary purpose is customer service as the platform is basically about people and not about brands. When companies have started their social media channels, customer service may not have been an intention.Now 74% people use social media to connect with the brands when they have doubts, complaints or anything else. Companies with faster and effective responses have an edge when it comes to customer service on social media.
Q36. How about we run a free contest on our FB page where fans like and share our posts to win?
Ans:
Facebook doesn't support posts that encourage users to like and share to win something. Because it is like cheating Facebook EdgeRank algorithm to improves it's ranking. So, we should not run a free contest on Facebook page where fans like and share posts to win.
Q37. What makes a piece of social media content successful?
Ans:
One of the primary reason a content go viral is how much people can relate themselves to the content. For example, a funny or emotional video of brother/sister makes real-life brothers and sister share it with each other. So, the content should be relevant to your target users so they can relate to the content.
Q38. How LinkedIn should be used to promote business?
Ans:
Companies can gain social media advantage through LinkedIn by:
Participating with relevant groups.
Creating a group and nurture it.
Sharing relevant industry and business updates.
Sharing ideas, tips, tricks to targeted audiences which makes them follow your page and engage regularly.
Trying showcase pages.
Using LinkedIn ads to attract more audience.
Learning from LinkedIn analytics.
Q39. How to use Instagram for social media marketing?
Ans:
We can use Instagram for social media marketing by
Utilizing product teasers that could urge people to purchase.
Using sponsored ads to reach more targeted audience.
Finding and connecting with influencers.
Crafting a consistent brand on Instagram.
Conducting competitor analysis and find their strengths and weaknesses.
Posting at the right times.
Making use of Instagram analytics.
Q40. What are your thoughts on Google+?
Ans:
There are several schools of thought on this matter, and there is no right answer. As of this writing, G+ should be used mostly for SEO purposes and local search results if nothing else. It's a strange and fine line to consider this platform as a pure social network – it doesn't seem to hold much weight. But the additional effects of using it are still powerful.
Q41. Can we run a free contest on our Facebook Page where fans like and share our regular posts to win?
Ans:
Knowing the rules and guidelines for each platform is absolutely necessary. Mainly to implement best practices, but also to avoid violating the terms of service, getting suspended or kicked off. The short answer to this question is "no". Facebook fights against clickbait posts that encourage liking and sharing, but you can still run a proper contest and give additional points to those who engage on social media.
Q42. How would you allocate our social media budget?
Ans:
Specific metrics and KPIs should be discussed and what should go where percentage-wise. For example, a decent percentage can be allocated to Facebook Ads – a medium-sized company can spend as much as $500 per month on paid advertising. Human capital, social media tools, and training are also absolutely necessary for high ROI.
Q43. How would you communicate with the rest of the company?
Ans:
Social media management must support other marketing and customer service initiatives in the business. Your future employee will need to be in the loop with most other aspects of the business and will need the buy-in of co-workers to achieve true success. The roles and responsibilities of each cog in the machine (your business) should be defined as clearly as possible.
Q44. What are our competitors doing in social media?
Ans:
Again, this helps to identify if they did any proper research before the interview. While a full answer is not necessary ahead of time, it should show you how the social activities of your business compare to your competitors. When hiring a social media manager, you want them to be aware of what's going on in the industry, and a true professional will have this covered.
Q45. What is the most important thing a social media manager should be doing?
Ans:
This helps you understand what they think social media marketing is and how it should be done. The best answer will be a version of 'listening to' or 'monitoring' your audience and your competitors. The old saying about two ears and one mouth is especially relevant in social media management.
Q46. How does customer service fit into your strategy?
Ans:
Providing customer service on social media is becoming increasingly more important for businesses with an active online presence. Offering support and posting on social media are two different parts of social media management. Each requires a different approach and seldom, a separate channel. First, they should recognise this fact. Secondly, they should know how to approach each type of conversation – an endorsement, mention or complaint.
Q47. Which techniques or technologies do you use to measure the quality of your social media campaigns? How do you use what you've learned when strategizing future campaigns?
Ans:
There are a lot of tools that companies can use for social media marketing. You should know how to use the most common ones, and be aware of other tools. For example, tools used by a company with just five employees might be different than the tools a large corporation might use. You shouldn't need to know every feature of every tool, or every single technique—just describe what you know.
Q48. Describe the most successful social media campaign you've run. What did you learn?
Ans:
This question is a variant of the popular "what is your proudest accomplishment" question, and is almost guaranteed to be a question you'll face in an interview. Be ready for this one by outlining the basics of the campaign. If you can't memorize all the details, bring some notes to refer to.
Q49. Describe the least successful social media campaign you've run. What did you learn?
Ans:
With this question, your interviewer is looking to learn how you handle failure, whether or not it was your fault directly. Sometimes a small mistake that was overlooked—a broken URL in a call-to-action, for example—can spell disaster for social media. This question is another that you'll most likely encounter, so prepare your response in advance.
Q50.What do you think of our current social media efforts? What could we be doing better?
Ans:
You want a professional who is deliberate and thoughtful. They should be able to articulate what they think is working well and what isn't. If you have a strategy in place, they should be able to offer ways to build on it. If you don't have one, they should be able to offer ideas that align with your business goals.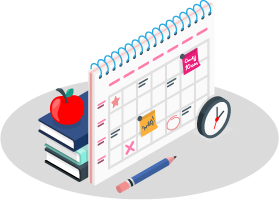 Learn Social Media Marketing Course from Top-Rated Social Media Experts
Weekday / Weekend Batches
See Batch Details
Q51.What metrics do you use to measure the success of your social campaigns?
Ans:
The two most important metrics for social media are engagements and leads. Whether they're using Twitter, Facebook, Pinterest, LinkedIn, or YouTube, a good social media specialist should be able to show quantifiable evidence that they're reaching people who could become customers.
Q52.What channels do you think are most relevant to our business? How do you use each channel differently?
Ans:
This question should give you a sense of how thoughtful the professional is and how well they know major social media channels. The real answer is that it depends on what your business goals are and where your community is. The job of a social media specialist is to find and grow that community using strategies tailored to each platform, whether that's promoting a blog article on Facebook, using Twitter to field customer service requests, or sharing relevant content on Tumblr.
Q53.What tools do you use to manage your channels?
Ans:
Good social media managers won't just blast content onto their channels. They will have a deliberate strategy behind their campaigns and use professional tools to monitor their effectiveness. Dashboards like Hootsuite and Sprout Social give social media specialists the ability to both manage channels and perform basic analytics from one interface.
Q54.Tell me about a successful social campaign you've run from beginning to end?
Ans:
Your social media specialist will be responsible for devising and executing campaigns, so you want to get some insight into how they approach their work. Great candidates should be able to articulate the problem they were trying to address, how they set goals, what tactics they used, and how they measured their results. It's not necessary that the campaign was a smashing success, as long as the professional approached it in a deliberate way while gaining insights that helped them develop better campaigns in the future.
Q55.How do you use social media as a tool for customer service?
Ans:
This is an opportunity for the professional to demonstrate both their strategic thinking as well as their judgment and soft skills. A good social media specialist should be able to work with your CS team to make sure that they're providing support that's helpful and on-brand, and also recognize when it's better to take the conversation off social media.
Q56.Say there's a crisis on one of our social media channels. How do you handle it?
Ans:
Nobody likes it, but it's a fact in today's digital age: Sometimes things can go wrong on social media. A great social media expert can describe the steps they'd take to resolve the situation. If you have a set of best practices in place, they should follow that plan; if you don't have one, they should help create it.
Q57.When is it better not to engage on social media?
Ans:
Again, it comes down to judgment. It might be tempting to respond to every negative comment on social media, but a good social media specialist will know how to distinguish between legitimate customer complaints and people who are just looking for attention.
Q58.Give me a couple of examples of social media experiments you'd like to run with our business?
Ans:
There is no single solution when it comes to social media. Trends change, communities evolve. A good social media specialist is constantly looking for new ways to engage with their audience. They should also know how to use the results of their experiments to inform future campaigns.

Q59. What are social media calendars and How did you create one?
Ans:
It is one of the most common social media marketing interview questions. Social media calendars are apps or excel sheets used to schedule posts in advance. It will help you track which content will be shared so you can plan accordingly for the future.

Q60. What are all the elements of a viral video?
Ans:
There are numerous elements to consider when making a viral video:
The strategist needs to figure out the target audience for the video. If the video appeals to masses instead of narrow or niche-targeted people, the possibility of going viral is high.
The first 30 seconds is the important time where the maker has to hook the audience and let them decide to watch the entire vide
Eye-catchy titles are important to make users click the video. This is the first layer of attraction. If the title is interesting enough, the CTR rate will be high.
How are we promoting the video plays an important role. How are we pushing it online like sending them to influencers, journalists, bloggers, vloggers, social media platforms, etc.
The video should not be too lengthy.
Videos which are getting released on Mondays or Tuesdays work better because people love to watch videos when they work. (oops)
Create a catchy and interesting thumbnail.
Videos that provoke emotion has the ability to get shared easily.
Q61. What are all the skills required to become a social media manager?
Ans:
Social media manager should have the following skills:
The ability to plan a strategy for the business.
Very good communication skills and convincing skills.
Very good verbal communication and copywriting skills.
Creativity to develop innovative campaigns and content
The ability to provide customer service and responding to complaints
The ability to organize and schedule posts and campaigns
The ability to connect with influencers, industry experts and leaders.
The ability to analyze the data to understand user behaviour
The ability to build and maintain a social media publishing calendar
The ability to strategize and look after social media campaigns, making changes when necessary
The ability to use tools to report, analyze social media campaigns
The ability to be both data-driven and creative while being people's people.
Q62. What are the responsibilities of a social media manager?
Ans:
Social media manager has the following responsibilities:
Understanding the company's goal.
Understanding the business model, products, market and competitors.
Planning, strategy and goal setting.
Online reputation management.
Work with internal stakeholders.
Designing various social media strategies.
Recruit, manage, guide social media marketing team.
Collaborate with other marketing teams to integrate social media optimization.
Communicate with followers, respond to their complaints and queries.
Stay up-to-date with current trends, technologies, tools and applications.
Help the website's blog by promoting them on social media.
Create new innovative strategies to increase brand awareness.
Q63. Mention few common social media marketing mistakes by brands?
Ans:
Some of the most common social media marketing mistakes brands make are:
Not having a social media strategy in the first place
Not understanding what their user wants
Ignoring negative comments
Publishing content like a faceless corporate instead of showing a human side
No customer service with the help of social media
Just posting some random stuff
Just promoting the services or products without sharing any useful information about the business
Not tracking or analyzing the performance of the channels.
Q64. Which key performance indicators do you consider to measure the performance of your social media initiatives?
Ans:
There are various KPIs I consider important to measure the performance. It is important to target the right KPIs to get the desired result.
Some of my important KPIs are:
Followers or Subscribers count, Number of Impressions, Amount of traffic to the website, Audience growth rate, Post reach, Share of voice.
Number of Likes, Number of Shares, Number of Comments, Number of Mentions, Average engagement rate
Sales revenue, Conversion rate, click-through rate

Q65. What is the difference between social marketing environment and social customer service environment?
Ans:
Social customer service environment needs the ability to fix conflicts, empathy and a very good level of patience. The executive has to be able to recognize situations where he needs to contact and discuss with the management as doing anything on social media is not to answer one customer but to the whole follower group in some way.

Q66. How to increase leads with social media?
Ans:
The interviewer would like to know your abilities to increase leads for the business. At the end of the day, every business would want to increase sales or leads from every marketing campaign. You need to explain how much social media can improve their leads for the money they are investing in.

Q67. How important is online reputation management in social media?
Ans:
A good social media manager understands how customers view their brand and consider online reputation management is one of the top priority task and nothing about it should be taken lightly as it is vital to improve the brand loyalty. As a social media manager, you are supposed to find problems at their earlier stage and tackle them with diplomacy.
Q68. What are the advantages of social media marketing over traditional marketing?
Ans:
This is one of the social media marketing interview questions where the interviewer expects you to share the advantages of social media. Some of the advantages of social media marketing are:
Cost: Comparatively social media cost is much lesser than traditional or even search advertising cost.
Feedback: With social media, you get feedback from the targeted audience and can design future campaigns accordingly.
Q69. What is the use of Google Analytics in social media marketing?
Ans:
Google Analytics helps to track the amount of traffic directed towards your website from various social media channels.

Q70. Why did you choose social media as a career?
Ans:
This is one of the most common social media interview questions. If you are passionate about social media, explain why you like social media, what made you choose social media, why your skills can help you make you a better social media manager.Direct your answer in a way that explains how you can be a fit for social media as well as the position you are applying for. List out all the things you genuinely like in social media such as how unpredictable it is – in a good way so you will be up for changes and challenges all the time.

Social Media Sample Resumes! Download & Edit, Get Noticed by Top Employers!
Download
Q71. How to stay updated in Social Media?
Ans:
I do follow a good number of industry blogs and forums to update myself with the latest trends, news, research, ideas and more.I implement my knowledge into my day to day activities to understand how they work.I attend seminars and workshops periodically to network with fellow social media experts and get more knowledge through their experiences.I use LinkedIn groups to find current issues and solutions.YouTube Channels, Podcasts and webinars help me keep updated.

Q72. Describe the most successful social media campaign you have run?
Ans:
This is the most complex version of 'What is your strength' question. It's time for you to shine. Talk about the most successful campaign in terms of impact (not just ROI or recent). Don't just throw the numbers but share it as a beautiful story which anyone can understand without going too much about the stats and numbers.

Q73. How to evaluate the social media presence of a company?
Ans:
We can evaluate the social media presence of a company with the following parameters
If the company has a strong presence in primary social media channels, especially the channels which would be beneficial to its type of business.
How frequent they are publishing posts.
How many followers they have and how much they are engaging with the brand and vice versa.
If the information provided in social media accounts are updated.
Do they use social media just to post news about them or they are actively connecting with their user base to engage and solve their problems.
How much effort they put to publish posts.
Q74. Why should we hire you over someone else?
Ans:
This can be used in every hiring situation. Anyone should be able to tell you why they're better than their competition and why they're the best fit for your company. This gives them an opportunity to highlight the best aspects of their skill set and experience.
Q75. Explain something that is complicated but that you know well.
Ans:
This is similar to the storytelling question but from a more technical aspect. The "something" can be anything. Possibly they know how to rebuild a car engine or know how to explain social media to their grandparents. The point is, they should be able to comprehend a complex subject and articulate it in a simpler, understandable form.
Q76. What project or task would you consider as your most significant accomplishment in your career to date?
Ans:
According to recruiting expert and author Lou Adler, this is the only interview question that matters. It's also the single best interview question for determining whether to hire someone. Lou spent 10 years studying and coming to this determination, so he deserves credit – follow the link to see his rationale.
Q77. Pitch my company to me as if I were a potential customer.
Ans:
This will show you how much they know about your company and what their level of passion is for your product, service or industry. It will also tell you what their initial impressions are without the insight of working for you (yet). It's unlikely they'll be prepared for this, so it can also show you how quickly they work on the fly.
Q78. Explain about the least successful social media campaign you have run.
Ans:
This might be one of the toughest social media marketing interview questions you might face. But you have to be honest with the answer. Let them know what was the least successful social media campaign of yours and why did it fail. The mistake can be as simple as a broken link or misplacing a tracking code. The question is to learn how you handle your failure and what you learn from it. So, explain the reason for its fail. And, most importantly, share what you taught from the mistake you made and how it helped you never make similar mistakes ever again.

Q79. Importance of Social Media?
Ans:
Be very thorough with one of the most commonly asked social media questions. Since Social Media is highly customizable in nature with social media ads, it is important for every business, be it small or large. For instance, Facebook ads allow you to target users by things like industry, education level, location, history of purchases, and the pages they have liked.
Q80. Do you know what Facebook Edgerank is? Why is it important?
Ans:
Facebook Edgerank is the algorithm used by Facebook to determine whether your posts should be put up or not in the news feed of your page as well as your follower's page and what should be their position.
Edgerank measures:
The affinity between you and your followers
How links, video, images, and content engages the reader
And the time of the post
All these aspects impact the marketing strategy of your Facebook Business page which makes it so important to understand Edgerank.
Q81. What are the social media success tracking tools?
Ans:
It is important to track the social media success to know if you are on the right track or not and if not, then what could be done to improvise the performance. The relevant metrics that could be used to track social media success are:
Google Analytics
Quality and relevancy of content
Observe the conversations about your company
Tracking overall Social Media Returns
Q82. What KPIs (Key Performance Indicators) would you recommend to report on social media efforts?
Ans:
There are various key performance indicators like Video or SlideShare views, Social Connections, Traffic Data, Mentions, Comments, Likes, Shares, Demographics and Location, the number of active followers, and more.
Q83. Is Google+ worth for using in a business?
Ans:
Google+ provides a unique tool 'Hangouts' which helps a business to have video conversations with its followers at zero cost. If you regularly share high-quality content on Google+, it will get indexed instantly and thus, it becomes easier for one to rank their website on target keywords.With +1s on Google+, the company will have a greater chance to have a higher ranking on Google.

Q84. What is RSS Feed and why it is crucial?
Ans:
The full form of RSS is Rich Site Summary. RSS is an XML file. Benefits of generating RSS Feed are:
Helps you get wider audiences for the content.
It enables you in email subscriptions, feeding content to readers, and live bookmarking.
Q85. What are the elements of a viral video?
Ans:
Some of the elements necessary to make a video viral are:
Deciding the audience before creating the content of the video.
Making the first 20 seconds of a video compelling. These 20 seconds will influence the viewers whether to watch it further or not.
Time relevance should be observed as it encourages the campaign's viral potential.
The video must be entertaining to the masses as well as universal.
A catchy line or phrase must be there to hit the viewers' thought process positively.
Create attention-grabbing and compelling title with relevant tags to include widely searched key terms. An interest description will act as a teaser to the audience.
Seed the video to journalists, influencers, and bloggers for whom it is most relevant to.
Bottom of Form
Q86. In what ways can you measure social return on investment (ROI)?
Ans:
You should know the company's goals and objectives before starting to track and measure their social ROI. There are various ways in which it could be measured:
Customer Acquisition
Reach
Traffic
Lead Generation
Revenue
clicks
Contest Entries
These are some factors you can use to measure social ROI. After establishing what is the marketing goal of the company, you shall then assign financial values to each goal.

Q87. What are the best practices on Twitter?
Ans:
Some of the best ways to use Twitter are:
Using not more than 2 hashtags every tweet.
Keeping the tweets around 100 characters. Make your tweets crisp and hitting.
Schedule and plan your tweets with the help of Buffer or TweetDeck.
With the help of Twitter Advanced search, you can manage your Twitter Marketing activities.
Keeping a check on Twitter Analytics to know what could be done to improvise the strategy.
Q88. How can you boost Facebook reach?
Ans:
Some of the tips to increase your reach on Facebook are:
Buy some ads
Stop using 3rd party tools
Improve your Facebook EdgeRank
Keep building your own Website and Email list
Q89. Which online content has impressed you recently and why did it impress you?
Ans:
This is one of the social media marketing interview questions where the interviewer wants to check how updated you are. You can either describe a content you have written or a content you checked online for this answer. If you are describing a content you viewed online, explain why did you like the content.
Try to explain the psychological reason behind it like how it provoked your emotion or how it made you relate to something or someone, etc. And, don't mention a very old content when they explicitly ask for a recent content otherwise they might mistake you that you are not very much updated yourself in social media.

Q90. How to set a budget for social media advertising?
Ans:
The first step is to determine the overall budget for all digital marketing efforts.
Then, we will need to determine the percentage of the budget we would like to spend on social media advertising.Of the digital marketing budget, I recommend spending 30% on paid social media advertisements. But this one is a general one. Only after the ROI and potential, a clear plan must be made for the budget. The strategy should be adjusted every quarter in order to align with overall marketing goals.While creating social media strategy, there are few things which need to be considered like buyer persona profiles, calendars, branding profile and strategy, response plan, goals for determining the performance of the strategy.The budget will be spent on:
Advertising
Content creation
Follower growth
Outsourcing
Q91. Have you had the chance to handle online reputation crisis?
Ans:
First, let them know what online reputation crisis means to you and what kind of online reputation crisis you faced.Describe the steps one by one starting with the type of problem you faced, how you analyzed the problem, type of strategy you created to tackle the issue, how you executed the strategy, how it panned out, what kind of post-crisis analysis you have done to learn from it and avoid those in the future.Describe, what are all the steps we can take to avoid an online reputation crisis for the company you are getting interviewed. Check their online profiles thoroughly before the interview to find if somethings can be avoided, reduced or modified to avoid any such problems in the future.
Q92. What is the most important task of you as a social media manager?
Ans:
This one of the common social media marketing interview question just to judge you on how you choose your priority on this task.A social media manager has a long list of tasks to do but which one single task is very important that should be always on the top.If you think about it, social media is about people. It's all about the connection and networking. So, your primary task of a social media manager is to connect with your followers, solve their product related issues, help them to understand about the business and the products more and make them understand you care for them. It should not be a one-way communication but should always be the two way.
Q93. How active are you personally on social media?
Ans:
The recruiters would like to see your social activeness while hiring for a social media professional. So, it is important for you to have a strong presence on major networking sites and share the details with the recruiters about the purpose of each networking site you are using and how much success you have been gaining against the effort you put.

Q94. Which is your favourite brand on social media and why?
Ans:
Mention your favourite brand and share some details about the brand. Let them know why you like their account. The important part of the section is to share the reason behind their success because that will show you how much knowledgable you are to understand what goes into making a successful brand like the one you are mentioning. This is one of the social media marketing interview questions to understand if you know how the market works.

Q95. Which channels were most effective in your previous experience and what made it most effective?
Ans:
To make them understand completely, let them know the type of brand you were running campaigns for. So, prepare your answer based on the analytics you made post-campaign. Explain how effective the channel is and what kind of strategies you made which increases the effectiveness of the channel. And, explain why other channels could not get that level of success and the reason behind it.

Q96. What are the tricks that can drive more traffic to our blogs?
Ans:
Few of the ways for driving traffic to your blog are:
Promotion of content across platforms like Tumblr.com, Pinterest.com, Facebook.com, and more.
Use Instagram to share the title of your blog post or image. Post images to platforms like Twitter, Flickr, Foursquare, Facebook, and Tumblr.
Giving short presentation of content on SlideShare and providing link to the content or blog from SlideShare.
Pin your post to Pinterest contributors by using an attractive title of the blog, image, hashtags, and adding keywords.
Create a few seconds preview of your post like Vine or video which could be posted on Twitter and Instagram with a link to the blog post.