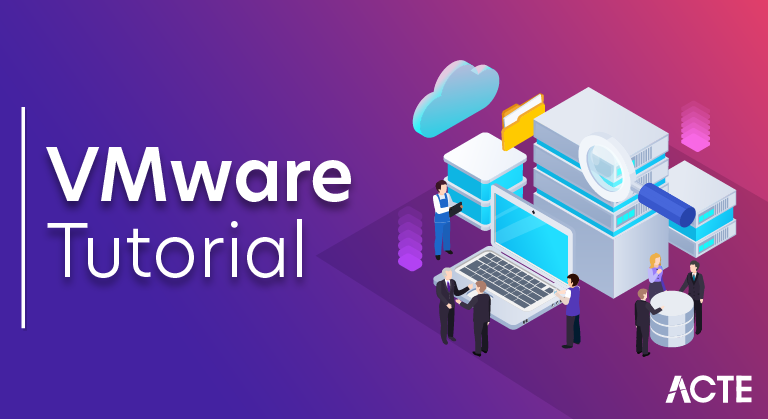 VMWare: The Complete Guide Tutorial For Free | CHECK-OUT
Last updated on 12th Jun 2020, Blog, Tutorials
What is VMware?
VMware, Inc. is an American publicly traded software company listed on the NYSE under stock ticker VMW. Dell Technologies is a majority shareholder. VMware provides cloud computing and virtualization software and services.It was one of the first commercially successful companies to virtualize the x86 architecture.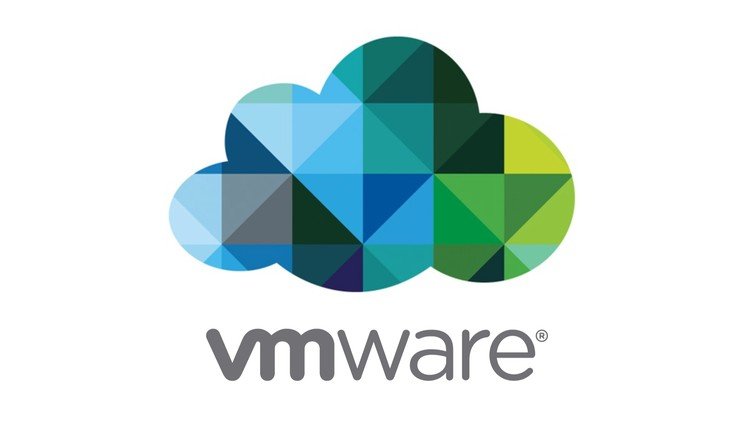 VMware's desktop software runs on Microsoft Windows, Linux, and macOS, while its enterprise software hypervisor for servers, VMware ESXi, is a bare-metal hypervisor that runs directly on server hardware without requiring an additional underlying operating system.
Ticker Tape:
Ticker tape was the earliest electrical dedicated financial communications medium, transmitting stock price information over telegraph lines, in use from around 1870 through 1970. It consisted of a paper strip that ran through a machine called a stock ticker, which printed abbreviated company names as alphabetic symbols followed by numeric stock transaction price and volume information. The term "ticker" came from the sound made by the machine as it printed.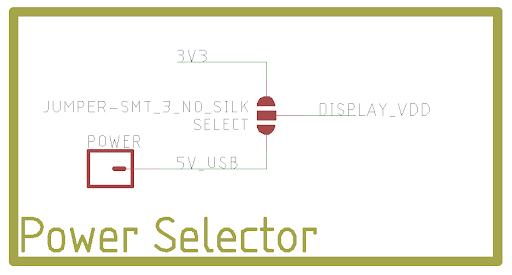 Paper ticker tape became obsolete in the 1960s, as television and computers were increasingly used to transmit financial information. The concept of the stock ticker lives on, however, in the scrolling electronic tickers seen on brokerage walls and on news and financial television channels.
Ticker tape stock price telegraphs were invented in 1867 by Edward A. Calahan, an employee of the American Telegraph Company.
Vmware formally launched their first product "VMware Workstation" around 1999. Later they came up with a server application called "VMware GSX Server" in 2001. The company started launching additional products related to virtualization. Since then, more products have been added to their inventory. Their products are categorised into two types.
Desktop applications
Server application
Desktop applications: Some of the desktop applications of VMware are Horizon 7, Horizon Apps, Horizon FLEX, Horizon cloud on Microsoft Azure, Horizon cloud with Hosted Infrastructure, etc.
Server applications: Some of the server side application softwares are Rails, Microsoft .NET Framework, Microsoft IIS with .NET Framework on Windows Server, JBoss for both windows and Linux, vFabric tc Server, etc.
History :
In 1998, VMware was founded by Diane Greene, Mendel Rosenblum, Scott Devine, Ellen Wang and Edouard Bugnion Greene and Rosenblum, who are married, first met while at the University of California, Berkeley. Edouard Bugnion remained the chief architect and CTO of VMware until 2005,and went on to found Nuova Systems (now part of Cisco). For the first year, VMware operated in stealth mode, with roughly 20 employees by the end of 1998. The company was launched officially early in the second year, in February 1999, at the DEMO Conference organized by Chris Shipley. The first product, VMware Workstation, was delivered in May 1999, and the company entered the server market in 2001 with VMware GSX Server (hosted) and VMware ESX Server (hostless).
In 2003, VMware launchd VMware Virtual Center, vMotion, and Virtual SMP technology. 64-bit support was introduced in 2004.
On January 9, 2004, under the terms of the definitive agreement announced on December 15, 2003, EMC (now Dell EMC) acquired the company with $625 million in cash. On August 14, 2007, EMC sold 15% of VMware to the public via an initial public offering. Shares were priced at US$29 per share and closed the day at US$51.
Litigation:
In March 2015, the Software Freedom Conservancy announced it was funding litigation by Christoph Hellwig in Hamburg, Germany against VMware for alleged violation of his copyrights in its ESXi product. The SFC claimed VMware was using both the Linux kernel and Busybox without respecting the terms of the GPL copyright license, while VMware told journalists that it believed the case was without merit and expressed disappointment that Conservancy had resorted to litigation.
The lawsuit was dismissed by the court in July 2016 and Hellwig announced he would file an appeal. The appeal was decided February 2019 and again dismissed by German court, on the basis of not meeting "procedural requirements for the burden of proof of the plaintiff."
Microsoft Windows:
Microsoft Windows, commonly referred to as Windows, is a group of several proprietary graphical operating system families, all of which are developed and marketed by Microsoft. Each family caters to a certain sector of the computing industry. Active Microsoft Windows families include Windows NT and Windows IoT; these may encompass subfamilies, e.g. Windows Server or Windows Embedded Compact (Windows CE). Defunct Microsoft Windows families include Windows 9x, Windows Mobile and Windows Phone.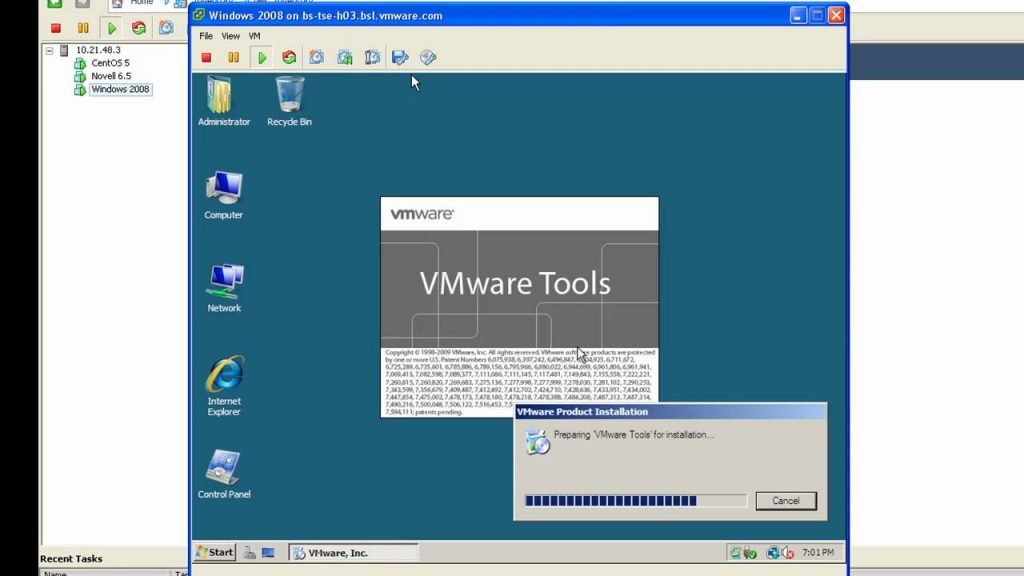 Microsoft introduced an operating environment named Windows on November 20, 1985, as a graphical operating system shell for MS-DOS in response to the growing interest in graphical user interfaces (GUIs).[3] Microsoft Windows came to dominate the world's personal computer (PC) market with over 90% market share, overtaking Mac OS, which had been introduced in 1984. Apple came to see Windows as an unfair encroachment on their innovation in GUI development as implemented on products such as the Lisa and Macintosh (eventually settled in court in Microsoft's favor in 1993). On PCs, Windows is still the most popular operating system. However, in 2014, Microsoft admitted losing the majority of the overall operating system market to Android,[4] because of the massive growth in sales of Android smartphones. In 2014, the number of Windows devices sold was less than 25% that of Android devices sold. This comparison, however, may not be fully relevant, as the two operating systems traditionally target different platforms. Still, numbers for server use of Windows (that are comparable to competitors) show one third market share, similar to that for end user use.
Virtual Datacenter Architecture:
The whole IT infrastructure including networks, servers, and storage is virtualized by VMware vSphere. These resources are accumulated and presented in a uniform set (elements) in the virtual environment.
The IT resources can be managed With VMware vSphere. The dynamic provision, and shared utility are resources for different business projects.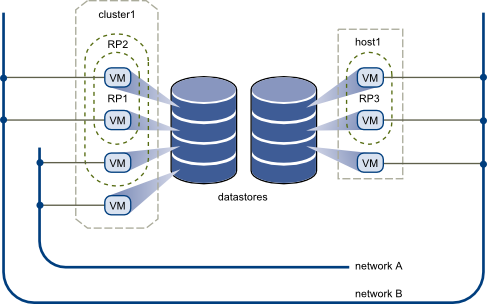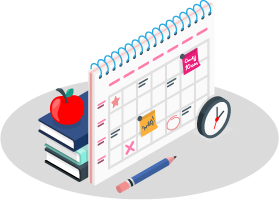 Enroll in VMware Certification Course & Get Noticed By Top Hiring Companies
Weekday / Weekend Batches
See Batch Details
In Virtual Datacenter Architecture, vSphere is used to configure, manage, and view the key elements. The key elements in a virtual datacenter are:
Hosts, resource pools, and clusters which are regarded as memory and computing resources.
Virtual machines.
Datastores act as storage resources.
Networks (Networking resources).
Host:
The virtual presentation of the memory resources and calculation of physical machines (PMs) running ESX/ESXi is called a Host.
Cluster:
When more than two PMs are connected together to manage and work as an entire entity, it is called cluster (The collaboration of computing and memory resources). Machines can be removed or added from a cluster dynamically.
Hierarchy of resource pools:
The partitioning from hosts and clusters into computing and memory resources is called resource pools.
Datastores:
The virtual representation of integrated physical storage resources in the datacenter.
The physical storage resources are:
F-SAN (File Storage Area Network) disk arrays.
SAN (Storage Area Network) disk arrays.
NAS (Network Area Storage) arrays.
SAS (Statistical Analysis System) disks of the server.
The virtual machines are connected to each other through a physical network in the virtual environment outside of the virtual datacenter. Virtual machines are assigned to a particular cluster, resource pool, or a host to create datastores.
When a virtual machine is powered-on, then workload increases, and it consumes resources dynamically. It reverts the resources dynamically as workload decreases. New virtual machines can be created in fraction of a second, as it is much faster and easier than physical machines. An appropriate operating system and applications must be installed to alter the virtual machine to handle workload.
Resources are allocated to virtual machines based on the principles set by the system administrator. Resources can be reserved for a particular virtual machine to guarantee its performance. Principles are given priority to set a differing portion of resources for every virtual machine.
VMware Infrastructure
VMware Infrastructure is a virtualization suite for infrastructure that provides a complete overview of application availability, virtualization, resource optimization, management, and operational automation. VMware Infrastructure integrates and virtualizes the hardware resources among two or more systems. In the virtual environment, it provides virtual resource pools to the datacenter.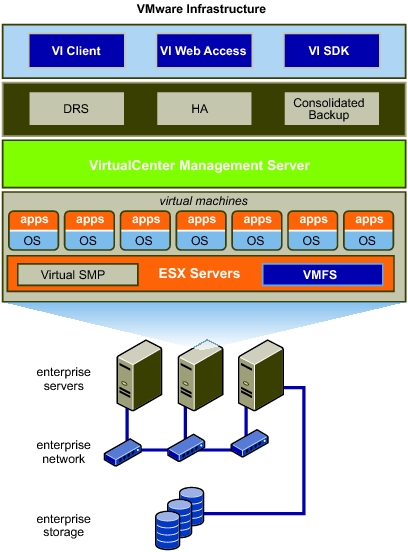 In addition to this, VMware Infrastructure has a distributed architecture that provides excellent features like high availability, consolidated backup, fine-grain, policy-driven, and resource allocation of the entire virtual datacenter. To establish an IT enterprise, these distributed architecture services play a major role in meeting their service level agreements and production in a cost effective manner.
VMware Infrastructure is a collection of virtualization products from VMware (a division of Dell Technologies). Virtualization is an abstraction layer that decouples hardware from operating systems. The VMware Infrastructure suite allows enterprises to optimize and manage their IT infrastructure through virtualization as an integrated offering. The core product families are vSphere, vSAN and NSX for on-premises virtualization. VMware Cloud Foundation (VCF) is an infrastructure platform for hybrid cloud management. The VMware Infrastructure suite is designed to span a large range of deployment types to provide maximum flexibility and scalability.
Components:
The suite included:
VMware ESX Server version 3
VMware ESXi version 3.x
VMware vCenter version 2 (formally VMware VirtualCenter)
Virtual SMP (which allows a guest operating system to "see" up to four CPUs in the virtual machine).
Users can supplement this software bundle by purchasing optional products, such as VMotion, as well as distributed services such as high availability (HA), distributed resource scheduler (DRS), or consolidated backup.
VMware Inc. released VMware Infrastructure 3 in June 2006. The suite came in three "editions": Starter, Standard and Enterprise.
Limitations:
Known limitations in VMware Infrastructure 3 may constrain the design of data centers:
As of June 2008 limitations in VMware Infrastructure version 3.5 included the following:
Guest system maximum RAM: 64 GB
Number of guest CPUs: 4
Number of hosts in an HA cluster: 32
Number of hosts in a DRS cluster: 32
Size of RAM per server: 256 GB
Number of hosts managed by Virtual Center Server: 200
Number of virtual machines managed by Virtual Center Server: 2000
No limitations were, for example, volume size of 64 TB with no more than 6 SCSI controllers per virtual machine; maximum number of remote consoles to a virtual machine is 10.
It is also not possible to connect Fibre Channel tape-drives, which hinders the ability to do backups using these drives.
Network Architecture
In this architecture, VMware vSphere VMs in the datacenter are linked with a group of virtual networking elements in a virtual environment similar to physical network elements in a physical environment.
The physical environment and the virtual environment will have similar networking elements. Some of the networking elements are port groups, virtual network interface cards, vSphere Distributed Switches, distributed port groups, and vSphere Standard Switches.
Every virtual machine has several virtual NICs. The application program and operating system interact with a virtual NIC. Virtual Machine communicates through device drivers either via VMware or a frequently available driver that is optimized for the virtual environment. In both cases, interaction in the operating system occurs the same as on a physical device. The virtual NIC has one IP address, and its own MAC id. Virtual machines have the same ethernet protocol as physical NIC. Agents outside the virtual machine cannot detect that it is communicating.
A virtual vSphere Standard switch works as a physical switch that is two layered. Every server will have its own virtual switch. The vSphere Distributed Switch topology contains a single virtual switch connected to several servers. A Virtual switch has port groups on one side that are connected to VM and the ones on the other side are connection links to physical Ethernet adapters.A virtual switch has the ability to connect links to one or more physical Ethernet adapters. When NIC teaming is enabled, two or more physical adapters provide passive failover network: In such situations, an outage occurs, or the traffic load is shared.The unique concept of a virtual environment is a port group. It is a method for setting rules that need to be followed to connect the network. A switch can have multiple port groups.
By Configuring port groups, we can implement the method to enhance traffic management, better performance, network segmentation, high availability, and networking security.
Networking with vSphere Distributed Switches(VDS):
A VDS acts as a single virtual switch among many associated hosts as they travel across one or more hosts. This capability of VDS helps VM to maintain constant network configuration. The virtual machines can use every VDS as a network. To route traffic internally between external networks and virtual machines, VDS is used by connecting ethernet adapters. A VDS can have multiple distributed ports assigned to it. Distributed port groups have common configuration to give a stable point for VM connected within the network.
The Network resource pools decide the order of priority for various network traffic based on the types. When this is enabled, the VDS traffic is divided into network resource pools as listed below:
FT traffic
Management traffic
vMotion traffic
NFS
iSCSI traffic
The below architecture shows the relationship of vSphere Distributed Switches within the Networks that are either inside or outside the virtual environment.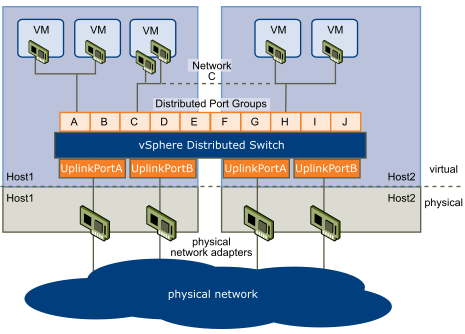 The VMware product line can also run different operating systems on a dual-boot system simultaneously by booting one partition natively while using the other as a guest within VMware Workstation.
Networking with vSphere Standard Switches
In the standard vSphere Switches, every server will have its self virtual switch (VSSs) to handle the traffic within the network at host level in a vSphere virtual environment. A VSS has the ability to route the network traffic inside the virtual environment. The routing is done between external networks and virtual machines.
The below architecture shows the relationship of vSphere Standard Switches within the Networks that are either inside or outside the virtual environment.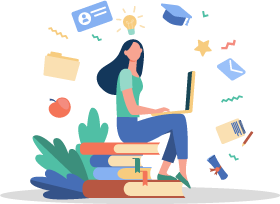 Enhance Your Career with VMware Training from Real Time Experts
Instructor-led Sessions
Real-life Case Studies
Assignments
Explore Curriculum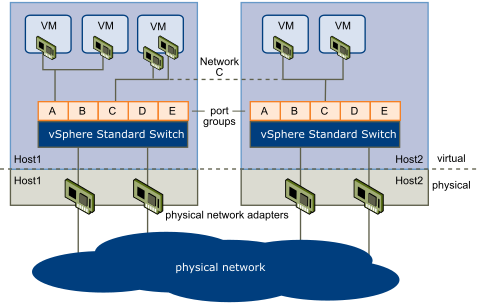 Desktop software:
VMware Workstation, introduced in 1999, was the first product launched by VMware. This software suite allows users to run multiple instances of x86 or x86-64 -compatible operating systems on a single physical personal computer. Workstation Pro version 15.5.1 was released in Nov 2019.
VMware Fusion provides similar functionality for users of the Intel Mac platform, along with full compatibility with virtual machines created by other VMware products.
VMware Workstation Player is freeware for non-commercial use, without requiring a license, and available for commercial use with permission. It is similar to VMware Workstation, with reduced functionality.
Server software:
VMware ESXi, an enterprise software product, can deliver greater performance than the freeware VMware Server, due to lower system computational overhead. VMware ESXi, as a "bare-metal" product, runs directly on the server hardware, allowing virtual servers to also use hardware more or less directly. In addition, VMware ESXi integrates into VMware vCenter, which offers extra services
Cloud management software:
VMware vRealize Suite – a cloud management platform purpose-built for a hybrid cloud.
VMware Go is a web-based service to guide users of any expertise level through the installation and configuration of VMware vSphere Hypervisor.
VMware Cloud Foundation – Cloud Foundation provides an easy way to deploy and operate a private cloud on an integrated SDDC system.
VMware Horizon View is a virtual desktop infrastructure (VDI) product.
Application management:
The VMware Workspace Portal was a self-service app store for workspace management.
Storage and availability:
VMware's storage and availability products are composed of two primary offerings:
VMWare Sample Resumes! Download & Edit, Get Noticed by Top Employers!
Download
VMware vSAN (previously called VMware Virtual SAN) is a software-defined storage solution that is embedded in VMware ESXi. The vSphere and vSAN software runs on industry-standard x86 servers to form a hyper-converged infrastructure (or HCI) solution. You need to have servers from HCL (Hardware Compatibility List) to put one into production though. The first release, version 5.5, was released in March 2014. The 6th generation, version 6.6, was released in April 2017.New features available in VMware vSAN 6.6 include native data at rest encryption, local protection for stretched clusters, analytics, and optimized solid-state drive performance.
VMware Site Recovery Manager (SRM) is a disaster recovery solution that automates the failover and failback of virtual machines to and from a secondary site using policy-based management.
Conclusion:
VMware Infrastructure provides a simple architecture in the virtual environment to allow companies to manage computing, storage, and networking resources without worrying about the underlying physical hardware.Hope you have found all the details that you were looking for in this article.