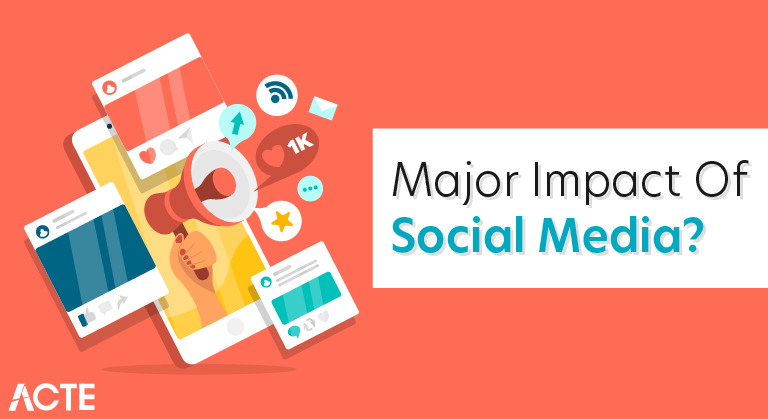 What Is the Major Impact of Social Media? – Learning Guide
Last updated on 16th Jul 2020, Blog, General
With the emergence of social media, we have seen a considerable amount of change in information and communication technology. Social media has played a key role in this transformation.
Let us have a look at some of the stats that demonstrate the power of Social Media:
From the 4.2 billion users, Social Media has 3.03 billion active users
More than 90% of the global brands use at least 2 Social Media Accounts
Facebook Messenger and WhatsApp is responsible for handling around 60 billion messages every day
The process of change is not over yet and we are still witnessing ongoing changes in this sector.
The impact of social media has witnessed heavy growth with the advancement of mobile technology. People spent a large share of their time on mobile devices. Mobile devices provide you with ease to connect with anyone at anywhere and at any time.
This has been a prime reason behind the great upsurge in the use of Social Media. Let us have a look at the number of users that different Social Media platforms have-
Number of Social Media Users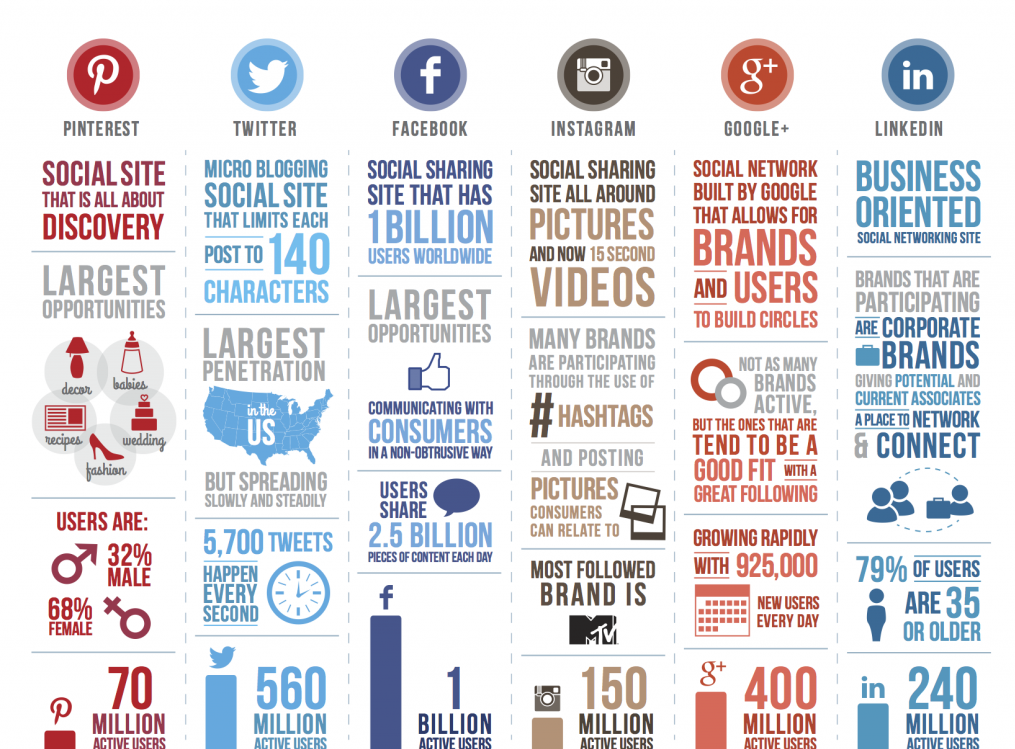 Number of Social Media Users
Facebook: 2.072 billion users
YouTube: 1.5 billion users
Instagram: 1bn users
Flickr: 90 million users
Google+: 111 million users
LinkedIn: 562 million users
MySpace: 15 million users
Periscope: 10 million users
Pinterest: 200 million users
Reddit: 542 million users
4Chan: 27.7 million
Airbnb: 150 million users
Snapchat: 186 million daily users
Twitter: 326 million users
Wechat: 1.12 billion users
Weibo: 600 million users
WhatsApp: 900 million users
Social media can be very influential on society in both positive and negative ways. It gives people a way to stay in touch with people who live far away. It lets people share fun, interesting and informative content. It gives businesses a way to engage with customers.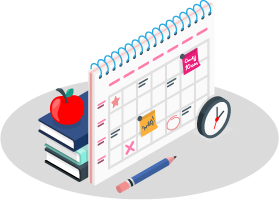 Enroll in Instructor-led Facebook Marketing Course to UPGRADE Your Skills
Weekday / Weekend Batches
See Batch Details
One of the problems, however, is that anybody can share anything, including material that may not be accurate. In some cases, real harm is done when people spread inflammatory, unverified or outright false information.
This can harm private individuals, as when someone is bullied online. It can also have a harmful impact on society as a whole. The 2016 presidential election, however, gave us many examples of this problem.
In little more than a decade, the impact of social media has gone from being an entertaining extra to a fully integrated part of nearly every aspect of daily life for many.
Recently in the realm of commerce, Facebook faced skepticism in its testimony to the Senate Banking Committee on Libra, its proposed cryptocurrency and alternative financial system.
In politics, heartthrob Justin Bieber tweeted the President of the United States, imploring him to "let those kids out of cages." In law enforcement, the Philadelphia police department moved to terminate more than a dozen police officers after their racist comments on social media were revealed.
And in the ultimate meshing of the digital and physical worlds, Elon Musk raised the specter of essentially removing the space between social and media through the invention — at some future time — of a brain implant that connects human tissue to computer chips.
All this, in the span of about a week.
As quickly as social media has insinuated itself into politics, the workplace, home life and elsewhere, it continues to evolve at lightning speed, making it tricky to predict which way it will morph next. It's hard to recall now, but SixDegrees.com, Friendster and Makeoutclub.com were each once the next big thing, while one survivor has continued to grow in astonishing ways.
In 2006, Facebook had 7.3 million registered users and reportedly turned down a $750 million buyout offer. In the first quarter of 2019, the company could claim 2.38 billion active users, with a market capitalization hovering around half a trillion dollars.
"In 2007 I argued that Facebook might not be around in 15 years. I'm clearly wrong, but it is interesting to see how things have changed," says Jonah Berger, Wharton marketing professor and author of Contagious: Why Things Catch On. The challenge going forward is not just having the best features, but staying relevant, he says.
"Social media isn't a utility. It's not like power or water where all people care about is whether it works. Young people care about what using one platform or another says about them. It's not cool to use the same site as your parents and grandparents, so they're always looking for the hot new thing."
Just a dozen years ago, everyone was talking about a different set of social networking services, "and I don't think anyone quite expected Facebook to become so huge and so dominant," says Kevin Werbach, Wharton professor of legal studies and business ethics.
"At that point, this was an interesting discussion about tech start-ups.
"Today, Facebook is one of the most valuable companies on earth and front and center in a whole range of public policy debates, so the scope of issues we're thinking about with social media are broader than then," Werbach adds.
Cambridge Analytica, the impact of social media on the last presidential election and other issues may have eroded public trust, Werbach said, but "social media has become really fundamental to the way that billions of people get information about the world and connect with each other, which raises the stakes enormously."
"Facebook is dangerous," said Sen. Sherrod Brown (D-Ohio) at July's hearing of the Senate Banking Committee. "Facebook has said, 'just trust us.' And every time Americans trust you, they seem to get burned."
Social media has plenty of detractors, but by and large, do Americans agree with Brown's sentiment? In 2018, 42% of those surveyed in a Pew Research Center survey said they had taken a break from checking the platform for a period of several weeks or more, while 26% said they had deleted the Facebook app from their cellphone.
A year later, though, despite the reputational beating social media had taken, the 2019 iteration of the same Pew survey found social media use unchanged from 2018.
Facebook has its critics, says Wharton marketing professor Pinar Yildirim, and they are mainly concerned about two things: mishandling consumer data and poorly managing access to it by third party providers; and the level of disinformation spreading on Facebook.
Social media has transformed that by:
Allowing startups to get in front of a targeted group of people virtually
Changing the way businesses communicate with their audience
Replacing business cards (which often end up in the trash) by popping up in your audience's feed
Making it easy for businesses to provide value upfront prior to asking anything from a prospect
The Value of Social Media
Gary Vaynerchuck sums up the value of social media very nicely:
Considering that 3.5 billion people (about half the world's population) are on social media daily, it's not surprising that 73% of marketers agree that social media is somewhat or very effective in their business strategy: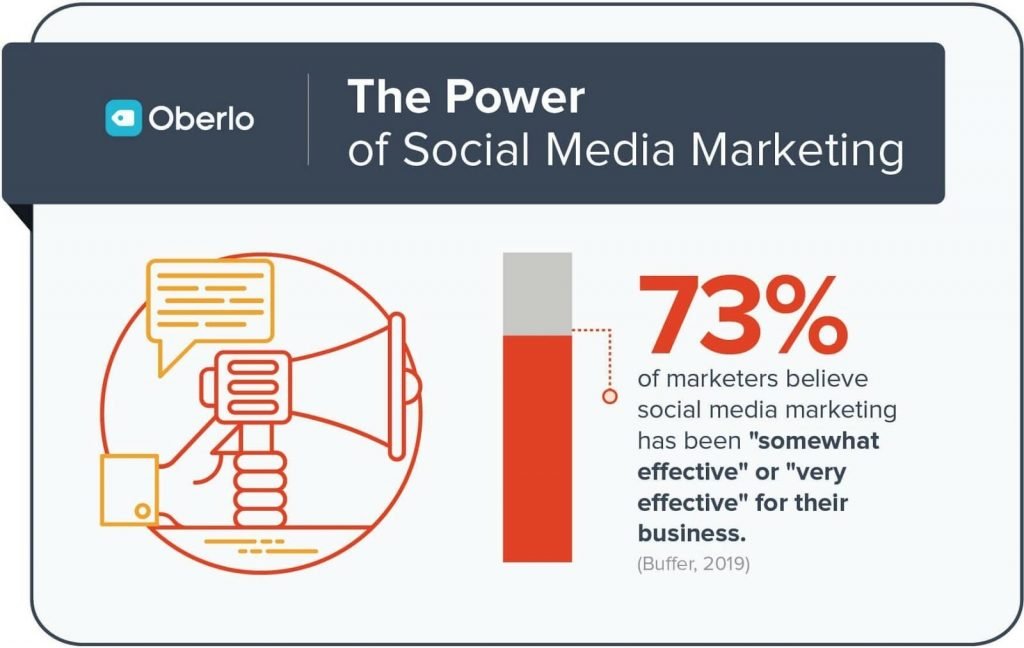 And about 54% of customers use social to research products: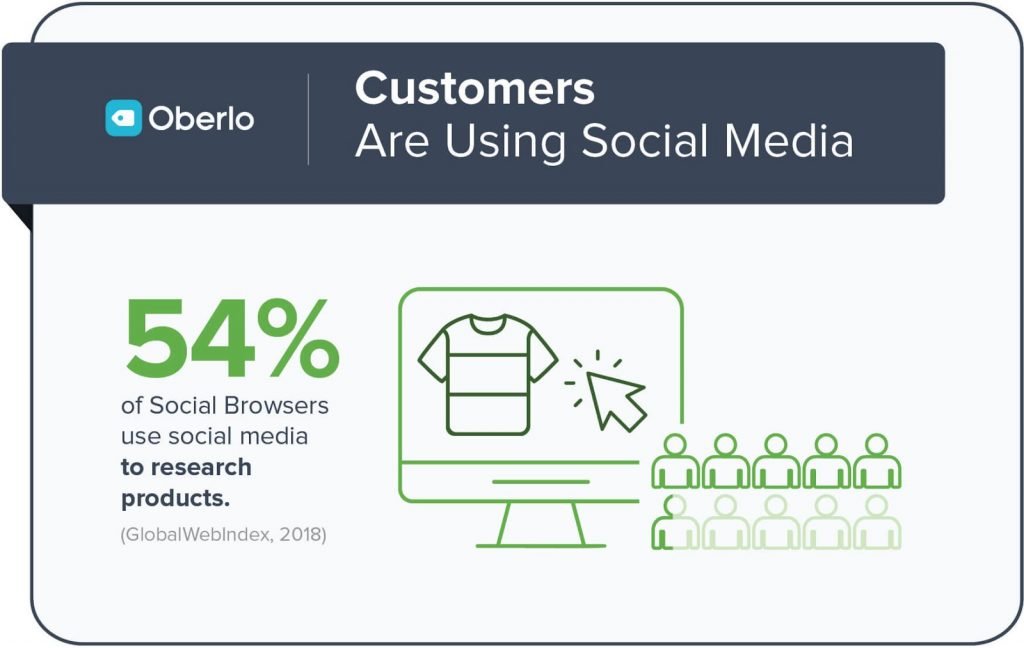 That said, social media doesn't impact your business overnight. In fact, building a presence and seeing the ROI will likely take years.
However, if you use social media correctly, it can build long-term relationships that will transcend any ads you might run.
Digital Marketing Sample Resumes! Download & Edit, Get Noticed by Top Employers!
Download
How to Guard Against Social Media Misinformation
It's really the widespread sharing of fake stories that causes harm on social media. If you're a person or business that shares lots of content, perhaps with the aid of social media software, you should be extra careful.
It only takes a minute or two to verify something you see on social media. Consider the source of the story. If you've never heard of it, Google it and see if it's reputable. If you don't have that much time, it's best to ignore it, especially if it has the appearance of something that could be satire, clickbait or propaganda.
By not sharing questionable material you can help to cut down on the proliferation of misinformation and fake news.
Facebook CEO Mark Zuckerberg recently announced plans to crack down on fake news. Google has expressed similar intentions.
It remains to be seen how effective such efforts will be. Given the scale of social media today, it's probably not possible to completely eradicate false information. It's ultimately up to social media users to be more discerning about what they read, believe and share.