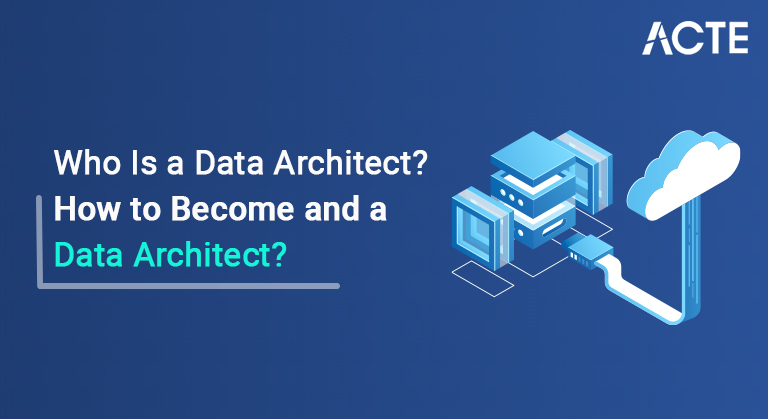 Who Is a Data Architect? How to Become and a Data Architect? : Job Description and Required Skills
Last updated on 11th Dec 2021, Blog, General
Data architects create blueprints for data management systems. After assessing a company's potential data sources (internal and external), architects design a plan to integrate, centralize, protect and maintain them. This allows employees to access critical information in the right place, at the right time.
How to Become a Data Architect?
What Does a Data Architect Do?
How Much Do Data Architects Make?
Steps To Become a Data Architect?
Data Architect Job Description
Skills Needed to Become a Data Architect
Data Architect Salary
How do you become a good data architect?
What makes a Data Architect special
Conclusion
How to Become a Data Architect?

To become a data architect, the minimum qualification requirement is a bachelor's degree in computer science, computer engineering, or a related field. Coursework should include data management, programming, application design, big data development, systems analysis and technology architecture.
If you are a fresh graduate aspiring to become a data architect, you can jumpstart with internships that provide exposure to network management and application design and advance to the role of database administrators. Working on your skills related to database management, data modeling and data warehousing, you can gradually advance your career to the profile of a data architect.

Companies usually prefer a master's degree for senior positions with many years of experience in data design, management and storage work. While not every technical skill required by a data architect is taught in a single curriculum, it makes sense to choose skills that are relevant to the job. Alternatively, you can also take additional certifications to equip yourself.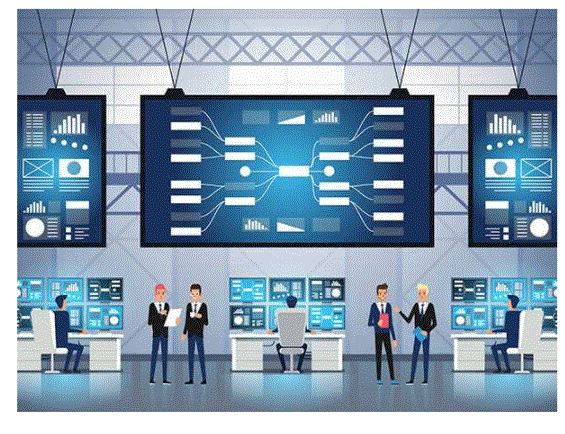 What Does a Data Architect Do?

If you want to become a data architect, expect to regularly do the following:

Communicate with non-technical professionals to understand your business's data requirements.
Examine your company's existing data infrastructure to see how it can be improved.
Set up new data models for better analysis.
Use your coding skills to implement new data architectures that improve your current database while retaining information from the old.
Maintain regulatory compliance with all of your data stores, while avoiding costly fines.
Stay up to date on the most innovative data architectural techniques.
The responsibilities of a data architect are far-reaching, but they can mostly be combined with the fundamental duty of keeping a company's data systems optimized.
How Much Do Data Architects Make?

According to ZipRecruiter, the median salary for a data architect is $132,617 per year, with salaries in the 25th to 75th percentiles ranging from $110,000 to $152,500, respectively.

The range in data architect salaries is evidence of the potential for upward growth in the industry, much of which comes in the form of workers' years of experience.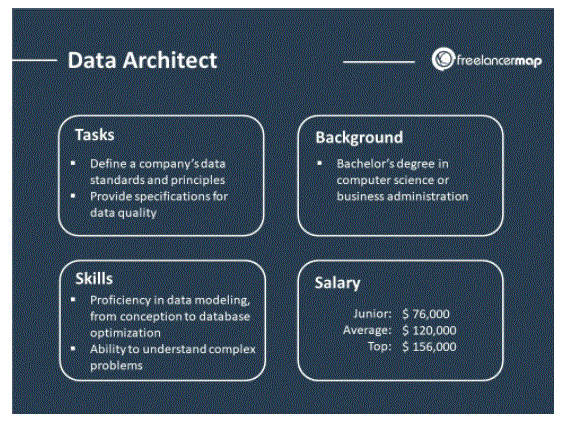 Steps To Become a Data Architect?

Because the job description of a data architect is so diverse and changes rapidly, the path to becoming one is less established than that of other data professionals. That said, there are some essential steps to take:

Get the right skill set. The vast majority of entry-level data architects have a bachelor's degree, typically in computer science, computer engineering, information technology, or another related field. To advance their careers, many also pursue master's degrees – although other resources such as online courses and data bootcamps can equip you with the skills you need.

Learn Advanced Data Architect Certification Training Course to Build Your Skills

Weekday / Weekend Batches

See Batch Details

Get certified. There may not be many specialized data architecture degrees, but there are many certification programs you can enroll in. Here are some common certifications that data architects often adopt:

Certified Data Management Professional (CDMP)
IBM Certified Data Architect – Big Data
TOGAF 9 Certification Program

Get experience. Although data architecture is a highly coveted field, it is unlikely that degree holders will enter it without any prior experience. Hence internships and data bootcamps in similar fields like data analytics and data science can be such assets.

Stay Connected. By establishing a professional network and honing your skills in mentoring a mentor, you will gain deeper insight into the field and be better prepared to enter the data workforce.

Get polished. Once you've got all the tools you need to get into data architecture, all that's left is to prepare your resume to show that you're the right fit for the job. Some distinguishing features of a data architect's resume may include continuing education in database management and network management, or certifications that prove your expertise with tools such as Hadoop, Oracle, Linux, and ETL.

With such a low degree in data architecture relative to the high demand, it is clear that the field of data architecture is not limited to those with specific technical backgrounds. If you have the core skills – or are willing to develop them – and make the effort to complete the journey, you may be able to enter this valuable role.
Data Architect Job Description:

Communicate with many different company stakeholders to assess needs and goals.
Evaluate current data architecture and databases to determine necessary upgrades and improvements.
Creating end-to-end models and plans for data consumption and analysis.
Code and design new data architectures integrating existing databases.
Ensure that all data structures are in strict compliance with industry standards as well as all local, state and federal regulations.
Use ETL (Extract, Transform, Load) best practices in building databases.
Research and discover new methods for obtaining data.
Monitor databases and report on effectiveness and accuracy, establish and update feedback systems as needed.
Maintain the security of the database, and create standards to ensure that the system is secure.
Preserve a repository of all data architecture artifacts.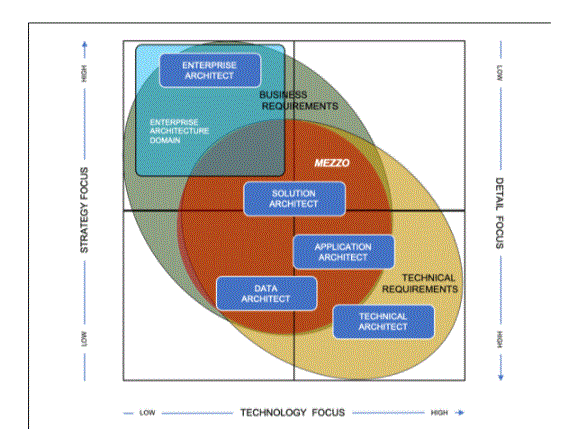 Skills Needed to Become a Data Architect:

Data architects are highly trained employees, well versed in a wide range of programming languages ​​as well as other technologies, and must be good communicators with good business insight. Data architects must pay great attention to detail, as repairing any problem in coding can cost a business millions.

The technical skills involved with being a data architect include strengths in:

Applied Mathematics and Statistics
Data visualization and data migration
RDMS (Relational Database Management System) or Foundational Database Skills database management system software, especially Microsoft SQL Server
Databases such as NoSQL and cloud computing
Hadoop technologies, such as MapReduce, Hive and Pig
Information management and data processing across multiple platforms machine learning
Data mining and modeling tools, specifically ERWin, Enterprise Architect, and Visio programming languages, especially Python and Java, as well as C/C++ and Perl
Operating systems including Unix, Linux, Solaris and MS Windows
Application server software, especially Oracle
Backup/archival software

Since data architects are often senior executives on a project, they must be able to effectively lead team members, such as data modelers, data engineers and database administrators. They should also be able to communicate solutions to colleagues with non-technical backgrounds. Finally, data architects must have a deep knowledge of their own particular industry, including best practices and trends for how data is collected, stored and analyzed in that industry.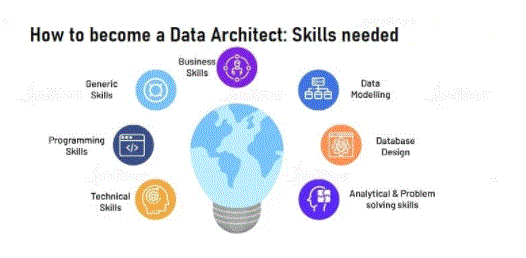 Data Architect Salary:

The average data architect in the United States earns a salary of $121,198 per year, with typical salaries actually going as high as $273,000. The highest paying data architect jobs require expertise in Apache Hadoop. Data architects with 10 or more years of experience can expect to earn very high salaries. The highest paid data architects are in Silicon Valley, with other median salaries in Washington, DC and New York City.

Data architect job outlook:

Data architects report higher job satisfaction, perhaps due to the fact that the role presents new and significant challenges every day. As technology evolves, the role will certainly change, and the best data architects welcome this change by staying up-to-date with new systems and languages. Huge amounts of data are generated by the minute, and data architects are required to solve problems on a daily basis, as well as try to take a long view and imagine what problems the company will face in 3-5 years .

More and more companies are realizing that data architects are one of the most important links in the data chain. As one big data architect at IBM put it, "More data doesn't really make us smarter if we don't have the ability to consume it." Businesses of all types have come to understand that data architects are needed to provide order in the chaos and access to data that data scientists and analysts can mine for business solutions.
How do you become a good data architect?

1. Possess a degree in Computer Science, Computer Engineering or related field. Start with a bachelor's degree in computer science, computer engineering or a related field. Coursework should include coverage of data management, programming, big data development, systems analysis and technology architecture.

2. Develop and develop your technical and business skills, from data mining to analytical problem solving. There are many books and many exercises that can help you improve your skills. However, the best way to grow professionally is always to apply the knowledge you already have and look for opportunities to work on new challenges. If you know someone who is already working in this field, ask them if they can share some of their knowledge with you. And if you don't know such a person, just log into your LinkedIn account and look for professionals who are willing to share some of their knowledge.

3. Consider additional certifications and further education. IBM, Microsoft, MongoDB and Amazon Web Service are some of the most important providers of data architecture certification. They offer competitive pricing compared to other options, although you should expect to invest at least $150-200 per certification.
What makes a Data Architect special:

Data architects create blueprints for data management systems. After assessing a company's potential data sources (internal and external), architects draw up a plan to integrate, centralize, protect and maintain them. However, they should not be confused with data engineers.

In today's rapidly evolving technological world, a data architect is an expert responsible for aligning all IT assets and objectives of a business. Those who are thinking of pursuing this career must be fully aware that this position not only deals with data, software, network and cloud services, but also needs to model correctly. Capability is how the infrastructure and its components align with business requirements.

It is also important to understand how the implementation plan materializes the model into day-to-day operations. It is not only about in-depth technical knowledge, but also the ability to employ it in the context of business scope of activities.
Data Architect Sample Resumes! Download & Edit, Get Noticed by Top Employers!
Download
Conclusion:

Data architects work on the design and development of architecture as well as data models used for reporting and business solutions. Since he must collaborate with various app teams, this specialist is expected to fully understand the needs of the customers from different sectors, so that the products can be customized as per their requirements. In addition, highly skilled specialists typically demonstrate in-depth technical knowledge, particularly on topics and tools such as SQL, ETL, and BI databases.

Data architecture is important for several reasons. Some of them are listed below:

It gives a structure to control the data.
It helps enterprises to understand data more efficiently.
It helps to make the data more secure and private.
Supports the company's business intelligence activities.
Provides guidelines for how people manage data from the initial capture of information to its consumption.
Now that we have some understanding of what a data architecture is and why we need it, let's look at what makes a data architecture effective.