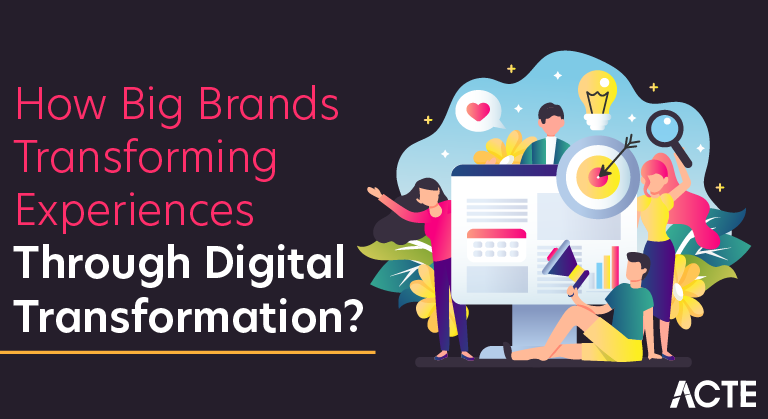 How Big Brands Transforming Experience Through Digital Transformation?
Last updated on 09th Jul 2020, Blog, General
Digital Transformation in the Real World:
I discussed the importance of digital transformation for any company today in part one of this series, as it allows them to deliver an experience that their customers have come to expect.
Today I am sharing transformation success stories from the perspective of those within the company. While each story is unique, there are similar best practices shared.
What is meant by Digital Transformation?
Companies hoping to make the shift into a primarily (or even partially) digital-based set of marketing strategies face a lot of decisions: Where do you find real talent? How much of the budget do we devote to digital? What types of social media do you focus on? How do we keep our other audience while still appealing to the "newer" digital one?
Indeed, going digital is much more than just setting up a great website and collecting more Facebook or Twitter followers. This is a whole new level of engagement that requires a lot of new expertise as well as energy.
Why Digital Transformation is Necessary?
Everyone is connected these days, and some companies are finding it hard to keep up: according to Smart Insights, some 49% of companies have yet to put a defined digital marketing strategy in place.
But it's not just the fact that people are shopping online via digital brands; today, people are making buying decisions differently. They are more in-the-moment, and they (sometimes) have a global array of options about where to find the product that they want. In short, they are more likely to look for their ideal product than be convinced through an ad.
Consumers are becoming more empowered about every single purchasing decision they make. With the rise of mobile devices and the decline of the need for many local goods and services, consumers are now searching for what they want and getting it fast, rather than advertisers having to "show" consumers a product to get them to buy it.
How the Digital Sphere is Changing the Customer Experience?
One thing that's changing customer experience in the digital sphere is wearable such as Fit-bits which allow customers to input information on the go. The company is growing quite rapidly, which means that fitness companies would do well to partner with these types of gadgets. There's also a lot of automation happening these days which is giving rise to order-ahead activity.
Another example of how consumers have more control over advertising is ad blockers and the ability to "hide" ads in their social media news feeds. As they continue to have greater control over what they are seeing, advertisers face more and more challenges being "seen," thus increasing the need to develop and share relevant content that consumers actually want to engage with.
So, for businesses, the changing customer experience means more than just setting up a mobile website or partnering with digital companies. They really need to be aware of how to create and maintain brand loyalty in the context of the entire customer journey.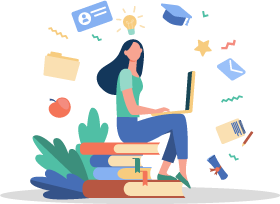 Learn Expert-led Digital Transformation Training with Dedicated Lab Environment
Instructor-led Sessions
Real-life Case Studies
Assignments
Explore Curriculum
Examples of digital transformation success stories of Six companies that shine
Porsche places the customer at the heart of their strategy
Customer experience drives Porsche's digital strategy. Porsche has heavily invested in understanding the Porsche driver. All customer data is pulled into a central CRM data center and allocated to a unique ID. Throughout the entire lifecycle, every customer interaction at every touch point is documented.
Thanks to this ID, Porsche knows their customer's expectations for each touch-point. The data also allows for real-time segmentation and predictive intelligence, enabling them to maximize campaign success. For example, only customers that are actually interested in purchasing a car at that moment are contacted, leading to a significant increase in their overall sales conversion rate.
Deloitte began transforming within
Deloitte (Professional Services) innovated themselves by founding Deloitte Digital Today, a competence center where all the technical, digital, and creative competencies come together to support their client base on their digital transformation journey.
In the panel discussion at the SAP Hybris Summit LIVE, Alcon Labs and doTERRA outlined the importance of Deloitte's partnership to their organizations, including Deloitte's digital and technical knowledge, as well as their ability to model the actual solution. This partnership has enabled both organizations to assess their current technology landscape, develop their digital transformation strategy, and build and integrate the new systems, side by side.
AmerisourceBergen made transformation a team effort
AmerisourceBergen realized early on in their journey that business transformation can only be successful when a culture of innovation is established across the entire organization. To prevent silos, the company established ten agile project teams throughout the organization, each of which focused on different parts of the business. Each team had to take ownership AND leadership of their own part of the business. With this approach, the company went live with this new platform in less than 18 months.
Launch, learn, pivot: Alcon and BMW debuted pilots in smaller markets first
Alcon followed a "launch, learn, pivot" approach: Start with a pilot transformation project in a smaller market to assure your customers are happy and everything is working correctly before the larger roll out. First debuted in the US and Brazil, Alcon's initial transformation provided the road map to roll out in 27 additional countries within the next three years.
BMW first premiered their digital transformation in the smaller Mexico, Dubai, and Portugal markets so they could fine-tune their engines before focusing on the larger German market, which is their 2nd largest market worldwide. BMW execs noted that it is easier to scale up a solution after a successful implementation rather than scale it down.
Rockwell Automation: Connecting experience and enterprise
Digital transformation does not have a defined start or stop date for any organization. Rather, an environment of continuous improvement must be supported within. Rockwell Automation's leadership team envisions the company becoming a fully connected enterprise in the future. To make this happen, their current digital transformation journey includes becoming a customer experience organization, laying the foundation to achieve their goal of connected enterprise.
AWS Sample Resumes! Download & Edit, Get Noticed by Top Employers!
Download
When approached, planned, and followed the right way, digital transformation is a journey that allows organizations to set themselves up for future innovation.