Oracle Project Accounting Interview Questions and Answers [LEARN NOW]
Last updated on 14th Nov 2021, Blog, Interview Questions
Oracle Project Accounting is having the overall project status and its documents accounted. Transactionality should be started in the project when bargaining with clients on any product. At the end of the project handover to the client, accountability is moderated and customer satisfaction lies in it. The data can be HRMS, Financials, Supply Chain applications. Having certified in Oracle concepts is very effective in giving preference to you. There are a number of positions open across all the locations. ACTE focus on implementing interview questions and answers to assist you in clearing the interview with comfort. Oracle Project Accounting interview questions are valuable to attend job interviews and get shortlisted for job jobs. Check out the interview questions page to get more data.
1. What is Oracle project Billing?
Ans:
Oracle Project Billing provides you with the ability to define revenue and invoicing rules for your projects, generate revenue, create invoices, and integrate with other Oracle Applications to process revenue and invoices. Oracle Project Billing also integrates with Oracle Receivables.
2. Is Zoom owned by Oracle?
Ans:
Oracle announced today that it has acquired Zoom as a new major customer. The Oracle Cloud is now being used by Zoom as their infrastructure provider, which should ensure that people can have a smooth video conference 24 hours a day.
3. Explain Know more about the Translations & Revaluation along with its working level ?
Ans:
The translation is used for translating the functional currency balances into the foreign currency balances that need to be done at the accounting level. Then comes the revaluation which is used for identifying the unreleased gain or loss that may occur during the currency inflation. Some of the examples can be Conversion Rate is 2, Foreign Currency is INR, or Functional Currency is USD to name a few.
4. Define PrePayment in AP?
Ans:
This type of option is all about the prepayment to be done in an advanced manner which is made to the supplier by the employee or the organization. It will later be applied to the feature called a debit. Such type of option is categorized into two sections one is permanent and Temporary Prepayment.
5. Does Amazon use Oracle?
Ans:
Amazon was built on traditional relational databases from the beginning. Long before the ecommerce giant launched AWS, it used Oracle to support its consumer operations, handling the core of its retail transactional systems.
6. What is Oracle Redwood?
Ans:
Redwood represents an effort to develop a new Oracle UI and reshape the company's image through graphic design. Oracle rolled out the first pieces of its new user experience (UX), branding and marketing design at Oracle OpenWorld in September.
7. Which one is better: SQL or Oracle?
Ans:
SQL server is a lot easier to work with. You need dedicated DBAs to administer Oracle, but pretty much any bozo can keep SQL server running. Oracle has a better, more predictable and more well-documented concurrency model. Oracle's documentation is superior in most ways.
8. What does a poet stand for in accounting?
Ans:
Projects Portfolio Management PPM & POET: Key Facts. Projects Portfolio Management (PPM): A subledger to track activities that span over multiple fiscal years. Each project is assigned a unique project number. A different string (POET) is used to charge expenses to a project.
9. What is a procurement initiative?
Ans:
Initiatives enable a senior procurement manager or chief purchasing officer to execute and monitor strategic procurement initiatives, aimed to meet a specific set of objectives, in their organization. Monitor Progress of Initiatives: Each initiative is assigned one or more objectives.
10. Describe the Cloud oracle ERP vs oracle EBS?
Ans: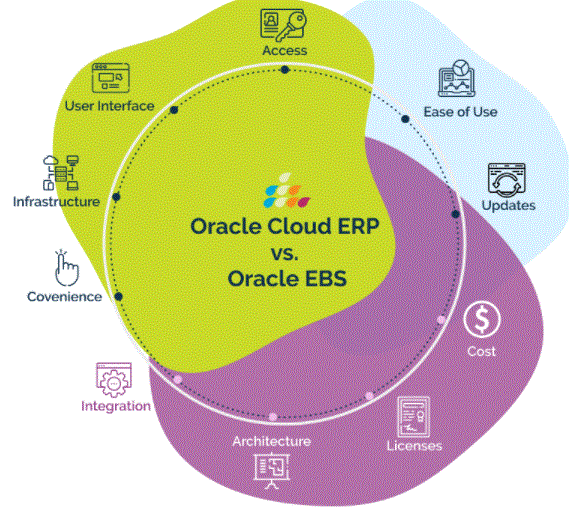 11.What is Oracle Inventory Management?
Ans:
Oracle Inventory Management allows you to consolidate your disparate inventory tracking and control systems into a single, global inventory management solution for material in every stage of the product life cycle across all of your types of business.
12. Describe the architecture of assist additio from oracle project?
Ans: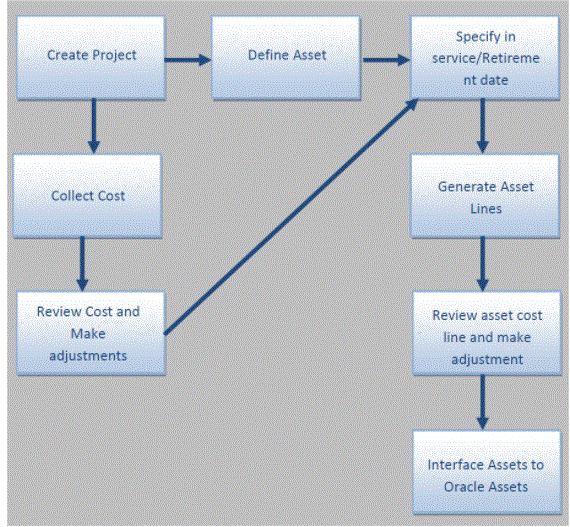 13. Can you explain in detail about Burdening VS Mass Allocations
Ans:
When you think of the burden cost that is present in the Oracle project, understand that the prime motive of its design was to apply the overhead expenses as per the burden contracting method which traditionally government agencies in the United States. However, Oracle General Ledger Mass Allocations is known to offer the best traditional yet complete allocation of actual overhead expenses where the ongoing burdening method does not exist.
14. How to test the burden structure before processing
Ans:
To test the burden structure, you need to use the window of View Burdened Costs before initiating the processing costs. You need to have accomplished the cost along with the implementation and assigned burden schedules.
15. What can be done if the expenditure type in a burden structure is not included?
Ans:
In the oracle project, if it fails to find the expenditure type in the cost base at the time of the burden process, then the expenditure item will not get burdened. Ideally, the burden cost is equivalent to the raw cost
16. What can be done if the expenditure type in the burden cost code definition is not included?
Ans:
If there is no expenditure type, then it may result in the Create and Distribute Summarized Burden Component which needs to be processed. This needs to be done since the expenditure type is said to be the key value in the expense item record.
17. Explain the oracle projects billing user guide?
Ans: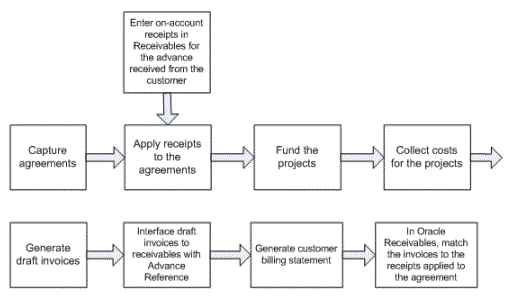 18. What Know more about the Journal and its type?
Ans:
Journal is known for recording the traction that a business does. It includes the credit and debit lines in which debit needs to be equivalent to the credit. It is categorized into different types such as suspense journal which is also known as Unbalanced Journal, Reversal journals, and Recurring Journals.
19. Define the oracle R12 financial new features overview
Ans: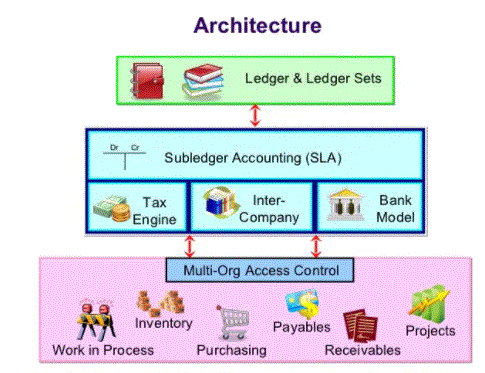 20. Could you define Security Rules and Cross-validation Rules
Ans:
Security rule is used for restricting users from entering any kind of segment. While the Cross-validation rule is used for restricting the end-user to enter the combinations of the code. Security rule works at the responsibility level while cross-validation rule works at the structure level.
21. How Know more about Dynamic Insertion?
Ans:
It is possible for you to create a new account dynamically with the code combinations. For this, when you enter the data, it enables the dynamic insertion in the primary option to choose
22. What is the Difference between Standard Accrual and Standard Cash?
Ans:
| Standard Accrual | Standard cash |
| --- | --- |
| Standard Accrual includes Invoice and Payment Accounting while in Standard Cash only payment accounting is present. Not only this, Standard Accrual undergoes two phases. | In the first phase, the good order is generated and received while in the second phase the amount is paid for receiving the goods within the due time that is actually set by the supplier |
23. Can you elaborate in detail about Flex field GL Qualifiers?
Ans:
Generally, it is assigned to the qualifiers and the individuals to make sure the definition in COA is clear. Natural Account is a type of option that should contain about the single account section which is natural. Then comes the Balancing Account where every structure needs to have a single balancing segment. There needs to be also a cost center under which the section is used for the oracle asset. Furthermore, comes the intercompany GL which usually uses the intercompany section in code associated with accounting.
24. What is the distinction between AP and AR invoices?
Ans:
| AP voice | AR voice |
| --- | --- |
| AP invoice is all about the amount that goes out to receive the original material from the seller or the supplier | Invoice is the amount that comes in by selling the product to the customer or parties or you can say revenues. |
25. Define oracle fusion application?
Ans: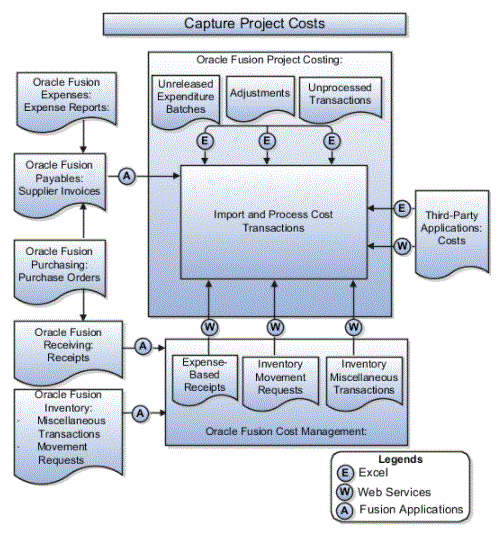 26. Can you explain the difference between KFF and DFF?
Ans:
| KFF | DFF |
| --- | --- |
| KFF is the unique identifier that is stored in the segment section | DFF is used for capturing the additional information that can be used later. It is stored in the attribute column. |
27. What is Oracle project accounting?
Ans:
Oracle Projects uses AutoAccounting, or the Project Budget Account Generation workflow for integrated budgets, to derive default accounts for transactions. You submit processes in Oracle Projects to generate accounting events and create accounting for the accounting events in Oracle Subledger Accounting.
28. Define oracle project management?
Ans: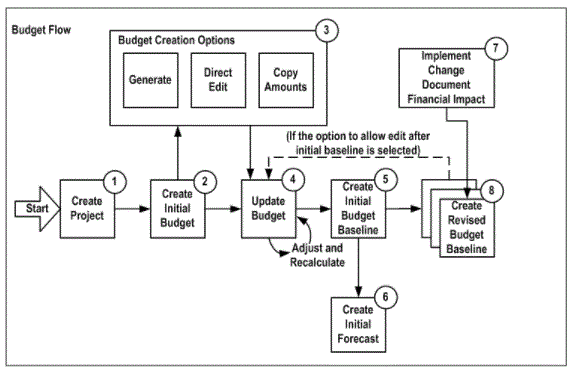 29. What is Project Costing in Oracle Apps?
Ans:
Oracle Project Costing enables you to capture costs according to your specific business requirements. You can classify expenditures based on the type of cost incurred on a project, such as administrative, overtime, or lodging.
30. What is the work type in Oracle projects?
Ans:
A project is a primary unit of work that you can break down into one or more tasks. You charge the transactions you enter in Oracle Projects to a project and a task. When you set up a project, you must enable a project structure and enter project and task information.
31. What is the role of a project accountant?
Ans:
The project accountant is accountable for monitoring the progress of projects, looking into variances, approving outgoing inclusive of expenses, and ensuring that project billings are issued to clients and payments collected.
32. What is the billing amount?
Ans:
the total amount of the cost of goods or services billed to a customer, usually covering purchases made or services rendered within a specified period of time.
33. What is the raw cost in accounting?
Ans: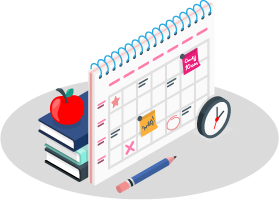 Learn Oracle Project Accounting Certification Training Course to Build Your Skills
Weekday / Weekend Batches
See Batch Details
34. What is the Burden cost in Oracle projects?
Ans:
The raw cost is the actual cost of the work performed, and the burden cost is the indirect cost of work performed.

Burdening (also known as cost plus processing) is a method of calculating burden costs by applying one or more burden cost components to the raw cost amount of each individual transaction. You can then review the raw cost and total burdened cost (the sum of raw cost and burden cost) of each transaction.
35. What is Oracle best known for?
Ans:
The company is best known for its Oracle database software, a relational database management system, and for computer systems and software, such as Solaris and Java, acquired in its purchase of Sun Microsystems in 2010. In 1987 Oracle became the largest database management company in the world.
36. Why is Oracle so popular?
Ans:
Oracle is the choice of most successful companies and enterprises due to its efficient database management options and security options. Although Oracle is known to be notoriously costly, it is definitely one of the best DBMS products in terms of efficient database administration and application.
37. What kind of company is Oracle?
Ans:
Computer technology corporation

Oracle is a computer technology corporation best known for its software products and services like Java. Through the company's four main business segments—cloud and license, hardware, and services—Oracle sells its cloud-engineering services and systems and database management systems.
38. Define oracle project costing user guide?
Ans: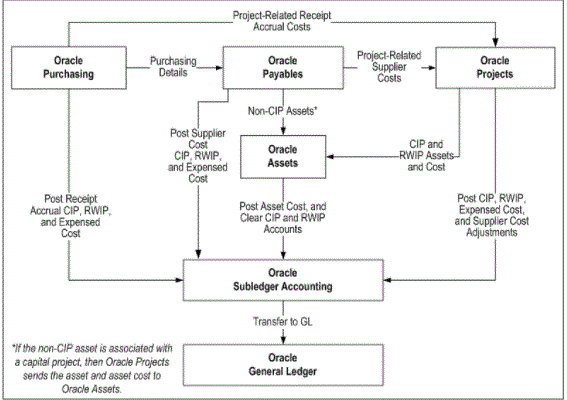 39. Who is Oracle's largest customer?
Ans:
AWS Professional Services operative Doug Booth, Principal Business Development Manager for AWS, described Amazon.com as Oracle's largest customer many times over, which is certainly credible (but, I haven't asked Doug how Oracle customer is defined).
40. Is Oracle a top tech company?
Ans:
The company sells database software and technology, cloud engineered systems, and enterprise software products—particularly its own brands of database management systems. In 2020, Oracle was the second-largest software company in the world by revenue and market capitalization.
41. Is Oracle going away?
Ans:
Amazon has been moving off Oracle for several years and has plans to complete the transition next year, according to people familiar with the matter. Oracle has been unable to keep up with AWS and other vendors in cloud infrastructure.
42. Does Google use Oracle?
Ans:
Google will stop using Oracle's finance software and adopt SAP instead. Google plans to migrate its internal financial software from Oracle to SAP in the next few weeks. There's no indication that it's moving other systems off Oracle.
43. Where does Oracle make its money?
Ans:
Oracle makes money by designing, manufacturing, and selling hardware and software products. More specifically, revenue comes from software subscriptions, license fees, hardware fees, and service fees.
44. What are the levels in Oracle?
Ans:
Levels at Oracle
IC-1.
IC-2 (Member of Technical Staff)
IC-3 (Senior MTS)
IC-4 (Principal MTS)
IC-5 (Consulting MTS)
IC-6 (Architect)
45. How many acquisitions does Oracle have?
Ans:
Oracle has made 125 acquisitions and 84 investments. The company has spent over $ 69.24B for the acquisitions. Oracle has invested in multiple sectors such as MarketingTech, Cybersecurity, Business Intelligence and more.
46. Is Oracle cloud cheaper than AWS?
Ans:
OCI offers industry-leading pricing, validated by independent- party analysts. OCI standard, Intel-based VMs are up to 61% cheaper than equivalent AWS instances, OCI block storage is up to 99% cheaper than AWS EBS volumes and OCI data egress is up to 95% cheaper than AWS data egress (as of February 2020).
47. Explain the global financial architecture?
Ans: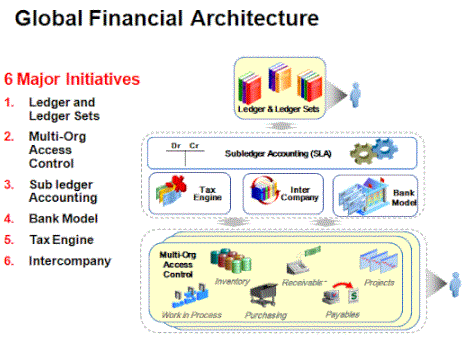 48. Is SAP better than Oracle?
Ans:
Both Oracle and SAP have good CRM software but the systems have strengths and weaknesses in different areas. Oracle does well across the board but isn't excellent at any one thing. Oracle's ERP also has good Customer Account Management, but SAP excels in this field.
49. Is Oracle like Google?
Ans:
In the comparison between Google vs Oracle, Oracle stands in the first position compared to Google because Oracle has multiple features for data storing and easy access, where Google is lagging in some features. Example: Oracle BI has many features compared to Google cloud.
50. Is Oracle better than Google?
Ans:
Google employees rated their Overall Rating 0.7 higher than Oracle employees rated theirs. Google employees rated their Career Opportunities 0.7 higher than Oracle employees rated theirs. Google employees rated their Senior Management 0.7 higher than Oracle employees rated theirs.
51. Is Oracle still relevant?
Ans:
If you are looking at your existing IT, then yes, indeed Oracle is still relevant. … So many of Oracle's customers would have dumped Oracle long ago, but it's no longer about replacing a database. Now it's about replacing your ERP, CRM, or HR solutions (think Peoplesoft, Siebel, Hyperion, Sun, etc.).
52. Does Oracle use SQL?
Ans:
Oracle, meanwhile, uses PL/SQL, or Procedural Language/SQL. Both are different "flavors" or dialects of SQL and both languages have different syntax and capabilities. PL/SQL in Oracle can also group procedures together into packages, which can't be done in MS SQL Server.
53. Is Oracle a database?
Ans:
Oracle Database is the first database designed for enterprise grid computing, the most flexible and cost effective way to manage information and applications.
54. Does Facebook use Oracle?
Ans:
Google and Facebook use Oracle, not for their main product but for their back-office. eBay also used Oracle in the past (if you dig back in the past of their architecture/design of eBay).
55. Who uses Oracle Cloud?
Ans:
The companies in the Oracle Cloud customer list are Link Solutions,Inc, eVerge Group, Infovity, Vendavo, Hearst Communications Inc. Who uses Oracle cloud? The major user of Oracle Cloud is the computer software industry with 35.4%.
56. Why is Oracle used?
Ans:
It is a database management software product. A database contains an organized collection of information. A database management system is not only used for storing the data but to effectively manage it and provides high performance, authorized access and failure recovery features.
57. Does Oracle negotiate salary?
Ans:
Oracle is more willing to negotiate base salary vs peers. That said, the increase is still typically smaller than what is possible for the equity component. Caveat: this of course does depend on the initial offer and how much room there is for each component relative to the top of the band number.
58. Define dynamic 365 finance and operation?
Ans: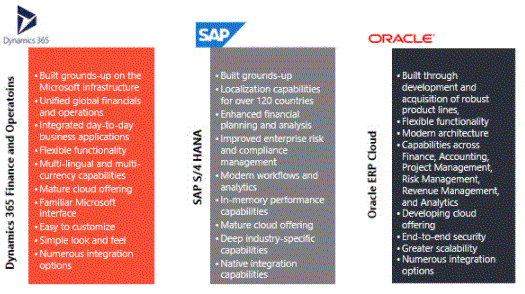 59. What is OCI Oracle cloud?
Ans:
Oracle Cloud Infrastructure (OCI) is an IaaS that delivers on-premises, high-performance computing power to run cloud native and enterprise company's IT workloads. OCI provides real-time elasticity for enterprise applications by combining Oracle's autonomous services, integrated security, and serverless compute.
60. What is Oracle ic4?
Ans:
Oracle is a company providing integrated cloud applications and platform services.
61. Does Oracle charge for data egress?
Ans:
Inbound data transfer is free, and we offer a high threshold for free outbound data transfer—the first 10TB free for each regional zone or product SKU. After that, outbound data transfer rates are based on geography. Data transfer cost is covered under networking cloud pricing.
62. Is Oracle Database the best?
Ans:
For many years, Oracle Database has received the highest ranking in the industry. In 2019, Gartner analyzed database vendors and published a 1-to-5 ranking of critical capabilities. All but one of Oracle Database's results came out between 4 and 5. See below for each ranking.
63. Which is easier, SAP or Oracle?
Ans:
While the average Oracle customer takes 22.5 months to implement, the average SAP customer is able to do so in 4 months less time.
64. Which is bigger, SAP or Oracle?
Ans:
Oracle has the highest overall revenue by far: its $40 billion in annualized revenue is 25% bigger than SAP's $32 billion, and 2X as big as Salesforce's $19 billion. So clearly, overall mass is not the driver of market cap for these 3 companies.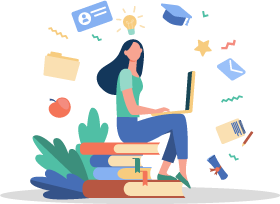 Get JOB Oriented Oracle Project Accounting Training for Beginners By MNC Experts
Instructor-led Sessions
Real-life Case Studies
Assignments
Explore Curriculum
65. Is Oracle a Faang?
Ans:
Facebook, Apple, Amazon, Netflix, Google comprise the FAANG Companies. Other top tech companies include LinkedIn, Tesla, Microsoft, Oracle, Airbnb, and Uber.
66. Can I run Oracle in Google bare metal offering?
Ans:
Oracle software is not authorized for Google Cloud environment (PDF). Running Oracle Database on a Google Cloud bare metal solution is manual and customer managed, which can be significantly more expensive to set up, run, and maintain.
67. What software is similar to Oracle?
Ans:
Competitors and Alternatives to Oracle
Microsoft.
IBM.
MongoDB.
Amazon Web Services (AWS)
SAP.
Google.
MariaDB.
Cloudera.
68. How using oracle projects to meet complex requirement for global
Ans: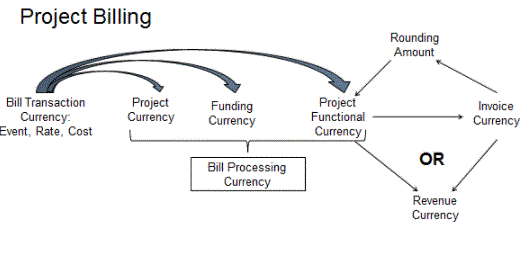 69. Which language is used in the Oracle database?
Ans:
Oracle Database developers have a choice of languages for developing applications—C, C++, Java, COBOL, PL/SQL, and Visual Basic. The entire functionality of the database is available in all the languages. All language-specific standards are supported.
70. Is Microsoft SQL better than Oracle?
Ans:
The main difference between the two languages is how they handle variables, stored procedures, and built-in functions. PL/SQL in Oracle can group procedures into packages, which cannot be done in MS SQL Server." While PL/SQL is more complex and has more' capabilities,' T-SQL is simpler and easier to use.
71. Is Oracle a software?
Ans:
Oracle is a computer technology corporation best known for its software products and services like Java. Through the company's four main business segments—cloud and license, hardware, and services—Oracle sells its cloud-engineering services and systems and database management systems.
72. What is a task in Oracle?
Ans:
In Oracle Cloud Infrastructure Data Integration, a task is a design-time resource that specifies a set of actions to perform on data. You can create Integration or Data Loader tasks from a Project Details or Folder Details page. You then publish tasks into an Application to test or roll out into production.
73. What does poet mean in Oracle?
Ans:
I am trying to find a way in order to bring POET (Project, Org, Expenditure type and Task) information for each pcard transaction into oracle AP distributions.
74. What is the Oracle EBS system?
Ans:
Oracle E-Business Suite is one of Oracle Corp.'s major product lines. Also known as Oracle EBS, it is an integrated set of business applications for automating customer relationship management (CRM), enterprise resource planning (ERP) and supply chain management (SCM) processes within organizations.
75. Who was Oracle's first customer?
Ans:
Its first customer was the U.S. Air Force, which used the program at Wright-Patterson Air Force Base, near Dayton, Ohio. Known for innovation and aggressive marketing, the company, renamed Oracle in 1982 after its flagship product, grew rapidly throughout the 1980s, going public in 1986.
76. What is the Oracle EBS system?
Ans:
Oracle E-Business Suite is one of Oracle Corp.'s major product lines. Also known as Oracle EBS, it is an integrated set of business applications for automating customer relationship management (CRM), enterprise resource planning (ERP) and supply chain management (SCM) processes within organizations.
77. Which type of software is Oracle?
Ans:
Oracle Database is an RDBMS. An RDBMS that implements object-oriented features such as user-defined types, inheritance, and polymorphism is called an object-relational database management system (ORDBMS).
78. How to implement python and oracle databases?
Ans:

79. What does Poetaf stand for?
Ans:
POET or POET refers to some of the additional attributes required from Project Portfolio Management (PPM) functionality in Oracle ERP.
80. What are Oracle ERP modules?
Ans:
Oracle ERP is a cloud-based software solution used to automate back office processes and day–to-day business activities. It is a business management software suite that includes financial management, supply chain management, project management, accounting, and procurement.
81. What is Oracle Procurement?
Ans:
Oracle Services Procurement is the enterprise application that enables complete control and oversight for services spending. … By managing services procurement with step-by-step online processes, your organization can save money on simple and complex categories from contingent labor to complex business services.
82. What are Oracle Service contracts?
Ans:
Oracle Service Contracts simplifies contract management and provides a centralized repository for entitlement information. Rapidly create, manage, and update service contracts, warranties, and extended warranties on sales of goods or services. Then provide service based on real-time entitlement data.
83. How do you create a contract in Oracle?
Ans:
Navigate to Contract Administration, and then select Launchpad. The Oracle Contracts window appears. Select New from the Tools menu. The Create a New Contract window appears.
84. Explain oracle fusion project management implementation?
Ans: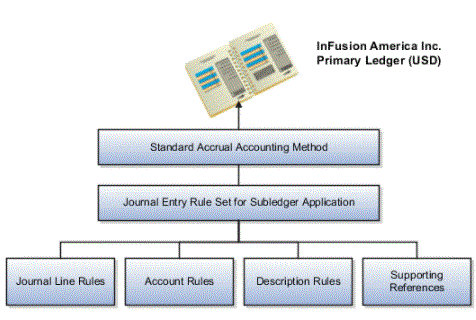 85. What is term procurement?
Ans:
Procurement is the process of purchasing goods or services and is usually in reference to business spending. Business procurement requires preparation, solicitation, and payment processing, which usually involves several areas of a company.
86. What is the Oracle install base?
Ans:
Oracle Install Base is a centralized repository of information for an item instance and its tracking details including location, status, ownership, party role, and contact relationships. It also supports the creation and maintenance of Oracle Install Base configurations.
87. What are the key features of Oracle procurement contracts?
Ans:
Oracle Procurement Contracts – Key Features
Establish Contract Standards.
Author Contracts.
Negotiate Contracts.
Approve and Sign Contracts.
Execute and Monitor Contracts.
Administer Changes.
Renegotiate and Close Out Contracts.
Search Contracts
88. What are the golden rules of accounting?
Ans:
Golden Rules of Accounting
Debit the receiver, credit the giver.
Debit what comes in, credit what goes out.
Debit all expenses and losses and credit all incomes and gains.
89. What are the 3 financial statements?
Ans:
They are: (1) balance sheets; (2) income statements; (3) cash flow statements; and (4) statements of shareholders' equity. Balance sheets show what a company owns and what it owes at a fixed point in time. Income statements show how much money a company made and spent over a period of time.
90. What are the 5 types of accounts?
Ans:
There are five main types of accounts in accounting, namely assets, liabilities, equity, revenue and expenses. Their role is to define how your company's money is spent or received.
91. What is the accounting cycle?
Ans:
The accounting cycle is a collective process of identifying, analyzing, and recording the accounting events of a company. It is a standard 8-step process that begins when a transaction occurs and ends with its inclusion in the financial statements.
Oracle CRM Sample Resumes! Download & Edit, Get Noticed by Top Employers!
Download
92. What is GAAP?
Ans:
Generally Accepted Accounting Principles (GAAP or US GAAP) are a collection of commonly-followed accounting rules and standards for financial reporting. The purpose of GAAP is to ensure that financial reporting is transparent and consistent from one organization to another.