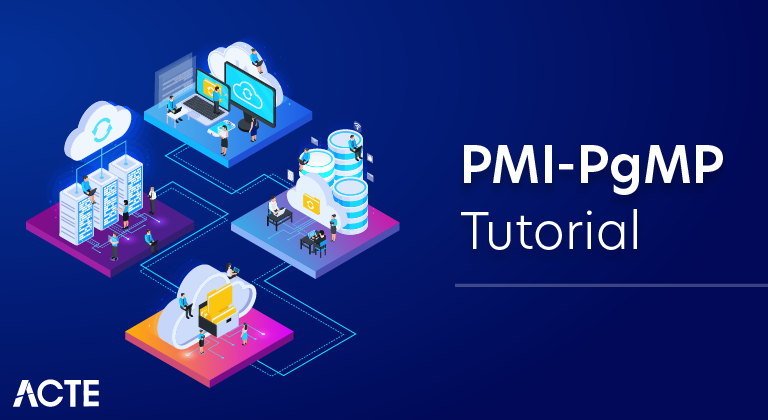 IN-Depth PMI-PgMP Tutorial – Practical Guide For Free [Step-In]
Last updated on 22nd Jun 2020, Blog, Tutorials
What is PGMP?
The Program Management Professional (PgMP) credential from Project Management Institute (PMI)® is the next step after Project Management Professional (PMP)® Certification, and addresses the community of professionals who are responsible for the coordinated management of multiple projects that are in alignment.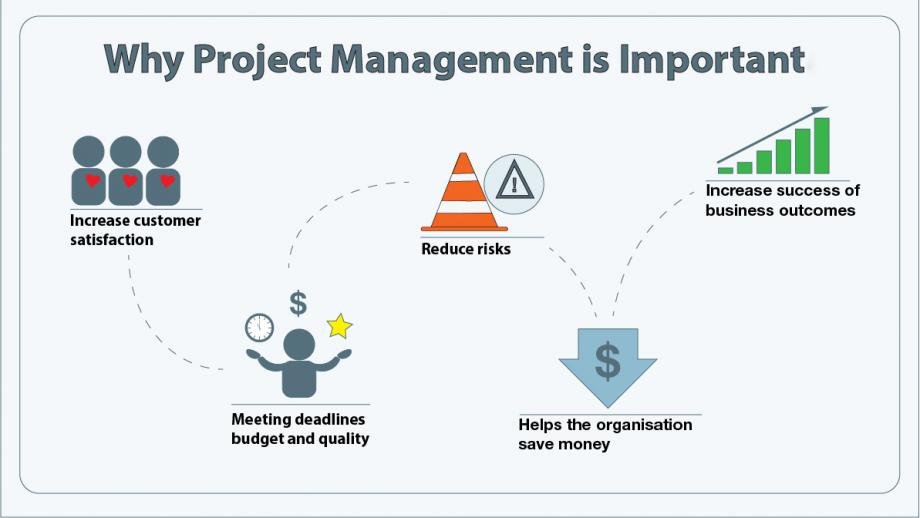 Who Should Apply?
If you have the proven ability to manage multiple, related projects and navigate complex activities that span functions, organizations, regions or cultures and to align results with organizational goals, then you're a potential PgMP.
Gain and Maintain Your PgMP:
First phase of evaluation is panel review
The certification exam has 170 multiple-choice questions, and you have four hours to complete it.
To maintain your PgMP, you must earn 60 professional development units (PDUs) every three years.
CERTIFICATION:
Prerequisites:
To apply for the Program Management Professional (PgMP), candidates need to have either:
A Four-year Degree (Bachelor's or Global equivalent), with at least four years of Project Management experience and four years of Program Management experience.
OR
A Secondary Diploma (High school or Global equivalent), with at least four years of Project Management experience and seven years of Program Management experience.
Note: If the above requirements are not met, candidates can also consider the Project Management Professional (PMP®) credential.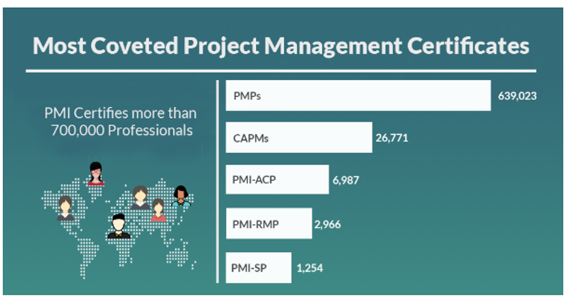 Certification:
Candidates need to register and log in to PMI's Online System to get started.
A printable PgMP application form is also available.
Please refer to the PgMP Handbook for further information.
As part of PMI's Continuing Certification Requirements program, a PgMP credential holder will need to earn 60 PDUs per three-year cycle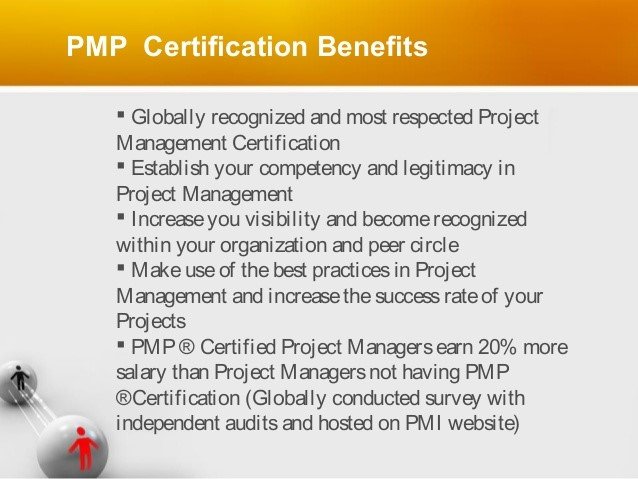 The Exam:
There are two evaluations for the Program Management Professional (PgMP) credential. The first evaluation is a Panel Review, and the panel review process begins once the certification payment is received and the audit is completed (if your application is selected). A panel of volunteer PgMP -certified program managers will assess your professional experience based on your responses to the Program Management Experience Summaries on the PgMP application. Once you pass the panel review, you will be eligible to take the examination
The PgMP examination consists of 170 multiple-choice questions. Of the 170 questions, 20 are considered pretest questions which are not scored. The allotted time to complete the computer-based examination is four hours.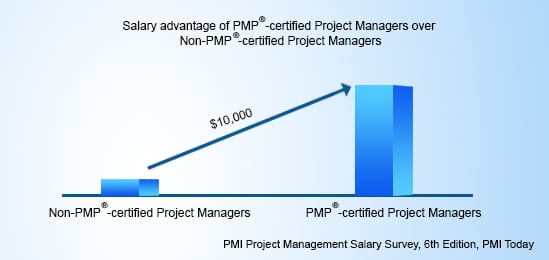 What is a Project:
Before discussing programs, let us recall what a project is. This is important because the project is the building block for a program as well as a portfolio, and indeed any organizational task that results in a change in the status quo.PMI defines a project as a "temporary endeavor undertaken to create a unique product, service, or result." Based on this definition, we can make out that a project has two key characteristics.
Firstly, it's temporary in nature. Please note that temporarily does not mean short in duration.A project can go on for several years.For example, creating a new "Indigenous Missile Defense System" for a country can be a project that can span several years. However, there is always a definitely planned start and end date for a project. It cannot go on indefinitely.
Secondly, the project is supposed to produce a unique output. The output could be a product, service, or a result. There can be many common activities between two projects, but the outcome of each project should be unique in some way or the other.
Let us look at the definition of a program in the next section.
A program is a group of related projects, subprograms, and program activities that are managed in a coordinated way, to obtain benefits not available from managing them individually.There are several important things to remember about this definition.
The projects in a program are related to each other.
They must be managed in a coordinated manner.
The coordinated management of the projects must confer benefits not available from managing them individually.
Remember – every large project with sub projects does not automatically become a program. It becomes a program only if there is a conscious effort to coordinate the management and deliver additional benefits.In the subsequent sections, we are going to look at how these additional benefits result.Let us continue to discuss the components of a program in the next section.
A large program may be potentially broken into smaller sub-programs.A subprogram is a program that is managed within a larger program.Now, the "components" within a program may include work elements of the program, the projects within a program, and also the "other work" that is managed within the program. The other work could be activities outside the projects, within a program.
For example, operation elements, training, management activities, etc.It is important to differentiate project work from regular operational work.For example, your office receptionist does the same work every day of picking any incoming call and directing the call to the right person in the office. This is ongoing, repetitive work and can be classified as "Operation.".
Operations – unlike projects, are neither temporary nor unique. Although projects and operations are distinct and do not overlap, programs may contain operations as part of the "other work.".
We will find out what program management is in the following section.
Definition of Program Management: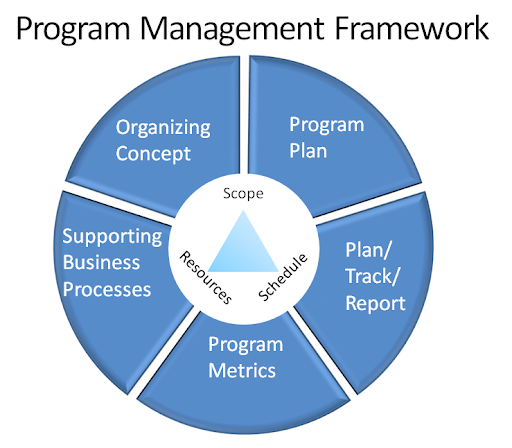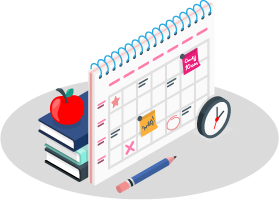 Get Expertise in Advanced Concepts of Program Management Certification PMI – PGMP Courses
Weekday / Weekend Batches
See Batch Details
The standard for program management defines program management as "the application of knowledge, skills, tools, and techniques to a program to meet the program requirements and to obtain benefits and control not available by managing projects individually".In simpler terms, program management is a process of managing multiple associated projects to enhance the performance and accomplish the goals of an organization. These related projects, along with the subtasks and linked activities, are grouped and aligned as a program, to gain maximum benefits and profits for the organization.Any program will have projects, but it is not mandatory for a project to be an integral part of a program. It is essential to obtain and apply the required skill sets, knowledge, toolsets and the strategies to be adopted to meet the requirements of a program and this is achieved by applying the program management techniques.Let us continue to discuss program management in the next section.
The Role of a Project Manager
Moving ahead, let us discuss the common roles of a project manager for different domains –
A project manager is a dominant role for a project and he is entirely responsible for the organizational success too. The position is directly associated with the tremendous accountability, responsibility, ownership, and the authority. Here are the popular roles and responsibilities of a project manager that are listed after a proper research only –
He is completely responsible for the accountability of a project and applies concepts that are learned from the recent similar projects. He needs to understand the project needs deeply and plan the activities accordingly. He also performs the project tracking and updates for project status regularly.
He always adopts best practices for project management and manages project priorities too. He works on project risks and issues carefully and promotes client involvement too. He encourages and support the escalations and enforces effective change controls or management. PMP focuses more on agile practices and minimizes the role of a PM as a controller. Further, he is responsible to monitor and manage project risks, stakeholders, and communications.
Project management skills requirements by professionals
| Technical Skills | Strategic and Business Management | Leadership Skills |
| --- | --- | --- |
| PMBOK Guide | Business acumen Basic management Vision Strategic alignment | Motivational teams Communication Emotional Intelligence Critical Thinking |
Key Focus of Program Management:
The common outcome and potential aspects are the key elements which define the link between associated projects in a program.On the other hand, effort management is deemed to be the function of the project rather than the program, if the projects of a program are linked based on common resource sharing techniques, technology or shared client.The key focus of program management is to identify the interdependencies of the linked projects and ascertain an optimal approach to manage them.The key factors that influence the interdependencies between projects of a program include:
Conflict management and extensive resource sharing techniques among the related projects
Settling any consequences of changed management in a shared and structured organization
Aligning the strategic directions that affect the objectives of the program's projects and avoiding any future conflicts
Let us discuss an example of program management in the next section.
Example of Program Management:
Let's consider an example of program management.The Quality Management department of an organization which ensures quality products are delivered to the customers can be considered a typical example of program management as it involves various integrated functions (projects) such as planning, scrutinizing,implementation and evaluation.Acquiring a company and integrating it with an existing organization is also an example of program management as it involves personnel management, many training sessions, implementing marketing strategies, dealing with different clients and so on.Let us identify the ground rules of program management in the next section.
Ground Rules:
As the name implies, Ground Rules are the set of rules that determine the behavioral pattern that the team members must adhere to, in a project. Ground rules enable the team members to realize their responsibilities and perform their duties correctly.Some ground rules are given below.
The team members report to the Project Manager, and he is the prime contact person for all project related issues.
All members of the team should be conversant with the project plan and scope, and they should perform all tasks within the scope of the project plan. Deviations will not be accepted unless it is approved by the Project Manager.
Members should attend all meetings or conference calls, and in the event of being absent, they should inform the project manager.
The Project Manager must approve any planned vacations of the members to determine that there is no deviation in the work pattern.
The team members should be aware of target dates for scheduled delivery and in the event of encountering any alterations; it should be informed to the other members and Project Manager.
When meetings are conducted, it is essential to document all the key decisions, minutes of the meeting, and client suggestions.
The Project Manager is responsible for final delivery of the product or the hand-off to the customer.
Project Management Skills
A Project Manager should have a balance of skills as:
Technical skills:
Strategic and Business Management
Business acumen
Basic management
Vision
Strategic alignment
Leadership
Motivate and guide teams
Soft Skills

Communications
Facilitation
Conflict Resolution
Emotional Intelligence
Critical Thinking
Key Features of Project:
Now that we have learned about programs and projects let us now understand the key features of a project.Some of the features of projects are:
Uniqueness
Impermanence
Product Delivery
Uniqueness: All projects are unique even though they share the same client environment, toolsets, or techniques.
Impermanence: Projects are always subject to commence and end on particular dates, and so they are considered to be a temporary feature.
Product Delivery: Any project is commenced with the objective of delivering a product, a service or an outcome on a scheduled date to the client.
A tool that aids in coordinating the various aspects of the project to accomplish the goals of designing that project is called a project management tool.
The Project Management model is designed to commence, design, implement and deliver the project in a successful manner.
Definitions of Vision and Mission:
A Mission Statement defines the company's business, its objectives and its approach to reach those objectives. A Vision Statement describes the desired future position of the company. Elements of Mission and Vision Statements are often combined to provide a statement of the company's purposes, goals and values.
Mission and Vision Statements:
Along with strategic planning, mission and vision statements are among the most widely used tools, and consistently rank above average in satisfaction.A Mission Statement defines the company's business, its objectives and its approach to reach those objectives. A Vision Statement describes the desired future position of the company. Elements of Mission and Vision Statements are often combined to provide a statement of the company's purposes, goals and values. However, sometimes the two terms are used interchangeably.Usage and satisfaction among survey respondents
How Mission and Vision Statements work:
Typically, senior managers will write the company's overall Mission and Vision Statements. Other managers at different levels may write statements for their particular divisions or business units. The development process requires managers to:
Clearly identify the corporate culture, values, strategy and view of the future by interviewing employees, suppliers and customers Address the commitment the firm has to its key stakeholders, including customers, employees, shareholders and communities
Ensure that the objectives are measurable, the approach is actionable and the vision is achievable
Communicate the message in clear, simple and precise language
Develop buy-in and support throughout the organization.
Companies use Mission and Vision Statements to:
Internally:
Guide management's thinking on strategic issues, especially during times of significant change
Help define performance standards
Inspire employees to work more productively by providing focus and common goals
Guide employee decision making
Help establish a framework for ethical behavior
Externally:
Enlist external support
Create closer linkages and better communication with customers, suppliers and alliance partners
Serve as a public relations tool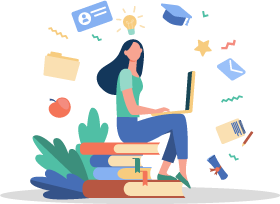 Learn PMI Program Management Professional (PGMP) Training from Real-Time Experts & Build Your Skills
Instructor-led Sessions
Real-life Case Studies
Assignments
Explore Curriculum
Skills of Project and Program Managers (contd.)
The main responsibility of a Project Manager is to accomplish the demands of the project and the team members. Since multiple related projects form a program, the Project Manager serves as a link between the team and the strategy.Project Managers should possess skill sets such as:
Knowledge: The Project Manager should possess adequate knowledge about project management principles such as analyzing, planning, implementation, vendor management, risk management, effective cost management techniques, team handling capabilities, and project control.
Performance: The Project Manager must apply the project management principles in an apt manner and work for the success of the project in meeting deadlines, promptly delivering products/services, satisfying customers and so on. Project managers should possess interpersonal skills that will help them analyze and interact effectively.
Some of the interpersonal skills of the project managers are listed below:
Ability to motivate team members: A project manager should motivate his team members to effectively contribute to the success of the project and in turn maximize profits for the organization.
Leadership Qualities: He should guide the team in the correct path and avoid any deviations from the project plan.
Communication: He should be able to convey his thoughts in a clear and concise manner. Time Management: He should adhere to the project plan, and promptly deliver products/services to clients or customers.
Coaching: He should train his team members to make maximum utilization of the tools and techniques and successfully complete the project.
Decision Making: Any important decisions affecting the project are all handled by the project manager. The decisions taken by him are duly complied by the team members.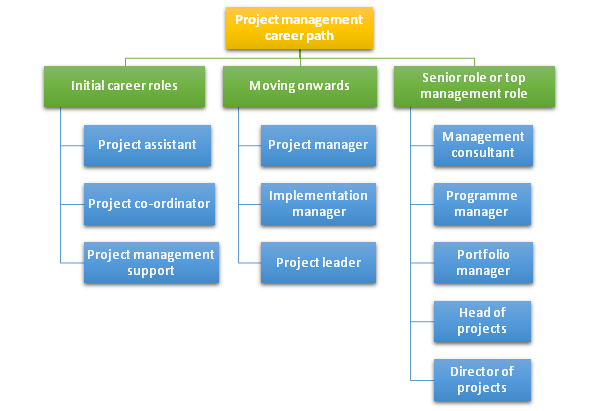 PgMP Application writing Tips and Guidelines:
Most projects fail because of project managers incompetence in project management. Monitoring and controlling of projects should be done proactively and regularly to improve project success scores. In this article/blog we will discuss the importance of and differentiation between preventive action, correctives actions, and defect repair actions of the project managers to improve project results.
PMI Sample Resumes! Download & Edit, Get Noticed by Top Employers!
Download
Preventive actions are those actions that are taken by the project manager during the project lifecycle to protect from scope creep and ensure the project completes its deliverables as per approved constraints or baseline. Preventive actions are initiated as part of the project "quality assurance" during project execution. Example: Process improvement activities, performing regular audits, project review meetings which includes risk reviews, confronting conflicts, etc.,.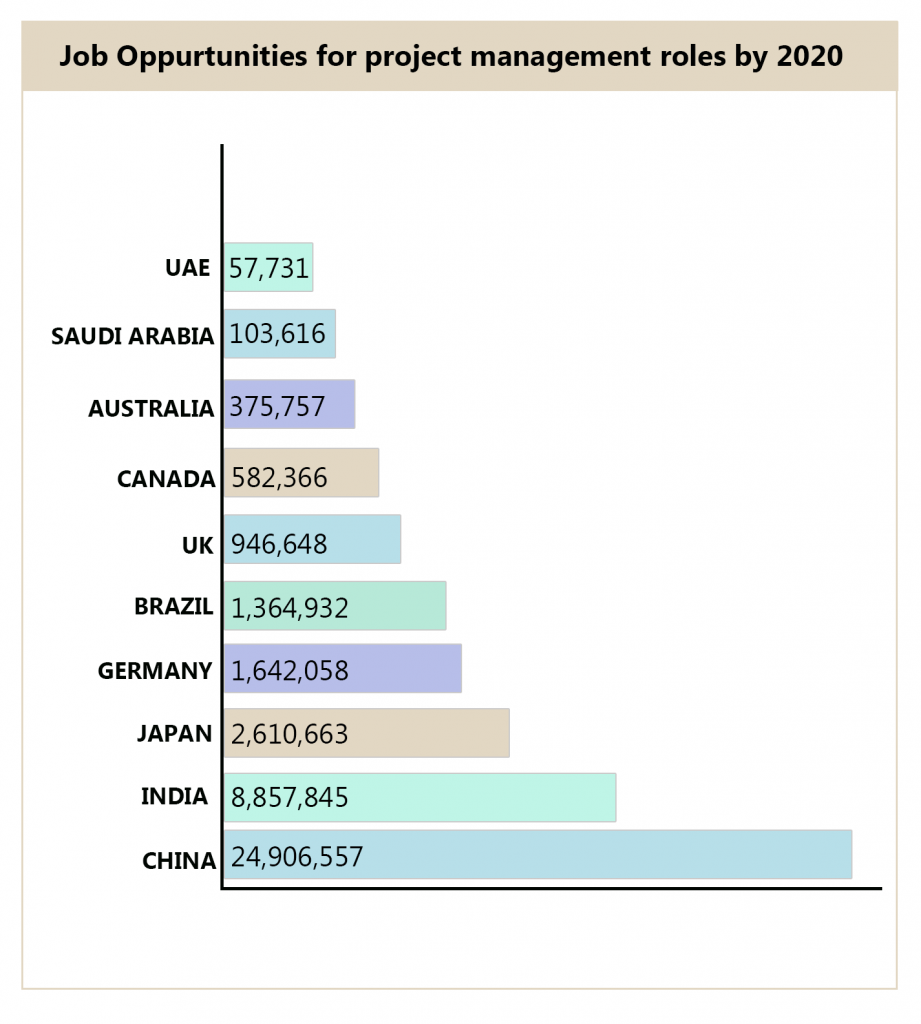 Conclusion:
While your skills turn into assets, with PgMP certification you gain maturity to handle programs successfully. As concluded by the 2015 Pulse of the Profession report, an individual with PgMP certification is 76 percent successful in managing projects as compared to 54 percent who don't possess the certification.Hope you have found all the details that you were looking for, in this article.