What is PMP & Tutorial? Defined, Explained, & Explored
Last updated on 08th Jul 2020, Blog, Tutorials
What is Project?
A project is a temporary endeavor undertaken to create a unique product, service or result. A project is defined as temporary because it has a defined beginning and end time, and it is unique because it has a particular set of operations designed to accomplish a goal
The primary characteristics of a project are
It has a definite start and end point
Once the end point is reached, the project is over
It is attempting to achieve something new
Project must meet the customer or stakeholder requirements
What is Project Management?
The project management is the discipline of planning, organizing, motivating and controlling resources to achieve specific goals. The main challenge of project management is to achieve project goals and objectives while keeping in mind the project scope, time, quality and cost.
Project management actually began in the early 1950s. The need for project management arised observing the benefit of organizing work within the project and critical need to co-ordinate across different departments and professionals.
Project management mainly deals with these ten areas
Integration
Cost
Human resources
Stakeholder management
Scope
Quality
Communications
Time
Procurement
Risk Management
Project Management Objectives
While preparing project, look project into these three perspectives, it helps to give much better understanding of the whole process
How does project fit into the organization?
How the project will evolve over time?
What skills are required to manage the project successfully?
Project Management Methodologies
There are various methodologies that are available for project management.
Prince2
Agile
Six Sigma
Scrum
Kanban
Lean
Waterfall
We will look each of this into in a later part of the tutorial. Various tools are available to track project tasks and measure accomplishments during the project. These includes Gantt charts, PERT charts and Work down structures.
With the help of this blog, PMP Tutorial Guide, you will learn about PMP course objectives, who are project management professionals, what is a project, what is project management, what are the prerequisites for the course, the target audience, and the value it offers to your career. Topics to be covered in the blog include –
What is a Project? A quick look at project characteristics
What is Project Management? Understanding the project methodology
What is PMP and PMI?
Prerequisites or application requirements for PMP Exam,
Guidelines for PMP certification exam
PMP exam outline and syllabus
Role of a Project Management Professional
Project management skills requirements by professionals
What is difference between Portfolio, Program management, stakeholder, and Projects?
Before we actually move to the topic PMP certification and exam guidelines, let us have a quick discussion on project basics, and what is project management in brief.
What is a Project? A Quick Look at Project Characteristics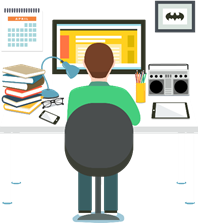 A project is a practice that is undertaken by experts together to form a unique product, service, or result. It may include a new product development, building construction, planning industrial plant infrastructure, implementation of the project, enhancing or improving business procedures and its processes.
A project is started by a group of experts, constrained by limited resources, deployed to the client when finished. A project is temporary in nature that is planned, controlled, and executed as per the requirements. The different operations of a project are the primary focus and they continue on the repetitive basis that contains a set of repetitive elements and it will not change the unique characteristics of a project.
So, would you like to explore the characteristics of a project ahead?
A project is always unique in terms of its characteristics. Although it is temporary in nature, it can be extended anytime based on Company needs. However, each project starts with a plan and there is one ending date too. It will not go indefinitely.
Each project is started to deliver a unique product in the end. The final output could be a product, service or result etc. Many times, plenty of activities are common between projects but they are always unique in one or the other.
The project is declared closed when all objectives are met and it is ready to deploy to the client. There is one more reason for closing the project that the final output does not exist anymore. Keep in mind that project work is always different from the regular operational work.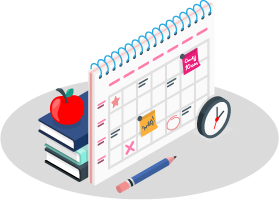 Get PMP Certification Course By Certified Experts
Weekday / Weekend Batches
See Batch Details
What is Project Management? Understanding the Project Methodology
The next important term to discuss here is project management that is taken as the application of knowledge, skills, tools, and techniques applied to different activities or operations of a project to meet varied needs of a complex project. The project management can be achieved by the integration of 49 processes and they should always be executed in a proper manner and follow the right order too.
Here is one example of project management methodology that is defined by the project management institute (PMI). PMI is a non-profit organization that offers certification to project practitioners for their knowledge and skills set.
Each project follows 5 process group, 49 processes, and the 10 knowledge areas.
The documentation should always be proper with standard processes or approaches.
The process can be applied to a wide range of industries like healthcare, life sciences, IT, oil & gas, petrochemical, or telecom industries etc.
It should be tailored perfectly to meet the complex needs of a business.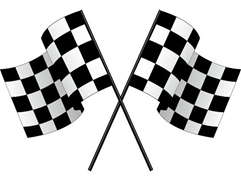 You must be wondering why project management is necessary and its value for businesses.
The project management contributes majorly to the organizational success within a fixed time frame and budgeted costs. The chances of project success get higher and it is quickly accepted by the users or Companies etc.
It can define the project scope clearly without disturbing the main workflow and culture of the organization. The project management incorporates innovative thinking and advanced planning too.
What is PMP and PMI?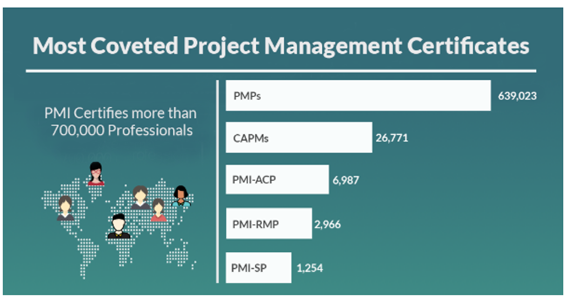 PMP or Project Management Professional is one of popular certification awarded by PMI to skilled project practitioners. The PMP certification is highly recognized by industries and demanded worldwide. For the project manager role or to become a successful project management professional, this qualification is mandatory. Here is a list of most coveted project management certificates for your reference. With this graph, you can realize yourself why PMP is so popular and most suitable career choice for learners.PMP certification is not limited to a particular domain but a project manager could work almost any industry either it is retail, banking, defense, IT, or manufacturing industries. Once the PMP certification exam is completed successfully and you can add to your project a PMP® certified professional.
So, PMI is an institute and the PMP is a credential. PMI helps you in writing or supervising the PMP exams successfully. If you need still more detail on PMP then you can browse the official website right away – www.pmi.org.
To sum up, PMI is an organization, and PMP® is a credential. PMI therefore writes and supervises the PMP® examinations. If you need more information on PMI, you can visit their website, www.pmi.org.
Prerequisites or application requirements for the PMP Exam
Before you appear for the PMP certification then don't forget to check the latest version of the exam. The PMP certification is valid for three years and there are chances that you will get your dream job quickly with fat salary packages.
PMP exam Pre-requisites
You should have a four years bachelor degree
And a minimum experience of 4500 hours in project management
OR
You could start with a secondary degree like a diploma or any other associated degree.
And a minimum experience of 7500 hours in project management.
AND
35 to 40 hours of education from a registered education provider like JanBask Training.
Guidelines for the PMP Certification Exam
Let us have a quick discussion on a few guidelines that would help you in completing your application successfully.
You should join the PMP membership first before you apply for the PMP examination. The members will get a flat discount of $150 for the PMP certification that is actually higher than the registration costs. So, this would be a smart decision to help you in saving money during the first process only. Becoming a member is quite an easy process and easy to complete by the official PMP site in a few steps.
Open the site, click on join PMI button and enter the necessary details. Make sure that the details are correct because the same will be published on your PMP certification too.
You have to cautious when adding the project experience because it will be verified later and add details that are handled during the project only. Focus on things minutely and the work done by you.
Now had a look at the primary contacts given in your application before you submit it. These contacts will be the witnesses for the project experience during the verification process. If you are not sure how to complete this step then don't forget to take help from experts.
In case, your application is selected for the audit then a list of instructions will be given on your email id. You should follow the instructions wisely and be prepared in advance.
In the next section, we will focus on the exam outline for PMP tutorial guide blog.
PMP Exam Outline
The PMP exam will be conducted for a total of four hours that contains 200 questions in total and 25 questions are fixed for the future tests and they will not be scored. These 25 questions will be picked randomly by the team and you should answer all 200 questions seriously.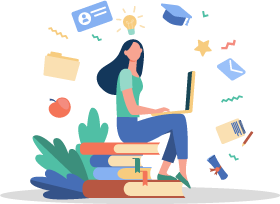 Enroll in PMP Training from Top-Rated Instructors
Instructor-led Sessions
Real-life Case Studies
Assignments
Explore Curriculum

All 200 questions are multiple-choice questions and there is no negative marking scheme for the wrong replies. You should answer all the questions in the given time only and you can answer all questions together even if you are unsure. There are grades given for all participants instead of rating like –
In this section, we will discuss the topics to be covered in the PMP exam and their weightage too. The percentage of questions from different chapters is given below that would help you in preparing for the exam accordingly.
| Project Management Process Group | Percentage of Questions | Number of Questions |
| --- | --- | --- |
| Initiating | 13 | 26 |
| Planning | 24 | 48 |
| Executing | 31 | 62 |
| Monitoring and Controlling | 25 | 50 |
| Closing | 7 | 14 |
The Role of a Project Manager
Moving ahead, let us discuss the common roles of a project manager for different domains –
A project manager is a dominant role for a project and he is entirely responsible for the organizational success too. The position is directly associated with the tremendous accountability, responsibility, ownership, and the authority. Here are the popular roles and responsibilities of a project manager that are listed after a proper research only –
He is completely responsible for the accountability of a project and applies concepts that are learned from the recent similar projects. He needs to understand the project needs deeply and plan the activities accordingly. He also performs the project tracking and updates for project status regularly.
He always adopts best practices for project management and manages project priorities too. He works on project risks and issues carefully and promotes client involvement too. He encourages and support the escalations and enforces effective change controls or management. PMP focuses more on agile practices and minimizes the role of a PM as a controller. Further, he is responsible to monitor and manage project risks, stakeholders, and communications.
PMP Sample Resumes! Download & Edit, Get Noticed by Top Employers!
Download
Project management skills requirements by professionals
| | | |
| --- | --- | --- |
| Technical Skills | Strategic and Business Management | Leadership Skills |
| PMBOK ® Guide | Business acumen Basic management Vision Strategic alignment | Motivational teams Communication Emotional Intelligence Critical Thinking |
What is difference between Portfolio, Program management, and Projects?
A "Portfolio" is a collection of other projects or programs. The components could or could not be interdependent.
The "program management" is the centralized and coordinated management of program to achieve the strategic benefits or objectives. Here, multiple projects can be aligned in such way that it could help in achieving the program goals and optimizing the overall project costs, schedules, and efforts too.
On the other hand, "Project" is an independent delivery in a program that has loose association with a portfolio of projects.
A "Stakeholder" is the person who could be positively or negatively affected by the outcome of a project.
With this discussion, we come to an end for the blog PMP Tutorial Guide. I hope this blog is 100 percent suitable and will help you in starting with PMP certification training and how to prepare for PMP exams.