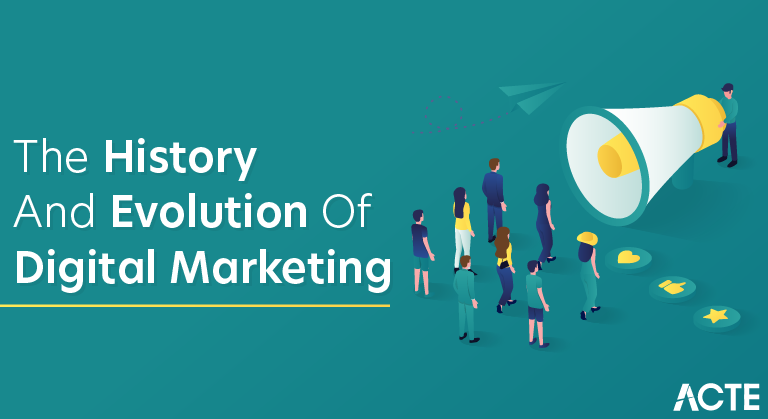 The History & Evolution of Digital Marketing | A step by step Guide
Last updated on 14th Jul 2020, Blog, General
Over the last decades, the marketing department has had to keep up with technological advancements. To keep up with these changes, the marketing professionals are using digital technologies to reach out to a large customer base.
Businesses no longer use traditional marketing agencies to reach out to target customers. Introduction of the internet, big data, and smartphone technologies have influenced marketing resulting in digital marketing using electronic devices.
Digital marketing involves the use of the internet or electronic media to promote the company's products and services. Electronic devices like tablets, mobile phone, PC, and other digital mediums are used to market the products over the internet.
Marketing channels like content marketing, Social media, email marketing, and mobile marketing are used to generate traffic for the business.
How the internet has revolutionized digital marketing
Digital marketing was introduced back in 1990 after the introduction of search engines which was commonly referred to as Archie. The web 1.0 platform enabled internet users to search for information over the web but couldn't share the information over the web. Back then, web indexing wasn't (Archie) much used since the web hadn't evolved.
In 1993, digital marketing achieved his first milestone through the introduction of clickable banners. Later HotWired Company purchased banner ads to advertise through the web. This marked the beginning of the online advertisement.
In 1994, Yahoo established the first search engine and people started using the Yahoo search engine to look for information on the web. After a year of its launch, more people were using Yahoo to access information. Companies started optimizing their web pages to increase their rank in the search engine. Amazon E-commerce site was established in 1994 whereas eBay site was established in 1995.
Increased use of search engine optimization led to the launch of other search engines like HotBot, Alexa, and LookSmart in 1996.
During this time, marketing professionals started using Search engine optimization, SEO to ensure their website content appears on the top results of the searched information. SEO techniques like keyword stuffing and backlinks were commonly used to increase site rankings.
In 1998, Google was established. This is another search engine Company and over the years, it has become the most popular search engine across the globe. Google started penalizing sites using backlinks and keyword stuffing to create traffic with the establishment of the Google algorithm.
During the year, Microsoft launched MSN search engine whereas Yahoo introduced Yahoo web search.
The year 2000, saw the wipeout of the smaller search engines. Many internet startup companies were also closed down. Businesses which took time in studying the market leverage on the use of the internet to improve their businesses.
Google established AdWords in 2000 to help marketers in advertising their products and services. The google ads became a major player in the digital marketing world and improved sales of businesses.
Web 2.0 was also established which opened many doors for digital marketing channels. Interactive websites were also established which enabled marketers to publish dynamic content and allow the target audience to interact with the site.
2001 led to the birth of the first mobile marketing campaigns.
In 2002, the LinkedIn professional network was established to help businesses interact with other business associates and target audiences.
The Launch of MySpace social network site in 2003. After a year Gmail, Google Docs, and Facebook went live. The new sites opened doors for promoting companies' products and services online. Many companies took advantage of the new social network site to create awareness of their products and services.
YouTube was launched in 2005 to fill the gap between creating and sharing videos.
In 2006, the search engine traffic increased to 6.4 billion in a month. Twitter and Ms. Live Search were also launched. Amazon's e-commerce sales also reached $10 billion.
In 2007, various web streaming services like Hulu were established. Tumblr social network was also established increasing the number of channels digital marketers can use. the iPhone smartphone was also established by the Mobile Giant Apple leading to an increase in mobile marketing campaigns.
To keep up with competition, Google launched real-time search engine results in 2009. Google AdWords and AdSense cost-per-click advertising techniques became more popular. The Google algorithm started to target ads based on customers' search making it the most used digital marketing scheme.
The year 2010 saw the launch of WhatsApp and Google Buzz.
In 2011, Google launched Google+ and Google Panda to facilitate page optimization. People connect and interact with each other through Google+.
In 2012, companies increased their budget for social media marketing campaigns by 64%. Social media sites like Facebook and Myspace were commonly used by businesses to promote and engage the target audience.
Yahoo acquired the Tumblr platform in 2013.
2014 saw the increased use of a smartphone in accessing digital technology. More people downloaded Facebook messenger app to connect rather than using PC to access Facebook. More Facebook ads and LinkedIn were customized for mobile use. At the same time, Facebook also acquired the WhatsApp mobile app.
In 2015, more digital technologies evolved. The Snapchat application launched its own discover feature to enable users to connect with more friends and followers. Facebook also introduced Instant articles as well as the launch of wearable tech.
Facebook, Instagram, Snapchat, YouTube, Twitter, and Reddit are the most commonly used social media networks in 2017 and 2018. There are over 3 billion Facebook users daily and business leverage on the use of these sites to reach a wide customer base.
The cookie technology has become a popular tool in digital marketing technology. Every website stores some information about each user's browsing history. A cookie is a piece of code left in the user's browser once they visit a certain website. The cookie enables the website to remember certain information about the user based on the last time they visited the website.
Digital Marketing Sample Resumes! Download & Edit, Get Noticed by Top Employers!
Download