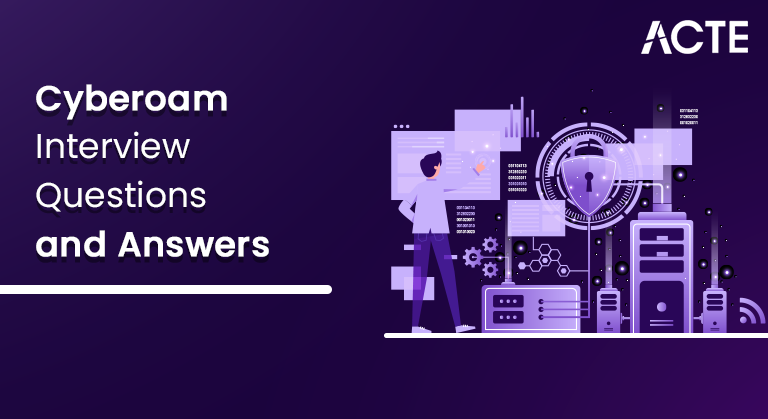 Must-Know [LATEST] Cyberoam Interview Questions and Answers
Last updated on 14th Nov 2021, Blog, Interview Questions
Quicken your Cyberoam professional career with the help of ACTE's frequently asked Cyberoam Interview Questions and Answers article. Cyberoam technology is best suited for those who know Cyber security services, Wi-Fi troubleshooting, LAN networking, Network engineering, MPLS, IP routing, Router configuration, and IP addressing. Learning Cyberoam interview questions may be a stepping stone to enter into any top company. Along with this article, those who think to start their career as a Cyberoam expert, please visit our website. Let's begin our journey to learn this beautiful technology;
1.What do you mean by Cyberoam technology?
Ans:
Cyberoam is an IT security company provides Products and Services to large scale industries. Cyberoam has its operations worldwide. The major countries included are India, Middle East countries, Latin America, and a few African states. The consumers of Cyberoam may consist of a top and personal governance businesses across India. Cyberoam is a type of firewall available for next-generation and UTM firewall. The main purpose of using Cyberoam is to protect DoS, IP spoofing, and any DDoS threats or attacks.
2.Why we need Cyberoam technology?
Ans:
Cyberoam device is a Unified hardware threat management application that provides full security to any business organization. The business organization may range from smaller to larger sections. With the help of the Cyberoam device, many security features will be integrated into a single named layer level 8 based platform, these features are very simple to use and effective.
3.What are the key features of Cyberoam?
Ans:
Below are the key features of Cyberoam:-

This is a firewall device with all security features bundled in a single product.
Traditional UTM functions as a network firewall, network intrusion prevention system, anti-virus, anti-spam, web content solution, and load balancing solution in a box.
Can also generate reports and maintain the "states".
4.What are the functionalities of Cyberoam 8 technology?
Ans:
Following are the main functionalities of Cyberoam 8 technology:-

Helps to identify the attackers and sufferers along with the username can also be identified.
Offers instant visibility to gadget administrators into multiple sources.
Controlling can also be done with the help of the Cyberoam 8 new feature.
Allows the identity-based introduction guidelines.
Cyberoam 8 reporting used to utilize the track based identity, troubles, and Intrusions.
5.What are the major components of Cyberoam?
Ans:
Below are the major components of Cyberoam:-

SCM
Instant messaging
CRM
Social networks
Peer-2-peer
Collaboration
Webmail
6.What are the uses of Superior quality?
Ans:
Superior quality is a revamped hardware design component:-

Offers better performance:

Design and components supporting high-speed I/O capabilities.

Highly robust:

Designed to help to protect the power surge and fluctuations.
Industrial grade components to withstand extreme environments.
7.Is Cyberoam Regulatory compliance?
Ans:
Cyberoam is made up of 8 layers that are integrated to provide identity and control the devices. Cyberoam network security component enables organizations with all types of regulatory compliances such as HIPAA, PCI-DSS, GLBA, and CIPA.
8.What is Cyberoam captive portal and how can it be configured?
Ans:
Cyberoam Captive portal is mainly used to validate the existing user Cyberoam community using internet browser user interfaces to access these community activities.The configuration process can be done as follows:-

Go to device directory -> then regulate the URL redirection -> then go to consumer logs this can be done through captive portal.
9.How to customize the default SMS sent to guest users?
Ans:
The steps included to customize the default SMS sent to guest users:-

Step 1: first log in to the web admin console using profile read and write permission to provide applicable capabilities.
Step 2: Then go to the system -> select configuration -> go to messages and increase the system SMS customization.
Step 3: finally now click directly to edit -> the default SMS text.
10.How can we set the Authentication mechanism for L2tp or PPTP VPN users?
Ans:
Cyberoam helps administrators to set the authentication protocol mechanism -> utilized by using L2TP and PPTP virtual private network users.Following are the important steps involved:-

Step 1: First login to the console through Telnet or SSH -> get CLI console entry just by clicking higher web admin console show-> pick choice 4.
Step 2: Cyberoam console can be observed by executing commands -> set the authentication approach using L2TP customers.
Step 3: Console -> L2TP authentication < ANY/CHAP/MS_CHAPv2 /PAP > OR.
11.List the different firewalls available in Cyberoam?
Ans: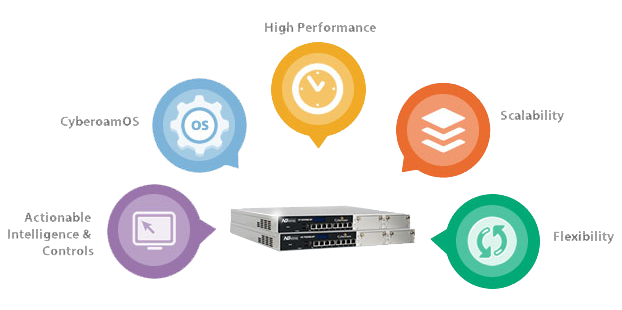 12.Do you know the default IP address for Cyberoam?
Ans:
Cyberoam applications can be shipped using the below configuration:-

Port A IP address or (LAN zone) : 172.16.16/255.255.255.0
Port B IP address (WAN zone) : 192.168.2.1/255.255.240.0.
13.Name three consoles used in Cyberoam?
Ans:
The below are the three consoles used in Cyberoam:-

Web Admin console.
Command line interface Console.
Cyberoam central console.
14.What is the Web admin console languages used in configuration?
Ans:
Dashboard Doclet contents.
Navigation menu.
Screen elements including field and button labels and tips.
Error messages.
15.What do you mean by Cyberoam?
Ans:
Cyberoam is an organization which is providing products and services related to IT security. Cyberoam has worldwide operations, with an extremely strong presence in India, Middle East Countries, Africa, and Latin America. Their client includes all industries and verticals with top private and government organizations in India.
16.How do Cyberoam Function?
Ans:
While designing corporate policies regarding network security, many organizations often neglect the most critical and weak component insecurity, which is the human element. By and large, an organization's overall security is only as strong as its weakest link, its users.
17.How does Cyberoam Layer Technology function?
Ans:
By definition, Cyberoam Layer 8 Technology, functions over its network security appliances by treating every single user identity as the 8th layer or the "human layer" in the network protocol stack. This allows the system administrators to uniquely identify users, control the activity of these users in the internet network, and enable policy-setting and reporting by username.
18.What do you mean by integrated security over single Cyberoam network security appliances?
Ans:
The Layer 8 technology goes through each and every single security module of the Cyberoam security appliances. All security features are centrally configured and are managed from a single firewall page easily.Layer 8 binds these securities features and creates a single, consolidated security unit that enables the system administrator to change security policies dynamically while accounting for user movement, like joiner, leaver, elevating hierarchy, etc.
19.How Cyberoam does adds speed to the security system?
Ans:
IT professionals often waste much time in the knowledge source of attacks or attackers in any case of a security breach, due to the lack of granular identity features in other security systems.Cyberoam's Layer 8 provides instant visibility into the source of attacks while identifying victims and attackers by their username followed by a proactive remedy of security incidents. In this way, Cyberoam speeds up security.
20.How Cyberoam provides Security in Wi-Fi environments?
Ans:
Cyberoam can effectively provide security to organizations in dynamic Wi-Fi environments where it's not easy to trace users by IP addresses alone. It provides strong user authentication other than monitoring Internet access controls and reports with an identity-based approach. It also offers separate network access to Guests and Employees.
21.How does Cyberoam Boosts Organizational productivity?
Ans:
Cyberoam's content and application filtering mechanism manage the indiscriminate Internet surfing tendency of its users through customized policy settings for different users and groups, thereby marking limitations on access based on time duration and predefined blocked sites over 100 categories.Cyberoam network security appliances also provide all users with a time and role-based bandwidth management system which prevents users from consuming huge amounts of bandwidth for nonproductive internet surfing and unnecessary downloads. Instant Messaging Controls allow administrators to control who can chat with whom over messengers, webcam, and can transfer files.
22.What is the Cyberoam iView logging and reporting system?
Ans:
Cyberoam's Layer 8 identity-based reporting system known as Cyberoam iView, gives an in-depth analysis of the network activities for each and every single user. All network attacks are exhibited on a single screen on the dashboard with the third level of drilled down reports (approximately 1200+ reports) facilitating any investigation of attacks and users responsible for them.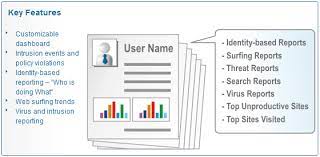 23.Why is Captive Portal not displayed to users trying to access the Internet when a default Drop Policy is applied?
Ans:
This problem may be specific to some installations only and can spread to multiple locations. However, two common issues occur which are described as follow:-

An External DNS is configured in the specific System. If a 'Drop' firewall rule is applied, Cyberoam will block all traffic, including DNS requests. Hence, the Captive Portal won't be displayed.
Captive Portal is not displayed for Clientless Users. This happens because trusted users don't need any authentication on Cyberoam to access the Internet. Hence, Captive Portal is not displayed to clientless users.
24.What is the Maximum Session Timeout?
Ans:
The Maximum Session Timeout is the time duration in minutes for which a user can be logged in to the Cyberoam network. Exceeding the duration as configured in the network, the user is automatically logged out and must re-authenticate to log in to the network again.
25.How to set up the Maximum Session Timeout globally for all users?
Ans:
The system administrator can configure the maximum session timeout for all users by following the steps described below. We need to log on to the Web Admin Console as an administrator with reading & Write permission for relevant features.Then we should go to Identity > Authentication > Firewall, under Global Settings against Maximum Session Timeout, and uncheck Unlimited and specify the timeout in minutes. Lastly, we need to click on apply to activate the changes.
26.What is Inactivity Timeout?
Ans:
Cyberoam allows system administrators to set the inactivity timeout duration and data transfer threshold of all users:-

Inactivity Timeout is the inactive or idle time in minutes after which the user will be logged out automatically and has to authenticate again.
Data Transfer Threshold is the threshold value specified in Bytes for transferring data. If the quantum of data is not transferred within the specified Inactivity Time, the user will be marked as inactive.
27.How does Cyberoam Layer Technology capacities?
Ans:
Cyberoam Layer 8 Technology, works over its system security apparatuses by regarding each and every client way of life as the eighth layer or the "human layer" in the system convention stack. This permits the framework managers to particularly recognize clients, control action of these clients in the web organize, and empower arrangement setting and detailing by username.
28.How to configure CTAS Settings to automatically log out inactive users?
Ans:
We must be logged in to Web Admin Console with administrator privileges with reading & Write permission for the related tasks. Then we need to configure NT LAN Manager (NTLM) by setting the Inactivity Timeout and Data Transfer Threshold for users authenticating using NTLM from Identity > Authentication > Firewall > NTLM Settings.
29.How to configure Web Clients Settings to automatically log out inactive users?
Ans:
We must be logged in to Web Admin Console with administrator privileges before configuring Web Clients (iOS, Android and API) and set the Inactivity Timeout and Data Transfer Threshold for iOS, Android, and API users authenticating using Web Clients from Identity > Authentication > Firewall > Web Client Settings.
30.How can we disable Email notifications for virtual host failover?
Ans:
We need to log on to CLI Console via Telnet or SSH or we can access the CLI Console by clicking Console Button on the upper right corner of the Web Admin Console screen display. Then we need to choose option 4, "Cyberoam Console". After selecting Cyberoam Console we can execute the following command to disable mail notifications for virtual host failover, console> set virtual host failover mail-notification to disable.
31.Does Cyberoam protect the organizational network against IP Spoofing?
Ans:
The power-packed feature of Cyberoam's Unicast Reverse Packet Forwarding, also called Anti Spoofing, protects the organizational network against IP Spoofing, and all kinds of attacks that utilize IP Spoofing techniques, like DoS attacks, etc.Cyberoam scrutinizes all incoming packets and rejects all such packets that do not carry a confirmable Source of IP Address. In other words, if the source IP address of a packet does not match with any entry on Cyberoam's routing table, or if the packet is not from a direct subnet, then Cyberoam rejects the packet.
32.What is a Cyberoam client?
Ans:
Cyberoam SSL VPN client helps the user to access the organizational network remotely from anywhere, anytime. It provides the user with the ability to create point-to-point encrypted channels between the remote user and the organization's internal network. A combination of SSL certificates with a username and password is needed to access the organizational network.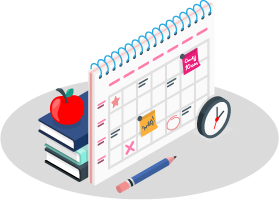 Learn Cyberoam Administration Certification Training Course to Build Your Skills
Weekday / Weekend Batches
See Batch Details
33.What is a firewall on a network?
Ans:
A firewall is a system designed to prevent unauthorized access to or from any private network. Firewall can be implemented either in hardware or software form, or a combination of both. Firewalls prevent unauthorized Internet users from accessing private networks connected to the Internet, especially the intranets.
34.What is DMZ port in Cyberoam?
Ans:
Virtual Host maps the services of any public IP address to services of a host in any private network. This virtual host is used as the Destination address to access an internal or a DMZ server. A Virtual host might be a single IP address or a range of IP addresses or Cyberoam interface itself.
35.What is a DMZ in networking?
Ans:
In network security, a DMZ or demilitarized zone (known as a perimeter network also) is a physical or logical sub-network that points their external services to a network not trusted, generally a large network like that of the Internet.
36.Why do we need a DMZ?
Ans:
The second or internal firewall permits traffic only from the DMZ to the internal network. This is perceived to be more secure since two devices would need to be compromised before an attacker can access the internal LAN. As a DMZ segregates a network, security controls can be perfectly tuned for each and every single segment.
37.What do you mean by cyberoam gadget?
Ans:
Cyberoam's Unified Threat Management equipment apparatuses give total security to any association, running from enormous top ventures to its branch workplaces. Numerous security highlights has been coordinated over a solitary named as Layer 8 Identity based stage which make security look straightforward, however exceptionally successful.
38.How does Cyberoam capacities?
Ans:
While planning corporate strategies with respect to arrange security, numerous associations regularly disregard the most basic and frail segment in security, that is the human component. All things considered an association's general security is just as solid as its most fragile connection, their clients. So as to manage the worries of picking up perceivability and controls on the clients exercises in the system, Cyberoam UTM's Layer 8 innovation with its system apparatuses of UTM machines and Next Generation Firewalls, has been determined out of the requirement for a progressively solid system security framework which can incorporate a client's human way of life as a component of the firewall rule coordinating the rules.
39.What do you mean by incorporated security over single Cyberoam organize security machines?
Ans:
The Layer 8 innovation experiences every single security module of the Cyberoam security machines. All security highlights are midway designed and are overseen from a solitary firewall page without any problem. Layer 8 ties these protections includes and makes a solitary, merged security unit which empowers the framework manager to change security approaches powerfully while representing client development, similar to joiner, leaver, raising chain of importance and so on.
40.How does cyberoam does adds speed to the security framework?
Ans:
IT experts frequently burn through much time in the knowing wellspring of assaults or aggressors regardless of security penetrate, because of the absence of granular character includes in other security frameworks. Cyberoam's Layer 8 gives moment perceivability into the wellspring of assaults while recognizing casualties and assailants by their username followed by a proactive cure of security episodes. Along these lines Cyberoam accelerates the security.
41.How cyberoam gives security in Wi – Fi conditions?
Ans:
Cyberoam can successfully give security to associations in unique Wi-Fi conditions where it is difficult to follow clients by IP tends to alone. It gives solid client verification other than observing Internet get to controls and reports with personality based methodology. It likewise offers separate system get to Guest and Employee.
42.How does Cyberoam helps authoritative Productivity?
Ans:
Cyberoam's substance and application separating component deals with the unpredictable Internet riding inclination of its clients through modified approach setting for various clients and gatherings, along these lines checking confinements on get to dependent on time span and predefined blocked destinations more than 100 classifications. Cyberoam organize security machines additionally furnishes all clients with time and job based transfer speed the executives framework which keeps clients from expending enormous measures of transmission capacity for inefficient web surfing and pointless downloads. Texting Controls permit chairmen to control who can visit with whom over detachments, webcam and can move documents.
43.Is cyberoam administrative consistence?
Ans:
Furnished with Layer 8 distinguishing proof and its controls, Cyberoam arrange security apparatuses empower association to consent to all specified administrative consistence standards, for example, HIPAA, CIPA, PCI-DSS, GLBA, and so forth.
44.What is the Cyberoam hostage entryway and how might it be designed ?
Ans:
A Captive Portal is utilized to approve a current client in Cyberoam organize through an internet browser interface before conceding access to the system. Cyberoam permits framework directors to change URL redirection after any client signs in through the Captive Portal.
45.How to Setup the Maximum Session Timeout all inclusive for all clients?
Ans:
Framework Administrator can arrange the most extreme meeting break for all clients by following the means as portrayed beneath. We have to sign on to the Web Admin Console as an executive with Read and Write authorization for significant highlights. At that point we ought to go to Identity > Authentication > Firewall, under Global Settings against Maximum Session Timeout, and uncheck Unlimited and indicate the break in minutes. In conclusion we have to tap on apply to actuate the changes.
46.Does Cyberoam ensure hierarchical system against IP parodying?
Ans:
The force pressed component of Cyberoam's Unicast Reverse Packet Forwarding, additionally called Anti Spoofing, secures authoritative system against IP Spoofing, and a wide range of assaults that use IP Spoofing strategies, similar to DoS assaults, and so forth. Cyberoam investigates every single approaching bundle and rejects every single such parcel that don't convey a confirmable Source of IP Address. As it were, if the source IP address of a bundle doesn't coordinate with any passage on Cyberoam's steering table, or in the event that the parcel isn't from a direct subnet, at that point Cyberoam rejects the bundle.
47.How to arrange site customer settings to consequently logout idle clients?
Ans:
We should be signed in to Web Admin Console with head benefits before arranging Web Clients (iOS, Android and API) and set the Inactivity Timeout and Data Transfer Threshold for iOS, Android and API clients verifying utilizing Web Clients from Identity > Authentication > Firewall > Web Client Settings.
48.What is a firewall on a system?
Ans:
Firewall is a framework intended to forestall unapproved access to or from any private systems. Firewall can be actualized either in equipment or programming structure, or a blend of both. Firewalls keep unapproved Internet clients from getting to private systems associated with the Internet, particularly the intranets.
49.What is cybersecurity?
Ans:
Cybersecurity refers to the protection of hardware, software, and data from attackers. The primary purpose of cyber security is to protect against cyberattacks like accessing, changing, or destroying sensitive information.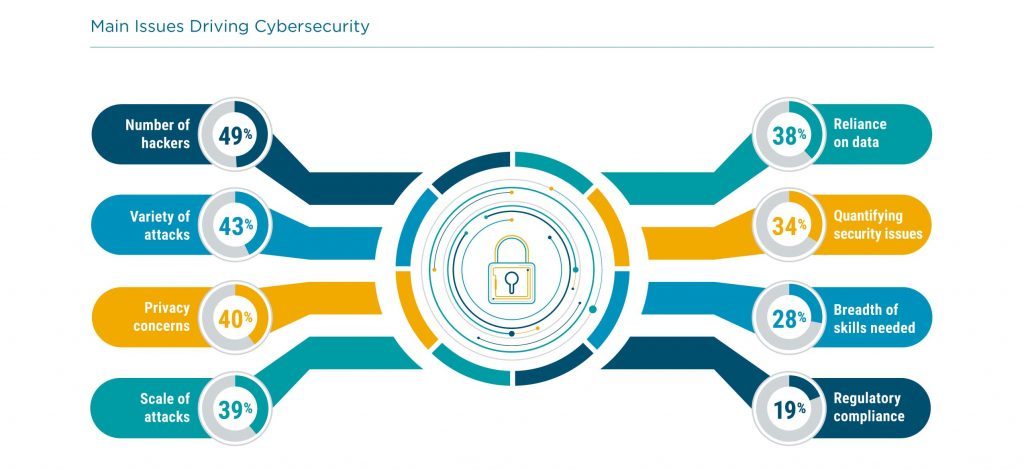 50.What are the elements of cybersecurity?
Ans:
Major elements of cybersecurity are:-

Information security.
Network security.
Operational security.
Application security.
End-user education.
Business continuity planning.
51.Define Cryptography.
Ans:
It is a technique used to protect information from third parties called adversaries. Cryptography allows the sender and recipient of a message to read its details.
52.Differentiate between IDS and IPS.
Ans:
Intrusion Detection System (IDS) detects intrusions. The administrator has to be careful while preventing the intrusion. In the Intrusion Prevention System (IPS), the system finds the intrusion and prevent it.
53.What is a Firewall?
Ans:
It is a security system designed for the network. A firewall is set on the boundaries of any system or network which monitors and controls network traffic. Firewalls are mostly used to protect the system or network from malware, worms, and viruses. Firewalls can also prevent content filtering and remote access.
54.Explain Traceroute.
Ans:
It is a tool that shows the packet path. It lists all the points that the packet passes through. Traceroute is used mostly when the packet does not reach the destination. Traceroute is used to check where the connection breaks or stops or to identify the failure.
55.Explain SSL.
Ans:
SSL stands for Secure Sockets Layer. It is a technology creating encrypted connections between a web server and a web browser. It is used to protect the information in online transactions and digital payments to maintain data privacy.
56.What do you mean by data leakage?
Ans:
Data leakage is an unauthorized transfer of data to the outside world. Data leakage occurs via email, optical media, laptops, and USB keys.
57.What is the abbreviation of CSRF?
Ans:
CSRF stands for Cross-Site Request Forgery.
58.What is hacking?
Ans:
Hacking is a process of finding weakness in computer or private networks to exploit its weaknesses and gain access. For example, using password cracking technique to gain access to a system.
59.Who are hackers?
Ans:
A Hacker is a person who finds and exploits the weakness in computer systems, smartphones, tablets, or networks to gain access. Hackers are well experienced computer programmers with knowledge of computer security.
60.What is the importance of DNS monitoring?
Ans:
Yong domains are easily infected with malicious software. You need to use DNS monitoring tools to identify malware.
61.List out some of the common cyber-attack.
Ans:
Following are the common cyber-attacks which can be used by hackers to damage network:-

Malware
Phishing
Password attacks
DDoS
Man in the middle
Drive-by downloads
Malvertising
Rogue software
62.How to protect email messages?
Ans:
Use cipher algorithm to protect email, credit card information, and corporate data.
63.What are the risks associated with public Wi-Fi?
Ans:
Public Wi-Fi has many security issues. Wi-Fi attacks include karma attack, sniffing, war-driving, brute force attack, etc. Public Wi-Fi may identify data that is passed through a network device like emails, browsing history, passwords, and credit card data.
64.Define CryptoAPI.
Ans:
CryptoAPI is a collection of encryption APIs which allows developers to create a project on a secure network.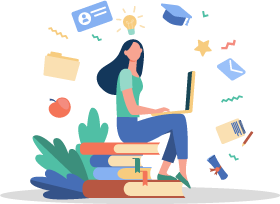 Get JOB Cyberoam Administration Training for Beginners By MNC Experts
Instructor-led Sessions
Real-life Case Studies
Assignments
Explore Curriculum
65.What is IP Address?
Ans:
IP Address is the acronym for Internet Protocol address. An internet protocol address is used to uniquely identify a computer or device such as printers, storage disks on a computer network.
66.What is a VPN?
Ans:
VPN stands for Virtual Private Network. It is used to create a safe and encrypted connection. When you use a VPN, the data from the client is sent to a point in the VPN where it is encrypted and then sent through the internet to another point. At this point, the data is decrypted and sent to the server. When the server sends a response, the response is sent to a point in the VPN where it is encrypted and this encrypted data is sent to another point in the VPN where it is decrypted. And finally, the decrypted data is sent to the client. The whole point of using a VPN is to ensure encrypted data transfer.
67.What is Cognitive Cybersecurity?
Ans:
Cognitive Cybersecurity is an application of AI technologies patterned on human thought processes to detect threats and protect physical and digital systems.

Self-learning security systems use data mining, pattern recognition, and natural language processing to simulate the human brain, albeit in a high-powered computer model.
68.What is API testing?
Ans:
API testing is a type of software testing that determines if the developed APIs are functional, reliable and secure. Some of the common API testing types are validation, security, UI, functional, load, penetration, runtime/error detection, fuzz and interoperability and WS Compliance."
69.What kinds of bugs does API testing find most commonly?
Ans:
"I have often used API testing to find several different issues, such as missing or duplicate functionality, failure to handle errors effectively and seamlessly as well as any performance, stress, multi-threading, reliability or security issues. However, unimplemented and improper errors, unused flags and inconsistent error handling are some of the other errors that can be found through API testing."
70.What Are The Primary Functions Of Cyberark?
Ans:
CyberArk Enterprise Password Vault, an element of the CyberArk Privileged Account Security Solution, has been designed to discover, secure, rotate and control access to confidential account passwords used to access any system throughout the organization in its Information Technology environment.
71.What Do You Understand By Cyberark Viewfinity?
Ans:
CyberArk Viewfinity equips organizations to impose least privilege policies for business and system administrators while elevates the privileges when needed to run authorized applications. This reduces the attack surface, minimize accidental or intentional damage to endpoints and servers, and segregate administrative duties on Servers. Complementary application controls prevents malicious applications from infiltrating the environment, while allowing unknown applications to run in a safe mode.
72.What Do You Understand By Privileged Account Security?
Ans:
Privileged identity management (PIM) is a field which focuses on the special requirements of influential and powerful accounts within the IT infrastructure of an organization.
73.How Many Times We Can Increase The Access To Wrong Password Count?
Ans:
74.What Should A Specific User Have To Get Access To A Specific Safe?
Ans:
A specific user must have the safe ownership to get access to the specific safe.
75.What is a Botnet?
Ans:
A Botnet is a group of internet-connected devices such as servers, PCs, mobile devices, etc., that are affected and controlled by malware.It is used for stealing data, sending spam, performing distributed denial-of-service attack (DDoS attack), and more, and also to enable the user to access the device and its connection.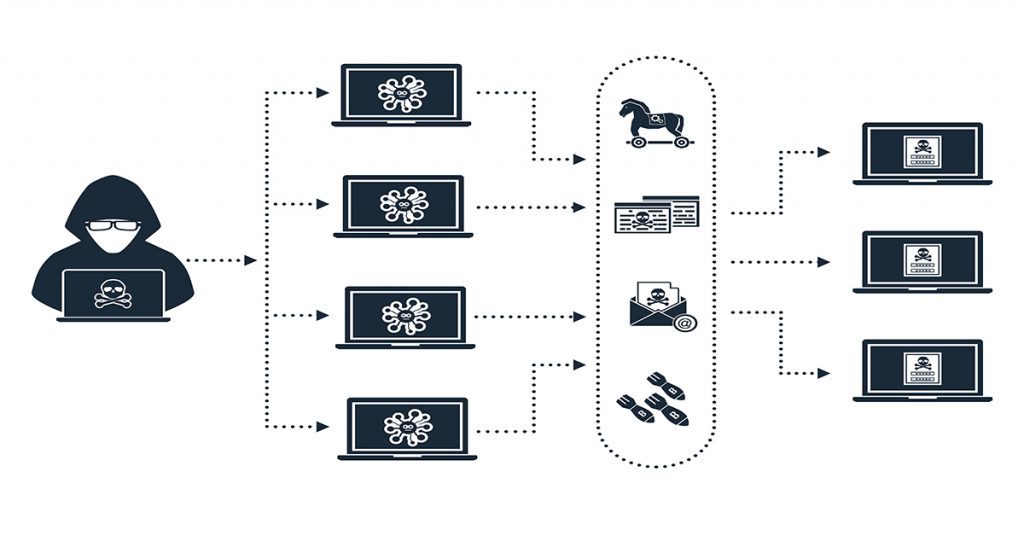 76.What is the difference between hashing and encryption?
Ans:
Both hashing and encryption are used to convert readable data into an unreadable format. The significant difference is that encrypted data can be transformed into original data by decryption, whereas hashed data cannot be processed back to the original data.
77.What is port scanning?
Ans:
A port scanning is an application designed for identifying open ports and services accessible on a host network. Security administrators mostly utilize it for exploiting vulnerabilities, and also by hackers for targeting victims.
78.What is cognitive security?
Ans:
Cognitive security is one of the applications of AI technologies that is used explicitly for identifying threats and protecting physical and digital systems based on human understanding processes.
79.How will you keep yourself updated with the latest cybersecurity news?
Ans:
The following ways will help you to keep up with the latest cybersecurity updates:-

Follow news websites and blogs from security experts.
Browse security-related social media topics.
Check vulnerability alert feeds and advisory sites.
Attend cybersecurity live events.
80.What do you understand by compliance in Cybersecurity?
Ans:
Compliance means living by a set of standards set by an organization/government/independent party.It helps in defining and achieving IT targets and also in mitigating threats through processes like vulnerability management.
81.What is the use of Patch Management?
Ans:
The purpose of patch management is to keep updating various systems in a network and protect them against malware and hacking attacks.Many enterprise patch management tools manage the patching process by installing or deploying agents on a target computer, and they provide a link between centralized patch servers and computers to be patched.
82.What is a cybersecurity risk assessment?
Ans:
A cybersecurity risk assessment refers to detecting the information assets that are prone to cyber-attacks(including customer data, hardware, laptop, etc.) and also evaluates various risks that could affect those assets.
83.What is Remote Desktop Protocol (RDP)?
Ans:
RDP (Remote Desktop Protocol) is a Microsoft protocol specifically designed for application data transfer security and encryption between client devices, users, and a virtual network server.
84.What is Forward Secrecy and how does it work?
Ans:
Forward secrecy is a feature of specific key agreement protocols which gives assurance that even if the private key of the server is compromised the session keys will not be compromised. It is also known as perfect forward secrecy(PFS).
85.What Is Log Processing?
Ans:
How audit logs are processed, searched for key events, or summarized.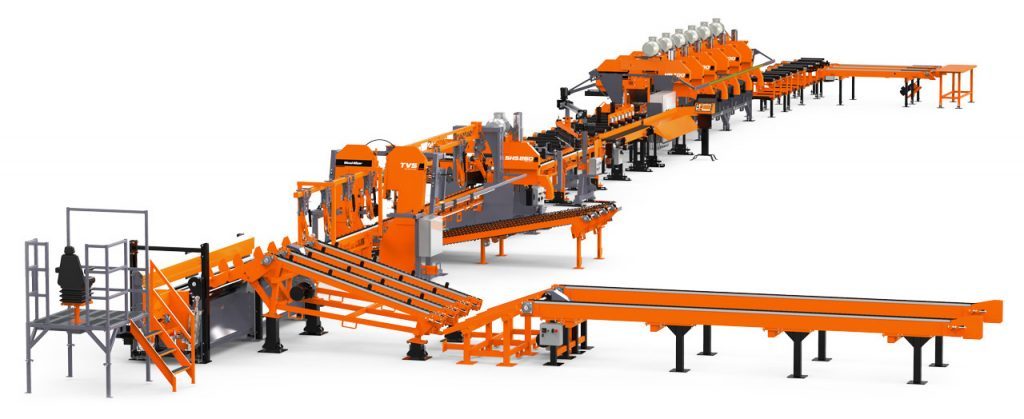 86.What Is Ip Spoofing?
Ans:
An attack whereby a system attempts to illicitly impersonate another system by using its IP network address. In computer networking, the term IP address spoofing or IP spoofing refers to the creation of Internet Protocol (IP) packets with a forged source IP address, called spoofing, with the purpose of concealing the identity of the sender or impersonating another computing system.
87.What Is Defense In Depth?
Ans:
The security approach whereby each system on the network is secured to the greatest possible degree. May be used in conjunction with firewalls.
88.What Is The Public Key Encryption?
Ans:
Public key encryption use public and private key for encryption and decryption. In this mechanism, public key is used to encrypt messages and only the corresponding private key can be used to decrypt them. To encrypt a message, a sender has to know recipient's public key.
89.Explain Abuse Of Privilege?
Ans:
When a user performs an action that they should not have, according to organizational policy or law.
90.Explain You Are Currently Designing Your Own Desktop Publishing Application, As You Have Not Found Any That?
Ans:
You are currently designing your own Desktop Publishing application, as you have not found any that do exactly what you want with existing applications. As part of the design you are using a Controller to which you send all GUI requests. Not all objects can process the same commands. For example you can?t select the spell check tool when an image has the focus. To stop any possible errors you would like to filter out some of the messages as they are passed from these objects to.
91.What Is Screened Host?
Ans:
A host on a network behind a screening router. The degree to which a screened host may be accessed depends on the screening rules in the router.
92.What Is Dual Homed Gateway?
Ans:
A dual homed gateway is a system that has two or more network interfaces, each of which is connected to a different network. In firewall configurations, a dual homed gateway usually acts to block or filter some or all of the traffic trying to pass between the networks.
93.What Type Of Firewall Can Be Used To Block A Web Security Threat?
Ans:
A web application firewall or a layer 7 firewall can be used for the purpose.
94.Which Fields In A Packet Does A Network Layer Firewall Look Into For Making Decisions?
Ans:
IP and transport layer headers for information related to source and destination IP addresses, port numbers etc.
95.Which Is The Main Field In An Ip Header , Which Is Modified By A Nat Firewall?
Ans:
The source IP address in the IP header.
96.What Is The Difference Between Gateway And Firewall?
Ans:
A Gateway joins two networks together and a network firewall protects a network against unauthorized incoming or outgoing access. Network firewalls may be hardware devices or software programs.
97.Explain Dmz (demilitarized Zone) Server?
Ans:
If we need some network resources such as a Web server or FTP server to be available to outside users we place these resources on a separate network behind the firewall called a demilitarized zone (DMZ). The firewall allows limited access to the DMZ, but because the DMZ only includes the public servers, an attack there only affects the servers and does not affect the inside network.
98.What Is The Need Of Transparent Firewall?
Ans:
If we want to deploy a new firewall into an existing network it can be a complicated process due to various issues like IP address reconfiguration, network topology changes, current firewall etc. We can easily insert a transparent firewall in an existing segment and control traffic between two sides without having to readdress or reconfigure the devices.
99.What Features Are Supported In Multiple Context Mode?
Ans:
Routing tables, Firewall features, IPS, and Management.
Cyberoam Administration Sample Resumes! Download & Edit, Get Noticed by Top Employers!
Download
100.What Features Are Not Supported In Multiple Context Mode?
Ans:
VPN and Dynamic Routing Protocols.