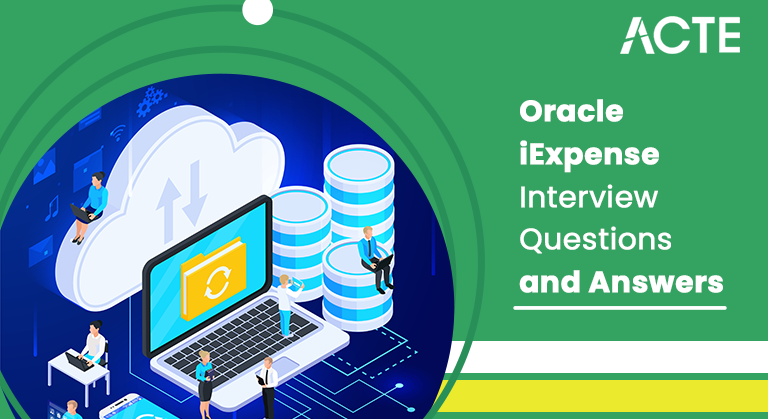 40+ REAL-TIME Oracle iExpense Interview Questions and Answers
Last updated on 17th Nov 2021, Blog, Interview Questions
Looking for the top Oracle iExpense interview questions to prepare for your interview. Go through some of the best Oracle iExpense interview questions with detailed answers before you get ahead. iExpense is an Oracle module used to report and seek reimbursement of expenses paid by employees. Therefore, Oracle iExpense professionals need to encounter interview questions on iExpense for different enterprise Oracle job roles. The following discussion offers an overview of different categories of interview questions related to Oracle iExpense to help aspiring enterprise Oracle iExpense Professionals.
1. What is iExpense Oracle?
Ans:
iExpense is an Oracle module used to report and seek reimbursement of expenses paid by employees. This powerful application empowers companies to capture data at various stages of expense reimbursement, a few of them include — during submitting expenses, accessing and generating reports.
2. How to add a receipt in iExpense?
Ans:
Attach required receipts (see column labeled "Imaged Receipt Required) by clicking the Add button in the attachment section. Browse in your scan(s) and select Apply. Review your report to ensure all expenses are listed. Select Submit.
3. How do you classify Internet expenses?
Ans:
Internet services that are simply supporting services for the business, and not mandatory for efficient operations, are considered to be office expenses.
4. Is there any kind of iExpense main table which is present in R 12?
Ans:
Yes, there is it includes:

AP_EXPENSE_REPORTS_ALL
AP_EXPENSE_REPORTS_HEADERS_ALL
AP_EXPENSE_REPORTS_LINES_ALL
AP_EXPENSE_REPORTS_PARAMS_ALL
5. How does expense work with concurrence?
Ans:
ExpenseIt is a service that makes it possible for employees to take pics of receipts and send them directly to Concur Expense — all within the SAP Concur mobile app. By automatically creating, categorizing, and itemizing expense entries on the go, you can: … Spend far less time filing out on expense reports.
6. What does expense location mean?
Ans:
Location Costs: Is the factor in the formula intended to be applied to those extra costs which individual bands may incur by virtue of their location and means of access and are applied on the basis of a comparative cost index to those items particularly susceptible to differences in freight, travel and utility costs.
7. What is RAW datatype in Oracle?
Ans:
The RAW datatype in Oracle is used to store variable-length binary data or byte string values. The maximum size for a raw in a given table in 32767 bytes.
8. Explain the relationship among database, tablespace and data file?
Ans:
An Oracle database possesses one or more logical storage units called tablespaces. Each tablespace in Oracle database consists of one or more files called the datafiles. These tablespaces collectively store the entire data of databases. Talking about the data files, these are the physical structure that confirms with the operating system as to which Oracle program is running.
9. What are the 4 types of expenses?
Ans:
Variable expenses. Expenses that vary from month to month (electricity, gas, groceries, clothing).

Fixed expenses. Expenses that remain the same from month to month(rent, cable bill, car payment).

Intermittent expenses.

Discretionary (non-essential) expenses.
10. What is iexpense table,credit card transaction in iexpense?
Ans: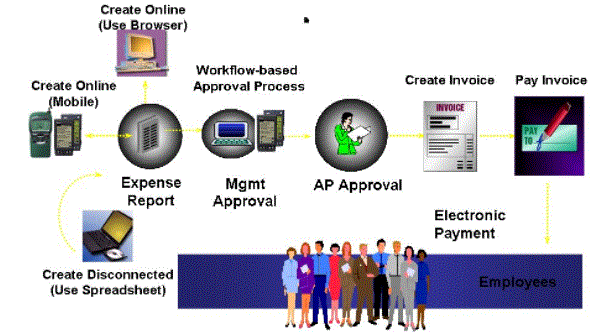 11. Can I deduct my Internet bill on my taxes?
Ans:
Since an Internet connection is technically a necessity if you work at home, you can deduct some or even all of the expense when it comes time for taxes. You'll enter the deductible expense as part of your home office expenses. Your Internet expenses are only deductible if you use them specifically for work purposes.
12. Can I deduct my home Internet as a business expense?
Ans:
Internet Fees If you have a website or use the internet to do business, some or all of your Internet costs may deductible bele. If you or your family also use the internet for non-business purposes, you can only deduct a percentage of the costs as time used by businesses.
13. Can I use concur for personal use?
Ans:
Yes. Concur is available for personal travel. Email itineraries are sent to the traveler and designated travel arranger.
14. How do I upload expenses to concur?
Ans:
One way is to click Expense from the top menu and locate your Available Receipts area at the bottom of the page. Click the +Upload New Receipt box, then click the Browse link. Locate and select the image you would like to upload and click Open.
15. What is the purpose of an expense?
Ans:
An expense is the cost of operations that a company incurs to generate revenue. Businesses can write off tax-deductible expenses on their income tax returns, provided that they meet the IRS' guidelines. Accountants record expenses through one of two accounting methods: cash basis or accrual basis.
16. diff between ap_invoice_all and ap_invoice
Ans:
| Ap_invoice_all | Ap_jnvoice |
| --- | --- |
| The _all tables are shareable in multi organization environment | it contains ORG_ID field |
17. How do you make an expense spreadsheet?
Ans:
In short, the steps to create an expense sheet are:

Choose a template or expense-tracking software.
Edit the columns and categories (such as rent or mileage) as needed.
Add itemized expenses with costs.
Add up the total.
Attach or save your corresponding receipts.
Print or email the report.
18. How do you treat expenses in accounting?
Ans:
The accounting for an expense usually involves one of the following transactions:
Debit to expense, credit to cash. Reflects a cash payment.
Debit to expense, credit to accounts payable. Reflects a purchase made on credit.
Debit to expense, credit to asset account.
Debit to expense, credit to other liabilities account.
19. What are 10 examples of expenses?
Ans:
Types of expenses
Cost of goods sold for ordinary business operations.
Wages, salaries, commissions, other labor (i.e. per-piece contracts)
Repairs and maintenance.
Rent.
Utilities (i.e. heat, A/C, lighting, water, telephone)
Insurance rates.
Payable interest.
Bank charges/fees.
20. What is the architecture of oracle concepts?
Ans: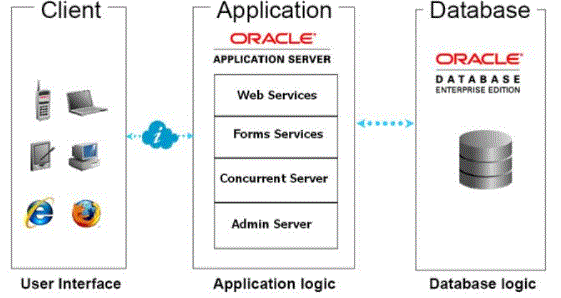 21. What are 3 types of expenses?
Ans:
There are three major types of expenses we all pay: fixed, variable, and periodic.
22. How do you calculate expenses?
Ans:
Subtract the net income or net loss from total revenue to calculate total expenses. Treat a net loss as a negative number in your calculation. Concluding the example, subtract $100,000 from $500,000 to get $400,000 in total expenses.
23. Diffrence between functions and procedures?
Ans:
| Procedures | Functions |
| --- | --- |
| procedure is called as pl/sql statement | function is called as an expression and it can be called from a SELECT statement. |
24. Can I deduct my cell phone on my taxes?
Ans:
Your cellphone as a small business deduction

If you're self-employed and you use your cellphone for business, you can claim the business use of your phone as a tax deduction. If 30 percent of your time on the phone is spent on business, you could legitimately deduct 30 percent of your phone bill.
25. How Much Internet Can I Write off?
Ans:
The 2 Percent Rule

In order to deduct Internet expenses as an employee, you must file Form 2106, Employee-Related Expenses. The IRS limits your deduction to that amount exceeding 2 percent of your adjusted gross income. Thus, if you earn $50,000, you can only deduct the expenses that exceed $1,000.
26. What are the four walls?
Ans:
The four walls (also known as the four wall system) is a film production system whereby a film production company rents a sound stage and associated space but then separately contracts for additional facilities and hires freelance staff.
27. Is salary an expense?
Ans:
Salaries expense is the fixed pay earned by employees. The expense represents the cost of non-hourly labor for a business. It is frequently subdivided into a salaries expense account for individual departments, such as:Salaries expense – human resources department.
28. How do you categorize expenses?
Ans:
There are three major types of financial expenses: Fixed, Variable, and Periodic. Fixed expenses are expenses that don't change for long periods of time, like office rent or vehicle lease payments for you or your staff. Variable expenses change from month to month, such as utilities or meals and entertainment.
29. What is Oracle used for?
Ans:
Oracle makes software, called database management systems (DBMS), to create and manage databases. An RDBMS is a relational database management system. An Oracle Database (aka Oracle RDBMS) is a collection of data organized by type with relationships being maintained between the different types.
30. Explain the oracle iexpense system administration guide?
Ans: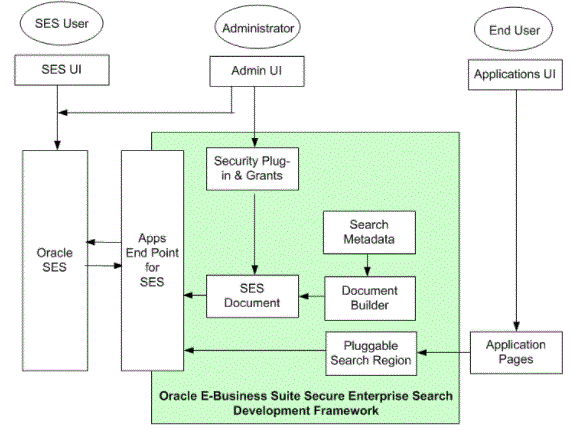 31. Is Oracle a SQL database?
Ans:
Both Oracle and SQL Server, both are relational database management systems or RDBMS.Oracle uses PL/SQL.
32. What does Oracle explain?
Ans:
Oracle is a fully scalable relational database architecture and is often used by global enterprises which manage and process data across wide and local area networks. The Oracle database has its own network component to allow communications across networks.
33. What does Oracle do as a company?
Ans:
The company sells database software and technology, cloud engineered systems, and enterprise software products—particularly its own brands of database management systems. In 2020, Oracle was the second-largest software company in the world by revenue and market capitalization.
34. What is SQL used for?
Ans:
SQL is used to communicate with a database. According to ANSI (American National Standards Institute), it is the standard language for relational database management systems. SQL statements are used to perform tasks such as update data on a database, or retrieve data from a database.
35. Which one is better: SQL or Oracle?
Ans:
SQL server is a lot easier to work with. You need dedicated DBAs to administer Oracle, but pretty much any bozo can keep SQL server running. Oracle has a better, more predictable and more well-documented concurrency model. Oracle's documentation is superior in most ways.
36. What are the 3 types of database?
Ans:
NoSQL databases.
Cloud databases.
Columnar databases.
37. Is Oracle a server?
Ans:
The Oracle Server is a relational database management system that provides an open, comprehensive, and integrated approach to information management. An Oracle Server consists of an Oracle database and an Oracle instance. The following sections describe the relationship between the database and the instance.
38. What is Oracle and how does it work?
Ans:
An Oracle database uses memory structures and processes to manage and access the database. All memory structures exist in the main memory of the computers that constitute the database system. Processes are jobs that work in the memory of these computers. … Many users are concurrently accessing a single database.
39. What type of database is Oracle?
Ans:
RDBMS Oracle Database is an RDBMS. An RDBMS that implements object-oriented features such as user-defined types, inheritance, and polymorphism is called an object-relational database management system (ORDBMS).
40. What is e-business concepts suite?
Ans: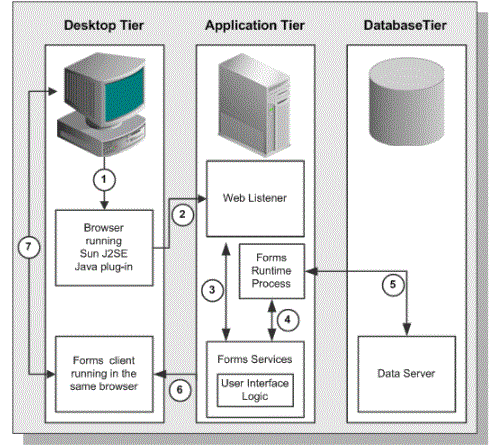 41. What are the advantages of Oracle?
Ans:
The following are the advantages of choosing Oracle Database.

Portability.
Market Presence.
Version Changes.
Backup and Recovery.
Performance.
Cursor Support.
SQL Dialect.
Multiple Database Support.
42. Is Zoom owned by Oracle?
Ans:
Oracle announced today that it has acquired Zoom as a new major customer. The Oracle Cloud is now being used by Zoom as their infrastructure provider, which should ensure that people can have a smooth video conference 24 hours a day.
43. Is Oracle a good company?
Ans:
Oracle has over 10,000 employees in 175 countries and is ranked slightly higher on Forbes' 2019 "Best Companies to Work For" list at 27th overall. However, according to Glassdoor, Oracle employees gave Oracle a 3.9 out of 5 stars for work/life balance.
44. Does Amazon use Oracle?
Ans:
Amazon Web Services supports Oracle databases and offers enterprises a number of solutions for migrating and deploying their enterprise applications on the AWS cloud.
45. What is SQL and Tableau?
Ans:
Using SQL and Tableau together takes the data analysis to the next level. We can easily connect the SQL Server to Tableau and extract the data directly into it. Tableau enables the users to toggle connections with a click to apply in-memory queries to a larger dataset.
46. Is Oracle difficult to learn?
Ans:
Oracle is fundamentally just like SQL Server and every other relational database system. … It's relatively easy to learn — as long as you have a good handle on Linux and SQL. If you have already learned SQL Server, then you can certainly learn Oracle databases.
47. Is Oracle a programming language?
Ans:
Becoming an Oracle developer

Oracle also has its own procedural language, PL/SQL (Programming language, SQL), an ADA-like 4th generation language that is popular for embedded stored procedures. Oracle also has the Application Express (Apex) development platform and SQL*Forms and SQL*Reports for report writing.
48. What are Oracle features?
Ans:
Features of Oracle

Scalability and Performance: Features like Real Application Clustering and Portability make an Oracle database scalable according to the usage. In a multiuser database, it is required to control data consistency and concurrency which are contemplated by Oracle.
49. What is a Crypto oracle?
Ans:
A blockchain oracle is a third-party service that connects smart contracts with the outside world, primarily to feed information in from the world, but also the reverse.
50. What is oracle expenses internet implementation?
Ans: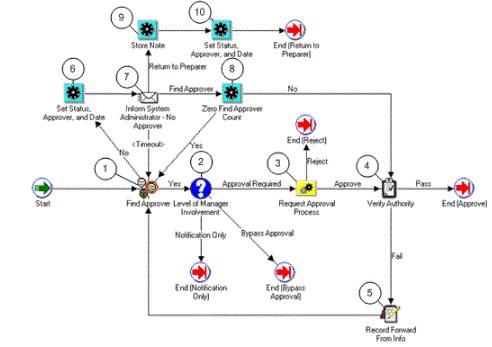 51. Who invented Oracle?
Ans:
Oracle is based in Redwood Shores, California. The company, initially called Software Development Laboratories, was founded in 1977 by Larry Ellison and Bob Miner, computer programmers at the American electronics company Ampex Corporation, and by Ed Oates, Ellison's supervisor at Ampex.
52. Is the Oracle database still used?
Ans:
If you are looking at your existing IT, then yes, indeed Oracle is still relevant. … So many of Oracle's customers would have dumped Oracle long ago, but it's no longer about replacing a database. Now it's about replacing your ERP, CRM, or HR solutions (think Peoplesoft, Siebel, Hyperion, Sun, etc.).
53. What are the disadvantages of Oracle?
Ans:
One of the biggest disadvantages of Oracle Database is its complexity. It is not preferable to use Oracle, especially when the users are not technically sound and lack the technical ability that is needed in order to work with the Oracle Database.
54. Why is Oracle DBMS the best?
Ans:
When it comes to database management software, Oracle database is the top pick for most of the organizations. It has some advanced features and capabilities which makes it popular in the DBMS world. Functionality: Oracle provides the combination of high-level security and integrated business solutions.
55. Is Oracle an ERP system?
Ans:
Oracle Enterprise Resource Planning Cloud is a cloud-based ERP software application suite introduced by Oracle Corporation in 2012. Oracle ERP Cloud manages enterprise functions including accounting, financial management, project management, and procurement.
56. What is Oracle culture?
Ans:
Oracle Culture At a Glance

Overall, employees at Oracle are generally satisfied with their team. 800 Participants grade the quality of their coworkers a C. The majority of employees at Oracle believe the environment at Oracle is positive. Most Participants believe the pace of work at Oracle is comfortably fast.
57. Is Oracle going away?
Ans:
Amazon has been moving off Oracle for several years and has plans to complete the transition next year, according to people familiar with the matter. Oracle has been unable to keep up with AWS and other vendors in cloud infrastructure.
58. Who is Oracle's largest customer?
Ans:
AWS Professional Services operative Doug Booth, Principal Business Development Manager for AWS, described Amazon.com as Oracle's largest customer many times over, which is certainly credible (but, I haven't asked Doug how Oracle customer is defined).
59. What language does Oracle use?
Ans:
Structured Query Language (SQL)

SQL is used to communicate with a database. According to ANSI (American National Standards Institute), it is the standard language for relational database management systems. SQL statements are used to perform tasks such as update data on a database, or retrieve data from a database.
60. What is oracle iexpenses web applications?
Ans: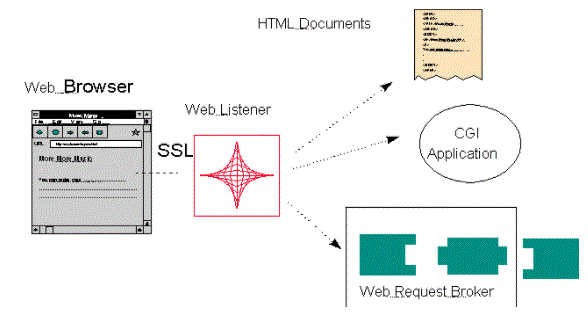 61. What is the purpose of Oracle?
Ans:
Oracle makes software, called database management systems (DBMS), to create and manage databases. An RDBMS is a relational database management system. An Oracle Database (aka Oracle RDBMS) is a collection of data organized by type with relationships being maintained between the different types.
62. How to store pictures on to the database?
Ans:
It is possible to store pictures on to the database by using Long Raw Data type. This data type is used to store binary data of length 2GB. Although, the table can have only on Long Raw data type.
63. What is an Oracle ETH?
Ans:
Oracles are data feeds that connect Ethereum to off-chain, real-world information so that you can query data in your smart contracts. A prediction market may ask you to bet your ETH on who will become the next president of the United States. They'll use an oracle to confirm the outcome and payout to the winners.
64. What is Oracle smart contract?
Ans:
Blockchain oracles are entities that connect blockchains to external systems, thereby enabling smart contracts to execute based upon inputs and outputs from the real world. Oracles provide a way for the decentralized Web 3.0 ecosystem to access existing data sources, legacy systems, and advanced computations.
65. Does Oracle have a Cryptocurrency?
Ans:
As such, Oracle has created a crypto-secure data management offering that leverages "blockchain tables" within the Oracle database. This feature is different from Oracle's blockchain platform, which is built on Hyperledger Fabric and is often used for supply chain management.
66. What is an oracle spirit?
Ans:
An oracle is a person or agency considered to provide wise and insightful counsel or prophetic predictions, most notably including precognition of the future, inspired by deities. As such, it is a form of divination.
67. What is an oracle in Oedipus?
Ans:
In Oedipus Rex, the Oracle's prophecy that Oedipus will murder his father and marry his mother comes true despite the various actions of Laius and Oedipus attempting to escape their fate. The Oracle and her prophecy in Oedipus Rex represent the ancient Greek view of the fixity of fate.
68. Where is Cross Validating Values?
Ans:
For key flexfields with multiple segments, we can define rules to cross check value combinations entered with in the key flexfield segments. This option is referred as Cross Validation rules.
69. Is it possible to use the purchasing the Approval Hierarchy for the expense approval process?
Ans:
Certainly, it is not possible to do that which cannot be used for the approval process of the expense.
70. What is enterprise mobile app for expenses?
Ans: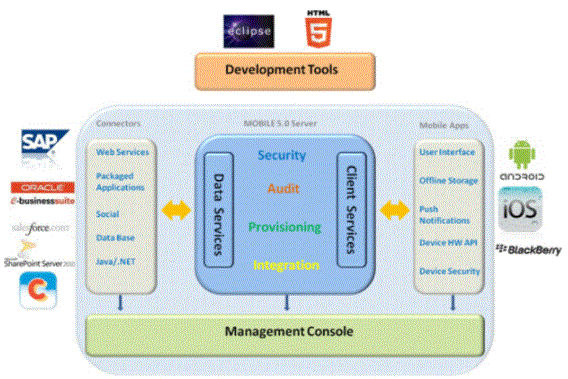 71. If OIE is enabled for the AME then is there any kind of signing limits that can be defined within the product that is payable?
Ans:
It is not possible since the workflow of the AME process will not make the complete utilization as there is an OIE that restricts down the signing limit data. That is the main reason why value does not need to be entered as a part of setup within the applications that are payables.
72. What is a View?
Ans:
A view is a logical table based on one or more tables or views. A View is also referred to as a user-defined database object that is used to store the results of a SQL query, that can be referenced later in the course of time. Views do not store the data physically but as a virtual table, hence it can be referred to as a logical table. The corresponding tables upon which the views are signified are called Base Tables and this doesn't contain data.
73. How to derive the coconut number for the expense which contains the project accounting data?
Ans:
There is a project accounting generator that is responsible for understanding the total value of expense for the accounts. The definition of the accounting is attached with the type of expense which is present in the setup of the expense template form and that is the main reason why it is ignored.
74. How to get the results of the exports along with the revival of the importing and rejections when there is no Output File In R12?
Ans:
In today's time of digitalization, you can relive the fact that there is exceptional data that can be viewed online. For this, you need to visit the tab called Expenses Export which is available in the Expenses Auditor responsibilities. Besides, such a type of result is available in different query pages which includes an internet expense auditor, then expense export, then comes to the export results.
75. When you decide to review the diagnostic details of wf status is there any kind of specific node that presents the 'FORCE' value?
Ans:
At such time, there is APEXP that presents some of the unsupported use of the expedite solution that comes through the monitor of workflow.
76. Is there any minimum support patch set that is used for OIE 11i?
Ans:
Yes, certainly there is a support patchset. It is generally the baseline patchset that is needed for the OIE 11i which is 11 i.OIE. K. 2. However, there needs to be the application of the patch on 11i.OIE.K.
77. When the expense report is not entered through OIE which is not viewable in the payable application in the entry that is made Invoices=>Entry=>Expense Reports Form. Can you explain what shall be behavioral which can be expected here?
Ans:
Certainly, when you go from the oracle iexpense mini pack 11 IE.K and the applications that get releases onwards, you need to understand that oracle will not henceforth support the payable expense report of the audit activities.

However, to make available the features of 11i.OIE.J, it is important for Oracle to support the expense report form for the entry activities that are actually made for the expenses. Besides, there will also be no further enhancement of the features that would be made to the expense reports form present in the Oracle payable.
78. Know the difference between Credit/Travel Card and PCard function?
Ans:
Often it becomes confusing in the two concepts that are credit card functionality and the functionality of the procurement card. Since both the two functions depend on different self-service, tables, user interface, workflow process, and even the processing window, you can expect the difference between the two in a wider manner.
79. Could you explain the purpose of the Approval Hierarchy in iExpense?
Ans:
If there is a profile option which is called "AME: Installed" and if it's mode is set to 'YES' then it is possible to create the rules for approving up the setup in the section of Oracle approval management. But if the setup is already no then you will have to use the approval process of the supervisor or the employee for results.
80. Describe the structure of credit card transaction in expenses?
Ans: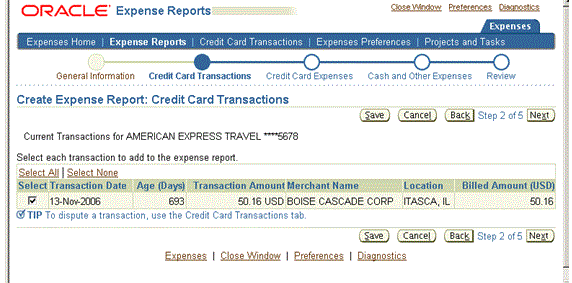 81. Are there any concurrent programs and forms that have the use of credit cards, if yes then what are they?
Ans:
Yes certainly there are options available by the name of validation report, transaction loader, outstanding charges report, and invoice interface to name a few. To use them, generally, two types of windows are used namely Credit Card Programs window and the Credit Cards window. If you are planning to use it as a part of the type of expenditure, then one has to understand that it needs to be set up to the class of "Expense Reports".
82. Know different ways to enter the expense if there are any?
Ans:
Ideally, you can do it on a manual basis which is categorized into two things that are imported from the spreadsheet template and then imported from a credit card provider.
83. Can you help me know the generic programs that can be used for loading and validating the credit card transaction data from different processors?
Ans:
It is used with the perfect combination of load and validating concurrent programs which include Mastercard CDF transaction loader and program of validation, Mastercard CDF3 transaction loader, American express transaction loader and program of validation, Diners club transaction loader and program of validation, US Bank visa transaction loader and program of validation to name a few
84. What are the ways to create the CC transaction?
Ans:
There are multiple ways that can be used for creating the payment of CC transactions. It includes the payment to be made for the credit card company which includes the role of employee. Then comes the payment to be made to the credit card company which includes the role of the company. There is also the complication of payment to be made to the credit card company which includes the role of both employee and the company.
85. What are different workflow processes which are associated with iExpense?
Ans:
There are five different workflow processes which includes expense holds, expenses regular, credit cards, expense analysis, and expense receipts to name a few. Such type of option is advised to make sure workflow is done in a smooth manner that too without any kind of issue.
86. What Is Value Set Security Type?
Ans:
Yes, there is it includes:

AP_EXPNo Security: All security is disabled for this value set.
Hierarchical Security: With Hierarchical security, the features of the value security and value hierarchies are combined. With this feature any security that applies to a parent value also applies to its child values.
Non-Hierarchical Security: Security is enabled, but the rules of the hierarchical security do not apply. That is, a security rule that applies to a parent value does not "cascade down" to its child values.
87. Does iExpense work with some other applications, if yes what is the list?
Ans:
There are different types of options such as oracle payable, projects, grant account, approval management, and application framework to name a few. Before running it with any other application, it is important to understand whether it can work and be compatible with it or not. This would save you valuable time.
88. Explain the term Asset number generation?
Ans:
In the system, there is an asset number that automatically gets created one by one. There are also times which it eventually skips the sequence. Suppose, there is a close period with the last asset number say 326 and if we come up with the next period, you get the asset number say 329. This means there has been one asset which is missing that is 327 and 328. There can also be times when without even getting up the new number, you would have to close the period. So make it a point that you carefully understand the asset number generation concept and then use it further.
89. How to fix the Gps that generally occur in the Asset number generation?
Ans:
There are times when in spite of auto-generation of Asset numbers, there would be few skills. At such a point in time, you can create a way out to fill up the gaps. The fixation requires the check that needs to be made on the table called Fa_distribution_history. It would give you a clear idea of which all are the missing gaps and thus you can trace it to assess where it is created be it in FA or PA.
90. What is expenses reporting for oracle?
Ans: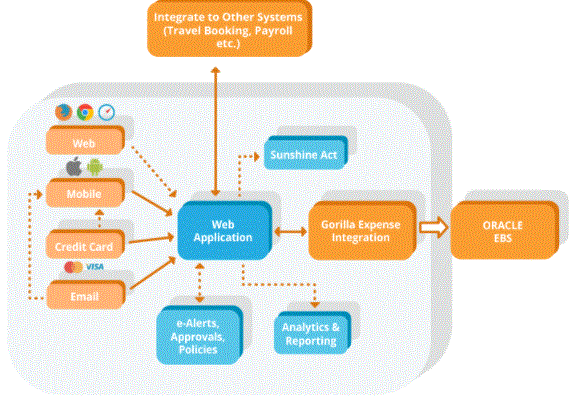 91. What is Oracle cursor: Implicit & Explicit cursors?
Ans:
There are some work areas which are called private SQL. private SQL is used by Oracle to create the SQL statement. PL/SQL helps to identify each e=work that is used; it is called Cursor. For any kind of query which is related to returning to a single row, it is important to declare the implicit cursor. For the queries or issues that are related to returning to more than a single row, the cursor requires the declaration of explicitly.
92. Is there any specific way to Configure Expense Report Numbers?
Ans:
There is no hard and fast rule to configure the expense report numbers. However, to configure the expense report number such as customize the expense report number format, you need to include the things such as employee id and the expense date report that was submitted earlier. To make sure this process goes in a smooth manner, you need to create the customize option of the expense report for which it is important to modify the plsql function which is AP_WEB_OA_CUSTOM_PKG.GetNewExpenseReportInvoice. You can also use the Internet Expenses source for the current numbering sequence which is AP_WEB_OA_CUSTOM_PKG.GetNewExpenseReportInvoice. The location of this function is present in the directory of $AP_TOP/patch/115/SQL/apwcstmb.pls. That you can find easily.
93. Can you explain the reason why the default dose of tax is not as desired on the detail page in the Internet expense?
Ans:
To make sure the desired solution is well implemented, it is important to execute the steps such as: Log in as a payable manager where the responsibility to operate the unit with this issue is given Then navigate the Setup -> Tax -> E-Business Tax Home. To name the task, you can keep it as 'Create Application Tax Options', in which you need to go to the task section.