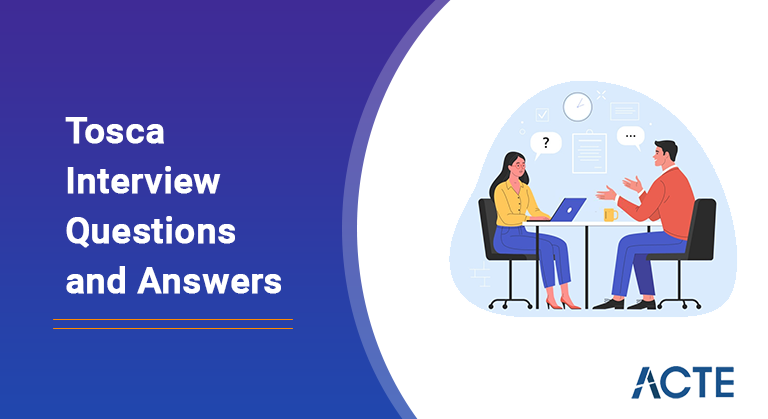 Tosca Interview Questions and Answers [ FRESHERS ]
Last updated on 10th Nov 2021, Blog, Interview Questions
Tosca Professionals and expert trainers from ACTE systems are providing you with the important questions and answers that might be asked when you face an Tosca Interview. These questions and answers will help you in the preparation of the interview. Questions are relevant to Tosca and its applications. The following list includes the best important Tosca questions for freshers as well as Tosca questions and answers for experienced candidates to help them prepare for the interview. This complete guide of Tosca interview questions will encourage you to crack your Job interview easily.
1. What Are The Key Features Of Tosca Testsuite?
Ans:
Script less (No programming language knowledge required)
Model Based (Work based on how your application looks)
UI and Non UI Applications can be automated (Web Applications, XML, SAP, Mainframe etc)
Can be Integrated with CI Tools like Jenkins using Tosca CI.
2. What Are The Different Tools Under Tosca Testsuite Package?
Ans:
Tosca Commander (where actual work is done)
Tosca Executor (Used to execute test cases from Tosca commander)
Tosca Wizard (Used to scan applications, to create modules)
Tosca CI (used to integrate with CI tools)
3. What Is Tosca Commander?
Ans:
This is actual desktop tool where you do your scripting (drag and drop).
4. What Is Model Based Test Technique?
Ans:
Model-based testing is an application of model-based design for designing and optionally also executing artifacts to perform software testing or system testing. Models can be used to represent the desired behavior of a system under test (SUT), or to represent testing strategies and a test environment.
5. How Does Tosca Testsuite Support Model Based And Risk Based Testing?
Ans:
Tricentis Tosca helps you to define your test cases by first scanning the application. The automation model contains the automation logic which is decoupled from the test logic specified as a test case. Once the required models are defined, they can be used to execute both manual and automated test cases with input & verification data. These models are dynamic, synchronized with the application under test, and can be updated to reflect any changes in the application, thereby eliminating the maintenance challenges of traditional approaches.
6. What Are The Different Ways To Identify Objects In Tosca Testsuite?
Ans:
Identify by properties
Identify by Anchor
Identify by image
Identify by index
7. How Does Identification By Anchor Works In Tosca Testsuite?
Ans:
Identify by anchor means Identify the object / Element uniquely by taking reference of other uniquely identified object / element.
8. How To Take Screen Shot In Tosca Testsuite?
Ans:
A standard module is provided by Tricentis to take screenshots. It is present in standard modules. TBox TakesScreenshot.
9. Explain Recovery Scenario In Tosca Testsuite?
Ans:
As the name suggests, it is to recover from failure. During the test execution if your test case fails (that could be due to any reason), the Recovery scenario is a set of steps to ensure that the next test case after this failed test case should run properly. there shouldn't be any impact of this failed test case on them. In the recovery scenario, we can retry at test case level, test step level or at test step value level.

In Setting -> TBox -> Recovery. There are two conditions when we can recover, on dialog failure & on verification failure.
10. What is Tricentis Tosca architecture?
Ans: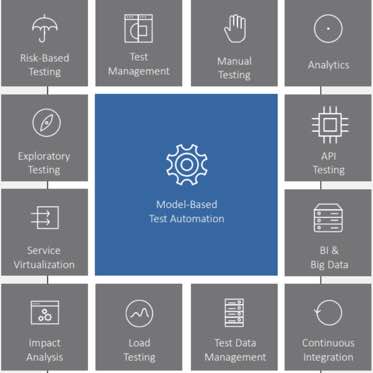 11. How can we fetch test data from Excel using Tosca?
Ans:
We can fetch test data from Excel in two ways:

For a single TestCase scenario, we can use TemplateInstance and create a number of test cases that are needed from the test dataset. It will also import Excel's test data and embed them into test cases.

For different TestCases and have to import data from an external source, then we can use the Excel Engine module (or) we can write our own keywords using VB script and import the Excel test data
12. Can we perform Excel operations in Tosca?
Ans:
Yes, we can. Tosca provides standard Excel modules that we have to import to our workspace. We should also have Microsoft Excel 2003 or Microsoft Excel 2007 installed on our system for it to work.
13. Explain about Tosca Query Language
Ans:
Tosca Query Language (TQL) is used to write search queries for searching through objects, object relations, and object properties within a project. TQL is context-dependent.
14. What is Test Data Management?
Ans:
Test Data Management is the process of managing data required to carry out the TestCases. When a workspace is created, Tosca automatically establishes a connection to the common repository where the test data resides. We can even connect to another test data source, we can manually change the connection string to a different repository.
15. What are the types of errors in Tosca?
Ans:
Tosca template is a model (or) a structured format that can be reusable for creating concrete TestCases. The TestCases that have a similar sequence of steps can be converted to templates.
16. What is the use of Rescan?
Ans:
Tosca Recan is used for scanning the already scanned module. When you have a scanned webpage in a test case and if the UI is updated a bit, then we need to rescan the webpage and add it to the test case.
17. What happens if the recovery scenario fails?
Ans:
A recovery scenario fails, Tosca moves on to the next higher level recovery scenario. If all of the recovery scenarios are failed, Tosca reports the test case as failed.
18. Is Tosca a RPA tool?
Ans:
Whether your customers exist as separate organizations within your company or as external B2B relationships, leveraging Tricentis Tosca as a testing tool and shifting into RPA has many advantages since the majority of the legwork – such as building the Tosca Modules to help drive the automation – is done upfront
19. What is exploratory testing?
Ans:
Exploratory testing is the process of learning about the product, designing and executing tests, interpreting test results all at the same time. It is called a plan-as-you-test approach. It is available under Execution Section in the Tosca Commander.
20. What is Tosca contiguous integration?
Ans: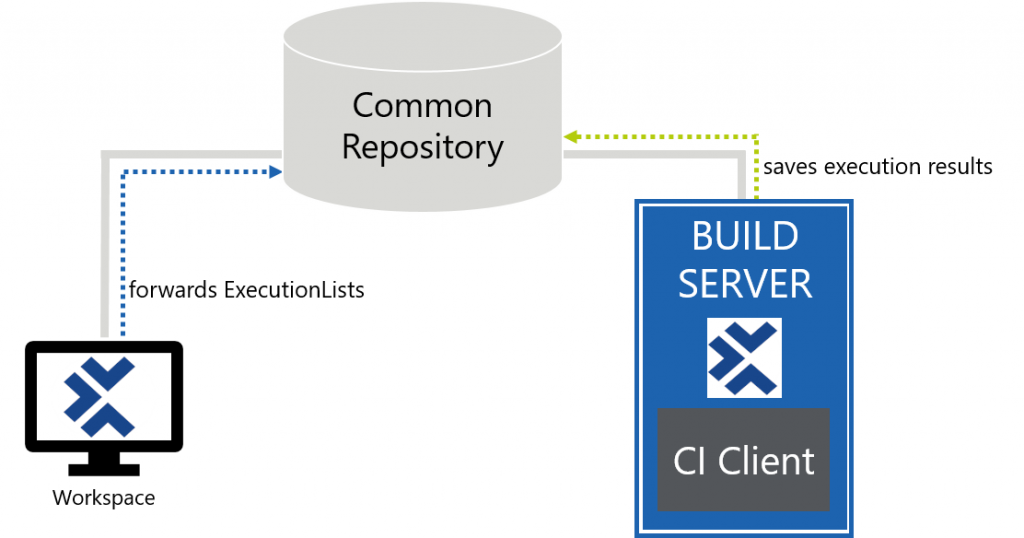 21. What is synchronization in Tosca?
Ans:
Synchronization in Tosca allows the execution of automated TestCases to be synchronized by using processes and events so it can match the application speed.
22. How do you make a test step in Tosca?
Ans:
Tricentis Tosca creates the TestSteps on the basis of the ModuleAttributes. To create a TestStep for an existing TestCase, drag a Module onto the TestCase. To select several Modules, press Ctrl and drag them all onto a TestCase. Alternatively, you can drag the Module(s) onto a TestCase folder to create a new TestCase.
23. What is the steering parameter in Tosca?
Ans:
Steering parameters define the behavior of your Bot when it comes to steering these controls. Changing the behavior of a Module means that the Bot automatically applies this behavior to all Steps that you create from the Module. If you have already created Steps from a Module, the Bot also applies the behavior to them.
24. Can Tosca be used for performance testing?
Ans:
Reuse SAP functional tests scripts as performance tests through integration with Worksoft Certify and Tricentis Tosca. Reuse SAP functional tests scripts as performance tests through integration with Worksoft Certify and Tricentis Tosca.
25. What is qTest Tricentis?
Ans:
Tricentis qTest streamlines software testing in agile and DevOps environments and centralizes testing efforts across the enterprise. By taking a strategic approach to quality, qTest enables enterprises to develop higher-quality software, faster, to better support new business models and customer experiences.
26. How do you click on a picture on Tosca?
Ans:
In the Advanced View of Tosca XScan, click the Identify by button and select Image from the dropdown menu to open the Identify by Image window. Select the control to be identified from a screenshot in the left pane. Refer to chapter "Image-Based Test Automation" for a detailed description of the next steps.
27. What is cardinality Tosca?
Ans:
Cardinality. Specifies how often a XModuleAttribute may be used as a XTestStepValue in one and the same XTestStep (see "Using XModuleAttributes repeatedly in the TestCase").
28. What is test mandate Tosca?
Ans:
To link your test object to a TestMandate, drag and drop the respective test object onto the TestMandate. Tosca Commander performs the following actions: It creates a copy of the test object in the TestMandate.
29. Why buffer is used in Tosca?
Ans:
Tosca uses the term Buffer to refer to values that can be temporarily saved in Tosca Commander™ and then used again. These values can be either static or dynamic. There are three different ways to buffer values in Tosca: The values of controls can be read or verified and written into the Settings dialog as a buffer.
30. Define a complete success guide for Tosca?
Ans: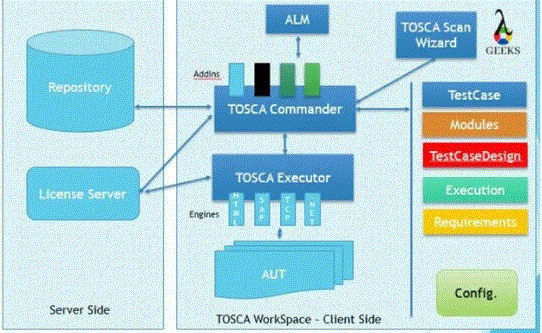 31. Is Tosca open source?
Ans:
Tosca automation tool is a licensed tool and Selenium is an open-source automation testing tool. The amount of coding involved in Tosca is 0. Selenium doesn't have any specific or particular framework. The object libraries are available to manage a large number of scripts.
32. What is Tosca architecture?
Ans:
Tosca is an OASIS open standard that defines the interoperable description of services and applications hosted on the cloud and elsewhere; including their components, relationships, dependencies, requirements, and capabilities, thereby enabling portability and automated management across cloud providers regardless
33. Can we code in Tosca?
Ans:
You can also copy and paste code snippets or even entire code snippet groups via the clipboard. Tosca TDM Studio remembers the order of the groups and of the code snippets in the groups from one session to the next. The context menu also contains options for viewing and for editing an individual code snippet.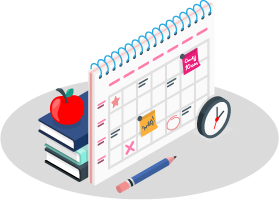 Learn Advanced Tricentis Tosca Certification Training Course to Build Your Skills
Weekday / Weekend Batches
See Batch Details
34. Is Tosca a test management tool?
Ans:
Features. Tosca combines test data management and Test Data Service (TDS) to help teams create, design, locate, manage, and provision stateful test data, even for the most complex end-to-end scenarios.
35. Why is Tosca Tricentis?
Ans:
Tricentis Tosca optimizes and accelerates end-to-end testing of your entire digital landscape. Its codeless, AI-powered approach accelerates innovation across your enterprise by taking the bottlenecks out of testing and the risks out of software releases.
36. Does Tosca support desktop applications?
Ans:
Desktop. Automate test across a wide range of desktop applications, including . Net, Java, WPF, and Windows 10.
37. What does Tricentis do?
Ans:
Tricentis is a software testing company founded in 2007 and headquartered in Vienna, Austria and Mountain View, California. It provides software testing automation and software quality assurance products for enterprise software.
38. What is Tricentis RPA?
Ans:
Tricentis RPA consists of Tricentis RPA Studio and Tricentis Orchestrator. RPA Studio is a workspace to design, implement and test bots. RPA Orchestrator enables users to run bots on-demand, distribute bots to agents, monitor and maintain agents, and generate reports as well as audit logs
39. What is a subset in Tosca?
Ans:
Tricentis Tosca provides the subset interface to transfer data from one project to another. For instance, you can copy data from single user projects to multi-user projects. In addition, you can export specific parts of a project into another project.
40. What is the simplified architecture of the usage of Tosca?
Ans: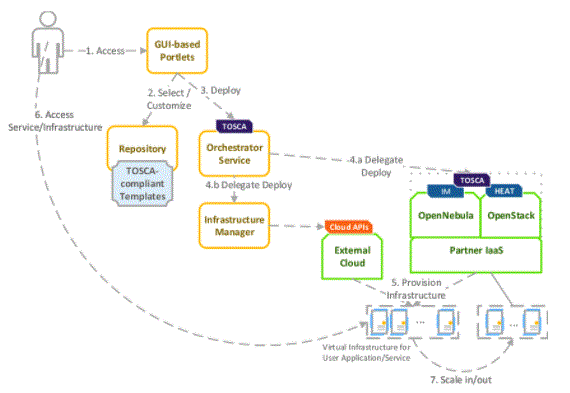 41. Is Tosca paid tool?
Ans:
Tosca automation tool is a PAID TOOL, which comes at a reasonable cost compared to other paid tools in the market. Most of the testers in the current generation do not mind paying a small amount of money to save time and effort. The tool works based on the linear expansion or LinearQ (SM) methodology.
42. Is Tosca better than selenium?
Ans:
It lacks built-in reporting. In comparison to Selenium, Tosca's test cases are highly reusable. Selenium's test cases are not easily reusable. Tosca is equipped to perform SAP impact assessment, data warehouse testing, and exploratory management.
43. Is Tricentis Tosca free?
Ans:
You can view all certification courses we are currently offering for free — along with the corresponding voucher code — in the Quick Reference table. You can take as many courses as you'd like through the May 31 deadline — you'll just need a Tricentis Support Portal account to get started!
44. Can we use XPath in Tosca?
Ans:
XPath certainly can be used to identify elements of an HTML web UI in Tosca.
45. How do you drag and drop in Tosca?
Ans:
By holding down the SHIFT and/or CTRL key, you can apply alternative actions, provided that they are allowed in the respective context. Each action has its own cursor symbol, the appearance of which depends on the operating system used.
46. What are the challenges in Tosca?
Ans:
However, there are some generic challenges in the Tosca way of automation. One of the challenges is heavy dependency on Tricentis support team for issues faced on real time projects. There are very few open forums and Teams need to connect with the support team for resolution which can be time consuming.
47. What is Tosca used for?
Ans:
Tricentis Tosca is a software testing tool that is used to automate end-to-end testing for software applications.
48. How do you explain the Tosca framework?
Ans:
Tosca is a Continuous Testing platform that accelerates testing to keep pace with Agile and DevOps. In Tosca there are two different automation frameworks which can be used to recognize controls and create modules. Each of which steers different technologies.
49. Which language is used in Tosca?
Ans:
Tricentis Tosca is developed in C# for the majority of its parts
50. What is the Tricentis Tosca components and extension?
Ans: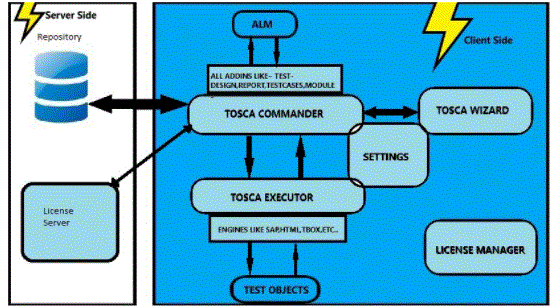 51. How can we run tests in ScratchBook?
Ans:
ScratchBook allows us to perform trial runs on TestCases. We have the following options to run tests in a ScratchBook, Run objects immediately upon creation Drag and drop the required objects into the window, arrange them in a specified order and then run them
52. How can we run ExecutionLists?
Ans:
We can run an ExecutionList by clicking on the Run option in the context menu of the Tosca Commander. We can also run it by directly pressing on the F6 key in the Execution section
53. How can we identify objects in Tosca Testsuite?
Ans:
There are 4 ways to identify objects in Tosca;

Identify by properties
Identify by anchor
Identify by image
Identify by index
54. How can we use multiple browsers in the same test case in Tosca?
Ans:
We cannot trigger multiple browsers in Tosca. However, we can perform cross-browser execution. When we need to automate a TestCase with an application that has to run on different browsers, then we can use buffers. Using buffers, we can change the value in the test configuration parameter at run-time. And then specify which browser needs to be used for each buffer using the TBox Set Buffer.
55. What is the difference between ExceutionLists and ScratchBook?
Ans:
| Execution lists | Scratch book |
| --- | --- |
| ExecutionLists are used to accumulate completed TestCases and run them at once. | Whereas a ScratchBook is used for running individual TestCases upon creation of TestCases or to check TestCases that are still in an incomplete state. |
56. Can Tosca be integrated with Jira?
Ans:
Yes, we can integrate Tosca and Jira using Tasktop Integration Hub in Tosca Connect. To improve collaboration between development and the testing team, Tosca has provided Jira integration. We can synchronize failed tests in Tosca to defects in Jira.
57. Can we perform a pdf comparison using Tosca?
Ans:
Yes, the TC PDF Compare from Tosca Exchange Portal can be used for comparing pdf files. We can give 2 pdf files to be compared to this. The differences found will be shown in the ExecutionLog once the execution is completed
58. Can we create TestCase templates manually?
Ans:
Yes, we can create a TestCase template manually by using the Tosca BI modules. To create a template, right-click on the test case and select the "Convert to Template" option in the context menu.
59. What is the need for the test configuration parameter?
Ans:
The test configuration parameter is used to set values for objects. To simplify the maintenance of tests and avoid repetitions, we can set the values to test configuration parameters
60. What is the architecture of Tbox?
Ans:
61. How can we perform API testing?
Ans:
We can perform API testing using Tosca API Scan. With this, we can scan API definitions and functions of an API. Tosca API Scan can be used to perform end-to-end testing to verify the performance and error-handling of an API.
62. How does Tosca Testsuite support Model-Based And Risk-Based Testing?
Ans:
Tosca describes the test cases by scanning the application. The automation model contains the logic of automation for the decoupling of the test logic as defined in the test case. If the appropriate models have been established, they can be used to perform both automated and manual test cases with input and verification data.
63. Explain about test configuration parameters?
Ans:
Test configuration parameters can help you customise your tests to set values. It can also be used for the use of Tosca objects. For the following Tricentis Tosca objects, you can build test configuration parameters:

Project root element
ExecutionList
Component folder
ExecutionEntry folder
Configurations folder
ExecutionEntry
TestCase folder
ScratchBook
TestCase
TestCase-Design folder
ExecutionList folder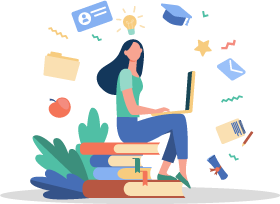 Get JOB Oriented Tricentis Tosca Training for Beginners By MNC Experts
Instructor-led Sessions
Real-life Case Studies
Assignments
Explore Curriculum
64. Can we compare Pdf using Tosca?
Ans:
Tosca offers us with a standard PDF comparison module. This feature supports two PDF files to be automatically linked to each other. If any variations are detected, they will be shown in the ExecutionLog after the test is run.
65. How can you check if a file exists in a specific directory or not in Tosca?
Ans:
By using "TBox File Existence," we can verify whether or not a file exists in a particular directory. Contains the following attributes:

Directory: The directory to the file to be searched.

File: Name of the file to be reviewed. You may use Verify or WaitOn ActionModes.
66. What Is Tql? Why Is It Used?
Ans:
Tosca query language (TQL) is a powerful search method by which you can query on your project to find anything which you want. So here we need to write the query in the language which the system can understand. There are various expressions, functions available to write TQL.
67. Have You Done Any Api Testing? Can It Be Done Using Tosca?
Ans:
API Testing can be done by using Tosca TestSuite. Tosca API Scan is to achieve this. We can either specify the url or file path where the JSON or XML file (API) is located. We can send the request, verify the response, and XML structure automatically.
68. What Is Test Data Management (tdm)?
Ans:
Test data management is used to manage the test data needed for test execution. Test data management is part of the Tricentis Tosca Testsuite standard installation. Tosca uses the same database as the common repository does for test data management for DB2, Oracle and MS SQL Server repositories. For SQLite repositories, a separate TDM repository is created.
69. What Is C Shell? Have You Used It?
Ans:
TCShell is a command line controlar for Tosca Commander. TC-Shell can be started from the Windows command line using parameters and parameter values. The command TCShell.exe starts the TC-Shell. The TCShell.exe file is located in the following directory: %Tricentis_HOME%. Executing the TCShell.exe requires that a workspace is specified. In addition, there are also optional start parameters available. For this we need to configure "TCShell.exe.config
70. What is the architecture of the Tosca co-design environment?
Ans: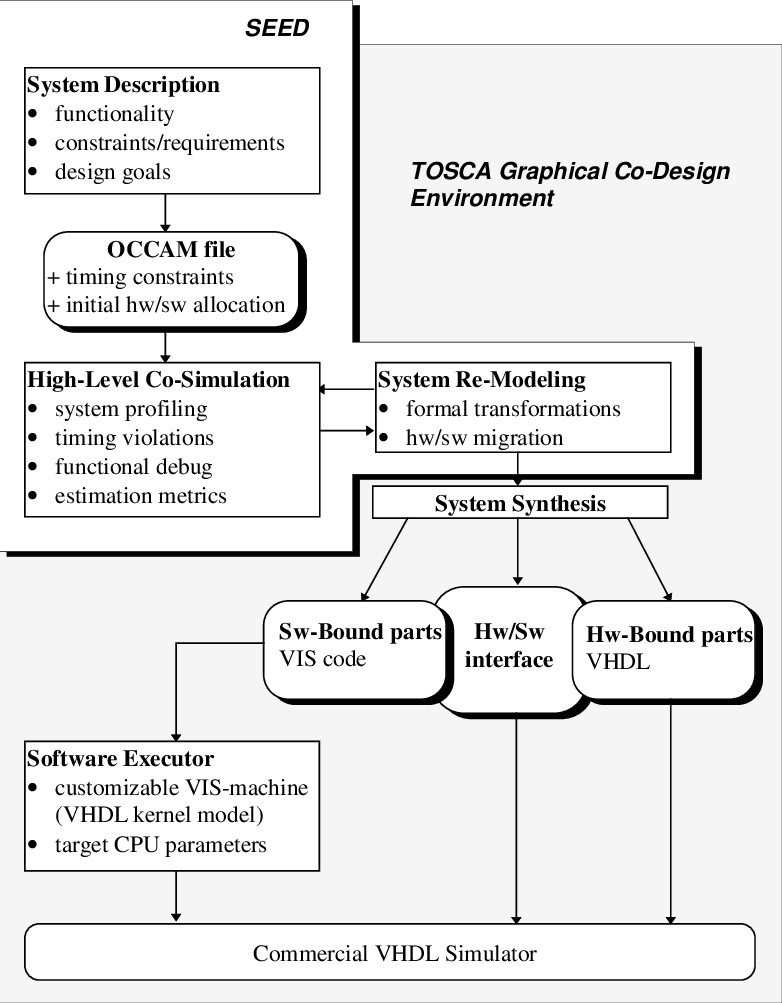 71. Tosca Jira Integration?
Ans:
Tosca Can be integrated with JIRA for defect tracking. We can submit an issue from Tosca to JIRA & if you want to change the status, then we can synchronize the issue in Tosca so that that will get reflected in JIRA.
72. Tosca Qc / Alm Integration?
Ans:
HP Quality Center is an application which allows TestCases, Requirements, ExecutionLists and defects to be managed. These objects can be synchronized with Tosca Commander™ by using Tosca Quality Center Integration.
73. What Does Instantiating a Template?
Ans:
Instantiating template means converting one template test case into multiple test cases based on the test data which is supplied to the template. This is how we can achieve data driven testing using Tosca TestSuite.
74. What Is a Template? How To Create Templates?
Ans:
In general, template is nothing but something in standard format. In Tosca TestSuite, we can convert a test case to a template so that it can be used for various data combinations. Templates can use test data from test data sheets.
75. How Data Driven Testing Is Achieved In Tosca Testsuite?
Ans:
Data driven testing in Tosca Testsuite can be achieved by using a test sheet in TestCaseDesign Section.There we can create attributes (Parameters which need to cover for data driven testing) & Create various instances (possibilities) for each attribute. Finally generate instances. Create a template from your testcase, attach test data sheet to template & then instantiate the template.
76. What Is The Advantage Of Linking Test Cases To Requirements In Tosca Testsuite?
Ans:
We do link test cases to requirements to keep track of the requirements. This will let us know that how many requirements are covered, how many are yet to be covered, for which requirements test cases are successfully passed, So basically this will give high level picture of requirement coverage.
77. What Is Tosca Ci? How Will You Execute Your Test Cases From Ci Tool?
Ans:
Tosca CI is a continuous Integration concept supported by Tosca TestSuite. We can execute test cases from CI tools like Jenkins, Bamboo etc. So this Tosca CI is used to connect your Tosca TestSuite workspace to Integration tools like Jenkins.
78. What Are Looping Statements Available In Tosca?
Ans:
Tosca do support looping statements like IF ELSE, Do WHILE. Purpose of them is the same as how they perform in any programming language.
79. What Do You Mean By Exploratory Testing? How It Is Done Using Tosca?
Ans:
Exploratory testing is known as the process of learning the product, designing test cases, executing test cases and interpreting the test results at the same time. It is a kind of session which can be scheduled from Tosca TestSuite & from there we can manage the progress of the team.
80. What is the Tosca continues integration?
Ans: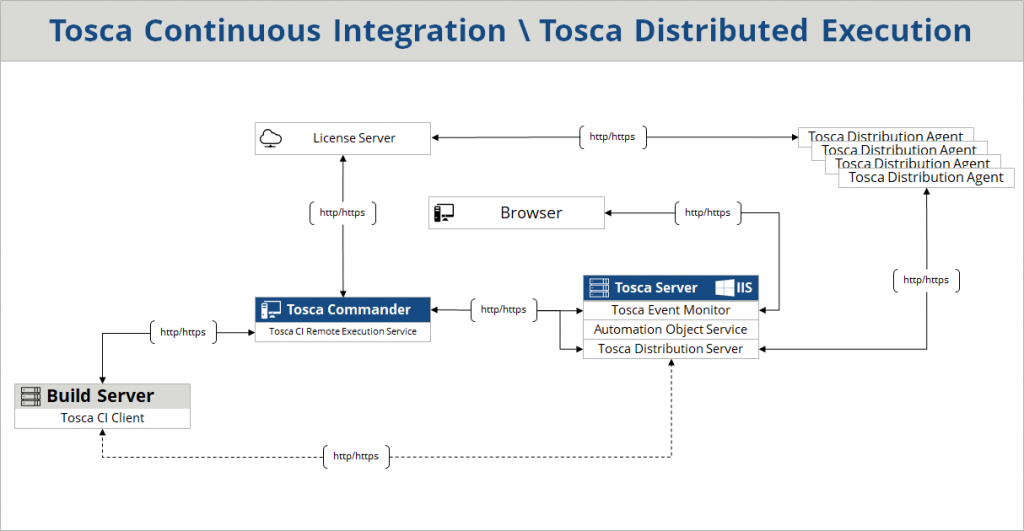 81. Difference Between Executing Test Cases In Scratch Book And Executionlist?
Ans:
| Test cases in scratch book | Executionlist |
| --- | --- |
| Both ways are used to run Test cases in TOSCA TestSuite. When we construct the test case, that time we can execute it from scratchbook, where no logs are saved. | we should execute it from the execution list. Logs are saved there. Jenkins can execute test cases from the execution list. |
82. How Can You Check If Some File Exist At Some Location?
Ans:
We can check if a file exists by using file operations. In standard modules there is a module called – TBox File Existance. Give the file path in directory and file name. Action mode should be verified.
83. What Is Tcp To Set Browser?
Ans:
TCP is a Test Configuration Parameter & is used to set some value to it which can be used across the test cases. The TCP to set the browser is "Browser". & its value can be Internet Explorer or Chrome or Firefox.
84. How Will You Validate Pdf? Can We Compare Pdf Using Tosca?
Ans:
Tricentis has provided us with a standard module to perform PDF comparison. It is present in the AidPack engine under the PDF folder. Name of that standard module is – TC PDF Compare. In this, we can provide base file and new file path & can compare. There is also a facility to replace the text (If you want to ignore something while comparing).
85. Explain String Operations In Tosca Testsuite?
Ans:
String operations include counting specific character / word in statement, Replacing word with other word, verifying format of some number etc. To perform string operations, you should have a module AidPack downloaded and imported in your project. Use the module String operations from AidPack to perform String operations.
86. Can We Use Ms Excel In Tosca ? How?
Ans:
It is Possible, We can Microsoft Excel in Tosca TestSuite by using Excel Engine. Various operations like read data, write data in excel can be performed using excel engine. Excel Engine is not a part of standard modules, we need to download and then import it. The sequence of operations (to read / write excel) is – Open Excel workbook, Set Active workbook, Set Active Worksheet, Excel create range, Set Active range, set excel header, After all these set of steps, we can have read / write / verify data in/from excel followed by Closing excel workbook.
87. Have You Done Xml Testing ? Is It Possible Using Tosca?
Ans:
XML testing is possible by using Tosca Testsuite. We can insert data in XML and verify data from xml. On the folder, right click, Select scan application & then select Non UI. You have 2 options there, scan from URL or scan from file (based on your need).
88. Explain Synchronization In Tosca ? Where Is The Setting For Synchronization?
Ans:
synchronization means matching the application speed with automation tool speed. In Tosca, synchronization can be achieved by using ActionMode waiton synchronization setting is done under Setting -> TBox – > synchronization There you can set default synchronization Time out (which will be applied globally) and synchronization Timeout during waiton.
89. What Is Test Configuration Parameter? Where To Use Tcp?
Ans:
Test Configuration Parameter (TCP) is used to set some specific value to the number of test cases. For Example – Browser, URL, username & password etc.

Test configuration parameters can be created for the objects listed below:

Project root element
TestCase folder
TestCase
Execution List folder
Execution List
There are some system defined Test configuration parameters like Browser, Target Time Format, TDConnection, TestStepRetries and many others.
90. What is perform standalone testing?
Ans: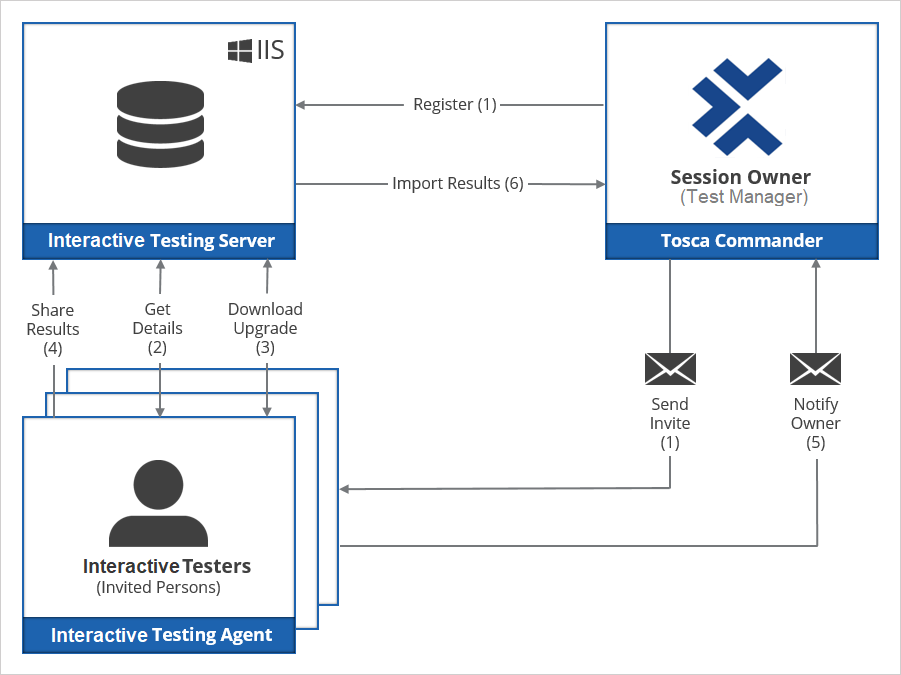 91. What Is a Business Parameter? Where To Use Them? Scenario?
Ans:
Business parameter which is used to pass dynamic values in test step blocks.

Business parameter is created by Right-clicking on a Reusable TestStep Block and selecting Create Business Parameter Container from the context menu.

Example – Let us say a library is created for test step blocks which includes username and password. But if for a few test cases you wanted to enter different user names and passwords, then business parameters will help you.
92. What Is Library Parameter? Where Can We Define Them?
Ans:
Library parameter is nothing but a business parameter which is used to pass dynamic values in test step blocks.

Example – Let us say a library is created for test step blocks which includes username and password. But if for a few test cases you wanted to enter different user names and passwords, then business parameters will help you.
Java Sample Resumes! Download & Edit, Get Noticed by Top Employers!
Download
93. What Is Action Mode Constraint?
Ans:
Action mode constraint is used to limit the search. If constraint is specified along with verify, it will verify only those item where constraint is verified.