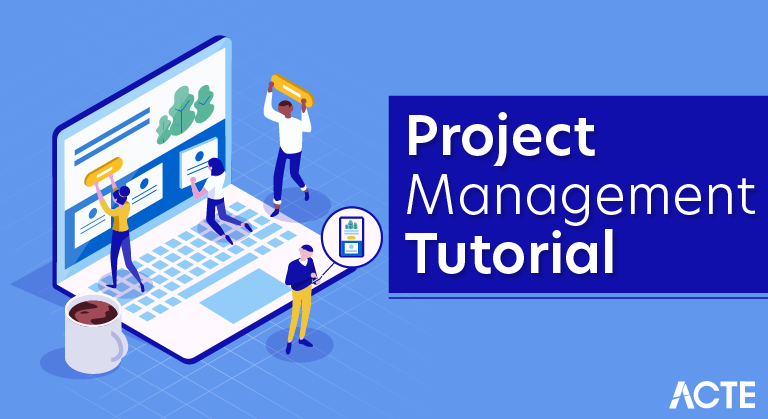 PMP Exam Preparation: A Concise Tutorial Just An Hour – FREE
Last updated on 08th Jul 2020, Blog, Tutorials
A project is a time bound activity taken-up with a group of individuals to put together a product, service or an outcome. It is transitional in nature such that it has a definite time for commencement and conclusion with a well-defined scope, resources, and timelines.
It is important that each and every person in the project management team is well-aware of their goals, resources, timelines, and processes. It is also important that the objective of the project is made clear to everyone.
It is possible that the people involved in a particular project, work from different locations, organisations, and even different geographies. Therefore, it is mandatory that the team involved in a project is in alignment right from initiation till the completion stage. Project Management is the integration of processes, knowledge, methodology, skills, resources and techniques to achieve the objectives set for the project within the given time.
During the mid 20th century, Project Management got its distinct identity as a profession and 'A Guide to the Project Management Body of Knowledge – PMBOK® Guide by the Project Management Institute(PMI)® identifies its fundamental components.
Following are the five stages that apply to most of the projects, be it software development, construction of a building or even the launch of a rocket:
Initiation: Understanding the client's requirements and set goals and objectives.
Planning: Creating a design that shapes the project and outlines the cost, manpower required, resources, timelines and so on.
Execution: Commencement of the project work as per the timelines for completion of each segment.
Monitoring/Project Tracking: It's at this stage the true project management skills come into play. While monitoring the progress of the project, one must look into interruptions, breakdowns, development and so on in order to make alternative plans to achieve the set objectives.
Conclusion/Project Delivery: It is the final product or the service that's delivered to the client with a final settlement.
Error: Contact form not found.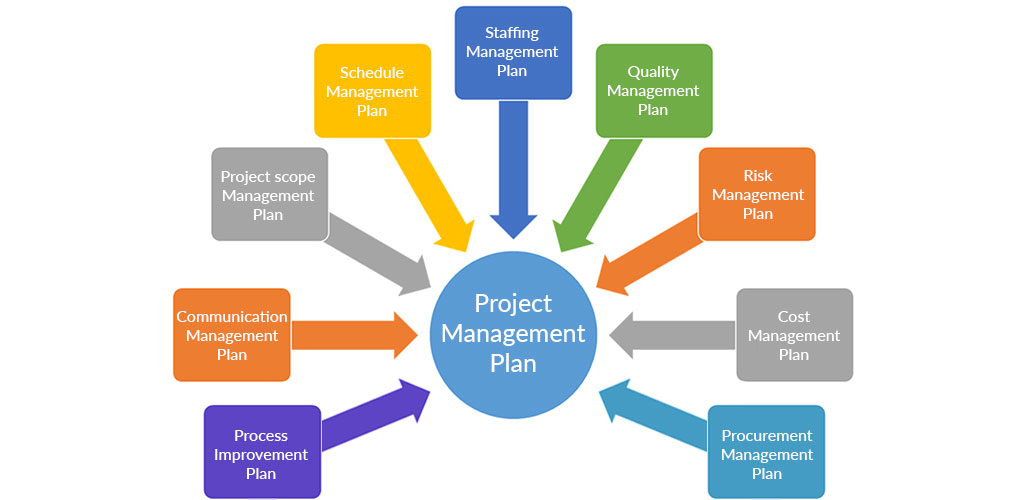 The constituents of Project Management comprise of the following:
The task at hand, resource allocation, budget planning and integration
Understanding the scope of the project with estimation and effective utilisation of time and resources.
Tackling breakdowns and setbacks in the process and identifying meaningful alternatives to ensure the project is completed as planned without compromising on quality.
Managing supply chain for cost-effective utilisation of stocks.
Implementing a process of sustained communication with all team members.
Knowledge management to ensure decisions are taken at an appropriate time.
Stakeholder management in terms of keeping all interested parties in the loop and sending them updates on project development. It is important to take their inputs and feedback before completing one phase and getting into the next phase.
What differentiates Project Management from other types of management is the streamlined process of the project lifecycle from conception to delivery and project handover with its numerous elements that shape the journey, influencing its rapid growth worldwide.
Benefits of using Project Management principles
Project Management seems complicated; however, it is easy to comprehend. The significant aspect is to know the benefits or advantages of Project Management. You ought to be a pro with basic organisational skills to manage any type of project effectively – it could be a wedding or the construction of a sea-link. Knowledge comes from playing the right chords to get the desired tune. It is the effective utilisation of resources and knowing how and when to use them appropriately.
Let's look at the value addition given by Project Managers that will clarify why project management by a professional is so important. For starters, they hold the team and the client or stakeholders together. They are like a compass that shows the direction and guides you to your desired destination. They deliver whatever is required to keep the project on track through all ups and downs, managing conflicts and challenges, risks and team spirits that keep the project rolling. When a project is executed efficiently and managed well, it resonates beyond completion and handover. It leaves a trail of success.
1. Delivering Value
Project Management ensures that each of the segments in the project development phase are aligned to its business objectives, complementing the client's perspective in a broader sense. It aims to deliver value through return on investment. Facing risks and challenges is part of any project. The effectiveness of a Project Manager is when they are able to realign their strategy to achieve business objectives.
2. Ensuring Customer Delight
Any project that's completed on time within the budget pleases the client and the stakeholders. And, when a client is happy, your work is appreciated and recommended to others. Smart Project Management ensures a healthy client-manager relationship.
3. Leadership Skills
A Project Manager is the leader of the project. They give direction and are in command. Without them, the project lacks alignment and pace. They motivate the teams to bring out the best in them and provide the route map in achieving the project goal. Project Managers ensure the teams work within the given framework and follow set guidelines. They follow processes and protocols and carry the responsibility of the entire project till its completion.
4. Timely accomplishment of tasks
Without a leader, the teams lack direction and focus. They need clear briefs and a proper outlook. Their roles and responsibilities are clearly outlined by the Project Manager to ensure there are no conflicts. The project is executed in a systematic manner. Tasks are accomplished on time. The tasks are given in smaller portions that help the teams to focus better, complete on time and take corrective measures quickly whenever necessary,
5. Accuracy in Project Planning and Execution
A Project Manager estimates the budget, sets the objectives, evaluates timelines and allocates resources. Without the Project Manager, goals and objectives could be over-ambitious or illogical. The timelines may not be realistic and the resources and tools may not be adequate. A Project Manager is able to take into consideration all the risks involved and substitutes to manage unexpected outcomes. A Project Manager understands the scope of the project and delegates work in a manner that doesn't feel overburdened to the teams.
6. Quality and Consistency
A dedicated Project Manager for every project – large or small ensures timely delivery, proper utilization of resources and quality output. With Project Management skills, the quality and consistency of the project segments are screened, tested and evaluated for quality assurance.
7. Risk Assessment
A Project Manager is trained in risk management. The anticipated risk factors are analysed to find a resolution that would not lose focus on the project deliverable and timelines. They will be ready with alternative plans in the event of any such eventuality.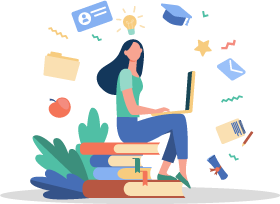 Gain An In-Depth Knowledge in PMP Training By Experts Trainers
Instructor-led Sessions
Real-life Case Studies
Assignments
Explore Curriculum
8. Proactive Approach
There have been situations that in spite of proper planning, things go wrong, and people tend to take a reactive approach compromising on quality, cost, time and resources. A Project Manager knows his team members and through effective communication, they are able to bridge the gaps as they know the tasks given to each member of the team, their deadlines and resources allocated to each of them. They constantly monitor the progress to ensure the project is on track. Without a systematic proactive approach to Project Management, companies and clients take the risk of project delays or failure, lack of people management, wastage of resources and overall unpleasant experiences.
9. Consistent Tracking and Monitoring
A project needs to be monitored regularly to ensure tasks are completed on time and eventualities are addressed effectively. Project Managers review the project at every stage. It is like a diagnostic tool to take corrective action as and when required instead of waiting till the end and doing a post-mortem. They provide regular status reports with details of tasks completed, work in progress, time spent, resources utilised and so on. These reports are evaluated by the teams as well as the stakeholders, which helps in patching the differences in any and ensuring work flows smoothly.
10. Learnings and Takeaways
Project Management enriches your experience with each project based on its success and shortfalls. After the completion of each project, Project Managers look back to analyse and review the aspects that went well and the challenges they faced in order to find ways of implementing a different approach to the next project. Each project cycle gets documented, which is a rich source of information for reference to other Project Managers.
Project Management strategies drive organisational success. Project Managers invest in time, project planning and due diligence contributing to the success of the business in the larger context. They conduct frequent reviews, risk assessment, measure success and ensure qualitative output. Organisations must define ROI, manage what's measured, use analytical tools to align projects with strategy and implement strong project management practices that will determine the growth of the organisation.
INSTALLATION
Step 1: Registration
Complete the registration, including the verification and then submit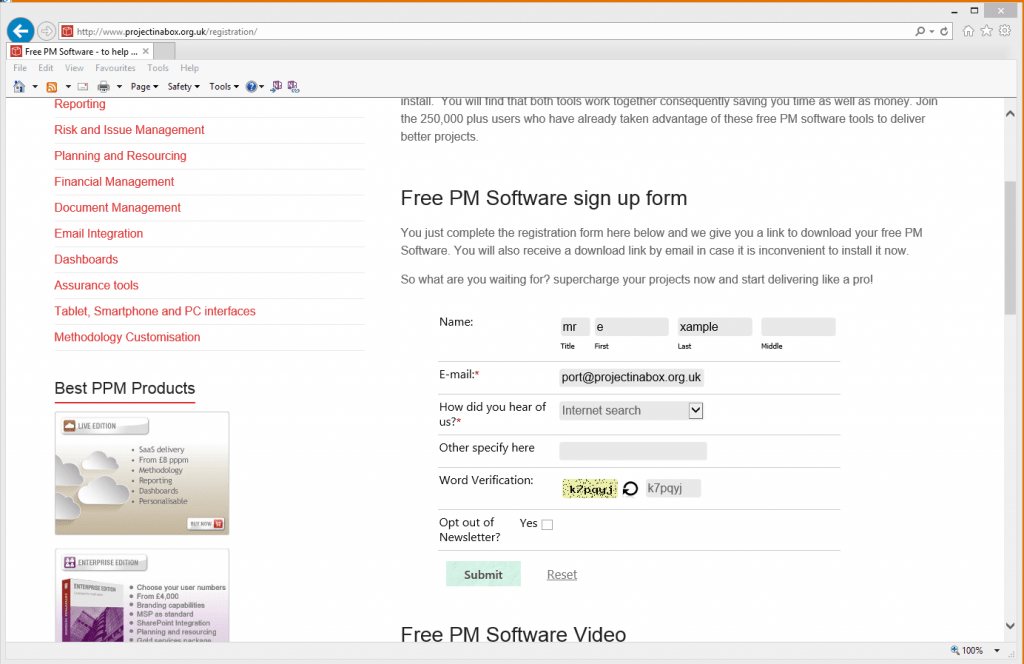 On submission the form changes to reveal the download link (which is also emailed to you for later use if required) a below.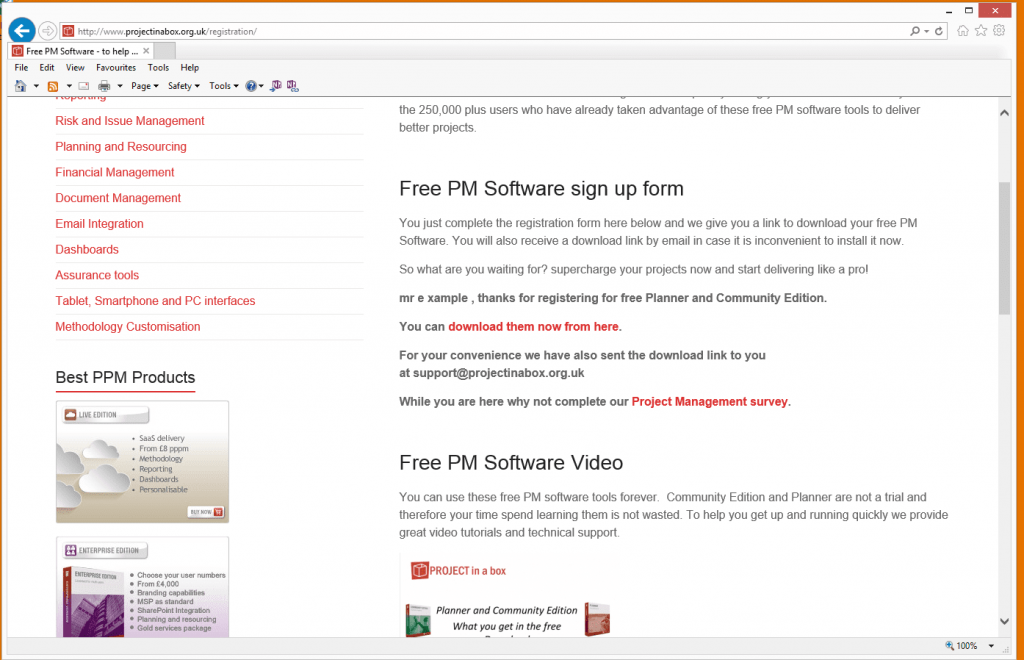 Step 2 : Download the Installer
You can download the installer from the link as shown above or from the email you have been sent. Here we are following the first route, which may vary slightly depending on Browser type.

Using Internet Explorer the download appears like this in the browser, other Browsers may display this differently. You should confirm Run to continue. Once the Download has run your security applications may also ask you to confirm you are happy for the installer to add to your system. You should agree with this.
Step 3 : Installation
Your Community Edition and Planner applications are installed using a conventional Windows installer. As noted in the first screen you will require the correct version of .NET and also admin rights to install to your Program files.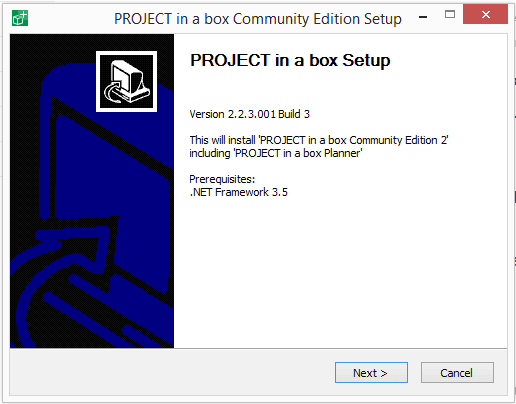 Progressing, you are then required to accept the licence conditions. (these are also available to view here should you wish).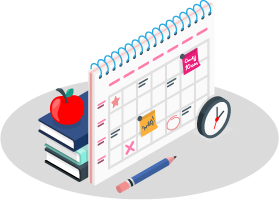 Best JOB Oriented PMP Certification Course to Enhance Your Skills & Career
Weekday / Weekend Batches
See Batch Details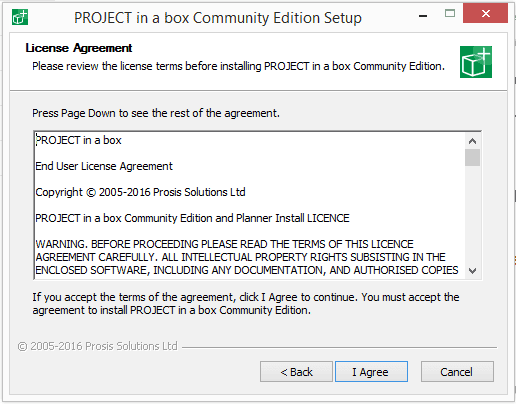 Now you need to choose your install location, unless you have good reason we recommend leaving the default drive set.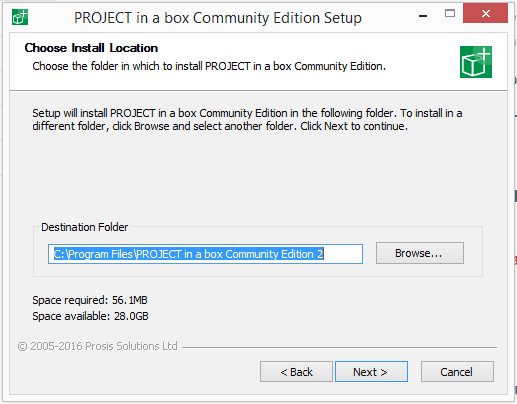 Next you can choose what to install or Upgrade. If the installer detects existing Community Edition or Planner it will propose upgrades otherwise fresh installs. You have the choice of installing just Planner, or Community Edition or both.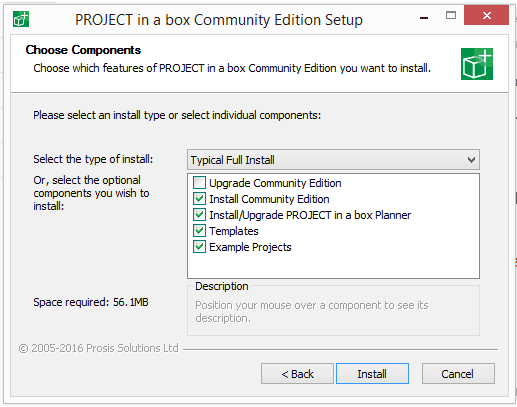 The install Button then runs the installer this may take a minute or so depending on what you are choosing to install.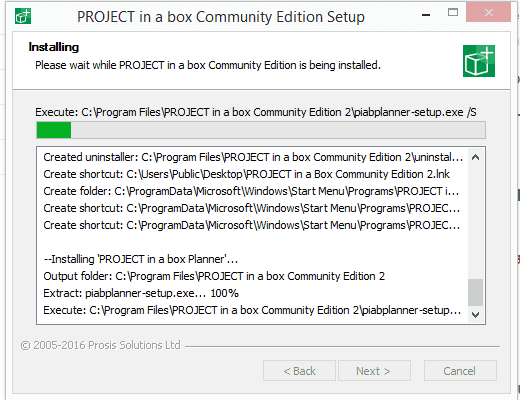 On completion the installer will have provided Desktop shortcuts for your new applications as shown here.
PMP Sample Resumes! Download & Edit, Get Noticed by Top Employers!
Download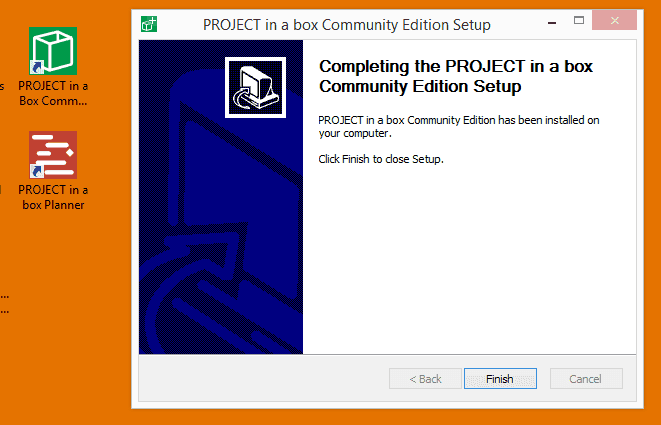 If you require any further help you can contact our Support desk. We provide full support to these free Planner and Community Edition applications. If you decide these tools are not for you then you can uninstall them anytime, the uninstall guide here will show you how.