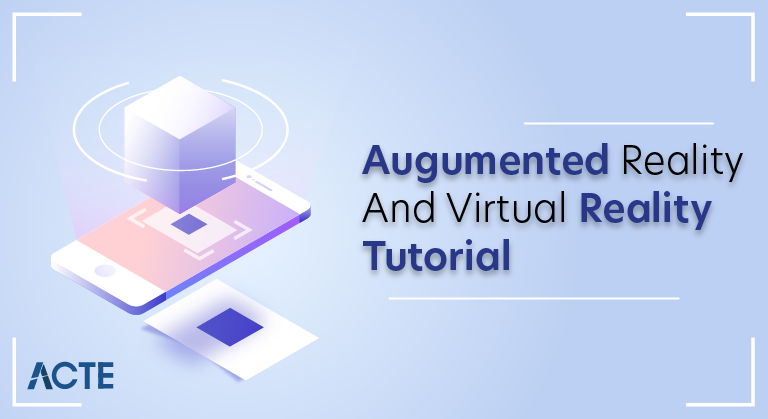 IN-Depth Augmented Reality & Virtual Reality Tutorial [ STEP-IN ]
Last updated on 11th Jun 2020, Blog, Tutorials
What is AR?
Augmented reality (AR) adds digital elements to a live view often by using the camera on a smartphone. Examples of augmented reality experiences include Snapchat lenses and the game Pokemon Go. Virtual reality (VR) implies a complete immersion experience that shuts out the physical world.
Whereas virtual reality replaces your vision, augmented reality adds to it. AR devices like the Microsoft HoloLens and various enterprise-level "smart glasses" are transparent, letting you see everything in front of you as if you are wearing a weak pair of sunglasses. The technology is designed for completely free movement while projecting images over whatever you look at. The concept extends to smartphones with AR apps and games like Pokemon Go, which use your phone's camera to track your surroundings and overlay additional information on top of it, on the screen.AR displays can offer something as simple as a data overlay that shows the time, to something as complicated as holograms floating in the middle of a room. Pokemon Go projects a Pokemon on your screen, on top of whatever the camera is looking at. The HoloLens and other smart glasses like the mysterious Magic Leap One, meanwhile, let you virtually place floating app windows and 3D decorations around you.
This technology has a distinct disadvantage compared with virtual reality: visual immersion. While VR completely covers and replaces your field of vision, AR apps only show up on your smartphone or tablet screen, and even the HoloLens can only project images in a limited area in front of your eyes. It isn't very immersive when a hologram disappears once it moves out of a rectangle in the middle of your vision, or when you need to stare at a small screen while pretending that the object on that screen is actually in front of you.
Augmented Reality App Development Company
Guru Technolabs is one of the most popular AR development companies which provides unique, innovative and next-level augmented solutions using cutting-edge technology.Augmented Reality is an improved version of reality-based display environment which modifies the computer-generated display, sound, text, and effects to improve the user's real-world experience.
Are you looking for a way to build an application that takes your application to the next level, then augmented reality application is your choice. It doesn't matter whether you belong to education, sports, or the automobile industry, AR apps will help to grow your business rapidly.We help the company to drive its success along with enterprise mobility solutions. We work with the sole aim to create innovative Augmented Reality android and ios apps that can result in increasing the number of visitors.Our team possesses a deep knowledge of the latest technologies and is constantly implementing new things in developing apps. They leave no stone to unturn to provide the best application based on your business needs.
Benefits of Augmented Reality
Build rich immersive, and interactive user experience
Improve your brand awareness and products
Enables to take your business to reach more customers
Helps in the development of translation apps that can interpret the text in other languages for you
Detailed analytics is being gathered to analyze user behaviour
Cross-platform support
Improve video gaming
AR applications increase emotional engagement
Improve communication via different mediums such as audio, video, and websites.
Virtual Reality & Augmented reality
Augmented Reality (AR), Virtual Reality (VR) and 3D simulation technologies to develop cutting-edge interactive, engaging and immersive products for the education, learning and skilling domains.
As the virtual reality landscape experiences tremendous popularity and growth over recent years, many innovative companies have formed to build out this growing ecosystem.
Augmented Reality (NYSE:AR) and Virtual Reality (NYSE:VR) in Healthcare Market Segmentation:
Segmentation on the basis of component:
Segmentation on the basis of end-user:
Hospitals, clinics, and surgical centers
Research organizations
Pharma companies
Government
Others
Segmentation on the basis of application:
Surgery
Fitness Management
Patient Care Management
Pharmacy Management
Medical Training and Education
Others
Key Reasons to Purchase Augmented Reality (NYSE:AR) and Virtual Reality (NYSE:VR) in Healthcare Market Report:
To gain insightful analyses of the market and have a comprehensive understanding of the global market and its commercial landscape.
Assess the production processes, major issues, and solutions to mitigate the development risk.
To understand the most affecting driving and restraining forces in the market and its impact in the global market.
Learn about the market strategies that are being adopted by leading respective organizations.
To understand the future outlook and prospects for the market.
Besides the standard structure reports, we also provide custom research according to WHAT'S specific requirements.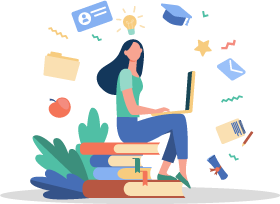 Get Augmented Reality (AR) & Virtual Reality (VR) Training From Real-Time Experts
Instructor-led Sessions
Real-life Case Studies
Assignments
Explore Curriculum
THE DIFFERENCE BETWEEN AR, VR, AND MR?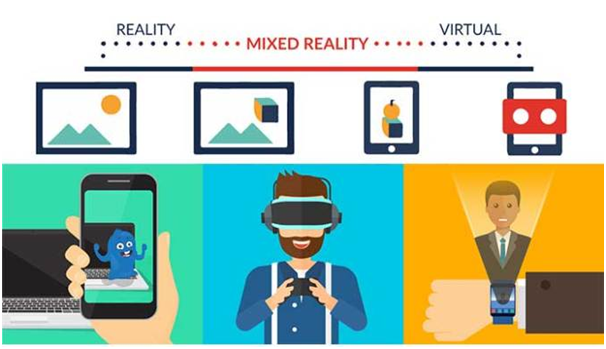 Augmented reality (AR) adds digital elements to a live view often by using the camera on a smartphone. Examples of augmented reality experiences include Snapchat lenses and the game Pokemon Go.
Virtual reality (VR) implies a complete immersion experience that shuts out the physical world. Using VR devices such as HTC Vive, Oculus Rift or Google Cardboard, users can be transported into a number of real-world and imagined environments such as the middle of a squawking penguin colony or even the back of a dragon.
In a Mixed Reality (MR) experience, which combines elements of both AR and VR, real-world and digital objects interact. Mixed reality technology is just now starting to take off with Microsoft's HoloLens one of the most notable early mixed reality apparatuses.
Extended Reality (XR) is an umbrella term that covers all of the various technologies that enhance our senses, whether they're providing additional information about the actual world or creating totally unreal, simulated worlds for us to experience. It includes Virtual Reality (VR), Augmented Reality (AR) and Mixed Reality (MR) technologies.
AR and VR Are Not the Same
The terms "virtual reality" and "augmented reality" get thrown around a lot these days, thanks to the resurgence of VR headsets heralded by the Oculus Rift and the use of AR apps and games like Pokemon Go. They sound similar, and as the technologies develop, they bleed over into each other a bit. They're two very different concepts, though, with characteristics that readily distinguish them from one another.
VR headsets completely take over your vision to give you the impression that you're somewhere else. The HTC Vive, the Oculus Rift, and other headsets are completely opaque, blocking out your surroundings when you wear them. If you put them on when they're turned off, you might think you're blindfolded.
When the headsets turn on, however, the LCD or OLED panels inside are refracted by the lenses to completely fill your field of vision with whatever is being displayed. It can be a game, a 360-degree video, or just the virtual space of the platforms' interfaces. Visually, you're taken to wherever the headset wants you to go—the outside world is replaced with a virtual one.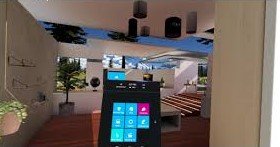 Most tethered VR headsets like the Rift, the Vive, the PlayStation VR, and Windows Mixed Reality headsets use six-degrees-of-freedom (6DOF) motion tracking thanks to external sensors or cameras (for the Rift, Vive, and PS VR) or outward-facing cameras (for WMR). This means the headsets don't just detect the direction in which you're facing, but any movement you make in those directions. This, combined with 6DOF motion controllers, lets you move around in a virtual space, with virtual hands. This space is usually limited to a few square meters across, but it's much more immersive than just standing still and looking in different directions. The drawback is that you need to be careful not to trip over any cable that connects the headset to your computer or game system.
Microsoft calls its Windows 10 VR headsets "Windows Mixed Reality" headsets. Don't let the term confuse you. "Mixed reality" in this case is simply virtual reality. They're VR headsets, with nothing very "mixed" about them, besides the fact that some of the underlying interface technology comes from the Microsoft HoloLens Development Edition.
Mobile-based headsets like the Google Daydream View and standalone VR headsets like the Oculus Go are less powerful than tethered VR headsets because they rely on smartphone-level processing either attached to or built in, rather than a much faster system nearby. They also usually only offer three-degrees-of-freedom (3DOF), which means they only track direction and not positional movement. They usually only have a single 3DOF motion controller remote, or are designed to work with more conventional gamepads. The experiences are similar, but not nearly as immersive.
For both games and apps, virtual reality completely supersedes your surroundings, taking you to other places. Where you are physically doesn't matter. In games, you might sit in the cockpit of a starfighter. In apps, you might virtually tour distant locations as if you were there. There are tons of possibilities in virtual reality, and they all involve replacing everything around you with something else.
Virtual reality and augmented reality accomplish two very different things in two very different ways, despite the similar designs of the devices themselves. VR replaces reality, taking you somewhere else. AR adds to reality, projecting information on top of what you're already seeing. They're both powerful technologies that have yet to make their mark with consumers, but show a lot of promise. They can completely change how we use computers in the future, but whether one or both will succeed is anyone's guess right now.
For more, see our head-to-head comparison of the Oculus Rift vs. the HTC Vive, as well as the best VR games.
AR VR Sample Resumes! Download & Edit, Get Noticed by Top Employers!
Download
Conclusion:
Virtual reality and Augmented reality are inverse reflections of one in another, regarding what each technology wants to accomplish. Augmented reality overlays virtual elements in the real world, while virtual reality digitally recreates a real-life setting.Hope you have found all the details that you were looking for, in this article.