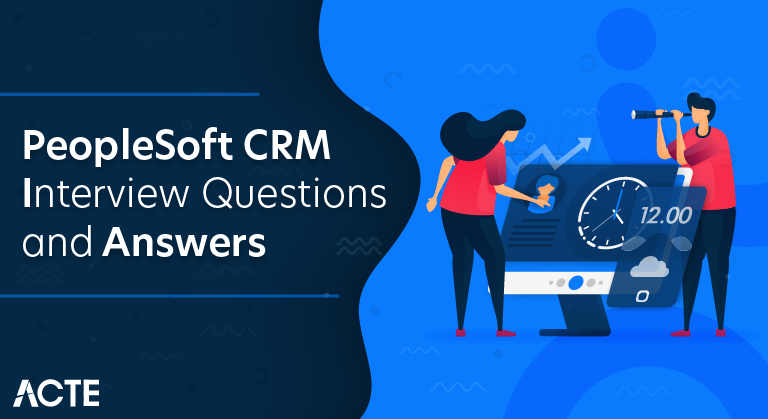 15+ Must-Know PeopleSoft [CRM] Interview Questions & Answers
Last updated on 04th Jul 2020, Blog, Interview Questions
These People Soft CRM Interview Questions have been designed specially to get you acquainted with the nature of questions you may encounter during your interview for the subject of People Soft CRM . As per my experience good interviewers hardly plan to ask any particular question during your interview, normally questions start with some basic concept of the subject and later they continue based on further discussion and what you answer.we are going to cover top 100 People Soft CRM Interview questions along with their detailed answers. We will be covering People Soft CRM scenario based interview questions, People Soft CRM interview questions for freshers as well as People Soft CRM interview questions and answers for experienced.
1)What are the statuses available in People Soft Domain Status Menu?
Ans:
Server Status
Client Status
Queue Status
2)How would you implement row level security in Peoplesoft CRM?
Ans:
The steps to assign row level security are:
Assign desired values of fields (department/ job location/ job company/ business unit etc) to Data Permission Lists
Assign these Data Permission Lists to users:
Data Permission List is given access to values values of 'Department' field defined at various levels in Department Security Tree through: Set Up HRMS -> Security -> Core Row Level Security -> Security by Dept Tree
Users are directly assigned to Data Permission List in user Profiles component – 'General' page – Row Security field. A user can be assigned to only one Data Permission List at a time.
If field is not 'Department' but 'Location', 'Business Unit', 'Salary Grade' etc:
Data Permission Lists are given access to values of these fields through: Set Up HRMS -> Security -> Core Row Level Security -> Security by Permission List
Users are assigned to Data Permission Lists through roles in user profiles component (Roles page). Multiple such roles can be assigned to users as per requirement.
3)What is the default Crystal Report that PeopleSoft Query tool creates?
Ans:
The default Crystal Report that People soft Query tool creates is ACTQRY.RPT
4)Where do you need to install connectivity software?
Ans:
We need to install Connectivity Software on Appserver and scheduler server if they are not on the Database server
5)What is the purpose of state records?
Ans:
To store application data for life of the application Engine process
6)What is the most important Record in PS HRMS?
Ans:
JOB record
7)What is dynamic view?
Ans:
Dynamic View is like SQL View but we cannot build the dynamic view. When we do not want store the database then us dynamic view.
8)What is the difference between SQL View and Query View?
Ans:
In Sql view manually write the SQL statement, Query view use the PS QUERY tool.
9)What is section?
Ans:
A section is a set of ordered steps that is executed as part of a program. You can call sections (and other programs) from steps within other sections.
10)How do you create the Department security with navigations?
Ans:
To do this, after you have created your Departments Navigate to TreeManger->Tree Manager and select Appropriate Security Tree (In General in People soft this will be DEPT_SECURITY). Attach your newly created Department in the tree in the required node. Then after run HR_FASTVIEW Application engine by Navigati through-
SetupHRMS->Security->Department Security->Update dept Security.
11)What is ERP and how it is related to SAP?
Ans:
ERP is generally referred to a class of business software that addresses a business firm in totality, rather than one or two functions. For example, there are accounting software, inventory software, etc. that addresses a specific function of a business. However, ERP class software addresses all the functions of the business and provides an integrated view of the business to the management. SAP is a German company and is the world leader in ERP software across various industries.
12)What is difference between Translate table and Prompt table?
Ans:
There are few differences between Translate tables and prompt tables
Translate tables have a max length of 4 char for each element. However, prompt table elements have no such limitation
There can be only 30 entries in a translate table. Whereas prompt table can have n number of entries.
13)What are all the steps involved in Upgrade process?
Ans:
Prepare Copy of Production Database
Install New Release
Upgrade People Tools
Run and Review Compare Reports
Apply Application Changes
Complete Production Copy
Test the Upgrade
Move into Production
14)Explain what are component buffer and data buffer?
Ans:
Component Buffer contains all the Data of active component Data Buffer:
Data Buffer contains Data other then the Data in the Component Buffer.
Data Buffer classes are available in people code, Rowset, Row, Record, Field, Array, Sql, File, chart, Drid and so on.
15)What are the views available in App. Designer project workspace?
Ans:
Development and Upgrade Views
16)What are the differences between RowClass and RowSet in PeopleSoft?
Ans:
Rowclass is a single row of data that consists of 1 to n records of data. Rowset object is a data structure used to describe hierarchal data. It consists of a collection of rows.
17)What Record Changes does not affect Database?
Ans:
Derived work record
Dynamic View
Query View
18)What are the main attributes of a Component Interface (CI)?
Ans:
Keys, Properties & Collections, Methods, and Name
19)Will Tuxedo continue to be used in a PeopleSoft/WebSphere or PeopleSoft/WebLogic environment?
Ans:
Yes, WebSphere or WebLogic are used as the HTTP server and servlet engine. They are not used as middleware with the PeopleSoft Application Server. Tuxedo is always used with PIA, regardless of the HTTP server or Java servlet engine.
20) Define a section with respect to PeopleSoft CRM processes?
Ans:
It is important for you to note that section is also known as a set of ordered steps that are usually executed as a part of the program. You should also take care of the fact that while answering this question is section can also be used from the steps that are mentioned within the other sections.
21) Name some of the other payment methods in PeopleSoft?
Ans:
Apart from the above-mentioned payment methods that are commonly used, Letter of Credit, Wire Transfer, Direct Debit and Manual Check are also widely used but with less popularity.
22) What are state records in CRM and how they are useful?
Ans:
State Records are considered when it comes to passing the values from one domain to another. With the help of them, it becomes simple for the users to find resolution to the problems faced by the App Engine.
23) What are the situations in which an organization needs a Customer Relationship Management system?
Ans:
First is when the overall number of problems that a customer is facing is blooming and no resolution is available in a proper manner. Next is when an organization has to deal with a very large section of customers on a regular basis. Another situation is when the communicating team is not able to stay in touch with potential clients. Also, there is a need of a CRM software when the users are not in a position to keep a good track record of their clients with information such as type of problem they face, when most of the issues are arriving, the best ways to resolute them, staff training on effective CRM and so on.
24) What according to you is the biggest benefit that organizations can derive through PeopleSoft CRM software?
Ans:
It simply enables business to understand the spending patterns of the customer and this is exactly what with the help of which it becomes possible for the organizations to sell their products or the services easily to the existing customers.
25) What do you mean by the term target audience?
Ans:
Businesses often have to target the people when it comes to selling their products and the services. For this, they have to target an audience based on their interest and other similar factors. The businesses are free to keep up the pace in this matter simply by adopting various available options.
26) Define the term Enhanced Contact Management?
Ans:
It is basically a module of Customer Relationship management in which more emphasis is given to improve the personal contacts or the relation with a customer by an organization. There are certain methods that can be considered for this.
27) What according to you PeopleSoft Customer Relationship Management Software can do for a business?
Ans:
It simply records and maintains the contact information of all the customers such as email ID, contact number, recent purchases and so on. Other useful information such as the preference of the customer can also be derived through this approach. A complete record of customers can be made available which can help organization to improve their relations with the customer in the long run. A 360-degree view of the customer can be created with the help of this software and the businesses can easily keep up the pace.
28) What do you think is the benefit of cross-team collaboration?
Ans:
It is basically an approach that simply makes sure that both customers and the organizations can help each other when required. Such a relation is known as cross-team collaboration. It is not necessary always that it exists between a customer and a business only. It can also exist between different organizations and business or even among the different departments of a specific organization.
29) Do you support the fact that good relations can be a major pillar for heightened productivity?
Ans:
Yes, this is true. Better relation with the customer can simply make sure of productivity under all the situations. This is mainly because good relations encourage everyone involved in different operations to perform their functions and tasks reliably. When everyone pays good attention towards their work, the chance of any sort of errors can be eliminated and the productivity can be enhanced simply.

30) Explain what does PeopleSoft query is used for?
Ans:
PeopleSoft query is a way to generate ad-hoc and scheduled reports quickly from any source data stored in your PeopleSoft tables. User can build and execute queries using any supported web browsers.
31) In what all ways you can use PeopleSoft Query?
Ans:
PeopleSoft query can be used:
To display data in a grid
To run queries as a discrete process
To schedule a query
To download query results to XML and Excel spreadsheet
To cater as a data source for Crystal Reports
To decide to whom to forward information
To cater as a data source for defining online analytical processing cube (OLAP)
To create a data source for PeopleSoft and Vision reports
32) Explain what is the use of Publish Utility in PeopleSoft?
Ans:
The publish utility automates the procedure of copying the contents of the entire table into a legacy system or remote database.
33) Mention what is PeopleSoft Multi-Channel framework?
Ans:
PeopleSoft multi-channel framework provides an integrated infrastructure to support multiple interaction channels for call center agents or other PeopleSoft users who must respond to notifications and incoming requests. PeopleSoft multi-channel framework supports following channels.
Web collaboration (Chat)
Voice (Telephone)
E-mail
Instant Messaging
34) Mention what are the different types of service operation does PeopleSoft Integration Broker provides?
Ans:
PeopleSoft integration broker supports four types of services
Asynchronous one-way
Asynchronous response/request
Asynchronous to synchronous
Synchronous
35) Mention where you can add a value to the underlying table in PeopleSoft?
Ans:
In PeopleSoft, you can add a value into the "prompt table with no edit".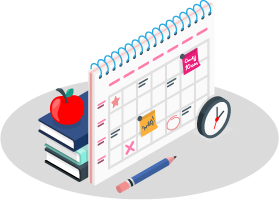 Get Peoplesoft CRM Certification Course to Enhance Your Career
Weekday / Weekend Batches
See Batch Details
36) Mention what are the tools are provided by PeopleSoft for testing your integration development?
Ans:
The tools that are provided by PeopleSoft for testing your integration development:
Send master utility
Simple post utility
Automated integration point testing
Transformation test utility
Handler tester
Schema tester
37) Mention what is the role of Schema Tester?
Ans:
The Schema Tester utility allows you to validate rowset-based and non-rowset-based messages against message schemas during development to determine if messages link to defined message schemas.
38) Mention what does feed publishing framework provides?
Ans:
Feed publishing framework provides:
A set of API's and code samples to assist application developers in making new types of feeds and synchronizing them with existing features
Unified interfaces for administrative users and content owners to create, configure and maintained feed definition of various types
Interfaces for end users to explore related feeds and search feed definitions
39) Explain in what ways you can create exceptions in PeopleSoft?
Ans:
In PeopleSoft, exceptions are handled in two ways:
Creating an exception base class that wraps the built-in function call and handles its function parameters consistently, which is more common way
By calling the built-in function CreateException
40) Question based on changing prompt table, what happens when changing from NO EDIT TO EDIT option?
Ans:
User can type only prompt table values and the default values gets populated from the database
41) Customization done in Dev DB, Which tool I will use to move it to Prod DB?
Ans:
Use App Designer and Go Tools > Copy Project > To Database
42) How many Message nodes are possible for a database?
Ans:
Unlimited
43) How will you get a single output by combining two or more queries?
Ans:
UNION
44) Which Data Type is NOT supported by the PeopleCode programming environment?
Ans:
TIMESTAMP
45) What are parts of an AE program?
Ans:
Section, Step and Action
46) You can specifically trace the activity of the PSAPPSRV server process by setting the?
Ans:
PSAPPSRV.tracesql
47) Where will you configure failover of Application Server ?
Ans:
Configuration.Properties
48) Can a PeopleTools 8.4x and a PeopleTools 8.1x database runs on the same machine?
Ans:
Yes, databases can co-exist on the same physical machine In most cases, the databases themselves can exist within the same RDBMS; however, it is important to verify that the database version required by PeopleTools is the same as for the current PeopleTools x implementation.
49) Does Application Messaging work between 8.1x and 8.4x applications?
Ans:
Application Messaging is used by PeopleSoft applications to communicate with one another This is true not just for x and applications, but also between an x and an application For example, the HRMS applications, which are based on PeopleTools , can communicate with Financials applications, which are based on PeopleTools , using Application Messaging If specific issues materialize relating to the Application Messages published by certain applications, these new messages will be made available to customers
50) You want to update your password and enter a hint for forgotten password What would you access?
Ans:
User Profile
51) Which Web Services is only used as a Proxy Server?
Ans:
MS IIS
Apache
52) A Customer wants to use a new Image in HRMS, where it is stored?
Ans:
DB Server
53) Which PeopleCode debugging tools automatically converts values of any data type other than object into string values for viewing during debugging?
Ans:
Win Message
54) I have created a Menu and a Page and given user access to that page, which of the tables gets affected in this scenario?
Ans:
PeopleTools Tables
55) Which command is valid in both bootstrap and regular mode when operating the data mover?
Ans:
GRANT_USER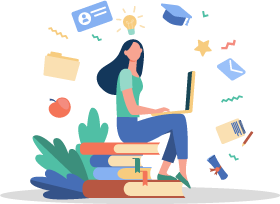 Learn Experts Curated Peoplesoft CRM to Build Your Skills & Ability
Instructor-led Sessions
Real-life Case Studies
Assignments
Explore Curriculum
56) PeopleCode events pertaining to Record Field?
Ans:
FieldEdit, Save Edit and Row Delet
57) What Is Activity Type? What Is Cost Center? What Is Gap Analysis? Explain With Real Time Scenario.
Ans:
Activity type is the nature of "action committed or happened" and nature depends on the environment. The all value paid or bear is located in small center is called Cost Center. GAP Analysis is finding out the "Deficiency or gap" between ideal system or standard system and existing or current system.
58) If We Use Sql And Call Section At Same Time Then Database Deadlock Will Occur. Why Does This Dead Lock Occur?
Ans:
When a SQL is run, there is a lock on the table by the database until that section is completed. If during that time there runs some other process, which will use the same table locked by our section using call section, this process will fail.
59)Are disconnected mobile applications supported in PeopleTools 8.1x?
Ans:
No. The PeopleSoft Mobile Agent architecture, which is used to support disconnected mobile applications, is only available in PeopleTools 8.4. The PeopleSoft Mobile Agent is dependent upon certain core technologies that were specifically developed for PeopleTools 8.4.
60)Where the WorkItem is available?
Ans:
WorkList Record
61)Where is workflow work items found?
Ans:
Worklist
62)What BEA product is used for DB transaction in PS?
Ans:
Tuxedo
63)What event is fired after DB Update?
Ans:
Save Post Change
64)Which process is used for running AE programs, which are to be run at a frequency of less than a day?
Ans:
PSDAEMON
65)Which RDBMS uses Tablespace?
Ans:
Oracle, DB2, Other Options: SQL Server, Informix, Sybase
66)How do your login into BS mode?
Ans:
DB Access Id
67)What are Menu types available?
Ans:
Component
PeopleCode
Separator
68)What is the output when Query is split?
Ans:
Component and Query view
69)What does ER Diagrams represent?
Ans:
Graphical Representation of Business process and Relations
Flowchart of tables and Fields
On which servers Tuning can be done.
Database Server
App Server
Batch Server
Web Server
70)Where is Unicode used?
Ans:
IBM DB2/UDB
Oracle
SQL Server
71)Which of the above record definitions is NOT stored on the database and therefore not required to build?
Ans:
Drived Work Record definitions not stored in the database and not require for build. When a business requirement in Fit/Gap Analysis does not meet by PeopleSoft then go for customizations through Consultants
72)What are the Search Keys you use to find Patches and Fixes?
Ans:
Report id date release
73)What are the People Tools available for Integration Broker?
Ans:
The tools available are Application designer and Integration Broker Setup on the Portal. In peopleSoft, 8.48 messages and Queues can be created from the Setup itself.
Peoplesoft HRMS Functional Sample Resumes! Download & Edit, Get Noticed by Top Employers!
Download
74)Which of the following commands can be run in Bootstrap mode?
Ans:
Bootstrap mode is logging into the App designer in 3-tier mode i.e. Logon to the App server. Data mover scripts are run on 3-tier mode.
75)Which of the following fires after the database is updated?
Ans:
SavePostChange
76)What are the Record field events?
Ans:
FieldChange
FieldDefault
FieldEdit
FieldFormula
PrePopup
RowDelete
RowInit
RowInsert
RowSelect
SaveEdit
SavePostChg
SavePreChg
SearchInit
SearchSave
Workflow
77)What Record Changes does not affect Database?
Ans:
List Box item
78)How do you set up table sharing in PeopleTools applications?
Ans:
SETID
79)How do you decide between appeng/Ci and SQR while conversion?
Ans:
When you want to validate data upfront before loading them into db, better plan to use appeng or ci, when you are thinking of huge data to be loaded SQR would be a better option
80)What is the performance tuning of SQR?
Ans:
Use Load-lookup and Arrays
Use SQT files.
Generate multiple reports.
Use correct sql joins.
81) How a Customer Relationship Management software can bring advantages to a business?
Ans:
This software can simply enrich the services and the products with quality. In addition to this, the marketing ROI can be enhanced without a limit. Reliable reporting is important in all the business as it simply makes sure to accomplish and support a diverse array of tasks. This can easily be done through a software for CRM such as the one provided by PeopleSoft. Moreover, the overall retention and customer satisfaction can be boosted in the shortest possible time.
82) With a proper CRM tool, can business achieve results towards automation?
Ans:
Of course, it is possible for the business to simply make sure of numerous benefits in automation when they are already considering an effective CRM relation tool.
83) What type of data is generally associated with a CRM project?
Ans:
It can have sale, as well as purchase date, various response to the campaigns, information about accounts, service records, support records, Web registration data, and user's personal information.
84) Define Global Assignments with respect to the PeopleSoft CRM?
Ans:
Global assignments are those kinds of strategies which always enables the organization to make sure that the employees are assigned to a global assignment. Moreover, they are also beneficial in ensuring that the organization can easily track the qualifications, education and other parameters that are termed essential for their success. It is one of those PeopleSoft CRM strategies that come to play when the organization has its presence in various nations.