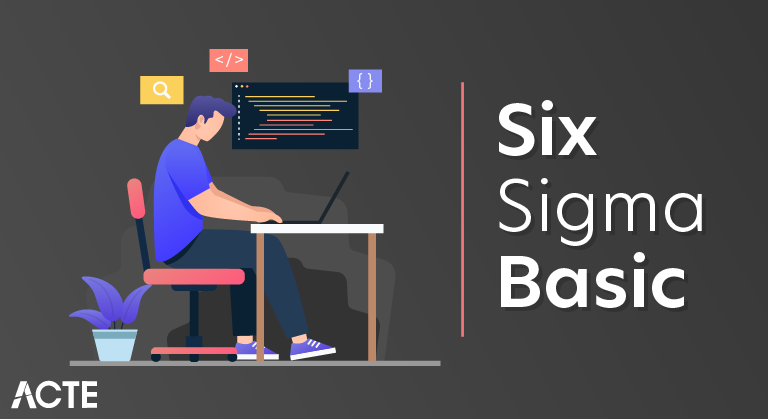 Basic Lean Six Sigma Concepts & Tutorial: Defined, Explained, & Explored
Last updated on 08th Jul 2020, Blog, Tutorials
What is Six Sigma?
Six Sigma is a quality management approach that benefits individual or organizations to minimize/eliminate defects in products and services. It is a group of techniques which helps you in quality improvement.
Six Sigma methodology is based on statistical analysis instead of guesswork to improve processes with unknown problems.
The word Sigma is a statistical term which helps a professional judge, how far a specific process needs perfection.
Why do we need Six Sigma? Key Benefits
Here, are major advantages of Six Sigma process:
Significantly cut down the cost for any organization and improve customer satisfaction
Shorten time to market
Reduce defects, rejections, re-work and helps you simplify operations.
Improve competitive position.
In six sigma process, 99.9999966% of the products manufactured are expected to be free of defects.
| Process Sigma | DPMO (Defect Per Million Opportunities) | Process Yield |
| --- | --- | --- |
| 6.0 | 3.4 | 99.99966% |
| 5.0 | 230 | 99.97700% |
| 4.0 | 6210 | 99.37900% |
| 3.0 | 66,800 | 93.32000% |
| 2.0 | 308000 | 69.20000% |
| 1.0 | 690000 | 31.0% |
The process allows you to removes waste and inefficiency, thereby enhancing customer satisfaction by delivering results according to customer's expectation.
History of Six Sigma
Here, are important landmark form the Six Sigma history:
In, 1970-Motorola started experimenting with problem-solving using statistical analysis.
In 1986, Bill Smith a senior scientist working in Motorola introduced the concept of six sigma to standardize the way defects are counted.
1987- Motorola company officially launched its six sigma program.
1991- Motorola certified its first Black belt six sigma expert.
2000- In this year, Six Sigma was effectively established as an industry standard. Training, consultancy, and implementation of Six Sigma methodology were formalized.
The Six Sigma Methodologies
The principles of Six Sigma are executed through methodologies, or roadmaps to improvement, like a workflow. Two main methodologies are DMAIC and DMADV.
DMAIC, pronounced duh-may-ick, focuses on incrementally improving existing processes. It is the most widely known methodology and the one most associated with Six Sigma. Here's a breakdown of the acronym:
D: Define customer needs, requirements, and project goals.
M: Measure the key aspects of the current process. According to McAdams, "This is when you start to understand your process and collect data on it."
A: Analyze data. "You really dig into what types of errors occur and where they occur so you can target the big ones. It's always looking at that 80/20 rule. Let's see if we can find 20 percent of the reasons that give us 80 percent of the defects and let us reduce those," says McAdams.
I: Improve processes. Test and verify that the improvements work.
C: Control future implementations of the processes to ensure that errors don't creep in again.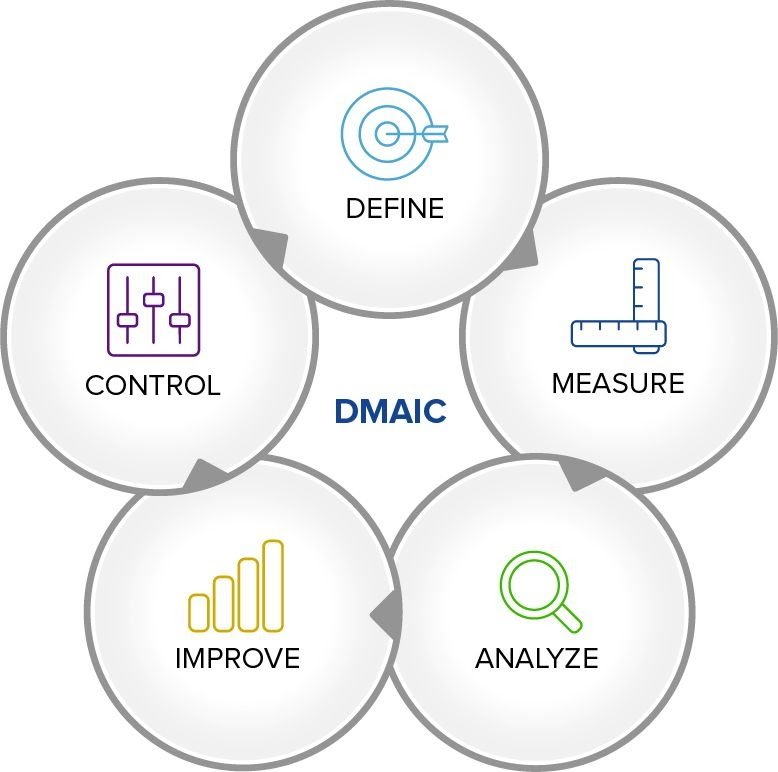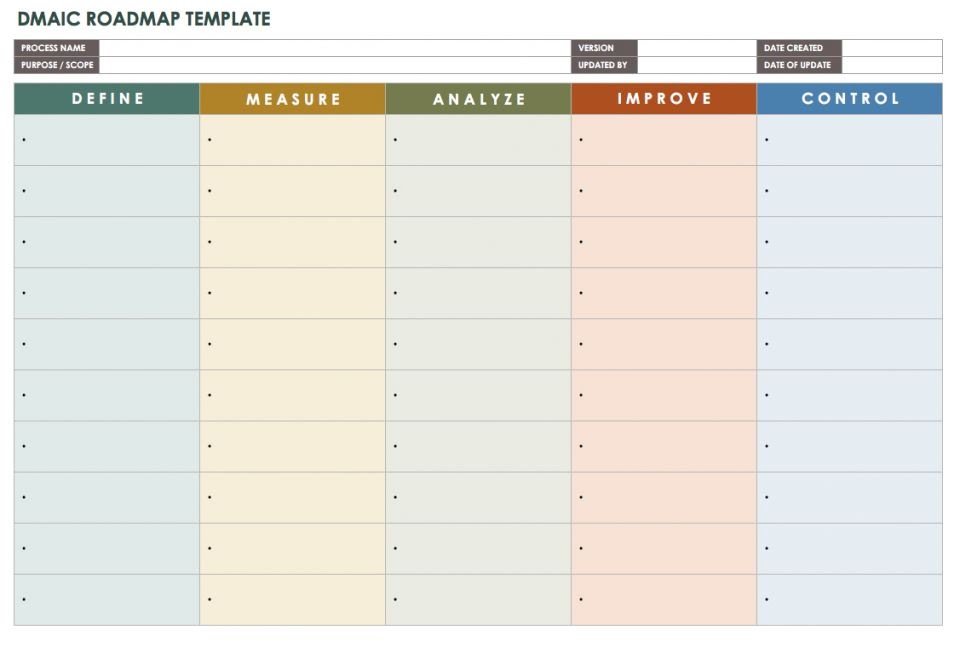 Download DMAIC Roadmap Template
DMADV, pronounced duh-mad-v, focuses on optimizing new products or processes to Six Sigma standards. Here's a breakdown of the acronym:
D: Define customer or company goals.
M: Measure CTQs (characteristics that are Critical To Quality), measure product capabilities, production process capability, and risks.
A: Analyze data from your measurements.
D: Design the new process based on the analysis in the previous step.
V: Verify the design through a pilot run, implement the new process, and hand off to the process owner.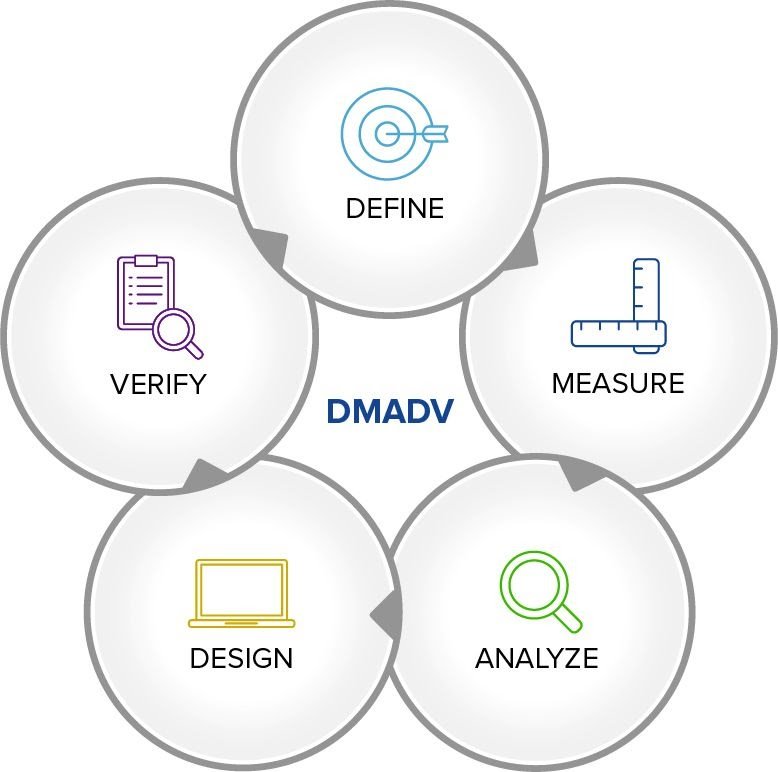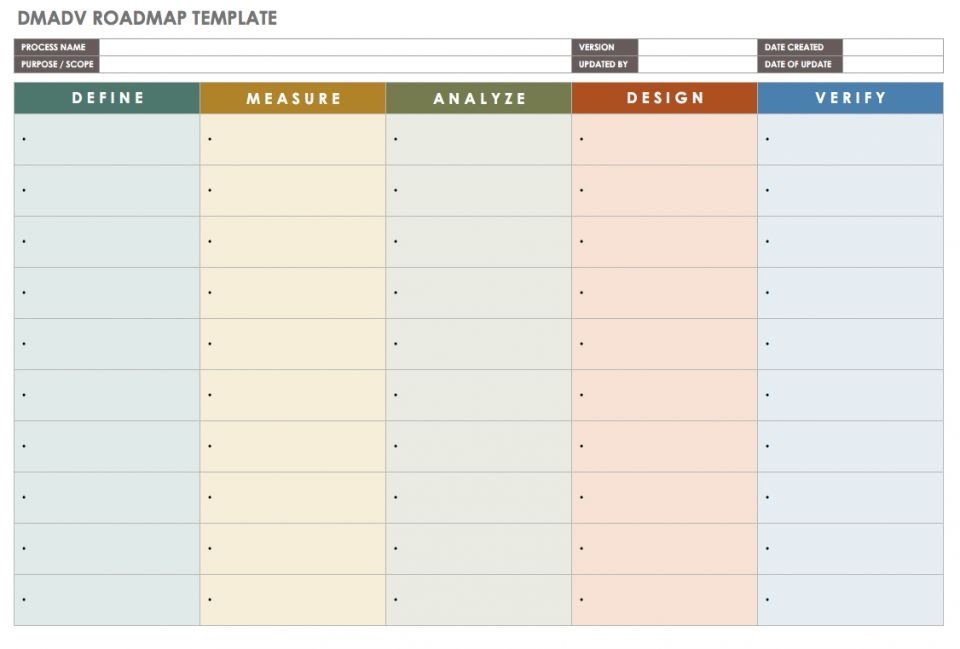 Download DMADV Roadmap Template
An emerging methodology, particularly associated with Lean Six Sigma, is DFSS (Design for Six Sigma), with an emphasis on determining from the beginning what the customer wants and ensuring that defects and inefficiencies are anticipated and eliminated at the design phase of a process.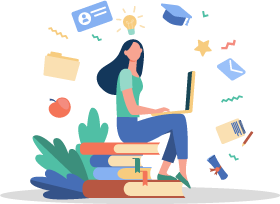 Get Six Sigma Training from Real Time Experts
Instructor-led Sessions
Real-life Case Studies
Assignments
Explore Curriculum
Analysis Tools
During the phases of these methodologies, Six Sigma practitioners use various existing tools to measure and analyze process and outcomes. A partial list of the most mentioned tools is as follows:
Control charts
5 Whys
Root Cause Analysis
CTQ Tree (Critical to Quality)
Statistical process control
Process mapping
ANOVA gauge R&R (analysis of variance gauge repeatability and reproducibility)
Pareto charts
Value Stream Mapping
Business Process Mapping or Checksheet
Cause and effects diagram or fishbone diagram or Ishikawa diagram
Taguchi method
What is Six Sigma Certification?
A certification course ensures that a Six Sigma Certified professional should be exposed to the complete Six Sigma Body of Knowledge (BoK). They should able to meet a minimum standard of proficiency for six sigma and its implementation.
The Six Sigma certification has five levels as
White Belt
Yellow Belt
Green Belt
Black Belt
Master Black Belt
However, it is not necessary to be six sigma belt certified in all three levels. You can select the level which is most appropriate according to your career objectives.
Types of Six Sigma certification
Five types of six sigma certification training are:
Six Sigma White Belt
Six Sigma Yellow Belt
Six Sigma Green Belt
Six Sigma Black Belt
Six Sigma Master Black Belt
Six Sigma White Belt
Six Sigma White Belt certified training courses are geared toward providing you with fundamental comprehension of the Lean Six Sigma outline. It involves process improvement, variability, adverse effects on process performance. It gives brief information about the specific roles that every team members play.
Six Sigma Yellow Belt
Six Sigma Yellow Belt is a basic level course. It teaches you some basic methodologies. It also covers a few of the underlying improvement procedures along with important metrics.
Six Sigma Green Belt
The Six Sigma Green Belt certification training and certification course allow individuals to learn how to create charts, process map and control an entire plan to guide other employees to describe the Six Sigma roles within an organization. The Green Belt designation mostly belong to the team leader or a senior member of the team working directly with the team leader.
Six Sigma Black Belt
The Six Sigma Black Belt Certification course allows individuals to perform factorial experiments, multiple regression, and describe the various type of process optimization. A Black Belt should able to understand team dynamics and assign team member roles according to his or her skill level.
Master Black Belt
The two-week program Master Black Belt training is the highest Six Sigma certification program. It offers an advanced and highly focused approach Six Sigma project and statistical methods.
It is a useful certification course for a person who deals with a team or is part of executive leadership. The Master Black Belt Six Sigma professional should able to answer procedural questions and able to resolve any complex technical issues.
Learning objectives of Six Sigma certification
Here, are essential learning objectives of six sigma certification:
Six Sigma certification helps you to increase your value to your employer and its clients.
Helps you to improve customer satisfaction and quality of product and service
Reduce the process cycle time and therefore allows overall cost saving up to 30%
Helps you to identify and improve requirements in the project definition phase.
Explain how to measure product and process
Helps you to perform data analysis and hypothesis testing.
It allows possible improvement actions for the performance of variations.
They are the right fit to achieve organizational goals.
You will get higher levels of positions in the organization.
This certification training enhances your chances of Promotion.
You can make your existing job easier by applying the Six Sigma tools and techniques.
Overall Business improvement
How can I get started?
Sig Sigma certificate main conducted by ASQ, CSSC, and IASSC.
What is ASQ?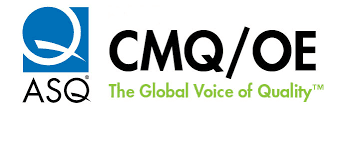 The American Society for Quality is also known as ASQ offers 18 different certifications for different intellect people. The organization provides mainly Yellow Belt, Green Belt, Black Belt, and Master Black Belt certificates.
Candidates applying for ASQ certifications can save money by becoming a member. The cost varies between $29 to $159 per year, depending on whether you are joining at the Student, Associate, or Full level.
The following table shows how the exam fees structure of ASQ certifications.
| Exam | Fee (member) | Fee (nonmember) | Retake Fee |
| --- | --- | --- | --- |
| ASQ Yellow Belt | $244 | $394 | $184 |
| ASQ Green Belt | $438 | $299 | $239 |
| ASQ Black Belt | $538 | $388 | $338 |
| ASQ Master Black Belt* | $2,229 | $2,074 | $2,229(For member)/ $2,074( non-member) |
*A candidate who is applying for Master Black Belt also need to pay $650 (or $495 in case of members for portfolio review)
What is the IASSC certification?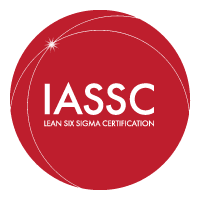 IASSC or The International Association for Six Sigma Certification is a professional association which is dedicated to growing and enhancing the standards across the Six Sigma Lean community. Although, IASSC never provide any training, mentoring and coaching. They only conduct the exam of the Six Sigma certificate exam for a candidate.
Certifications offered by IASSC are:
Black Belt
Green Belt
Yellow Belt
Candidates applying for Yellow Belt certification cost you $195.00 while Green Belt certification which is advanced course cost you $295 and to achieve Black Belt you need to pay $395.00.
What is CSSC?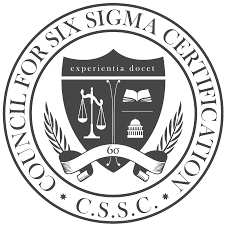 The council for Six Sigma Certification (CSSC) is an official Industry standard of Six Sigma accreditation to get the Six Sigma certification and training.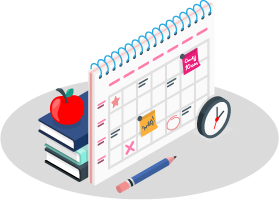 Best Hands-on Practical Six Sigma Training & Certification Course to Build Your Skills
Weekday / Weekend Batches
See Batch Details
The primary object of this course is to ensure that the person can learn the complete Six Sigma certification knowledge. The professional should be able to achieve the minimum standard of proficiency to become six sigma professional.
The council for Six Sigma Certificate offers the following courses:
White Belt Certification
Yellow Belt Certification
Green Belt Certification
Black Belt Certification
Master Black Belt Certification
Candidate can apply for basic white belt course free. To get Yellow Belt, he needs to pay $79, for Green Belt $119 and $ 159 to get Black Belt certification.
How to get six sigma certificate?
To achieve a Six Sigma certificate a candidate should able to meet the experience requirement, need to show his or her competency for the skill applied, and finally need to pass a written certification exam.
The written exam is mostly of multiple choice that increases in allotted time and difficulty at each certification level.
For example, the Yellow Belt exam may take 90 minutes. A Black Belt may take four hours. The hands-on portion of certification testing may need you to complete one or more quality project management with signed affidavits.
Who needs to attend six sigma certification training?
Some of the professional for whom this training is considered extremely relevant are:
Quality control professionals
Process improvement professionals
Production managers
Process control specialists
Frontline and factory supervisors
Management professionals such as HR
IT and Finance Engineers
Business Analysts
Current Job Prospects
The market for Six Sigma professional is very healthy. Job portal site like Simply Hired and Indeed.com show more than 2500 open position for Six Sigma Green Belt Certified and around 3000 for Black Belt. The number is much lower for Yellow Belt professional. Master Black Belts also has 1000 job posting every day.
On the salary front, data from PayScale and Glassdoor indicate that in U.S.A. average annual salary for Yellow Belt Six Sigma Certified professional is around $53,901 and Green Belt is $42,053. A Black Belt can get around $ 90,000, and Master Black Belt average $119,000, and sometimes more.
Is Six Sigma Right for You?
There are a number of essential questions and facts that you need to consider in making a readiness assessment −
Is the strategic course clear for the company?
Is the business healthy enough to meet the expectations of analysts and investors?
Is there a strong theme or vision for the future of the organization that is well understood and consistently communicated?
Is the organization good at responding effectively and efficiently to new circumstances?
Evaluating current overall business results.
Evaluating how effectively do we focus on and meet customers requirements.
Evaluating how effectively are we operating.
How effective are your current improvement and change management systems?
How well are your cross-functional processes managed?
What other change efforts or activities might conflict with or support Six Sigma initiative?
Six Sigma demands investments. If you cannot make a solid case for future or current return, then it may be better to stay away.
If you already have in place a strong, effective, performance and process improvement offer, then why do you need Six Sigma?
There could be many questions to be answered to have an extensive assessment before deciding if you should go for Six Sigma or not. This may need time and a thorough consultation with Six Sigma Experts to take a better decision.
The Cost of Six Sigma Implementation
Some of the most important Six Sigma budget items can include the following −
Direct Payroll for the individuals dedicated to the effort full time.
Indirect Payroll for the time devoted by executives, team members, process owners and others, involved in activities like data gathering and measurement.
Training and Consultation fee to teach Six Sigma Skills and getting advice on how to make efforts successful.
Improvement Implementation Cost.
Six Sigma Sample Resumes! Download & Edit, Get Noticed by Top Employers!
Download
Summary
Six Sigma is a quality management approach that benefits individual or organization to minimize/eliminate defect/errors in products and services.
Six sigma method helps you to cut down the cost of any organization and improve customer satisfaction.
The Six Sigma certification has five levels as White Belt, Yellow Belt, Green Belt, Black Belt, Master Black Belt.
Six Sigma certification helps you to increase your value to your clients and company.
Sig Sigma certificate main conducted by CSSC, ASQ, and IASSC.
The average salary for "six sigma certified" ranges from approximately $68,642 per year for Business Consultant to $89,727 per year for Senior Quality Engineer