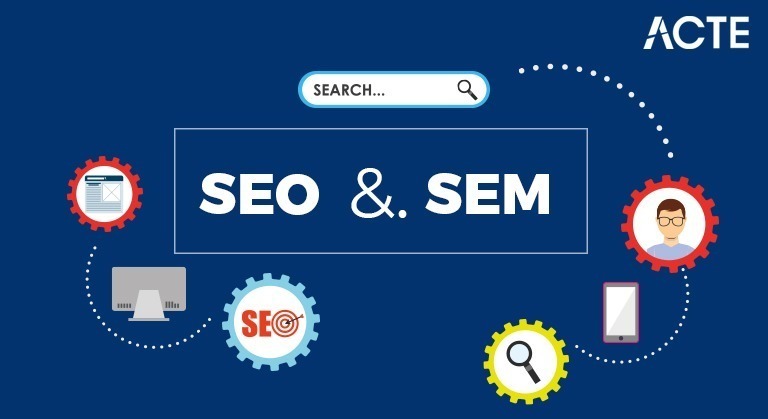 SEO vs SEM | Know Their Differences and Which Should You Learn?
Last updated on 25th Dec 2021, Blog, General
SEO is sometimes used as an umbrella term that includes SEM, but because SEM refers strictly to paid advertising, they are actually separate. SEM is about getting traffic via paid ads, and SEO is more about acquiring, monitoring and analyzing organic (unpaid) traffic patterns.
SEO vs SEM: Main Features
Interlinking site architecture equals easy indexing
The Difference Between SEO and SEM
What is SEO and How Does it Work?
What is SEM and How Does it Work?
What Are the Differences Between SEO and SEM?
How are SEO and SEM Complementary?
SEO and SEM: Future Directions
SEO vs. SEM: How Long It Takes to See Results
Conclusion
SEO vs SEM: Main Features:

SEO is the practice of continually optimising a website to rank in organic, non-paid search engine result pages (SERPs). Google uses 200+ ranking signals in its algorithm. That said, SEO can be broken down into four main subcategories: on-page SEO, off-page SEO, technical SEO and user interaction signals.

On-page SEO: This is where you optimize your website around the keywords that your target customer searches for in Google, Bing and other search engines. For example, an on-page SEO best practice is to include your main keywords in your title tag, meta description, and webpage URL.

Off-page SEO: Off-page SEO is all about getting trust and authority signals from other websites. It mainly involves building high-quality backlinks to your site. But Google can also use other off-page prompts, such as E-A-T and social media sharing, to increase the authority of your site.

Technical SEO: Here you make sure that Google and other search engines can crawl and index all the pages of your website. Technical SEO also includes things like: Make sure your pages load quickly. And that your site's architecture is set up correctly.

Interlinking site architecture equals easy indexing:

User Interaction Signals: The way users interact with your site helps Google determine whether your page is a good match for someone's search. For example, if your page has a high bounce rate, it could be a sign that your page isn't answering someone's query. And if Google deems your page suitable for that keyword, they may knock your ranking down a bit. Or off the front page altogether.

Remember:SEM is a high-level term that includes SEO. So everything that I just mentioned above for SEO applies to SEM as well. But apart from SEO, SEM also includes PPC. And PPC is a field that has its own characteristics, best practises, and more.

Bidding:Whether you use Google Ads or Bing Ads, paid ads in Search are all about bidding. With PPC, you bid on a specific keyword. And when someone searches for that keyword, your ad shows up.

Quality Score: The Quality Score is an extremely important Google Ads metric. It's basically Google's way of finding out whether your ad is a good match for someone's search.

Ad Copy: Writing engaging ad copy is a big part of doing well with PPC. Why? Great ad copy=high CTR. And CTR means a good quality score. That is, you pay less for a single click.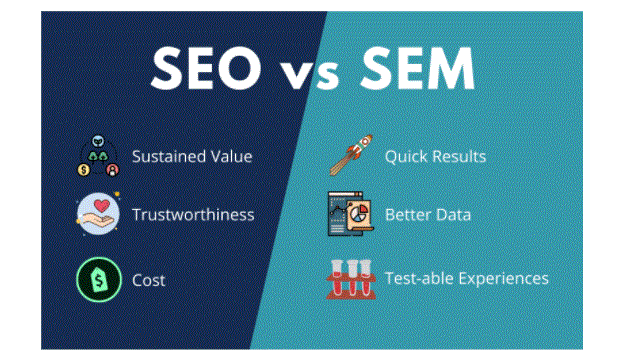 The Difference Between SEO and SEM:

SEO and SEM are actually two sides of the same coin, but they have very different actions and relate to different aspects of marketing. Sometimes the two words are used together to refer to similar activities, which can be confusing for those of us who are not familiar with this world.

So, what is the difference between Search Engine Optimization (SEO) and Search Engine Marketing (SEM)? How do the two relate and work together?<
Any digital marketing professional must have a solid grasp on these two terms and understand their importance in the marketing field. Read on to discover the role SEO and SEM play in the field of digital marketing today.
What is SEO and How Does it Work?

SEO is an important part of your digital marketing strategy and some knowledge is essential no matter what area of ​​digital marketing you specialise in.

NetMarketShare claims that as of 2017, Google grabbed more than 79% of search traffic globally, lagging the other main search engines at 7% or less. Thus, when we talk about search engine in terms of SEO the main focus is Google, but we still have to remember that others Bing, Baidu and Yahoo are still running (but barely)
Internet Live statistics claim that there are over 66,000 searches per second on Google every day. (Note that this figure was taken at the time of writing – you're likely to get a different number if you click on the link, as the data from this source is collected in real time.) This is true for any business. There's lots of activity. To compete and this is why SEO is such an important (but difficult) area of digital marketing to know.
Search engine optimization (SEO) refers to the process by which search engines "crawl" content to see how effective it will be at attracting traffic. Search engines will assess a number of things in a website (such as keywords, tags and link titles) and rank it for its ability to attract organic traffic based on a variety of factors.

Things crawlers look for include:

Quality Content: Having good quality content sends the message to search engines that your website and business are offering a legitimate good or service. The way they assess you is through link building and keywords.

User Experience: Is your website designed to be a frictionless experience for users? Is it fast and easy to navigate? Can users easily meet their end goals (ex: making a purchase).

Link Pattern: Are You Backlinking From Authority Sites? Where are your inbound links coming from?
What is SEM and How Does it Work?

Search Engine Marketing (SEM) is a descriptor that includes different types of paid search advertising. This is the type of thing you would see as a Google ad and usually end up at the top of the page list. Usually, this has nothing to do with keyword placement and usage and is the only way it may require some additional knowledge and strategy to do well.

Here are some examples of SEM-based advertising activities:

Targeted (paid) advertising campaigns
Writing copy using very selective keywords
Ensuring that advertising activities fall within an allocated budget
Apply key performance indicators such as click-through-rate (CTR) and cost-per-click (CPC) to future advertising activities
There is such a thing as a poorly performing SEM, but when it performs well, it will propel you to the top of the rankings. This involves taking some time to design your ads so that they are well targeted.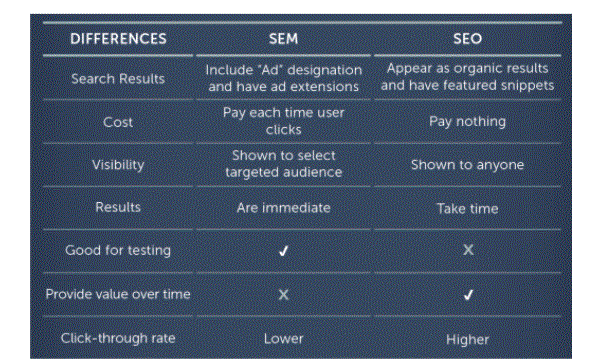 What Are the Differences Between SEO and SEM?

When we talk about the difference between SEO and SEM, we are actually talking about different methods of advertising.

SEO is sometimes used as an umbrella term that includes SEM, but because SEM strictly refers to paid advertising, they are actually different. SEM is about getting traffic through paid ads, and SEO is more about obtaining, monitoring and analysing organic (unpaid) traffic patterns.
How are SEO and SEM Complementary?

Both SEO and SEM rely heavily on keywords to drive traffic to business websites and web pages. Although the marketing techniques used for each are different, they both focus on traffic flow and how they relate to marketing activities. People will use search engines to find something they are looking for, and they will be able to find it by organic results (SEO) or paid results (SEM).
Most people search online before buying anything so a strong presence in search is important and using a strategic combination of both can increase your visibility in the long term.
SEO stands for organic traffic – so be it unpaid or free listings, and SEM is for targeted ads that you pay for. They can be complementary but only if the website is SEO-friendly at first, so SEM is more likely to be successful.
SEO is the foundation of good SEM and when you have each set up properly, you have a better chance of getting high-quality traffic and improving conversion rates. Once you have an SEO-friendly site and sponsored ads that are properly targeted using the right keywords, you have a higher chance of showing up at the top of paid searches. But for Google to see you as a reliable website, you must have your SEO.

If your website is on the new side, you can prioritise your PPC campaign first as SEO rankings can take some time to establish, but don't neglect your SEO during this process.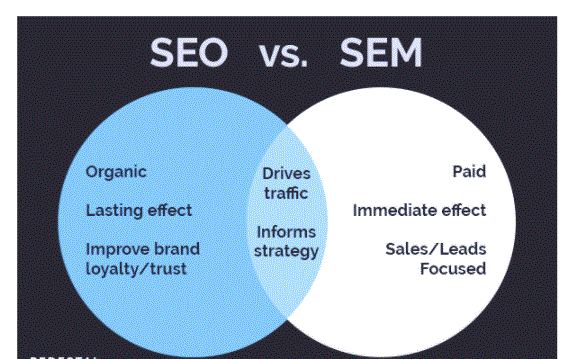 SEO and SEM: Future Directions:

SEO and SEM will continue to shift as the major search engines are constantly changing their parameters for ranking. For this reason, it is difficult to predict what is going to happen but here are some possible directions.
UX (User Experience) will become more and more important for SEO. This is a current trend and it is understandable that Google would want to reward the most user-friendly sites.
Google's Accelerated Mobile Project (AMP) will gain even more popularity. AMP is a collaboration between developers and other industry professionals to create a massive open source library that gives users more opportunities to create quick and smooth mobile-friendly web pages. This is one area where we will see the death of slow-loading pages that rank low. The use of AMP has resulted in a massive increase in mobile searches and traffic from major publications such as The Washington Post and Slate.
AI will become more and more involved in SEO and other search activities, especially as the Internet of Things becomes more and more prominent. This will change the nature of searches but allow us to create more targeted advertising for SEM.
Everything will become more data-centric and therefore easier to create targeted, personalised campaigns. But this will also increase the concern about the privacy of the users.
Anyone looking for a career in digital marketing should not only have a good grasp on how SEO and SEM work in today's current digital environment, but they should also see that as we become more and more focused on technology Will become dependent, how both will change. Having a solid understanding of how each of these is involved in digital marketing campaigns will be especially important in digital marketplaces for years to come.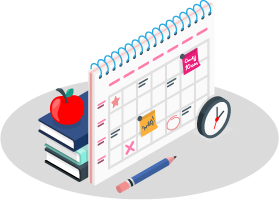 Develop Your Skills with SEO Certification Training
Weekday / Weekend Batches
See Batch Details
SEO vs. SEM: How Long It Takes to See Results:

One of the main differences between SEO and SEM is speed.The fact is: SEO takes time. a lot of time Especially if your site is new and doesn't have a lot of backlinks yet.
In fact, an analysis by Ahrefs found that it takes an average of 2 years to rank on the first page of Google. And many of the top-ranking pages were first published 3+ years ago.
Ahrefs found that it takes an average of 2 years to rank on the first page of Google.

This doesn't mean that you should expect it to take 2 years to rank in Google. If you target long tail keywords and apply SEO best practises, you can start seeing some results within a few months.
For example, when I launched Backlinko in early 2013, my website had essentially zero domain authority.
But thanks to a tonne of hard work and attention to SEO, I was able to get some organic traffic within months.

Google Ads – Traffic Graph Month

That said, it took years for my rankings and organic traffic to really climb.
Google Ads – Traffic Graph Year
On the other hand, if you focus your SEM efforts in PPC, you can start seeing results immediately.
You can run an ad in the morning, and start getting traffic and conversions in the afternoon.
But it does not mean that you will get ROI on the first day. In many cases, it can take months of testing and turnaround to get a positive ROI from a PPC. Still, there is no doubt that PPC starts working much faster than SEO.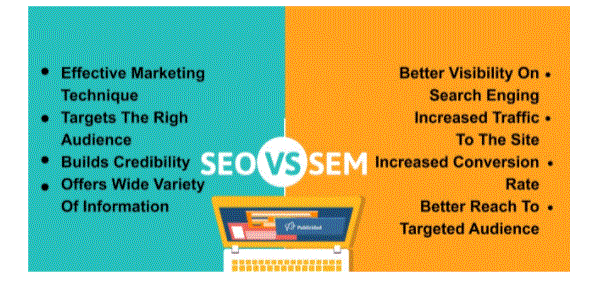 SEO Sample Resumes! Download & Edit, Get Noticed by Top Employers!
Download
Conclusion:

When you combine SEO and SEM, you have the ability to integrate channels and: Use data insights from your SEM strategy to supercharge your SEO approach, including gaining valuable insight into expected conversion rates, performance at the keyword level, estimating around traffic opportunities, and more. In this regard, think of SEM as the test-bed for SEO.

You can make your SEO efforts more difficult to reach by creating remarketing campaigns as part of your SEM strategy that didn't convert to customers before. You can target them through search ads, display ads, etc.

You can take SERPs in your hands by combining these two tips, and make sure you're showing up in both ad space and organic listings.