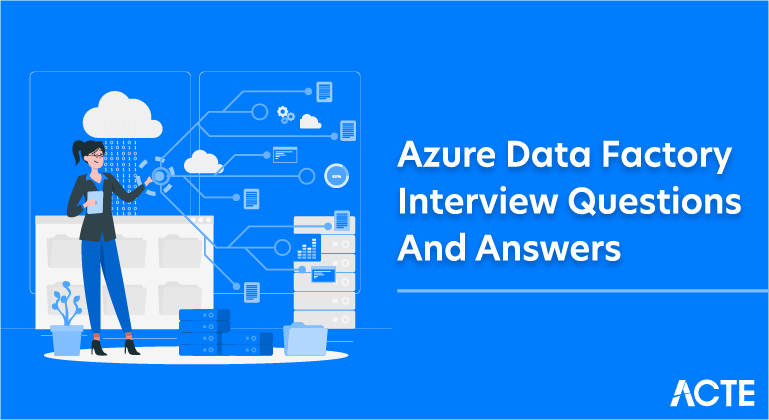 KNOW Top 25+ Azure Data Factory Interview Questions & Answers
Last updated on 03rd Jul 2020, Blog, Interview Questions
Gartner in its latest release of Magic Quadrant, has listed Azure as the second most dominating cloud provider for Infrastructure as a Service. What does this mean? Obviously, there are a lot of companies looking for Azure certified professionals. And we at edureka, are here to set you up for your next Azure Interview! Welcome to this blog on Azure Interview Questions.
We have compiled a list of top azure interview questions for you to refer, which revolve around the roles of an Azure Solution Architect, Azure Developer and Azure System Admin.
Want to Upskill yourself to get ahead in Career? Check out the Top Trending Technologies.
Before moving ahead, you may go through the webinar recording of Azure Interview Questions where our instructor has shared his experience and expertise that will help you to crack any Azure Interview:
1)What is Azure?
Ans:
Windows Azure is a cloud platform developed by Microsoft that enables businesses to completely run in the cloud. Cloud platform offers pay-as-you-go payment method to pay for the use of cloud services. For example, if you've a database and you don't use it, you don't pay.
Azure offers every service in the cloud a company needs to run its business. It provides infrastructure, hardware, operating systems, document services, storage, databases, data services, software, third party products, and anything you can imagine.

You can also host your own virtual machines, web servers, database servers, and content storage in Azure. Azure is not only Windows but also supports Linux servers.
Learn more about Azure, continue reading: Introduction to Microsoft Azure.
2)What is Cloud Computing?
Ans:
Windows Azure is a cloud platform developed by Microsoft that enables businesses to completely run in the cloud.
Cloud computing is Web based computing that allows businesses and individuals to consume computing resources such as virtual machines, databases, processing, memory, services, storage, or event number of calls or events and pay-as-you-go. The pay-as-you-go model charges for the resources as much as you use. Unlike traditional computing, if you do not use any resources, you do not pay. It is similar to having a water connection or an electricity line. You have a meter and meter keeps track of your monthly usage and you pay for that usage at a given rate.
Cloud computing is a culmination of numerous attempts at large-scale computing with seamless access to virtually limitless resources.
Here are some key advantages of cloud computing:
Cloud computing allows businesses to cut their operational and fixed monthly cost of hardware, employees, and software licenses. All hardware, database servers, web servers, software, products, and services are hosted in the cloud and added to the account as needed.
Cloud computing offers 24/7 uptime (99.99% uptime). Cloud servers and data centers are managed by the cloud service provider and you do not need to have any employees manage that.
Cloud computing is scalable, and reliable. There is no limit on the number of users or resources. Cloud increases processing and resources as needed. If you do not need resources, you can always scale down. Cloud service provider such as Azure or AWS
Cloud computing provides maintainability and automatic updates of new software, OS, databases, and third party software. It reduces IT labor cost for a business.
Cloud service providers have data centers in various locations around the globe that makes it faster and reliable.
Learn more here: Introduction to Cloud Computing.
3)What are Azure Services and Resources?
Ans:

Azure provides thousands of resources and services. The above list is a list of various resources categories. Major featured products of Azure are Virtual Machines, Azure SQL database, Azure Cosmos DB, AKS, Cognitive Services, Windows Virtual Desktop, App Service, PlayFab, Azure Functions, and Azure Blockchain Service.
4)What is Azure Active Directory and what is its purpose?
Ans:
Azure Active directory is a comprehensive identity and access management Cloud solution; it combines directory services, advanced identity governance, application access management and a rich standards-based platform for you.
As you know, Windows Azure Active Directory is a multi-tenant Service, that provides an enterprise level identity and access management for the Cloud, built to support global scale, reliability and availability.
Some points are as follows about Windows Azure Active Directory, which are:
For Azure Active Directory, you must have a Microsoft Account.
Afterwards, I will create a new Windows Azure Active Directory.
Subsequently, I'll add the users to the directory as either a user or a global admin.
The next step will be optionally enabling multi-factor authentication for the user.
Afterwards, I'll optionally add the user as a co-administrator for the subscription.
5)What is Azure Redis Cache and how to implement it?
Ans:
Azure Redis Cache is a managed version of the popular open source version of Redis Cache which makes it easy for you to add Redis into your applications that are running in Azure. Redis is an in-memory database where data is stored as a key-value pair so the keys can contain data structures like strings, hashes, and lists. You can cache information in Redis and can easily read it out because it is easier to work with memory than it is to go from the disk and talk to a SQL Server.
Suppose, we have a web server where your web application is running. The back-end has SQL Server implementation where the SQL Server is running on a VM or maybe it is an Azure SQL database.
A user comes to your application and they go to a page that has tons of products on it.
Now, that page has to go to the database to retrieve the information and then that gets sent back to the web server and gets delivered to the user. But if you have thousands of users hitting that web page and you are constantly hitting the database server, it gets very inefficient.
The solution to this is to add Azure Redis Cache and we can cache all of those read operations that are taking place. So, that goes to an in-memory database on the Azure Redis Cache.
When other users come back and look for the same information on the web app, it gets retrieved right out of the Azure Redis Cache very quickly and hence we take the pressure of the back-end database server.
While deploying Azure Redis Cache, we can deploy it with a single node, we can deploy it in a different pricing tier with a two node implementation and we can also build an entire cluster with multiple nodes.
Learn more about Azure Redis Cache here: Introduction to Azure Redis Cache.
6) How to create and connect to Azure SQL Database?
Ans:
First, we need to log into the Azure Portal with our Azure credentials. Then we need to create an Azure SQL database in the Azure portal.
Click on "Create a resource" on the left side menu and it will open an "Azure Marketplace". There, we can see the list of services. Click "Databases" then click on the "SQL Database".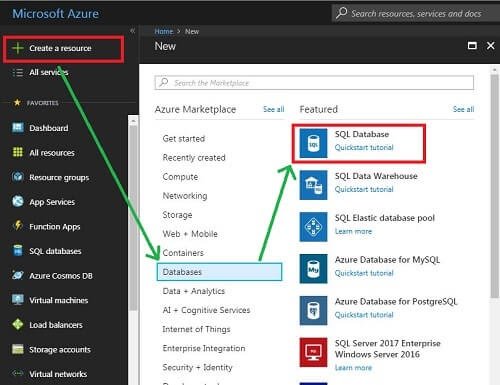 Create a SQL database
After clicking the "SQL Database", it will open another section. There, we need to provide the basic information about our database like Database name, Storage Space, Server name, etc.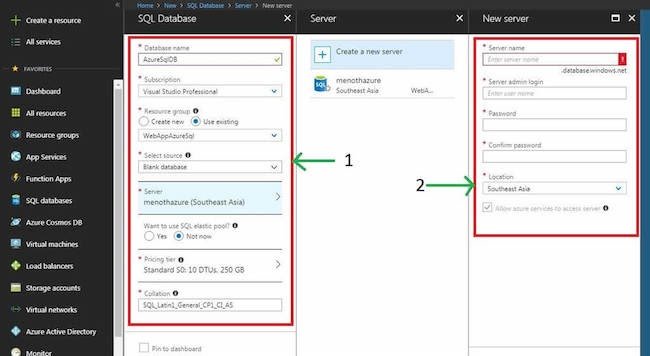 Learn more here: Create and Connect with Azure SQL Database.
7)What is Azure SQL Data Warehouse?
Ans:
The definition given by the dictionary is "a large store of data accumulated from a wide range of sources within a company and used to guide management decisions". As per the definition, these warehouses allow collecting the data from the various databases located as remote or distributed systems. It can be built by the integration of the data from the multiple sources that can be used for analytical reporting, decision making etc. SQL Data Warehouse is a cloud-based Enterprise application that allows us to work under parallel processing to quickly analyze a complex query from the huge volume of data. It is also a solution for the Big-Data concepts.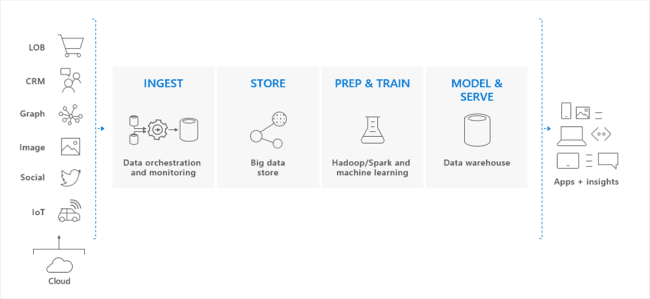 Learn more here: Getting Started with Microsoft SQL Data Warehouse.
8) Can you create a Virtual Machine in Azure?
Ans:
In this article, we will explore what a Virtual Machine is, along with the step by step implementation and the ways of connecting VMs to our local system.
Virtual Machines Service in Azure provides a highly flexible "compute on demand" option for running our application workloads. The Azure portal provides a large collection of templates from which we can get started with our desired server and operating system. We can create multiple virtual machines and group them together in Azure cloud services. Cloud services serve as a network and security boundary for virtual machines. By placing virtual machines in cloud service, we can create multiple instances of any tier of our application. For example, we host our web application on three virtual machines having the same server operating system and place those virtual machines in an availability set so that at least one virtual machine will be available at all the times. Virtual machines use the Hyper-V virtual hard disk format (.vhd) for their hard drives. We can simply upload the fixed-size virtual hard disk files from our infrastructure to Azure and also download the hard disk files from Azure to our data center.
Learn more here: Construct a Virtual Machine in Azure.
9)What is Azure Table Storage?
Ans:
Azure Table storage is a very popular service used across many projects which helps to store structured NoSQL data in the cloud, providing a Key/attribute store with a schemaless design. Table storage is very well known for its schemaless architecture design. The main advantage of using this is, table storage is fast and cost-effective for many types of applications.
Another advantage of table storage is that you can store flexible datasets like user data for a web application or any other device information or any other types of metadata which your service requires.
You can store any number of entities in the table. One storage account may contain any number of tables, up to the capacity limit of the storage account.
Another advantage of Azure Table storage is that it stores a large amount of structured data. The service is a NoSQL datastore which accepts authenticated calls from inside and outside the Azure cloud.
It helps to store TBs of structured data.
For storing datasets that don't require complex joins, foreign keys, or stored procedures.
Quickly querying data using a clustered index.
10)How to migrate a SQL Server database to Azure SQL?
Ans:
It is common to migrate a SQL Server database to Azure SQL. We can use the SSMS's Import and Export features for this purpose.
11)What is CosmosDB?
Ans:
Azure Cosmos DB is globally replicated, multimodal database service that offers rich querying over schema-free data.
The definition of Cosmos DB says 'Globally Replicated' which means, you can replicate your database in different geographical areas. It stores data in JSON format and there is no need to define the schema in advance hence it is schema free. You can execute the SQL query on stored JSON documents. Cosmos DB was formerly known as Document DB and it supports multimodal like SQL, Table API, Graph API etc.
Azure Cosmos DB is the right solution for web, mobile, gaming applications when predictable throughput, high availability and low latency are key requirements. We will cover throughput, availability, latency in detail in upcoming articles.
Here is a complete series on Cosmos DB: Introduction to Azure Cosmos DB
12)What is Azure Blob Storage?
Ans:
Azure Storage is one of the cloud computing PaaS (Platform as a Service) services provided by the Microsoft Azure team. It provides cloud storage that is highly available, secure, durable, scalable, and redundant. It is massively scalable and elastic. It can store and process hundreds of terabytes of data or you can store the small amounts of data required for a small business website.
Here, we will see how to create a Storage Account.
13)What are Azure Storage Types?
Ans:
A storage account is a container that has a group of Azure Storage services together (Azure Blobs, Azure Files, Azure Queues, and Azure Tables). The following illustration shows a storage account containing several data services.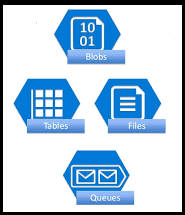 Azure Storage is a fundamental building block for all of the Azure Services. We can manage them as a group. Once you create the account, we can create any data service inside it and once you delete the account, all the data will be deleted. A storage account can be created in Azure resources. An Azure subscription may contain multiple resource groups, where each group contains one or more storage accounts. Within Azure, there are two types of storage accounts, five types of storage, four levels of data redundancy, and three tiers for storing files.
14)What is Blob?
Ans:
Blob is a service for storing large amounts of unstructured data that can be accessed from anywhere in the world via HTTP or HTTPS." Blob stands for " Binary Large Object ". It's designed to store large amounts of unstructured text or binary data like virtual hard disks, videos, images or even log files.
The data can be exposed to the public or stored privately. It scales up or down as your needs change. We no longer manage it, we only pay for what we use.
15)Why do we use Blob?
Ans:
Store any type of unstructured data that includes images, videos, audio, documents and backups at exabyte scale. It handles trillions of stored objects, with millions of average requests per second, for customers around the world.
Blob has Strong Consistency. When an object is changed, it is verified everywhere for superior data integrity, ensuring you always have access to the latest version.
We can have the flexibility to perform the edits in storage, which can improve your application performance and reduce bandwidth consumption.
We have many different types of blobs for our flexibility. Automatically we configure geo-replication options in a single menu, to easily empower global and local access.
One infrastructure but access world wide. With regions around the world, it is ideal for streaming and storing media, whether it is live broadcast events or long-term archive of petabytes of movies and television shows. We can perform secure backup and disaster recovery
Read more here: A Detailed Overview of Azure Blob Storage.
16)What Is Azure Data Factory?
Ans:
Azure Data Factory is a cloud-based data integration service which allows you to create data-driven workflows in the cloud for orchestrating and automating data movement and transformation. Using Azure Data Factory, you can create and schedule data-driven workflows (called pipelines) that can ingest data from disparate data stores. It can process and transform the data using compute services, such as Azure HDInsight Hadoop, Spark, Azure Data Lake Analytics, and Azure Machine Learning.
17)How To Create Azure Functions?
Ans:
Azure Functions is a solution for executing small lines of code or functions in the cloud. We can also select the programming languages we want to use. We pay only for the time our code executes; that is, we pay per usage. It supports a variety of programming languages, like C#, F#, Node.js, Python, PHP or Java. It supports continuous deployment and integration. Azure Functions applications let us develop serverless applications.
Learn more here: How to Create Azure Functions.
18)What Is Azure Databricks?
Ans:
Azure Databricks is a fast, easy and collaborative Apache® Spark™ based analytics platform optimized for Azure. Designed in collaboration with the founders of Apache Spark, Azure Databricks combines the best of Databricks and Azure to help customers accelerate innovation with one-click setup; streamlined workflows and an interactive workspace that enables collaboration between data scientists, data engineers, and business analysts.
As an Azure service, customers automatically benefit from native integration with other Azure services such as Power BI, SQL Data Warehouse, Cosmos DB as well as from enterprise-grade Azure security, including Active Directory integration, compliance, and enterprise-grade SLAs.
Learn more here: What is Azure Databricks.
19)What is Azure Advisor?
Ans:
The Azure Advisor service provides information about your entire Azure landscape. It gives you a complete overview of your system needs including possible ways to save money.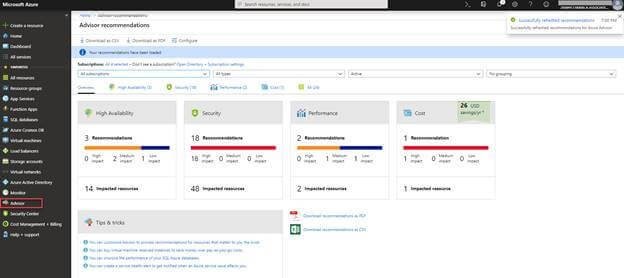 High Availability shows you ways to improve the continuity of your business-critical applications.
Security detects threats and vulnerabilities that might lead to security breaches.
Performance shows you ways to speed up your applications.
Cost gives you ways to reduce your overall Azure spreading.
Learn more here: What is Azure Advisor.
20)What are Azure App Services?
Ans:
We can develop an application in any language or framework, such as .NET, .NET Core, Java, Ruby, Node.js, PHP, or Python. Applications run and scale as per our need with complex architecture on both Windows and Linux-based environments. The App service has added the power of Azure to our application, such as security, load balancing, scaling, and automated management. We can also develop capabilities such as continuous deployment from GitHub, Docker Hub, Azure DevOps, and other sources, staging environments, SSL certificates, etc.
Azure App Service enables us to create web, mobile, logic and API apps very easily. We can run any number of these apps within a single Azure App service deployment. Our apps are automatically managed by Azure App Service and run in managed VMs isolated from other customers. We can also use built-in auto-scaling feature supported within Azure App Service that automatically increase and decrease the number of VMs based on consumption resources.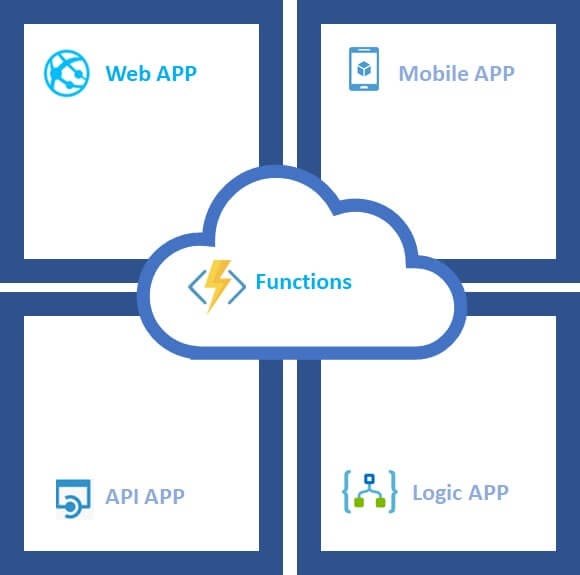 Following are additional on the different app types supported by Azure App service.
Introduction to Azure App Services.
21)What Is Azure Kubernetes Service?
Ans:
Kubernetes is an open source system started by Google to help orchestrate (deploy, scale and manage) containerized applications. Azure Kubernetes Service makes working with Kubernetes easier.
Before we learn how to orchestrate containers, let's discuss a bit about containers.
You can run your applications as containers. Think about containers as isolated processes that have their own directory, user groups, ports, etc. which run in the host machine. They are like virtual machines, but not the same. Virtual machines have their own operating systems, whereas containers use the operating system of the host machine. Also, the containers run from images. Think of images as software installers. But images bundle up the software code with its dependencies, because of which containers run the same way on different environments since they are environment independent to a much larger extent.
Learn more here: Introduction to Azure Kubernetes Services
22)What is Azure DevOps?
Ans:
Azure DevOps was previously known as Visual Studio Team Service. The main use of Azure DevOps is to provide an end-to-end solution to an organization. It is highly scalable and reliable.
Above all are the basic explanations readily available. Just make sure you have gone through it for basic understanding. Now, let's start our process.

21)What are the different types of services offered in the cloud?

IAAS
PAAS
SAAS

In infrastructure as a service, you get the raw hardware from your cloud provider as a service i.e you get a server which you can configure with your own will
Platform as a Service, gives you a platform to publish without giving the access to the underlying software or OS
You get software as a service in Azure, i.e no infrastructure, no platform, simple software that you can use without purchasing it.
For Example: Azure VM, Amazon EC2.
For example: Web Apps, Mobile Apps in Azure.
For example: when you launch a VM on Azure, you are not buying the OS, you are basically renting it for the time you will be running that instance.
22) What are the different cloud deployment models?
Ans:
Following are the three cloud deployment models:

Public Cloud: The infrastructure is owned by your cloud provider and the server that you are using could be a multi-tenant system.

Private Cloud: The infrastructure is owned by you or your cloud provider gives you that service exclusively. For eg: Hosting your website on your servers, or hosting your website with the cloud provider on a dedicated server.

Hybrid Cloud: When you use both Public Cloud, Private Cloud together, it is called Hybrid Cloud. For Example: Using your in-house servers for confidential data, and the public cloud for hosting your company's public facing website. This type of setup would be a hybrid cloud.

23)I have some private servers on my premises, also I have distributed some of my workload on the public cloud, what is this architecture called?
Virtual Private Network
Private Cloud
Virtual Private Cloud
Hybrid Cloud
Ans:
D. Hybrid Cloud
Explanation: This type of architecture would be a hybrid cloud. Why? Because we are using both, the public cloud, and on premises servers i.e the private cloud. To make this hybrid architecture easy to use, wouldn't it be better if your private and public cloud were all on the same network (virtually). This is established by including your public cloud servers in a virtual private cloud, and connecting virtual cloud with your on premise servers using a VPN (Virtual Private Network).
24) What is Microsoft Azure and why is it used?
Ans:
As discussed above, the companies which provide the cloud service are called the Cloud Providers. There are a lot of cloud providers out there, out of them one is Microsoft Azure. It is used for accessing Microsoft's infrastructure for cloud.
25) Which service in Azure is used to manage resources in Azure?
Application Insights
Azure Resource Manager
Azure Portal
Log Analytics
Ans:
B. Azure Resource Manager
Explanation: Azure Resource Manager is used to "manage" infrastructures which involve a no. of azure services. It can be used to deploy, manage and delete all the resources together using a simple JSON script.
26) Which of the following web applications can be deployed with Azure?
ASP.NET
PHP
WCF
All of the mentioned
Ans:
D. All of the mentioned
Explanation: Microsoft also has released SDKs for both Java and Ruby to allow applications written in those languages to place calls to the Azure Service Platform API to the AppFabric Service.
27)What are Roles and why do we use them?
Ans:
Roles are nothing servers in layman terms. These servers are managed, load balanced, Platform as a Service virtual machines that work together to achieve a common goal.
There are 3 types of roles in Microsoft Azure:
Web Role
Worker Role
VM Role
Let's discuss each of these roles in detail:
Web Role – A web role is basically used to deploy a website, using languages supported by the IIS platform like, PHP, .NET etc. It is configured and customized to run web applications.
Worker Role – A worker role is more like an help to the Web role, it used to execute background processes unlike the Web Role which is used to deploy the website.
VM Role – The VM role is used by a user to schedule tasks and other windows services. This role can be used to customize the machines on which the web and worker role is running.
28) A _________ role is a virtual machine instance running Microsoft IIS Web server that can accept and respond to HTTP or HTTPS requests.
Web
Server
Worker
Client
Ans:
A. Web 
Explanation: The answer should be Web Roles, there are no roles such as Server or Client roles. Also, Worker roles can only communicate with Azure Storage or through direct connections to clients.
29) Is it possible to create a Virtual Machine using Azure Resource Manager in a Virtual Network that was created using classic deployment?
Ans:
This is not supported. You cannot use Azure Resource Manager to deploy a virtual machine into a virtual network that was created using classic deployment.
30)What are virtual machine scale sets in Azure?
Ans:
Virtual machine scale sets are Azure compute resource that you can use to deploy and manage a set of identical VMs. With all the VMs configured the same, scale sets are designed to support true autoscale, and no pre-provisioning of VMs is required. So it's easier to build large-scale services that target big compute, big data, and containerized workloads.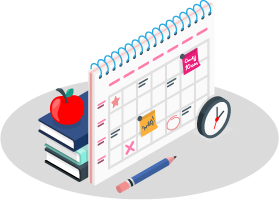 Get Hands-on Azure Data Factory Course from Top-Rated Instructors
Weekday / Weekend Batches
See Batch Details
31)Are data disks supported within scale sets?
Ans:
Yes. A scale set can define an attached data disk configuration that applies to all VMs in the set. Other options for storing data include:

Azure files (SMB shared drives)
OS drive
Temp drive (local, not backed by Azure Storage)
Azure data service (for example, Azure tables, Azure blobs)
External data service (for example, remote database)
32)What is an Availability Set?
Ans:
An availability set is a logical grouping of VMs that allows Azure to understand how your application is built to provide redundancy and availability. It is recommended that two or more VMs are created within an availability set to provide for a highly available application and to meet the 99.95% Azure SLA. When a single VM is used with Azure Premium Storage, the Azure SLA applies for unplanned maintenance events.
33) What are Fault Domains?
Ans:
A fault domain is a logical group of underlying hardware that share a common power source and network switch, similar to a rack within an on-premise data-centers. As you create VMs within an availability set, the Azure platform automatically distributes your VMs across these fault domains. This approach limits the impact of potential physical hardware failures, network outages, or power interruptions.
34)What are Update Domains?
Ans:
An update domain is a logical group of underlying hardware that can undergo maintenance or can be rebooted at the same time. As you create VMs within an availability set, the Azure platform automatically distributes your VMs across these update domains. This approach ensures that at least one instance of your application always remains running as the Azure platform undergoes periodic maintenance. The order of update domains being rebooted may not proceed sequentially during planned maintenance, but only one update domain is rebooted at a time.
35)What is a cloud environment?
Ans:
Cloud environment is a model for enabling convenient, on-demand network access to a shared pool of configurable computing resources (e.g., networks, servers, storage, applications, and services) that can be rapidly provisioned and provided with least management effort or provider interaction. This cloud model promotes availability.
36) Why do we need Cloud?
Ans:
On-demand – Resources should be always available when you need them, and you have control over turning them on or off to ensure there's no lack of resource or wastage..
Scalable – You ought to be able to scale (increase or decrease the resource) once necessary. The cloud providers should have enough capacity to meet customer's needs.
Multi-tenant – generally you'll be sharing a similar resource (e.g.hardware) with another tenant.
But after all, this is often clear to the client. Cloud suppliers shall accountable the safety side, guaranteeing that one tenant won't be able to access another's knowledge.
Self-service computation and storage resource – connected processes including: asking, resource provisioning, and deployment should be self-service and automated, involving much less manual processing. If a machine wherever our service is hosted fails, the cloud supplier ought to be able to failover our service right away.
Reliability – Cloud supplier ought to be able to give client responsibility service, committing to uptimes of their service.Utility-based subscription – you may pay the cloud supplier as a utility-based subscription, rather like paying your electricity bill – with none direct investment.
37)What are the categories of services provided in the Cloud?
Ans:
IAAS – Infrastructure as a Service
IaaS offers you a server within the cloud (virtual machine) that you simply have complete management over.
With Associate in Nursing Azure VM, you're to blame for managing everything from the software package on up to the appliance you're running.
PAAS – Platform as a Service
An Azure Cloud Service consists of 2 components: your application files (source code, DLLs, etc.) and a configuration file.
Together, these 2 parts can spin up a mix of net Roles and employee Roles to execute your application.
With Cloud Services, Azure handles all of the tedious software package details for you, therefore you'll be able to specialise in what matters – building a top-quality application for your users.
SAAS – Software as a Service
Software as a Service applications are built and hosted through 3rd party vendors who typically charge for a certain level of service – $30/month for X projects and Y users.
38)What is Web Role and Worker Role?
Ans:
A Web Role is an Azure VM that's pre-configured as an internet server (running IIS) and can mechanically have your application loaded thereon by the time the server fully spins up.
This will produce the general public terminus for your application – typically an internet site, however it might even be an associate API or one thing similar.
Worker Roles run aboard your internet Roles and square measure to blame for performing arts computing functions to support your application.
Typically, the net Role can settle for some form of user input associated queue action for the employee Role to method at a later time.
This allows the net Roles to be additional responsive and to fire-and-forget tasks to be processed later.
39)What are Resource Groups?
Ans:
A resource cluster contains the resources needed to with success deploy a VM in Azure.
It is an instrumentality that holds connected resources for associate degree Azure answers.
In Azure, you logically cluster connected resources like storage accounts, virtual networks, and virtual machines (VMs) to deploy, manage, and maintain them as one entity.
40)What is a Virtual Machine?
Ans:
An Azure VM offers you the pliability of virtualization while not having to shop for and maintain the physical hardware that runs it. However, you continue to ought to maintain the VM by playing tasks, like configuring, patching, and putting in the computer code that runs thereon.
41) Describe the architecture of Azure VM / What are the related resources for Azure VM and which of them are optional for VM?
Ans:
Resource Groups, Virtual Network, Network Security Group, Public IP, NIC, VM, Storage Accounts, Diagnostic Logs Account, Temp Drive.
42)What is the purpose of Temp Drive in VM?
Ans:
Temp Drive is used for Paging in Azure. It is a temporary drive and we should not use it for storage.
43)How does Azure charge for using VMs?
Ans:
Azure charges an hourly price based on the VM's size and operating system. For partial hours, Azure charges just for the minutes used. Storage is priced and charged separately.
44)Can you name some scenarios where VMs are preferred?
Ans:
Development And check – Azure VMs provide a fast and straightforward thanks to produce a laptop with specific configurations needed to code and check an application.
Applications within the cloud – as a result of demand for your application will fluctuate, it would create economic sense to run it on a VM in Azure. You get hold of further VMs after you would like them and shut them down after you don't.
Extended datacenter – Virtual machines in AN Azure virtual network will simply be connected to your organization's network.
With Unmanaged disks, you create your own storage account and specify that storage account when you create the disk.
45) What are the types of Disk used by VMs?
Ans:
Operating system disk
Temporary disk
Data disk
46) How are Virtual Hard Disks stored in Azure and what type of storage is recommended for VHDs?
Ans:
The VHDs used in Azure are .vhd files stored as page blobs in a standard or premium storage account in Azure.
Standard HDD disks
Standard SSD disks
Premium SSD disks
Ultra Premium disks
47) Name some roles & features not supported in Azure VM?
Ans:
Dynamic Host Configuration Protocol Server
Hyper-V (Hyper-V role is supported in Azure Ev3, and Dv3 series VMs only)
BitLocker Drive Encryption (on the operating system hard disk, may be used on data disks)
Network Load Balancing
Wireless LAN Service
48)What are Managed disks and Unmanaged disks in Azure and which is recommended by Microsoft?
Ans:
With Unmanaged disks, you create your own storage account and specify that storage account when you create the disk.
Managed disks (RECOMMENDED)
Managed Disks handles the storage account creation/management within the background for you, and ensures that you just don't need to worry regarding the measurability limits of the storage account.
49)How can I save costs on Unmanaged standard disks? / What is the TRIM command used for?
Ans:
Using the TRIM command, we can specify Azure to charge only for the space the Storage actually occupies rather than the allocated space. TRIM notifies the drive that certain sectors that previously were allocated are no longer needed by the app and can be purged.
50)What Is Fabric?
Ans:
In the Windows Azure cloud fabric is nothing but a combination of many virtualized instances which run client applications.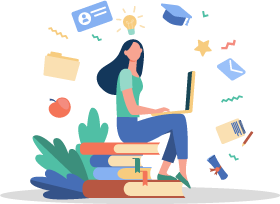 Gain In-Depth Knowledge on Azure Data Factory Training from Industry Experts
Instructor-led Sessions
Real-life Case Studies
Assignments
Explore Curriculum
51)How Many Instances Of A Role Should Be Deployed To Satisfy Azure Sla (service Level Agreement) ? And What's The Benefit Of Azure Sla?
Ans:
TWO. And if we do so, the role would have external connectivity at least 99.95% of the time.
52)What Are The Options To Manage Session State In Windows Azure?
Ans:
Windows Azure Caching
SQL Azure
Azure Table
53)What Is Cspack?
Ans:
It is a command-line tool that generates a service package file (.cspkg) and prepares an application for deployment, either to Windows Azure or to the compute emulator.
54) What Is Csrun?
Ans:
It is a command-line tool that deploys a packaged application to the Windows Azure compute emulator and manages the running service.
55) What Is Guest Os?
Ans:
It is the operating system that runs on the virtual machine that hosts an instance of a role.
56)How To Programmatically Scale Out Azure Worker Role Instances?
Ans:
Using AutoScaling Application Block.
57) What Is Web Role In Windows Azure?
Ans:
Web roles in Windows Azure are special purpose, and provide a dedicated Internet Information Services (IIS) web-server used for hosting front-end web applications. You can quickly and easily deploy web applications to Web Roles and then scale your Compute capabilities up or down to meet demand.
58) What Is The Difference Between Public Cloud And Private Cloud?
Ans:
Public cloud is used as a service via Internet by the users, whereas a private cloud, as the name conveys, is deployed within certain boundaries like firewall settings and is completely managed and monitored by the users working on it in an organization.
59)What Is Windows Azure Diagnostics?
Ans:
Windows Azure Diagnostics enables you to collect diagnostic data from an application running in Windows Azure. You can use diagnostic data for debugging and troubleshooting, measuring performance, monitoring resource usage, traffic analysis and capacity planning, and auditing.
60)What Is The Difference Between Block Blob Vs Page Blob?
Ans:
Block blobs are blocks, each of which is identified by a block ID.
You create or modify a block blob by uploading a set of blocks and committing them by their block IDs.
If you are uploading a block blob that is no more than 64 MB in size, you can also upload it in its entirety with a single Put Blob operation. -Each block can be a maximum of 4 MB in size. The maximum size for a block blob in version 2009-09-19 is 200 GB, or up to 50,000 blocks.
Page blobs are a collection of pages. A page is a range of data that is identified by its offset from the start of the blob. To create a page blob, you initialize the page blob by calling Put Blob and specifying its maximum size.
The maximum size for a page blob is 1 TB. A page written to a page blob may be up to 1 TB in size.
61)What is the difference between HDinsight & Azure Data Lake Analytics?
Ans:
| | |
| --- | --- |
| HDInsight(PaaS) | ADLA(SaaS) |
| HDInsight is Platform as a service | Azure Data Lake Analytics is Software as a service. |
| If we want to process a data set, first of all, we have to configure the cluster with predefined nodes and then we use a language like pig or hive for processing data | It is all about passing query, written for processing data and Azure Data Lake Analytics will create necessary compute nodes as per our instruction on demand and process the data set |
| Since we configure the cluster with HD insight, we can create as we want and we can control it as we want. All Hadoop subprojects such as spark, kafka can be used without any limitation. | With azure data lake analytics, it does not give much flexibility in terms of the provision in the cluster, but Azure takes care of it. We don't need to worry about cluster creation. The assignment of nodes will be done based on the instruction we pass. In addition to that, we can make use of USQL taking advantage of dotnet for processing data. |
62) What are the top-level concepts of Azure Data Factory?
Ans:
Pipeline: It acts as a carrier in which we have various processes taking place.
This individual process is an activity.
Activities: Activities represent the processing steps in a pipeline. A pipeline can have one or multiple activities. It can be anything i.e process like querying a data set or moving the dataset from one source to another.
Datasets: Sources of data. In simple words, it is a data structure that holds our data.
Linked services: These store information that is very important when it comes to connecting an external source.
For example: Consider SQL server, you need a connection string that you can connect to an external device. you need to mention the source and the destination of your data.
66)How can I schedule a pipeline?
Ans:
You can use the scheduler trigger or time window trigger to schedule a pipeline.
The trigger uses a wall-clock calendar schedule, which can schedule pipelines periodically or in calendar-based recurrent patterns (for example, on Mondays at 6:00 PM and Thursdays at 9:00 PM).
67)Can I pass parameters to a pipeline run?
Ans:
Yes, parameters are a first-class, top-level concept in Data Factory.
You can define parameters at the pipeline level and pass arguments as you execute the pipeline run on demand or by using a trigger.
68) Can I define default values for the pipeline parameters?
Ans:
You can define default values for the parameters in the pipelines.
69)Can an activity in a pipeline consume arguments that are passed to a pipeline run?
Ans:
Each activity within the pipeline can consume the parameter value that's passed to the pipeline and run with the @parameter construct.
70)Can an activity output property be consumed in another activity?
Ans:
An activity output can be consumed in a subsequent activity with the @activity construct.
Azure Data Factory Sample Resumes! Download & Edit, Get Noticed by Top Employers!
Download
71) How do I gracefully handle null values in an activity output?
Ans:
You can use the @coalesce construct in the expressions to handle the null values gracefully.
72)Which Data Factory version do I use to create data flows?
Ans:
Use the Data Factory V2 version to create data flows.
73) What has changed from private preview to limited public preview in regard to data flows?
Ans:
You will no longer have to bring your own Azure Databricks clusters.
Data Factory will manage cluster creation and tear-down.
Blob datasets and Azure Data Lake Storage Gen2 datasets are separated into delimited text and Apache Parquet datasets.
You can still use Data Lake Storage Gen2 and Blob storage to store those files. Use the appropriate linked service for those storage engines.
74) How do I access data by using the other 80 dataset types in Data Factory?
Ans:
The Mapping Data Flow feature currently allows Azure SQL Database, Azure SQL Data Warehouse, delimited text files from Azure Blob storage or Azure Data Lake Storage Gen2, and Parquet files from Blob storage or Data Lake Storage Gen2 natively for source and sink.
Use the Copy activity to stage data from any of the other connectors, and then execute a Data Flow activity to transform data after it's been staged. For example, your pipeline will first copy into Blob storage, and then a Data Flow activity will use a dataset in source to transform that data.
75)Explain the two levels of security in ADLS Gen2?
Ans:
The two levels of security applicable to ADLS Gen2 were also in effect for ADLS Gen1. Even though this is not new, it is worth calling out the two levels of security because it's a very fundamental piece to getting started with the data lake and it is confusing for many people just getting started.
Role-Based Access Control (RBAC). RBAC includes built-in Azure roles such as reader, contributor, owner or custom roles. Typically, RBAC is assigned for two reasons. One is to specify who can manage the service itself (i.e., update settings and properties for the storage account). Another reason is to permit the use of built-in data explorer tools, which require reader permissions.
Access Control Lists (ACLs). Access control lists specify exactly which data objects a user may read, write, or execute (execute is required to browse the directory structure). ACLs are POSIX-compliant, thus familiar to those with a Unix or Linux background.
76)What happens when the SQL Azure database reaches Max Size?
Ans:
Data Read/Fatch operations will continue to work but create/insert/update operations are stopped. You can drop/delete/truncate data.
77)What is the current limitation of the size of SQL Azure DB?
Ans:
Maximum size of a SQL Azure database is 250 GB (s0, s1, s2 and s3) and 500GB (p1,p2,p3 and p6 ) and 4TB (p11 and p15).
78)What encryption security is available in SQL Azure?
Ans:
Only SSL connections are supported. SET Encryption = TRUE.
79)What is SQL Azure Firewall?
Ans:
SQL Azure firewall is a security mechanism that blocks requests based on its IP address.
80)How many databases can we create in a single server?
Ans:
150 databases (including master database) can be created in a single SQL Azure server.
81) How many servers can we create in a single subscription?
Ans:
We can create six(6) servers under a single subscription.
82)Tell me something about security and SQL Azure.
Ans:
SQL Azure service allows blocking a request based on its IP address through SQL Azure firewall. It uses SQL server Authentication mechanism to authenticate connections. Also connections to SQL Azure are SSL-encrypted by default.
83) What is the difference between web edition and business edition?
Ans:
SQL Azure Web edition database Max Size is 5 GB whereas the business edition supports Max Size up to 50 GB.
Web edition databases can be increased/decreased by 1 GB whereas the size of a business edition can be increased/decreased by 10 GB.
84)What is the difference between copy and shortcut?
Ans:
The answer to this Microsoft Azure interview question will be copied is transferring an object from one to another folder that takes double space. There is no change that corresponds to the original object.
The shortcut is a dynamic link of the object that saves the space reflecting changes in the original object.
85)What do you mean by a service fabric in Azure?
Ans:
This is one of the advanced Microsoft azure interview questions that should be answered by stating Service fabric is a middleware platform of the following generation that gives the more scalable outcome. It renders with the more managed and reliable enterprise.
86)What are the benefits of the traffic manager in Windows Azure?
Ans:
Traffic manager is allocated to control the distribution of the user to deploy the cloud service. The benefit of the traffic manager constitutes;
It makes the application available worldwide through automated traffic control machinery.
The traffic managing service contributes to high performance by loading the page faster and convenient usage.
There is no lag of time to maintain or upgrade the existing system. The system keeps running in the back while the system takes time for up gradation.
The configuration is made easy through the Azure portal.
87) Discuss the different database types in SQL Azure?
Ans:
This is one of the commonly asked SQL Azure interview questions that must be answered by stating that there are two major type of database in SQL Azure;
Web Edition – It is having a limit of 5GB SQL that is related to the relational database. The basic advantage is that they can be self-maintained, tolerant to a fault and highly available.
Business-based Edition – they support 50GB of T-SQL that is self-managed, tolerant to a fault and highly available. They are suited for the custom web applications or ISV application.
88) How is Azure Resource Manager beneficial over the classic services?
Ans:
The benefits of the Azure Resource Manager that overshadows the benefit of the classic services are;
The resources need not be managed, deployed or monitored one at a time. They are chain deployment activities throughout the lifecycle without the need for individual data handling.
The data is also deployed at a consistent pace with the ARM service. It enables the user to use a declarative template that indicates the deployment.
Since the role-based control is present in the management platform that provides you with the access to the resources that leads you to control.
You can mark dependencies between the resources that enable you to get the correct order of deployment.
The resources may be tagged and organized logically so that it is convenient to follow up the billing of your company.
89) Enlist the monitoring features that are present in the SharePoint 2010?
Ans:
This is one of the SQL Azure interview questions that should be answered by stating that the SharePoint 2010 is a diagnostic logging that takes into the data that are a direct indication of the state of the system. Sometimes it also specifies some timer tasks that are performed to monitor the collected information. The features include;
It collects the data on event log, timer service, and performance counter.
They are involved with data that are search usage.
They provide matrices that are yielding a collection of sites.
90)State the class that can be used to retrieve data?
Ans:
The class that can be used to get data from more than one list is the SPSite Data Query that is able to query data that are present in more than one list all across the diverse web collections. It is featured to aggregate data without the external links and only through the SharePoint.
91)Compare the STS and SPS and state its important features?
Ans:
SPS is the SharePoint Portal Service which manages the documents and has a search engine more efficient in penetrating the multiple sources of content.
STS stands for SharePoint team management. As the name suggests they are better for document management for a large organization and have a moderate search engine.
92) Explain MOSS?
Ans:
The answer to this SQL Microsoft Azure interview question for experienced will be MOSS is abbreviated for Microsoft Office SharePoint Server that constitutes a complete version of the portal platform that yields the user to manage, share and even create the document.
93)What is the difference between a library and a list?
Ans:
The library is an interface that yields one to manage and store a document that can be created using Excel, PowerPoint or Word. The list is the representation of the item in a tabulated format using column and rows. Lists are not used to make a document but can attach documents.
94) What do you mean by SAS?
Ans:
This is one of the common SQL Azure interview questions that should be answered by stating that SAS is an abbreviation for Statistical analytical System which is a software suite performing analysis of multiple variables. It is linked to predictive analysis, data handling, advanced analytics or corporate intelligence. It produces a smooth interface that offers graphical and clicks based solutions. It is user-friendly for the technical or the non-technical with advanced features.
95)State some features of SAS?
Ans:
There is some interlinked feature of SAS which includes;
It provides the user access to manage the resources just like that of the DBMS.
It is leading with the leading analytical to carry out different business services and products.
It enables easy visualization and interpretation with the use of graphs and its breaks the complex panels into simple plots.
It is very efficient in delivering the business analysis which leads to manufacturing the products that can be distributed worldwide.
96) Describe the common architecture of SharePoint 2010?
Ans:
There are three main architectural design of the SharePoint 2010 which includes;
The enterprise farm which is uncommon as it completely is dedicated to the service and aids via the automated management with the feasible isolation of data.
There is a single farm that is associated with multiple services whose potential advantages are managed via individual service application which enables a more complex targeting of sites to a particular application of service.
Lastly, the single farms employed in single service are very common and at the same time easy to deploy. The application service is simple to be allocated with fullest resource utilization and management.
97)Describe the log analytics?
Ans:
This question can be asked among the SQL Azure interview questions. The operational management service of Log Analytics provides the entire requirement that runs the particular service. It manifests automation, security, log analytics and availability at a particular dashboard. It generates Power data source that enables the user to get the visuals of the raw data. It is introduced in three different tiers of prices that include free, premium and standard. You enjoy the convenience of searching the data at a single dashboard and exporting the results.
98)State what will you do in case of a drive failure?
Ans:
This is one of the other Microsoft Azure interview questions for experience that should be answered in the following manner. When there is an instance that the drive has failed the following step should be performed;
The first is that the drive should be not mounted enabling the object storage to function without fail.
The second scenario is replacing the drive in which the desired step will be remounting, formatting the drive.
99)State what should be done in case of a service failure?
Ans:
In the case of the service failure the following steps need to be performed;
Ensure that the object s services have stopped running which will enable the object services to withstand the failure.
To complete the last lap of work pending you can allow the system object storage remain functional by making the machine to again get back online. Once they are started, the online replication will instantly activate with the missing updated files.
If you are incapable of replacing the drive then do remove the drive and let the system stay not mounted.
100) Give a clear overview of API in Azure?
Ans:
The Test Analytics in API is a web service that is built with Azure learning. It is an effective tool to analyze the unstructured data like the extraction of the key phrase. It runs with the binomial scoring unit that is either 0 or 1 where 1 corresponds to a positive and 0 corresponds to a negative viewpoint. The advantage is that it does not need any assistance with designing and training which imply that the data is in the hands of the user directly. Proceed to find more Microsoft Azure interview questions for experience.
101)Explain how a character analytics API functions?
Ans:
The working of the character analytics of API does not account for the characterization of words like good or bad. It uses the advanced feature through which the processing of natural language is mediated.
102)Differentiate between the PROC SUMMARY and PROC MEANS?
Ans:
This is one of the stars marked questions found in the list of top Microsoft Azure interview questions and answers pdf.
PROC MEANS refers to the subgroup statistic created in the persistence of the BY statement that will be involved. The data here is sorted beforehand with the assistance of BY variables.
PROC SUMMARY is the aid of statistics giving all varieties of information running simultaneously and is produced for every subgroup automatically. The information in the outlet is not created.
103)If the client gets disconnected from cache with the services state the probable cause?
Ans:
If the client gets disconnected the causal factor can be distributed into two categories;
The cause on the operator side:
There might be a failure in the transfer of the standard cache from one node to the other.
While the service was processing and dispatching the cache got deployed.
There was a server update or an automated VM maintenance.
The fault on the client side;
The application of the client accidentally got redeployed.
The application on the client side got auto-scaling.
The layer of the network on the client side altered.
There was a transient error on the network node.
The bound operation took more time.
The upper limit of the bandwidth was reached.
104)What is difference between IaaS, PaaS, and SaaS?
Ans:
Iaas, PaaS, and SaaS are three major components of Azure and cloud computing.
Infrastructure as a Service (IaaS)
With IaaS, you rent IT infrastructure – servers and virtual machines (VMs), storage, networks, operating systems – from a cloud provider on a pay-as-you-go basis.
Platform as a Service (PaaS)
Platform as a service (PaaS) refers to cloud computing services that supply an on-demand environment for developing, testing, delivering and managing software applications.
Software as a Service (SaaS)
Software as a service (SaaS) is a method for delivering software applications over the Internet, on demand and typically on a subscription basis. With SaaS, cloud providers host and manage the software application and underlying infrastructure and handle any maintenance, such as software upgrades and security patching.
Learn more here: Introduction to Cloud Computing.