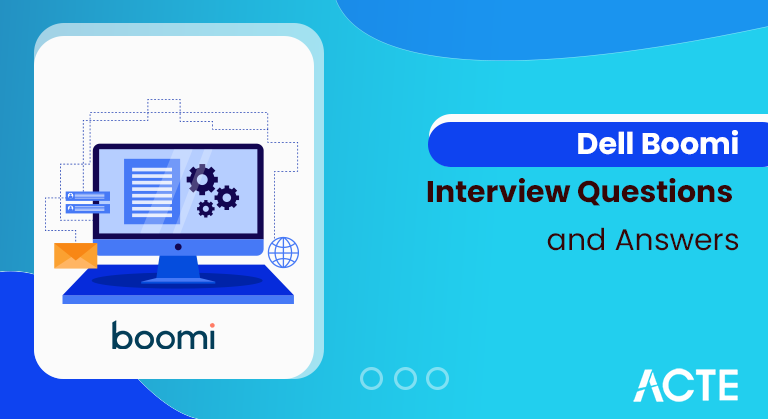 Get [LATEST] Dell Boomi Interview Questions and Answers
Last updated on 12th Nov 2021, Blog, Interview Questions
Dell Boomi, a service platform which is utilized for master data management, API management, and information readiness. Boomi was first developed by Berwyn and was dispatched in 2007. Dell Boomi is the Integrated Platform as a Service (iPaaS) industry's driving platform as it permits clients to configure cloud-based integration measures known as Atoms and move information among cloud and on-premises applications. Each atom implies those that are significant for information integration. In this article, you can go through the set of frequently asked Dell Boomi interview questions and answers in the interview panel. There will be questions for beginners, at intermediate level and of experienced level. This will help you crack the interview as the topmost industry experts curate these at ACTE training.
1. What is Dell Boomi?
Ans:
Boomi is a business unit taken by the Dell company in 2010 because Boomi specializes in master data management, API management, data preparation, and Integration Platform as a Service.

Boomi provides us with the integration Platform as a Service which allows us to connect the applications and data sources. One of the most significant advantages of using Boomi is it does not require core coding skills. This platform also gives us event-driven architecture, Life-cycle management, and API used for cloud integration.
2. Why do organizations use Dell Boomi?
Ans:
Well, every organization dreams of getting into the market faster than their competitors and operating most effectively yet cost-effectively in this context; Dell Boomi removes huge capital costs as it is a single instance multi-tenant platform that provides all the functionalities of cloud, like:

Flexibility
Scalability
Agility
Design patterns
Automatic upgrades
High availability
Providing above mentioned functionalities and maintaining fewer costs are the reasons why Dell Boomi is leading.
3. What is a Master Datahub?
Ans:
Master Datahub is a Master Data management solution that enables users to depict internet connectivity to the organizations. It also allows data to be synchronized, enriched, modeled, matched, and clean over domains.
4. What is Boomi API management?
Ans:
Boomi API management will support the complete life-cycle of the API within the hybrid environment; firstly, it tests the API after development and deploys it. Then, after deploying, it constantly checks the functioning of the API by using dashboards.

Dell Boomi API Management offers a cloud-based, unified and scalable platform to centrally maintain and improve API interplays throughout their complete life cycle.
5. What is the use of Workflow Automation in Dell Boomi?
Ans:
Workflow Automation in Dell Boomi eliminates the manual hard work needed to complete the business process using the rules-based logic that automates and streamlines a sequence of actions.
6. Explain the working life cycle of Dell Boomi?
Ans:
There are three phases in the working life cycle of Dell Boomi they are:

Build Phase: build phase is frequently used to develop the process by map and connector libraries that customize the implementation.

Delopy phase: this is the second phase of development, the integration process called Atom. in this phase, we will deploy atoms to the AtomSphere like SaaS, cloud integration, and PaaS.

Manage phase: in this phase, users can see and preserve the significant economies, configured atoms, no matter where they are located within the organization.
7. How can we access the atmosphere?
Ans:
As it is an online server or cloud-based, you can simply log in to this URL http://www.boomi.com through any browser.
8. Is it possible to go to the earlier versions after the integration process in Dell Boomi?
Ans:
Yes, it is entirely possible to go back to the earlier versions just by using the version control approach.
9. Is it possible to install the local atom on the cloud server?
Ans:
Yes, we can install the local atom on the cloud server because it is very lightweight.
10 How to even enable your boomi ipaas in six simple steps?
Ans:

11. What is the use of the Boomi connector?
Ans:
Boomi connector makes it simple and faster to unite your systems, data, applications, and processes. Boomi connector will also allow us to integrate and connect to third-party applications like Salesforce and Netsuite.
12. What are the different components of connectors?
Ans:
Connectors are the blend of two components they are:

Connection
Operation
13. What is the Boomi Atmosphere?
Ans:
Boomi atmosphere is used to integrate many software applications. It also assists you in building a cloud-based integration process which is called an atom. Boomi atmosphere also allows you to transport the data among on-premise applications and the cloud.
14. List the benefits of Boomi Atmosphere?
Ans:
Benefits of Boomi Atmosphere are:

The Boomi atmosphere is flexible in integration.
Very easy to use.
Boomi atmosphere assures high availability and scalability.
15. Is it safe to store data in the cloud?
Ans:
Data stored in the cloud is far safer than the data stored in computer devices because it is easy for attackers to send malware into the system and get the data. Hence, the most reliable way to store our data is in the cloud and saves the data in an encrypted format.
16. What is cloud integration?
Ans:
Cloud integration is a set of technologies and tools that connect several systems, applications, IT environments, and repositories for real-time process and data exchange.
17. List the various benefits of cloud integration?
Ans:
Below are the various benefits of using cloud integration:

Time-to-market is accelerated.
Good internal communication
Operational efficiency is enhanced
Enhanced scalability and flexibility
Operational costs are reduced
18. What are the different types of cloud integration?
Ans:
There are two types of cloud integration they are:
| Data integration | Application integration |
| --- | --- |
| Data integration is a process of synchronizing data among repositories. We can process, transport, or transform the data during data integration. | Application integration connects multiple applications and configures the continued interoperability and functionality. |
19. What is the use of cloud computing?
Ans:
Instead of buying the data servers and data centers, cloud computing allows us to access technology services like storage, computing power, and database from a cloud provider.
20. List the layers of cloud computing?
Ans:
There are three different layers of cloud computing they are:

Infrastructure as a Service
Platform as a Service
Software as a Service
21. What is the significant difference between API and Boomi?
Ans:
| API | BOOMI |
| --- | --- |
| API is very good at securing our data, but API fails when it comes to self-integration | Boomi is good at self-integration and securing our data |
22. What is Pagination?
Ans:
Pagination is a situation when the query returns more results than the API allows; hence we must constantly make the consequent calls to request extra pages till there are no pages left.
23. Do we need Atmosphere to run an Atom?
Ans:
Yes, we need Atmosphere to run an atom because Atom doesn't have its own GUI. There is no chance of failure in the atmosphere because it is a distributed architecture.
24. Show the multi-tenant platform application integration technology -boomi?
Ans: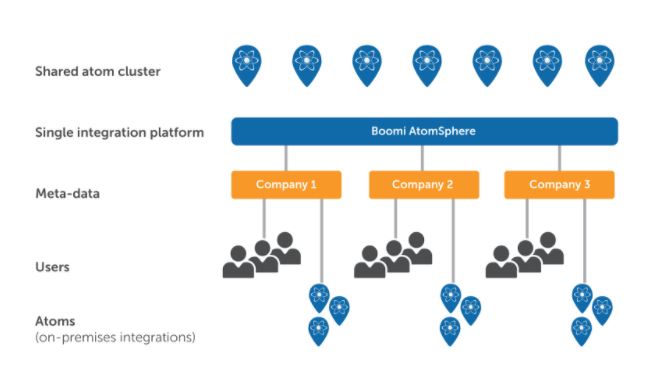 25. What are Molecules in Boomi?
Ans:
Molecules are single-tenant and multi-node runtime that enables multiple nodes to run concurrently; deployment can be done on multiple servers using Molecules. Molecules boost the high availability and load balancing for the integration process.
26. Give any two situations where you use molecules?
Ans:
Many cases can be solved by using atoms. However, there are situations where you have to use Molecules the situations are:

You have to use molecules when we need to process colossal size multiple documents.
When you are dealing with a task that needs constant processing, you have to install molecules.
27. Where can we host Boomi atoms?
Ans:
We can host the Boomi Atoms on any data center equipped to meet the hardware specifications, run virtually upon any server as they are self-contained, and do not need any third-party software for it to execute. Even on a third-party data center, these would undoubtedly run.
28. Is there any limit to data that is integrated into Dell Boomi?
Ans:
No, there is no limit as Dell Boomi has benchmarked the Boomi Atom to have the option to deal with tremendous volumes, as much as 1,000,000 records 60 minutes.
29. Differentiate between Cloud store and Traditional storage?
Ans:
| Cloud Store | Traditional storage |
| --- | --- |
| There are different data security options in cloud storage. | In traditional storage, security options are set manually. |
| As Cloud storage is using NoSQL, the performance is better. | When compared to cloud storage, traditional storage performance is slow. |
| File access time depends on the network speed | File access time is fast as compared to the cloud. |
30. List different deployment models for cloud computing?
Ans:
There are three different deployment models for cloud computing they are:

Private cloud
Public cloud
Hybrid cloud
31. What are the security aspects that are offered with the cloud?
Ans:
Three security levels are present in the cloud environment, they are:

Access control
Identity management
Authentication and Authorisation
32. What are the two methods that are used to impose third-party restrictions on the data?
Ans:
The two methods that are used to impose third-party restrictions on the data are:

Cryptography
Data encoding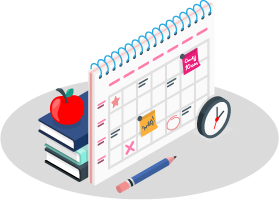 Learn Advanced Dell Boomi Certification Training Course to Build Your Skills
Weekday / Weekend Batches
See Batch Details
33. What platforms do we need to run the atmosphere?
Ans:
As Dell Boomi itself hosts the application, the only thing you need is your personal computer or any other device that supports any web browser. And it really doesn't matter what OS or hardware you are running on.
34. List the steps of the software sales cycle?
Ans:
There are seven steps in the software sales cycle they are:

The first step of the Software sales cycle is "Prospecting", which means distinguishing the potential customers, also called prospects. And creating the leads.
The second step is to initiate contact with that customer; in this step, you have to gather all the information about your service or product and try to develop your presentation skills.
The third step is to approach your customer, sometimes this may be through the phone, or you can just go to your client.
Presentation is the fourth step where you have to demonstrate your product to the client.
Managing objections.
Closing the deal is the sixth step.
Your job isn't done after closing the deal "follow up" stage keeps you in contact with your customers so that you can resolve their problems immediately.
35. What are the different modes of SaaS(Software as a Service)?
Ans:
There are two different modes of SaaS they are:

Grain multi-tenancy
Simple multi-tenancy
36. Explain the sequence architecture of an entire application source?
Ans:
An application architecture describes the patterns and techniques used to design and build an application. The architecture gives you a roadmap and best practices to follow when building an application, so that you end up with a well-structured app. Software design patterns can help you to build an application.
37. What level of involvement is needed by the IT team of the organization to set up the integration process?
Ans:
As Dell Boomi doesn't need any core coding skills, the IT team's level of involvement is minimal. They are only involved in the process of installing a Boomi atom and permitting access to the source.
38. Can we manage integration either by Specific dates or events?
Ans:
Yes, we can manage integrations either by specific dates or events.
39. How frequently do we require the process of integration?
Ans:
Integration depends upon the volume of the data and our needs. We can schedule the integration process for a particular period so that there is no need to pay attention to it frequently.
40. How to ensure data security during data integration?
Ans:
This can be accomplished with the help of Decision logic. Though, it continues to be the final step in most cases. Before it, specific approaches can be acknowledged, such as retry applications that constantly make sure that unique data has been processed further.
41. How to contact customer support?
Ans:
The quickest and easiest way to contact customer support is through the video chat option embedded within the Boomi.
42. Is Test mode a real test?
Ans:
Yes, the test mode runs the integration method. So the supply and vacation spots are up to date.
43. Does Dell Boomi offer Rollback for modifying an integration process?
Ans:
Yes, Dell Boomi offers Rollbacks by a model called "manipulate".
44. What boomi flows add support for?
Ans: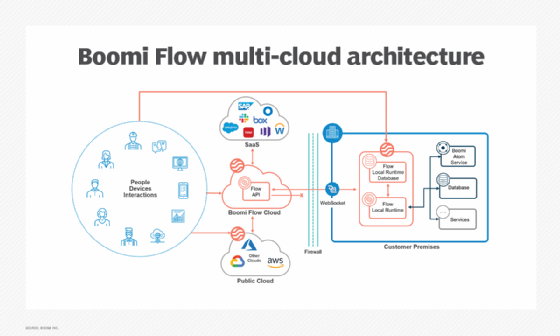 45. Can you name the security aspects which are provided with the cloud?
Ans:
Within a cloud environment, there are certain security levels that are present. They are:

Access Control
Identity management
Authorization and authentication
46. Name the two modes of Software as a service?
Ans:
They are simple multi-tenancy and Fine grain multi-tenancy. Both are good enough to be considered. The optimizing strategies of both the multi-tenancy and fine grain multi-tenancy are capable of handling several add-on tasks.
47. What are Atoms in Boomi technology?
Ans:
An Atom in Boomi can be defined as a runtime engine with all the segments that are needed for implementing an integration cycle. It has a dashboard including all the highlights that displays the operating situations and status of the significant number of atoms.
48. What precisely do you think about the advantages of utilizing the Atmosphere?
Ans:
It is a fundamentally online assistance that is best in each viewpoint. The most amazing aspect is clients need not stress over purchasing the new programming or establishment of a similar one with regards to utilizing them. All that is required is essentially sign-in on the Boomi page and begin playing out the concerned errand.
49. What are the odds of information loss of a cloud?
Ans:
Well, the odds of the event of such a setback are nearly nil. This is on the grounds that the information is set on an outsider worker. Despite the fact that associations keep a duplicate in their own field, the cloud consistently goes about as a reinforcement. The most awesome aspect is it may very well be gotten from any gadget without stressing over anything.

As the cloud organizations are exceptionally mindful of the handiness of what associations keep on the cloud and frequently ensure wellbeing, the odds of this are nearly nil.
50. What is boomi leading ipass?
Ans: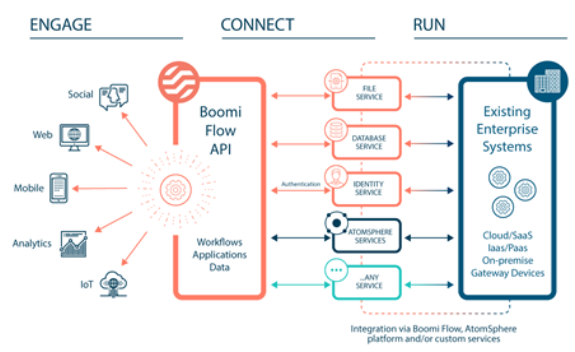 51. How might cloud innovation be trusted for keeping secret data?
Ans:
Cloud is a protected methodology. Just you will approach the data which you kept on the Cloud. It is feasible to force different limitations on the information or data according to your craving. The private data is, indeed, more secure on a cloud than on an actual worker kept in an association. (E-Learning Portal)

Cloud specialist organizations consistently ensure protection and hence information or data's secrecy isn't an issue.
52. What do you think about the applications that can be coordinated with the assistance of the Atmosphere?
Ans:
There is no severe furthest cutoff on applications that can be gotten to through the Atmosphere administration in Boomi. Pretty much every business application is accessible to coordinate and hence clients need not stress over anything while at the same time getting to the Atmosphere. All applications are exceptionally adaptable and play out their undertakings dependably.
53. Would you be able to express a couple of advantages of Atmosphere innovation?
Ans:
There are sure advantages to utilizing it. The excellent one is its easy-to-understand approach. The following beneficial thing is its similarity and quick activities. Regardless of whether you are utilizing it with outsider programming, it doesn't debase its exhibition.
54. What do you believe are the difficulties related to Cloud innovation?
Ans:
Cloud is fundamentally an incredible methodology that has its own advantages and disadvantages related to it. The greatest test is getting to which is completely subject to the web association. In the event that the web quits working, it prompts a break, on the whole, the cycles and activities.
55. Explain Dell Boomi master data hub?
Ans: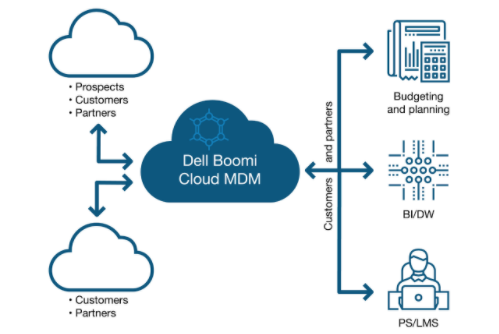 56. How frequently do we need the interaction of a mix?
Ans:
Integration depends upon the volume of the information and our prerequisite. We can design the reconciliation cycle for a specific period with the objective that we have no convincing motivation to zero in on it a large part of the time. Dell Boomi Interview Questions
57.Clarify Dell Boomi?
Ans:
Dell Boomi Atmosphere is a cloud-put joining stage that is different regarding prelude applications, information, and the cloud that can be related together. It also worked in API the board and Master Data Management. This stage engages a cloud-based joining measure called Atoms, which helps in the trading of information between on-premise applications and the cloud. The Atoms pick the need for combination. (Oracle Training Online)
58. What do you mean by interaction in Boomi?
Ans:
A cycle is fundamentally only an interface among at least two frameworks at an exchange level. A typical model is account synchronization. The cycle contains a progression of shapes present in it as a stream graph.

They really address the means that are required for course and change. They likewise have applications with regards to controlling the information from its source to its objective.
59. What is the contrast between getting information or data from a cloud than from an actual worker kept in an association?
Ans:
Well, there is no such contrast in that. The information can be gotten to, used, and partook in a similar way as on account of an actual worker on a cloud stage. Clients can generally ensure getting to the data from their gadgets without agonizing over their area in cloud innovation if they have consented to get to something similar
60. Are there any limitations to the type or amount of data being Integrated?
Ans:
No, we've benchmarked the Boomi Atom to possess the choice to affect enormous volumes, the maximum amount as 1,000,000 records per hour.
61. What exactly does one realize the advantages of using the Atmosphere?
Ans:
It's basically a web service that's best in every aspect. The simplest part is users needn't stress about buying the new software or installation of an equivalent when it involves using them. All that's required is just log-in on the Boomi page and begin performing the concerned task. The atmosphere is fast, reliable, also as a compatible approach that's gaining more and more attention thanks to the various array of advantages it offers.
62. How can confidentiality of data be achieved in the cloud?
Ans:
Cloud may be a secure approach. Only you'll be having access to the knowledge which you kept on the Cloud. it's possible to impose various restrictions on the info or information as per your desire. The tip is, in fact, safer on a cloud than on a physical server kept in a corporation. Cloud service providers always confirm privacy and thus data or information confidentiality isn't a problem.
63. What are the talents that are required when it involves configuring the Atmosphere?
Ans:
There's no got to have some advanced skills in IT or configuration for the configuration of the Atmosphere. With a basic knowledge of knowledge integration, administration, analyst, and development, this task can easily be accomplished. Thus anyone can perform it without facing major challenges.
64. How is Cloud-Computing useful for an organization?
Ans:
Well, it's basically an approach that simply lets the organization access everything from remote servers on the cloud instead of having a physical one on their own. the most important benefit they have not to worry about the upkeep of servers and their downtime. Of course, it's the responsibility of the Cloud computing company.

The next benefit is cost. It's possible for any organization to save lots of tons of cash just by considering a cloud computing approach instead of investing money in its own server.
65. What's the simplest thing you discovered about the Atmosphere approach in Boomi?
Ans:
The simplest part is its integration process which is extremely simple. In addition to the present, using the Atmosphere is nearly almost like accessing web-based software. Moreover, the weekly training offered by the Boomi support team can let anyone understand this technology within the shortest possible time. Businesses can have tons of advantages by considering this approach.
66. Show the dell boomi technologies into a hub?
Ans: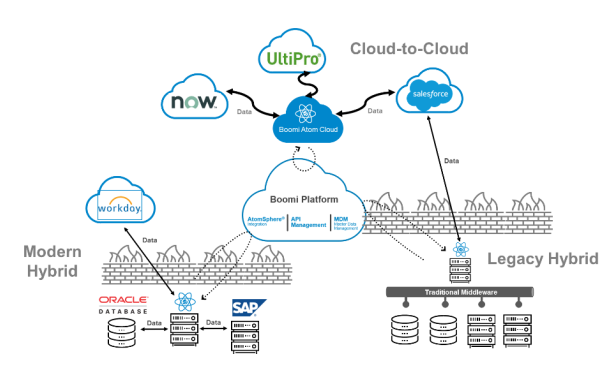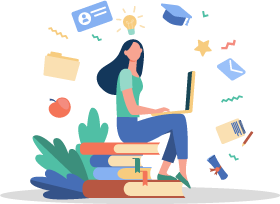 Get JOB Oriented Dell Boomi Training for Beginners By MNC Experts
Instructor-led Sessions
Real-life Case Studies
Assignments
Explore Curriculum
67. How safe is the data on the Cloud?
Ans:
Data is usually safe on a cloud. In physical servers, there are chances of knowledge corruption and viruses which will affect an equivalent. Cloud may be a secure platform where one needs to not worry about data safety. The most important challenge with organizations is keeping the rear of all the info or information.

However, with the Cloud, this is often not a problem. a really sizable amount of IT companies are using cloud technology and thus data safety isn't a problem
68. Is coding required for Dell Boomi?
Ans:
It has little to no coding requirements because it allows the usage of pre-built integration components. Users can apply reusable components with the drag and drop mapping tool to create integrations. Integrations can be created with Dell Boomi without coding, saving time, and resources.
69. Why do you use the query limit in Dell Boomi?
Ans:
This will prevent the need to run entire object data sets through for each Process execution. Set a Query Limit – Maximize the number of records you would like returned in one request by setting this number in the Operation
70. How long does it take to learn Dell Boomi?
Ans:
On average you can master the Dell Boomi concepts in 45 to 60 days. As Boomi provides free training and certification you can learn it whenever you want and after learning you can get the certification.
71.How does boomi help organisations innovate with blockchain?
Ans:
Boomi orchestrates data and applications for a blockchain shared ledger system of record. In sum, Boomi provides an entire platform that enables companies to have a decentralized yet connected business that utilizes blockchain as a shared ledger.
72. Why is it called Dell Boomi?
Ans:
The name "Boomi" actually takes its roots from ancient India. When Rick Nucci founded the application and data integration platform in 2000, he was inspired to build a company based on the principles of Bhumi, the Hindu goddess representing Mother Earth
73. What is Boomi flow?
Ans:
Boomi Flow is a modern, cloud-native service for building and automating workflows to provide business value in record time.
74. What is the Dell Boomi environment?
Ans:
An environment is a workspace that users create and use for testing or production purposes. Environments enable you to support dedicated and separate deployment setups for different phases of the development life cycle.
75. Is Dell Boomi popular?
Ans:
Ever since Boomi has been on the market, it has been a top contender for the IPaaS market. Gartner and G2Crowd consistently place Boomi near the top of the pile year after year.
76. What is API Management in Dell Boomi?
Ans:
The API Management feature enables an API publisher to expose versioned APIs for logical groups of APIs. An API consists of a set of REST, SOAP, or OData endpoints. Note: To request the API Management feature, contact your Boomi sales representative. APIs are implemented as deployable API components.
77. How do you test a boomi process?
Ans:
In an open process click Test in the Build page to open the Test dialog to run a test execution of the process. When you test a process, you can see the progress and the results as each shape is tested
78. What is Dell Boomi tutorial?
Ans:
Dell boomi functions as an intermediary between applications and enables the customers to connect or integrate in a cloud environment, or cloud to on-premises or on-premises to on-premises.
79. What is boomi molecules and atoms and how do they work?
Ans: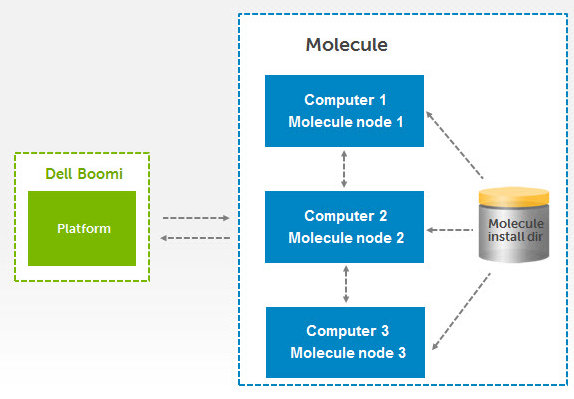 80.What is Process Library in Dell Boomi?
Ans:
A process library is a collection of processes published in order to share with managed accounts on a per-account group basis. Process library management is an optional Dell Boomi AtomSphere feature and must be first enabled before using.
81.What are boomi extensions?
Ans:
Dell Boomi provides the concept and implementation of extensions to allow developers and administrators to have distinct values for different environments without having to use multiple connectors of the same type.
82. How do you test database connectivity in Dell Boomi?
Ans:
Upload the JAR files into your Boomi Integration account library (Settings > Account Information and Setup > Account Libraries). Create a Custom Library component. Select General for the Custom Library Type. Deploy the component to the appropriate Atom, Molecule, Atom Cloud, or environmen
83. What are the sub components of a process in boomi?
Ans:
Component creation.
Component's Revision History dialog.
Component references.
Component locking.
Component Folder Details.
Dynamic Process Connection properties.
Creating dynamic process connections.
84.How do I find my component ID in boomi?
Ans:
The component ID is available on the Revision History dialog, which can be accessed from the Build page in the Boomi Integration service. The revision number of the given component.
85.How do I add a tracked field in boomi?
Ans:
Select Settings > Account Information and Setup and click the Document Tracking tab.
Click the Add Tracked Field icon . The Tracked Field dialog opens.
Type a name for the tracked field.
Select a data type from the list box.
Click OK. Note: You can add a maximum of 20 tracked fields.
86. What is EDI standard?
Ans:
EDI, which stands for electronic data interchange, is the intercompany communication of business documents in a standard format. The simple definition of EDI is a standard electronic format that replaces paper-based documents such as purchase orders or invoices.
87.What is a tracked field in Dell Boomi?
Ans:
Boomi Platform provides a powerful feature called Document Tracking which as per its term, it can be used to track the queried documents' process execution history and information based on the specific tracking field defined. For example, you have a process that exports Salesforce Account into CSV file.
88.How do you use the decision shape on a Dell Boomi?
Ans:
Drag the Decision shape onto the process canvas.
Optional: Enter a custom label.
Click the Browse icon to the right of the First Value field.
Select the type of value.
Select a comparison operator.
Click the Browse icon to the right of the Second Value field.
Select the type of value.
Click OK.
89. Explain dell boomi and alleantia?
Ans: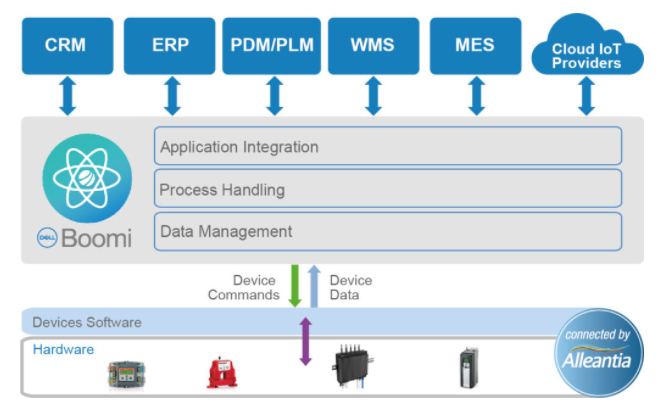 90.What is Process properties in Dell Boomi?
Ans:
Process properties are name/value pairs that can be used to store arbitrary information to assist with an integration project. You can set a property value in the beginning of the process and then retrieve it later in a different part of the process.
Dell Boomi Sample Resumes! Download & Edit, Get Noticed by Top Employers!
Download
91.How do I debug my Dell Boomi?
Ans:
Depending on the level of logging that you want to enable, do one of the following:

Select the Enable Debug Logging property ( com. boomi. container. debug ), click Add a Property, and select its Property Value check box.
Select the Enable Trace Logging property ( com. boomi. container.