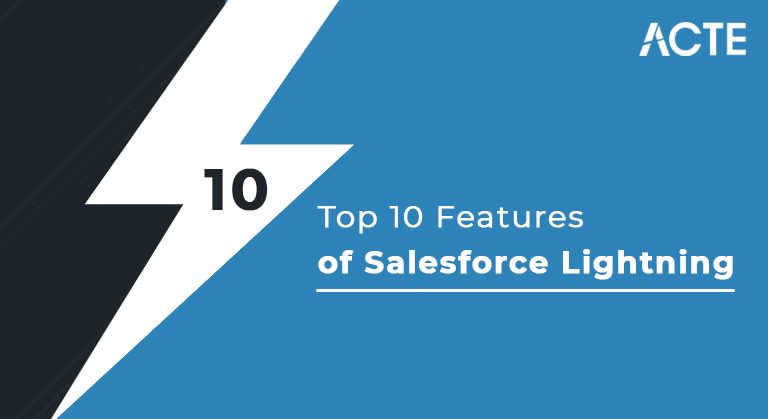 Top 10 Features of Salesforce Lightning | Expert's Top Picks
Last updated on 27th Dec 2021, Blog, General
Lightning (Salesforce Lightning) is a component-based framework for app development from Salesforce.com that is designed to simplify processes for business users, who typically do not have programming experience. Design System, which offers style guides and user experience (UX) best practices for app development.
Introduction to Salesforce
What is Lightning?
Salesforce Lightning Features
What does Salesforce Lightning do?
How departments can use Salesforce Lightning in Sales & Marketing
How departments can use Salesforce Lightning in IT designers and developers
What is included in Salesforce Lightning?
Main takeaways
Conclusion
Introduction to Salesforce:

Salesforce is one of the best CRM (Customer Relationship Management) platforms available worldwide. The company has come a long way to reach these heights. In addition, it is still constantly improving itself according to the needs of this technological world. There are many Salesforce features and integrations launched by the huge IT firm that can enhance the statistics of your sales, services, marketing and many other departments. However, they require professionals (i.e. Salesforce developers) for integration, as it involves coding.

In the year 2015, the company introduced an evolution in its product and named it 'Lightning'. Keeping in mind the needs of Salesforce enthusiasts from non-coding backgrounds, the company introduced a new component-based framework called Lightning. It comes with the Lightning Component Framework along with some exciting tools. It simply makes it very easy to build a responsive application for any device you desire.
What is Lightning?

In general terms, light is a quick burst of energy that is released in a thunderstorm. In Salesforce, Lightning simply means that you can do every integration very quickly. The Lightning components in Salesforce provide you with a client-server framework that can accelerate development as well as application performance. In addition, it is ideal to work with the Salesforce mobile application.

With Lightning Application Builder, applications can be built without coding and faster than ever. All credit goes to the custom-made Lightning components. Here we are showcasing the top salesforce.com CRM features that can highlight your work experience in a whole new way.
Salesforce Lightning Features:

Salesforce Lightning will enable you to experience a fully fledged way of handling your business. Here, we are showing a list of Salesforce Lightning features and benefits by which you can gain in-depth knowledge on this evolving platform.

1. Packed with Latest Technology

Salesforce Lightning is packed with the most recent technological advancements that can help you improve your customer as well as inter-departmental relationships. This gives you the flexibility to utilise the potential of the cloud for almost everything you do on this platform. Plus, Salesforce releases three fixed Lightning updates every year, and you'll get them automatically.

2. Selling fast

In the new Salesforce Lightning platform, users will get about 55 new Sales Cloud Pages and 150 additional features. It is not surprisingly possible to write all the attributes here. However, we have come up with these five features which are proving to be most useful and desired for the representatives working on these platforms as well as the representatives working behind the desk.

3. The sound of lightning

Lightning Voice for Salesforce is the most prominent feature of this advanced platform. It provides a huge advantage to the businessmen by connecting them with the customers. With its help, you will be able to make voice calls directly through the sales cloud. This means that wherever you are using Salesforce's properties, you are always free to make as well as receive calls if you have your cell phone included in it. Apart from this, the best thing about this feature is that you can also take notes and log calls while making or receiving calls.

4. Steelbrick Feature

Steelbrick is another great feature embedded in Salesforce, which is built entirely on the Lightning infrastructure itself. Its CPQ (Configure, Price, Quote) enables Sales Cloud to perform all business transaction functions across a business infrastructure. With its help, a Salesforce representative can easily create offers and contracts for brands without any hustle and bustle. In addition, they can also get waiver approvals and signatures without having to sign out of their CRM.

5. Outlook Alliance

Nothing can be better than working closely with the world's #1 CRM and the world's leading productivity suite. Salesforce's collaboration with Microsoft has taken business management to a whole new level. Currently, you are able to fully sign in to your Lightning platform using your Outlook account, which means no more hopping between different programs. In addition, cloud-based Lightning synchronisation keeps your logbook and contacts up to date in your Office 365 suite, your Salesforce, and all your other Microsoft Exchange accounts.

6. Thumbs-On CRM

Here, we are talking about the Salesforce1 mobile application, which is completely based on the Lightning platform. The development of this platform came in sight to redesign Lightning's desktop dashboard experience. All customizations done on the Platform will be instantly available on your cell phone using the Salesforce1 mobile application.

7. Lightning Application Builder

This is undeniably the best part of this entire Lightning platform development. The new Salesforce Lightning Application Builder allows you to build applications without touching the coding part. It simply means that you don't need to be a to build applications on the Lightning platform, you just have to do a few clicks in the right places and it's done.

8. Appexchange

Currently, there are a total of 157 Lightning-ready third-party applications available in Salesforce's AppExchange platform. All those applications are duly pre-reviewed and pre-integrated to work fluently on the Salesforce platform. With the help of these Lightning-compatible applications, you can experience the most consistent client encounter as you move your organisation towards the Lightning interface. All you have to do is search for the application on AppExchange with the symbol 'Lightning Ready' and get the one that suits your needs.

9. Lightning Snap-ins

Developed using Lightning components, the snap-in cloud is one of the most useful features of the Lightning service. It allows companies to sync their customer support directly across pages and applications. Snap-ins make it super easy to reach customers where they are and help them in every way possible.

10. Electricity Customer Community

With regard to the community cloud's historical background, the Lightning customer community is the highest feature-packed release by Salesforce. It works to empower organisations to engage with their customers intelligently as well as faster. Moreover, it comes with a new UX that promises to provide you with an entirely new level of personalization. The Lightning customer community now comes with tonnes of new engagement opportunities that can help your business achieve an unparalleled customer experience. Apart from this, it also provides various built-in solutions for frequent complaints or business.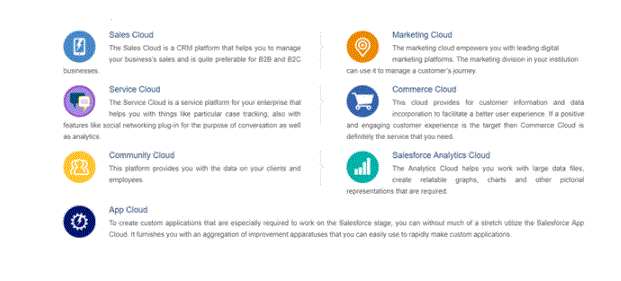 What does Salesforce Lightning do?

Organisations can customise their Lightning interface according to their company's branding, including creating custom themes, logos, and colours.
Lightning App Builder enables admins and developers of all experience levels and familiarity with Salesforce to take advantage of drag-and-drop components along with more advanced customization when building pages and apps.
Productivity features like Kanban View and Path Building enable streamlined processes for sales and customer support teams.
Improved dashboard creation and report-creation provide real-time performance monitoring capability with attractive visual design.
Lightning Design enables simple processes for creating mobile-responsive designs for system apps.
The new Activity Timeline enables business users to track various activities across accounts, opportunities, and contacts.
Lightning provides a high level of security with advanced authentication for permissions and permissions changes.
Salesforce Einstein, the artificial intelligence component of Salesforce, provides more detailed insights on accounts and opportunities, activity recommendations, and automation.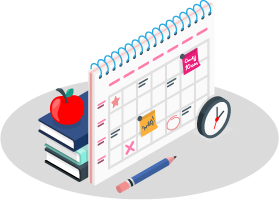 Develop Your Skills with Advanced Salesforce Certification Training
Weekday / Weekend Batches
See Batch Details
How departments can use Salesforce Lightning in Sales & Marketing:

Sales

Lightning gives sales teams the ability to automate time-consuming lead nurturing tasks, including calls, emails, and meetings. Using the Activity Timeline associated with accounts and opportunities in CRM, business users can quickly get an account-related activity history, recommendations for next steps, and an overall view of upcoming automated steps.

Advanced reporting and dashboard creation also enables sales and marketing teams to keep track of performance and progress on KPIs.

Marketing

While they may spend less time operating directly within the platform than other users, marketing teams can take advantage of Salesforce Lightning to centralize their marketing channels and manage campaigns. But by far the most important benefit to marketing is the data and insights Salesforce can provide to inform its strategies and tactics.

The scoring attribute enables marketing teams to assess the quality of their assets and campaigns. It also provides insight into the quality of leads being brought to the sales team. With this data and feedback, marketing teams can improve their messaging, branding, content, campaigns and channels for more effective results.
How departments can use Salesforce Lightning in IT designers and developers:

Part of the appeal of Salesforce Lightning is the ability to create custom pages and apps for your team and customers. Salesforce Lightning provides drag-and-drop app-building capabilities so that designers and Salesforce admins can build responsive apps that work seamlessly across browsers and mobiles. The platform provides out-of-the-box dashboard components that administrators can customise according to the branding of the organisation.
How much does Salesforce Lightning cost?

The advanced functionality and variety of components available in Salesforce means that pricing can vary depending on the size of your organisation, your needs from the platform, and what you want to add. For example, personalised assistance requires an additional fee of 30% of your licence fee.
As an example, basic Salesforce Cloud plans start at $25 per user, per month. It includes all the basic CRM functionality of Salesforce and is ideal for small organisations. After that, pricing is staggered. The higher pricing tiers are $75 per user per month for the Professional level, $150 per user per month for Enterprise accounts, and $300 per user per month for Unlimited accounts. With each pricing tier comes an increase in functionality, customizability, and customer support level.
There is no additional fee for using Salesforce Lightning instead of Classic, nor is there a fee for existing customers who wish to transition from Classic to Lightning. New users can try the platform's free trial to get started.
What is included in Salesforce Lightning?

Salesforce is the umbrella term for the entire Lightning suite of Lightning products and add-ons. There are many different examples of Salesforce under that umbrella, all of which are used for different aspects and benefits offered by the software.

Companies can choose to purchase licence for Salesforce Cloud, Tableau Analytics, Platform and more, depending on their functionality and depth of customization from the software and their budget flexibility.
Main takeaways:

Features like activity records and automation enable Salesforce Lightning customers to dramatically improve their organization's productivity when it comes to customer relationships.

The artificial intelligence within the platform provides real-time performance dashboards so that users and administrators can gain immediate insight into goals, performance and forecasts.

The development and customization of Salesforce apps is designed to be simple for administrators and streamlined and fast for developers and designers.
Salesforce Lightning offers many additional functionality and benefits compared to Salesforce Classic. But customers and new users will not pay anything extra to use Lightning or switch from Classic to it.

Pricing depends entirely on the products and functionality that users require from the platform, but there are free trials available to get started.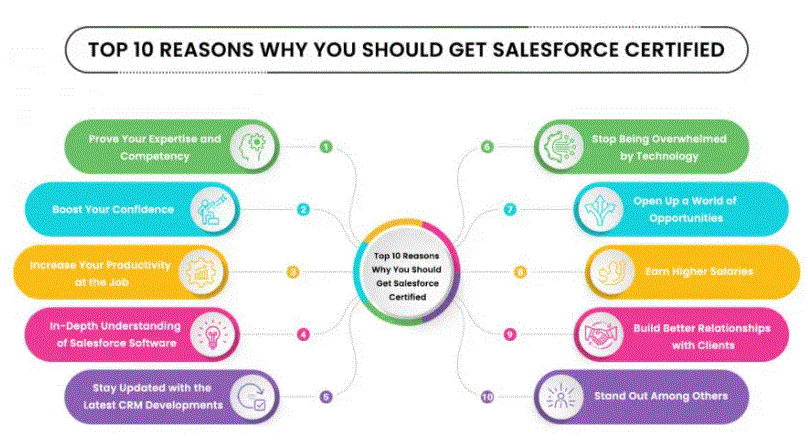 Salesforce Developer Sample Resumes! Download & Edit, Get Noticed by Top Employers!
Download
Conclusion:

Wrapping things up, we can say that with Strike of Lightning, Salesforce got electrified. We can easily see that the new Salesforce Lightning gives you a lot more features and features than the old Salesforce Classic. So, if you want to experience rapid growth in your business along with a taste of the latest technology, you can simply switch over to the Lightning platform. We have described in detail all the features associated with Salesforce Lightning in the article above. So, now, it totally depends on your choice whether you want to sign-up or migrate to Salesforce Lightning or stay classic with its previous version.