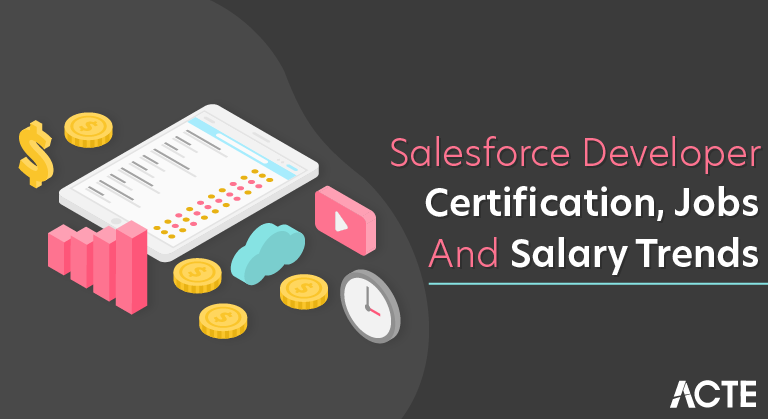 Salesforce Developer Certification, Jobs & Salary Trends – Learning Guide
Last updated on 11th Jul 2020, Blog, General
Introduction to Salesforce:
A company can never really run without having a track of the relationship of the company with the customers. Basically, Salesforce is a tool that keeps all the track of the Customer-Relationship-Management. This helps the company know who its potential customers are, and what they require to be able to continue as customers of the firm. This tool is needed so that the relationship between the firm and the clients is strengthened and looked upon by the management so that the primary source of their success stays uptight.
There are major terminologies that one needs to keep in mind to first understand how the Salesforce works, before even thinking about the developing the Salesforce technology.
The first terminology comes as the 'Accounts'. Accounts are the firms or the different companies that one particular firm has contacts with. There must be a relation with a lot of different companies to be able to run successfully. So accounts help the firm to identify the different companies they have ties with.
The second set that comes into play is 'Contacts'. Contacts are the number of people the firm knows under their 'accounts'. All of these come under the CRM or the Customer Relationship management. One needs to understand this first.
Campaigns are Salesforce's way of tracking promotion initiatives. Say the representative goes to a meeting and gives a talk; he gets a record of all the ones who joined. The tool could build a strategy in Salesforce for that meeting and talk, and when the tool brought in those participants as leads, they would be connected to that strategy. Strategies are a good way to monitor where your leads are arriving from, and how your promotion attempts are giving off the results.
While these things can help people understand what exactly Salesforce is all about, there are still so many things that people; specifically developers fail to understand whilst developing their Salesforce for a company.
Salesforce Certified Sales Cloud Consultant:
Salesforce Sales Cloud Consultants design solutions for optimization of sales processes. Their average salary in India as per payscale reports is about ₹8,26,000 per year while in US it is found to be $95,000 per year.
Salesforce Certified Service Cloud Consultant:
The Salesforce CRM is engaged with assorted cloud services among which Salesforce Service Cloud is one. Consultants engaged with this service help in designing service solutions for the respective cloud functions. Average pay scale of Salesforce Service Cloud Consultants in India and US is ₹8,82,000 and $101,000 per year respectively.
Salesforce Certified Technical Architect:
A Salesforce technical architect deals with designing the systems which enable long-term benefits for your company. He or she is also engaged in integration and testing of the applications, data modelling and migration, and controlling the source.An average salary of Salesforce Certified Technical Architect in US is about $150,000 per year.
Salesforce Developer:
Working with in-depth coding essentialities is the important and primary responsibility of a Salesforce developer. Advanced cloud solutions have become popular because of the perfection in development teams. Salesforce developers strive hard to work with Apex, VisualForce, Triggers, and other development tools for effective deliveries. Proficiency in technical programming languages is a very big plus point for Salesforce developers. Customized CRM application development, integration of Salesforce with other tools, and designing appropriate data models are some of the duties of Salesforce developers.
Salary of Salesforce Developer:
With their tedious task involvement,Salesforce developers are offered salaries in the range of ₹4 lakh to ₹7 lakh per annum. As discussed, this also varies with the recognized companies. The average salary of a Salesforce developer in India is ₹4,86,992 per annum (according to payscale reports). Certification in Salesforce development, therefore, presumes more salaries when compared to non-certification basis. Starting salaries for Salesforce developers are ₹12,000 to ₹36,000 per month.
The average salary of a Salesforce developer in US is about $87,000 per year; the starting salary is $47,000 per year. The certified professionals of Salesforce developers and Salesforce administrators with adequate experience are found to get $90,000 to $125,000 per year in US.
Salary of Salesforce Administrator:
In India, the average salary of a Salesforce Administrator is found to be around ₹3.5 lakh to ₹5 lakh per year. However, there are changes in salaries with respect to the companies and experience too. The average salary of Salesforce Administrators in India is ₹4,32,767 per year (according to payscale reports). Small-sized companies do offer lesser salaries when compared to larger ones. Moreover, the experience in administration also matters. The starting range for a fresher will be around ₹15,000 to ₹30,000 per month – this is also varied depending on the company.
The average salary of a certified Salesforce admin in US is $64,000 per year. However, the starting salary ranges from $40,000 to $95,000 per year based on the company's brand.
Salesforce Consultant:
Salesforce consultants help an organization in setting up, implementation, configuration and maintenance of Salesforce platform. They manage the client relationships, engage in status meetings with clients, and improve product configuration. They play a key role in driving the project from design to deployment stages.
Salary of Salesforce Consultant:
In India, the average salary of Salesforce consultants is found to be ₹8,28,314 as per the payscale survey. It ranges from ₹3 lakh to ₹13 lakh per year based on the company, location, and experience.
The average salary of Salesforce consultants in US is $80,545 per year. The salary ranges are found to be from $55,647 to $125,359 per year.
Salesforce job description: What do the Salesforce developers do?
The first question that might arise here is what are the duties or the responsibilities of the Salesforce developer? Well, to start with; there are many. There are certain commitments that one needs to make before qualifying as a developer for Salesforce.
Develop solutions within the Salesforce platform to assist critical business functions and fulfill venture objectives, client specifications, and company goals. To be able to first maintain the CRM model.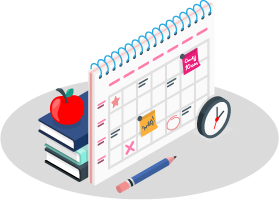 Get Hands-on Experience in Salesforce Certification Course
Weekday / Weekend Batches
See Batch Details
Manage daily assistance and maintenance of inner Salesforce instance, and conduct long-term improvement functions to make a sure interface with evolving objective requirements is fulfilled and also to be able to fulfill complete demands of the company with the tool.
Communicate with venture supervisors, customers, and other developers to design natural venture strategies and make sure effective cooperation throughout all stages of growth, testing and deployment.
Maintain a flexible and proactive workplace to facilitate a quick response to changing venture specifications and client objectives, and innovate ways to fulfill objective objectives successfully.
Interact directly with customers, supervisors and end users as necessary to evaluate venture objectives and capability specifications, such as specifications for customer connections, personalized programs and communications with inner Salesforce instances. This primarily comes under the 'survey' part.
Collaborate with various inner departments, such as marketing, service, and processes, to make sure Salesforce atmosphere supports inner needs relating to functionality and performance so that everything is understood and studied.
The only thing more essential to your developing agents than Sales team is a Salesforce developer who can develop and primarily design personalized structure for the tool to boost the utilization and effectiveness within your sales team. Being that designer, though, can feel like an exercise in futility or sightless luck, but it doesn't have to. You can take the unique chance out of yourself, and a master at the job at hand of being a developer that focuses on promoting unique ideas and customized strategies for the company you plan to work with.
Salesforce developer salary: Comparing it with US and India:
India: The average salary of a Salesforce developer in India is surveyed out to be 6 lakhs per annum! It is not something that really can be stated downright, but after a lot of studies depending upon the experience of the developer, the knowledge and certifications he or she has and the company he or she is associated with; this is the amount that can be figured out in India.
There usually has to be a situation where you have tremendous knowledge and innovative ideas for the firm, and the firm too should be in need of it. Only then the per annum income can go up to about 15 lakhs per annum. Without a win to win situation, the average salary can be very well assumed to be less than 10 lakhs per annum in India.
USA: USA has a different scenario for the Salesforce developer, undoubtedly. The demand for them and the perfection from the developer's side to facilitates why the average income of the developers of Salesforce in USA is much more as compared to the ones here. Here, in India, you need to be extraordinarily extraordinary to be able to bag what a normal Salesforce developer makes up in USA.
The amount is unbelievably around $78,000 or in terms of Indian currency, it comes out to be 50 lakhs per annum! That's a whopping amount for a Salesforce developer in India. This also is a reason that the values of dollars and currencies are pretty different that leads up to this huge difference in numbers!
Salary for Certification in India: Salesforce Certified Developer-₹655,338
Avg. SalaryShow Hourly Rate
What am I worth? How should I pay?
Job
Average: ₹185k ₹2m
Salesforce Developer: ₹557k
Software Engineer:₹481k
Senior Software Engineer:₹815k
Salesforce Developer Training:
When it comes to training, one has to be cautious about the following aspects and see if the vendor has abilities to train:
First and foremost, experience resources
Practical exposure for the candidates to understand Salesforce and experience real-time scenario, by conducting a mock project.
The training schedule should be flexible enough so that it includes both theory and practical sessions for the candidates.
The mode of training, i.e. option for the candidates to attend the training. Online vs in-person classroom training.
Evaluation process in between the training schedule, this will help the candidate to make sure that they are in sync with the training schedule.
Ability to get support 24/7
Should have a provision where they can take up a demo session for the candidates and let them see the value.
These are few qualities that one must go through and check whether the vendor fulfills all the qualities and the requirements. Mindmajix is one perfect solution for all of your training needs because they go above and beyond the expectations. They have a perfect mix of certified and industry expert's trainers where they take personal care to make sure you excel in the courses that you have opted.
The self-evaluation process is an integral part within MindMajix training sessions. As per the schedule and the training sessions, the candidates are equally assessed based on what has been thought so far. This creates a moment of an evaluation process for the candidates and makes them go through the training course a bit more serious.
Salesforce Developer Sample Resumes! Download & Edit, Get Noticed by Top Employers!
Download
The timing is not an issue when you are getting trained with us. We will make sure that you have an expert trainer available for you all the time. With the help of virtual class's mode, we will make sure that your training sessions are flexible according to your schedule. All we look for is a stable mind and concentration so that the training program is well executed without any disturbances.
Get in touch with us to understand more about the training schedules and also the flexible hour's packages so that you're training sessions are not compromised at all. If you have any questions on any of the training programs then contact us and our experts will get back to you answering all of your questions.