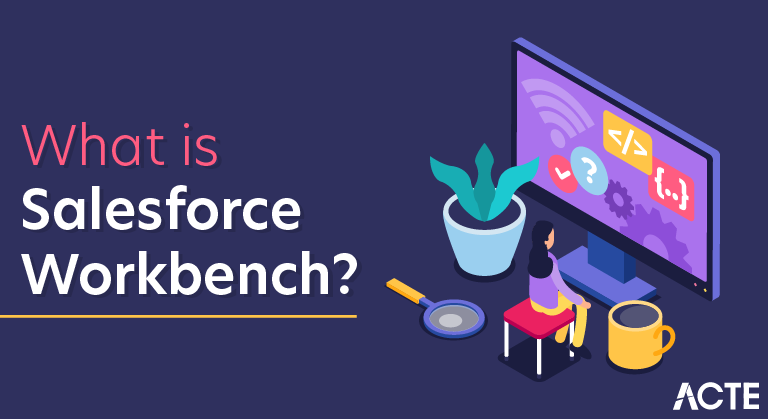 What is Salesforce Workbench? All you need to know [ OverView ]
Last updated on 09th Jun 2020, Blog, General
Workbench Salesforce is a powerful, web-based suite of tools designed for Salesforce administrators and developers to interact with Salesforce.com organization via Force.com APIs. Using Salesforce Workbench, administrators and developers can quick view their organization's data, Data Loading, can perform SOQL Query, SOSL search, session settings, test, deploy and troubleshoot their own application.
How to login Workbench Salesforce?
There are different ways that we can login Salesforce Workbench. Workbench supports standard username / password login, we can login with a session id and using OAuth 2.0 remote access login. Salesforce users can also use firefox browser extension to use Salesforce Workbench.
Workbench Salesforce login URL https://workbench.developerforce.com/login.php.
Login to Workbench Salesforce using Salesforce.com account credentials.
Select your Environment as Production or Sandbox.
Select I agree to the terms and conditions.
Now click on Login with Salesforce.
After login to Workbench Salesforce successfully, the pages allows Salesforce user to jump to different options like Standard and Custom objects, Metadata Type and components, SOQL query, SOSL search, Insert, Update, Upsert, Delete, Insert, Undelete, Purge, deploy, retrieve and many more.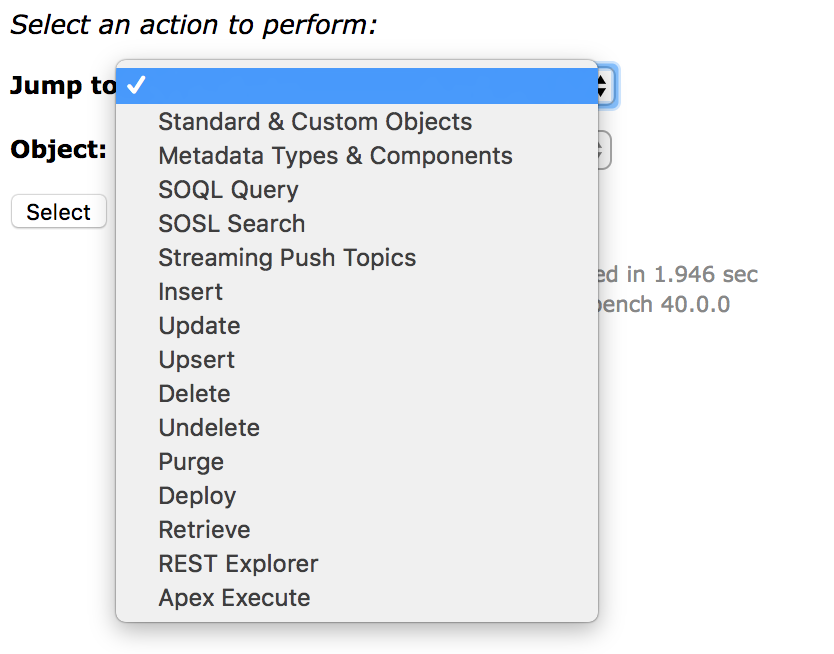 Select any one from the options and select object from the list. Here we will select Standard & Custom objects.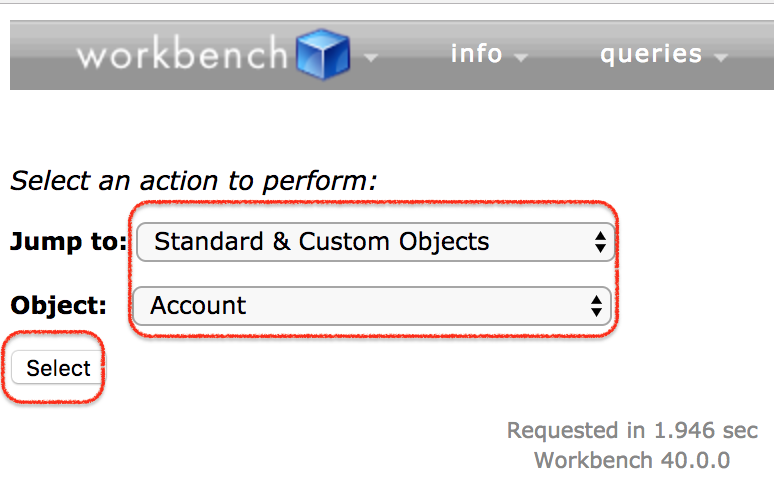 In this Salesforce tutorial, we will learn how to get session information, how to build SOQL query in Workbench Salesforce, How to create, update, delete records using Apex execute and how to reset password using Workbench Salesforce.
Session Information.
System administrators can cancel user sessions in Salesforce. Session Information in Workbench displays details about current user session like Connection, Accessibility mode, profileId, Session seconds valid,user Email, user FullName, UserLocale, UserType and many more.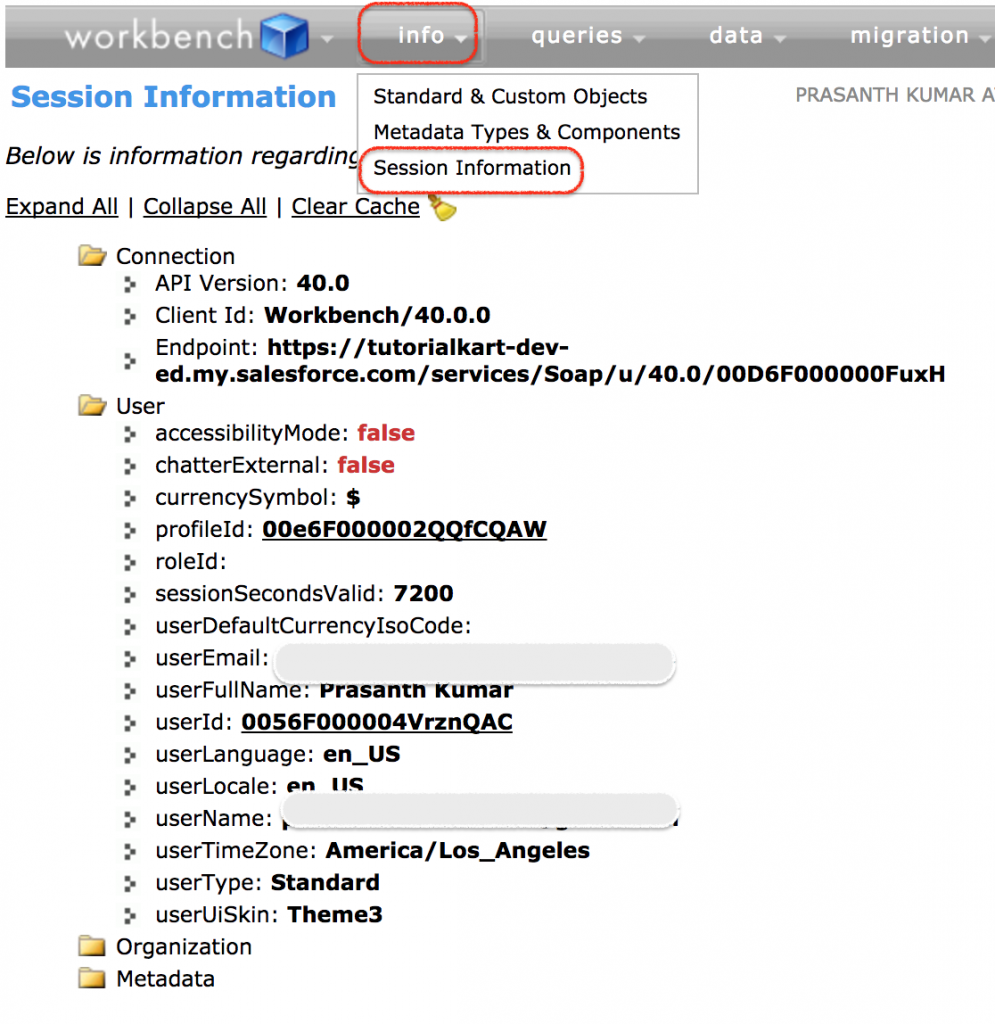 How to perform SOSL search in Workbench Salesforce?
SOSL stands for Salesforce Object Search language. Using SOSL search we can search text based search queries against the search index. So how to perform SOSL search in Workbench Salesforce? Follow the steps given below.
Navigate toQueries | SOSL Search.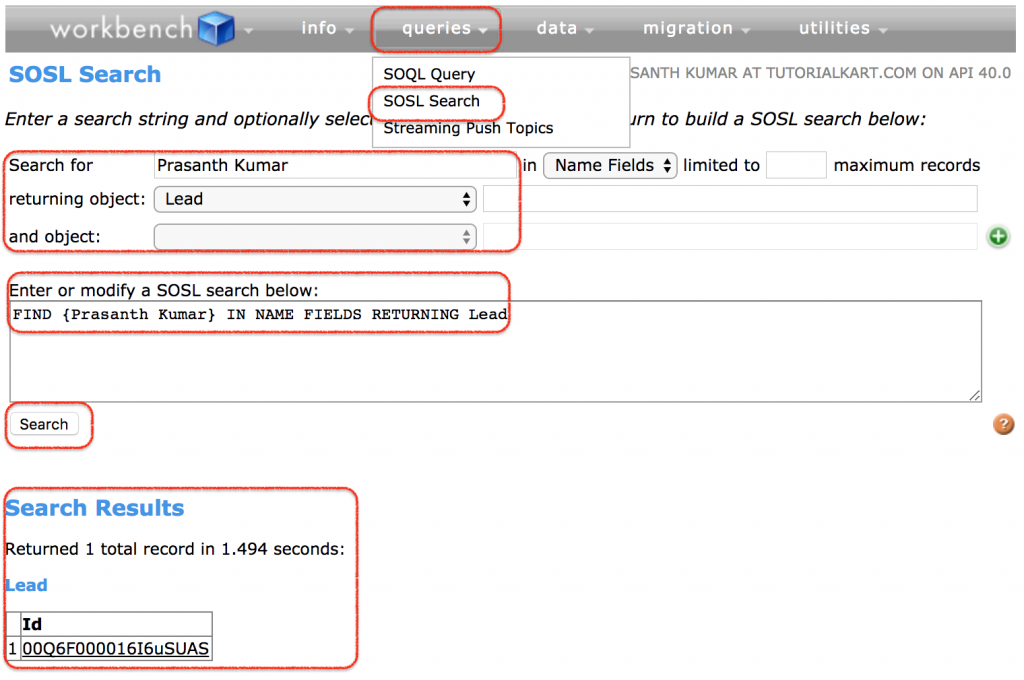 As shown in above SOSL search, we searched for Prasanth in the Lead Object in the Name field. When we click on Search. List of all results will be returned as shown above.
How to execute Apex code in Salesforce Workbench?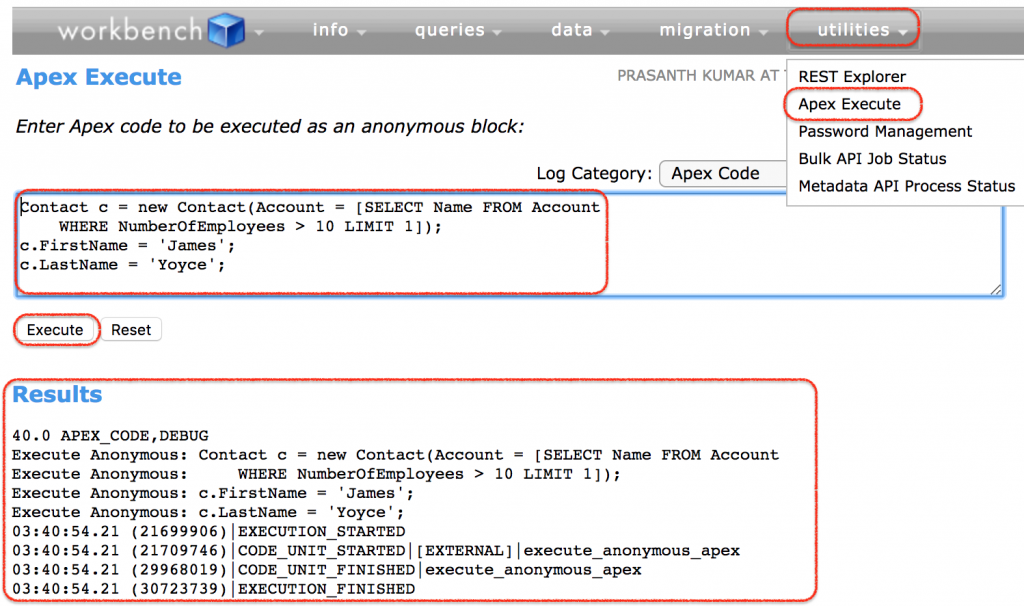 You can also create new objects from SOQL queries on existing ones. The following example creates a new contact for the first account with the number of employees greater than 10. Note that the newly created object contains null values for its fields, which will need to be set.
How to reset password in Workbench Salesforce?
Salesforce login password can be set and can be reset using Workbench in Salesforce. Follow the steps given below.

Click on Utilities and select password management link.
Now select Set or Rest.
Click on Change Password button.
Features of Salesforce Workbench
Salesforce Workbench is one of the basic instruments that help developers and administrators in controlling their application. This toolkit enables administrators and developers to perform SOSL Search, SOQL Query, test, Session settings, investigate applications and many other operations.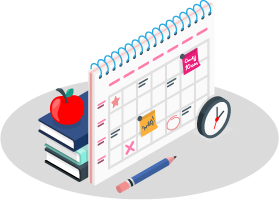 Enroll in AdvancedSalesforce Certification Course to Build Your Skills & Career
Weekday / Weekend Batches
See Batch Details
This toolkit has several functionalities that are very critical for the development and maintenance of web applications. Here are some of the features of the Salesforce Workbench that would help developers to work in a smarter way.
Allows you to edit records
This toolkit allows the developer or the administrator to observe any specific records of the organization just by entering its ID in the query items. The developer or the administrator could edit the record if he or she wants to change the record. If the data record is not from the workbench pre-existing database, then you would just have to enter the ID of the record in the single record field to retrieve the data file.
Allows you to purge and delete records
The purge option of the Salesforce Workbench is to erase any unwanted records permanently. This option is mainly applicable to those files present in the reuse container. The delete option is applicable when the developer wants to move any particular file into the reuse container. The developer would be able to undelete the record if the record has any undeletable quality.
Uses CSRF protection
Cross-Site Request Forgery or CSRF is the trap laid by programmers which allows them to use the information of the client for their benefits. Salesforce Workbench employs CSRF protection for ensuring that client record is kept secret. All clients would be able to change the security setting by going to the "CSRF SECURITY SETTINGS" option of the toolkit.
Enabling the CSRF security feature would provide another layer of protection to the instance of Salesforce Workbench of the developer. This feature is very effective in blocking any problematic logins from entering into your instance.
Allows you to retrieve and update any records
This is another powerful feature of the Salesforce Workbench. This toolkit allows the developer or the admin to either retrieve or update any data records. The retrieve feature doesn't appear as an option on Salesforce Workbench. The user would have to enter a URL to view this page. This internal page allows the developers to observe all details related to the record.
On the top of the "Retrieve" page, there would be the option of "Update". Through this function, you would be able to manually change or reset those "under the hood" values data fields of the record.
From the above the article about the Salesforce Workbench, you would be able to create a basic idea about this toolkit. Through this toolkit, you would be able to perform various operations that would not be possible through other APIs. This toolkit is very easy to use; the developer would just have to follow a guide that flashes through the toolkit itself.
Salesforce Sample Resumes! Download & Edit, Get Noticed by Top Employers!
Download
Advantages of workbench
It gives us access to data and structural info from all objects in the system.
For Frozen or Locked users, SOQL queries in Workbench helps to view the data.
Those on Mac can use it without additional software.
Disadvantages of workbench
Workbench has an inability to save and reuse data load mappings, as we can do with the data loader.
Workbench does not have an ability to do command line or scheduled actions, as with data loader.