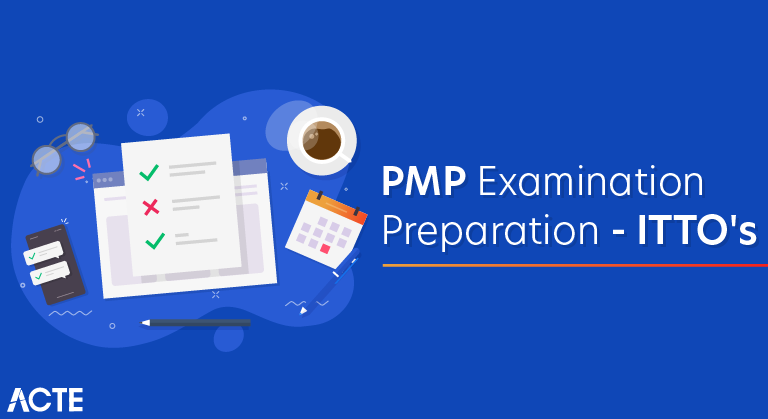 PMP Examination Preparation – ITTO's [Comprehensive Guide]
Last updated on 13th Jul 2020, Blog, General
How to memorize Project Management Professional (PMP)® Exam ITTO? – One of the most Frequently Asked Questions I get while talking to professionals preparing for the PMP® exam. I observe that PMP® Exam ITTO is one of the main reasons for exam fear and becoming the cause of delaying the exam date. In this blog, I am addressing ways to overcome fear by giving tips on how to learn PMP® certification input-output.
1. What is ITTO in the PMBOK Guide?
In the PMBOK® Guide, ITTOs are the basic building block of all 49 processes. These are the components of a process and understanding of these processes gives you a solid foundation for executing your project.
Each process of PMBOK® Guide is designed to produce some output and for that, it applies tools & techniques on a set of inputs. Let's begin with each component of ITTO one by one:
What is the input in ITTO? Before starting activities of a process, you need to think about all the pre-requisite items which ease the creation of the output. Let's suppose; you are planning to develop a plan for your project requirements and scope. For that, you are thinking –
What existing organization templates (Organization Process Assets) can help me,
What is the organization culture (Enterprise Environmental Factors) I need to take care of identifying stakeholders,
And, what is the guideline for the approaches (Project Management Plan) of developing my Scope and Requirement Management Plan?
And finally, what are the initial requirements (taken from Project Charter) which can be used to detail the Scope and Requirement management plan.
All of these items are Input in ITTO, as all of these items support you in developing the Scope Management Plan and Requirement Management Plan.
What are the Tools and Techniques in ITTO? After consideration of input, the next step you take is to carry out activities involved in the process. In your developing Scope and Requirements Management plan example –
You meet with identified stakeholders and take their expert judgments. Also, you can do data analysis for the information you discovered during this process. Here Expert Judgment and Meeting are the Tool & Techniques for producing your Scope and Requirement Management Plan.
What are the Outputs in ITTO? Outputs are the result of transformation on selected inputs. It is the application of Tools & Techniques on inputs. Like, during a meeting with your stakeholders, you take their opinion. And, produce the scope and requirement management plan, which serves the output of developing a scope management plan.
Below is the consolidated view of the Plan Scope Management Process: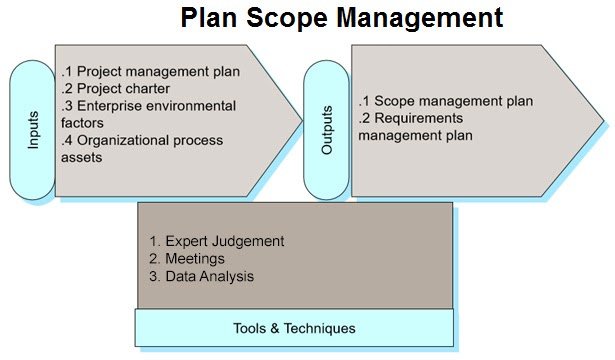 PMBOK® Guide, Outputs from one process can be Inputs for another. This Scope Management Plan is an input to "Collect Requirements", "Define Scope", and "Create WBS"
All of the PMBOK® Guide processes are grouped by process groups and the knowledge areas. For more on grouping and correlation between the PMBOK® Guide processes and knowledge areas, you may read Knowing PMBOK® Guide Knowledge Areas and Process Groups
The Complete Guide to PMP® Exam ITTO (Inputs, Tools, Techniques, and Outputs) takes the definition of ITTO directly from the Glossary of PMBOK® Guide as follows: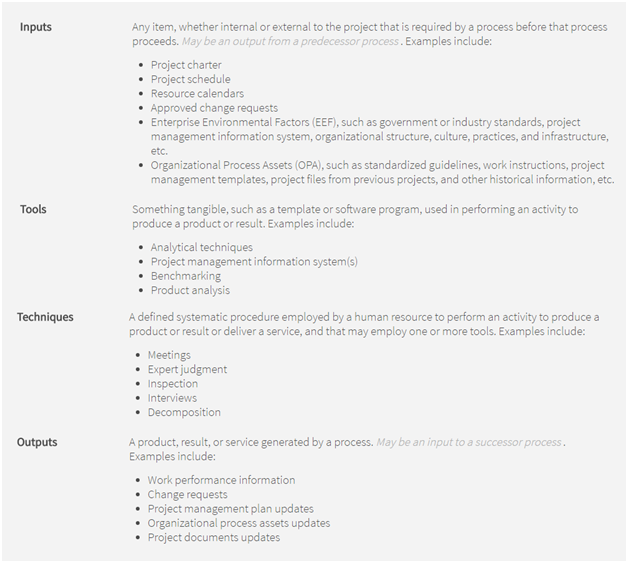 2. How to memorize PMP Certification Inputs and Outputs?
Each process of PMBOK Guide has on average seven ITTO per process, and it takes around 300 total ITTOs. This number scares many of you; let me give you the good news here. You are required to learn a much smaller number of these ITTOs. Most of the Input, Tools & Techniques, and Outputs are commonly used throughout PMBOK Guide and PMP certification training.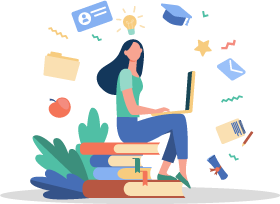 Best In-Depth Practical Oriented PMP Training to Develop Your Career
Instructor-led Sessions
Real-life Case Studies
Assignments
Explore Curriculum
All you need is to become fluent in these commonly used ITTOs. The PMBOK Guide also helps you in learning these ITTOs. Part 2starting from page number 541 gives you a process group Overview figure and ITTO & Data Flow Diagram of each process. It is a great tool for those who are visual learners.
Here I am presenting some of these ITTOs which are repeatedly used throughout the PMBOK Guide.
Commonly used Inputs in all ITTO:
Enterprise Environmental Factors & Organization Process Assets: Many of you get confused about which input comes in Enterprise Environmental Factor (EEF) and which one comes in Organization Process Assets (OPA). EEF are factors that are outside the control of the Project Team. And, these are surrounded around your project. While OPA represents already available lessons learned, checklists, templates which the organization has developed from the past projects' learning. You may read more on the details of Enterprise Environmental Factors and Organization Process Assets
Project Management Plan: The Project Management Plan in PMBOK Guide is central to all the project work. And, defines how the project will be executed, monitored & controlled, and closed. You may easily observe that the Project Management Plan comes as an Input in most of the Planning processes because it provides an approach to developing plans. Also, as it defines how to do work and how to monitor the project progress, thus it comes in many Execution and Monitoring & Controlling processes. In summary, you can see the Project Management Plan as an Input in half of the processes. The Complete Guide to PMP Exam ITTO (Inputs, Tools, Techniques, and Outputs) list all the processes which take Project Management Plan as an Input:
Work Performance Information: The Work Performance Information is the output of controlling processes and gives your stakeholders the status of project deliverable s. Like –
if the project meets the quality standards and
how the project is performing against cost and schedule estimates.
Work performance information is valuable information in taking many project decisions and serves input to Monitor & Control project work to generate integrated work performance reports.
Commonly Used Tools and Techniques in PMBOK Guide ITTO:

Expert Judgement: To meet the goal of a process, whenever you engage your stakeholders most of the time you are taking information for what they know (Expert Judgement) about the topic under discussion. In the PMBOK Guide, Expert Judgement is most commonly used in planning processes.
Project Management Information System: (PMIS): In the PMBOK® Guide, the PMIS represents access to tools for the collection & distribution of information, and interfaces to other online automated systems. It is also considered to be an Enterprise Environmental Factor. As it comes from the organization environment and influences the project execution. It is a valuable tool to know for many PMBOK Guide processes.

Commonly Generated Output:

Change Requests: As the project moves in execution as a result of work performed, most of the processes generate the Change Requests. All of these changes are processed through the Integrated Change Control Process and goes as input there. If these changes are approved, it usually updates the Project Management Plan and other Project Baselines.
Updates: The updates in the Project Management Plan and Project Documents are typical output in many planning, execution, and Monitoring & Controlling processes. You may observe these updates throughout the PMBOK Guide.
3. How many direct ITTO questions come in the exam?
Only a few direct questions come on the direct ITTO part as PMI focuses on conceptual understanding. You need to give emphasis on the understanding of the relationship between Input, Output, and Tools & Techniques. If you want to overcome the fear of this ITTO, you need to focus more on understanding why a particular ITTO is used in a PMBOK® Guide process. It will not only support you to attempt pure ITTO based questions but also give you a better understanding of concepts to crack scenario-based questions in the PMP® exam.
PMP Sample Resumes! Download & Edit, Get Noticed by Top Employers!
Download
4. Should I develop my own Input Output Diagram?
Your creation may support a strategy that works for you. You can create your ITTO chart to understand better the flow and relationships of Input, Output, and Tools & Techniques.
Alternatively, you may download the following sheet which covers Input, Tools & Techniques and Output of all the 5 Process Groups and 10 Knowledge Areas. This sheet will help you to discover 'What' you are required (Input), 'How' you will achieve the process goal (Tools & Techniques), and 'What' you want to make (Output) from the process activities.