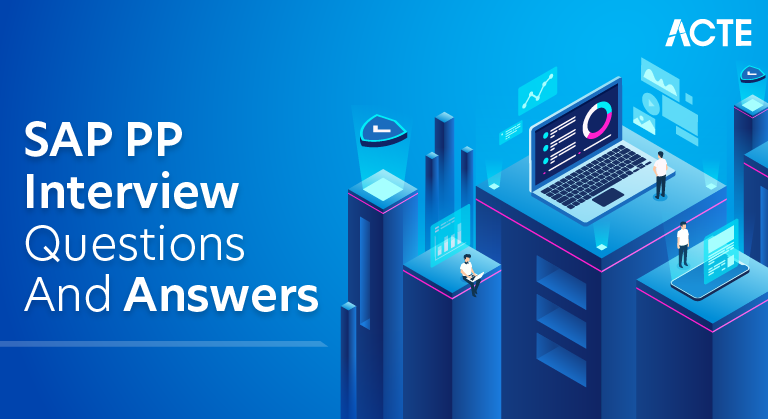 25+ Tricky SAP PP Interview Questions with SMART ANSWERS
Last updated on 04th Jul 2020, Blog, Interview Questions
These SAP PP Interview Questions have been designed specially to get you acquainted with the nature of questions you may encounter during your interview for the subject of SAP PP.As per my experience good interviewers hardly plan to ask any particular question during your interview, normally questions start with some basic concept of the subject and later they continue based on further discussion and what you answer.we are going to cover top 100 SAP PP Interview Questions along with their detailed answers. We will be covering SAP PP scenario based interview questions,SAP PP Interview Questions for freshers as well as SAP PP interview questions and answers for experienced.
Q1. Explain what is SAP PP?
Ans:
SAP PP process is related to production planning of a company and it encompasses all activities like MRP (Material Requirement Planning), BOM (Bills Of Material), Routing, Capacity planning, etc. but mainly it contains two segments
Material Planning: Material requirements planning, long term planning,
Execution Planning: Creation of production order, workflow, conformations, technical completion and good movement

Q2. Mention what are the production process in SAP?
Ans:
There are three types of production process in SAP
Discrete Manufacturing
Repetitive Manufacturing
Production- Process Industries
Q3. List out the activities carried out in Production Planning?
Ans:
Activities involved in Production Planning includes
Processing material master
Creation of Bill of Material
Displaying work center and routing
Maintaining planning calendar
Maintaining production lot
Maintaining quota file
Defining range of coverage profile and profile for safety time
Defining MRP views
Q4. Explain what is Routing in SAP PP?
Ans:
Routing in SAP PP is referred to a list of activities which are required to produce any material. For example, when you do cost estimation for the material, the system triggers the relevant routing and activity rates for all those described in routing. Which will helpful to calculate the processing cost in product costing.

Q5. What are the steps of Production Execution Process?
Ans:
Production Execution steps include
Converting planned order to production order
Releasing the production order
Goods issue for production order
Confirmation of production order
Goods receipt against production order
Q6. What are the reports generated in product cost controlling information system?
Ans:
Product Cost Controlling information system generates information for following areas
Product cost planning
Cost object controlling with the subcomponents
Product cost by period
Product cost by order
Product cost by sales order
Costs for intangible goods and services
Actual costing / Material Ledger
Q7. Explain what is "work center" in SAP PP and what is the use of Data in Work Centers?
Ans:
"Work Centers" are business objects in SAP-PP that is used in task list operations ( routings, maintenance task lists, inspection plans) and work orders.Data in work center is used for
Scheduling: Formulas and operating time are entered, so that the duration of an operation can be calculated
Costing: Formulas are entered so that the costs of an operation can be calculated
Capacity Planning: The available capacity and formulas for capacity requirements is entered
Simplifying operation maintenance: Various default values can be included in the work center
Q8. What is the use of MRP PP evaluations?
Ans:
This role contains a function for evaluating the MRP result. This function can be used to find information about the availability of material and to identify any material shortage situation.
Q9. Mention what is the purpose of using Capacity Planning?
Ans:
Capacity Planning supports planning in all phases
Long term rough cut planning
Medium term planning
Short term planning
It can be integrated with various SAP applications like SAP-SD, PP, PP-SOP, PP-LTP, PP-SFC, etc.
Q10. Explain how can you create production order without routing and BOM?
Ans:
Without BOM and routing you can create a production order by changing the config in OPL8 ( order type dependent parameters) as routing optional. When we try to create an order using C001 it may ask for a sales order.
Q11. Explain what happens to planned after it has been converted into production order?
Ans:
When planned order is converted to the production order, the planned order are offset by production order. The planned order reference can be seen in the production order.
Q12. Mention what is the difference between stock transport order and stock transfer order?
Ans:
Stock transfer order: It is referred to the transfer of stock for the usage in the same companyStock transport order: It is referred to the change of title of stock in the name of the buyer
Q13. Explain what is PRT (Production Resource Tools) in SAP PP?
Ans:
PRT (Production Resource Tools) are moveable operating objects used to perform repeated activities in plant or production maintenance, for example, documents such as drawings or programs for which document management functions are used. Various other PRT components include;
Engineering drawings
Jigs
Fixtures
Measurement Instruments
Q14.Explain how to create PRT master records?
Ans:
To create PRT master records you have to follow the following steps
Choose logistics/Accounting -> Project System -> Basic data -> Master data -> Production resources and tools -> Create
The initial screen for creating a PRT appears
Enter a number for the PRT and choose continue
The basic data screen appears
Maintain the basic data
Choose Goto -> Defaults and enter the default values
Save the PRT
Q15. Mention what is the t-code for changing production order and to display production order?
Ans:
T-code to change the production order = C002
T-code to display the production order = C003
Q16. Explain what is PLM (Product Lifecycle Management) in SAP PP and what is the use?
Ans:
It is a collection of solutions with which you digitally create, maintain and make product information, available in the whole company and for the entire life cycle of the product. PLM provides you the function with which you do following things The workplace is an open portal in the world wide web and allows you to access all application and information that you need to work with all external and internal business partners It can link with other internet applications like program management, change and configuration management and engineering collaboration.
Q17. In SAP-PP what are the costing parameters?
Ans:
In SAP-PP, the costing parameters are as belowWork Center: Activity types and the formulas, cost centerRouting: The time, activity types

Q18. In cost controlling information system mention the fields that are listed in the list screen of the report?
Ans:
Following fields are listed in the list screen of the report
Key Figures
Costing/MM
%Costing/MM
Revaluation
VarCstRuns
%VarCstRuns
Basic data
Valuation
Cost component group 1/ Cost component group 2
CostCompGr(fix)1 / CostCompGr( fix)2
Q19. Explain what is the use of SAP Material View and list out other parameters where SAP Material View is applicable?
Ans:
SAP Material View is an SAP object that not only hold name of the material, but various other information related to material like
Material production related information
Material planning related information
Material sales related information
Material purchase related information
Material storage and warehousing related information
Material costing and Accounting related information
Material batch specification information
Q20. Mention what are the types of Master Views for Production and Planning?
For production and planning types of Master Views are
Ans:
SAP MRP1 View
SAP MRP2 View
SAP MRP3 View
SAP MRP4 View
SAP Work Scheduling View
Q21. Mention how MRP (Material Requirement Planning) types are classified?
Ans:
MRP types are classified in two leagues
Materials for consumption based planning
Planning based on demand
Q22. Mention what are the keyfields found in MRP View 1?
Ans:
MRP views 1 are mostly maintained for production purposes.
General Data
MRP Procedure
Lot size data
Q23. List out the basic procedure for dispatching operations in capacity leveling?;
Ans:
For dispatch operations basic procedure includes Either the user determines the date of dispatch or else it is specified by scheduling A dispatching sequence needs to be determined if several operations need to be dispatched The systems checks for The dates to which operations are to be dispatched The work center to which operations are to be dispatched Finite scheduling is performed Operation check is performed Status for the operation is set as "dispatched." System carries out midpoint scheduling
Q24. Explain what is the need of MRP list if the stock requirement list is already given?
Ans:
MRP list displays the result of the last planning run, changes that occurred between planning runs are ignored in the MRP list. While contrary to this, in the stock or requirement list all changes that occurred in the stock, issues and receipts are displayed by the system.

Q25. Mention what are the t-codes for creating, changing and summarizing BOM?
Ans:
BOM transaction codes for
Creating BOM= CS01
Changing BOM= CS02
Summarized BOM=CS13
Q26. Mention what is the use of t-code CS20 in BOM?
Ans:
With t-code CS20 you can do Mass changes to BOM like
Change the item data
Creating new material
Replacing it with another material
Q26. Can we create Production order without bom and routing?
Ans:
yes we can create a production order without BOM & routing.Change the Config in OPL8 ( order type dependent parameters)as routing optional. But it may ask for a sales order when we try to create order using CO01
Q27. What is the difference between by-product and co-product and how do you differentiate them in a BOM?
Ans:
In case, of Co-product costs are settled with an apportionment structure. In case, of By-product the price of this by-product is credited to the order or the material stock account of the lead material being manufactured. Co-Product as well as by-product are defined as BOM Components/Items. Both of them have negative quantities. ( Not all negative quantity items fall under these categories!). When BOM is created for FERT, you can see one indicator in COMPONENT DETAILS screen for co-product. You need to define the co-products with this special indicator
Q28. What are some important tables used in PP (Production Planning)?
Ans:
For orders:
CUAFVD dialog structure for order headers and items
AFPO – Order item
AFFLD Order: Dialog table for order sequences (AFFL)
MOPER Operation for production order
KBED Capacity requirements
AFRU Order completion confirmations
RESB Reservation/Dependent Requirements
AFFHD Structure of PRT's in orders
SOPER Sub-operations
SAFRU Sub-operation confirmations
SKBED Capacity requirements for sub-operation
MRP table is MDTB.
For PI:
CAUFV – AFVC Operation within an order
AFFT Order Process Instructions
AFFV Order process instruction values
Some other tables of interest:
Q29. What is the difference between PP and PP-PI? Which one is better and how?
Ans:
PP–> Prodction Planning mostly used for descrete type of industries , where at the time of confirmation the output issure to be fixed. eg Automobile PP- PI–> Production Planning for Process Industries , here mostly used for the typical chemical industries , as the Yield is not fixed due to chemical reaction yield values can be varied to noticable extent. Eg X+Y =Z some 10 kg of X
and 1 KG of Y givs yiled that is Z of 10 Kg only.
Q30. What are the costing parameter?
Ans:
The costing Parameters are the following Work center : Activity types and the formulaes,cost center Routing : the time ,activity types In Production order dependent parameters we are defining the Variant ,result analysis key,settlement profile In the controlling i.e in KP 26 we will be defining the rates per hour depending on the rates it will reflect the cost caluculating from the routing..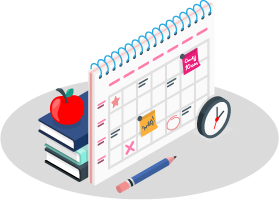 Get Hands-on Experience with SAP PP Certification Training Course
Weekday / Weekend Batches
See Batch Details
Q31. What structure do your BOMs have? How many levels are there?How many components are there on each level?
Ans:
BOM IS A multilevel,we can assign bom level by level cs11,level 1 bom header material assembly levelcontains components which also have bom contains level 2 bom sub assembly level
last lower level is level 3 components level
Q32. How to attach a drawing for a material to BOM ? Is it possible ?
Ans:
Yes, you can attach a drawing. First create a document using Transaction Code "CV01N – Create Document". Attach your drawing in that document. The system will generate a document number. Assign this document in the BOM with item category D. Report in Long Term Planning – You use long term planning for your customers, what they need are very simple, just to calculate future requirements for 1 or 2 years.
Q33. Are there any reports in SAP to list of material requirement from LTP ?
Ans:
You need a list of material requirement from long term planning result for each item. Use MS70 then use MCEC.
Q34. If there are some errors in goods movements, and less stock of material consumed, how can i solve that problem in SAP?
Ans:
According to me COGI is basically a SAP standardised system which will tell you that what is the error in some cases it can rectify it too.But if the entry is done manually by MB1A, MB1B, MB1C you
have to bring back or cancell the movement or move the stock to desired material and then refresh COGI.
Q35. What is a 'BOM'?
Ans:
A 'BOM (Bill of Material)' is nothing but a structured list of components (with the object number, quantity, and unit of measure) that go into the making of a product or an assembly. Depending on the industry sector, they may also be called recipes or lists of ingredients. The structure of the product determines whether the bill of material is simple or very complex.
Q36. What are all the 'Technical Types of BOM'?
Ans:
There are two 'Technical Types of BOM' supported in SAP:
Q37. Explain why their is need of production version?
Ans:
In production version, we assign the BOM and ROUTINGcombination. And in case of alternate BOMs , it clears whichalternative bom has to be selected automatically.
Q38. Differentiate 'Variant BOM' from 'Multiple BOM.'
Ans:
While a 'Variant BOM' groups together several BOMs that describe different objects (for example, different models of a car) with a high proportion of identical parts, a Multiple BOM groups together several BOMs that describe one object (for example, a product) with different combinations of materials for different processing methods.
The Variant BOMs are supported for the following BOM categories:
Material BOMs
Document structures
Equipment BOMs
Functional location BOMs
Multiple BOMs are only supported for Material BOMs.
Q39. Define 'BOM Group.'
Ans:
A 'BOM Group' is a collection of BOMs that lets you describe a product or a number of similar products. The value in the BOM group field uniquely identifies the BOM group. You can use the BOM group as an alternative way of accessing the BOM. A BOM group comprises either all the alternatives of a multiple BOM or all the variants of a variant BOM.
When you create a BOM group, the system checks the special characters you use. Apart from the usual alphanumeric characters, you can use the following special characters: '-','/','_.' You cannot use blanks.
Q40. Explain what is the meaning of exploding a BOM?
Ans:
it is the process of multiplying the requirement by the usage quantity and recording the appropriate requirements throughout the product tree
Q41. What are the 'BOM Categories' Supported by SAP?
Ans:
The following are the various Categories of BOM:
Equipment BOM
Material BOM
Sales Order BOM
Document Structure
Functional Location BOM
WBS BOM
Q42. What are all the different manufacturing scenarios in pp?
Ans:
There are different scenarios in SAP PP module.
Make to stock
Make to order
External processing (Subcontracting)
Rework processing
Prodcution in another plant
Q43. How to delete a group of products that was created in screen MC84 ?
Ans:
Delete the members in the product group and then archive the product group in transaction SARA, object=MM_MATNR. (The product group is created as a material master record with material type PROD and this record is deleted in SARA.)
Q44. Do you have different BOMs for a material in different plants?
Ans:
generally we have following BOMs
Product Tree
Parent- component relationship
Multilevel Bill
Multiple Bill
Single Level Bill
Indented bill
Q45. Tell me the planning steps for 100 products?
Ans:
CK11n is used for standard cost estimation.to run that we have to run ck24 also.
Q46.How to configure the planning calendar for the ATP calculation where goods are shipped every other working day?
Ans:
Use Transaction MD25 and define calculation rule for every other working day. Check the lot size settings in OMI4 and maintain relevant data in MMR.
Q47. We have two different production lines with different operations. One production line works 5 days a week and the other 7 days a week. The factory calendar is assigned to the plant for 5 days a week. This calendar is checked when MRP is run. How can we assign 5 day a week and 7 days a week against a factory calendar to the related resources? Is it possible to have two types of calendars?
Ans:
Assign factory calendars to the work centers.
Q48. We have a BOM – 'A' with two packing materials 'X' and 'Y'. For 1000 units of 'A', 1 packing material of 'X' is required and for 50 units of 'A', 1 packing material of 'Y' is required. Base quantity of 'A' is defined as 1000. How can I define 'X' & 'Y' or in fact 'A'?
Ans:
Make the base quantity of 'A' as 5000. The resulting component quantities would be 5 of 'X' and 100 of 'Y'.Work Centers
Q49. Can we have more than 6 standard values in standard value key?
Ans:
One way to achieve this is to create another operation step using the same work center. However this shall be with a control key that is not a milestone. When the milestone operation is confirmed, the previous operations up to the next milestone are automatically confirmed. To get the desired number of standard values , all the 'non milestone' steps can be built depending on the need.
Q50. Can we use same routing for materials undergoing the same process/operations? Can we avoid separate routing for each and every material produced?
Ans:
Presume that there are 50 products and the fabrication shop uses a set of 10 machines. If all these products use the same settings of the machines, Reference Operation Sets (task list type S) can be setup for common processes that use the same work centers. However costing, scheduling and capacity will be affected if each product has different setup time and Reference Operation sets can not be used.A routing for each material number ( type N or R) has to be set up and within that routing, the Reference Operation Set can be used.However, you can by try utilizing the KMAT material and product variants invariant configuration to avoid separate routing for each material.
You may create a routing group. Go into routing creation and enter the plant and the group name. If you want you may name the group, else name is assigned by internal counter). Create the routing with the work centers, operation times, etc. Go to the "Header overview" screen and click on the "Mat Alloc" screen. Fill in the blanks with all the material masters that use this routing.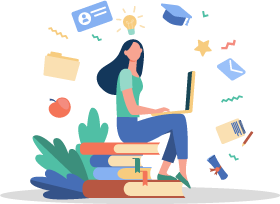 Get JOB Oriented SAP PP Training & Get Hired By TOP MNCs
Instructor-led Sessions
Real-life Case Studies
Assignments
Explore Curriculum
Q51.Scheduling times can be defined in the material master record by;
Ans:
entering the in-house production time. This value can be updated from the routing by the system.# entering the setup, tear down, processing, and interoperation times. If these values are maintained, the system determines the in-house production time on the basis of lot size.

Q52.How do you get the system to update this value from the routing?
Ans:
In routing, carry out scheduling. Go into the routing operation overview and follow Extras -> Scheduling -> Results. The pop-up window displays the scheduling data. At the bottom there is a pushbutton to copy the scheduling data to the material master Check this push button to update master data.
Q53. We have deleted a group key in an operation in routing and the same does not appear for this routing (CA02). But we noticed that entries are maintained in table PLPO and the deletion indicator is not set. How does the system remember this deletion of group key?
Ans:
You may look at the tables PLKO, MAPL and PLAS. Sales & Operations Planning
Q54.We defined SOP in months. However, during SOP transfer to demand management, our independent requirements are appearing in weeks. How can we correct this from weeks into months ?
Ans:
Check transaction OMPA for general split. OMPS – based on the MRP group. Ensure that MRP group assigned to the material. Delete any allocations in these tables.
Then periods will be transferred to Demand Management with the same splits as in SOP. Also, check whether the value of period is set as "month" at your plant level in Transaction 'OMP7' Demand Management
Q55.Sales quantities in SOP for certain days are transferred into Demand Management and are shown as planned independent requirements. We need to keep the settings in SOP and change the periods in Demand Management? We would like to have a rolling horizon, for ex: the following 4 weeks on a daily basis, after that on a monthly basis. What is the best way to do this?
Ans:
Use the automatic period split function.
Q56.We have a lot of size procedure here which is creating more order proposals. How do you set the limit value for the maximum number of MRP order proposals per date in IMG?
Ans:
Under customization, try materials management->consumption based planning->maintain all plants
Q57.What is the difference between "planned consumption" and "Unplanned consumption"? Can safety stock calculation be done on either of these?
Ans:
While customizing movement types (OMJJ) it is defined as to which set of consumption values gets posted during the material movement. For some, it may always be the total consumption and for some, it is always the unplanned one and for some, it is dependent on whether the issues were done with reference to a reservation ie., a planned consumption. The way these consumption values are taken into account in MRP is defined in the customizing of MRP types. For Reorder point planning (VM) the total consumption is used to calculate the safety stock and the reorder point.
For Forecast-based planning (VV) the total consumption is used to build the forecast which will be used to compile the order proposals. For Deterministic MRP (PD) the unplanned consumption is used to calculate the forecast which in turn is added to the actual demand.
Q58.We want the system to run a single level MRP automatically on receipt of sales order. How to configure triggering event based MRP?
Ans:
This can only be run if the material master has planning strategy 41 (made-to-order) in the MRP2 view. We need to run for other MRP types. We have to create a user exit in the sales order processing (VA01) to start MRP based on data from our sales transaction.
Q59.We have an assembly 'A' using a subassembly 'B'. 'B' in turn uses raw material 'C'. Item 'A' is an MPS and is duly marked in Material Master. Item 'B' and 'C' are marked as 'PD'. When demand for 'A' is entered and MPS is run , upto which level the requirements are taken care of?
Ans:
MRP can be run depending on your requirement. For example: Single Item / Single Level from MPS – Transaction Code MD42 – Only the top MPS item ( 'A' in this case) is planned and dependent requirements will be passed to MRP item ( 'B' ) . Run MRP, Transaction MD02 on 'B' to plan it and all MRP items below. Single Item / Multi Level from MPS – Transaction Code MD41 – All levels are planned – A, B & C Total Planning from MPS online or background – Transaction Code MD40 or MDBS
Without marking the checkbox " Process MRP materials" is like case ( 1) above and with the checkbox marked is like case (2 ).Production Orders
Q60.We get an error message "Control parameters for scheduling not defined" while creating test production Orders. Why?
Ans:
Before you attempt creating Production orders, configure your
Order types- Transaction Code OPHJ
Order type Dependent parameters – Transaction Code OPL8
Backorder Scheduling – Transaction Code OMIH
Scheduling Levels – Transaction Code OMIF
Q61.We are trying to create Purchase Requisition from MRP run. We have material, info Record, Source list, Demand in place. MRP is always creating plan order. Why?
Ans:
Check the procurement type in MRP view of material master. Check 'Create Purchase requisition' indicator while running MRP. If you want purchase requisitions to be created in the opening period, select the for MRP control parameter 'create purchase requisitions' as '1'.
Q62. what is the option "Documented goods movements" on Selection of Individual Object Lists (transaction code CO28)?
Ans:
Use Transaction code OPL8 to customize by choosing the order type, select all the checkbox under "Documentation of goods movements" at the bottom of the page. Create a new Production order, make GI to it, and run the report.
Q63.We would like to have a report/inquiry that would indicate variances (materials, material quantities) between material recipe and actual process orders. We tried ME2M but this gives us a list of purchasing documents and not the consumption deviation. Where can I get such consumption deviation (master recipe Vs. Process> Orders)?
Ans:
Do a data collection first.Menu Path – Accounting->Controlling->Product cost acctg->Process mfg->Information system->Cost object hierarchy->data collection Then, Accounting->Controlling->Product Cost Accounting->Order Related Production->Information System Choose Report Period Costing – Target/Actual production variance
Q64.We have two components ( 'X' & 'Y' ) in a production order in a process oriented production process. When 50 numbers of component 'X' are issued, we need the system to automatically issue 100 numbers of component 'Y' based on the ratio of 1 to 2. Where do I specify these ratios?
Ans:
You can define the ratio in BOM and material may be issued with reference to BOM.
Q65.We have two storage locations are '0001' and '0600'. Default storage location in Process order is always '0001' What determines this default location?
Ans:
Look into OSS notes: 100757, 63493, 96262, 87843, 82033, 64946. The Storage location as configured in the Supply area has the highest priority.
Q66.We need to do GI of components to production order using Back-flush. The component stock is managed in Batches. The Batch to be back-flushed
Ans:
With the following settings, the batches are selected the moment the production order is released.
Set up batch determination the way that the batches in batch selection are sorted the right way. e.g. sorted by expiry date
Use automatic batch selection in disp view.
Ensure that the components are allowed to be back-flushed (material master/ work center) is selected by FIFO from the issue storage location.
Q67.We want to report on several status combinations like each order that has status 'Not deleted' and 'Not technically completed'. What set up is required?
Ans:
Check transaction CO28. In the selection screen note the possible selection 'System Status'. You can select TECO for technically complete an DLT for deleted from the list. Select the Excl. indicator also. You may also try transaction CO26 (Logistics -> Production -> Production control -> Control -> Information systems -> Order Info System -> Object overview). Before executing the transaction report, combinations of statuses can be selected or exclude them.
Q68.How can we shut off the "automatic costing indicator" and the "automatic scheduling indicator" which go on when the production order is released?
Ans:
For "no automatic costing" follow the IMG path Production -> Production orders ->Master data -> Order – >Define order type dependent parameters Select the order type for which u automatic costing is not required. In the controlling settings, select "no automatic costing" For "no automatic scheduling", follow the IMG path: Production ->Operations – >Scheduling -> Define control parameters Select the order type and go to details. Deselect " automatic dates " Alternatively, you can find indicators in the control key, which is in the routing. Transaction OPL8 gives you costing indicators (Order type dependent parameters), and OPJU (control table for scheduling) gives some scheduling options.
Q69.How can I use variable size items?
Ans:
For example, consider an item A with 'kg' as base Unit Of Measurement(UOM) and 'm3' as stock keeping/issue unit. Conversion factor is 1kg = 2.4 m3.In the BOM of 'B' ,number of A required are specified (say 5).Specify the 3 variable dimensions i.e. length, width & thickness- say 2000mm X 3000mm X 4mm = 0.024 m3As per BOM – 'B' , the quantity of A required is 0.024 X 5 = 0.120 m3
If a production Order is released for 15 numbers of 'B' , the quantity of variable size unit will be 1.20 m3. You can change the length, width or thickness in the production order & check the resulting variable size item quantity. At the same time, this requirement can be seen in 'kg' in stock/requirement list.
Q70. Can MRP be carried out for one particular level of a bom ( Level code: 0001/0002 etc).
Ans:
Yes it can be done by running for specific materials (Single Material Single Level)
SAP PP Sample Resumes! Download & Edit, Get Noticed by Top Employers!
Download
Q71. How Requirements (PIR, Sales Order, Customer Requirement) are reduced after they are produced?
Ans:
Reqmts are reduced automatically after Delivery is made to the Particular Order
(In case of Strategy 11, the PIRs are consumed after the GR for Production Order)
Q72. Can't one material be assigned to more than one operation in a routing?
Ans:
One material from a BOM CANNOT be assigned to different Operations. It can be done by defining the material for so many times as required in the BOM
Q73. How to insert an inspection checkpoint at the end of an operation?
Ans:
If in process sample is to be defined, assign inspection type 03 in the Material Master.Then create MICs and assign them in the Routings. System automatically generates the Inspection Lots
Q74. Where have we to specify the teardown time in one operation?
Ans:
Teardown time can be defined as one of the Standard Parameters…
Q75. How is the process time calculated in a WC when both labour, Machine categories exist?
Ans:
Scheduling is done based on the Capacity Category we define in the Workcenter
Q76. How to create object dependencies in a BOM FOR A CONFIGURABLE MATERIAL?
Ans:
Go to Extras -> Object Dependency -> Assign For this, you need to create Characteristics and Class (of Class Type 300) earlier
Q77. Can anybody explain to me why work scheduling view is required for semi-finished and finished products? (Because we'll mention all details in MRP views)
Ans:
We need to maintain working scheduling view in order to make that finished or semi-finished goods available for production as we assign production scheduler and production scheduler profile in this view, if not maintained conversion of planned order to production will not be possible.
Q78. Why are all withdrawable, non-backflush components not always issued on the list?
Ans:
In addition to the reservation item criteria (movement allowed, non-backflush, requirement quantity > 0 and BAPIs in Production Order and Process Order FAQ- BAPIs in Production Order and Process orderHow are the BAPIs BAPI_PRODORD_GET_DETAIL (determining detail data for production orders) and BAPI_PROCORD_GET_DETAIL (getting detail data for process PP-PDC
Q79.What is PLM in SAP PP?
Ans:
PLM in SAP PP is a collection of solutions with which you digitally create, maintain and make product information, available in the whole company and for the entire life cycle of the product.
Q80. Find the scenario and give the result: A, B, C are employees, where A, B will get basic, HRA, DA. C gets Basic and DA. How to group for the allowances?
Ans:
Allowances are paid depending on his gradation and even wages are also paid on this criteria if AB is paid bas, hra, and DA then take three wage types and assign to the ES Grouping and don't give HRA wage type to C.
Check basic salary of inda and ALlowances in Indian payroll thoroughly, bcos first of all v have to understand this first and
then you have to decide the emp sub-groupings.
Q81. What is the use of INFO GROUPS?
Ans:
The info type group (commonly known as Infogroup) guarantees that during the personnel action, all information needed for the business processes is stored. The Infogroup is processed when you perform a personnel action. – An Infogroup exists in the standard system for every personnel action type. – In Customizing for Personnel Administration, you can tailor the make-up of the various info groups to the requirements of your company. – You can define info groups as user-group dependent. Infogroup's are used in Personnel Actions to define a set of sequential info types that you would be using while performing an action. For example, when you hire, you would want to use IT0000,0001,0002,0006,0007,0008, etc in a sequence- in a particular order. To define an Infogroup for this purpose which contains all these info types, their order of execution and the user groups it is applicable for. Then you assign this Infogroup to the action that you had defined.
Q82. Explain the uses of the simple maintenance interface?
Ans:
Simple Maintenance is used when Staff assignments and reporting structure are to be changed. There are three main areas in Simple Maintenance. Each area contains particular maintenance functions, depending on whether you want to edit organizational structure, staff assignments or task profiles. For Organizational Management users, Simple Maintenance is best used to establish the basic framework in organizational plan development. For complete, detailed editing of individual organizational objects in your organizational plan (editing particular positions or organizational units, for example), we recommend that you switch to Info-type Maintenance. Simple maintenance uses a tree structure, which allows you to create a basic framework for organizational plans, using streamlined procedures. In this way, we can create organizational and reporting structures step by step.
Q83. We defined SOP in months. However, during SOP transfer to demand management, our independent requirements are appearing in weeks. How can we correct this from weeks into months?
Ans:
Check transaction OMPA for the general split. OMPS – based on the MRP group. Ensure that MRP group assigned to the material. Delete any allocations in these tables.
Then periods will be transferred to Demand Management with the same splits as in SOP. Also, check whether the value of period is set as "month" at your plant level in Transaction 'OMP7'
Q84. How are Time management and payroll are integrated?
Ans:
TM MGMT and Payroll are integrated into ways are time data is collected from the info type 0007 and these hours are taken in basic as Number of hours worked or utilized, and even with time evaluation and last with schemas integration. X000 schema carries xt00 and these data can be transferred between other modules.