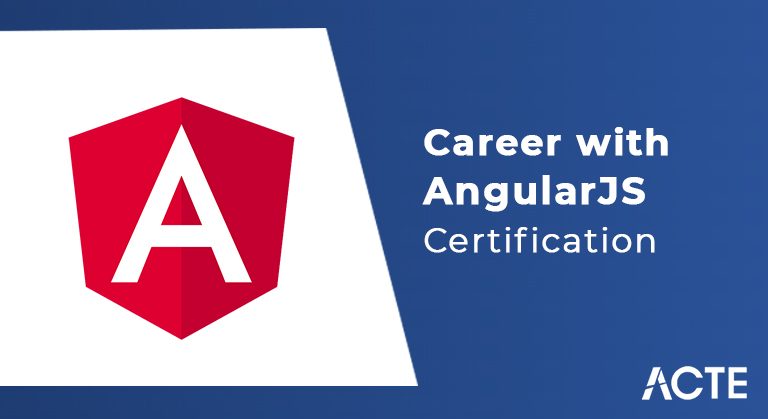 Career Advantages of AngularJS Certification | Everything You Need to Know to Become an Expert
Last updated on 07th Jan 2022, Blog, General
Introduction to Career In AngularJS:

AngularJS is an open-source web development framework used for web development. It is based on JavaScript and is maintained by Google. Career in AngularJS, Scope of career of an AngularJS professional, relevant relevant education required, day to day job responsibilities and career growth opportunities. By the end of this Career in AngularJS article, students and potential aspirants will have a fair understanding of how to make a career in AngularJS and why they should do so. Many individuals and corporations have contributed to the development of AngularJS to successfully build single page web applications. It is a structural framework. It is used to develop dynamic web apps. AngularJS is used with HTML through the 'script> command and it extends the syntax of HTML. AngularJS clearly and comprehensively expresses the components of the application.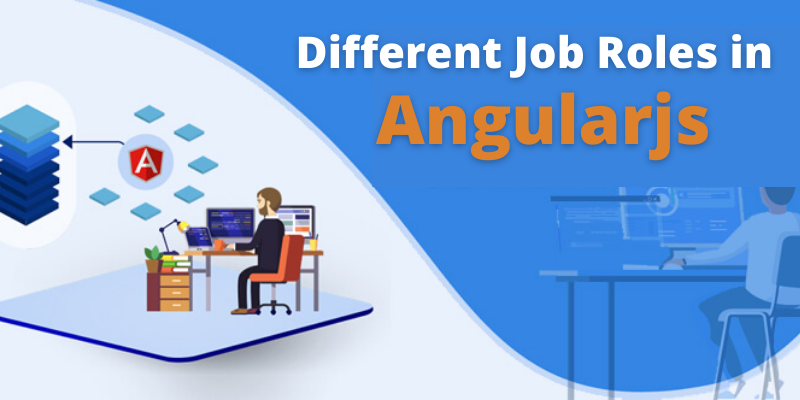 Education Required to Build Career In AngularJS:

The future of AngularJS is bright and continues to grow and play a vital role in everyday life and businesses. Career in AngularJS is changing the professional world.
A person having good knowledge of programming and having a passion for coding is essential to start working as an AngularJS professional. Generally, graduating with an engineering or technology major is convenient to get a job as a web developer. In India, B. E, B. Tech, M. Tech, MCA, BCA, M. Sc (IT), etc. are some of the relevant degrees that can bring a lucrative career in web development using Angular.
A minimum of 15 years of full-time education is mandatory for getting hired in almost all organisations. Previous knowledge of any one programming language is preferred, but there are no hard and fast expectations in terms of coding skills or projects or internships for freshers.
Usually, no additional certifications or courses are required to apply in AngularJS jobs but some students prefer to attend some online or paid courses for better skills to qualify successfully for the jobs Because there are always more candidates than the number of jobs available. in the market. There are many quality courses available on the web that students can choose from to enhance their knowledge if they wish to do so.
Career Path in Angular JS:

Typically, all entry-level professionals start out as a technology associate and gradually move up the corporate ladder. For entry level positions, the jobs are mostly related to building static pages using HTML and then gradually towards more advanced requirements such as dynamic page creation, responsive elements, mobile-based development, full-stack development, etc. Where there is knowledge of AngularJS. Very handy and used almost every day.

After spending an average of 3 to 5 years in the job, responsibilities increase and promotions happen. Now one can choose to be a team leader and move up to a managerial role or choose to stay in the technical areas and move up to Scrum Master, Product Owner or Project Controller. It is good to be in technical roles because there is one new thing to learn every day and that makes the job really exciting.
According to a 2018 Stack Overflow survey, 36.9 percent of software engineers implement AngularJS and Angular 2+ (newer versions of AngularJS) to do web development and create user interfaces. Those who want to specialise in building single page applications that consume REST APIs will definitely benefit from learning AngularJS. Roles such as web developers, project managers, architects and software testing professionals are the biggest beneficiaries of being proficient in AngularJS
Types / method:

Job Positions and Application Areas. Some of the common positions for AngularJS professionals in the industry are:-

Web Developer
Web app developer
Associate technology analyst
UI Developer
UX Developer
Mvc web developer
Front end Developer
Javascript developer

Almost all software products and solutions are its desktop applications, mobile applications, web pages and apps, cloud applications, etc. User interface is required for proper functioning and usability and hence the role of web developers is important. They are never going to be out of demand. Since its founding in 2010, its use and popularity has only grown. Dozens of Fortune 500 companies, as well as startups, are implementing AngularJS.

These days as more and more functionalities are being moved online, users expect the browser to act as a web app. With AngularJS, browsers can render content dynamically and display the same which reduces the download on the server manifold and provides ease to the UI developer to provide attractive page designs concurrently. The growing demand for single-page applications and the choice of an intuitive UI have led careers in AngularJS to emerge as the most preferred development platform.

Salary (USD:

ZipRecruiter mentions that in the United States, the average annual salary of Angular JS developers is $101,616 per year. The above figures are quoted by analysing the salaries of thousands of AngularJS professionals practising in different parts of the United States.

On an average, the annual salary of an Angular JS developer ranges anywhere from $50,000 to $143,500 depending on various factors. Location plays an important role in salary. Expensive cities usually pay more than cost-friendly neighbourhoods. Similarly, if one has a master's degree with many years of quality experience or has worked on important projects or done some research activities then the salary is much higher than the average salary.

Angular JS Developer Average Salary across US
Category Annual Salary Monthly Salary Weekly Salary Hourly Salary
25th Percentile $90,000 $7,500 $1,731 $43
Average $101,616 $8,468 $1,954 $49
75th percentile $115,000 $9,583 $2,212 $55
Who can learn AngularJS?:

Professionals in web development who wish to build expertise in building Single Page Applications (SPA) and client applications by consuming REST APIs will benefit from knowing AngularJS. Software architects, web developers, testing professionals and project managers are some of the professionals who would benefit from learning AngularJS.

To get started with AngularJS, a professional should start by learning the basics of JavaScript and if a designer is meant to be well versed in HTML and HTML5. It is also surprisingly easy to learn and this ensures that it helps in getting job opportunities in IT sectors easily. Once a professional has learned the basics, it is good to start building any existing application using AngularJS tools.

Job Market for JavaScript Developers:

While there are many JavaScript frameworks, AngularJS seems to be the market leader in this regard. According to Indeed.com, the international job portal, when comparing JavaScript frameworks like BackboneJS, EmberJS and ReactJS with AngularJS, AngularJS is the clear leader in popularity. The devices are compared in the form of a graph below for the years till 2015.

The job market progression for AngularJS has been mapped by the US Bureau of Labour Statistics, Payscale.com and Dice.com to show great prospects for the future. The stats for AngularJS in terms of usage and popularity as compared to its competitors are really impressive as compared to its competitors. The difference between AngularJS and its competitors is so huge that it makes AngularJS look like it has a monopoly on other JavaScript libraries. The figure below shows the market position of AngularJS in terms of popularity and traffic as compared to the popular JavaScript libraries.

Skilled AngularJS Developer Required:

The demand for AngularJS has become so high that it has become an essential skill for developers. According to Tom Renda, VP of Aliasense Group in New England, if web developers have Hadoop skills in their resume with AngularJS, they are highly sought after in Big Data and Analytics domains.

Huge salary package:

As the JavaScript developer job market is growing, so is their salary package. According to Indeed.com, the average salary for AngularJS professionals is $92,920 USD per year. This is about 70% higher than the average salary for all job postings nationwide.

Learn Advanced AngularJS Certification Training Course to Build Your Skills

Weekday / Weekend Batches

See Batch Details

The growing popularity of AngularJS:

AngularJS has been associated with Google since 2011 and has earned itself a lot of popularity. Angular has gained a lot of popularity since its association with Google in 2011. Since then, companies such as Amazon, Google, YouTube, Salesforce, Nike and America has been actively using AngularJS in their projects. This is because AngularJS provides a viable solution to the complex problems that have plagued web development since the introduction of JavaScript client-side coding. There are a lot of advantages of AngularJS that can be used by web developers to leverage the skills. With the introduction of JavaScript, the programmer is now empowered with a dynamic client-side programming language.

Angular js popular website workspace:

AngularJS has, in a manner of speaking, revolutionised the world of web development with its single page applications, where additional content can be loaded on the same page without telling the user the difference of being on the same page.

Some of the important features of AngularJS that made it so popular are mentioned below
Two-way data binding greatly reduces the amount of boilerplate code.
Unit testing is provided, and context-based communication is also supported.
Helps a lot in packaging and deployment of applications on mobile devices and on the web.
There is no need to use observable functions.
Designers and developers can work together as HTML is used for templating.
Uses best programming practises.
Makes testability easy.
It is easy to modify, change or add properties without any unexpected complications.
Software can be developed in a relatively short period of time and with very little effort in development.
The framework is provided with a complete package, which means, data-based web apps can be built without the need of any other frameworks or plug-ins.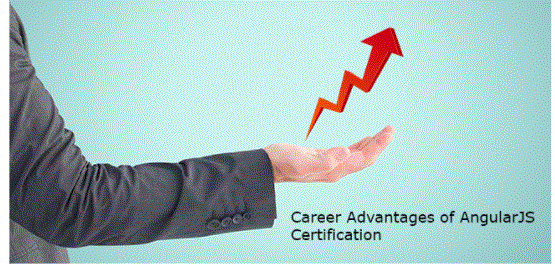 Present Career in AngularJ:

AngularJS is becoming the most used and popular JavaScript framework developers nowadays. It is considered the best technology for Rich Internet Applications (RIA). An easy, flexible and convenient way for the flow of data from model part to view and model part to view part is provided by the MVC architecture in Angular.

In the age of technology, developers prefer to choose the technology where they can earn more money with less effort and save time. Various features provided by Angular like controllers, services, directives, filters, dependency injection, productivity etc. It all works in favour of the developer. As it provides a developer with enormous flexibility to develop a user friendly application. The entire process of developing an application and deploying an application is completed in less time and less budget.

Reasons to choose a career in AngularJS:

Since its launch in 2009, angular.js has gained popularity so rapidly and is not going to leave its peak at all. On GitHub, it has long held a good position in the forks and stars.
It provides a client-side solution.
Ease in testing is provided by Angular.
SPA and AngularJS belong together. It provides SPA oriented features.
Developing Angularjs applications is easy as we have to write less.
The object used in Angular is POJO (Plain Old JavaScript Object). This means there is no need for a getter and setter method.
It uses a declarative paradigm.

AngularJS Future Scope:

To make a career in AngularJS, you must know what its future holds. In terms of front end, developers are working with a lot of frameworks. Choosing multiple JavaScript frameworks totally depends on our needs. For example, if there is a need for lightweight execution on the client side, then one should go for Backbone JS. Similarly, for single page applications, a developer can opt for Meteor JS. But frameworks like Backbone JS, Meteor JS support only some specific needs, which is why Angular is a bit special as compared to all other JavaScript frameworks.
It can offer many requirements to the users like, we can create a one page application through this, it can be used for lightweight execution as well as it can be used to design optimal solutions . Hence, we can say that because of its advanced features, Angular has a huge scope in the IT sector.
Companies using AngularJS & AngularJS Job Opportunitie:

Angular being a major mean stack technology is used by many companies:

ibm
Wipro
capgemini
Tech Mahindra
iGate Global Solutions
Elance

This list of companies will guide you to make your career in AngularJS.

AngularJS Job Opportunities:

Developers with knowledge of Angular technology are very much in demand. You can find many jobs on the following sites that want Angular as a technical skill:

job.com
monster india
Actually.co.in
AngularJS Job Roles
These are the career options in AngularJS:
web developer / web app developer
UI Developer
Front End Web Developer / Front End Developer
javascript developer

a. Web developer / web app developer- The job of a web developer is to fulfil the requirements of the client. A web developer works on both the front end part and the back end part. It focuses on how the website will look and behave and all this is done as per the demand of the customers.

b. UI Developer- UI developer means user interface developer. It works for both web developers and web designers. A web designer designs web pages and a web developer can add functionality to web pages. It mainly deals with designing, functionality and security capabilities.

C. Front End Web Developer / Front End Developer- Front end web developers only emphasise the looks of the website. It mainly works exclusively on the front end. This includes designing web pages, linking web pages, etc.

D. javascript developer- Javascript Developer Extends. All the above titles can use angular as their technology to do the work or we can say that there are many other names through which an angular developer can be known.

Pay Scale for AngularJS:

The average salary of a front end developer/engineer is around Rs 449,706 per annum. The average salary of a front end developer/engineer with Angular.js skills is around Rs 491,309 per annum.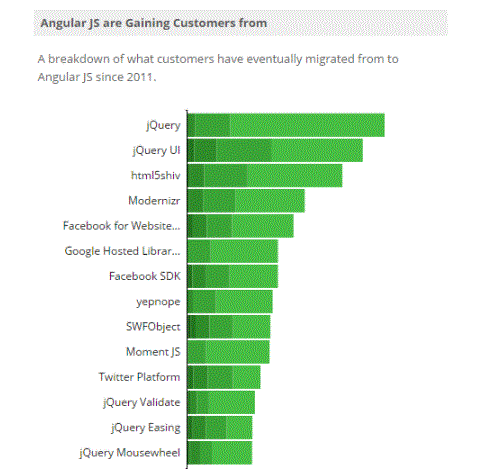 AngularJS Sample Resumes! Download & Edit, Get Noticed by Top Employers!
Download
Conclusion:

From all the information presented above, it is clear that AngularJS is a great skill to have to invest our time and resources in. Various studies show that the salary figures are increasing year by year and hence students should learn this skill without any hesitation and look for jobs in this field. There are other similar technologies out there, but the stability and trust with AngularJS is so high that it pretty much dominates the market.

AngularJS has now reached a point where it has graduated from a fancy framework to a web technology that is driving business. It is now being mandated by organisations whose core business value and strategy depend on a strong presence on the web. Hence, new job opportunities are opening up rapidly, and today AngularJS jobs are among the highest paying jobs.
The strongest unique selling proposition of AngularJS is that there are virtually no drawbacks other than the initial learning curve and component setup. Learning and getting trained and certified in AngularJS is a great investment and well worth the effort and easily predictable to pay a large remuneration in terms of productivity and ultimately the bottom line as the application matures. If you are thinking of starting your career as web and mobile application developer.