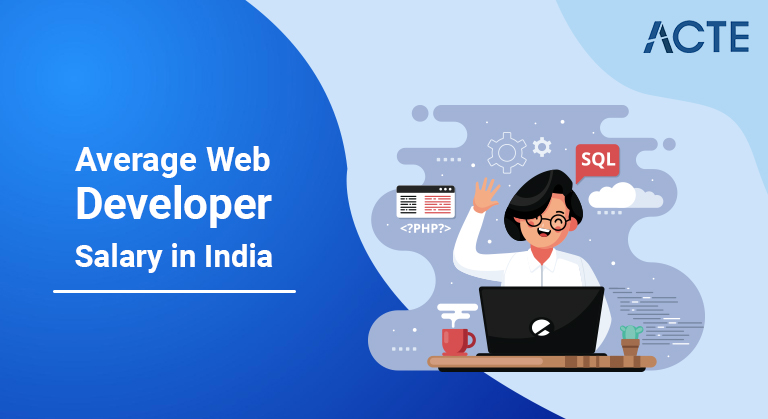 Average Web Developer Salary in India [ For Freshers and Experience ]
Last updated on 23rd Dec 2021, Blog, General
Web developers create and maintain websites. They are also responsible for the site's technical aspects, such as its performance and capacity, which are measures of a website's speed and how much traffic the site can handle. They are responsible for the look and functionality of the website or interface.
Introduction to Web Development
Web Developer Salary in India
Who is a Web Developer?
What do they do?
Web Developers Job Role and Responsibilities
What are the popular skills to become a web developer?
Is Web Developer a good career?
Key Web Development Trends That Will Rule
Web Developer Salary Deciding Factor
Web Developer Salary in India: Based On Experience
Web Developer Salary in India: Based On Location
Conclusion
Introduction to Web Development:

The Internet has remained a miraculous place since the 1990s. While many people took advantage of it and used it to their advantage. Some people are deeply interested to know every reason and logic behind the working of this wonderful internet.

What caught his attention was how a static page can provide infinite resolution; Or the fact that by clicking a button, they are taken to another webpage that serves some other purpose. There was an absolute curiosity to know about the visual aspect of a website's functions and modifications.

Harnessing that passion and interest was the beginning of web development. Website development is a comprehensive process of building a complete website. This can range from working on a single webpage with plain text to developing a full-fledged website for the Internet. This applies to all functions related to:

web markup
Client-side scripting (front-end work)
Server-side scripting (back-end tasks)
Server and network security configuration
e-commerce development
Content Management System (CMS) development.
Web development is not just designing a website, it is the whole process of bringing it to life and maintaining it.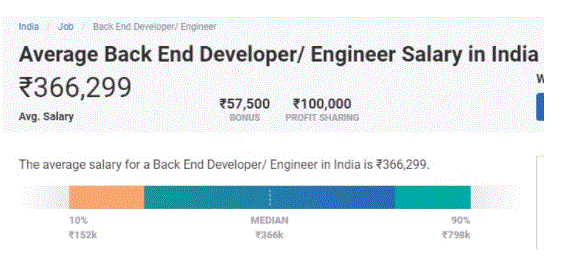 Web Developer Salary in India:

Salary speaks what your words and actions cannot. The role and responsibility of a web developer begins and ends with the smooth execution and maintenance of a website. Hence, the range of salary will be as per the knowledge and skills possessed by a developer.
The average salary of a web developer ranges from a minimum of ₹125,000 to a maximum of ₹890,000.
Average salary of web developer in India.
However, the range of this salary depends on a number of factors, from experience to employer to your location.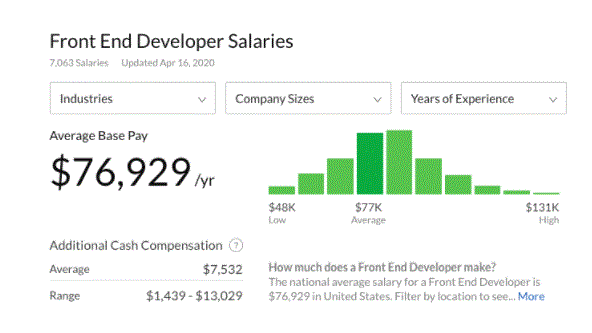 Who is a Web Developer?

A web developer is a programmer who creates and maintains a website.

Judging by this statement, the task seems so simple. However, just like any attractive, simple looking website goes through a complex process of working, so is the job of any web developer.

A web developer shapes the design of the client, turning his idea into a functional website or application.
What do they do?

You need to understand that there are different types of developers. Also, there is a clear difference between a web developer and a designer. To get a more accurate idea of ​​a web developer's salary it is essential to understand the distinct notability between all these roles.

There is a wide scope of work in web development and it takes advantage of different areas for web developers to work in. Some of those businesses include:

Front-end developer: The front-end developer has significant responsibility on the client's websites, i.e. what users can see. They ensure an interactive facing side of the website for better user experience. The three central components a good developer uses are HTML, CSS, and JavaScript.

Back-end developer: A perfect movie isn't just about acting on-screen. It takes into account all the effort put in by the team behind the scenes. Similarly, for a website to function smoothly on a server, a back-end developer is required. They manage all the coding for site structure, content and security.

Full-stack Developers: Unlike the above-mentioned developers, full-stack developers are not experts in one area of ​​development but rather have thorough knowledge of different technologies to monitor different areas of the website. They work on Surface as well as servers.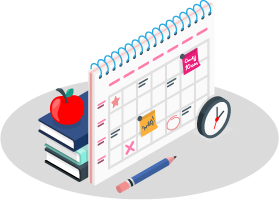 Learn Advanced Web Designing Certification Training Course to Build Your Skills
Weekday / Weekend Batches
See Batch Details
Web Developers Job Role and Responsibilities:

As it is clear from above that the salary of a web developer in India will be based on his/her knowledge of designing a complete website or web application for execution:

Some of the responsibilities expected of a web developer are:

Website application designing, building, or maintenance.
Build website layout/user interface using standard HTML/CSS practices
In conflict situations, focus on the idea of ​​clear communication with your team for quick resolution and hassle-free work.
Be responsible for the maintenance, expansion and expansion of the website.
Collaborate with web designers to match visual design intent
Keeping oneself abreast of the latest updates and revisions in the field of web development through attending conferences, workshops; participate in discussions; Reading or reading about innovations.
Checking and validating your test cases and routines to ensure the code runs smoothly across all browsers and device types.
Always look at customer feedback and work on the problems and solutions needed to achieve significant results.
Stay connected with emerging technologies/industry trends to determine user needs
Create a reserve of website backup files for local directories for emergency recovery.
What are the popular skills to become a web developer?

Nothing is difficult if you have true passion and interest. However, being a web developer is not the same as just writing lines of code. It is much more than a basic requirement of learning a coding language. One must be analytical, yet have clear communication with the team.

In order to understand the clear skills you need for this important role, we have divided it into two categories:

Hard skills
HTML
css
Javascript
Device
debugging
*** (code version)
basic graphic design
Back end and database
Working with Hosting (Publishing Websites)
Libraries and Frameworks
DevOps and Deployment
soft skills
problem solving skills
logical reasoning
good communication
Endurance
attention to detail
Curiosity to learn
search skills
time management
Is Web Developer a good career?

The time we are living in can literally be called the postmodern age, which may be replaced by the digital age. People have perverted its application and have taken the space of the Internet to another level.

In this digital age every business, every person, everything needs a website. Ranging from a product to a service and even a personal brand requires an online presence and is possible with a website or web application.

This undeniably explains the inevitable boom of the web development profession. One just needs the right set of skills and learning and the passion to stand out from the rest. Like every day, the horizon of a web developer's career is expanding and expanding. Trends and technologies look to a bright and fast-growing future ahead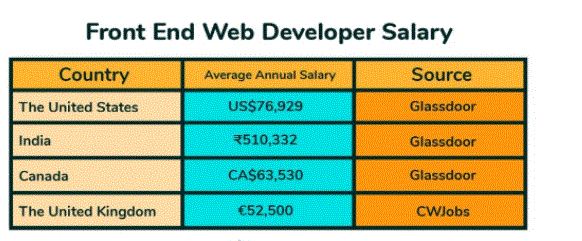 Key Web Development Trends That Will Rule:

single page websites
Accelerated Mobile Pages (AMP)
Progressive Web Apps (PWA)
Integrating Solutions with Artificial Intelligence
A new experience chatbot
Internet of Things (IoT)
Powering WebAssembly Web Apps
serverless architecture
Push notifications are getting popular
blockchain technology
AR/VR Changing Games for Everyone
Movement User Interface (UI) Design
web server software
Web Developer Salary Deciding Factor:

Apart from the demand and position of the job in the country, there are many factors that come into play while deciding the final salary.

Some of the factors that highly affect the salary of a web developer are:

Experience: There is no doubt in saying that the salary will depend on the years of job experience of a developer. A fresher in the field may have talent but an experienced one knows to handle the situation better due to experience.

location: It is certain that urban locations tend to have higher pay scales than rural locations as the cost of living comes into play.

employer: The company you are entering will definitely affect your salary structure as a startup will be inclined to more freshers whereas large, reputed employers are willing to pay more because of their position in the market and their financial position. Huh.

skillset: The more skills, the better. Especially when a role is as diverse as that of a web developer, each company has its own set of required skill sets. So, the more skills you can acquire, the more likely you are to tick off a higher salary

Job Roles: We have discussed the various job roles of a web developer, and hence will be one of the deciding factors of your salary structure based on their demand in the country.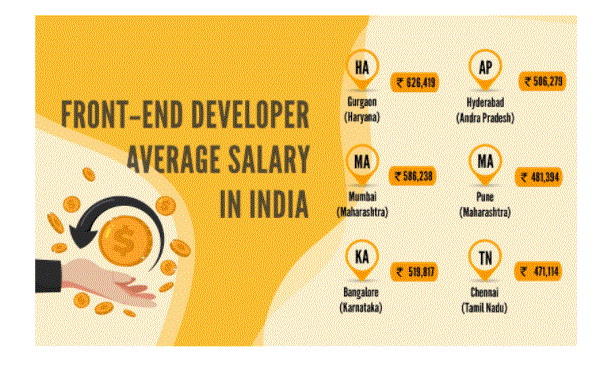 Web Developer Salary in India: Based On Experience:

web developer salary for fresher:

An entry-level web developer with less than 1 year of experience can expect to earn an average total compensation (including tips, bonus and overtime pay) of ₹241,239.
beginner level web developer salary in india
An early career web developer with 1-4 years of experience averages ₹305,745. earns total compensation of
Experienced Web Developer Salary in India
An experienced web developer with 10-19 years of experience earns an average total compensation of ₹850,000<
Web Developer Salary in India: Based On Location:

web developer salary in bangalore

The average salary of a web developer in Bangalore is ₹398K per annum.

web developer salary in mumbai maharashtra

The average salary of a web developer in Mumbai is ₹339K per annum.

web developer salary in pune

The average salary of a web developer in Pune, Maharashtra is ₹307K per annum.
Web Methods Sample Resumes! Download & Edit, Get Noticed by Top Employers!
Download
Conclusion:

Like any other profession the salary of a web developer will be based on many factors. Starting from the location, the salary of a web developer in India would be an average of 300k/yr.

However, if you are a fresher in Australia, your income will average 2.9m/yr. The difference is huge.

But location is not always the deciding factor. A developer can be qualified for many job roles, being a full-stack developer. This job position is considered as one of the highest paying jobs in India.

A web developer has the potential to grow in so many areas. From different types of experience to acquiring different skills, the pay scale also varies. In India, the salary of a web developer for a fresher is around ₹125,000 while that of an experienced developer is around ₹890,000.

Everything is difficult if you do not have the passion or curiosity to learn in your field. Similarly, the job of a web developer comes with defined roles and responsibilities and, if you are willing to develop and explore this field sincerely, it will be a productive opportunity for you.