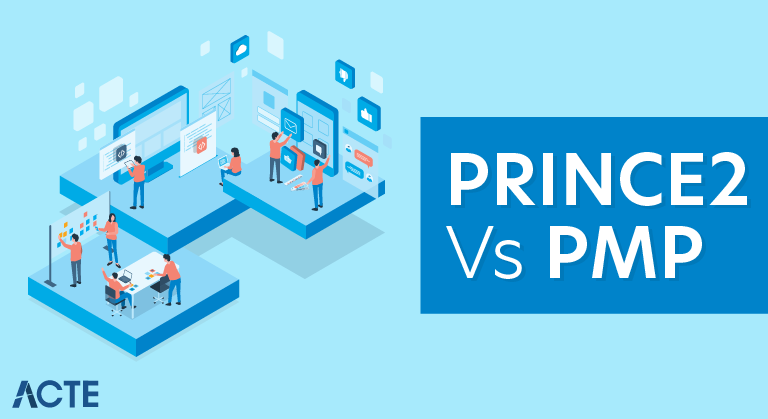 PRINCE2 Vs PMP: Difference You Should Know
Last updated on 11th Jul 2020, Blog, General
What is PRINCE2?
PRINCE2 stands for "PRojects IN Controlled Environments." The British central Computer & Telecommunications Agency originally established it for Information Technology projects in the year 1989. Later, PRINCE2 was released in the year 1996 as a methodology with the inputs from 150 European organizations.
Currently, PRINCE2 certification is owned by Axelos, UK. Axelos (www.Axelos.com) was formed in 2014 with a joint venture of the UK government and Capita (a public company).
PRINCE2 project management is a process-based methodology for projects. It offers the official manual "Managing successful projects with PRINCE2" for the practitioners following PRINCE2.
PRINCE2 integrates with some of the globally known and practiced IT frameworks including ITIL. This makes it more applicable in the techno-driven environments, where technology is embedded into the fabrics of the new generation IT organizations.
As per the Axelos report 2016, 90% of the PRINCE2 practitioners value the certification for their career progression.
Different PRINCE2 Certifications
PRINCE2 offers the following certifications-
PRINCE2 2009 – Certification for Project Management
PRINCE2 2017 – Certification for Project Management with tailored consideration including Agile
PRINCE2 Agile – Based on agile approaches to provide PM solutions
AgileSHIFT – Certification providing an enterprise agility solution
MSP – Program Management Certification
M_o_R – Risk management
P3O – Project, Program, and Portfolio
MoP – Portfolio management
MoV – Value management
ITIL – IT service management based on ITIL framework
RESILIA – Cyber resilience
What is PMP?
PMP certification is a popular certification among project management professionals, which is administered by PMI (Project Management Institute), USA.
PMI is headquartered in Philadelphia, USA and was founded in 1969 (www.pmi.org). It is the world's leading not-for-profit membership association for the Project Management profession.
PMP stands for Project Management Professional. PMP certificate is most popular in the USA, Australia, and America. However, it is valued worldwide within the project management domain.
The PMP certification exam structure is primarily based on PMBOK. PMBOK guide is also called as a bible for project managers and stands for Project Management Body Of Knowledge. The latest PMBOK Guide 6th Edition was published in Sep'17.
Different certificates accredited by PMP
Below is the list of certifications offered by PMP
Project Management Professional (PMP)
Program Management Professional (PgMP)
Portfolio Management Professional (PfMP)
Certified Associate in Project Management (CAPM)
PMI Professional in Business Analysis (PMI – PBA)
PMI Agile Certified Practitioner (PMI – ACP)
PMI Risk Management Professional (PMI – RMP)
PMI Scheduling Professional (PMI – SP)
Top 10 Differences between PRINCE2 and PMP
| Points of Difference | PRINCE2 | PMP |
| --- | --- | --- |
| Place of Origin | UK region | USA |
| Controlled & managed by | Owned by Axelos, UK | Administered by PMI, USA |
| Answers to | What/ When/ Whom? | How? |
| Methodology | Process-based | Knowledge-based |
| Guidelines (Exam Scope) | Official manual, "Managing Successful Projects with PRINCE2 (2017 Edition) | PMBOK Guide – Project Management Body of Knowledge Edition 6 along with standards & practice frameworks available on PMI site |
| Framework | Prescriptive: based on best practices in the project environment | Descriptive: based on knowledge areas such as scope, schedule, cost, risk, etc. |
| Structure | An integrated set of themes & processes along with 7 mandatory principles | 10 Knowledge areas, which can be referred to in isolation to master a specific project management knowledge |
| Project Roles | All project roles are well defined | Emphasizes the role of a project manager |
| Certifications | PRINCE2 provides two levels of certifications:PRINCE2 FoundationPRINCE2 Practitioner | PMP is a stand-alone certificate for project management. However, there are other project management related to certifications provided by PMI. Moreover, the basic understanding of project management can be obtained with the CAPM certificate offered by PMI. |
| Widely popular in | UK, Australia and most parts of the European region | USA, Canada, Australia, Switzerland and Some portions of Asia |
| Eligibility | There are no eligibility criteria for Foundation level. However, to apply for the Practitioner level, you must have obtained a Foundation certificate. | Eligibility criteria are there, which includes-Academic level (Higher secondary or Degree holder)Experience in projects35 Contact hours training |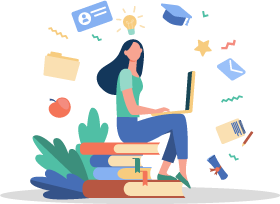 Learn PMP Training to Get Most In-Demand IT Skills
Instructor-led Sessions
Real-life Case Studies
Assignments
Explore Curriculum
What Is the Key Difference Between PRINCE2 Vs PMP?
Fundamentally, the PRINCE2 and PMP Certification involve two different project management frameworks. Both offer a body of knowledge and a proven approach to managing projects effectively. Picking one over the other is a decision that involves several factors.
The ideal choice should be based on the industry or company you are aiming to build a career in, and the type of project you're planning to lead or direct. Both certification programs are of equal value, albeit in different aspects of project management.
Benefits: PMP Vs. PRINCE2 certification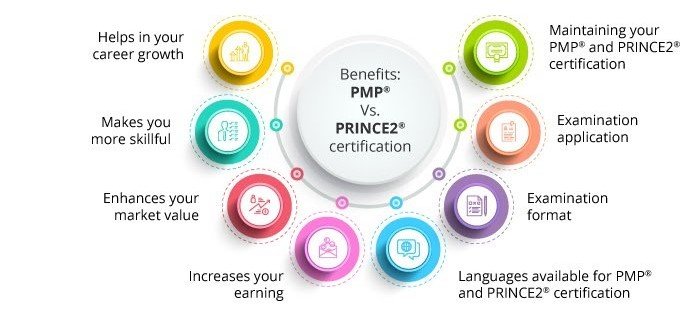 Once you take up a certification it would surely benefit you in some way. Every certification benefits you in some way. It further helps you to choose between the certifications that fit your desired career path.
The benefits of taking up a PMP certification can be listed down as follows:
1. Helps in your career growth
As an internationally accredited certification, getting a PMP certification will help you to get recognised across the global business community.
Moreover, it helps you to form a network with people who are pursuing PMP certification as well as the ones who are already PMP certified. This enhances your chances of getting a better job leading to your career growth as well as a higher salary.
2. Makes you more skillful
You need to undergo rigorous training in order to get PMP certified. It helps you to learn A to Z of project management by getting trained and educated in the five project management processes that include planning, initiating, implementing, monitoring and controlling.
3. Enhances your market value
Increase your chances to work with global organisations working in various parts of the world by adding a PMP certification to your profile. Further, the project management forums and discussion boards help you to master your expertise with various tips and additional knowledge.
4. Increases your earning
You can expect a higher pay or a good hike as soon as you become a PMP certified professional. PMI's Project Management Salary Survey shows that the PMP certified professionals get the advantage of earning 20% more than their non-certified counterparts.
Languages available for PMP and PRINCE2 certification
Isn't it comfortable to write an examination in your local language?
PRINCE2 Foundation and PRINCE2 Practitioner examinations are conducted in a few international languages whereas, the PMP certification examination is conducted in English but provides Language Aids for 14 international languages.
You can choose from among 6 languages to appear for your PRINCE2 Foundation and PRINCE2 Practitioner certification.
They are:

Dutch
English
French
German
Norwegian
Polish
PMP Sample Resumes! Download & Edit, Get Noticed by Top Employers!
Download
Whereas, PMP examinations are conducted in English all over the world. However, it provides language aids to the candidates in 14 languages, namely, Arabic, Brazilian Portuguese, Chinese (Simplified), Chinese (Traditional), French, German, Polish, Hebrew, Italian, Japanese, Korean, Russian, Spanish, and Turkish.