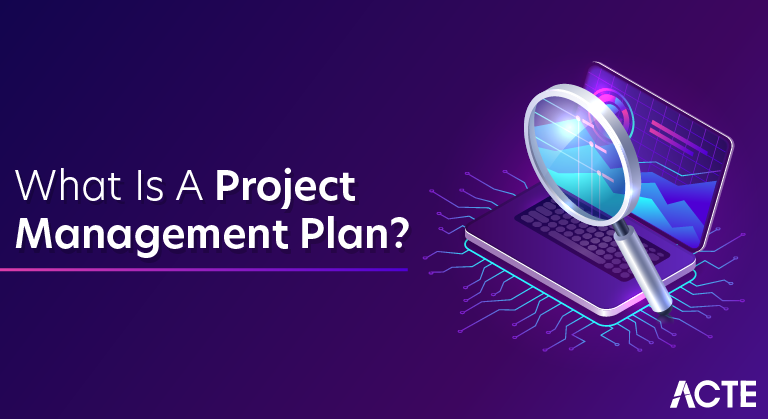 What Is a Project Management Plan? – Learning Guide
Last updated on 11th Jul 2020, Blog, General
Contracts have been signed, hands have been shaken, and a new project is officially underway, with you at the helm. But when it comes to planning a new project, you may not know exactly where to begin.
What is a project management plan?
How do you accurately predict how long tasks will take?
How do you translate stakeholder expectations into concrete deliverables?
What if something goes wrong?
Your project management plan is the key to a successful project, with minimal stress. Follow these steps to create a thorough project management plan, and execution will be much smoother.
Project Management Plan Purpose

The project management plan adds structure to the process by assigning an order to all the important parts involved in the plan. The purpose of a project management plan (or PMP) is to determine the project outcome, how a successful outcome will be achieved, who will be involved in the project, and how the project will be measured and communicated.
Like any blueprint, you have to know what you're trying to do; so having a goal is important. Secondly, you have to know how you're going to achieve those goals by knowing which people in the process play which roles.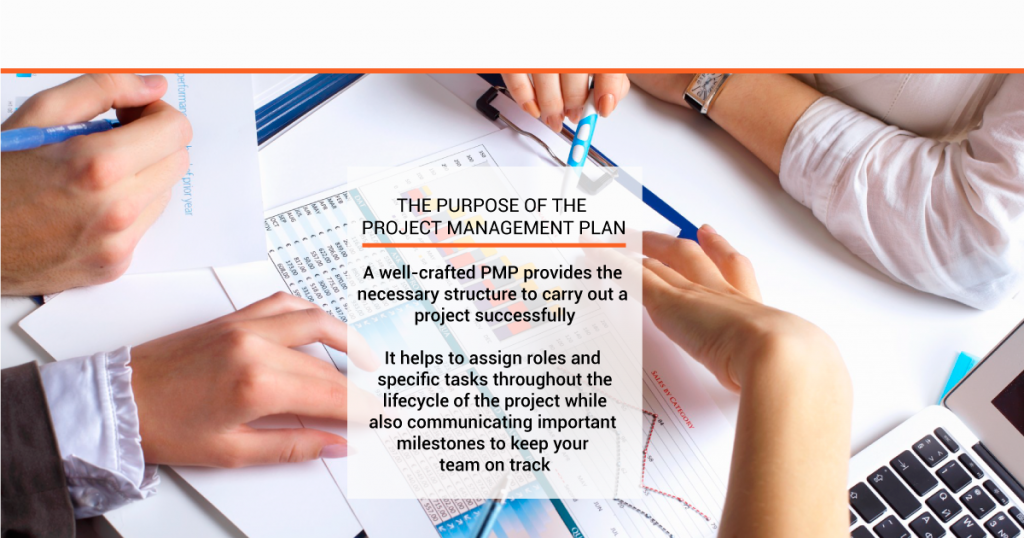 There are a number of skills for effective project management that will make your job as PM infinitely easier. And utilizing a Project Management Plan is one of the most beneficial.
Working without a Project Management Plan is a bit like trying to solve a puzzle with the design face down: it's tough to figure out what you're doing, getting the pieces to fit together is incredibly difficult, and it's impossible to see the big picture behind it all.
A well-crafted PMP provides the necessary structure to carry out a project successfully. It helps to assign roles and specific tasks throughout the lifecycle of the project while also communicating important milestones to keep your team on track.
Beyond creating a smoother project for your employees, a proper Project Management Plan can be instrumental in keeping upper-level executives informed about the project as a whole.
Informing decision makers about the timeline, resources involved, anticipated setbacks, and communication processes will help instill confidence in them about the project.
It can also help clarify any lingering questions they might have or, even more dangerous, any misconceptions that, if left unchecked, could lead to an enormous number of problems throughout the project lifecycle.
Project Management Plan Steps
There are multiple steps in a project management plan and can vary depending on the person and project; however, there are some standard steps to take when creating a PMP:
1. Initiating: In the first step of the PMP process, it is essential to the success of the project for the project manager to identify the project, secure finances to fund the project, and set up communication for the vital dialogue that will happen between shareholders.
2. Planning: The second step in the PMP process is the planning stage. The planning stage is critical because there are many high priority issues identified, such as time, cost, quality, change, and risk issues.
3. Executing: The executing phase is the most active stage of the process because things such as meetings and development updates of the process take place. These items are developed and delivered in this phase.
4. Monitoring and Controlling: In the monitoring and controlling phase, the progress of the project is monitored to ensure projects meet deadlines, and the project overcomes roadblocks. That is part of the monitoring. If something is wrong and needs to be adjusted or changed, it is done in the controlling phase.
Components of the Project Management Plan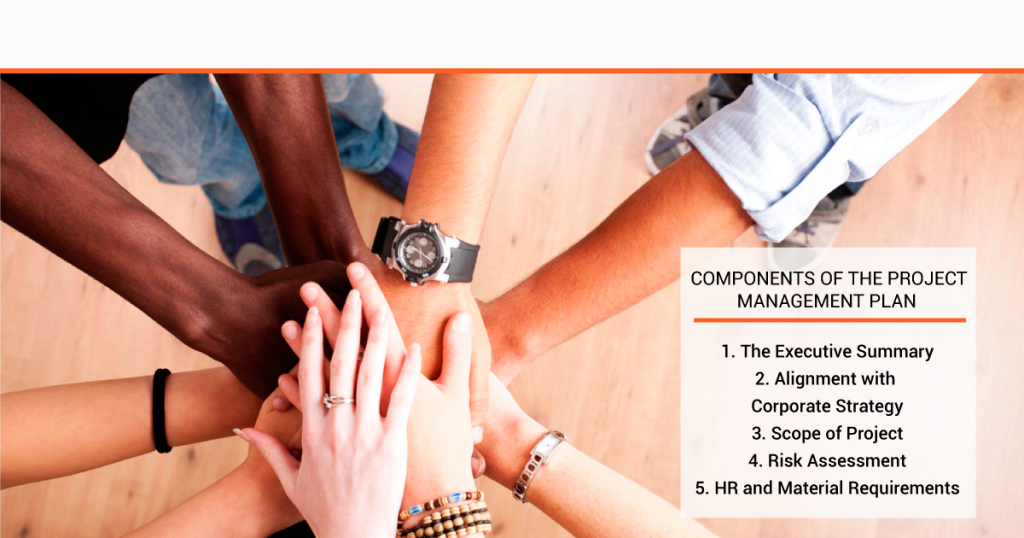 In order to build a Project Management Plan that ensures understanding and project approval from decision makers, you'll have to include a number of core components into your PMP. These components help to address any questions these individuals may have and also act as organizational tools for you and your team.
This list of Project Management Plan components (provided by the project management consultants at 20|20) will provide you with everything you'll need to include to create an effective and comprehensive Project Management Plan.
1. The Executive Summary
The Executive Summary is a short section dedicated to communicating an overview of the components described in the Project Management Plan. It shouldn't be too extensive (a few pages at most) and should maintain a high-level view of what's entailed in the rest of the PMP.
2. Alignment with Corporate Strategy
As with any business endeavor, a project that's going to be given the OK needs to reflect and further overarching company goals and strategies. This section, then, should include how the project specifically contributes to the completion of these goals as a whole. In essence, it communicates the core value of the project.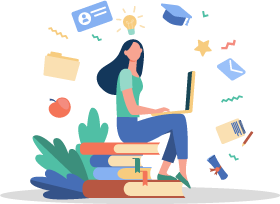 Learn Expert-led PMP Training and Get Hired By TOP MNCs
Instructor-led Sessions
Real-life Case Studies
Assignments
Explore Curriculum
3. Scope of Project
This component, in particular, is quite important when it comes to building a PMP. Determining and defining the scope of the project here helps set the foundation for understanding among decision makers as well as a smoother project development down the line.
Take extra pains to ensure that any anticipated murky areas regarding the scope are addressed immediately – assumptions can be troublesome here. Setting them right early will be incredibly helpful later on.
4. Risk Assessment
Identifying potential risks as well as determining the overall feasibility of the project at large is a key portion of any Project Management Plan. This section should also delve into strategies for mitigating these risks as well as options should these risk factors impact the success of the project.
5. HR and Material Requirements
These two areas tackle the problem of who is assigned to where and what they'll need to do their job effectively. This section should identify team members and their specific roles and responsibilities. It may also be necessary to point out training gaps as well.
Material Requirements will include any resources necessary for executing the project. It could be specific technologies, a separate workspace, or even a digital information resource.
6. Constraints
Limited resources, a significantly impacted timeframe, and reduced manpower are just a few of the most common constraints PMs will encounter.
7. Schedule
What many PMs wrongly believe is the sole component of a Project Management Plan, the schedule (along with clearly defined milestones) is undoubtedly one of the most important components.
Be sure to get into the details here, identifying deliverables, due dates, and other key information like budget usage or other project aspects that need to be completed before moving on.

The plan typically covers topics used in the project execution system and includes the following main aspects:

Scope Management
Schedule Management
Financial Management
Quality Management
Resource Management
Communications management
Project Change Management
Risk Management
Procurement Management

It is good practice and mostly required by large consulting and professional project management firms, to have a formally agreed and version controlled plan approved in the early stages of the project, and applied throughout the project. Project planning is part of project management, which relates to the use of schedules such as Gantt charts to plan and subsequently report progress within the project environment.
parts of a project management plan
Before you start assembling your own plan, you should be familiar with the main components of a typical project plan.
A project management plan should include the following sections:
Executive Summary: A short description of the contents of the report.
Project Scope & Deliverables: An outline of the boundaries of the project, and a description of how the project will be broken down into measurable deliverables
Project Schedule: A high-level view of project tasks and milestones (Gantt charts are handy for this)
Project Resources: The budget, personnel, and other resources required to meet project goals
Risk and Issue Management Plan: A list of factors that could derail the project and a plan for how issues will be identified, addressed, and controlled
Communication Management Plan: A plan for how team and stakeholder communication will be handled over the course of the project
How to Write a Project Plan
1. Highlight the key elements of your project plan in an executive summary
An executive summary is a brief description of the key contents of a project plan. It's usually the first thing stakeholders will read, and it should act like a Cliff's-notes version of the whole plan.
It might touch on a project's value proposition, goals, deliverables, and important milestones, but it has to be concise (it is a summary, after all). First, make sure you develop a proof of concept.
Like this example, an executive summary can be broken into columns to contrast the existing problem with the project solution:
2. Plot your project schedule visually with a Gantt chart
A carefully planned project schedule is key to the success of any project. Without one, your project will likely crumble into a mess of missed deadlines, poor team management, and scope creep.
Luckily, project planning tools like Gantt charts and project timelines make creating your project schedule easy. You can visually plot each project task, add major milestones, then look for any dependencies or conflicts that you haven't accounted for.
3. Clarify the structure of your project team with a team org chart
One of the hardest aspects of project planning is assembling a team and aligning them to the project vision.
And aligning your team is all about communication–communicating the project goals, communicating stakeholder requests, communicating the rationale behind big decisions…the list goes on.
This is where good project documentation is crucial! You need to create documents that your team and your stakeholders can access when they have questions or need guidance.
One easy thing to document visually is the structure of your team, with an
PMP Sample Resumes! Download & Edit, Get Noticed by Top Employers!
Download
4. Organize project risk factors in a risk breakdown structure
A big part of project planning is identifying the factors that are likely to derail your project, and coming up with plans and process to deal with those factors. This is generally referred to as risk management.
The first step in coming up with a risk management plan is to list all of the factors at play, which is where a risk breakdown structure comes in handy. A risk breakdown structure is a hierarchical representation of project risks, organized by category.