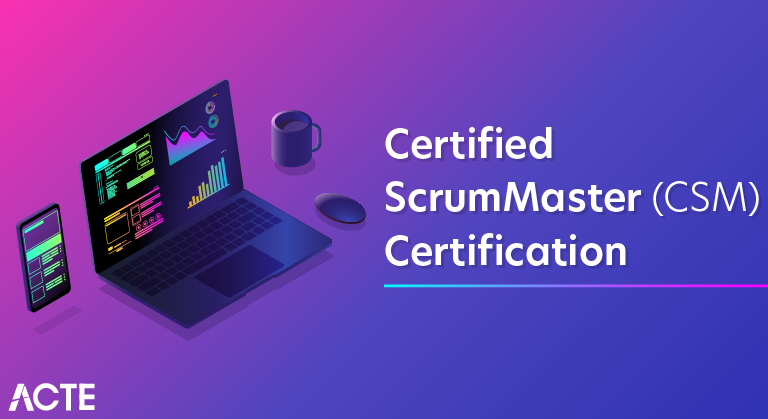 Certified ScrumMaster (CSM) Guide | Get Certified Now!
Last updated on 15th Jul 2020, Blog, General
In our interactive and hands on Scrum Master Certification course, you will learn the Scrum framework, how to apply Scrum to your projects, and how to navigate the cultural changes necessary to implement Scrum.
During the two day course, taught by a Certified Scrum Trainer, you will earn 14 PDUs from the PMI and become a Certified ScrumMaster through the Scrum Alliance.
What you will get from our Certified Scrum Master?
2-day Scrum Alliance Certified ScrumMaster (CSM) course earns 14 PDUs with the PMI towards PMP®/PgMP® and PMI-ACP℠ certifications
Interactive curriculum from our experienced Certified Scrum Trainer (CST™)
Flexible schedules and convenient locations in Dallas, TX
Fully catered lunches!
2-year membership in the Scrum Alliance ($50 value)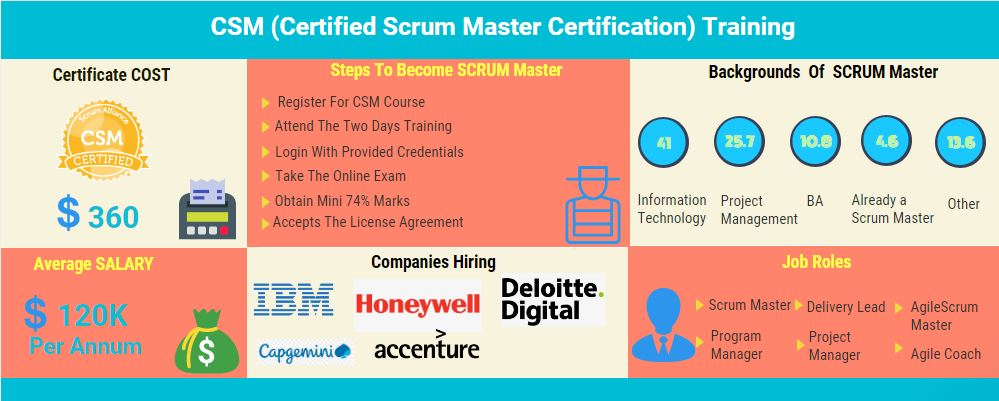 Key Features of Certified ScrumMaster Training
The two days workshop will help you know the meaning of Agile and why being Agile is important for your organization.
Understand Scrum as a process framework and ScrumMaster's role, responsibilities, and challenges when applying Scrum.
Know why the ScrumMaster as a role is such an important role, and how to be a great ScrumMaster?
Deep dive into coaching and guiding Scrum teams for improvement for building self-organization and high-performance teams.
Get real live simulation experience in all the rules, artifacts, meetings, and processes for application in Scrum adoption for your organization.
Align the vision and mindset for collaborating with the development team, product owner, and process stakeholders and others.
Get the free templates and tools for assessing and guiding towards scrum maturity for your next level of scrumMaster's journey.
Apply new techniques and tools for self-improvement to monitor and measure process performance with our post training support.
Be part of organizational Agility in knowing how to design the Agile process design and improvement activities for overall growth.
Help the organization to give effective business value for projects by mitigating the risk early and sharing continuous improvement approaches.
Syllabus of Certified ScrumMaster Training
After completing your Certified ScrumMaster training, you will gain a comprehensive understanding of:
Lean, Agile, and Scrum
Scrum Master Core Competencies
Service to the Development Team
Service to the Product Owner
Service to the Organization
What are the requirements to become a CSM?
There are three steps you must complete to become a Certified ScrumMaster:
Familiarize yourself with Scrum and complete the pre-requisites for attending a CSM course.
Attend an in-person CSM course taught by a Certified Scrum Trainer.
Pass the CSM exam by correctly answering at least 37 of 50 questions.
Agile Scrum Master Sample Resumes! Download & Edit, Get Noticed by Top Employers!
Download
What do I need to do before taking a CSM course?
Before attending a CSM course, it's necessary to properly prepare by fully familiarizing yourself with Scrum theory and principles. A CSM course typically begins with a short quiz to validate that you are ready to begin the CSM training process. To pass this quiz, you need to complete the Scrum Foundations eLearning Series, a series of videos that introduces you to Scrum Theory, Scrum Roles, Scrum Events, and Scrum Artifacts.
You also should download and read the official Scrum Guide and be familiar with the Agile Manifesto. Completing these prerequisites is essential if you want to succeed in your CSM course.