How to Create A Plan And Manage Your Projects Better?: Step-By-Step Process [ OverView ]
Last updated on 30th Dec 2021, Blog, General
A management plan provides researchers the opportunity to explain the objectives, goals, and planned procedures of their proposed projects in detail.
What is project Plan?
How to Create a Project Plan
What Are the 5 Phases of the Project Life Cycle?
Project Planning Phase
What Is Project Planning Software?
Benefits of Online Project Planning Software
Project Planning Terms
Project Planning Steps
How to Create a Project Plan with ProjectManager
Conclusion
What is project Plan?

A project plan is a series of formal documents that define the execution and control phases of a project. The plan includes considerations for risk management, resource management and communication, while also addressing the scope, cost and schedule baseline. Project planning software is used by project managers to ensure that their plans are thorough and sound.

A project plan, also called a project management plan, answers the who, what, where, why, how, and when of a project—it's more than a Gantt chart with tasks and due dates. The purpose of a project plan is to guide the execution and control of project phases.

As mentioned above, a project plan consists of the following documents:

Project Charter: Provides a general overview of the project. It describes the reasons, goals, objectives, constraints, stakeholders of the project among other aspects.

Description of Work: The Statement of Work (SOW) defines the project scope, schedule, deliverables, milestones and tasks.

Work Breakdown Structure: Breaks down project scope into project phases, subprojects, deliverables, and work packages that lead to your final deliverable.

Project Plan: The project planning document is divided into sections to cover the following: scope management, quality management, risk assessment, resource management, stakeholder management, schedule management and change management planning.

This guide aims to give you all the information and resources you need to create a project plan and have it approved by your clients and stakeholders. Let's start with the basics of writing a project plan.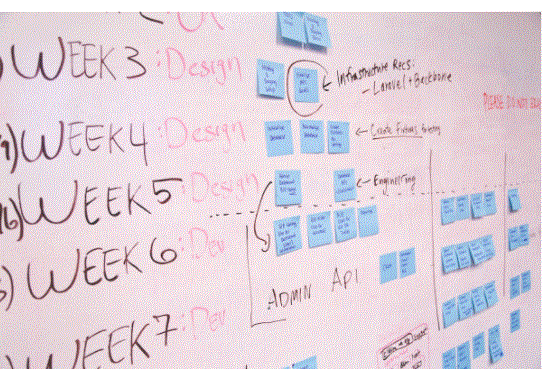 How to Create a Project Plan:

Your project plan is essential to the success of any project. Without one, your project may be susceptible to common project management issues such as missed deadlines, scope creep and cost escalation. While writing a project plan is somewhat labour intensive, the effort will pay dividends throughout the project life cycle.

The basic outline of any project plan can be summarised in these five steps:

Define your project stakeholders, scope, quality baseline, deliverables, milestones, success criteria and requirements. Create a project charter, work breakdown structure (WBS) and work statement (SOW).
Identify risks and assign deliverables to your team members, who will take necessary actions and monitor the risks associated with them.
Organise your project team (customers, stakeholders, teams, ad-hoc members, etc.) and define their roles and responsibilities.
List required project resources, such as personnel, equipment, salaries and materials, then estimate their cost.
Develop change management processes and forms.
Prepare a communication plan, schedule, budget and other guiding documents for the project.
Each step corresponds to the 5 project phases for writing the project plan mentioned above, which we will outline in the next section.
What Are the 5 Phases of the Project Life Cycle?

Any project, whether large or small, has the potential to be very complex. It is very easy to break down all the essential inclusions for a project plan by looking at your project as phases. The Project Management Institute has identified the following 5 phases of the project under the Project Management Book of Knowledge (PMBOK):

Initiation: The initiation of a project, in which goals and objectives are defined through a business case and the viability of the project is determined by a feasibility study.

Planning: During the project planning phase, the project scope is defined by a work breakdown structure (WBS) and the project methodology for managing the project is decided. Cost, quality and resources are estimated, and a project schedule with milestones and task dependencies is identified. The key delivery of this phase is your project plan.

Execution: The delivery of the project is completed during this phase. Typically, this phase begins with a kick-off meeting and is followed by regular team meetings and status reports while the project is being worked on.

Monitoring and Control: This phase is done in conjunction with the project execution phase. Progress and performance metrics are measured to keep progress on the project aligned with the project plan.

Completion: The project is completed when the stakeholder receives the final delivery. Resources are released, contracts are signed and, ideally, successes and failures will be evaluated.
Project Planning Phase:

Now that we have learned to create a project plan, and have identified the phases of the project management life cycle, we need to emphasise the importance of the project planning phase.

The project planning process is important for any type of project because it is where you create all the documents that will guide how you will execute your project and how you handle risks and any problems. These documents, which are part of the project management plan, cover all the details of your project without exception.

There are project plan templates out there that can help you organise your tasks and start the project planning process—but we recommend the use of project planning software here at ProjectManager. The feature set is far more robust and integrated with every project phase than the Excel project plan template, and it's a great way to make sure your actual progress stays aligned with your planned progress.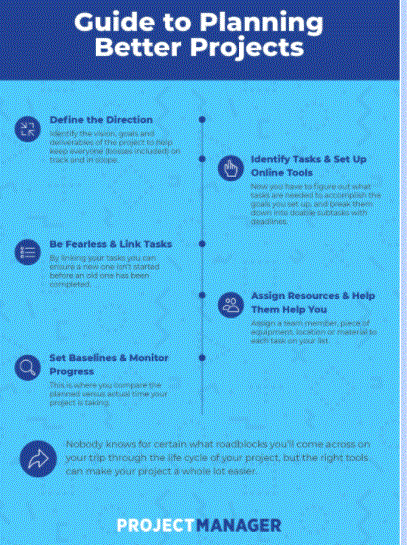 What Is Project Planning Software?

Once you have written a project plan, it is time for implementation. Watch the video below to see how project planning software helps organise a project's tasks, resources, and costs.
Project planning software has become an invaluable tool for project managers in recent years, as it provides them with the ability to maintain and automate the components mentioned above. Project planning software is a great tool for facilitating project management processes such as schedule development, team management, cost estimation, resource allocation and risk monitoring.
In addition, planning software also allows managers to monitor and track their planning as it progresses through the execution phase of the project. These features include dashboards, for a high-level view of project progress and performance, and in-depth reports that can be used to communicate with stakeholders.

Project planning software comes in all different shapes and sizes. There are some that focus on one aspect, and others that provide a suite of planning features that can be used at each of the project planning stages. What's right for your project depends on your specific needs, but in general terms, project planning software is a much more powerful tool than project planning templates.
Benefits of Online Project Planning Software:

Online project planning software is highly flexible and adapts to the working style of your team. It has features designed to assist you in your project planning process.

Before the rise of planning software, project managers generally had to live with a separate collection of documents, Excel spreadsheets, etc. However, knowledgeable managers use available project management tools to automate what they can do, and streamline what they can't.

Some of the time-saving benefits of project planning software include the following:

Organise, prioritise and assign tasks
Plan and schedule milestones and task dependencies
Monitor progress, costs and resources
collaborate with the team
Share project plans with the team and stakeholders
Prepare reports on plans
Project Planning Terms:

Before we dive into how to create a project plan, it helps to be familiar with a few terms that you will come across. Here is a list of common words you will encounter in this guide.

Deliverable: The results of a project, such as a product, service, report, etc.

Stakeholders: Anyone with a vested interest in the project – project manager, project sponsor, team member, customer, etc.

Tasks: Small tasks that lead to final delivery.

Milestones: The end of one project phase, and the beginning of the next.

Resources: Everything you need to complete the project, such as personnel, supplies, materials, equipment, people, and more.

Budget: An estimate of the total cost associated with completing a project.

Tracking and Monitoring: Collecting project data, and ensuring that it reflects the results you have planned.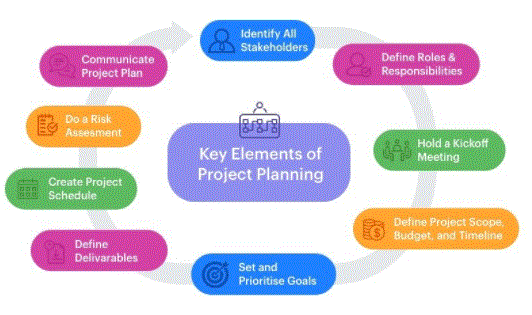 Project Planning Steps:

The project planning process is critical to the success of your project, and as a project manager, you need to think about all the elements that make up your project management plan such as tasks, timing, resources and risks.

Now, we are going to tell you about the main project planning steps:

Create business case outline
Meet key stakeholders
Define project scope
Assemble a project team
set a project budget
Set project goals and objectives
Outline Project Deliverables
Create project schedule
Assign tasks to your team members
do risk analysis
Create your project plan
Report your progress

By following these project planning steps, you will clarify what you need to accomplish, work out the processes needed to get there, and develop an action plan to carry out this project plan outline.

1. Outline the Business Case

If you have a project, there's a reason for it—that's your business case. The business case outlines the reasons why the project is being undertaken, its benefits and return on investment. If there is a problem that is being solved, that problem is outlined here. The business case will be presented to the people who make the decisions in your organisation, explaining what to do, and how, along with a feasibility study to assess the feasibility of the project. If approved, you have a project.

2. Meet Key Stakeholders

Every project has stakeholders, who have a vested interest in the project. From those who benefit from it to the members of the project team who are responsible for its success. Therefore, any project manager must identify who these key stakeholders are during the project planning process, from customers to regulators. It is important to have a meeting with them to get a better picture of what should be included in the project management plan and what is expected from the final delivery.

3. Define Project Scope

It refers to the work required to accomplish the project objectives and generate the required deliverables. The project scope should be defined and organised by a work breakdown structure (WBS). Therefore, project scope includes what you must do in the project (deliverables, sub-deliverables, work packages, activities, tasks), but also what is non-essential. The latter is important for project planning, as knowing what is not a high priority helps avoid scope creep; Namely, using valuable resources for something that is not the key to your project's success.

4. Assemble a Project Team

You will need a competent project team to help you create your project plan and execute it successfully. It is advisable to assemble a diverse group of experienced professionals to form a multidisciplinary team that looks at your project management plan from different perspectives.

5. Set a Project Budget

Once you have defined the scope of your project, you will have a task list that must be completed in order for your project to be successfully delivered. To do this, you will need resources such as equipment, materials, human capital, and of course, money. Your project budget will pay for all of this. The first step in creating a project budget is to estimate the costs associated with each task. Once you have those estimated costs, you can establish a cost baseline, which is the basis for your project budget.

6. Set Project Goals and Objectives

Goals and objectives are different things when it comes to planning a project. Goals are the results you want to achieve, and are usually broad. On the other hand, objectives are more specific; Measurable actions that must be taken to reach your goal. When creating a project plan, goals and objectives naturally come from the business case, but at this stage, you go into further detail. In a sense, you are fixing the goals set in the business case and creating tasks that are clearly defined. These goals and objectives are aggregated into a project charter, which you will use throughout the project life cycle.

7. Outline Project Deliverables

A project can have multiple deliverables. A deliverable can be a good, service or result that is needed to complete a task, process, phase, sub-project or project. For example, the final delivery is the cause of the project, and once it becomes deliverable, the project is complete. As defined in the project scope, a project consists of sub-projects, phases, work packages, activities and tasks, and each of these components may have a delivery. The first thing to determine is what the final delivery is, and how will you know if the quality meets your stakeholder's expectations. As for the other deliverables in the project, they must also be identified and someone on the team held accountable for their successful completion.

8. Create Project Schedule

The project schedule is what keeps everything hanging on. From your tasks to your budget, it's all defined by timing. Schedules are created by aggregating all the tasks needed to reach your final delivery, and setting them on a project timeline that ends on your deadline. This can make for an unneeded task ahead, which is why schedules are broken down into phases, indicated by milestones, which mark the end of one project phase and the beginning of the next.

Develop Your Skills with Advanced PMP Certification Training

Weekday / Weekend Batches

See Batch Details

9. Assign tasks to your team members

The plan is set, but it exists in essence until you put tasks on your schedule and start delegating them to your team members. Their roles and responsibilities should be clearly defined, so that they know what to do. Then, when you assign them tasks from your plan, they should be clear, with instructions and any related documentation they'll need to execute the tasks.

10. Perform Risk Analysis

Every project carries some level of risk. There are several types of risk such as scope risk, technical risk and schedule risk, among others. Even if your project plan is thorough, internal and external factors can affect the timing, cost and scope of your project (three constraints). Therefore, you need to consider your plan flexible.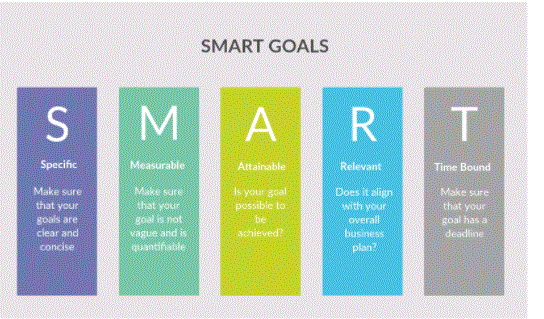 How to Create a Project Plan with ProjectManager:

Project planning software is a tool that helps to plan, organise and manage the schedule and resources required to complete a project. ProjectManager is an award-winning project management software that organises projects from planning to completion. Sign up for a free 30-day trial and follow through to create a complete project plan that includes every detail.

1. List Your Tasks to Plan

Tasks are the building blocks of any project and the beginning of any planning is identifying all the tasks that are your final deliverable.
Open the tool to add your tasks to a Gantt chart or one of the other multiple project views. You can import a task list from any spreadsheet or use one of our templates to get started.

2. Add Duration and Cost to the Task

Each task has an estimated duration, which is the time taken to complete it. They will also require a certain amount, which needs to be collected for formulating your plan.
Add start and end dates for each task in Gantt and they populate a project timeline, so you can see the entire project in one place. There is also a column for work cost.

3. Link Dependent Functions

Tasks are not always isolated from each other. Often one cannot start or stop until the other starts or stops. This is called task dependency and should be noted in your plan.
Link dependent tasks by dragging them to each other. A dotted line indicates that they are connected, so you stay aware of this fact and can avoid obstacles later in the project.

4. Set Milestones and Baselines

A milestone indicates the end of one phase and the beginning of another, which helps with tracking and morale. The baseline determines your plan so that you can compare it to actual progress.
There's a filter on Gantt that automatically sets a baseline, so you can use it to track your actual progress against the plan. The baseline can also be locked with a single click.

5. Onboard Team and Assign

Getting the team and equipment together is what makes a project plan a reality. The smoother and smoother this transition is, the faster you'll be able to work on the project.
Invite your team from the software and it generates an email with a link. Once they follow that link, they end up with and have access to the tools they need to manage their tasks.

6. Monitor progress and report to stakeholders

By tracking your progress and then updating stakeholders, both you stay on track and manage your stakeholders' expectations.
See progress as it happens on our real-time dashboard, which calculates data and displays it on six project metrics. Reports can be filtered and those numbers shared for an in-depth look.

7. Adjust the plan as needed

No plan remains the same throughout the project. Things happen and change is demanded. Therefore, being able to edit your plan easily is the key to the project planning process.
Edit your plan on Gantt with a simple drag and drop. Move the old date to the new date and not only is that task fixed, but any affected tasks are automatically updated as well.
PMP Sample Resumes! Download & Edit, Get Noticed by Top Employers!
Download
Conclusion:

A project scope statement defining all the tasks and deliverables needed to complete the project
A risk management plan for handling project risk, including procedures for logging and tracking risks
A change management plan to manage any changes to the project plan
A cost management plan for the cost management and budget elements of the project that may include any purchases or suppliers you may have
A resource management plan for managing physical resources such as equipment and human resources on the team in terms of both availability and skills
A stakeholder management plan determines who will receive the message about the project, when and in what format
A quality plan that specifies the quality goal for the project