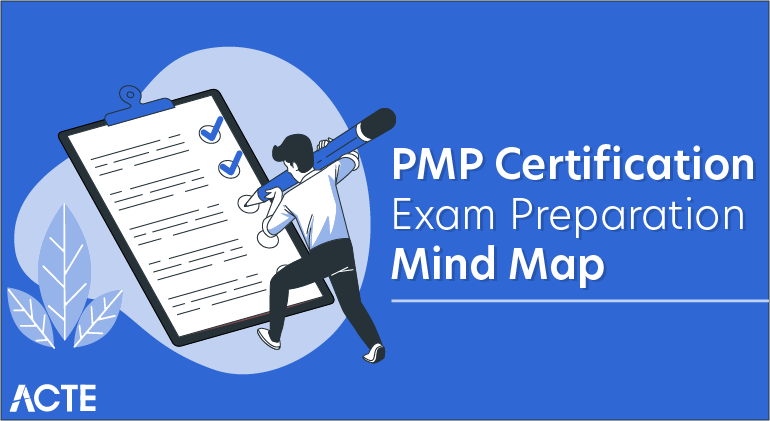 PMP Certification Exam Preparation Mind Map – Learning Guide
Last updated on 15th Jul 2020, Blog, General
What Is Idea/ Mind Mapping Technique?
Consider this. You are working in your office and your boss asks you to go to Antarctica.
What will be your immediate thoughts?
You will have a slew of What, Why, Where, and How type of questions.
Human brain is very powerful. It is capable of thinking about infinite and divergent possibilities in a fraction of second.
What if you draw these possibilities on a piece of paper? It will help you to organize and streamline the thoughts.
Such a drawing is nothing but a mind map for you. It is a colorful diagram that visually captures your ideas in a non-linear format.
The map starts with a central idea in the middle. It has branches to represent sub-ideas. If required, the branches can be forked out into sub-branches.
You can create as many branches and sub-branches (as needed) to support your central idea. You can use word, images, sketches, and lines to represent your ideas. The topics and sub-topics can be distinguished by using different colors, images, and sketches.
To understand more, you can look at step by step instructions for creating a mind map.
Theory of Idea Mapping
Idea mapping is a whole-brained visual think approach. It engages and exploits both hemispheres of your brain.
Many researches prove the power and utility of mind mapping. It is a very potent technique that helps in many different situations.
Among many other things, this technique can be used for brainstorming, organizing note-taking, problem-solving, planning, creativity, and presentations. It improves productivity, saves time, and enhances learning.
You can also look at this article for a deeper understanding of the benefits of the mind maps.
How Can PMP Aspirants Use Mind Mapping?
The mind maps help PMP students in two ways:
I. Making notes
Do you get overwhelmed when you have to learn tons of information?
Do you get bogged down when you have to memorize thousands of terms?
Do you get frustrated when you have to understand and remember several seemingly unrelated concepts?
Well! Mind maps help you overcome such problems.
Mind maps are a great way to organize and note down large amount of important information in a succinct manner. You can make visual connections between main ideas and keywords on a single sheet of paper.
Which one do think is more useful – a long list of unrelated ideas or a diagram of logical connections?
Would you rather make linear notes or mimic the way your brain thinks?
A mind-mapping approach to making notes is simpler and easier. And it reduces the number of pages.
As per Wikipedia, Mind mapping can improve learning efficiency up to 15% over conventional note taking.
II. Exam Preparation
How would you feel if you had to study thick books or voluminous notes to prepare for the exam?
I am sure you will feel scared. But it does not have to be that way.
You can simply study from the mind maps and finish your studies quickly. And to revise, you can create the maps from your memory. This way you will retain and remember much more than the traditional methods.
A mind-mapping exam prep approach is lot faster and far more reliable.
Benefits of Mind-Mapping For PMP Students
Mind maps are extremely useful for exam prep and studies. Pictures are 6x superior than words for retaining information.
Some of the main benefits of mind mapping for PMP students are:
Notes can be easily assimilated.
Notes making is much faster.
Large volume of information can be compressed into a single page.
Information can be organized visually in a brain friendly manner.
Relevant and important knowledge is at one place.
Recall is easy and quick.
Brain is liberated from the linear thinking.
A map helps you to make logical connections between different concepts.
The complete study is broken into small parts. It is easier to plan and schedule your studies.
CONCLUSION
You can save significant amount of time and improve your learning by using PMP mind maps.
Approximately 65% of population is visual learners. Idea mapping is especially useful for these learners. You too can benefit from idea mapping if you are a visual learner.
Having said that, idea mapping technique is also useful for the rest of the population. The technique exploits both parts of the brain. It is beneficial for everyone.
To help the exam aspirants, I have created a pdf eBook. It contains 66 ITTO mind maps based on the PMBOK Guide.
The advantages and benefits of Mind Mapping
Mind Mappingis a powerful technique and the advantages of Mind Mapsare many:
PMP Sample Resumes! Download & Edit, Get Noticed by Top Employers!
Download
The relative importance of each idea is clearly indicated by how near it is to the center, which clearly features the main idea.
The links between key concepts will be immediately obvious from their proximity and connection to one another. The brain works primarily with key concepts that it links and integrates.
Mind Maps work in the same way, meaning that recall and review will be faster and more effective.
The nature of the Mind Mapstructure allows for the easy addition of new information.
Each Mind Map® has its own unique pattern, which further aids recall.
The open-ended nature of the Mind Map is a great aid to creativity, allowing the brain to make new and exciting connections with ease.
With practice, you'll find Mind Maps help you to be your best in every thinking situation: