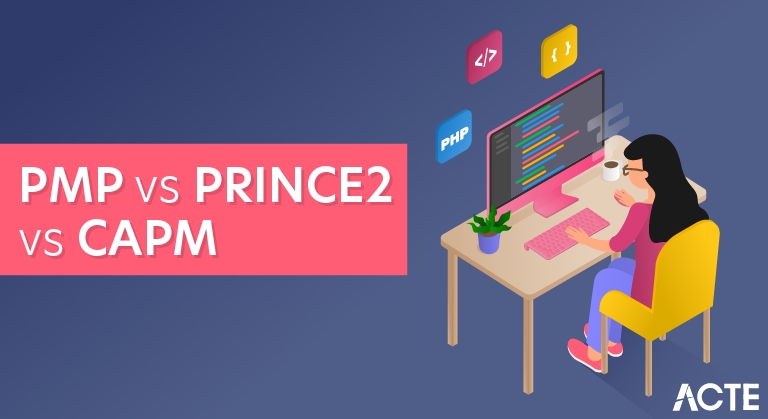 PMP Vs PRINCE2 Vs CAPM: Which is better?
Last updated on 16th Jul 2020, Blog, General
When it comes to choosing a certification in the field of project management the first three choices that come in our mind are PMP, PRINCE2, and CAPM. However, for aspirants, it is not always possible to pursue all three of these certifications. So, eventually they have to choose between PMP, CAPM, and PRINCE2 but the question is out of all three ertifications which one is the best for the candidate? Yes, we agree that all three certifications are the highest-paid and most preferred certifications and that's what makes it vital for candidates to know the difference in each certification before planning their next step.
Here is a quick overview of the PMP, CAPM and
PRINCE2 Certification
so, the candidate can find the soul mate certification for them.
An Overview of PMP, CAPM, and PRINCE2 certifications
Project management professional (PMP) certification: The PMP certification is the qualification certification that is offered by the Project management institute to validate the expertise of the young aspirants who dreams to become certified project managers. If successfully achieved The
PMP Certification Course can empower you to work with any methodology in any industry. The certification course for the PMP covers a wide range of project management techniques that are necessary to increase your knowledge and skills.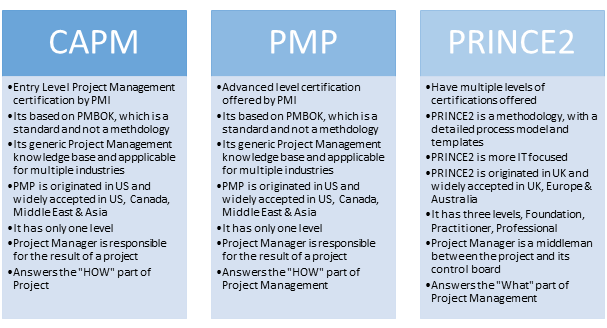 Certified Associate Project Management (CAPM) certification
Unlike PMP, CAPM is the entry-level certification and highly suitable for candidates who want to start their journey in the project manager without any prior experience. What actually distinguishes this certification from the other two is that it solidify the base of project management and enhance effectiveness and credibility while dealing with project management projects.
Projects IN Controlled Environments (PRINCE2) certification
The PRINCE2 is the process-based certification that offers a detailed step-by-step method for delivering project management projects with proper templates, steps, and processes. Although the certification is administrated by the Association for Project Management (APM), it is recognized on the global platform especially in countries like Europe and Australia.
Comparison between PMP, CAPM, and PRINCE2
There are several bases on which you can easily differentiate PMP, CAPM, and PRINCE2 including
Level of certification
PMP: It is the entry-level certification offered by the PMI.
CAPM: It is the advanced –level certification also offered by PMI.
PRINCE2: It has multiple levels of certifications
Focused industries
PMP: The knowledge and skills delivered by the PMP is applicable for multiple industries
CAPM: The expertise validated by CAPM is applicable in different industries
PRINCE2: the certification is more IT-focused.
Sub levels
PMP: It has only one level
CAPM: It also has one level
PRINCE2: it has three different levels; foundation, practitioner and professional
Certification renewal
PMP: Professionals need to renew their PMP certifications in every 5 years
CAPM: Professionals need to renew their CAPM certifications in every 3 years
PRINCE2: the certification is valid for the lifetime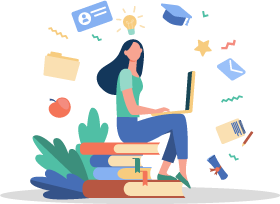 Best CAPM Training Cover In-Depth Concepts By Top-Rated Instructors
Instructor-led Sessions
Real-life Case Studies
Assignments
Explore Curriculum
It doesn't matter which certification candidate chooses to pursue as all of these certifications are inter-connected. Hence, an individual who wants to pursue PMP must start with the CAPM and following if he wants to have the PRINCE2 certification then, he must do the practitioner as well. In order to make the right decision- candidates need to decide the sector they are going into and see what requirements are there and then they can choose the certification they must pursue.
CAPM
CAPM stands for Certified Associate Project Management. It is the most basic project management certification. It is recommended for newbies who have just started their careers in the field of project management. Usually, the individuals who are interested in enhancing their skills and boosting their scope of implementations take this course. Many take this course and work on projects simultaneously. It helps individuals to create better understanding and build strong project management basis which helps you to differentiate from other candidates.
PMP
PMP stands for Project Management Professional. Many national and international institutions that are concerned with the field of project management offered this course. PMP certification holds importance globally. PMP certification helps individuals in understanding the methodologies, strategies used in project management around the globe in various industries. Unlike CAPM, PMP offers a wide range of understanding further the scope of practical implementation is also increased. This course helps individual in the rapid enhancement of their skill set. This course is popular in the region of Asia, Europe, and the USA.
PRINCE2
PRINCE2 stands for Project In Controlled Environment's Certification. It is quite different from the rest of certifications as it is a process based that helps individual in understanding the step by step procedure of handling any project effectively till its execution. In this, individuals are able to learn to develop definite procedures and templates. The main focus of this course is on the project where they discuss the theories related to it. APMG initially administrated this course and it is popular in the region of Australia and Europe. In this course, an individual will have the highest level of practical implementations and practices while dealing with all sorts of projects.
Eligibility Criteria for CAPM, PMP and PRINCE2
CAPM certification has simpler eligibility requirements compared to PMP.
Educational Background: Secondary diploma (High school diploma/global equivalent)
1,500 hours of professional experience on a project team OR 23 contact hours of formal education
So, it means almost anyone can appear for CAPM certification exam. If the candidate does not have 1500 hours of project experience, then he can opt of the 23 contact hours of formal project management education and then get eligibility for the CAPM exam. Even students can appear for the CAPM exam with these eligibility criteria.
PMP Requirements – Eligibility Criteria
Essentially, PMP eligibility requirements primarily consists of two parts.
Project Management Experience – Candidate must have

If holding a Bachelor degree, at least 4500 hours/3 years of project experience OR
If a high school graduate, at least 7500 hours/5 years of project experience

Project Management Education – Candidate must have 35 hours of formal project management education.
The critical part here is the project management experience, which most beginner to intermediate level project managers are lacking. So, if you are one of them, you can wait and target to PMP certification in future or you can opt for CAPM or PRINCE2 Certification.
Project Management Education with 35 hours contact hours (PDUs) can be achieved by formally attending a classroom or online PMP training. And if it is classroom, this is usually a 4 day or a 5-day training. Upon completion of the training, you get 35 PDUs (Professional Development Units) along with course completion certificate.
For PRINCE2 Foundation, formally there is no eligibility criteria.
However, for PRINCE2 Practitioner exam, you must have any one of the following credentials.
PRINCE2 Foundation
Project Management Professional (PMP)
Certified Associate in Project Management (CAPM)
IPMA Certification (Any of the levels A/B/C/D)
CAPM certification exam has 150 multiple choice questions to be completed within 3 hours (180 minutes) time. Out of 150 questions, 135 questions are scoring and the remaining are non-scoring questions.
On the other hand, PMP certification exam has 200 multiple choice questions to be completed within 4 hours (240 minutes) time. Out of 200 questions 175 questions are scoring and 25 are non-scoring questions.
PMI do not reveal the passing score for both the CAPM and PMP exams. PMI uses sound psychometric analysis for each candidate based on the exam level of difficulty, to determine the passing score. And both the CAPM and PMP are closed book exams.
PMP Sample Resumes! Download & Edit, Get Noticed by Top Employers!
Download
Essentially, PRINCE2 Foundation exam has 60 multiple choice questions to be completed within 60 minutes. It is closed book examination and the pass percentage of the exam is 55%. So, you must score 33 marks out of 60 to pass the exam.
On the other hand, PRINCE2 Practitioner exam has 68 questions to be completed within 150 minutes' time. The pass percentage is again 55%. However, this is an open book (Official PRINCE2 manual can only be used) exam.