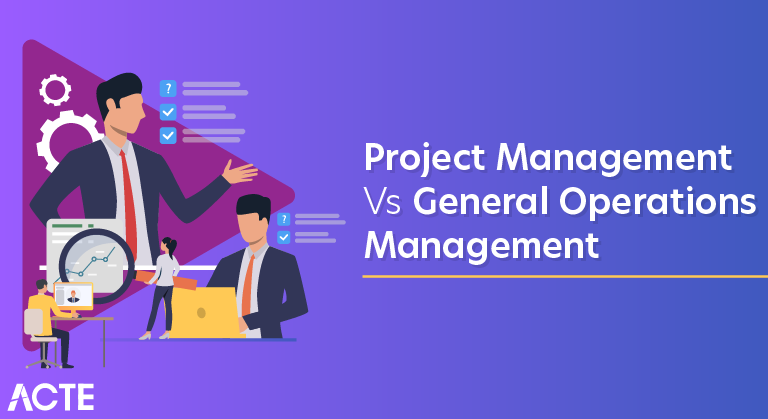 Project Management Vs General Operations Management: Which is better?
Last updated on 15th Jul 2020, Blog, General
The differences between project management and general management are actually not very distinct. However, a few differences between the two set the two apart, giving them each a unique definition.
What is Project Management?
Project management consists of organizing, planning, motivating, and controlling procedures, resources and protocols to achieve specific goals of a specific project. A project may be a temporary and time constrained mission that is geared towards the production of a specific result, product or a service, also often constrained by funding and other resources. The aim of project management would be to use the limited time and resources and channel them towards the achieving of the goal of the project to achieve the optimum results that are beneficial and of added value.
There are many approaches to project management and certain projects do not follow a structured process at all. However, the traditional approach consists of five components.
Initiation
Planning and design
Execution and construction
Monitoring and controlling systems
Completion
What is General Management?
General management can be defined as coordinating the usage of available resources and time towards the accomplishment of a specific goal or an objective of a certain organization or a business. This task usually comprises organizing, planning, staffing, leading, controlling or directing specific resources, time or people. This also includes the manipulation of human, financial, technological or natural resources to the maximum benefit of the cause at hand.
In for-profit causes, the main function of general management would be to satisfy its stakeholders. This usually involves the making of profit, creating employment opportunities to employees and producing quality goods and services at a low cost to customers. Most organizations have a board of directors voted for by its stakeholders for carrying out general management functions. Some have other methods such as employee voting systems which is quite rare.
According to Mary Parker Follett, management is "the art of getting things done through people". According to Henri Fayol, one of the most prominent contributors to modern management concepts, management has six functions.
Forecasting
Planning
Organizing
Commanding
Coordinating
Controlling
Today, management is also an academic discipline, taught in schools and universities all over the world.
There are three main types of systems in operation and production management in both manufacturing and service industries:
Mass production system
Batch production system and
Non-repetitive systems.
Mass Production System
Industries with high-demand products or services and high investment use the product-oriented mass production system, which centers on the important processes that help produce that product or perform the service. Special purpose equipment, such as automated conveyors, are used to perform the functions needed for the product or the service, making it very efficient in producing large quantities of product or service.
Batch Production System
When several products or services are required in the same factory, the batch production system serves as a good alternative especially when the demand is not high, the investment is low, and when flexibility is a must. The system is adjusted when production changes from one product to another. Here the complexity of management increases over the batch production system, which is process-oriented, where a mass production system is product oriented.
Non-repetitive System
Systems related to low demands are very different from the other two types; the systems put more emphasis on planning, monitoring, and controlling the activities of the product and/or services. The requirements of these systems result in the growth of project management.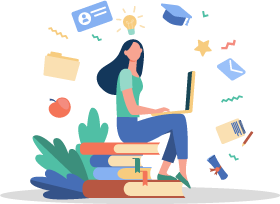 Enroll in PMP Training with Industry Oriented Modules from Expert Instructors
Instructor-led Sessions
Real-life Case Studies
Assignments
Explore Curriculum
As you can see, the difference between product-oriented, process-oriented, or project-oriented management is very thin and hard to define. To use a simplified example, planning and designing a new car model is a project—whereas running a factory that builds the cars is a mass-production system.
What is the difference between Project Management and General Operations Management?
Although the functions and duties of both project management and general management are very much similar, a few differences between them make them unique functions with identities of themselves.
Project management is usually employed in projects that are temporary and time constrained. General management is employed for ongoing procedures or functions of certain organizations, businesses etc.
Usually, in project management, resources are limited. In contrast, general management is also responsible for resourcing whatever necessary ingredients as deemed necessary for the continuation of functions.
Management is an academic discipline taught in schools and universities all over the world. Project management often falls under dis broad discipline of management.
theirfore, one can say that teh difference between project management and general management does not lie in leadership or other qualities required, but in teh scope of responsibilities that lie within each role.
Operations management strives to deliver the same product but to continuously improve the process that provides or creates that product or output. Features of operations management include:
Generates a static output
Must be profitable
Does not produce new outcomes
Produce the same product or outcome repeatedly
Earn a profit and maintain the system seamlessly
Project management strives to cultivate change in the organization, whether that is meeting customer demands or innovating a new offering. Features of project management include:
Creates a unique output
Operates on a fixed budget
Produces new outcomes to achieve business objectives
Once the new product or service is completed, the project ends
Operations Manager vs. Project Manager: Which is Right For You?
These two roles do share some common traits; however, it is essential for aspiring professionals to consider the skills and expectations for each.
Operations managers should seek routine and stability, and possess specialized skills to help refine a repeatable work cycle. Your planning cycle will typically be established annually, determined by departmental budgets and scheduled events.
Project managers should seek a more dynamic environment that starts and stops with each new project. Your team members may ebb and flow, and your work can pioneer new processes and deliverables without organizational precedent. Project managers should possess generalist skills to support cross-functional teams, and will work on shorter, project-based planning cycles under constraints from cost, time and scope, as well as estimated budgets as opposed to pre-planned, fixed budgets.
Both professions require several core skills, including:
Time management skills to ensure the project or operations adhere to timing expectations
Problem-solving to address unexpected roadblocks
Leadership skills to manage and develop team members
Strong communication skills to lead meetings, coach team members, and update stakeholders
Roles and Responsibilities
Operations managers are responsible for:
Overseeing day-to-day operations processes
Isolating issues and identify opportunities for improvement
Overseeing budget, planning, reporting, and auditing
Ensuring compliance
Establishing policies and procedures for operations
Project managers are responsible for:
Determining the plan and scope projects
Managing project teams, schedule and budget
Overseeing project execution
Assessing and reporting on project progress
Skills Needed for Operations Management and Project Management
To be an effective operations manager or project manager, students must have a certain set of skills. Below, we have listed some points that accurately reflect the skills needed for these positions:
Effective Communication: It is needed so that you can effectively communicate and convey your message to the team members, vendors, and key stakeholders involved in operations or projects.
Leadership Skills: This skill is extremely important for both the professionals to effectively and easily manage a team and offer essential training and motivation whenever needed.
Time Management Skills: To keep activities and tasks on track and as per the schedule, you must have strong time management skills.
Organizational Skills: To manage complex processes involved in an ongoing operation or a project, professionals must have effective organizational skills.
Problem-Solving and Adaptability: These skills are needed to be flexible and make adjustments when necessary.
Technical Skills: No matter which industry or domain you are working in, you must need certain technical skills to anticipate problems and suggest solutions.
One point to keep in mind is that the skills needed for a particular job role typically depend on the domain or industry in which an operation or project manager is working.
Similarities between Operations Management and Project Management
Operations management and project management can be intersected and aligned. A research paper was published by the IEOM Society in 2018 that stated these two fields share a 'strong' alliance. Some potential overlaps have been given below:
When the lifecycle of the product ends
When businesses develop, improve, or expand a product
When product development processes or operations are improved
During project closeout, the project managers will have to work with the operations managers to combine new processes with operations
PMP Sample Resumes! Download & Edit, Get Noticed by Top Employers!
Download
In these scenarios, operations managers and project managers should collaborate to share knowledge and deliverable to ensure positive and desired outcomes for the business. Both these roles have one person at the helm, and they require extensive planning to combat with limited resources.