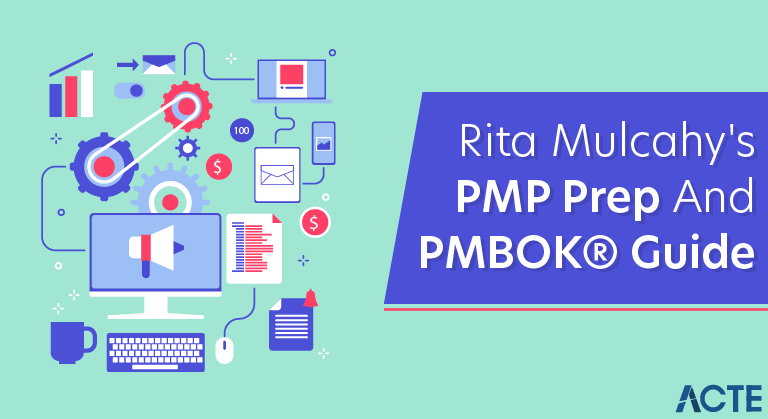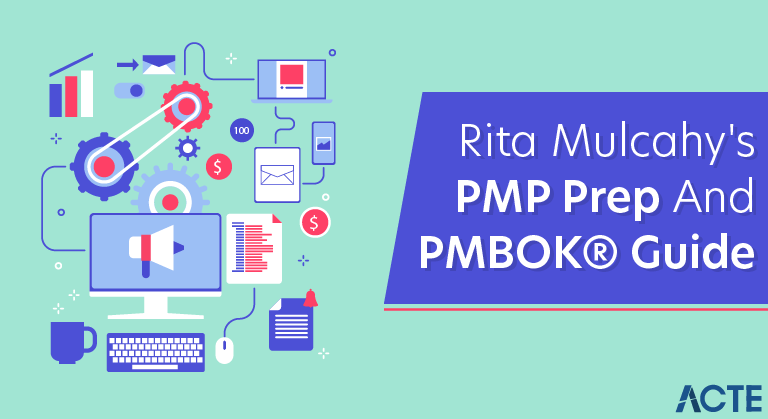 Rita Mulcahy's PMP Prep & PMBOK Guide | A step by step Guide
Last updated on 09th Jul 2020, Blog, General
Rita Mulcahy, Died in 2010, is a great contributor to the project management world. She is the author of several project management books. Started in 1990s, PMP exam prep by Rita Mulcahy is the most popular book she has ever authored. Rita PMP book is the most popular PMP exam prep book in the market used by thousands of PMP certification exam candidates each year.
Although the PMP Rita book is a major resource for getting ready for the PMP Exam, it does not satisfy the 35 contact hours education requirement of PMP Exam. Therefore, you must attend in a PMP training to be eligible to sit for PMP exam as well.
First, it starts with general information about the PMP exam structure, how many questions it include, passing score, style of questions etc. It also give a guideline about how to study PMP Rita book as well. Then, it gives information about the project management framework. It covers what is project and what makes a project unique other than regular operational works. It provides information about the project life cycle and characteristics of projects as well. In third section of the book, you will see the project management processes. There are five project management process groups and each process under 10 different knowledge area belongs to these process groups.
From fourth section onward, the PMP Rita Mulcahy book focuses on the 10 knowledge areas of the PMBOK. If you had a chance to review PMBOK, you should have found that it is not easy to follow the knowledge areas. Because, the PMBOK is the bible of project management standards and it focuses mainly on inputs, outputs and tools and techniques of processes. However, Rita PMP book simplifies these theoretical concepts with practical examples. Rather than focusing on process inputs, outputs, and tools and techniques, it goes over the practices of how to manage a project and how a process will help when managing a project in real-life.
You will find useful practices, quizzes and notes at the end of each section. I recommend you to take notes while you study and go over these notes frequently to memorize the sections you have already completed in your PMP study. You can see my notes from Quality Management section while I was studying for PMP exam (2012).
First edition of this book has been published in 1990s and since then, it is the primary source for PMP aspirants if they are looking for a PMP exam prep book. Rita Mulcahy died in 2010, however, her company RMC Learning keeps on updating the PMP Rita book and the latest version: PMP Rita Mulcahy Ninth Edition has been published in 2018. Let us go through each aspect of PMP Rita Mulcahy book one by one.
After helping over 125,000 professionals in more than 180 countries with a 99.6% first attempt pass rate, we have prepared a seven-step PMP study plan. Read this PMP study plan and create your own PMP prep plan accordingly
PMP Prep Courses
ALL RMC courses include intensive instruction, practical strategies and techniques to accelerate your project management understanding to pass the PMP exam the first time by:
Interpreting the most difficult and essential PMP exam concepts
Explaining the project management process, knowledge areas and ITTOs to understand project management from the exam's perspective
Helping you understand the situational nature of the test and how to pick the best answer
Offering thought-provoking sample questions, games, exercises and other tools to reinforce your knowledge, measure your progress and boost your testing confidence
Aligns to the 6th edition of the PMBOK Guide
FREE PMP Exam Prep System included in course materials. System includes Rita Mulcahy's PMP Exam Prep Book, FASTrack exam simulator and Hot Topics flash cards
PMP Preparation Step #1 – What is PMP?
You might know what PMP is. However, for the new ones to the project management and just started to search about preparation for PMP, it will be good to know what PMP is.
PMP is the abbreviation of Project Management Professional. PMP is a certificate awarded to project management professionals by PMI, Project Management Institute. Project management is a vital role for companies. Million dollar or billion-dollar projects are managed by project managers. This requires a solid project management knowledge and experience together. PMI, as the premier authority of project management, aims to pioneer the project management world based on the changing dynamics of the market. PMP certification offered by PMI shows to the employers that holders of this certification have solid knowledge and field experience of project management.
PMI seeks for PMP eligibility requirements from PMP candidates. PMP candidates are expected to satisfy PMI's PMP certification requirements. Once you satisfied the PMP requirements, you can apply for PMP exam. PMI reviews your application and if PMI approves your application to sit for PMP exam, you can schedule and take the exam. We will be going over these steps in detail during this post. Just wanted to give you a quick snapshot
If you want to learn more about PMP, you can read our what is PMP post. You will see how PMP certification can change a professional's life.
PMP Preparation Step #2 – Decide Whether PMP Is Right For You
If you are stepping into a PMP preparation post, most probably, you have decided to get ready for PMP certification. And, you are looking for the ways of preparing for PMP exam. In any case, I wanted to highlight whether preparation for PMP is right for you.
Of course, PMP certification is one of the most reputable project management certifications. However, PMP might not be the best fit for you. There are other project management certifications such as Prince 2. In some cases, especially if you are in UK or Europe, Prince 2 certification might be a better certification to get first. You can read the Prince 2 vs PMP comparison to have a better understanding of Prince 2 and PMP certification.
After checking other project management certification alternatives, you must be sure whether to prepare for PMP exam is right for you. PMP preparation requires significant investment both in terms of budget and in terms of time. Therefore, make sure PMP certification exam preparation is right for you.
PMP Preparation Step #3 – Check Whether You Are Eligible for PMP Exam
After you decided to get PMP certification, you must check whether you are eligible to take PMP exam. PMP certification has two mandatory requirements.
1– PMP Experience Requirement
In order to be eligible to sit for PMP exam, you must have project management experience. PMI expects four-year diploma holders to have at least three years of project management experience (this is equivalent to 4,500 hours). If you do not have a four-year diploma or equivalent, PMI expects you to have at least five years of project management (this is equivalent to 7,500 hours)
Note that, project management experience does not mean that you must have managed a project as a project manager. Project management experience can be working in projects as a project engineer, analyst, team member, team leader etc.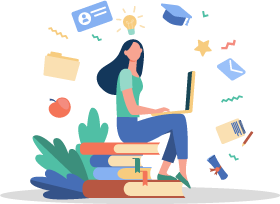 Learn From Experts PMP Training to Build Your Skills & Knowledge
Instructor-led Sessions
Real-life Case Studies
Assignments
Explore Curriculum
2– PMP Education Requirement
If you satisfy the PMP experience requirement, you must meet PMP education requirement as well. In order to sit for the PMP exam, PMI requires PMP candidates must have attended a 35 hours project management education in the last five years. Basically, there are two options for attending a PMP course: online PMP course or PMP classroom training.
We strongly recommend you to enroll in an online PMP training. Most of the PMP candidates are full-time working professionals and they get ready for the PMP exam during their off days or in the evening. If you attend in an online PMP course, you will have the chance to revisit lectures whenever you wish during your PMP study. Besides, online PMP programs are more affordable compared to classroom PMP options. You can read why the best method for PMP preparation is online PMP certification training.
If you are unsure about whether you are eligible to sit for PMP exam, you can read more about PMP requirements. You will see a PMP eligibility quiz at the end of the post as well where you can check whether you can sit for the PMP exam.
PMP Preparation Step #4 – Choose the Best PMP Training
There is not a single "best" PMP training. While some PMP candidates prefer to study from a PMP book, some others find the PMP training programs more useful. While some PMP candidates prefer PMP classroom training programs, some of them prefers online PMP training programs. You must see all available PMP training options and choose the best PMP training option for you.
There is a certain shift since 2010s that majority of PMP candidates opt for online PMP training options. Moreover, PMP candidates opt for online PMP training options score better in PMP exam compared to other PMP candidates who preferred offline methods. The main reason of this is flexibility of online PMP materials, ease of access and student can study on his or her own pace.
Did you see PMP Certification Training of Master of Project Academy? This online PMP exam preparation training option satisfies the 35 contact hours project management training prerequisite of PMP certification requirements. It covers more than 300 lectures, over 750 practice questions, downloadable handouts, supporting documents, cheat sheets and several other PMP prep materials.
PMP success stories of Master of Project Academy proves the quality of this PMP exam preparation course. Don Wheeler is one of the several PMP success stories of Master of Project Academy. Don passed the PMP exam successfully with the PMP training from Master of Project Academy and he scored "Above Target" on all five domains of the PMP exam. This is the highest score where a PMP candidate can get from the PMP exam. You can read Don's PMP success story.
When choosing your PMP preparation course, be careful about whether the PMP training is updated based on latest PMBOK content. Another thing you must check is their recent student reviews. Make sure their training satisfies the 35 contact hours project management requirement of PMP exam and they have successful PMP students.
PMP Preparation Step #5 – Utilize the PMP Materials
After enrolling in a PMP training program, follow the lectures carefully. If the PMP training materials include handouts, make your own notes on the handouts in order to remember important concepts. These notes will be crucial when you learned a lot during your training and when you wanted to remember past topics.
At the end of the each PMP knowledge area section, make sure you grasped all the details of the topic. If there are end of section quizzes or exams, make sure you score over 70% from each quiz. The PMP passing score is answering 61% of the questions correctly. However, make sure you score over 70% in order to be confident for the PMP exam.
Once your PMP preparation is complete, go over your notes to remember important PMP topics until your PMP exam. If you feel that you did not understand a knowledge area well, go over the PMP materials once again. In order to utilize your PMP materials in the best way, you can read more about PMP study plan.
PMP Preparation Step #6 – Prepare for PMP Exam With As Many Sample PMP Questions As Possible
Choosing the optimum PMP training and understanding the PMP content is crucial to be successful in the PMP exam. No doubt on this. However, practicing with several types of PMP questions is as important as enrolling in a comprehensive PMP training. As you see different type of PMP questions, you will be more confident to sit for PMP exam as well.
There are several sample PMP questions resources on web. Be careful about PMP questions you will see whether they are up to date based on latest PMBOK changes. Solving real-like PMP questions will build your confidence for PMP exam. Once you sit for the real PMP exam, you will feel like you had the same exam before.
One of the best ways of seeing several real-like PMP questions is enrolling in a PMP exam simulator. PMP exam simulators include several sample PMP exams and different type of PMP questions you can see in your real PMP exam.
When practicing with sample PMP questions, take notes for your wrong answers. If you are making too many mistakes for the questions coming from a particular knowledge area, revisit the regarding lectures. Write down notes for the wrong answers you made and go through them when going through your notes as well.
PMP Preparation Step #7 – Go Through Your Notes
During your PMP study, go through your notes frequently and make sure you will remember the old topics you already studied. The best way of doing this is spare one hour in every two weeks to go through your PMP preparation notes.
PMP Sample Resumes! Download & Edit, Get Noticed by Top Employers!
Download
Once your PMP preparation is complete and you are ready to sit for the PMP exam, schedule the PMP exam date if you passed the PMP application steps already. Until your PMP exam date, you can review your notes to keep your memory exam-ready.