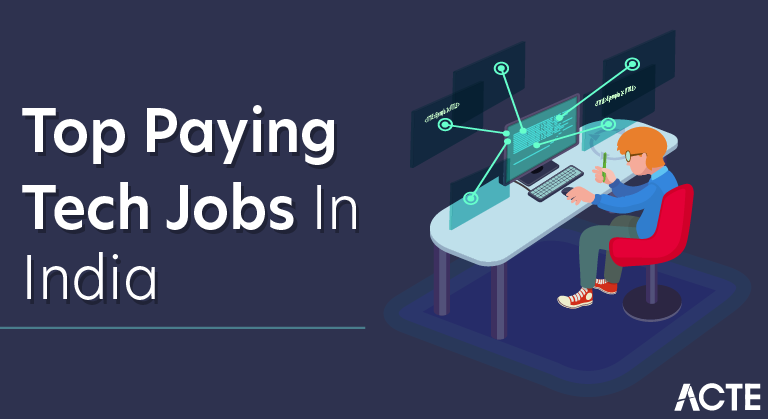 Top Highest Paying Tech Jobs in India [ Job & Future ]
Last updated on 13th Jun 2020, Blog, General
You have hustled hard throughout your 12+3/4+2+x (where x varies from 1 to ∞) of your formal education and now, you are looking for a job that justifies all those years of burning the midnight oil. You are looking for a career that rewards you just right, and maybe even better.
Let's be honest, money is the best motivator when it comes to choosing the career path. And if it is an important factor for you, as well, listed are the top 10 highest paying jobs in India (in no particular order). This list is updated in 2020 and irrespective of your work level, beginner/entry-level or middle level, these will help you decide the direction you want to go in next.
Table of Contents
Data Scientist
Machine Learning Experts
Blockchain Developer
Full Stack Software Developer
Product Management
Management Consultant
Investment Banker
Chartered Accountant
ONG Professionals
RBI Jobs (Government Sector)
1) Data Scientist
While many careers have been around forever, data science is a relatively new and buzzing option offering lucrative packages. A data scientist helps manage and organize a massive amount of data that an organization collects. He gleans actionable insights from that data to drive business decisions that improve profits and customer relationships.
A big reason for taking up Data Science as a career, there has been a 40 percent rise in demand for data scientists since January 2019, and more than 300% since 2013. The reason for this should be clearing, considering everything today is data, and expertise in the science of managing that data is precisely what is required.
Skills
Ability to work with complex formulas (40%)
An understanding of consumer psychology (25%)
Business acumen (25%)
Skilled at programming languages (10%)
Educational Qualification
Engineers – BE / BTech (without coding experience)
Graduates (no programming knowledge)
2) Machine Learning Experts
Data Science & Machine learning is all the rage right now, and they are one of the highest-paid jobs in India, not only in India but also worldwide. Machine learning is an application of AI wherein the system learns and improves on its own without being programmed. Just like the human brain, YES!!!. Machine learning experts are the professionals who build these self-learning systems.
Skills
Programming in R / Python
Strong statistical knowledge
Strong written and oral communication translated as the ability to prepare presentations, progress reports, and interactive data visualizations
Ability to convey complex data into non-technical insights and possible decisions.
3) Blockchain Developer
Blockchain is the new revolutionary field and is redefining everything from currency transactions, internet connectivity, to data security and handling. Blockchain technology cuts out middlemen, reduces costs, and increases speed and reach. It is supposed to usher in greater transparency and traceability. As both private and public sectors warm up to this new, market-changing technology, there will be a considerable lack of specialists. A gaping hole that you can fill. Further, there's also a continuously growing demand for Blockchain Developers in India.
Skills
Understanding of blockchain and its architecture
Data structures
Cryptography
Web development
Smart Contract Development
Educational Qualification
Engineers – BE/BTech (even without coding experience)
4) Full Stack Software Developer
Full-stack developers are tasked with the job of creating both the front end and the back end of a software/website i.e. they are both web developers and have a fair understanding of database systems. As web developers, they build the website for the ground up and write the code for it. They work with the website's appearance, CSS, HTML and align it with the client's industry, business, and target audience.
Skills
Ability to work in a collaborative environment
Detail-oriented with an eye of aesthetics
Able to meet tight deadlines
Fluent in Javascript, HTML, and CSS
Educational Qualification
Engineers – BE / BTech (without coding experience)
5) Product Management
In large corporations, product management is a coveted position. Product Manager is responsible for the strategy, marketing, feature definition, forecasting of the product or product line among other things. In simpler terms, the product manager is responsible for understanding customer requirements, envisioning the necessary features, and working with the engineering team to build them. There are a variety of roles ranging from Associate Product Manager to the Chief Product Office.
Skills
Empathy and a keen eye for understanding customer needs
Collaboration, since the product manager will be working with a variety of divisions
An eye for aesthetics
Ability to set deadlines and meet them for prototypes, product manufacture, and delivery
6) Management Consultant
The primary role of management consultants is to help companies solve problems, improve performance, and maximize growth. You'll be concerned with the strategy, structure, management, and operations of the company.
Skills
Knowledge of business, finance, economics, mathematics
Ability to work as part of a team
Interpersonal and communication skills – oral and written
Problem-solving skills
Ability to cope with challenges and pressure
7) Investment Banker
We have heard so much about this career profile, seen a lot of Hollywood & Bollywood actors play this role. One of the highest paying jobs worldwide, an investment banker helps their client (a bank or a firm) invest their money wisely for the highest possible returns. It has always been one of the best jobs in India, and dealing with money – yours and others – is the stuff of dreams.
Skills
To become an investment banker, you need to
Be very good with statistics/calculations
Have strong research and analytical skills since you'll be making suggestions about potential investments.
Be on your toes, at all times. After all, in addition to being one of the highest paying jobs in India, it is also a fast-paced one.
Have strong verbal, communication, and presentation skills since that is what most of your job will entail – convincing people or firms to invest in certain domains.
8) Chartered Accountant
CAs work in every industry and provide financial expertise for managing money well. They provide accountancy, tax, and audit services to clients and help you to understand things like the GST reform, any change in taxation policies, or salary related issues. At present, India faces a huge shortage in this industry. For the 6.8 crore taxpayers in the country, there are only 1.25 lakh full-time practitioners.
Skills
Strong communication skills to convey complex financial aspects to your clients in an easy-to-understand manner.
Awareness about the industry he/she is working in to be able to clients effectively.
Strong numerical and analytical skills to be able to work with numbers and make effective decisions based on them.
9) ONG Professionals
Not many people aspire to be in the oil and natural gas industry, but those who are, have 'made it' very well there. It still remains one of the highest salary jobs in India as our country is the 4th largest importer of LNG after Japan. South Korea, and China, and it aims to reduce the dependence on these imports from 77% to 67% by 2022. This means that there are plenty of opportunities to work in this industry within the country only. Individuals working in this sector can also get government jobs in companies like ONGC.
Skills
Math & Analytical skills
Interpersonal skills because you'll have to work with others on projects
Problem-solving skills
10) RBI Jobs (Government Sector)
Reserve Bank of India is the financial architect of the Indian economy. It is jobs that fall in the government jobs category and hence, not only come with satisfying salary packages but a lot of other perks as well. These include the travel allowance, the house allowance, the holidays observed, and many other benefits. Employees get posted at various locations in India and are well-trained in the financing sector.
Skills
The right mix of competence and humility so that he/she can be properly mentored.
Able to bridge the knowledge gap between what they have studied and what is yet to be learned.
Ambitious.
A constant drive to learn and improve
Ethical Hacking Sample Resumes! Download & Edit, Get Noticed by Top Employers!
Download
Conclusion:
These are the top 10 highest paying jobs in India – that will help you grow financially / that will be in demand. The above list clearly illustrates how a high salary package is independent of the industry one works in. The opportunity for good, high-paying work exists in every sector. One only needs to be clear about their goal, know which path to take, and preserve in order to make the best of that opportunity.